1 day Mekong Delta by Motorcycle (360kms)
The Extra Mile Adventure
Summary
Tiền Giang – Long An – Đồng Tháp – (approx. 360kms)
This ride is for experienced riders! 360kms in one day is not for the faint of heart!
This is not the typical Mekong Delta tour. In this tour you will see most of what the Mekong Delta has to offer in a short time. Don't worry, you'll have time to appreciate the scenery all around. We will ride about 40% offroad on single tracks, dirt roads, gravel roads and more. And we will have the opportunity to enjoy some very tasty and special traditional food.
The Mekong Delta is a system of rivers crossing the southwestern tip of Vietnam. It is called the rice basket of Indochina because of its fertility and capacity to grow enough crops and paddy fields to feed the nation. In this tour we will take several bridges and ferries as roads by land are not sufficient to cover the territory.
Tour Highlights
Experience Vietnamese culture in the Mekong Delta
Drive on a mixture of small back lanes and interesting offroad sections
Off the tourist trail and into unique areas of the Mekong
Delicious local foods (including some special choices for the adventurous)
We will eat the local food which is unavailable in other regions of the country.
The food served will be typical dishes of the Mekong such as salty river fish grilled with local spices, vegetable and pork rolls with fish sauce, diversified vegetables and of course fruit platters varying depending on the season.
*Vegetarian food will need to be pre-booked. However, neither vegan nor
gluten-free options are possible.
Who this tour is for
This 1 day Mekong Delta by Motorcycle tour is for people wanting to experience the diversity of river-life, agricultural sights and nature of the Mekong Delta. This is a big day of driving covering around 360kms of ground. We will be leaving early and returning in late afternoon. By the end of this day you can safely tick that box of having experienced the Mekong Delta. You did more than just experience it, you hammered your way through it!
To truly experience the Mekong Delta and the fascinating culture it provides we recommend the Mekong delta motorbike Adventure with three or four days, also available with Tigit Motorbikes.
Tour Itinerary
Day
Đồng Tháp province
Distance: ~360kms – This is a big drive and we will be leaving early morning and returning late afternoon.
This tour may start the day before. We need to leave early, hence the bikes can be picked up the evening before. The guide would meet you at your accommodation in the morning to start.
The optimal departure time is 5.30am to avoid the city traffic. Hence targeting a meeting point at 5am. Later times are possible however it would definitely affect the content of the tour.
We exit westbound toward the emptiest Mekong's highway to access the deep Mekong fast.
There will be a mix of backroads, some mild offroad and also some optional technical offroad for those feeling more adventurous.
We will see rice paddy fields, dragon fruit fields, lemongrass fields, several roads covered by coconout trees, bamboo, and more.
We will venture ourselves into pure nature for several offroad sections. Expect to be amazed by the scenery.
For lunch we will sit on asuspended hut over a field of lotus flowers. A special and unique location where we can enjoy some delicious dishes and have the chance to try something less conventional if so wished.
After lunch we head back to Ho Chi Minh City still through some nice offroad sections and several backroads to avoid traffic.
We should be back in the early evening.
Tour Prices
Prices are in United States Dollars
This is an all-inclusive tour, excluding damage waiver
The standard bike for the tour is the Honda XR 150
The prices listed are for two people or more:
| | |
| --- | --- |
| Price per person on Honda XR 150 | 160 USD  |
| Price per person on Honda CRF 150 | 175 USD |
| Price per person on Honda CRF 250 | 185 USD |
| Price per person on Honda CB500X | 250 USD |
Solo Riders contact us for advice.
Tour Info
Includes
Motorbike rental
Motorbike Gas/petrol
English/French/Vietnamese/Spanish Speaking Guide
All meals, water and soft drinks
Tour Guide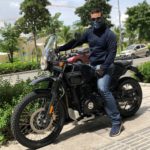 The Extra Mile Adventure
Tigit is partnered with The Extra Mile Adventure for use of multi lingual and experienced guides.
Fascinated by local culture and cuisine, Renzo is one of few expats to master the difficult Vietnamese language. Renzo is able to translate and display traditional Vietnam with his language skills and passion for food which will take travelers to places that are undiscovered and unique.
Also fluent in French, Spanish, English and a touch of Malay, Indonesian and Japanese, Renzo is the guide for the job for answering all those fascinating unanswered questions about different cultures.
Culture and language skills aside, Renzo runs The Extra Mile Premium Bike Rental service in Ho Chi Minh City. This has lead to an interest in providing motorbike related guided tours which dive deep into the countryside and stay distant from the standard tourist trails.
Renzo and his team will be the guides for your adventure.