Lonely Ranger HCM – Da Nang
Sam Morgan
Summary
Ride the best roads of the south up to the center of Vietnam. Follow the winding mountain roads overlooking stunning green valleys, and discover the breath-taking beauty of the central highlands. This ride just keeps getting better and better with each day. Ending in the calm beach city of Da Nang, it's safe to say you've seen the best the south has to offer!
Tour Highlights
Route can be catered to each rider and group. Options for off-road are always available
Catch a glimpse of rural life in Vietnam. Visit areas few tourists ever venture and see the 'real' Vietnam
Warm, sunny weather mixed with fresh mountain air
Views at every turn, don't blink or you'll miss the scenery
Who this tour is for
The adventurous rider who is looking to get off the beaten tourist track. This tour can be done on XR150s or CB500s, the sights are stunning on any bike. The route is mostly a beautiful road ride, though there are off-road alternatives if you want to test your skills, and give your team a challenge. Riders can experience different ways of life in Vietnam as we travel through tiny remote villages, quite mountain towns, and relaxing coastal cities.
Tour Itinerary
Ho Chi Minh to Bao Loc
Departing Ho Chi Minh city, we escape the traffic and get into nature. Passing by Tri An lake and up towards Cat Tien, enjoy the green change of scenery. This day has options for light off-road to leave the beaten track and really get you 'off the map'. Or, if twists and turns on mountain roads are more your thing, you can enjoy them all the way up to Bao Loc. A perfect first day for any rider.
Bao Loc to Buon Ma Thuot
Heading further north into Buon Ma Thuot, we ride through tea and coffee plantations, and roads overlooking lakes and valleys. This day has something for everyone, from sprawling rice fields to mountain passes. Day 2 has plenty of opportunities to tweak this route just for you. With more technical off-road challenges, or tiny back roads through villages
Buon Ma Thuot to Quy Nhon
Enjoy a famous Buon Ma Thuot coffee before departure! Day 3 will have you heading out west towards the coast, and ending in Quy Nhon city. This day includes the aptly titled 'road to heaven' (QL19C) which needs to be ridden to be believed. Each turn reveals more sweeping landscapes and you'll be wiping a tear from your eye at the end.
Quy Nhon to Kon Tum
Day 4 is the most remote ride of the tour, heading east and inland towards Kon Tum. See the real Vietnam, untouched by tourism. This is definitely a day for the lone ranger rider as we take roads that are almost empty, enjoying kilometers of quiet, peaceful mountain climbs. No chance of Starbucks on this route, you'll be sipping tea with the locals.
Kon Tum to Da Nang
The final stretch of the journey moves from tranquil mountains into the salty sea air of Da Nang. This day has an optional loop of the famous Hai Van pass to really end your tour with a bang!
Tour Map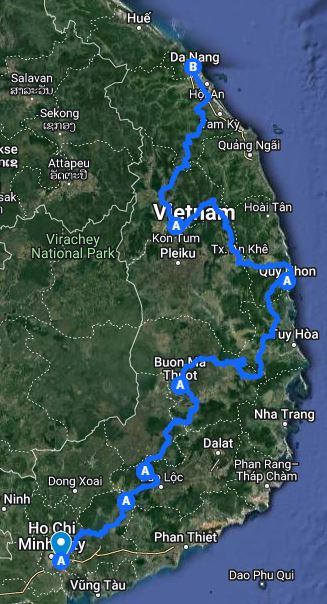 Tour Prices
Prices are in USD
This is an all-inclusive tour
Duration : 5 days 4 nights recommended
Honda XR150: All inclusive: 175 USD per person per day.
Honda CB500X: All inclusive: 200 USD per person per day.
Minimum 2 riders per tour.
Tour Info
Includes
Motorbike rental & gas
English speaking guide
Breakfast, lunch, and drinks
Accommodation
Excludes
Motorbike damage
Dinner
Alcoholic beverages
Personal health insurance
Tour Guide
Sam Morgan
Sam is an experienced rider from Brisbane, Australia. She has been riding for over 20 years, first starting in moto-trials at the age of 10. She has been riding in Vietnam for 8 years, both on and off-road, and from the top to the bottom of the country. Sam has a love for dirt bikes, and regularly competes in off-road races in Vietnam.
Check out her article on How to Drive a Bike in Vietnam