Southern Highlands Small Loop 3D2N
The Extra Mile Adventure
Summary
Đồng Nai – Lâm Đồng – Đắk Nông – 700kms Tour
THE MOST SCENIC ROUTE!
This tour will offer the most scenic landscape all around, starting from forests, passing by amazing valleys, hills with mesmerizing views and a lakeside ride you won't forget. This ride will be mixed and so far has exceeded the expectation of every guest. There will be lots of offroad tracks as well as a few optional technical challenges. Among the highlights will be the 55th highway which we will ride just enough to see the best viewspots, some just so beautiful that you will want to stay.
The Southern Highlands are still in the unconventional path of the traditional tourist. Yet its beauty is comparable to all the hills and valleys that Vietnam uses for postcards. The greenery, the cloudy hills and the mineral-rich rivers that represent this region will remain in your minds for ever.
Tour Highlights
Witness the magnitude of Southern Vietnam's economic basket
Drive on a mixture of forests, valleys, hills and lakeside roads
Enjoy incredible views of the Ta Dung lake
Enjoy classy vintage and comfortable traditional villas
We will enjoy the freshest air on the top on multiple hills with views that will take your breath away. Picture opportunities will be endless, just the perfect Instagram ride!
Who this tour is for
This tour is for the enthusiast rider looking to enjoy a route as diverse as possible. Perfectly suitable for beginners and less experienced riders, while giving the chance to challenge oneself from time to time to sharpen those skills. The first day offers a good half of mild offroad then a half of road for the scenic part. The second day is a full road day through winding mountain passes and lakeside roads making it the most scenic day of the tour. The last day takes us into the jungle for some fun offroad and finally single tracks through banana plantations to return to the city.
Tour Itinerary
Day
Day 1: The 55th
Distance: ~250kms – Half on mild offroad and half on the scenic 55th highway
We depart at the friendly time of 7.30am southbound.
We take the ferry that takes us out of Ho Chi Minh City and into the zone of infinite rubber plantations.
We cross some forests and vast plains through military compounds (don't worry, they're friendly and not bothered by our presence.)
We have the option to take on an additional offroad loop that will get technical, a bit challenging at times but more importantly so satisfactory as we ride it.
We have lunch in a town lost in the middle of nowhere, literally.
We then take on the 55th highway to start appreciating valleys that you won't believe, with such a greenery over light blue rivers.
We reach the town of Bao Loc in the late afternoon through paved backroads on top of the hills.
We reach the villas for the night where we have dinner as well. The accommodations in this town are higher-end, beautiful and extremely comfortable.
Day
Day 2: Ta Dung Lake
Distance: ~250kms – Almost all road
We depart at the friendly time of 7.30am eastbound.
We drive through minority ethnic villages on top of the hills.
We enter the Ta Dung lake area via a mountain pass with great winding roads.
We have lunch with the best view one can enjoy by the lake.
We head toward Cat Tien National Park via some villages hidden by mountains and surrounded by suspension bridges.
We finish the day at a lodge by Cat Tien National Park for dinner and for the night.
Day
Day 3: Cat Tien
Distance: ~200kms – Half on mild offroad with backroads and half through the jungle and plantations.
We start at a comfortable time leaving through paved backroads.
We enter some very fun jungle trails.
We will be immersed in nature for a while.
We choose a quiet and scenic spot for a pic-nic lunch.
We will enjoy a completely different lakeside ride scenery
We continue through dirt single tracks and through banana plantations.
We reach Ho Chi Minh City by later afternoon.
Tour Prices
Prices are in United States Dollars
This is an all-inclusive tour, excluding damage waiver
The standard bike for the tour is the Honda XR 150
The prices listed are for two people or more:
| | |
| --- | --- |
| Price per person on Honda XR 150 | 450 USD  |
| Price per person on HondaCRF 250 | 525 USD |
| Price per person on Honda CB500X | 570 USD |
| | |
Tour Info
Includes
Motorbike rental
Motorbike Gas/petrol
English/French/Vietnamese/Spanish Speaking Guide
All meals, water and soft drinks
Accommodation
Excludes
Motorbike damage
Beer and alcohol
Personal expenses
Health insurance
Tips & Gratuity
Tour Guide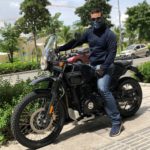 The Extra Mile Adventure
Tigit is partnered with The Extra Mile Adventure for use of multi lingual and experienced guides.
Fascinated by local culture and cuisine, Renzo is one of few expats to master the difficult Vietnamese language. Renzo is able to translate and display traditional Vietnam with his language skills and passion for food which will take travelers to places that are undiscovered and unique.
Also fluent in French, Spanish, English and a touch of Malay, Indonesian and Japanese, Renzo is the guide for the job for answering all those fascinating unanswered questions about different cultures.
Culture and language skills aside, Renzo runs The Extra Mile Premium Bike Rental service in Ho Chi Minh City. This has lead to an interest in providing motorbike related guided tours which dive deep into the countryside and stay distant from the standard tourist trails.
Renzo and his team will be the guides for your adventure.