Reading Time:
5
minutes
Four different options to get you started with driving the South of Vietnam. These routes are designed for starting and finishing in Ho Chi Minh city. The following routes show off both Vietnam's Highland routes and Coastal routes. Excellent tropical and hot conditions all year round! It is possible to return motorbikes in Nha Trang using the bus upon request, or continue up toward Danang.
Once you decide on a route, visit our page for renting a motorbike in Vietnam.
Saigon Motorbike Loop Information
The descriptions of these routes build on each other. Start with reading the 2 / 3 day loop and then continue building with the extras

The coast can be driven quickly (removing a day), or slowly (adding a day).

Due to the above point, start inland and finish with coast. Clockwise driving.

The coast has accommodation everywhere, inland does not. There is more flexibility on random stopping for the coastal drive

The following routes are not considering time for tourist activities. This is "on road" time
The 2 or 3 day

Purple Route
The shortest loop that truly incorporates roads that are worth driving. Leaving and entering Ho Chi Minh takes time. This route sees the beautiful Cat Tien National Park. Takes us on a remote mountain road connecting the highlands of Bao Loc back down to the coast, and back up to HCM on the quietest route into the city.
Highlights:
Easy city exit

Experience both inland and some coast
Day 1: Head out of Ho Chi Minh and towards Cat Tien. To properly exit HCM takes around 2 hours. A quick and simple exit puts us on a nice drive along Dong Nai River.
Day 2: From Cat Tien we head towards the QL55B which meanders down the hillside until we hit the coast. A favorite road among travelers and often perceived as one of the best roads to drive in the entire country. Lagi is a nice piece of coastline without going huge distances from Ho Chi Minh. With a big push, it is possible to reach Ho Chi Minh on this day.
Day 3: Lagi back to Ho Chi Minh, there is no pleasurable way to do this drive. However, we have time on our side!
Lagi Accommodation: Coco beach camp has impressive huts and tents. Prices to suit every style of traveler. A magnificent beachfront littered with old cars, British phone booths, and other picture-taking opportunities. Be careful on the weekend though, as this is a young Vietnamese weekend escape.
Day 4 optional: Visit Dambri waterfall and witness one of the biggest waterfalls in Vietnam. A tourist trap of over-developed theme park style concrete. However an elevator ride down to this amazing waterfall is worth the detour from the route. This can be done in an hour or two and connects into Bao Loc. A place known to expats as one of the most underrated cities in the country!
We have not experienced this at Tigit Motorbikes, but Vietnam coracle is recommending La Nga River. The full blog article suggests waterfalls to see and places to stay.
Cat Tien Accommodation: Cat Tien is a pleasant place. A remote area and off the tourist trail but a rapidly growing tourist area. We recommend Green Bamboo Lodge and Green Hope Lodge.

Bao Loc Accommodation: Many cheap options in Bao Loc. We recommend Friendly House Home stay.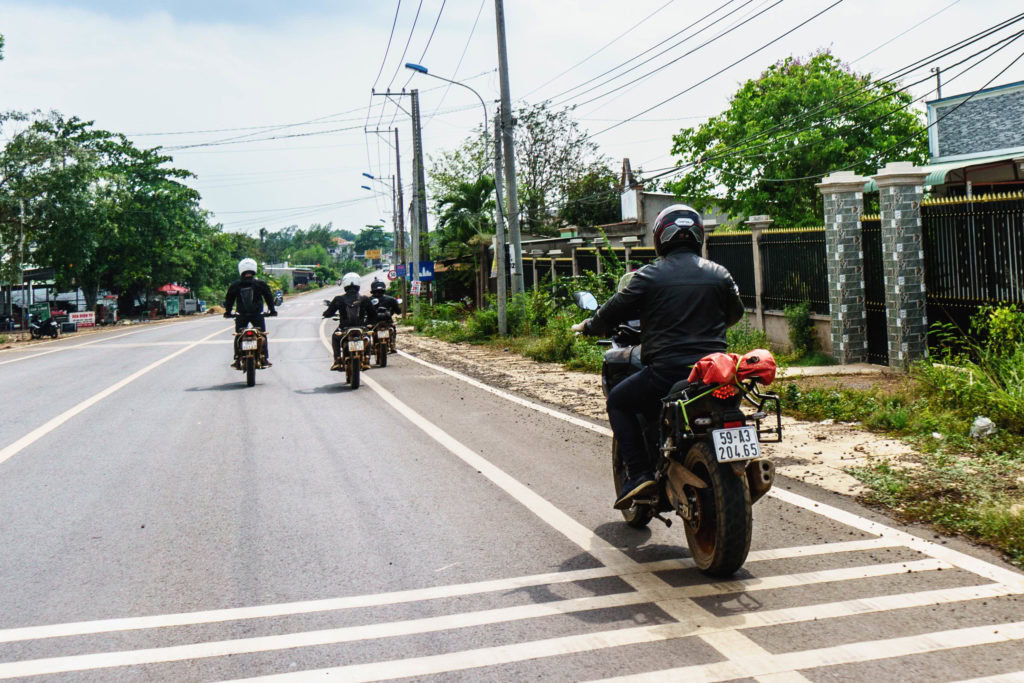 The 4 day

Green Route
This route contains one of the best roads in the country, the DT725 connecting Cat Tien and Dalat. Dalat is a mountain city where the altitude is high enough for temperatures to significantly drop. The climb both up and down to Dalat is an impressive one. This loop is the shortest drive that includes two well-known tourist destinations, Dalat and Mui Ne. A four to five-day drive, but in reality, with tours thrown in, this drive needs a few days extra.
Highlights:
Contains one of the best highland roads in the country

The shortest route that experiences tourist towns
Dalat accommodation: We recommend Calla Lilly Villa in Dalat or Che House. Although there are literally thousands of choices for all budgets.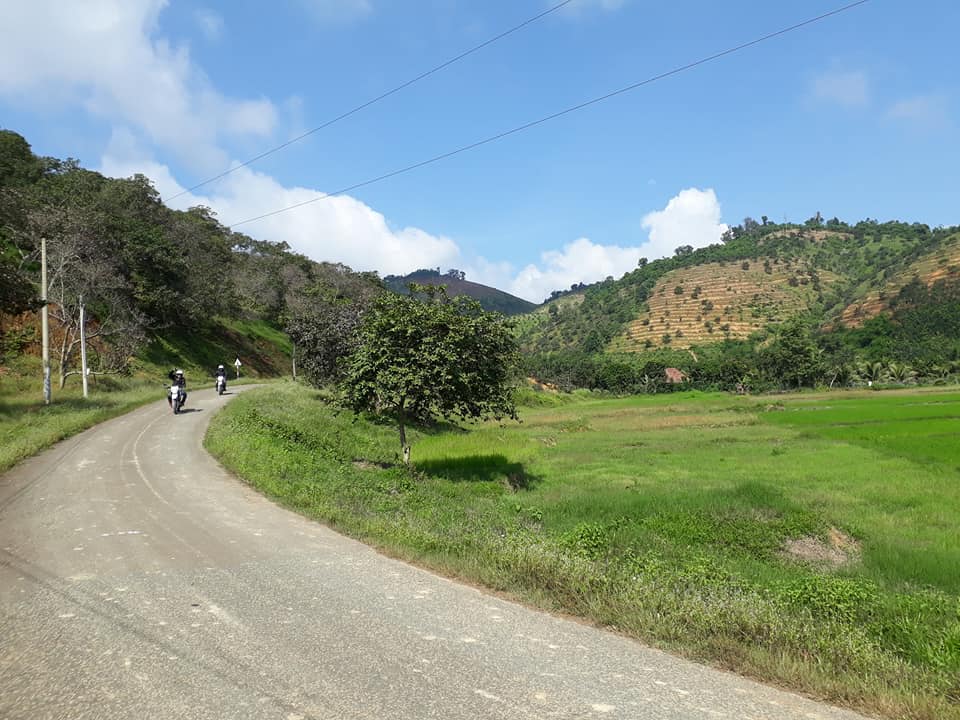 The 4 or 5 day

Orange Route
This is the closest route to Ho Chi Minh that has proper coastal driving. Not just proper coast driving, but the best coastal driving in the country, and perhaps some of the best in the world. Climbing steeply down from Dalat to the coast through amazing farmland. Ready to set us up for a spectacular drive along cliff edges overlooking the ocean.
Highlights:
The best coastal driving in the country

The Extremes of mountains and coast all within one day.
Time Considerations
A five-day loop if we are casual with time and decide to stop in Phan Rang, which is an up and coming tourist area.
A four-day loop if we push from Dalat as far down the coast as we can possibly get. Ideally reaching at least Mui Ne for our final day back into the city.
The 5 or 6 day

Black Route
The Dalat to Nha Trang QL27C is a favorite among travelers. An amazing pass connecting the mountain city of Dalat, to the party coastal city of Nha Trang.
With this additional Nha Trang drive, it is fair to say that we have experienced the best of what the South of Vietnam has to offer!
Time considerations
Choosing to commit to long coastal drives will keep this route down to five days. A casual drive along the coast will change this to 6 days.
Highlights:
The QL27 Dalat to Nha Trang pass, a favorite among travelers

Nha Trang city and all the party life that goes with it
Nha Trang accommodation: There are millions of choices in Nha Trang for all budgets. To get you started and in the mood for a party, a cheap but not disgusting hostel is Tabalo Hostel.
Conclusion
With a short space of time, it is possible to drive some of the best roads in Vietnam. To make the South even more attractive is the consistent tropical heat. There is no bad time to travel the South of Vietnam by motorbike.
A minimum of two days is needed to experience some of the countryside. Once you decide a route, head over and choose a motorbike.
If you find any roads or attractions that should be included. Please comment below so other readers can enjoy more of Vietnam!