This page is for people travelling in HCM for a period of 3 days up to a week around the South.
Great loops can be enjoyed from Saigon using our travel rental motorbikes.
The South motorbike routes are amazing!
Out of all drives in Vietnam, the South motorbike loops cover the greatest variety of scenery in a small space of time. Open straights along stunning deserted sand dune areas. Phenomenal coastal roads that can't get any closer to the sea front. Single track farm land roads connecting the east coast to the western mountains. Mountain roads that manage to find stretches of incredible straights before meandering around the next set of obstacles. A never ending change of farm land and tree types as the roads pass through coffee and rubber plantations.
An experienced driver can throw in some off-roading through Cat Tien national park and get lost in areas with wild elephants and no phone signal..
The Northern roads may have the South beaten on views, but for a consistent and varied drive, then nothing can beat the Ho Chi Minh Motorbike loops.
Consistently hot weather throughout the year! The south can unleash some spectacular rain storms that are amazing to any traveller! The drives can get wet, but the smoking hot Ho Chi Minh weather is never far away. Dalat can be a cold place, a quick blast through the freezing cold and back down to the heat is a great experience!
To fully experience the south in a short space of time. We recommend using a fully guided tour, prices vary on requirements and it is best to contact us.
Advantages of the south motorbike loop.
At Tigit Motorbikes the motorbike rental is cheaper, and follows our per day rental rather than the standardised packets. Per day rentals do not involve transport costs and also have lower deposits!
Unfortunately the drive from Nha Trang to Hoi An is not the greatest, which means for people on a time schedule then a loop along the coast and back down through the mountains is better than venturing to Hoi An and Danang.
The cost for standard day rental.
Day rentals from Tigit Motorbikes
$10 a day for semi-automatic
$20 a day for manual motorbikes
Deposit
$1000 deposit or passport with Vietnam visa.
Saigon Motorbike loop 4 days
Day 1:
Total time – 3-5 hours
Head out of Ho Chi Minh and off towards Cat Tien National Park. It takes around three hours to be completely clear of the Saigon traffic.
Once reaching Dong Nai river, the countryside opens up and it is a fairly short drive to the Green Bamboo lodge.
A lovely place where the price is far cheaper than the quality. Cold beers can be enjoyed with the humming noise of national park wildlife whilst only being a few hours from Ho Chi Minh city.
Experienced bikers on Honda XR's can enter Cat Tien national park on the DT761. This has some tough offroading and no phone signal. So do not attempt alone!
We recommend using a tour guide for this adventure.
Day 2:
We have not experienced this at Tigit Motorbikes, but Vietnam coracle is recommending La Nga River. The full blog article suggests waterfalls to see and places to stay.
Day 3:
Driving back to Ho Chi Minh or continue onward to Lagi and coco beach camp. Be careful on the weekends as this place promotes huge parties for Vietnamese. An escape from city life for the younger generation needing somewhere to let loose not far from the city.
In the weekdays however, Coco beachcamp is a beautiful beach resort at fair prices. Interesting backdrops of old cars and UK telephone booths. A lovely place to get a sense of the Vietnam coast line.
Day 4:
Head back towards Ho Chi Minh along the QL51. If time permits visit the CHUA HANG MAI PAGODA on the way home. A detour to a beautifully quiet temple built into the hillside that few travellers will ever see.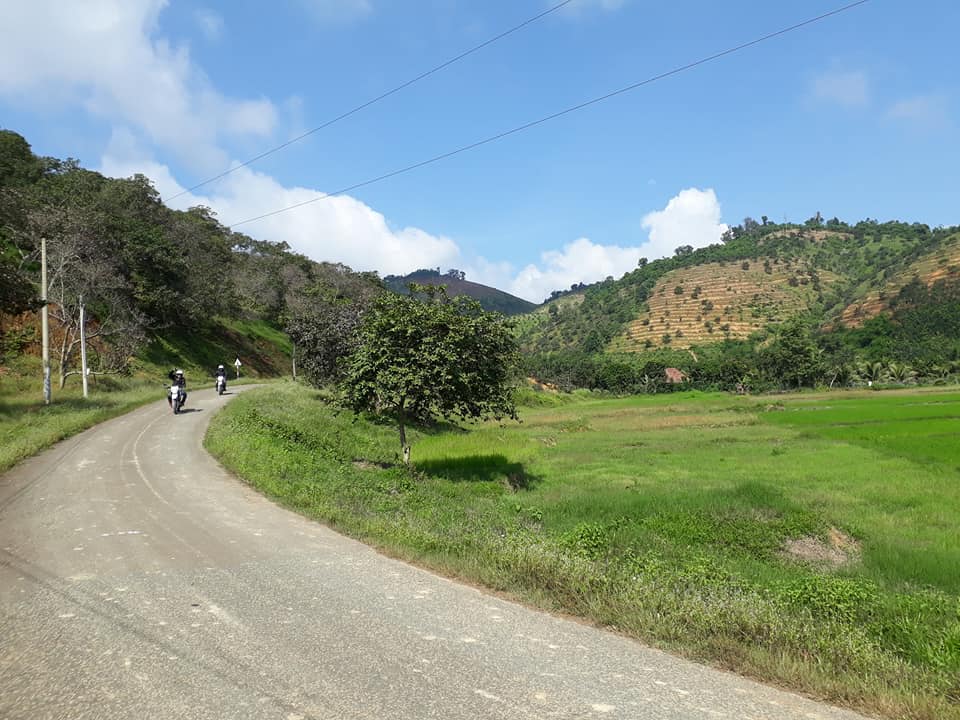 Saigon Motorbike Loop for 1 week or more!
Each of these days is explained in detail on Tigit routes and maps section. This page is a summary for the south motorbike loop.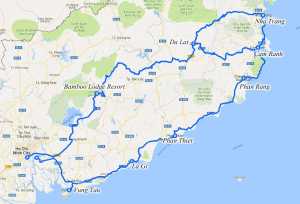 Ho Chi Minh to Mui Ne
Get out of the city and in preparation for amazing coastal drives.
Mui Ne to Phan Rang
Roads that cut very close to the sea.
Careful of the Mui Ne police trap!
Phan Rang to Nha Trang
A continuation of these amazing coastal roads.
Nha Trang to Dalat or Nha Trang to Buon Ma Thuot
Head inland through spectacular farmland and witness the local way of life
Buon Ma Thuot to Dalat
Farm land and coffee plantations throughout.
Dalat to Cat Tien
An open meandering mountain road that passes through a great variety of scenery.
Cat Tien to Ho Chi Minh
Grind back to Ho Chi Minh or hit Cat Tien national park for some intense off roading.
Cat Tien 2 day offroad loop!
Tigit highly recommends a tour guide for this route! But if you are brave enough to try and tackle this alone, then here goes!
Cat Tien floods and becomes a minefield of dirt tracks and puddles the size of swimming pools. Combine this with no phone signal and limited GPS support, makes this route an intense battle of wits, navigational and diving skills.
Roads that come to crushing dead ends as the blown rivers have flooded. The locals always manage to build an alternative routes around, but the question is whether you can find it!
Often a hacked together track zigzagging through the national park and over sketchy bridges.
Leave Ho Chi Minh and Drive to Green bamboo lodge in around 4 hours. Stay the night there and enjoy some beers. In the morning get some breakfast and prepare to battle your way back to Ho Chi Minh.
Along this route are security guys who may try and stop a motorcycle, however there are always ways around them!
Common mistakes for short term motorbike rentals.
Subjective of course but most travellers suggesting the idea of a short motorbike rental will head towards the Mekong Delta. In our opinion the floating market is a tourist trap that is not worth seeing.
The floating markets are a simple bus tour for amusement, but with the freedom of a motorbike there is much better things to see and do!
The Mekong Delta is incredibly busy and it is impossible to escape traffic. It is the hub of local production in Vietnam, so from a cultural standpoint there is a lot to see. However for driving it is unpleasant, hot and full of traffic.
Heading towards Vung Tau or Mui Ne to "see the coast".
The spectacular Vietnam coastline does not reveal itself until after Mui Ne and onward to Phan Rang. This is out of the range for a normal short term rental.
The drive to Vung Tau is all highway, and the drive to Mui Ne from Vung Tau is "nice", but nothing to write home about.
Mui Ne has become an abomination of police traps and poorly run tours. It is the most controversial destination on the tourist circuit with some people loving it, but most disliking it.
If Mui Ne is on the route then we highly recommend the cable car at Khu Du lịch núi Tà Cú which has amazing views of the local area.