Reading Time:
17
minutes
Checking out the Waterfalls in Dalat
Dalat is a beautiful mountain city in the South of Vietnam. Connected to Ho Chi Minh City, Nha Trang, Mui Ne and Buon Ma Thuot. A destination that is popular among tourists, but not a major hotspot that the masses go to!
Often cold and rainy, the weather in Dalat is a big surprise to travelers who are expecting boiling hot Southern temperatures. The mountain city has French inspiration, going as far as having a miniature Eiffel tower as the symbol of the city.
Dalat has a lot to offer for adventure seekers. Hiking tours, Canyoning tours, The Crazy House and of course Waterfall hunting.
The city itself is peaceful with many local homestays and guesthouses. Beautiful lakes for walking around and excellent food. Among locals, Dalat is a holiday spot for romances. A place to take the girlfriend for a holiday away from the big cities. A chance to visit "love valley", flower gardens, coffee shops and other activities to progress the relationship.
Dotted around Dalat are beautiful meandering mountain roads with lots of waterfalls to be found. Many of these waterfalls are abandoned old tourist attractions due to recent dam developments reducing the size and display of these powerful creations.  It is still excellent fun to hire a motorbike to drive around finding all of the Dalat waterfalls that Lam Dong has to offer.

Elephant Waterfall and the general area of Ankroet are must do activities with a scooter. The rest on the list are either abandoned or touristy. Many of these locations are about the journey and not the destination. Dalat is a stunning place, and no matter where you land, a good drive can be had!
The following list is my experience of three days driving from Ho Chi Minh to Lam Dong province whilst packing in as many waterfalls are Dalat as physically possible.
Dambri Waterfall
Bo Bla Waterfall
Gougah Waterfall
Elephant Waterfall
Pongour Waterfall
Bao Dai Waterfall
Tiger Waterfall
Lien Khuong Waterfall
Prenn Waterfall
Datanla Waterfall
Ankroet Waterfall
Cam Ly Waterfall
The route I took on this three day waterfall bash is marked in black. It has a fair amount of easy to intermediate off-roading. For most people, I recommend the blue routes.

Dambri Waterfall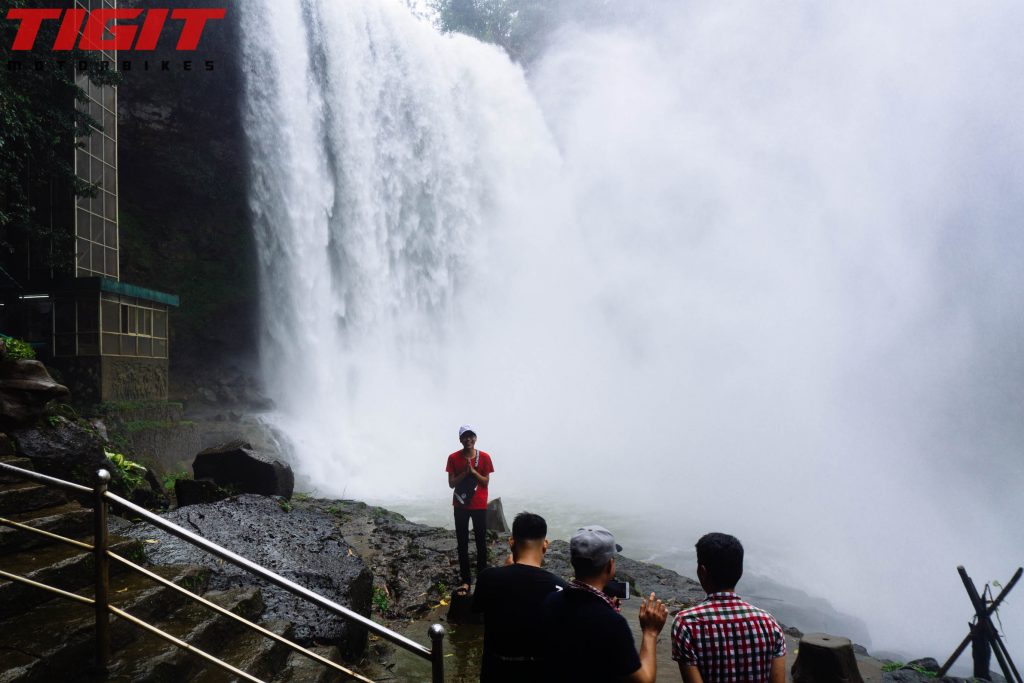 The good
Dambri waterfall is enormous powerful and overpoweringly impressive. To date, this is the largest waterfall that I have witnessed, and by quite some way. I didn't have high hopes having just walked through a theme park, picture taking abomination of over-development.
I am then herded into an elevator. Down I went with a bunch of make-up plastered Vietnamese tourists. The elevator door opens and the thundering scale of this waterfall quickly becomes apparent. The setup and pathway forces visitors into the hurricane strength winds and the overdressed picture taking tourists are drenched into very watery photos. Ha, now you look a little bit more like me!
I loved this place, it was amazing. I doubt I will ever witness a bigger waterfall than this from up close!
This waterfall is impressive and needs to be seen!
The bad
Dambri waterfall is a Vietnamese style theme park with ridiculous attractions. Obscene amounts of tarmac that maps pathways to statues/items that are setup for picture taking. A skating ring, crappy restaurants, Ferris wheels and girls pretending to be scared of walking over wobbly bridges. This is not the kind of thing that should be at the top of one of mother natures most power phenomenons.
It is disgusting, and this over-development very nearly sent me home before I had seen the waterfall.
Location and how to get there
Tigit naturally sends customers inland from Ho Chi Minh to Cat Tien National park. This connects nicely for a beautiful drive on the DT725 to Dalat. However most travelers might struggle to fit all this into one day.
Bao Loc is an under rated city with beautiful roads and surroundings. Some travelers may wish to break the Cat Tien to Dalat drive into small sections and use Bao Loc and Dambri waterfall as another day.
The route I took is shown on the map below. It has entry level off-roading and passes through the middle of nowhere with some great views. For adventure drivers follow my route, for everyone else take the DT725.
Bo Bla Waterfall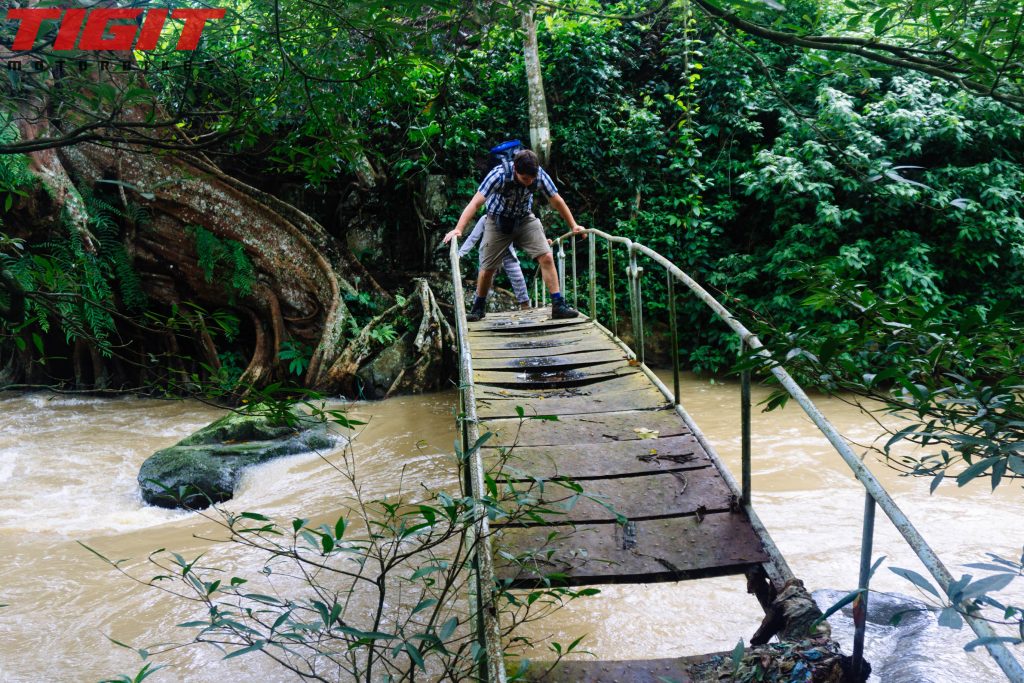 The good
This place is empty and deserted. It has the abandoned crazy house feel with a few rotting buildings dotted around and a big sign in Vietnamese saying "dangerous do not enter". I was alone and it took a while to build the confidence to find a way into this compound of derelict mess. The waterfall can be heard thundering in the background, but it still took another 20 minutes to find the path that leads to the bottom.
The path down has fallen apart and is slippery and very steep. A slip here will send you off the side of a cliff. Randomly, there were two other British tourists here who were also on a mission to find abandoned Dalat waterfalls. Had I not stumbled into them on the path down, I probably would not have dared to continue this climb to the bottom. A Freak chance to meet other tourists here, this place is way off usual routes and I imagine nobody is stupid enough to go here anymore.
As we approached the bottom of the cliff, the pathway had been eaten by running streams of water which meant we had to wade through flowing water. There is a nice viewing platform on a bridge directly in front of the fall. This is a powerful and wet place with the wind from the waterfall blasting down this narrow valley. Avoiding getting drenched in water is impossible.
Around the site are old tourist statues that would have once been used for the standard Vietnamese picture taking. Today they are rotted, derelict and actually add to the creepy atmosphere of this place.
Climbing over the river to the other side is a slippery business, but further downstream is an old and broken bridge. The crazy Brits I was with decided it was worth crossing and so I nervously followed suit. The other side is a beautiful old tree and the adrenaline from this bridge crossing was worth the experience. Was it worth the potential of my life? Probably not…
This is the end of the line though. These connecting bridges would have once created a tourist circle for the entrance and exit paths to the waterfall. We couldn't find the exit route and so had to double back over the rotting bridge.
The bad
A wet place indeed and this is not somewhere to sit down and admire the waterfall. Every second in this place is a water drenching experience. The surroundings from the grass to the trees are close to being water drenched swampland. It is mystical and creepy, but definitely not comfortable.
This is an adventure experience, heading into somewhere that no one goes and having the thrill of the climb down. Although impressive, this is not a particularly beautiful waterfall and due to the boggy surroundings, powerful wet winds and the knowledge that there is no one around to help. There is little motivation to want to get up close and personal to this waterfall.
Having said that, the climb back up the hill did reveal the beauty of this waterfall from a distance!
Location and how to get there
This one, along with most Dalat waterfalls is located on the main highway the QL20 between Ho Chi Minh and Dalat. Unfortunately visiting this waterfall takes the traveler off the beautiful DT725 which means it is out the way and not convenient to get to. From Dalat, it is around 1 hour 40 which is a fair drive down a highway.
However, if this place does land on your route it is worth stopping by… providing you are an adventure seeker!
The gates warn you away but to the right is a pathway to get inside. The pathway to the bottom of this fall is close to the gate on the left side. It took a while to find!
Gougah Waterfall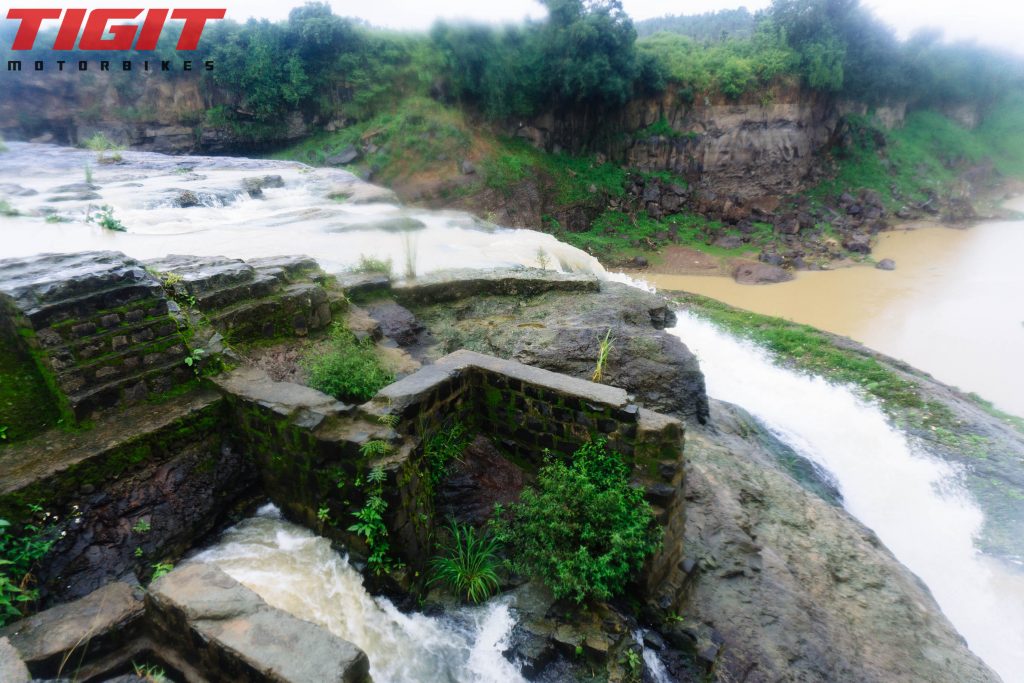 The good
Another abandoned waterfall that has been wiped out by the building of dams further North. Gougah is surrounded by building style fencing. It is obvious that inside is an old abandoned Vietnamese theme park with a horror show of picture taking statues. However it is solidly wall'd off and there is no going inside from what I can see!
To the left of the enclosure is a barbed wire fence that is easy to climb. This takes you to the rivers edge where a small pathway is cut through long grass shrubbery. A small walk that requires some ducking and diving will lead you to a massive cliff edge which is Gougah waterfall. A great view into the distance, and in some ways the sad remains of what must have been a powerful waterfall. It is delicately beautiful but not mind-blowing.
The real power here is standing precariously on the edge of an enormous cliff with flowing water. In a place that you are not supposed to be, this is a thrilling and scary experience!
The bad
Gougah waterfall has nothing that will stand out in the mind. It is pretty, but nothing special. A sad reminder that once upon a time this place would once have been a special site, but now it is nothing to care about despite being so close to Dalat city! It is gone, a thing of the past. Now, it is a place for adventure seekers to enjoy the thrill of standing on the edge of a cliff that would have once been a monstrously powerful waterfall!
Location and how to get there
As simple quick stop off the main highway out of Dalat. This is worth a trip that should be connected to other waterfall viewings. There is no climbing, a short walk from the road and through some fun shrubbery will bring you to this cliff edge. No more than 15-20 minutes needs to be spent here. Take that selfie of you being an idiot standing on the edge of an abandoned cliff and be on your way!
Elephant Waterfall
The good
The drive to get to Elephant falls is amazing. A wonderful winding mountain road, and this alone makes Elephant waterfall worth a visit.
Elephant waterfall is my favorite of the Dalat waterfalls. I have been here over 5 times through the years and have seen it turn from a remote unknown beauty into the bustling tourist hotspot that it is today. I am happy to report that Elephant waterfall has remained a waterfall and not a theme park. The process is simple – walk in, climb down some precarious rocks with limited health and safety, see the magnificent beast, climb back to the top, and leave.
Elephant waterfall was riddled with negative reviews on Trip Advisor from pathetic travelers claiming the route down was too dangerous. In my recent trip to this amazing place they have added singular guard rails down the path for clinging to, but they have left the uneven rocky steps that lead to the bottom in their natural state. Keeping this place nice and authentic.
Elephant waterfall is split into three sections.
An artificially created "safe" platform for viewing which is around half way down the waterfall.
At the bottom is natural rocks that tourists nervously stand on whilst trying to take selfies. Attempting not to fall into the whirl pool of water just below. There is even an employee (I think) helping the more crazy people into other precarious spots that go way down below health and safety standards. This is where my video was taken from and without the assistance of a one handed Vietnamese man… I wouldn't have had the confidence to get to this platform.
A dirty, muddy trail leads down below and behind the waterfall. Again it takes a bit of an adventurous spirit to make this climb. Thankfully, this is not disclaimed anywhere and the singular track forces the unsuspecting girls in pretty dresses into the mud where they have no option but to continue onward behind the fall. Here they are met with a torrent of splashing water which drenches through before there is a chance to escape.
This is what I want from a touristy waterfall. A place that doesn't disclaim anything. A place that is left natural but has the route quick and efficient enough to process the masses.
Elephant waterfall is a popular place for easy riders. To avoid the masses go in the late afternoon and this place may be quiet (in previous times I have always gone to Elephant after 5 pm and it was empty). This time I went in peak hours.
The bad
Perhaps the lack of a place to sit and admire the waterfall without getting wet or standing on precarious rocks. On the other hand, the lack of coffee/cigarette spots is what stops people from hanging around here too long and causing ques. Overall I have nothing bad to say about this place. I have always loved Elephant waterfall. For now, and with the current setup, I am happy to see this place being admired by so many people in an orderly efficient manner without destroying the environment!
Location and how to get there
The DT725 is a fantastic road and should be enjoyed on a motorbike. If there is one waterfall to see, then this is it!
The waterfall is just off the DT725 and not signposted very well. Easy to find with Googlemaps, but without it may still be difficult!
Pongour Waterfall
The good
Movie style delicate beauty. An animated film with cartoon animals chatting and a waterfall humming away in the background. Pongour waterfall is that place. I imagine a picnic here in the shade of the trees with my Vietnamese family. Or a picnic here on the rocks open to the sun with my English family. This place has both the open and closed feel that picnickers love. The gentle background noise of a beautiful waterfall creating a lovely gentle experience for everyone to enjoy.
The bad
To get to Pongour waterfall is another walk through disastrous Vietnamese style over developed pathways and souvenir stores. Pongour waterfall is another dying place and these stores look miserable and broke. The owners have given up on life and just sleep. Perhaps it is because I am a mud-splattered mess and not the standard tourist. I guess they know better than to wake up for someone like me!
Once arriving at the waterfall it is sad to see that trash is everywhere. A curse of Vietnam in general where locals can't be bothered to throw away their trash. Pongour waterfall is charging an entrance of 1usd, which I would have hoped would have at least have gone towards clearing up the mess.
The problem these waterfalls are facing is that they were once hustling and bustling tourist areas for picture taking locals. Overdeveloped theme parks to attract in the Instagramers and selfie takers. Recent dam developments have crippled the scale of these waterfalls. They are still beautiful, but not the magnificent beasts that used to bring in the big numbers. The result is an overdeveloped concrete mess that does not have cash flowing through for upkeep. This leads to a rather sorry and depressing looking place. Pongour waterfall is lovely, a great spot that is ruined by overdevelopment that removes the feeling of a nice remote countryside picnic spot.
Location and how to get there
Pongour waterfall is a little bit out the way. However, for people riding motorbikes, it can help create a loop between Elephant waterfall, Pongour waterfall, Gougah waterfall and the main highway back into Dalat.
For people on a waterfall driving bash… LETS SEE AS MANY WATERFALLS IN ONE DAY AS POSSIBLE. Then this place is worth going to.
However for everyone else, after Elephant waterfall head straight back to the highway to see other places of more interest.
Bao Dai Waterfall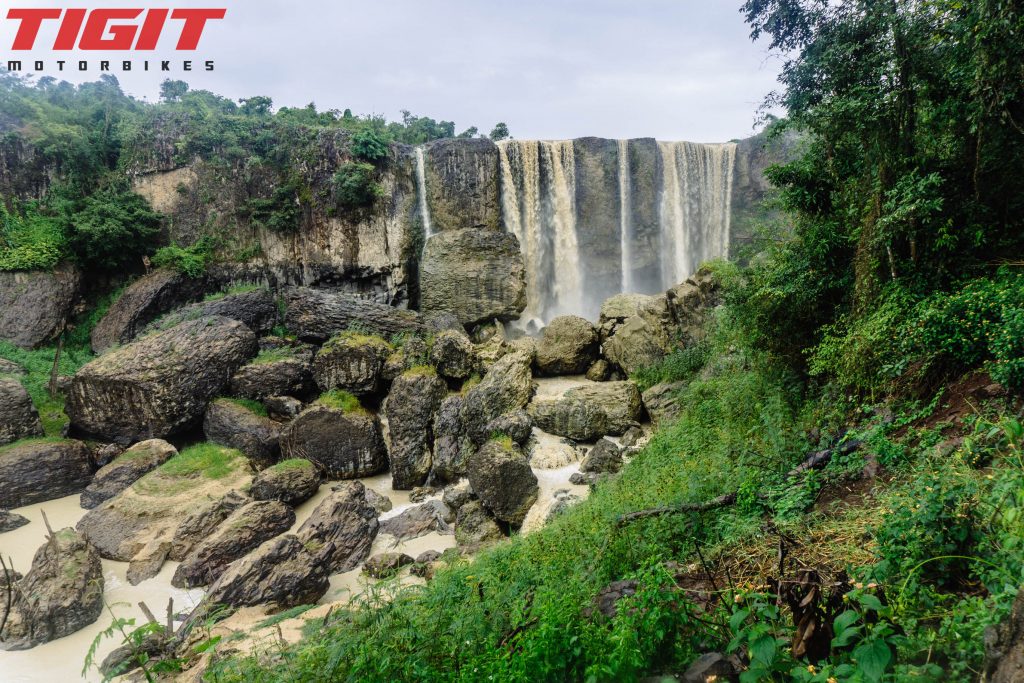 The good
The pathway down is nice. Moss covered steps down the side of a hill, I enjoyed the abandoned and creepy feeling that this place had. I am not sure if this is the wrong season, but this place was empty despite the clean kept buildings, cut grass, and new flower arrangements. If it is abandoned, then it must have been left alone within 1 week of my arrival.
Bao Dai waterfall has a view over a valley and the water comes tumbling down from very high.
The bad
Unfortunately, this is a rather sad place. A waterfall that looks like it has been crippled by dams further north and has been left to be buried under locals throwing trash. I wanted to like this place, but I don't really have anything positive to say. This place is depressing.
Location and how to get there
Off the QL20, this waterfall is a fair drive from Dalat and considering its current state it probably isn't worth the drive for most people. The local area is full of potential off-road which I started to brave but due to limited time I elected to bail out. I will map the potential anyway and I believe this waterfall can be connected into some difficult off-road driving. From travelers going between Mui Ne and Dalat on the QL55B then this is an obvious stop off point.
Tiger Waterfall
The good
Tiger waterfall is not far from Dalat and the drive is pleasant, meandering through pine forests into an area with no development. In fact to the East of Dalat where Tiger waterfall is located is the end of the line and there is nothing beyond this point but remote forests.
Tiger waterfall has a few run down statues around from the times of this being a bustling tourist place. I went here years ago when it was still active and for me, it brings sentimental memories of being a younger man.
For a quick drive into pine forests with very mild off-roading then Tiger waterfall is worth the trip. This is about the journey and not the destination, Tiger waterfall is no more.
The bad
Tiger waterfall does not really exist anymore, there is no waterfall…. just the slightly creepy remainders of a tourist place. Unlike the other deserted waterfalls I have talked about, Tiger waterfall does not require a climb or hike. Park the motorbike up and check out the fall, enjoy the pine forest, the old tourist attractions and be back on your way again.
There isn't much bad to say about this place, as it doesn't really exist anymore!
Location and how to get there
A quick drive out of Dalat and onto some countryside lanes and into a pine forest of mostly gravel driving. Tiger waterfall is not far from Dalat and is one of the rare occasions where Google maps exaggerate the time to get there.
This waterfall can be connected to other falls using the QL20 which is also a pleasant way out of Dalat.
Lien Khuong Waterfall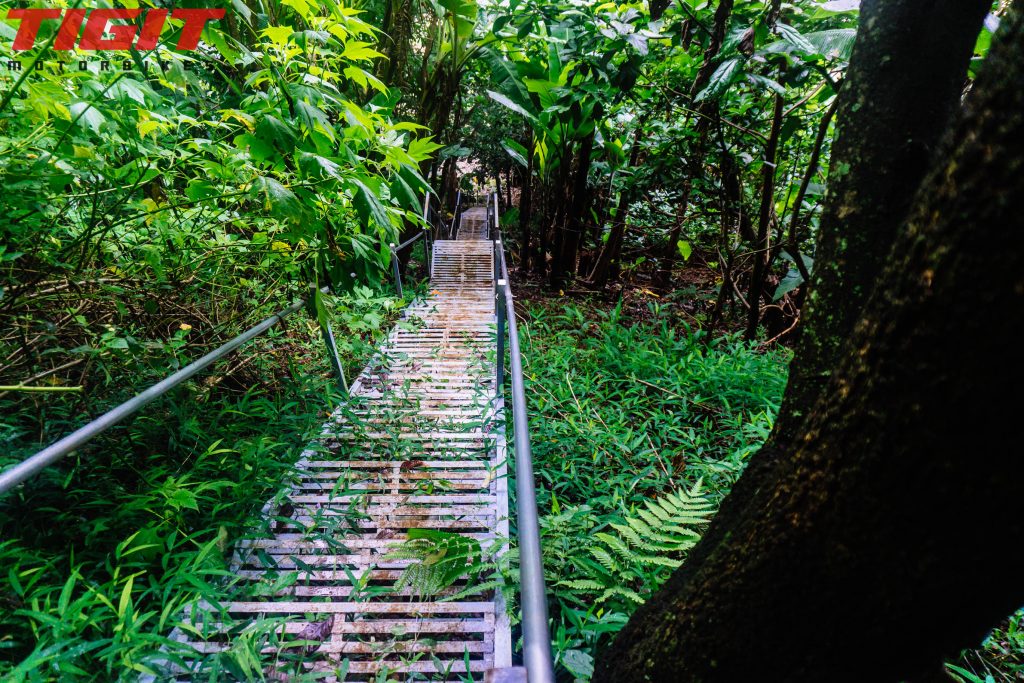 The good
This place is on the highway QL20 in and out of Dalat. It is hidden behind the back of a house. Providing you can find it, then this is a quick stop to see some abandoned stairs that climb down through thick forest. These are ghostly stairs and definitely worth checking out for a 5-10 minute motorbike ass break.
The walk around the back of the house is slippy and on a steep cliff edge, which positions you to clamber onto the staircase from the side. The stairs are slowly rusting and look like they come straight out of a horror movie.
The bad
Once reaching the base of the stairs there is nothing there. A pathetic sad looking waterfall looms in the background. A place that once would have been powerful but today is no more. A few fishermen were sitting around, but essentially this is a creepy staircase leading to nothing.
Location and how to get there
Positioned on the QL20, the staircase is behind house 321. Walk around to the left of the blue house and the staircase will reveal itself.
Prenn Waterfall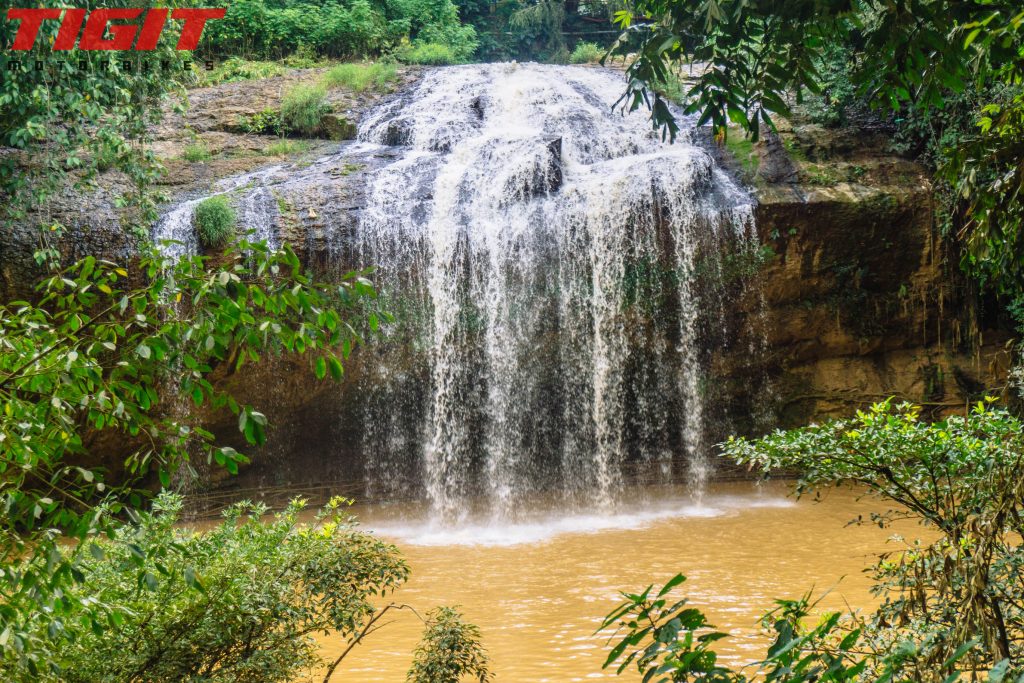 The good
Positioned on the QL20 on the way into and out of Dalat. This is another waterfall that is easy to access and can be anywhere from a quick stop over to a half a day of selfie-taking.
Prenn waterfall is the standard Vietnamese style theme park of random statues and picture taking items dotted around.
Small ponies to sit on, Vietnamese dressed in traditional outfits charging to take a picture with them, a boat ride and what looks to be a cable car.
I have been to Prenn Waterfall many years ago with a girlfriend and remember wondering around taking pictures. Today, I can't be bothered and my stay here was all of 10 minutes.
For 40,000vnd this is probably an ass resting spot and nothing more for most motorcycle enthusiasts.
The bad
Prenn waterfall is small and nothing special. It is a place to commit for a 1/2 a day with a loved one for taking photos of pointless objects. Else, skip it out completely or spend a massive 10 minutes here to make a claim of visiting yet another waterfall in Dalat!
Location and how to get there
Right on the QL20 and CT14 it is impossible to miss this place. The road funnels motorbikes into the entrance of Prenn, and you can either stop here or not.
The waterfall is quick and easy to walk to which allows for a quick stop off.
Datanla Waterfall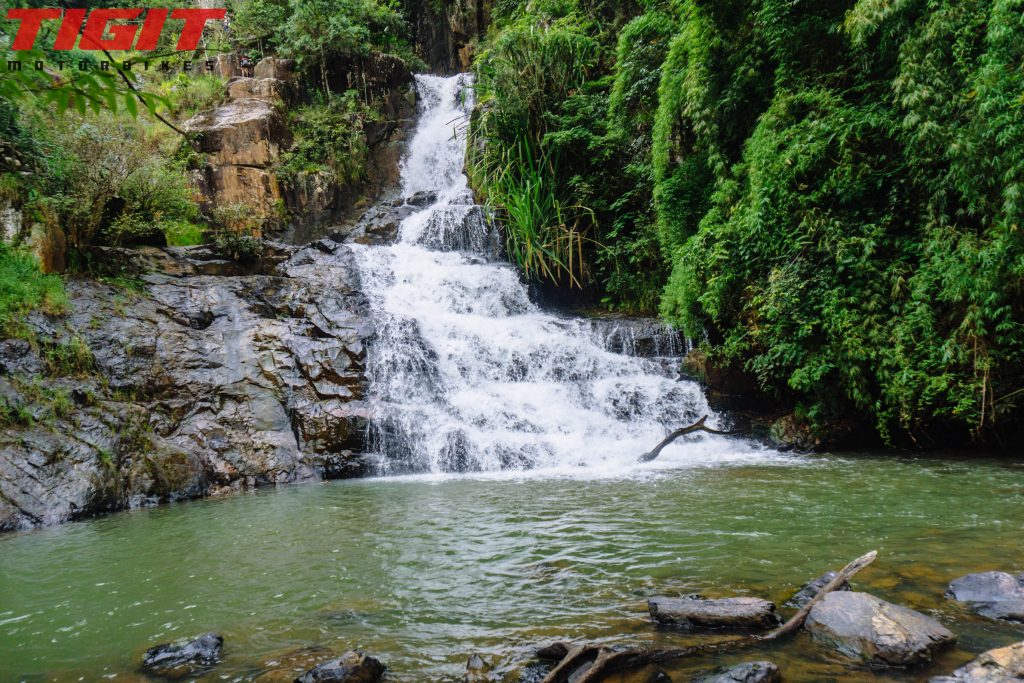 The good
This was my biggest surprise and I very much enjoyed Datanla waterfall. A busy looking place with tourists and tourist buses everywhere. In the old days, it was a long hike both down and up a hill to get to an average looking waterfall with the Vietnamese theme park garbage at the bottom.
Today, however, this is a fantastic and thrilling roller coaster to the bottom. No corners have been cut here, this is a fast-paced and lengthy ride down that is worth every penny (150,000vnd 7usd). I would argue the best roller coaster I have been on by quite some way!
This was an unexpected surprise for me and I enjoyed every minute of it.
Once at the bottom, Datanla waterfall is almost no more and it is very close to not even being worth a picture. The roller-coaster includes a ride to the top. I thought this was going to be a straight, gentle and direct hill climb to the top. Oh no, even on the way up they throw a curve ball of downhill speed and corners. I was impressed!
All in, I spent about 20 minutes here and had the chance to ride an incredible roller-coaster.
The bad
Roller coasters are not for everyone and if that someone is you then this place has nothing to offer. The waterfall is uninspiring and there is nothing to see at the bottom. Datanla is a roller coaster and not a waterfall.
The Vietnamese have been smart on this one, taking a dying waterfall that is close to the city center and building an awe-inspiring "alpine roller-coaster" to the bottom. This is worth a stop for anyone who enjoys theme parks. For everyone else, this is humans being destructive through a beautiful Forrest.
Ankroet Waterfall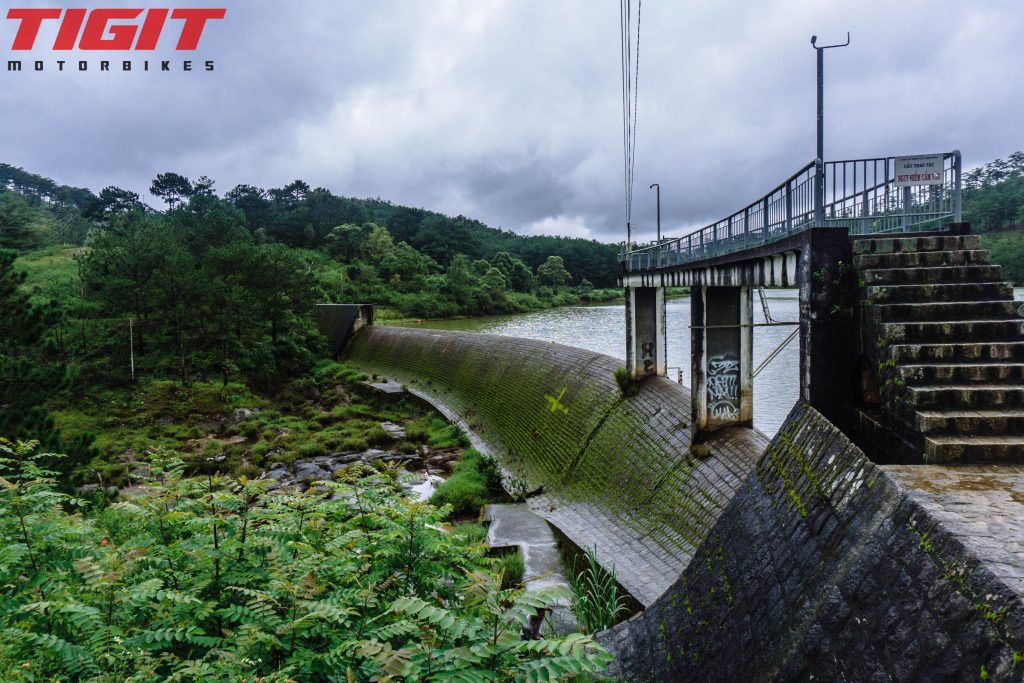 The good
Ankroet Waterfall is a dam and not a waterfall. The drive to get there is beautiful. A perfect road that meanders through pine forests and along the edge of lakes. The dam itself is unique and small. Unlike most dams which are enormous concrete mounds, Ankroet is small and built to blend in with its surroundings. This is not an imposing dam, but something quite beautiful.
This is about the journey and not the destination. Visiting Ankroet should be combined with going deeper and seeing other picture taking opportunities that are clearly marked on Google maps. Unfortunately, I was out of time and I could not venture further up this wonderful road.
Ankroet should be connected into visiting Elephant waterfall.
The bad
It's just a small dam on a pretty road.
Location and how to get there
To the North West of Dalat, Ankroet is one of many beautiful spots on these wonderful roads. A good half day, maybe a full casual day can be spent enjoying this beautiful part of the world.
Cam Ly Waterfall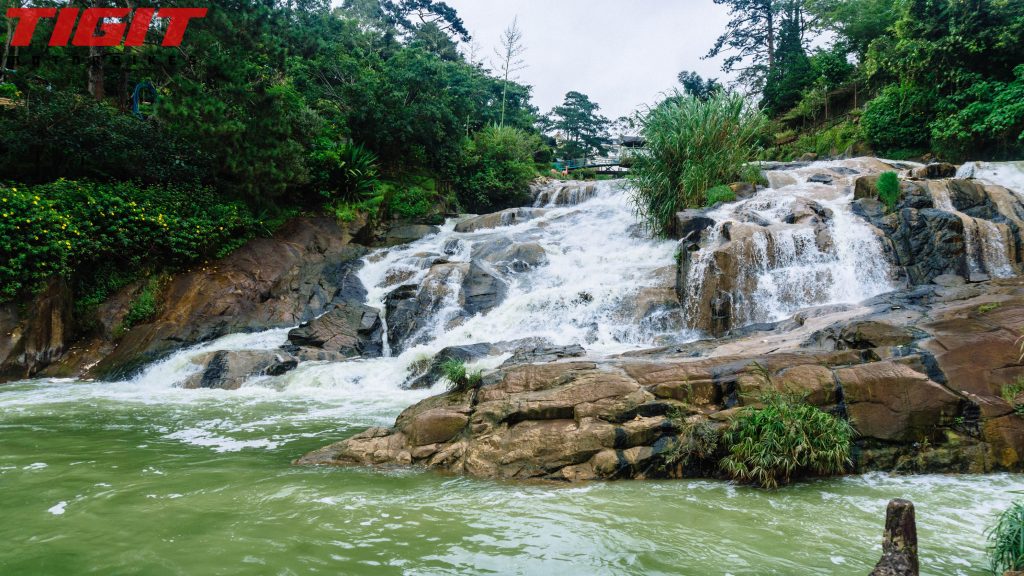 The good
Cam Ly waterfall is in the centre of Dalat, quick and easy to get to. If you have a few hours to kill then this place may be worth a visit. I am conscious of my objective on this trip, which was too see as many waterfalls as possible in a short space of time. Obviously, walking around overdeveloped picture taking tourist hot spots doesn't fit my agenda for this trip.
I recall coming here with my UK family and we did enjoy wandering around taking random pictures whilst enjoying each others company. Cam Ly waterfall is a place to "give you something to do" when there is no motivation to do anything more adventurous.
The bad
Borderline run down. This place has no heart and no personality. The waterfall is pretty, but nothing much to care about. The setup creates a circle of picture taking opportunities with statues. This brings you to the top of the fall before making your way down again.
A convenient circle of time wasting whilst providing mediocre entertainment for all around!
Location and how to get there
Cam Ly is the closest waterfall to the city. Can be done in a taxi, or used to connect to Ankroet and the beautiful drive in the North West direction.