Reading Time:
8
minutes
The North West loop described here can be done within three to six days of riding. As with everything in the North of Vietnam, the weather conditions, rider skill level, and traveling style all play a big part in how much ground is covered per day.
This route is shorter in distance and time than the more famous Ha Giang loops, which realistically need a minimum of five to six days to complete. For Ha Giang, three days are spent just getting to Ha Giang and back. Roughly one and a half days each way.
Unlike Ha Giang, this North West Loop only takes around half a day to both exit and return in Hanoi city.
This is your next best choice for those who don't quite have the time for the Ha Giang Loop!


The route documented here is in Dark Blue on the North West
No tourism infrastructure
This route is unique because there is very little foreigner-based tourism infrastructure, despite being so close to Hanoi. However, Vietnamese tourism is busy in this area, especially Mu Cang Chai. 
It is difficult to explain, but there are large differences in how Vietnamese tourists and foreigners travel. To list a few generalized examples.
Vietnamese like rock hard mattresses

Vietnamese like loud Karaoke 

Vietnamese like very cheap dorm room-style accommodation

Most foreigners dislike the majority of Vietnamese food (even if they don't admit it), and being forced to eat it for days can be a struggle.

Language barriers can be a very real issue. (will I be getting breakfast for example?)
For some travelers, being off the tourist circuit and being forced into Vietnamese tourism and culture will be a thrill. But for most, it will be a challenge, one you will enjoy but will most likely be celebrating when it is all over!
The roads on this route can sometimes be in poor condition and full of potholes. Landslides are a genuine issue for the local way of life in this area. It is normal for sections of roads to be destroyed. The terrain is clay, which behaves like ice when wet. It is always wet in the North West, so you will get used to driving in slippery conditions! There are also areas with no signal, so downloading offline maps is very important. You will also find that Google will send you down dirt roads accidentally.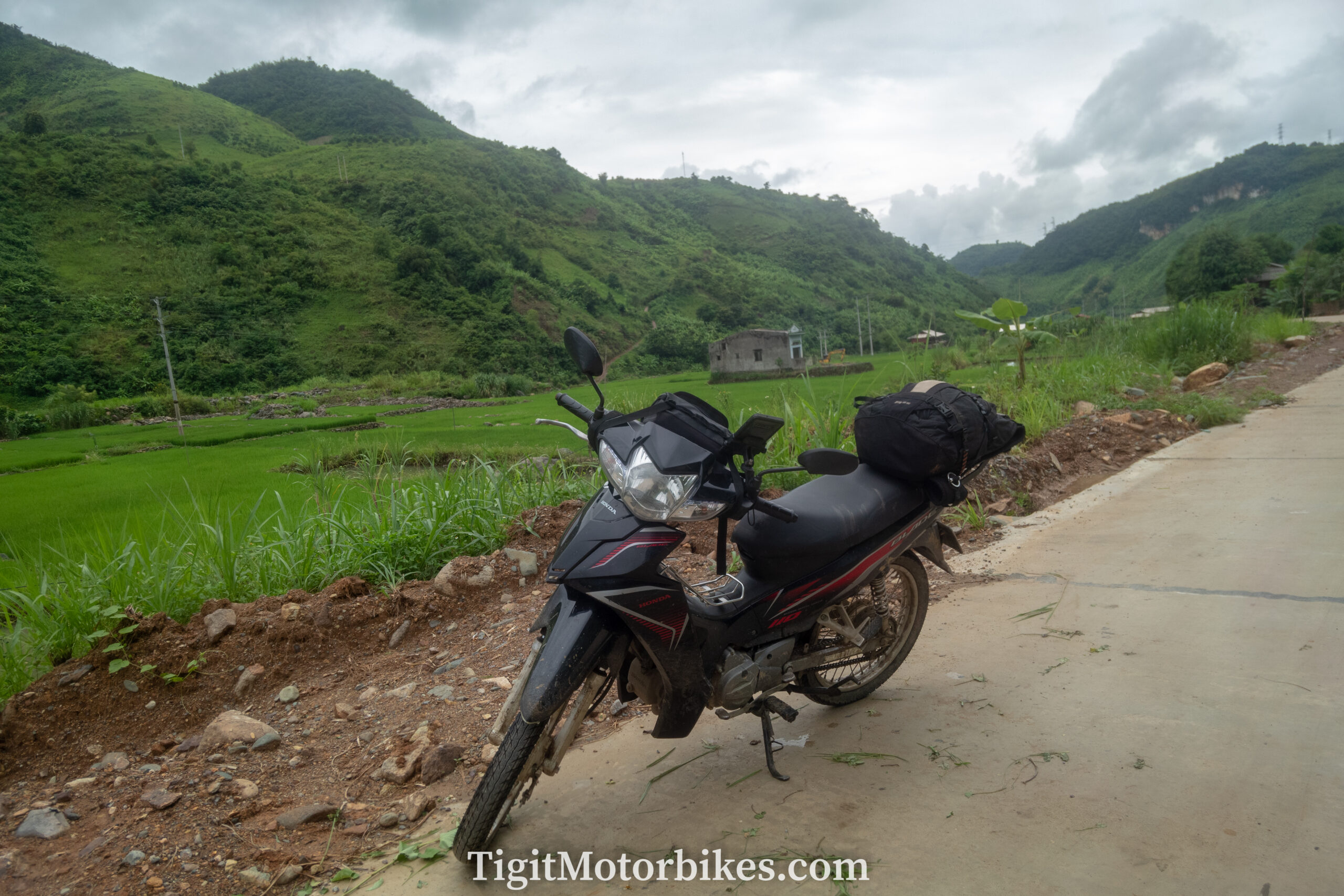 The beauty of the North West
I would argue that this drive is the shortest drive in Vietnam to reach jaw-dropping natural beauty. If you want to experience Vietnam in its full potential, and in the shortest time possible, then this is the route to take.  This is the reason why the area is exploding on the Vietnamese tourist market. It is so close to Hanoi and yet so beautiful. 
I also like that this route has optional places to explore, such as the Dinosaur backbone in Ta Xua and several viewpoint spots in Mu Cang Chai. The drive is not just going from place A to place B.
It is unique to have a route with "things to do" without them being overly touristy.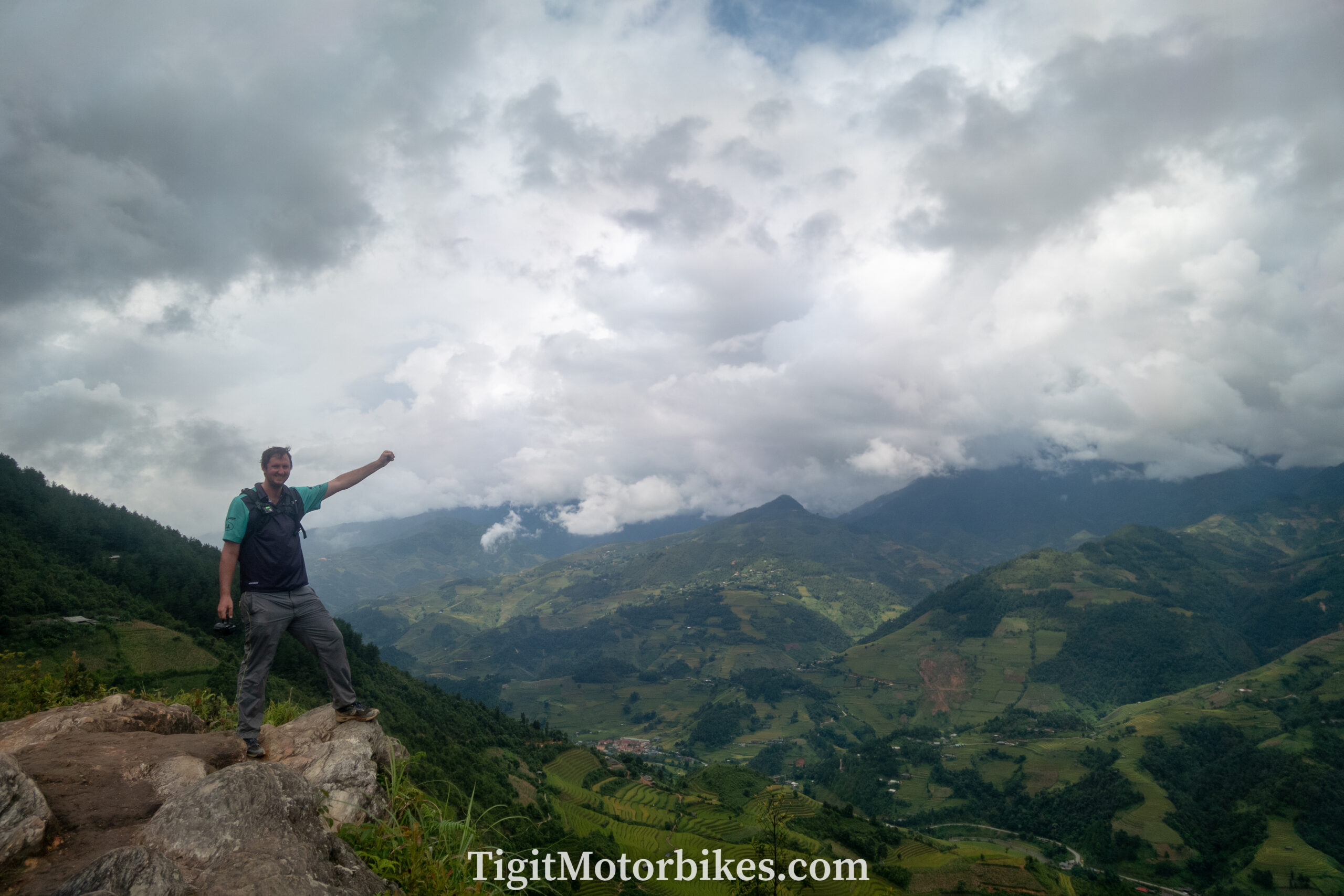 Ha Noi to Ta Xua – Day one
The drive out of Ha Noi isn't the greatest, but from Tigit Ha Noi to Ta Xua this is only around a five-hour drive, which is a fairly short "day one" compared to other routes. It takes around two hours to get out of Hanoi properly, and to be on better roads.
To go from the bustling city of Ha Noi to the very backward and mostly run-down Ta Xua is quite a transition for a one-day journey. Once in Ta Xua you will be met with homestays with staff that speak basically no English. The one I stayed at, I wouldn't recommend, so I will be waiting for a client to refer a homestay with a soft mattress! Ta Xua is famous for being a town above the clouds, so if you get lucky, you will be treated to a spectacular photo.
I was so happy to do this loop with beginner riders, because I wanted a perspective of how they would cope with it. For me, everything is just normal. I have lost perspective of what is difficult or easy. I wouldn't say the climb to Ta Xua is difficult, but the new rider in the group struggled with it. This is something I wouldn't have expected, but I think is worth pointing out.
The Dinosaur backbone in Ta Xua
The star attraction of this loop is the Dinosaur backbone in Ta Xua. It is a cliff edge that sticks out between two valleys. Crazy people will drive it, but most will walk it. Out of five journeys to Ta Xua, only once have I seen the Dinosaur Backbone, and this is because landslides often block it. Ta Xua is a beautiful place, yet miserably wet, and actually part of its appeal. The Dinosaur backbone is a thrill seek that most only get to dream about tackling. It truly is a cliff edge, and a dangerous one at that. You need to be very comfortable on your motorbike to drive it. My advice is to park your bike at the top, have a nice coffee and then to go and hike it.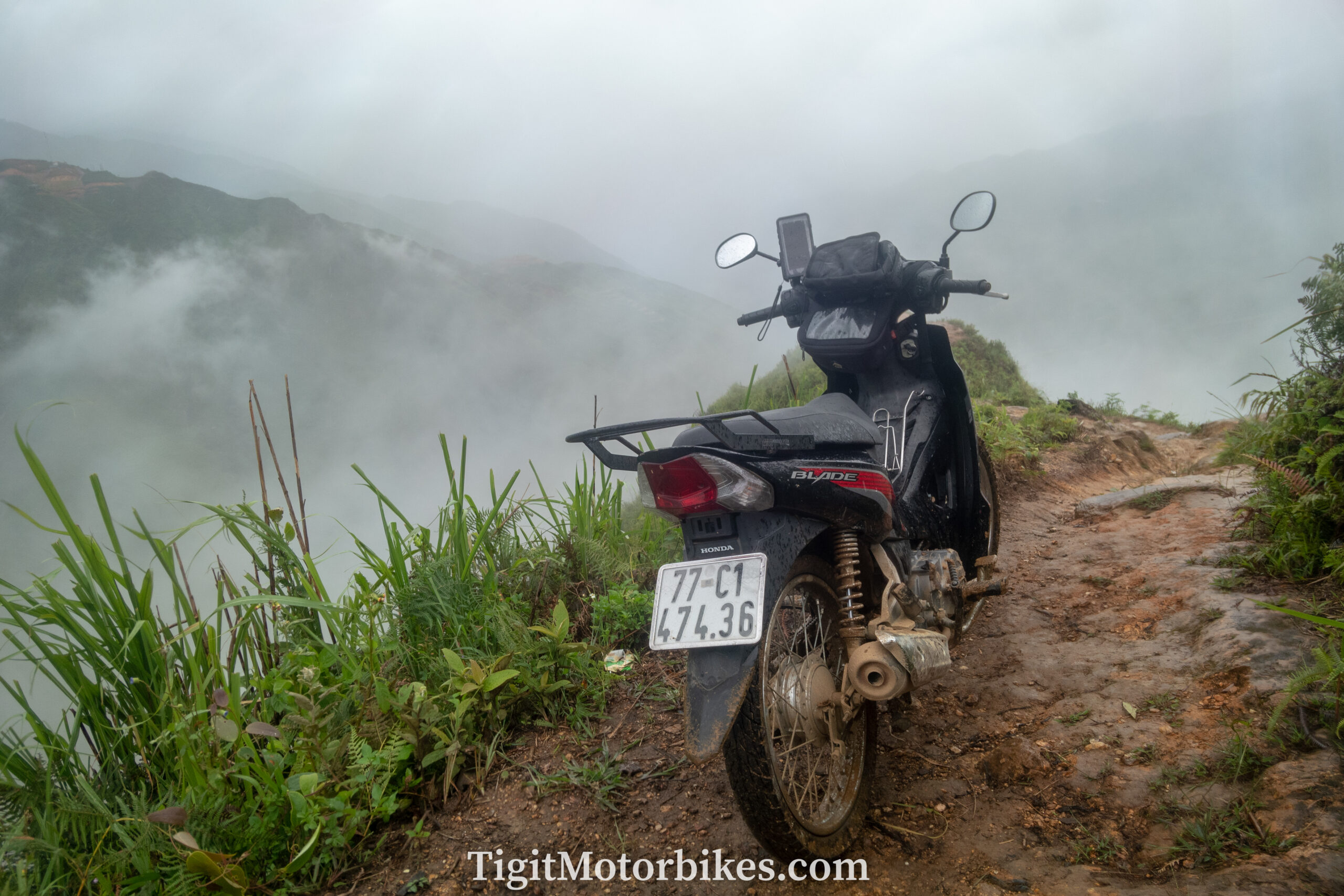 Ta Xua to Mu Cang Chai – Day two
Our original route was Ta Xua to Mu Cang Chai, but poor weather conditions and new drivers in my group, meant I re-routed to Son La. Ta Xua to Mu Cang Chai is roughly a six hour journey, which is reasonable for people comfortable on a motorbike. Ta Xua to Mu Cang Chai is a very pleasant drive. In particular, DT 109 is a great route that shows off rural Vietnam.
Be careful of trying to be creative, and using the DT112 as a Ta Xua Mu Can Chai shortcut. Most people will not have the skills to tackle this road. This is not a joke. It is remote and hard riding.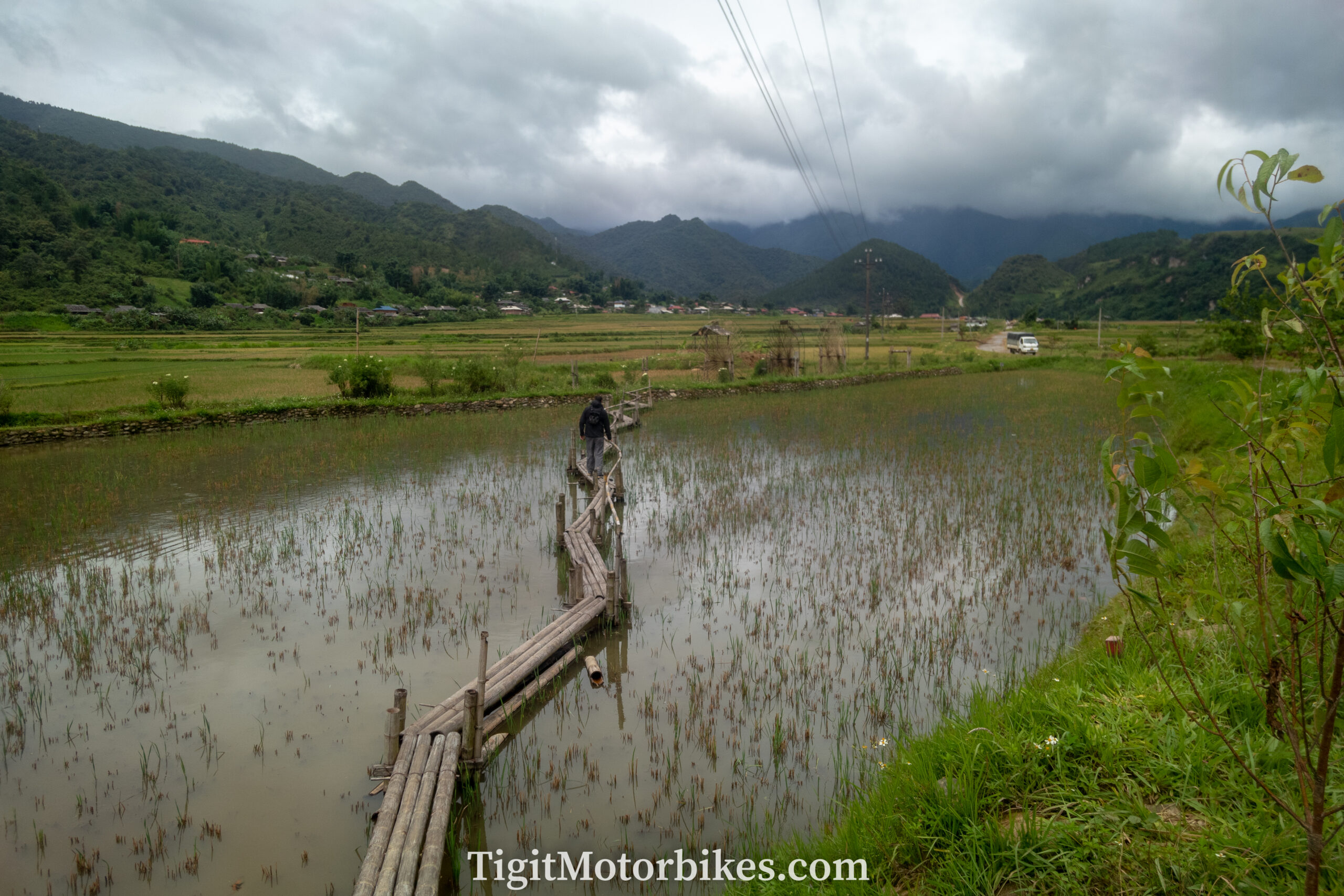 Son La
Son La seems to be a connecting city in the North West. I never plan my trips with the concept of staying here, yet every trip uses Son La as a base. I think this is because it appears to be the only place in the North West that provides some foreign comforts, such as pizza. I wouldn't go out of your way to see Son La, but if you need a hotel with a bit more "quality" and pizza for the night, this is where you go. Unfortunately, I haven't actually found a "good" hotel in Son La yet, just average ones. But average is better than bad! Son La also has a prison you can quickly see in the morning.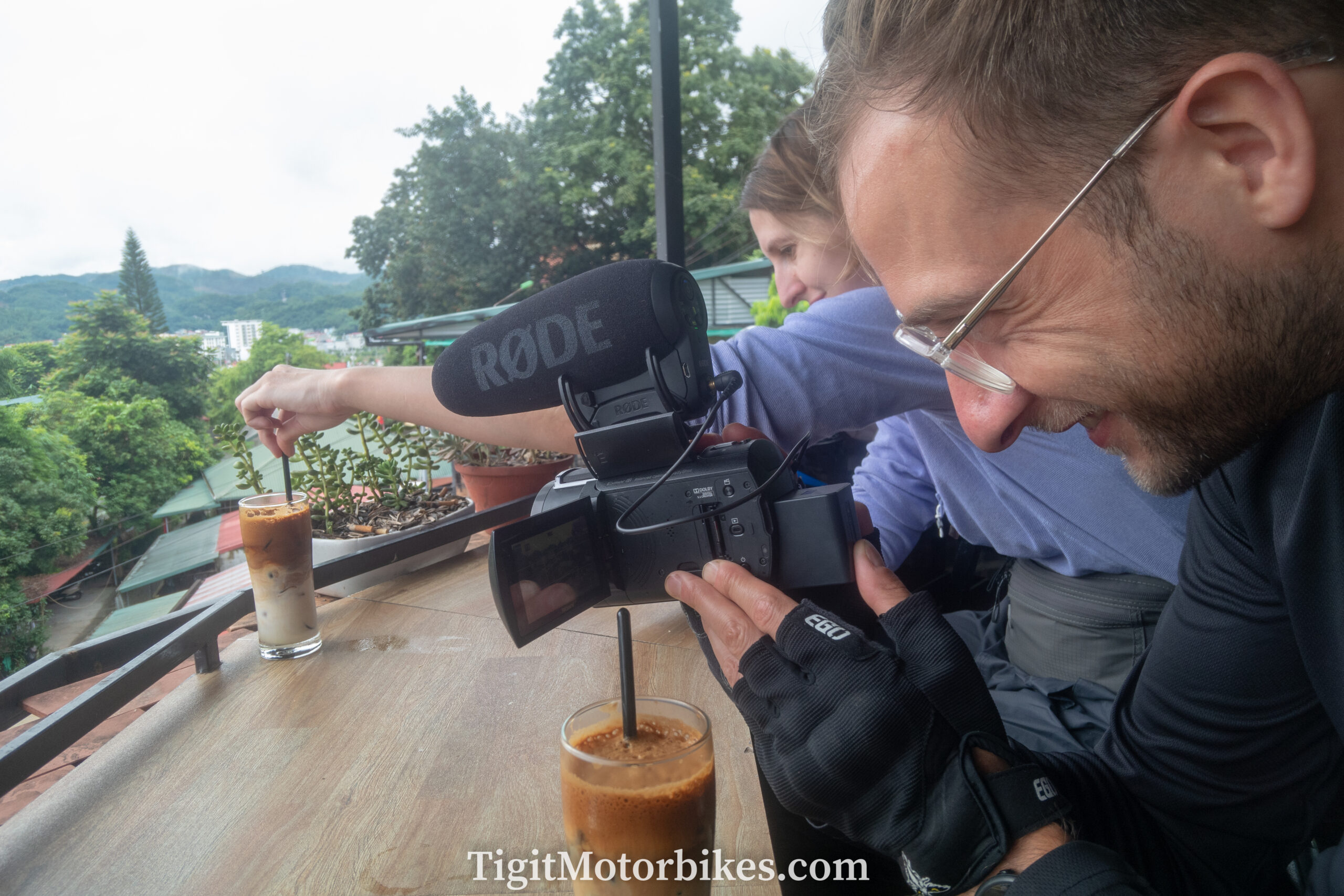 Mu Cang Chai Day three
Mu Cang Chai is an up-and-coming place on the Vietnamese tourist market. Huge resorts are beginning to take shape that are taking advantage of the rice paddy season. At the moment, you either have resorts ($300 a night kind of resorts) or homestays ($10 a night); there doesn't appear to be anything in the middle.
It is a place to spend at least half a day driving around, looking at the viewpoints. My map covers the main two attractions, both of which are hard to drive to, but epic fun! La Pan Tan Viewpoint and Sống lưng khủng long Mù Cang Chải.
There is also a waterfall in the area (I haven't been), and no doubt other tours, such as hiking, if you wish to dig into those.
I should point out that I have blasted through Mu Cang Chai many times before. Admittedly on off-road trips where I have no interest in the landscape. On this trip, I was genuinely surprised that I hadn't noticed the area's beauty before. But it is also possible I just drove through it in the clouds on previous journeys. Maybe this time, I got lucky!  The North is never consistent.
Mu Cang Chai to Ha Noi – Day four
Google maps says Mu Cang Chai to Ha Noi is around a seven-hour journey. This is possible to drive in a day, but out of reach for most people. It would be a brutally bad day if you did decide to challenge it.
There are two options, in my opinion.
Option one – A very short drive from Mu Cang Chai to Nghia Lo. Then tackle Nghia Lo to Hanoi on the next day. If you do this, you are breaking up one very big "bad" day of driving and splitting it.
Option two (what I did) – Mu Cang Chai to Yen Bai. Then Yen Bai to Ha Noi.
If you do this, you are investing two days of time to create an "average" route into Ha Noi. The issue with this is that two days of "average driving" to save one day of "bad driving" is an interesting compromise that is hard to weigh. Perhaps the time could be better invested in doing something better? 
Yen Bai to Ha Noi on my route is an extremely quiet way into the city. I was amazed at how close I got to the city center with literally no traffic. For a tourist, they might enjoy seeing Vietnam from all angles. Ta Xua is the poor, run-down area, and this route then takes you through the richer, developing outer city of Ha Noi. There is certainly a lot to take in and enjoy. However, for the expat or adventurer wanting to save time for only "the best," this route may be a meandering waste of time.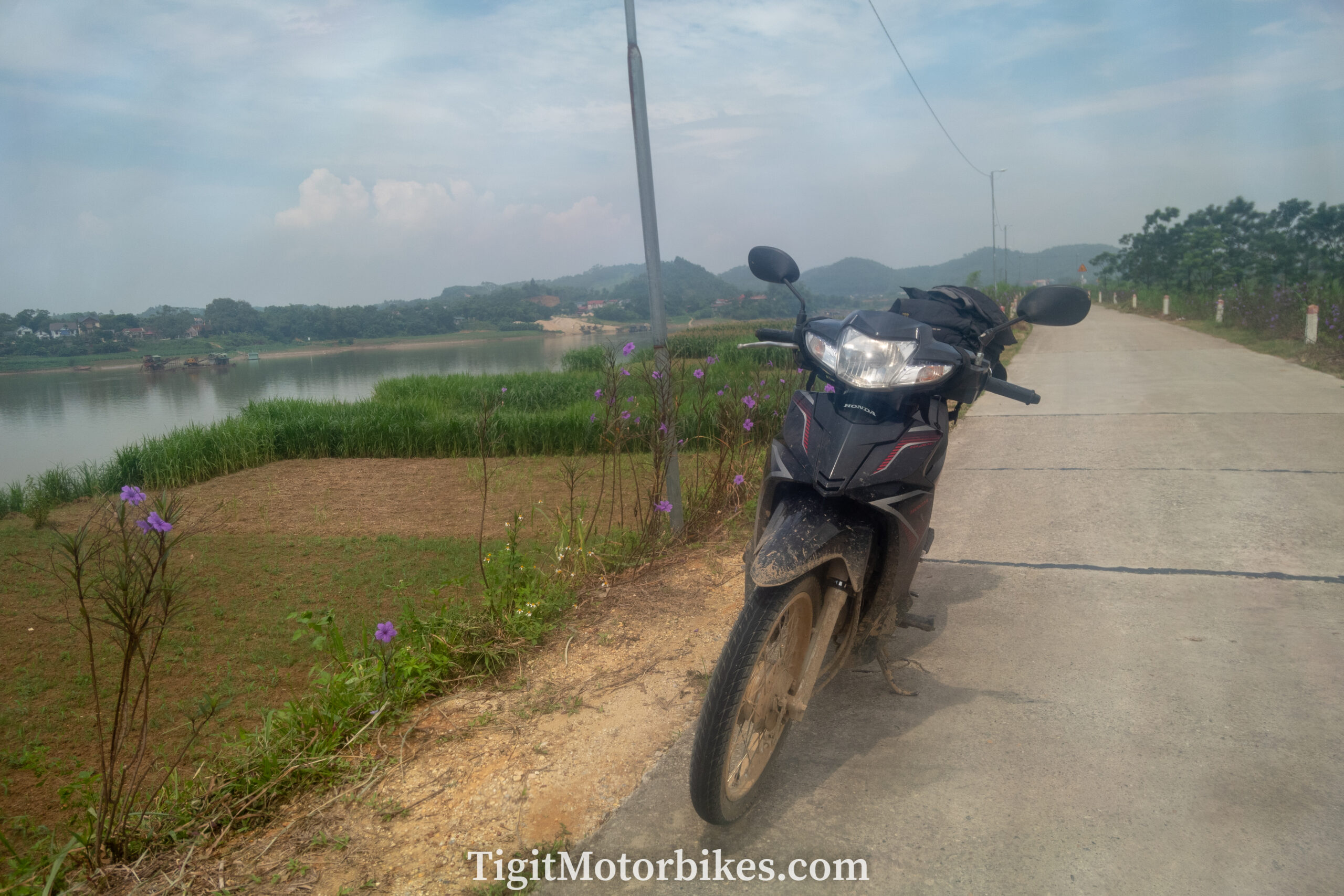 Final thoughts on the North West loop
I want Tigit to rent motorbikes because it makes money! But I am conscious that renting motorbikes to the wrong people, on the wrong routes, causes us more stress than money is worth.  So my disclaimer is that I think the North West is fantastic to drive. It is beautiful, it doesn't need much time, and it throws you deep into Vietnam and Vietnamese life. No English, bad hotels, and potentially very rough and challenging roads!
I am also conscious that people underestimate just how bad big motorbikes are on terrain like this. It is not a coincidence that this trip was on a Honda Blade, whereas my main Ha Giang trip was on a Honda CB 500x (Where I chose to skip this area).
You can use big motorbikes on this terrain, but it isn't the right choice! Rent a Honda Blade or Honda XR 150, and go and enjoy the North West. You don't need anything bigger or more powerful. Trust me!