Reading Time:
17
minutes
If you're looking to tame the North of Vietnam, your eyes will be blessed with stunning landscapes and your sense of adventure tested by the empty isolation that rests in these mountain ranges along the Vietnam-Chinese border.
To travel the north by motorbike, you'll need between one and three weeks. We have split the area into three sections, one week per section. Most travelers will only do Ha Giang, this is enough to tick the box of motorbike the North of Vietnam. The natural continuation to Ha Giang is to head over to the North East for Ban Gioc Waterfall and Ba be Lake. The third option is the North West for extreme adventure seekers and offroad enthusiasts.
The Most Extreme Northern Loop?
Ha Giang Loops
    The central section is a good starter area to break you into the extreme north. You are never too far from tourist areas and are likely to see other travelers motorbiking around. The roads here are paved and wind their way up and over the ranges while the endless mountains make up the backdrop.
For any casual drivers, this scenic route will provide enough challenges and excitement to test their skills. For experienced riders, this will be an excellent introduction to the area.
Northeast Loops
    This section of the drive will uncover the treasure of the Ban Gioc waterfall. One of mother nature's gems that few tourists or even locals come to witness. Driving this section, you can expect decent stable roads with plenty of safe stopping points along the way.
The North East is considered to be remote and off the tourist trail. Overall a bit of an adventurous attitude is required to get through it. If however you ever feel like it's too much, there are convenient alternatives to get back onto a main route along the way.
Northwest Loops
    Anyone whose heart beats with adventure blood will want to get their adrenaline fix on the roads of the Northwest. An area known for the most extreme adventure seekers, with these loops you can expect challenging terrain, mud, and in your face excitement. These roads should not be ridden solo, no matter how much you like a good challenge. Go as a duo, and you'll both be rewarded with phenomenal scenery and local ethnic groups that are unknown and untouched to the outside world. Even among the challenging loops of the nortth, the Northwest Loop is one of the most extreme in Vietnam.
    Typically riders to the area have come to respect this untouched wonder and its unspoiled charm, leaving it free of promotion, blogging, and the exploitation that have touched the rest of Vietnam. See it for the anomaly that it is, and let the area remain only for the extreme thrill seekers among us.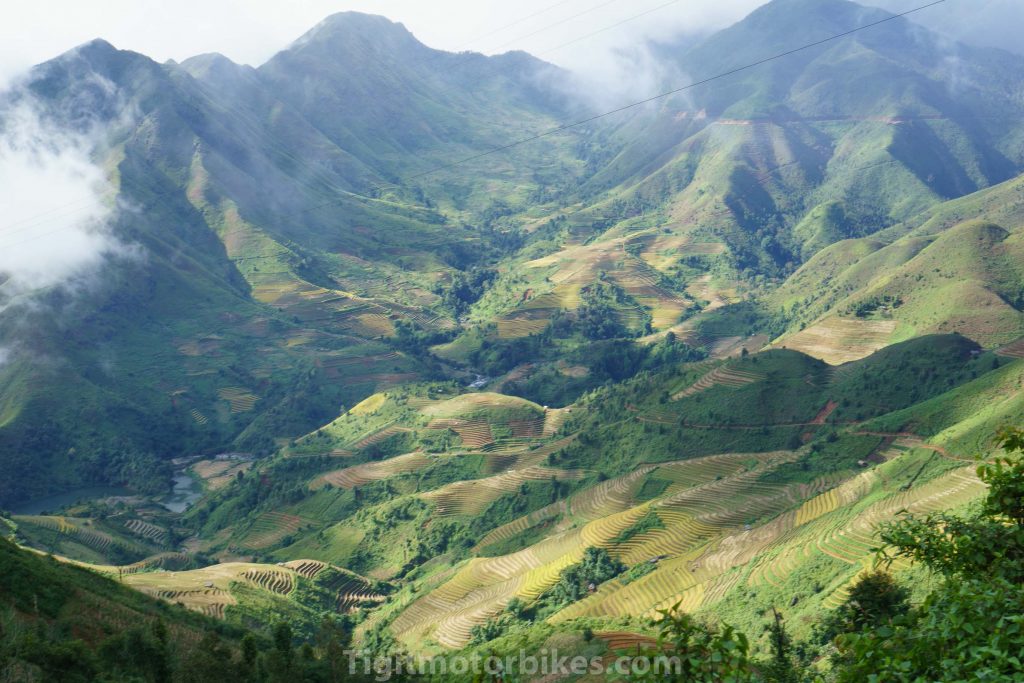 Weather In The North
 There is nothing less predictable than the weather in Vietnam's North. Even if you find that you are here in the most temperate season and the forecast calls for lovely days, you should still expect cold, rain, drizzle, clouds, and occasionally sunshine on these routes.
We often meet backpackers on the road who are miserably cold and underprepared for days of cool, wet riding. These riders forget that they came here for the remoteness of the area in the hopes of having an experience, unlike any other rider. They forget that what has kept this area free from exploitation and development, is the cold, harsh conditions that most holidaymakers wish to avoid.
Anyone whose holiday relies exclusively on the sun for a good time, it's best to steer clear of the North and focus your attention on the South loops. You can almost always guarantee premium quality sunshine in the South. Anyone still looking to be rewarded by the challenge of the North, remember that as you pass through these massive mountains, the conditions can change with the altitude and what side of the mountain you are on. You might start with sunshine, cross over a mountain range through cold and wet conditions, then be met with the sun again, or not at all. If you're up for the challenge, it's worth the reward.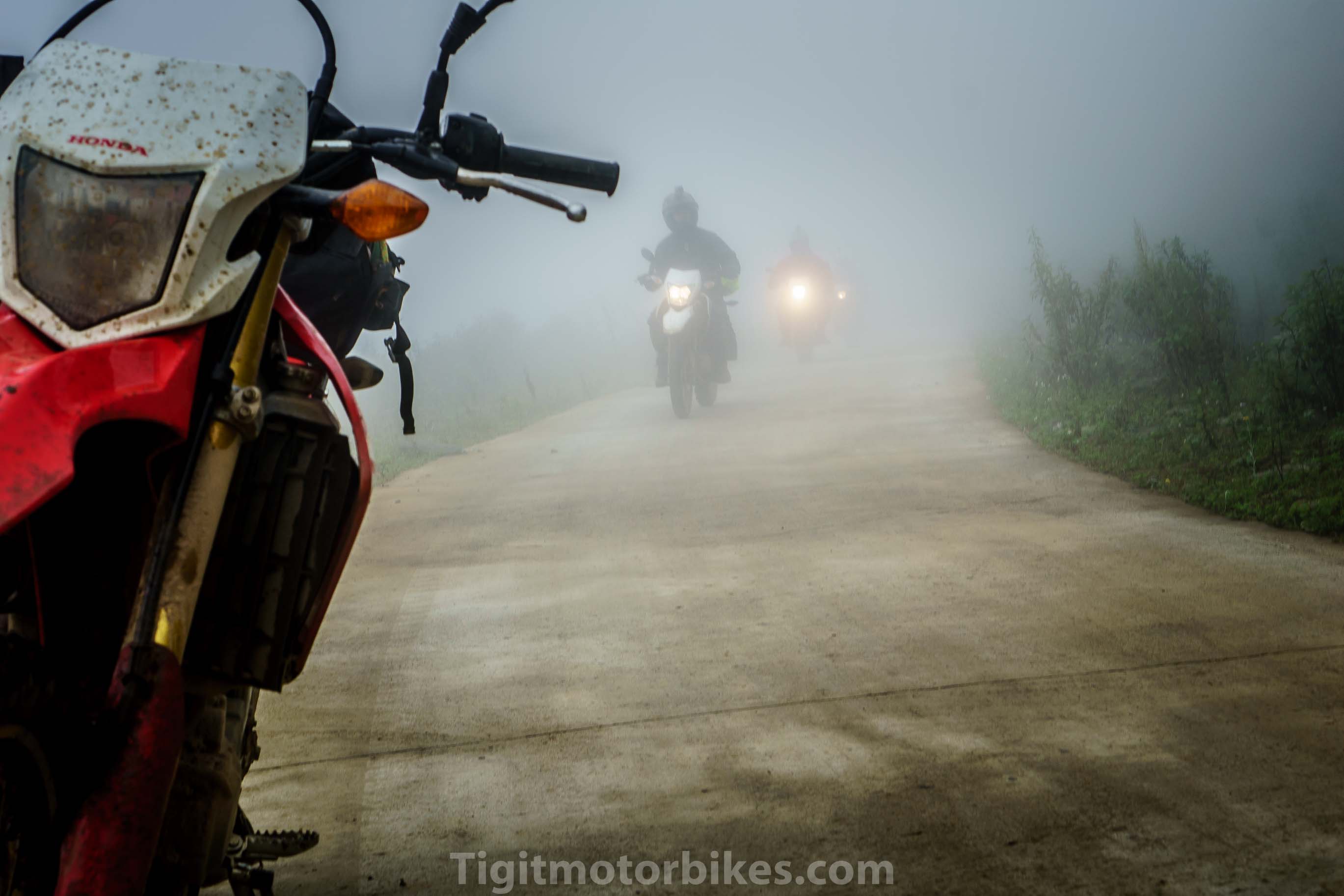 When to travel the Northern Loop
August to September is the best time to travel to the North. The weather is mostly stable, and the yellow paddy fields bloom, enhancing the beauty of the area.
  This time of year also coincides with the stormy season, and a cyclone can come smashing through the area at virtually anytime. These storms do pass quickly though, and at most they will take no more than a couple of days to pass. You can check the news and ask the locals for conditions, it won't usually help, but you can at least say you tried to understand the weather. Overall, it's best to just continue on with your holiday knowing everything will pass soon enough.
March and May are also good times of the year, with mostly stable conditions.
June to August is the rainy season, and you can expect to get very, very wet.
December to February are cold, so cold that the snow can fall. Now is the time to wear every piece of warm clothing your brought! Don't make the mistake so many travelers do and assume everywhere in Vietnam is hot, it clearly isn't. If you're headed North, we can help ease the problem of not bringing enough warm gear by sending luggage on the train and have it waiting for you at our office. We make it easy to plan ahead and be prepared for the conditions.
No matter what time of year it is, a traveler should be prepared with cold weather gear for the North.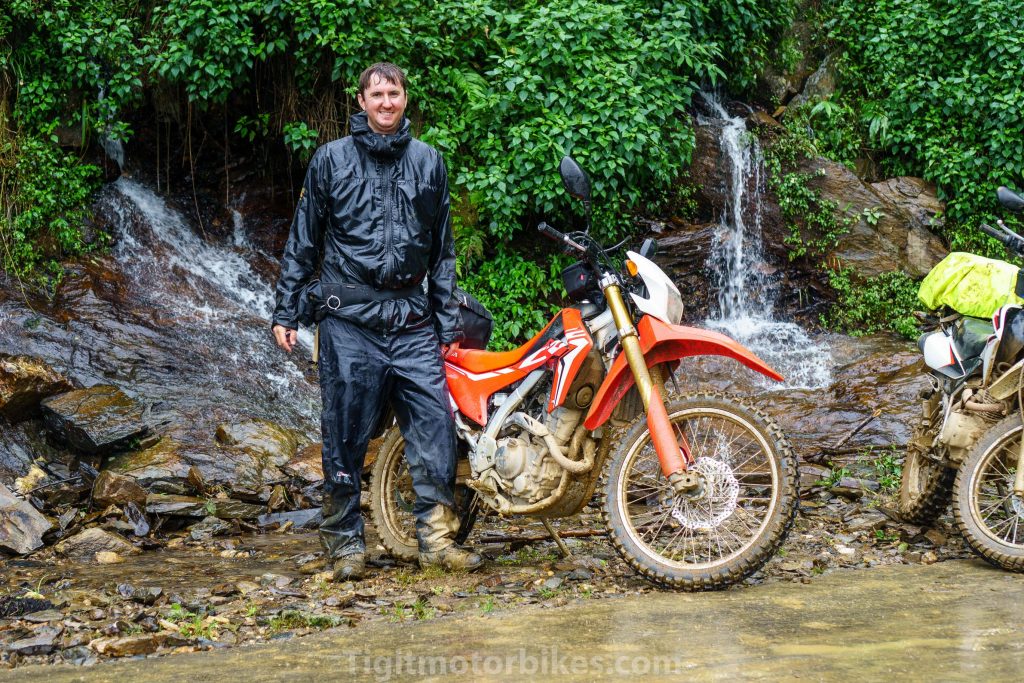 For all times of the year, a traveller should be preparing cold weather gear for the North.
The Train to Lao Cai
The Train from Hanoi to Lao Cai runs overnight and take around 8 hours. Vietnam Coracle has a full article on it.

To take the train without your bike is 300-350.000vnd ( 8 hours to Lao Cai city + 2 hours on the bus from Lao Cai to Sapa)

To take the train with your bike is about 700-800.000vnd.

The train leaves at around 9.30pm each night.

Driving out of Hanoi is relatively straightforward, and the roads quickly turn from busy city traffic into the calmness of the countryside.
In Tigit's point of view, the train is a slow and expensive way of exiting the city.
Anyone wondering, are there busses that put motorbikes on in Vietnam? There are, but these are more suited for small beat up bikes that enjoy getting smashed around tiny luggage compartments. Instead, we have a full guide to sending your motorbike by train outlining the steps to safely and easily ship your motorbike rental around the North and other parts of Vietnam.
If you plan to drive:
From Hanoi towards Lao Cai head towards Vu Linh Farmstay near to Tuyen Quang.

From Hanoi to the North East, head for

Ba Be lake

.

From Hanoi to the North West, head for the Ta Xua along the CT08.
How to travel the North of Vietnam
The Northern loop by motorbike is a network and maze of small roads that scatter the mountainsides. Google Maps manages to document these roads but fails to determine which roads are real and which roads are mud tracks. This often sends travelers off down roads that are above and beyond the capabilities of the driver.
These often miscalculated tracks mean it's better for the average motorbike traveler to stay on the established Ha Giang loops and North-East territories rather than go chasing random roads.
The main roadways are labeled as "QL" roads. These are considered the main highways that may occasionally have some off-road sections. These QL roads are the best place for easy accurate riding or to make up time if you've been off-roading.
The other roads are known as "DT" roads. These are under-maintained roads that may be in any type of condition. Even if Google shows DT roads connecting two major destinations, the reality is that it could be perfect single track tarmac or it may be connected by a mess of muddy tracks that are a less than thrilling place to spend a day.
With the delays of unpredictable weather and continual stopping to enjoy the beauty of the area, it's impossible to predict how long a route is going to take. Before setting out, make a plan and aim to stick to it, knowing that you can always get back on a QL road if you need to make up time.
If you do find you've run out of time and need a place to stay for the night, no problem, a bed is never far away. Dotted throughout the region are small villages, and nearly every village has either a Hotel, Homestay or Nha Nghi (Vietnamese guest house). Even in the most remote regions, these exist, so there is no need to worry about accommodation. Just ride on, and you'll always find a place to stay.
No matter what your planned route is going to be, know that there is no right or wrong choice. The entire Northern region is so beautiful that even the main highways make for breathtaking drives.
For full details on using Google Maps, Maps.me and the easiest ways to find accommodation around Vietnam. Check out our related post on how to navigate Vietnam by motorbike.
The Four Famous Hanoi Passes
Phan Din
Roughly 32kms long, the Pha Din pass connects the provinces of Son La and Dien Bien. Early in the morning, the road is foggy and makes for a marvelous driving experience for travelers. By 9am, the fog melts away to reveal the beautiful small villages and green rice fields in the surrounding valley. The whole setting is absolutely amazing!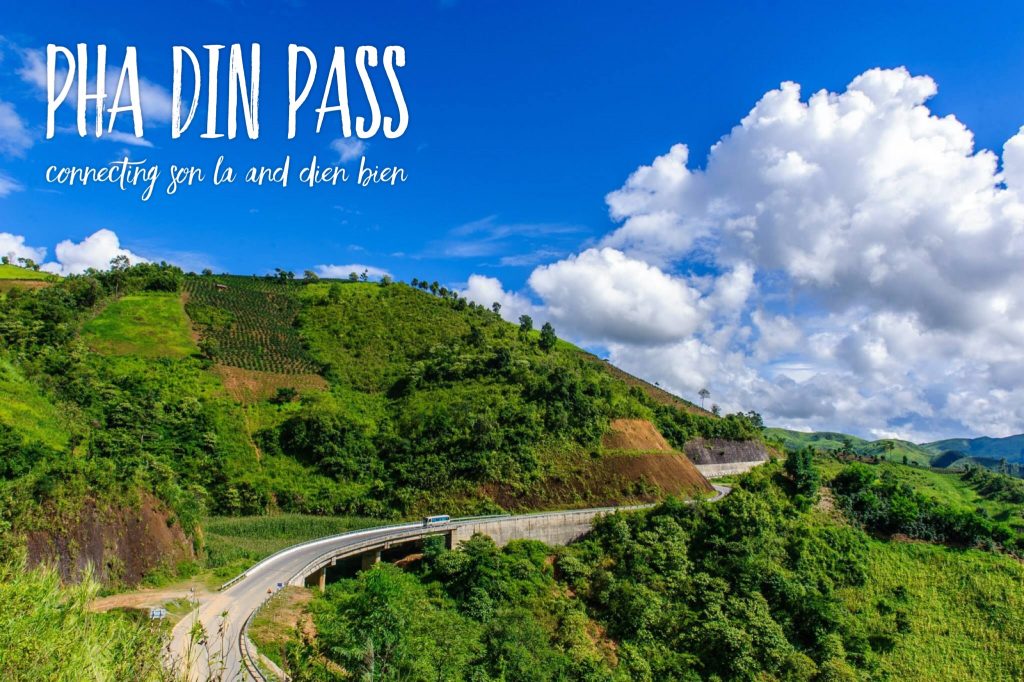 O Quy Ho
O Quy Ho pass, or sometimes referred to as Hoang Lien pass or May (cloud) pass, is a 50km long connecting road between Lao Cao and Lai Chau provinces. It's one of the most extraordinary passes of the North by motorbike. On this drive, the Lao Cai section is almost always foggy, and as you pass across it, the Lai Chau section is typically always warm and sunny. A fantastic transition through the microclimates.
Khau Pha
The Khau Pha pass is approximately 32kms in length connecting Văn Chấn district & Mù Cang Chải, Yên Bái province. If you could cross it at any time of year, it is best to pass in September and October when you have the views of Mu Cang, and the rice fields are bright yellow. The area comes alive during this time, and you wouldn't want to miss it.
Ha Giang North Loops
The Ha Giang area is by far the most popular and most traveled area for those wishing to experience the North by motorbike. The secret of the beauty of this area is out, and with each rider that passes through, it becomes more and more accessible.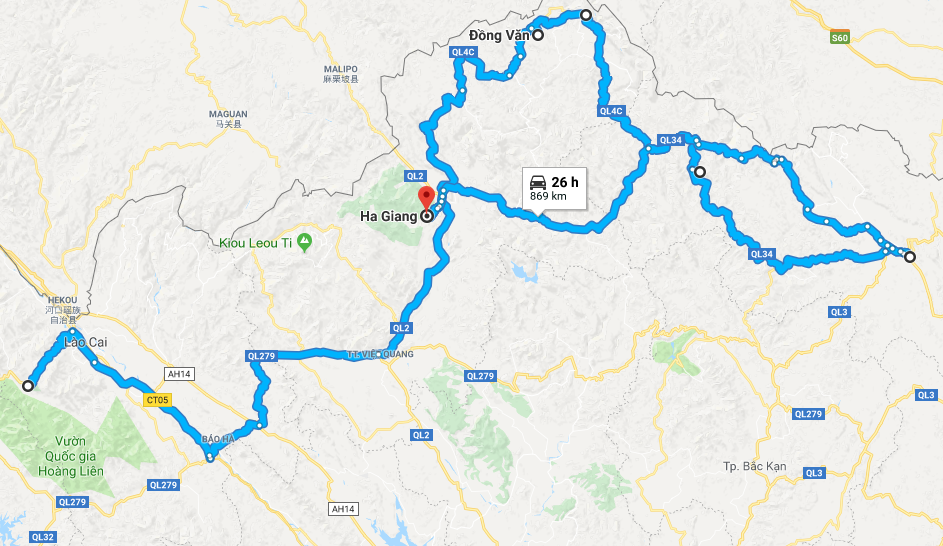 There are two main ways to get to Ha Giang. Option one is the overnight train to Lao Cai at a cost of around $50 for both the passenger and the motorbike. The other and more fun option is to drive!
The North of the country is so beautiful, it's worth driving. You can also drive to Lao Cai in one day, so unless you are absolutely pressed for time, then driving is the better option.
Along the way, we can recommend a lovely place called Vu Linh Farm Stay. From here it is possible to drive to Sapa or to Ha Giang!
Your drive should go Ha Giang — > Dong Van — > Bao Lac and then circle back to Ha Giang. Otherwise, you can continue to do the North East and make your way to the Ban Gioc waterfall.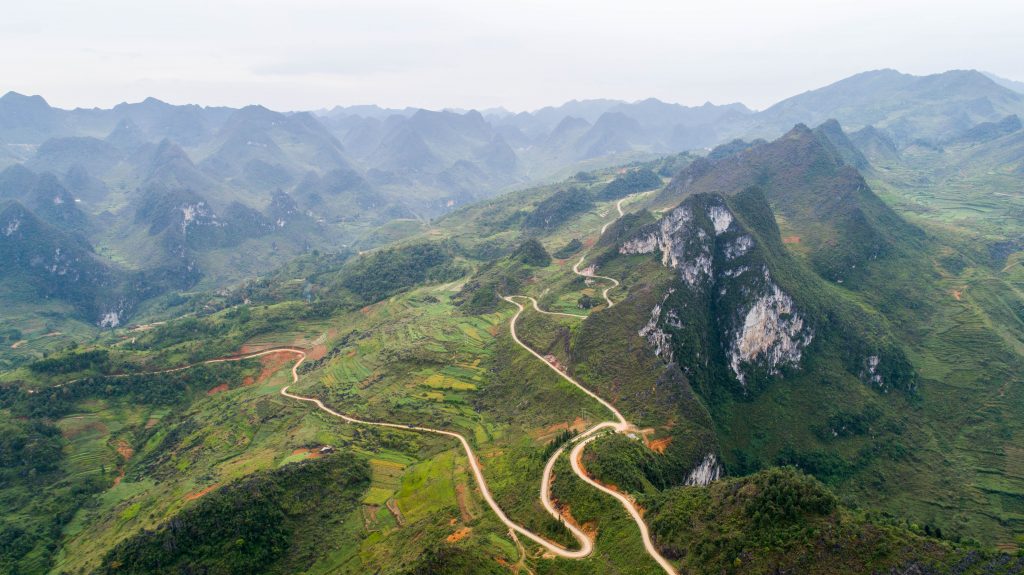 Just look at that road, this is a bikers dream drive that keeps looping around. And this is just one of them!
The Ha Giang section is perfect for drivers of any skill level. The whole area is amazing scenery, and nothing is very far away. To get around just pick a road and drive it, knowing that the roads are an endless circle of little loops you can play on until the next loop arises.
Very little planning is required to drive this area, and if you're ever through with one route and wish to try another, just change course and explore as the day passes by. If you want to venture ou
The Northeast Loop
Hanoi — > Ba Be National park — > Cao Bang — > Ban Gioc Waterfall –> Meo Vac –> Ha Giang –> Tuyen Quang — > Hanoi
Day 1: Hanoi to Ba Be National Park
Leave Hanoi and head to the Ba Be national park. The Ba Be National park drives down into a captivating lake that's full of stunning beauty. Once at the bottom, you can take one of the boat tours to get to know the lake up close and personal.
    Tours like this one are mostly day activities, and if you're looking to spend the night here after taking in the sites. Check out Mr. Linh's Homestay, this homestay makes up most of the accommodation in the area.
Day 2: Ba Be National Park to Cao Bang
On day 2, you can head towards Cao Bang along the QL3. Overall this is a pleasant drive with some magnificent scenery, but nothing to update your blog about.
Day 3: Cao Bang to Ban Gioc Waterfall to Cao Bang
Day 3 will take you to what should be one of the seven wonders of the world, the Ban Gioc waterfall. These falls would be the main attraction if they were situated on the Da Lat waterfalls route.  Head from Cao Bang to the Ban Gioc Waterfall along the DT206. This whole section is a great open road that follows rivers and passes by the casual lives of those who live in the tranquil countryside.
When you drive into Ban Gioc Waterfall, you'll see for yourself that it truly is a marvel that can rival the wonders of the world. On the way in, the road climbs down into the valley, and you'll be treated to an aerial view of these magnificent falls.
From here, loop back to Cao Bang using the DT211. This is a dirt track and only recommended for adventure seekers on the Honda XR, CRF, or Honda Blade. As for alternate roads, we've heard that other tour companies use the DT206, but we have not experienced this road.
Day 4: Cao Bang to Meo Vac
The QL4C is the main road, and from our research is what most of the tour companies of the area would use. This road is likely fantastic based on what we know of the areas scenery, but we do not have experience with it directly.
We used the DT203 shown as a small white road on Google Maps that heads towards the Chinese border. The drive through here has incredible views and breathtaking mountain climbs that overlook the farmland valleys below.
This section of road is mostly gravel and in the wrong conditions is likely impassable for most riders. If you aren't an experienced rider and the conditions aren't perfect, we don't recommend attempting the DT203 at all.
These roads eventually meet up at the QL4C to Meo Vac, and along the way, you'll cross the Ma Pi Leng Pass which is an awe-inspiring spectacle.  If done in the right conditions, the corners, ups and downs, and general valley beauty will leave the driver speechless. As sunset approaches the variations of lights and shadows on the mountain surroundings are stunning. Riding like this doesn't exist anywhere else on the planet.
When it comes to places to eat and sleep, Meo Vac is a town void of useful services and virtually nothing to eat. If possible, then avoid this place and continue on. We have nothing good to say about it!
Day 5: Meo Vac to Ha Giang
From Meo Vac head towards Ha Giang on the QL4C. From beginning to end, this road is beautiful. The terrain and roads change with the more distance you cover in a day, and the only consistency is incredible corners that grip the edge of the mountains overlooking the massive valleys below.
In Ha Giang, we recommend Ban Tuy Homestay for an authentic Vietnamese experience. If you're looking for a backpacking Vietnam style of hostel, check out Kiki House.
Day 6: Ha Giang to Tuyen Quang
From Ha Giang to Tuyen Quang, follow the QL2 and QL279 to Lai Cai. It's possible to get here on this route, but at the time of writing, we do not have experience with this area and look forward to hearing some feedback about it.
On this particular trip in Vietnam, we wanted to avoid taking the train from Lau Cai and instead opted to drive the scenic route. We took the QL2 and stayed at the Vu Linh Family Homestay.
This homestay is in a beautiful area on the lake that offers a highly recommend boat tour where one of the family members rows you through the spectacular lake free of other travelers. You can basically guarantee that you will be the only foreigner in the area and probably the only person within eyesight. This serene isolation is insane to imagine when you consider that you're just a few hours from Hanoi. For our trip, we were greeted with perfect weather conditions making it all the more enjoyable.
Day 7: Tuyen Quang to Hanoi
On your final day, you can make your way back towards Hanoi. Follow the QL32, and once you reach the "Red River" or "Da River" take the white "Duong Da" road on Google Maps towards the "Trung Aa sub-parish Church." Follow this road all the way into Hanoi to avoid the traffic! This makes for a pleasant drive to finish the North by motorbike!
The Northwest Loop
Hanoi –> Ta Xua –> Phu Yen –> middle of nowhere –> Nghia Lo –> Mu Cang Chai –> middle of nowhere –> Sapa –> Sapa –> Cốc Pài
To attempt the North West loops, you'll want to turn off the part of your brain that is typically filled with common sense and reason. If you are blessed without these emotional triggers, you'll be fine, ride on!
 You could attempt a "light" version of the North West loop be sticking to the QL32, but the reality here is that this area is all about the off-roading. The off-road tour companies come here to play, and if you're going with them, you'll be in good hands. As for opening up the route to just any rider on two-wheels, we feel a bit conflicted. If you're going to put in the time and research to uncover the natural beauty that so few get to experience on this section you should be rewarded. By publicly documenting these routes, we feel it gives too many advantages to possibly exploiting the area.
  That said, the number of people with the skills, ambition, and willingness to give the Northwest loop a try is so low that we're sure this section will still remain untouched even if the comment section fills with riders claiming they want to ride it.
 Anyone not prepared with the correct bike to try and take on such a feat should not bother leaving Hanoi. For those of you with a Honda Win, just stay home. You're taking a spoon to a knife fight, and your rusting hunk of metal will only be used to eat you alive.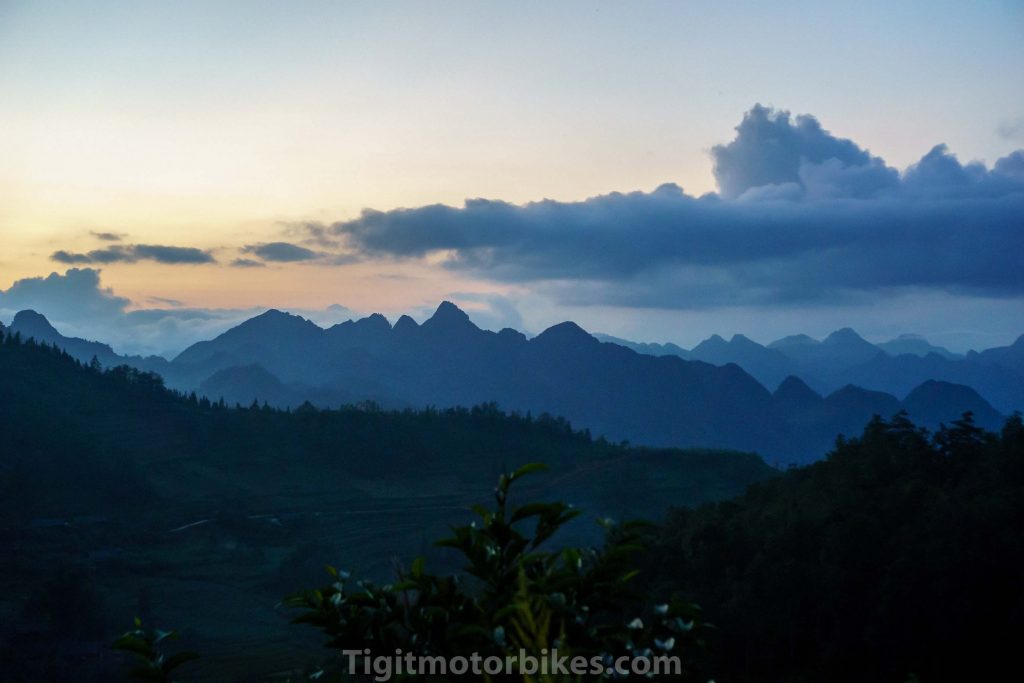 Day 1: Hanoi to Ta Xua, sort of
    Exit Hanoi using the CT08 and make your way towards Phu Yen. On our particular adventure, we had initially planned to make it to Ta Xua, but one of our crew was negotiating some challenging hill climbs on jagged rocks and crashed. As a result, he needed to head home, and we all turned back and exited the muddy excitement and took the highway.
    In the end, our first day concluded after 9-hours from Hanoi to Phu Yen. Ouch!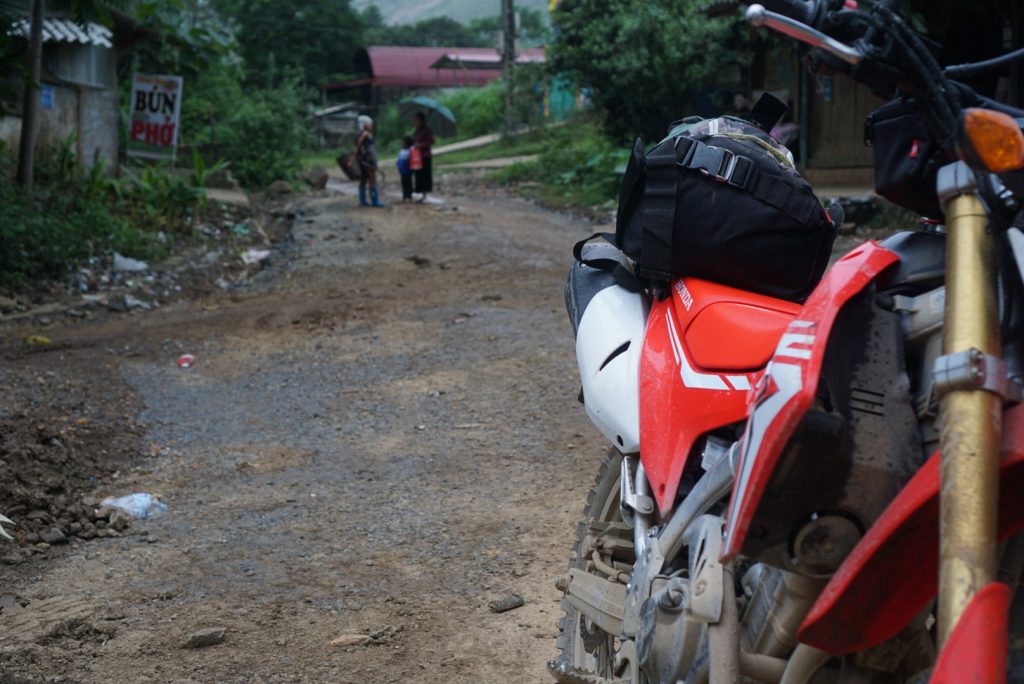 Day 2: Phu Yen to the middle of nowhere.
The plan was Phu Yen to Nghia Lo. We didn't make it…..
Through Ta Xua, we highly recommend coming off of the DT112 detour, as shown in my pictures. This goes un-rationally high as you venture through the mud, all topped off with slick cliff edges while driving through the clouds.
The DT112 was incredibly tricky and continually pushed the crew to their limits. An all-day drive of 10 hours and 19 minutes of nothing but pure battling adrenaline. To add to our excitement, we hit the roads just after a storm where landslides had made life even more difficult 🙂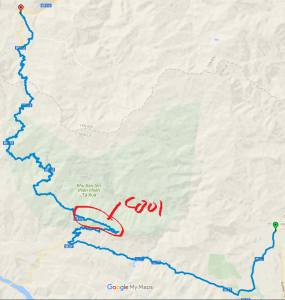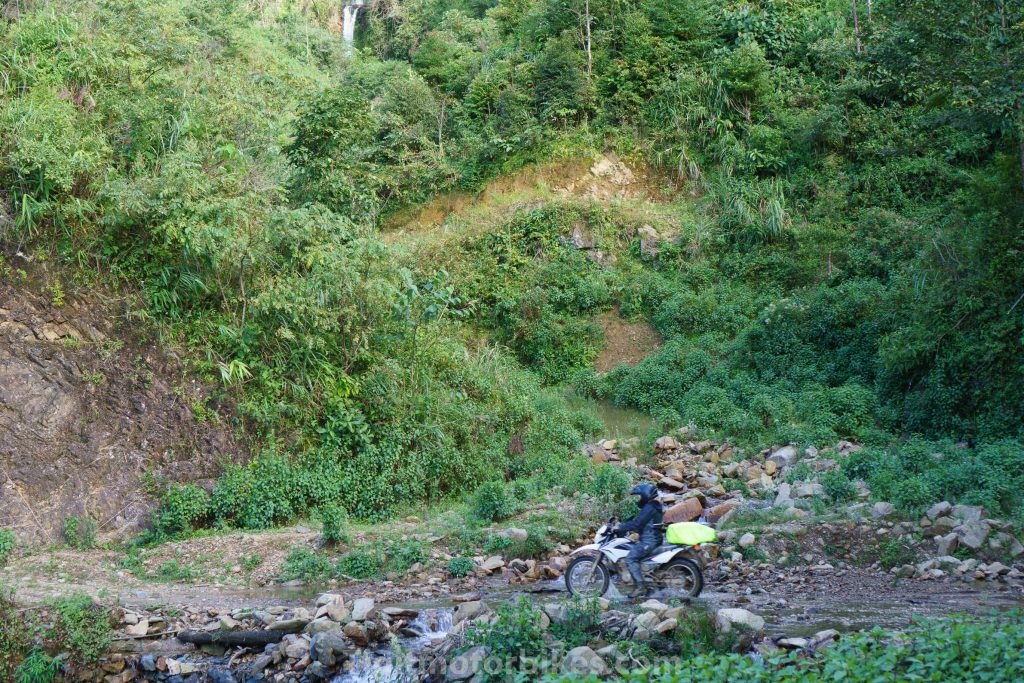 Day 3: Nghia Lo to Mu Cang Chai
The Nghia Lo to Mu Cang Chai section made for a remarkable day of challenges, as the paved roads had become overrun with landslides. If we had arrived here a day earlier this road would have been closed. The rain hammered down and as the sun began to shine, some of the crew fell in love with an inviting country spot in Mu Cang Chai.
It might have been the beauty of the area or our crew looking for a break, but we decided to stop and film the area with a drone and chill out for the rest of the day. We didn't have an objective on where to stay. With no plans on where to stay, we opted to get close to the crossing of QL32 and QL279 to be set up for the next days unknown and potentially crazy drive.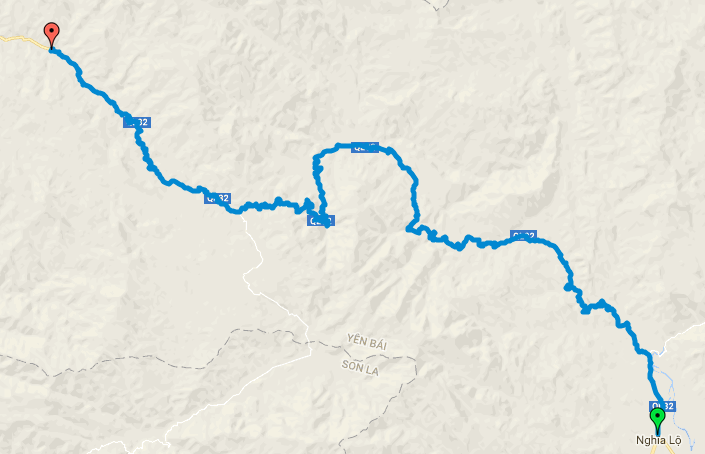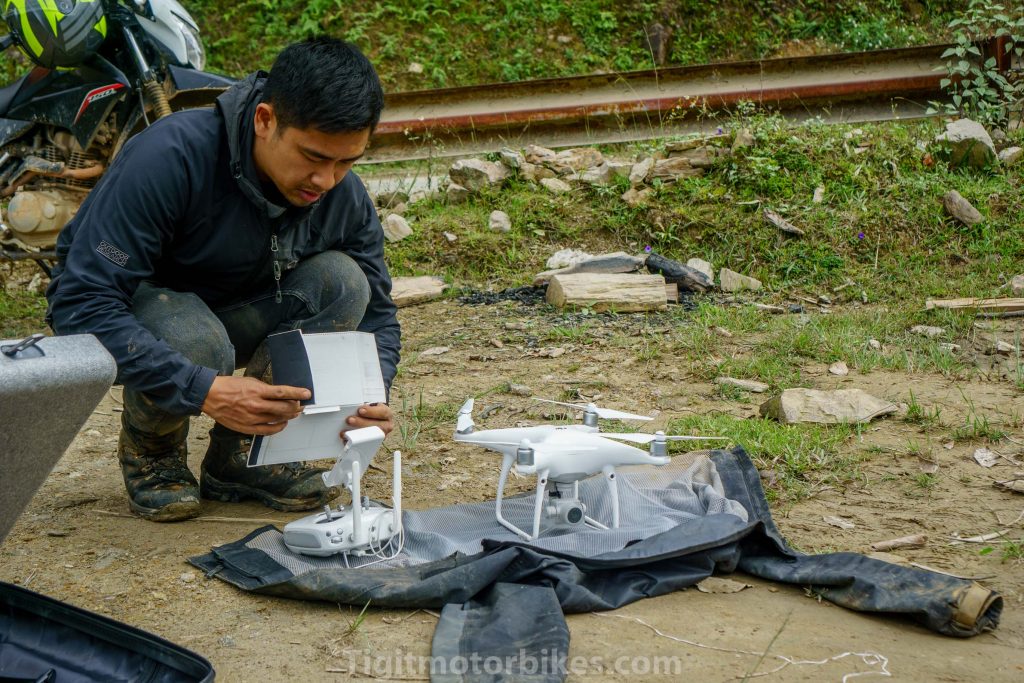 Day 4: The middle of nowhere to Sapa
This day started as a team of 5, then an early crash reduced our numbers to 4. From here the unknowns of the route and whether it was possible or not, split the remainder of our team in half while two members headed back towards the highway and two of us ventured on.
We left early in search of a black road that was showing on Maps.me, but not on Google Maps. This route took us down the DL279, a way that turned out to be one of the most beautiful roads I have ever witnessed. No words for it other than, perfection.
From here, we struggled to find the mystery white road that was showing on Google Maps. It wouldn't correctly link up to our GPS location. This inconsistency led us to taking things off-road and up the mountain. When we reached the top and confirmed with each other that we were definitely going the wrong way. The reward was a few pictures before turning around.
From here we could admire a fantastic loop that can be seen miles in the distance. Sure enough, we eventually confirmed this loop on Google Maps, and it was there. Well there for another time, or another explorer. We needed to press on and meet the others in Sapa. If that other explorer is you, I highly recommend this very obvious loop that can be seen for miles.
We eventually met up with the mystery white road while we map Vietnam with help from Google Maps, which led through some bizarre and impossible to navigate villages. We ended up doing more guesswork, taking endless left and right turns, riding single track mud paths and crossing some rickety bridges. Eventually, we hit the lake's edge where Maps.me was promising us a road.
On the edge of the water, some boats were resting, but there were no signs of people. We drove around looking for the owners of the boats. After finding them, we asked about crossing the river and agreed on $10 for their help getting across. Off we went, no idea where we would land, but the crossing followed Maps.me to perfection.
In the end, there was nothing overly difficult about this drive, and if you show up knowing you'll likely need to track down the sleeping boatmen. The route comes highly recommended.
The drive up to Sapa on the QL32 was pleasant, but nothing compared to what we had just witnessed!
Overall, it took us around 8 hours of driving to negotiate this fantastic scenic route! You'll need to decide well in advance if you're better suited for solo or guided tours. This choice could make all the difference in the world to the outcome of your trip.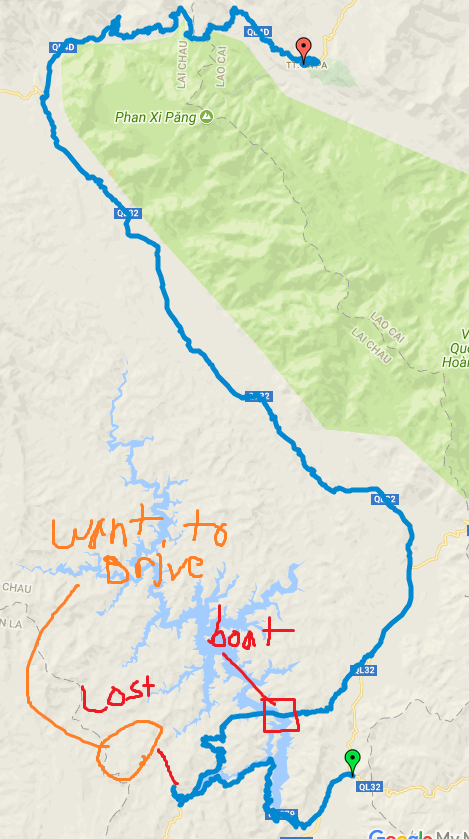 Day 5: Sapa to Cốc Pài
This road from Sapa to Coc Pai is all paved, and to date is the most beautiful piece of road I have driven. It goes miles from mainstream civilization and crosses small towns and ethnic minority groups. The scenery is mind-blowing, and every minute of this drive deserves a picture. With everything being so beautiful, it is impossible to know if you should be driving or looking at the landscape. Any moment not looking at the landscape is an insult to its beauty.
When I ride, it takes a lot to distract me from plowing through corners just enjoying the time with the motorbike on glorious roads such as this. Most of the time, I don't care for my surroundings, I drive for the fantastic feeling of driving with my focus and concentration on the bike and the roads we are passing over.
However, this is one of the few roads that bring things to stop. This amazement is unfolding, and I often can't believe that what I am witnessing unfold before my eyes really is real.
As the roads enter the Ha Giang province, they turn into comically broken down potholed disasters. It's laughable that roads can be so bad, and your attention will undoubtedly be on the roads and not the scenery around here.
However, the descent into Cốc Pài is incredible and will leave you abandoned in this beautiful village in the valley.
This drive took 9 hours at a casual pace where the focus was on the mesmerizing scenery that steals your attention away from anything else.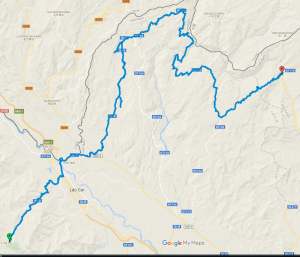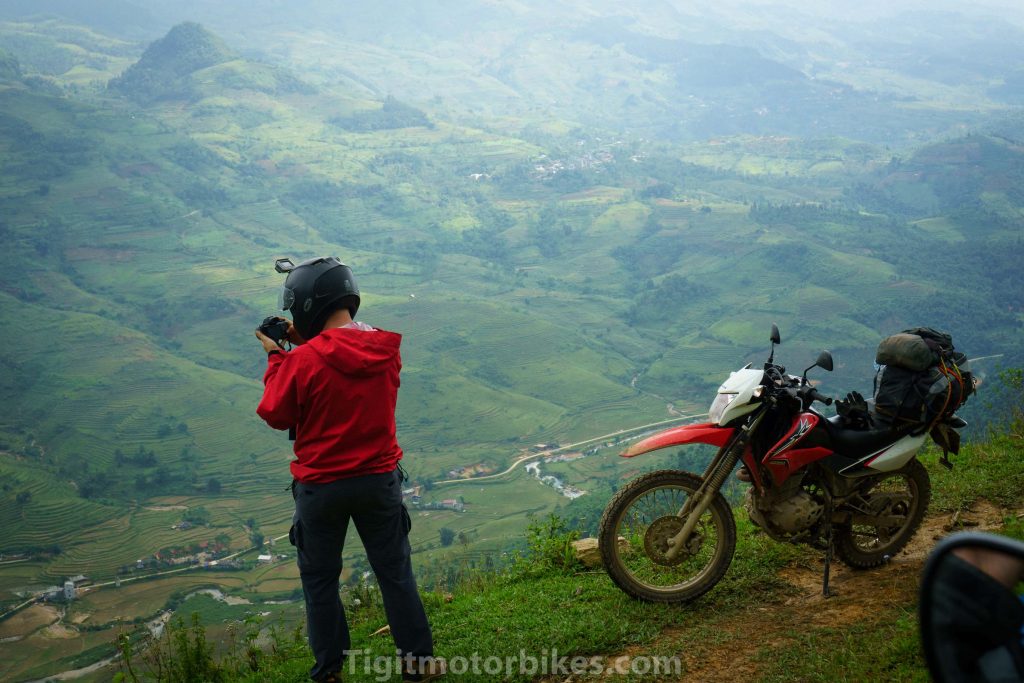 Where To Go From Here
    Anyone looking to expand on an adventure like this has nothing but options in front of them, especially if they are coming from the South. For a look into more great routes and all things motorbiking Vietnam. Check out our related post on The Complete Guide To Motorbiking Vietnam.