This page is to document the North by Motorbike and the beautiful mountain roads near the China border.
The Background behind tour companies and routes
Hanoi is dominated by tour companies that have been doing guided-tours in the North by motorbike for years. They are protective of their routes, and in our opinion this should remain to be the case. The North is also open to huge fluctuations in both weather and road conditions. This makes it hard for a reputable source to document routes due to easily upsetting travellers who embark on journeys that are over and above the drivers skill set.
In general, documenting routes for the North is controversial, subjective to the drivers skill and also open to changing road conditions.

The Duration
Each section of the North by motorbike is roughly one week of driving.
– The North East to Cao bang and round to Lao Cai is roughly one week of driving.
– Lai Cai loops and Ha Giang loops are also around one week of driving. Although day rental companies exist in these cities to do one way rentals on the main tourist trails. Similar to the Hai Van Pass, day rentals are now possible and popular.
– The North West from Son Lan to Lao Cai is also approximately one week of driving.
How to choose which section of the north to drive by motorbike
Short routes from Lao Cai are popular due to being accessible by train. It is possible to rent a motorbike and do a loop around this area within around 3 days.
The North-East is known for its beauty and waterfalls. Including Ban Gioc Waterfall and Ba Be national park. It is also not commonly driven due to the distances being too large for tour companies to use as a major route.
The North-West is best for a middle ground of time. A loop can be done without having to travel too far from Hanoi. This is the most common area selected by the motorbike  tour companies due to its accessibility.
The four Famous passes in Hanoi by motorbike
4 famous pass in the north : Pha Đin( between son la and dien bien), Ô Quy Hồ ( between lao cai and lai chau),Khau Phạ ( between Văn Chấn district & Mù Cang Chải, Yên Bái province) ,Mã Pí Lèng ( dong van and meo vac)
Pha Din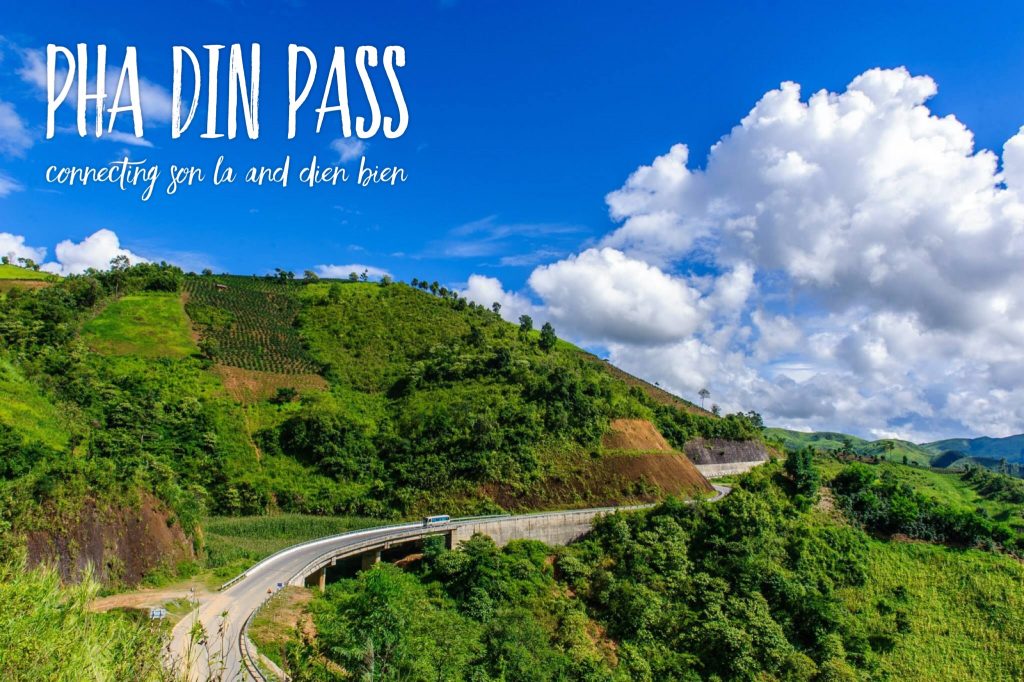 Around 32km long, Pha Đin pass connects the two provinces Son La and Dien Bien. The road is foggy at dawn, which brings a marvellous driving experience for travellers. Fog goes away around 8:30 -9am. The scenery with small villages and green rice fields surrounded by the valley is absolutely amazing!
O Quy Ho
O Quy Ho pass, or sometimes refereed as Hoang Lien pass or May (cloud) pass, is a 50km long connecting road between Lao Cao and Lai Chau provinces. It's one of the most extraordinary passes of the North by motorbike, with the part that belongs to Lao Cai always being foggy and the other part lying in Lai Chau being warm and sunny all the time.
Khau Pha
Khau Pha pass is mostly known for its view to Mu Cang Chai during September and October, when the rice fields are all bright yellow. Length is around 32km.
Ma Pi Leng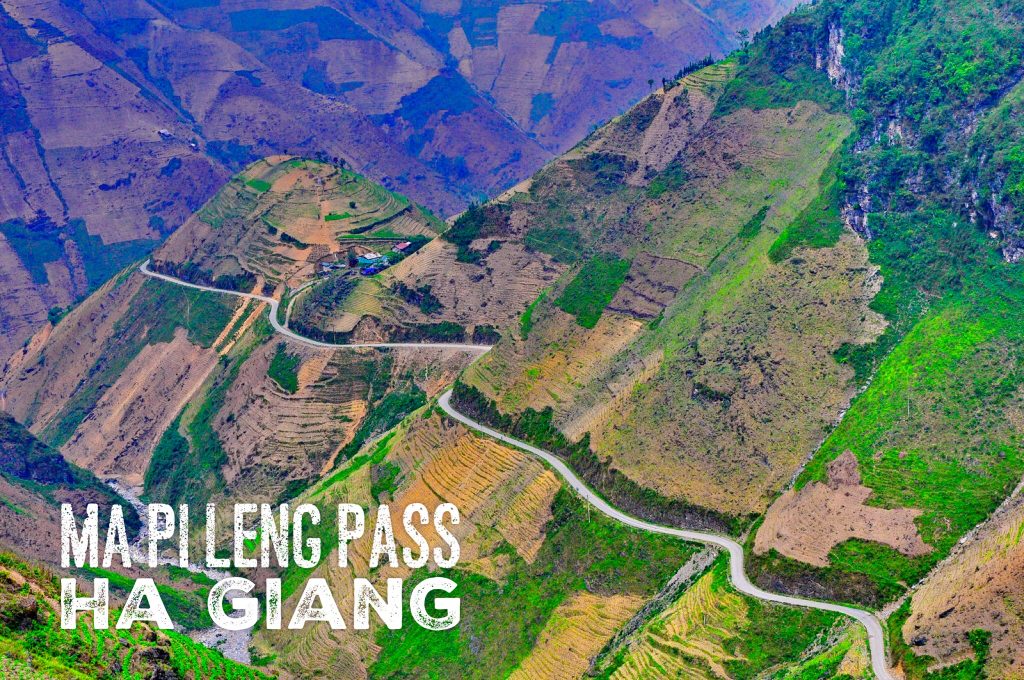 Ma Pi Leng is only around 20km but is named "King of all passes in Vietnam" because of its toughness. A great drive if doing the North by motorbike!
The North East
Hanoi — > Ba Be Nationial park — > Cao Bang — > Ban Gioc Waterfall –> Meo Vac –> Ha Giang –> tuyen quang — > Hanoi
Day 1: Hanoi to Ba Be National Park:
Leaving Hanoi and head to Ba Be national park. Ban Be National park drives down into a lake of stunning beauty. At the bottom of the hill there are boat tours that can be done. Tours in this area are mostly day activities. Mr Linh's Home stay is the main accommodation within this area.
Day 2: Ba Be Nation Park to Cao Bang
Head towards Cao Bang along the QL3. A pleasant drive but nothing to write home about.
Day 3: Cao Bang to Ban Gioc Waterfall to Cao Bang
From Cao Bang head to Ban Gioc Waterfall along the DT206. A great road of open driving, rivers and countryside life.
Ban Gioc Waterfall is a marvel that should be one of the seven wonders of the world. The road climbs down into the valley which gives an areal view of this magnificent waterfall. A place that looks like it has been taken out of a kids animation movie of perfect paradise.
Loop back to Cao Bang using  the DT211. This is a dirt track and only recommended for adventure seekers on the Honda XR or Honda Blade. Other tour companies also use the DT206, but we have not experienced this road.
Day 4: Cao Bang to Meo Vac
The QL4c is the main road, and from our research is what most of the tour companies use. I imagine this road is fantastic but we do not have experience with it.
We used the DT203 shown as a small white road on googlemaps that heads towards the Chinese border. This road is mostly gravel roads, but in the wrong conditions will probably be impossible to drive for most people. The road has incredible views and crazy mountain climbs that over look farmland valleys. Not recommended for beginner riders.
The roads meet up at the Ql4c to Meo Vac. This road has the Ma Pi Leng Pass which is a truly awesome spectacle.  If done in the correct conditions, the corners, ups and downs and general valley beauty will leave the driver speechless. As sunset approaches the variations of lights and shadows on the mountain surroundings are stunning.
Meo Vac was a terrible town with nearly nothing to eat. If it is possible then avoid this place. We have nothing good to say about!
Day 5: Meo Vac to Ha Giang
From Meo Vac head towards Ha Giang on the Ql4c . From beginning to end this road is beautiful. The terrain and roads change as distance is covered. The only consistency is incredible mountain edge corners overlooking massive valleys.
In Ha Giang we recommend Ban Tuy Homestay for an authentic Vietnamese experience. For a backpacker style hostel then Kiki House.
Day 6: Ha Giang to Tuyen Quang
Follow the QL2 and QL279 to Lai Cai. At the time of writing this, we do not have experience with this area.
We went to Vu Linh Family Homestay down the QL2. The idea being we did not want to take a train from Lau Cai.
This homestay is in a beautiful area on the lake. We highly recommend the boat tour where one of the family members rows you through a spectacular and empty lake. A guarantee that you will be the only foreigner in the area, and probably the only person within eye distance. Insane to think a place of such beauty remains empty when located just a few hours from Hanoi. Please keep in mind we had perfect weather conditions!
Day 7: Tuyen Quang to Hanoi
The drive into Hanoi, follow the Ql32 and once reaching "the red river" or "da river" take the white road "Duong Da" towards the "Trung ha sub parish church". Follow this road all the way into Hanoi to avoid the traffic! A good road to finish the North by motorbike!