Reading Time:
19
minutes
         Driving through Vietnam on a motorbike will be an adventure you won't soon forget. To keep that adventure more about the fun and less about the frustration, we put together a helpful guide.
         Below you'll find tips on everything from the best maps to get you around the countryside roads and trails. No matter if you prefer paper, have internet on your phone or need to use maps offline exclusively. To the best way to find a hotel (Nha Nghi) when it seems like those maps took you into the middle of nowhere. Right through to how to order meals like Pho Bo (beef noodles) and avoid things like Hột Vịt Lộn (duck fetus) so that most surprises are ones you're looking to have. Here's a look at how to navigate Vietnam by motorbike.
Table of Contents

Buying a sim card in Vietnam
The cost of internet coverage in Vietnam is unbelievably cheap. You can pick up a data sim card for around 70,000vnd, or about $3usd. Once you have the card, unlimited 3g internet only costs about 80,000vnd, or $4usd, for a month! Having internet access to use things like google maps will be incredibly helpful for your drive through Vietnam. Picking up a tourist sim cards is a simple process that you can usually take care of in under an hour.
Travel tips for what to do:
Bring an unlocked mobile phone.

Find the closest The Gioi Di Dong mobile phone shop.

Buy a sim card for around 70,000vnd.

Purchase a $10usd top up card & have the attendant activate the 80,000vnd unlimited internet plan.
The Gioi Di Dong shops are easy to spot; they are yellow and usually have loud music blasting out of them. Once you're inside the shop, most of the employees can speak some basic English to help you out. Also, if you are in Ho Chi Minh City, the store around the backpacker street of Bui Vien Street is very familiar with setting sim cards for foreigners.
 Coverage around Vietnam is typically good, except some of the more remote regions of the country. You can get a 3g phone set up on your choice of Mobi or Viettel networks. Viettel is said to have slightly better coverage, but both are good enough that you should take whatever option is available. There is also the complete guide to buying a sim card in Vietnam if you need a more in-depth explanation.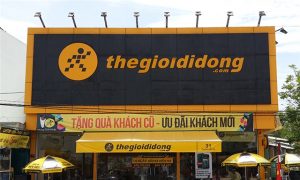 Travel Distances In Vietnam
When you are planning your motorcycle tour through Vietnam, it is common for people to assume they can accomplish much more driving than is possible. If you are looking to calculate travel distances in Vietnam with google maps, you should double how much time you need, and in some cases triple it. Google maps will not allow for the numerous twists and turns in the road. Google is also unable to account for the incredibly slow speeds that people drive at in Vietnam. The speeds might feel fast, but in reality, they are very slow compared to Western standards.
Top points to consider when navigating Vietnam
For most, everything on GoogleMaps in terms of timing needs to be doubled or tripled
For most, a normal day is 150-200km on models 150cc and below
On models above 150cc, 200-250km becomes normal and 300km is achievable
There are hotels everywhere, so failing to reach the destination is not a problem
A full day of driving includes coffee breaks, pictures, and generally, is relaxing, not stressful
Calendar Days to Travel Between Vietnam Destinations 
HCM to Danang takes around 7-10 days
Hanoi to Danang takes around 7-10 days
"The North" above Hanoi takes around 1 week – 3 weeks
HCM to Hanoi takes around 20-25 days

When we organize our fully guided motorbike tours around Vietnam, we allow enough time to enjoy the ride. Looking through that page will give you an idea of how much time we feel comfortable taking on group rides.
Overview of calculating driving distances
Expect to double or triple the time given on google maps. The route choice they offer is usually accurate, just not the time required.

Allow 20-25 days travel on your motorbike from Ho Chi Minh to Hanoi. 1-3 weeks more for the area around Hanoi.

200-kilometers is equal to about a full 8-hour day of driving.

Don't try to fit in too much. You don't want your memories of Vietnam to be only about driving, allow time to stop and enjoy the site.
Top Tips

Don't overplan, everything is good
At a minimum, plan one rest day for every four days of driving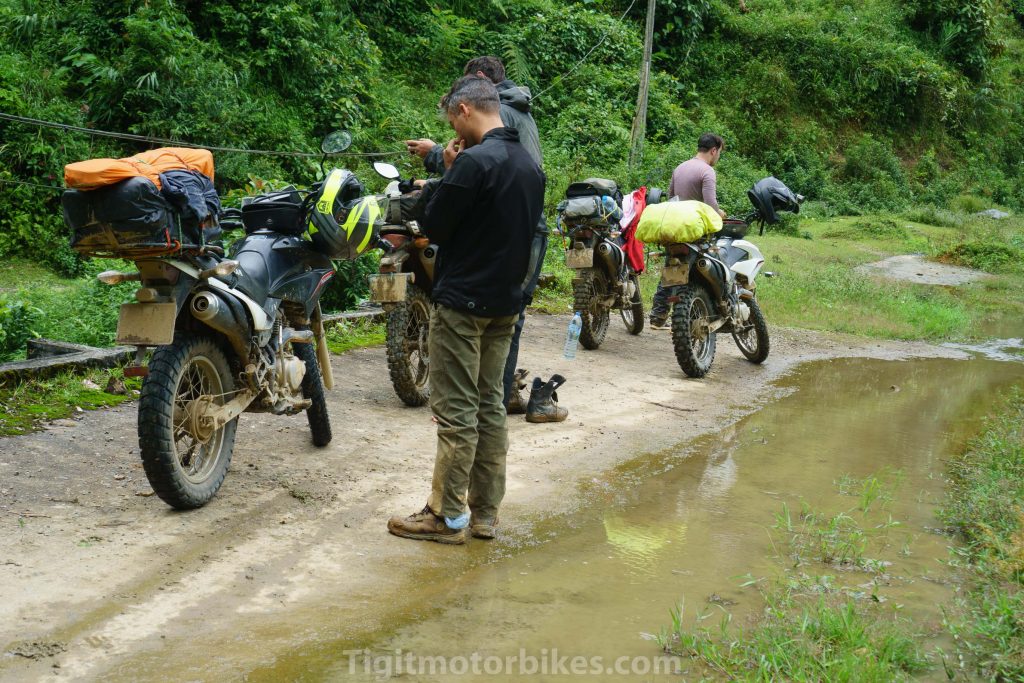 Motorcycle Trip In Vietnam. Choosing the Best Backroads.
To save you from hours searching the internet, we've organized a wide selection of resources to help you make an informed decision about where to go on your motorbike trip through Vietnam.
Here are some of the top resources for choosing a route through Vietnam:
Routes and maps through Vietnam

. An in-depth look into some of the most popular routes to drive through Vietnam and maps outlining the direction.

Saigon motorbike loops

. A guide to some consistently great roads around Saigon and the South. A good choice if you want easy planning and great weather.

Hanoi and the North of Vietnam

. This guide will help those looking for a real adventure holiday. The area around Hanoi is not as well traveled, but it is indeed rewarding.

Saigon to Hanoi by motorbike.

To get an insider's look into what this drive that takes you up the length of the country is like, read this trusty guide.

Ho Chi Minh to Hanoi

, or

Hanoi to Ho Chi Minh

. These two articles will help you answer the questions about what route is better for you. The Ho Chi Minh to Hanoi drive, or the Hanoi to Ho Chi Minh drive. Each has its pluses and minus; these will help you decide for yourself.

Vietnam Backroads

. The Backroads page is a popular Facebook group that is well informed about various road conditions and up to date weather around Vietnam. You can search the group to have most of your questions answered.

Vietnam Coracle

. The Vietnam Coracle covers a wide variety of things around Vietnam. There is also a popular "Motorbike Guides" section where they offer some more driving options.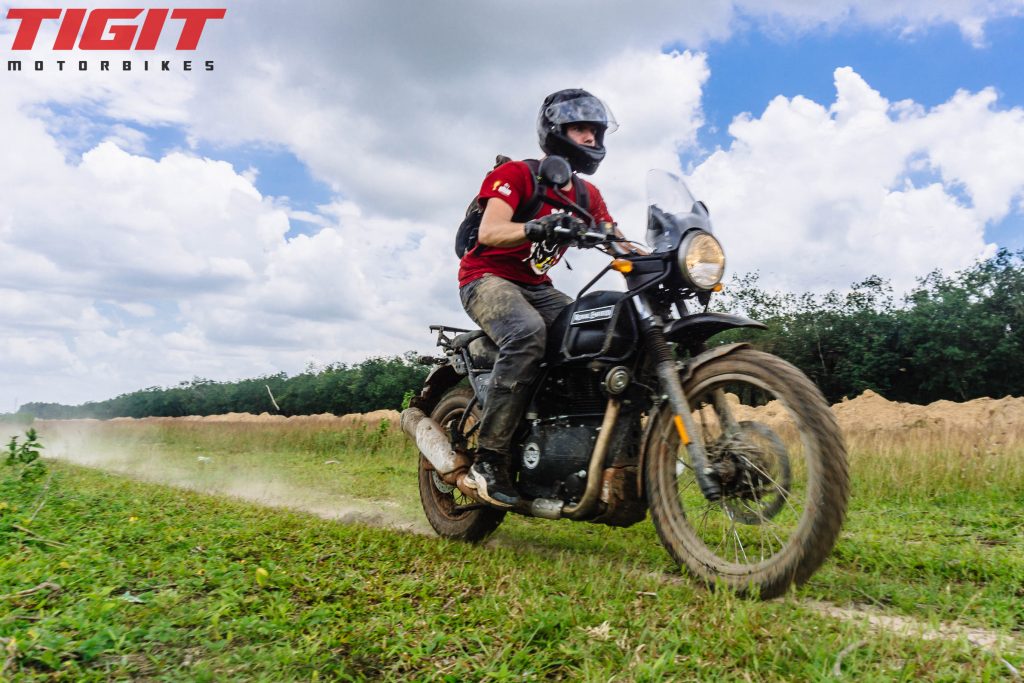 Motorcycle Cell Phone Holder and USB Chargers
All Tigit manual motorbikes are equipped with high-quality phone mounts.
Tigit scooters such as the Honda Blade have an optional phone bag that can be bought for $15. For more information on accessory gear please visit Chrunix the Tigit motorbike shop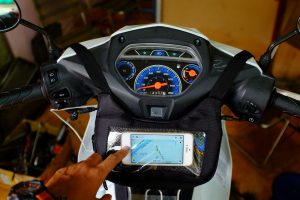 Tigit does not use USB chargers. Attaching a USB charger to a motorbike will instantly void any warranty as mechanics automatically blame 3rd party ad on's for any electrical problems. The solution to this is to use an external power-pack. You can bring them from home or pick them up for around $15usd from The Gioi Di Dong shops that sell sim cards and phone packages.
Overview of phone holders and USB chargers:
Bring your cell phone. You'll want it for navigating the routes around Vietnam

Tigit manual motorbikes have phone mounts, our scooters a GPS bag can be bought

Buy or bring a USB power-pack to charge your cell phone. You can buy at power-pack from The Gioi Di Dong stores where you'll purchase a sim card and phone package.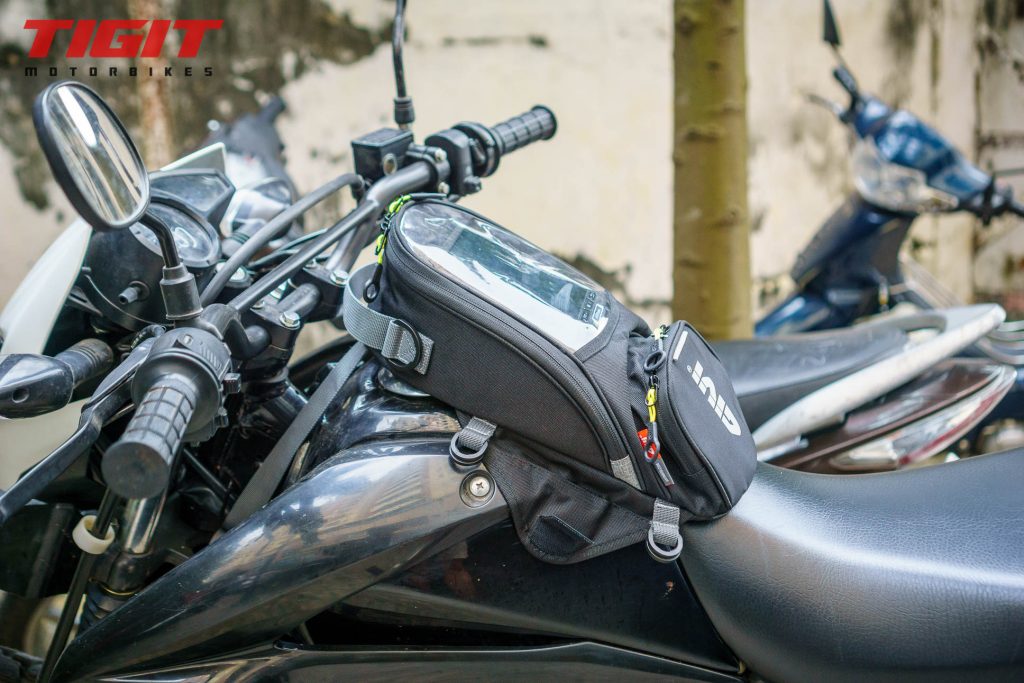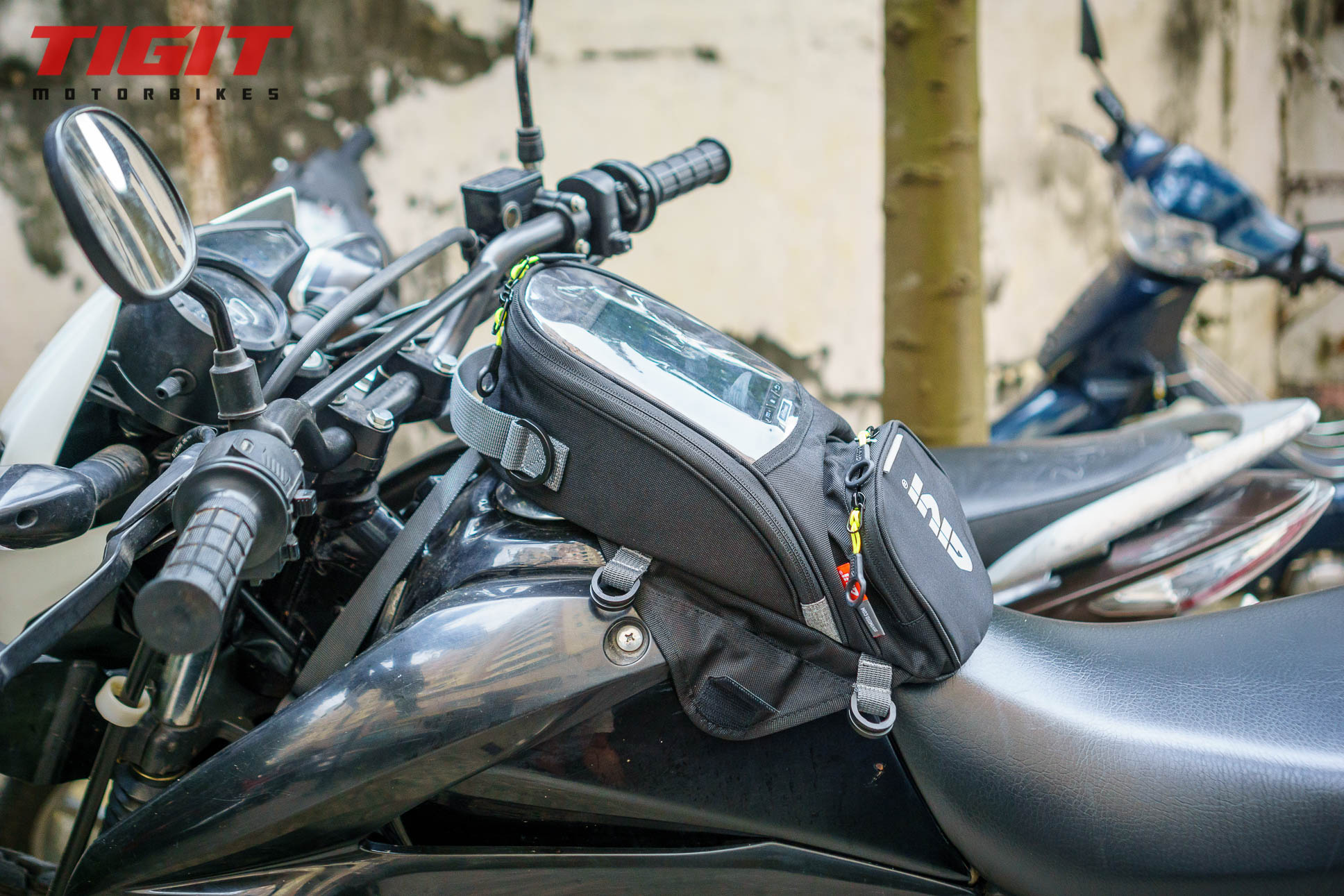 The weather in Vietnam can be difficult to predict. Many travelers often make the mistake of assuming that everywhere in Vietnam is hot. The beaches and South of the country can typically offer nice weather. However, Vietnam has a mountain range as well as a tropical and sub-tropical region that can mean the weather may vary drastically by region. To help you better understand what the country has to offer concerning the climate, will break the weather down into seasons and regions.
 If you were going to plan your entire motorcycle vacation around the weather, then overall March and April are the best times to drive through Vietnam by motorcycle. Across the country as the whole, the weather conditions are mostly stable. Here is what you can expect based in the South and North of Vietnam, as well as the times of the year.
Southern Vietnam Weather Monthly
Ho Chi Minh:

In and around Ho Chi Minh you can expect the weather always to be hot. If you are only thinking of traveling around this area or enjoying some day trips from Ho Chi Minh, then you can plan to come any time of year with light clothing.

Da Nang and the South:

From the middle of Vietnam, around Hue. To the very South past Ho Chi Minh. The typical rainy season is from July to October.

Cyclone / Typhoon season:

In the middle sections of Vietnam from September to December there is the possibility to encounter a cyclone. The Cyclones are irregular and not frequent, but they do occur.  
North Vietnam Weather Monthly
Hue and the North:

August to September is the best time of year to travel the North part of Vietnam. The weather during these months is typically stable, and you can view the yellow paddy fields while they're in bloom

March to May:

The weather is generally calm and an enjoyable time to ride.

June to August:

These months make up the rainy season, and you'll need to pack your rain gear.

December to February:

This time of year is cold, so cold that you can expect to see snow in some regions.
Planning For The Seasons
View our what to bring and wear article to help cope with different climates. There is no point trying to avoid a particular part of the country for one season or another. Just plan accordingly and enjoy your adventure. If you decide you want to go to the central areas during the cyclone season, it's okay. Just know that if a storm hits, it will typically not last more than two days. You can wait it out and continue onwards after. If you want to go into the North during the cold season, don't worry. With Tigit you can send your luggage on the train and have warm clothes waiting at our offices once you arrive. Just pack what you need for the initial part of your journey and the rest will be waiting for you when you turn up.
 Vietnam weather and climate tips
During heavy rains, the rivers and waterfalls fill to look even more spectacular

Typically if it's hot in the South, it will be cold in the North

When big storms hit, you might feel unlucky. However, the experience of seeing the dramatic weather will leave you with great stories to tell!

Like weather anywhere in the world, you can't get it right all the time. For help use the

Accuweather

forecast tool.
Many travelers spend too much of their time hoping to predict the weather and plan around it. In reality, the weather will not stop your trip entirely, and it's best to spend your time deciding what you want to see. If you feel like your vacation will be more enjoyable if the weather is at its best. You will want to make a South motorbike loop, where the climate is most stable.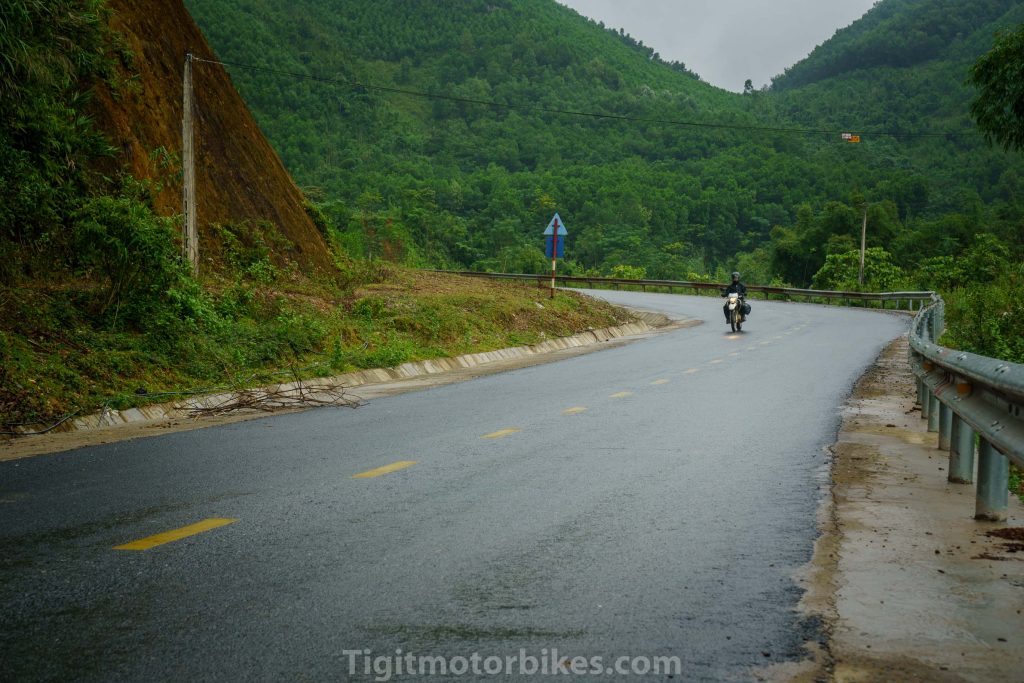 There are no seasons, or conditions that will stop a true adventure seeker from enjoying a motorbike holiday in Vietnam. Every condition and season has its pros and cons.
 To navigate the country for the modern traveler, Google Maps is going to be the number one asset. Once you've activated your travelers' sim card, along with unlimited internet coverage, you can easily use Google Maps to navigate.
For those of you who plan to take the scenic route and go into the more remote regions of the country like the area around Hanoi. You will want to download and use Maps.me. With this application you can download in advance the region you plan to explore, then you can easily explore that area you are in without the need of internet. Maps.me is also a great backup resource in the event you ever lose signal for the Google Maps application. Just remember to download the specific regions you are interested in before departing, so all of the information is already on your phone.
Ask a local for directions! If you are somewhere that you can't seem to navigate your way out of the locals are often more than happy to try and help you out. Take note that if you are outside of major towns or cities, most locals will not travel often and probably have no idea where the next town is. The Vietnamese live in a culture of "Yes, yes, yes," and almost cannot say "No." Keep this in mind when you are pointing straight and asking if that's the way, and all you hear back is "Vâng, Vâng!" 
    Navigation tools:
Google Maps to be used along with your sim card and unlimited data plan

Maps.me downloaded before venturing out onto the backroads

Ask the locals for directions. Just don't assume they've all been where you're going

Visit Vietnam Coracle who have a full article on this topic
Vietnam road terminology explained
 Like all countries, Vietnam has road names, and once you understand them, you'll have an easier time knowing what roads to look for and what ways you may choose to avoid. Some of the roads are going to be well maintained and heavily traveled routes, while others are small single track roads that you might be better off avoiding.
AH1 – This is the main highway connecting the South and North regions. Mostly this is a busy road and should be avoided for leisure travel. However, to save time on entering and exiting cities, the AH1 can be useful and generally is the quickest method to get from A to B.
QL National Road – QL Roads Vietnam are usually in good condition and always paved. The majority of time motorbike travelers will be sticking to the QL roads to navigate the country on motorbike road trips easily.
QL **b – Usually an alternative to the primary QL road, if seeing a B sign it is usually a better choice as the way tends to be more remote.
CT Super Highway – These are for cars only, and no motorbikes are allowed. The exception to the rule appears to be the CT08 in Hanoi, here they allow motorcycles.  
DT Countryside Road – These are usually in reasonable condition. However, some DT roads are incredibly demanding. These difficult ones tend to be the remote roads that connect two places of relative importance. Even though these roads are essential, they are often in need of significant repairs.
TL, Very Small Road – Normally these roads are single track. Usually, for villages and shortcuts, most of the time travelers don't need to worry about these.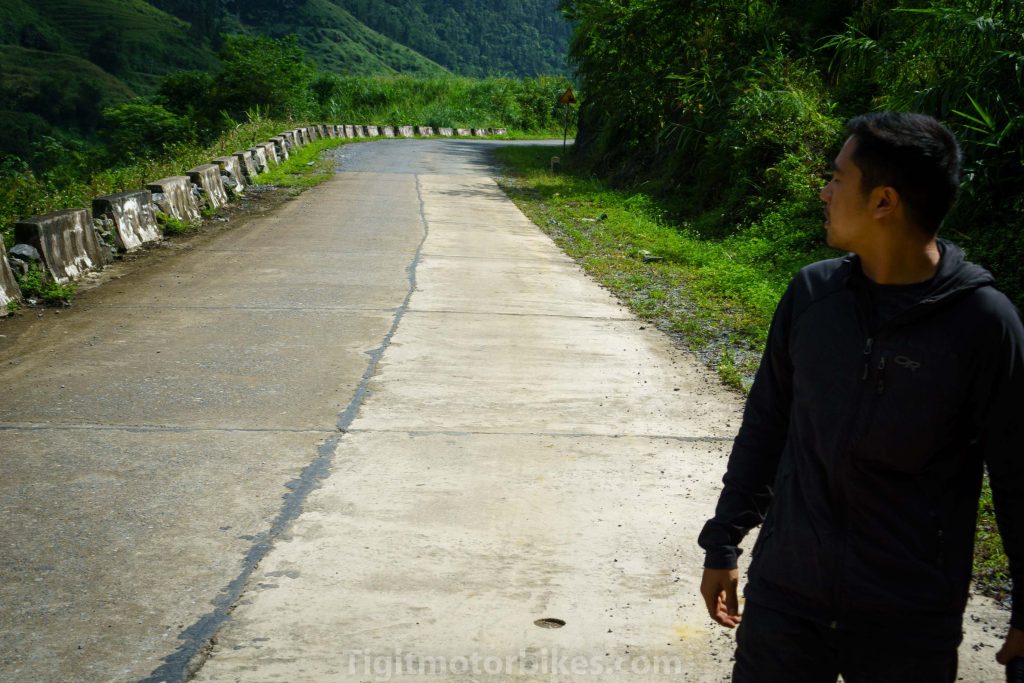 If you are planning to use Google Maps as your primary source for directions, you'll need to keep in mind the actual time requirements to get places. Often the times indicated on Google Maps can be at a minimum, doubled. If for example, you enter a location in Google Maps, like the popular Mui Ne to Dalat by motorbike route, and Google Maps says it will take you 3 hours and 20 minutes. To get a more accurate amount scale of how long it should take you, assume closer to 6-hours.
    You can also do some planning ahead of time and plot your route with stopping points you want to see along the way. The best way to do this is:
Go to Google.com/maps and log into your account

Then find the search bar in the top left corner and click on the menu next to it to expand the options

Then click on "Your Places," then "Maps," the "Create Map." Then you can start to add points and create your desired itinerary in advance so you can go from place to place when your trip begins.
Utilizing Google mapping system to pre-organize your route will make things more enjoyable on the day you want to go exploring. If you are looking for some step by step guides, you can check Google or use another step by step guide.
The Google Map is an excellent resource for when you have a mobile phone and internet reception. Keep in mind that when you don't have an internet connection you won't be able to use your map and you'll need to rely on your Maps.me download to keep you in the right direction.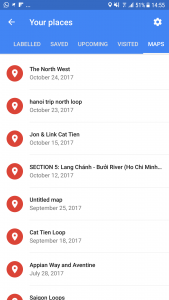 Navigating your way around Vietnam can be made less complicated with the right tools. Maps.me as a mapping application is a great way to navigate the country for more than one reason. First offline the maps can be downloaded in advance and used without mobile phone internet service. The download is perfect if you think you might be venturing off into regions without service and will make your trips in Vietnam easier.
Next up, when you're running Google Maps, the application will continually need access to the internet and requires a large amount of energy to run in the background of your phone. Running in the background will forever be a drain on your battery. The Maps.me application will not need to access the internet and only runs lightly in the background of your phone. Therefore you will just be using a small amount of battery power to use the application.
    To create a route map with Maps.me you have two options. 
Open the application and tap anywhere on the map as your destination

Next, create your route

Then go to "Add Stop" to add your additional stopping points
Creating the Maps.me route is simple and straightforward. If you prefer a thorough explanation with photos, see the Maps.me guide.
Another great option is to utilize any maps you might have made on Googles My Maps. You can create the routes in Google, import them to Maps.me, then enable or disable different route options when you want to use them. You'll create the maps in Googles My Maps and export them as a KML file. Maps.me has a step by step guide on how to make importing your KML file easy. Then you can display all of your route options on one screen.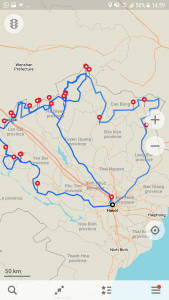 Vietnam hotels. The best websites for booking.

Vietnam accommodation links
If you are looking for something authentic, you might want to try a Homestay in Vietnam. In a Homestay, you'll get to spend time with a local family, typically right in their house. The cultural exchange is an excellent way to get to know the people of Vietnam. Just search the location you are interested in, plus the word Homestay into Google. For example; "Da Lat Vietnam Homestay," and Google will give you some options.
Don't stop yet though; Google also offers a hotel finder option. You can input the location plus hotel into Google, and it will provide a list of options. For example; "Phan Thiet Hotel." Then Google populates a list of options that can be sorted by price or overall match, then takes you to where to find the best deal. This feature is a beneficial way to get the best overall results for Vietnam hotel accommodation.
When you're traveling the typical South to North Vietnam motorbike routes, and looking for the best accommodation options in anything from a party hostel to a Homestay. Vietnam has plenty to offer, with a wide range of resources to make finding those accommodations easy. Just search, click and enjoy your stay.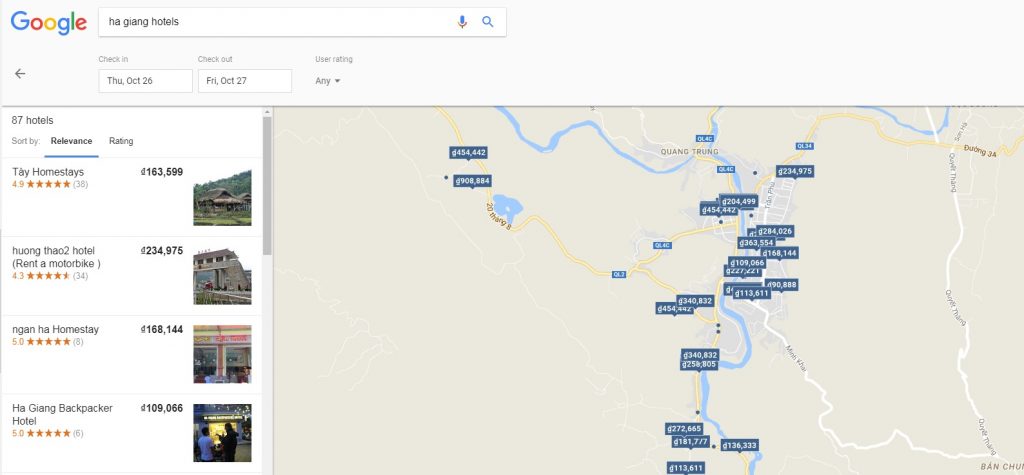 Remote hotels. How to find them in Vietnam.
When you plan to venture off into the less tourist traveled motorbike routes of Vietnam, like Hanoi and the North, you're still going to want to have a place to sleep at the end of the night. How to find accommodation can be especially important as the time it takes to get from one area to another can be difficult to gauge. Even if you think you might make it several towns over, you may need to end up spending the night in another town. The roads that are less traveled by tourists in Vietnam are not as likely to end up being posted on sites like Booking.com.
 To find a nights accommodation in these parts,  you can do a few things. To the locals, a guest house is known as a "Nha Nghi." Once you start to look around, you'll notice these signs on the outside of buildings in the main areas of towns. Nha Nghi is the secret code word for finding accommodation that the locals know about, that you would have otherwise just driven past.
To find a Nha Nghi on the scenic route while you drive through remote countryside towns, you can use some of your technological resources. On Google Maps, manually search for anything close to you that looks like the main road. Then follow that road until it comes to a town. If the town has a name, you can search "Nha Nghi + the town name." For example; "Nha Nghi Bac Ninh," if Google populates a list of options then the town is probably relatively large. If the town is quite small, and no accommodation can be found on Google, no problem. Just search around on your map in the town you found for any cluster of main buildings. Once you make your way to this area on your motorbike, you are very likely to notice signs posted with Nha Nghi's to accommodate you.
    Nha Nghi's hotels
Nha Nghi is a motel in Vietnam
Find the main road in Google Maps and follow it until you find a town
Search Nha Nghi plus the towns name in Google Maps.  For example "Nha Nghi Bac Ninh." The town might be big enough for Google listings

Search manually in Google Maps to find clusters of buildings in these small towns. Drive there and search for buildings with Nha Nghi posted outside
 Even if you think that you are so far off the beaten path that you'll be sleeping under the stars for the night, the chances are that you're never far from accommodation. Vietnam is a great country to explore, and once you feel comfortable with how to find your way through it, you can travel with ease. Start to think like the locals and use technology to your advantage, and you'll have fun getting to know the lesser known parts of the country.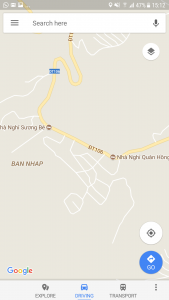 Vietnam hotels explained.
Party Hostels – Dorm rooms usually at around $7usd a night with "free breakfast." Party hostels, like those in Ho Chi Minh City, operate for the masses of backpackers and the money is made from selling beer and tours. These rooms are found in any backpacker area, and you can book them through Hostelworld.com
Budget Hotels – Hotels usually start at 250,000vnd per night, or $12usd. If you are traveling as a couple, or as a group who don't mind sharing a room, then these work out cheaper than dorm rooms. Vietnamese operated hotels often have 3 or 4 bedroom rooms and the benchmark price of 250,000-300,000vnd gets split among the group. These hotels tend to have rock hard mattresses, but provide the basics of what you can expect from a $12usd room.
Good Hotels – To get a good hotel in Vietnam,  you can expect to pay 500,000vnd or $25usd.
500,000vnd will get you a nice hotel room, good mattress. Good hotels booked through Agoda.com or Booking.com
Excellent Hotels / Resorts – Resorts start around $70 and go onward and upward. For a truly comfortable stay, around $120-150 is the price to be looking at.
Nha Nghi – These types of accommodation originally started as typical guest houses, over the years however they morphed into "love hotels." Most of the time you'll probably want to avoid spending a night in these less than desirable accommodations. If you find yourself in a rural town without many options, then a Nha Nghi is probably your best or only choice. Rooms can range around 150,000vnd and aren't usually much more than a place to rest your head for the night.
Homestay – A night in a Homestay is probably going to be one of the best options for traveling the North of Vietnam and above Hanoi. Initially, motorbike tour companies needed accommodation for their tours, so they arranged a nights stay with families who would provide food and a place to sleep. Here you could get to meet the families, and they would hope you would drink a lot of their Rice Wine. Now Homestays are starting to emerge around the country slowly, and overall it's a great way to experience the culture.
Homestays are best booked in advance so they can prepare for your arrival. However, they are often quite remote, and you'll be left to eat when and what they eat. A night at a Homestay is usually around 150,000vnd for a night, plus the cost of your food.
Remote regions: Hotel VS Khach San VS Nha Nghi
In order of good to bad
Hotel – Usually around $15, a Hotel may have some grasp on how to deal with foreigners. They have made a conscious decision to call themselves "Hotel" in English, instead of "Khach San" in Vietnamese.
Khach San – This is a direct translation of "Hotel" and usually priced around $12. Overall there is no difference between "Hotel" and "Khach San", but you may have a better chance of a good stay in a Hotel.
Nha Nghi – Very cheap place to stay. Western equivalent of motel.
Safe food Vietnam. What to eat to play it safe.
    Finding food on your Vietnam motorbike travel will usually be pretty easy. Knowing what it is, that's on the menu might require making a few notes on your phone and reviewing them before you step up to a food stand or restaurant.
When you are in the main tourist areas, like Bui Vien Ho Chi Minh or central Da Lat, the selection of Vietnamese and western food is plentiful. You can easily find pizza, hamburgers, and fries, right next to noodle shops. You'll probably even have the option to read the menu in English!
    All of this is great until your motorcycle adventure takes you out into the countryside. Here the western food options and menus written in two languages quickly disappear. You'll then need to rely on the local cuisine to get you through the day. Not to worry, Vietnam has a selection of straightforward food that is reasonably unadventurous, and of course, they have some things that might be better to avoid.
Vietnamese food that's straightforward
Breakfast
Baguette Sandwich = Banh Mi. A banh mi is a typical Vietnamese sandwich, usually consisting of meat, some pickled vegetables, and chili peppers. These sandwiches make for quick morning breakfasts and can be wrapped up and stored for lunch later. Easily found in cities and towns, you're not as likely to come across a banh mi in the more remote areas.
Lunch
Beef Noodles  = Pho Bo or Bun Bo. Your basic rice noodle soup with beef, herbs, vegetables, and broth. The taste is mild, and it's easy to find this dish virtually anywhere. Just wake up, get your bike loaded and drive until you see a sign for "Pho Bo"! Pho is also available with chicken (Gà) when you're looking to mix it up once in a while.
Dinner
Rice With Beef = Com Thit Bo. This dish is a bit like a stir-fry with beef, rice, and vegetables. If you have time for a leisurely lunch break, you could order up the Com Thit Bo then too.
Rice With Chicken = Cơm gà. The same as above, only with chicken instead of beef. If you're feeling like a western and Vietnamese fusion dish, you can ask if they have it with french fries. Just ask, or look for Khoai tay chien.
Cubed Beef With French Fries = Bò lúc lắc. You're only likely to find this dish on a sit-down restaurant menu. When you do, you'll know that you have safely not gotten outside your comfort zone and that ketchup is your comfort food!