Reading Time:
7
minutes
Mui Ne Police trap, what is it, and why has it become famous?
The Mui Ne Police trap has become a famous problem for backpackers travelling Vietnam by motorbike. An army of police hiding around the popular Sand Dune areas of Mui Ne, waiting with trucks in hand to stop, scare and intimidate backpackers into handing over large amounts of cash.
The coastal road opens into a pleasant stretch of sand dune driving(perfect for dirtbikes). A sense of freedom without traffic, for Ho Chi Minh to Hanoi travellers, this may be the first real taster of the incredible roads that are to come. The police sit at random check points anywhere on this 30 minute stretch of road leading up to the White sand dunes of Mui Ne. Often hiding in bushes waiting to pounce.
The nature of the road naturally encourages speeding, with a ridiculous speed limit of 40km/h on an empty and flat piece of coastal road. Travellers come ploughing by at 60km/h + and get quickly hustled onto the curb by police. The journey comes to a crushing halt as a swarm of police surround the suspect for their wrongdoings.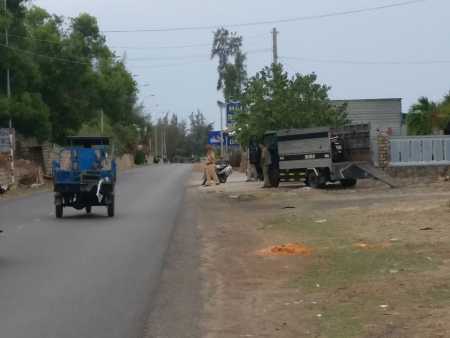 How did this Mui Ne Police trap come to be?
Mui Ne is known for being a mostly Russian town. Menu's are in Russian and many of the local businesses, including bars and kite surfing schools are Russian owned. Russians have a reputation for driving badly and aggressively, often without helmets. This was causing causalities and awareness was raised both in Mui Ne and Nha Trang (another prominently Russian area) that this situation of illegal scooter driving needed to come to a stop.
The police in Mui Ne went about daily business, enforcing rules in the usual Vietnamese way. Scaring people but accepting bribes at the same time. Through this process, they learnt how far this bribe situation can be pushed and the large amounts of cash that can be generated!
Mui Ne is the perfect setup for such a trap, a single piece of coastal road with one entry point and one exit point. Combined with a few tourist attractions in the middle that are perfect for one day scooter rentals.
Nha Trang is on a similar slippery slope to Mui Ne, but due to being a large town with multiple entry and exit points, it is much harder for the police to control.
In the past, this Mui Ne Police trap was passable.
Usually in Vietnam, the police are a quick and easy process to deal with. In Mui Ne however, they have learnt that travellers are willing and capable of handing out huge bribes to continue on their motorbike journey! The starting point of the negotiation often being around 5 million VND.
The standard police bribe in Vietnam is 200,000vnd. Armed with the correct negotiation tactics and stubbornness it is easy for a traveller to pass through these check points. Just $10 out of pocket,  and coming out with an interesting story to tell.
Backpackers, who have bought motorbikes from each other, or from low key Vietnamese shops, will be unfamiliar with the Vietnamese situation of dealing with police. Travellers can be easily pushed into handing out sums of cash that go over and above a full months salary for most locals. This led to a downwards spiral of police greed in the Mui Ne area.
The dire situation of the Mui Ne police trap today.
Life goes in circles, and the police tactics of accepting bribes has finally caught up to them. Higher up the Vietnamese chain of command, questions have clearly been asked. Today the police are no longer letting travellers through with bribes and are instead, confiscating motorbikes for up to one week, depending on the offence committed. They presumably have quotas, where they must confiscate (X) number of vehicles a day, leaving the lucky travellers to continue on their journey as normal. However the unlucky motorcyclists have their holiday hit with a crushing blow which will probably put an end to the dream of travelling Vietnam by motorbike.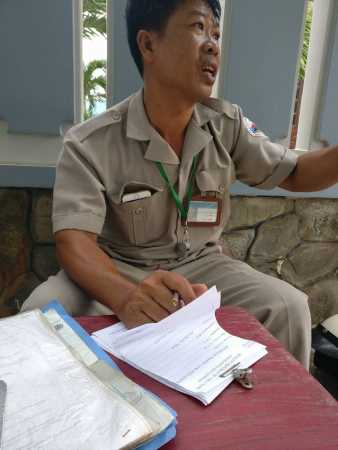 In the defence of the police in Mui Ne. What they are now doing is consistent and accurate to enforcing the rules of Vietnam. If you do not have an international drivers license, you are driving illegally and therefore are in trouble. This puts them in the right, not the wrong.
The rest of Vietnam outside the town of Mui Ne, remains as normal and the police are unlikely to stop foreigners, or confiscate motorbikes from them.
How to get around the Mui Ne Police.
Unless the driver has an international drivers license we recommend skipping out Mui Ne entirely. Mui Ne is not a favourite destination and is not a "must see" location. The risk of motorbike confiscation has become too big for Mui Ne to be a worth while attempt.
Option 1: Choose the Ql28 to Dalat, or the QL 28B to Dalat. Tigit Routes and maps Mui Ne to Dalat.
Option 2: Follow the Ql1A highway which naturally connects back with the coast. Not much is missed in terms of coastal driving.
Option 3: Follow the pink section marked on the map below. This skips the main police hot spots, but still connects back in the danger zone of the white sand dunes.
Option 4: Skip the coast entirely, and do the remote mountain route which has equally, if not better roads. Tigit routes and maps Ho Chi Minh to Cat Tien National park.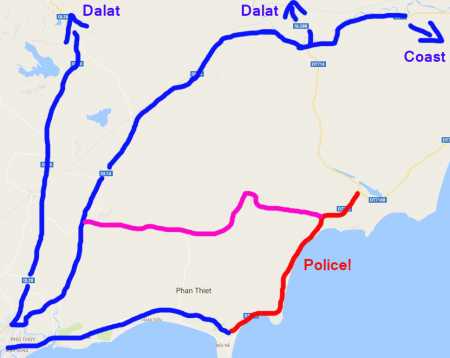 Other recommendations : We recommend stopping in Lagi Coco beach camp, and driving straight past Mui Ne to Phan Rang. A good full day drive!
The common laws that travellers are breaking
Offence one – No driving license
The most common law that a traveller is breaking is driving without a motorbike license. In Vietnam the international drivers license is now accepted, which means anyone who is able to drive a motorbikes back home can easily have the rights to drive in Vietnam, legally.
Driving without a license in Vietnam is often a controversial discussion among expats living in Vietnam. In summary – if the country can't be bothered to enforce their own rules properly, then why take them seriously. This follows suit for many locals, who also do not have the correct paperwork and documentation.
Travellers should be aware of the dangers of driving in Vietnam without a license. Although it is possible, and many people do it. The penalty and consequences when something serious goes wrong can be massive. All insurance is invalidated, both for the traveller and any 3rd party that might be involved. This is a serious offence, and needs to be carefully calculated into the holiday plan.
Offence two – Speeding and no helmets
The speed limit on this particular piece of road is 40KM/H and travellers are often exceeding this. The police will take a bribe and providing you have a license they are unlikely to confiscate the motorbike for this offence. They are currently heavily targeting travellers without a license.
Helmets must be used at all times in Vietnam. The police will accept money for breaking this law, but for your own safety. Use a proper helmet!
Offence three – Blue cards and paperwork
Although not serious, it may be used as an intimidation factor by the police. The blue card should be in the drivers name. As a traveller this is impossible to achieve and nothing can be done about it. Providing you are driving legally, then the police are likely to turn a blind eye to the paperwork error and let you continue as normal.
What will happen next.
Vietnam is a fast developing country, and with this, the rules are likely to become more "by the book". Currently Vietnam issues out laws and rules that only exist as guidelines. No consistency and no real consequences, especially for tourists.
This is a fast changing situation, and to drive in Vietnam legally has become both easier and clearer. Big motorbikes and cars are becoming more prominent in Vietnam and the days of old vehicles and slow moving traffic are becoming a thing of the past.
The tourist circuit of backpackers buying and selling dangerous motorbikes has also started to attract attention from locals and local media. Backpackers often seen without helmets (and without clothes) on dangerous Honda Win motorbikes that are an offence to the country. Picture a tourist in your home town driving a $200 scrapped car with no paperwork and no license. This should hopefully give an understanding of the image that this is presenting to locals.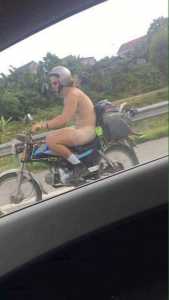 The low end tourist circuit of Honda Win motorbikes started with the Top Gear Vietnam special in 2008.  Since then, the popularity has grown to a magnificent scale. This concept of motorbiking Vietnam is now maturing, and the rules and regulations are maturing with it.
The maturing market has started the popularity of motorbike rentals and backpackers are finally becoming a little more educated to the Chinese motorbike scandals.
List of motorcycle offences in Vietnam.
Information taken from this list and translated by Tigit Motorbikes. Please note, we are not responsible for the accuracy of the following list.
Not wearing helmets: 100.000vnd-200.000vnd
Having more than 1 passenger: 100.000vnd-200.000vnd
Having more than 2 passengers: 200.000vnd-400.000vnd
Having accident with the vehicle in front for not keeping a safe distance (35meters) : 60.000vnd-80.000vnd
Going on highway prohibited to motorbikes: 200.000vnd-400.000vnd
Using umbrella, cellphone, headphone: 600.000vnd-800.000vnd
Ignore the red light : 200.000vnd-400.000vnd
Ignore the yellow light: 100.000vnd-200.000vnd
Changing lane at wrong place or without signals: 80.000vnd-100.000vnd
Making U turn at wrong place : 80.000vnd-100.000vnd
DRIVING WITHOUT INTERNATIONAL/VIETNAMESE DRIVING LICENSE FOR BELOW 175CC BIKES: 800.000vnd-1.200.000vnd. Police may take the bike for 1 week.
DRIVING WITHOUT INTERNATIONAL/VIETNAMESE DRIVING LICENSE FOR ABOVE 175CC BIKES: 4.000.000vnd-6.000.000vnd
FORGETTING TO BRING DRIVING LICENSE: 80.000VND- 120.000VND
Driving without blue card (registration card): 300.000VND-400.000VND
Driving without insurance paper: 80.000VND-120.000VND
Not follow traffic signs: 60.000VND-80.000VND
Speeding from 5km/h-10km/h: 100.000VND-200.000VND
Speeding from 10km/h-20km/h: 400.000VND-600.000VND
Speeding more than 20km/h: 2.000.000vnd-3.000.000vnd
Not using headlight when it's dark: 80.000VND-100.000VND
Not following traffic control lights: 200.000VND-400.000VND
Driving on the wrong lane: 100.000VND-200.000VND
Driving opposite on one way street, prohibited areas: 200.000VND-400.000VND
Driving slower than the lowest speed accepted on highway with signs: 200.000VND-400.000VND
Not following traffic police orders: 200.000VND-400.000VND
Drink driving: 1.000.000VND-3.000.000VND, police take driving license for 1 month
Hit and run: 1.000.000VND-3.000.000VND
Wobbly driving, chasing each other on the road, not following stop order from police: 5.000.000VND-7.000.000VND
Using horns constantly, raving, make loud noise, using high beam light in residental areas: 200.000VND-400.000VND
Driving with under the use of drug/ heroin: 2.000.000VND-3.000.000VND
Not letting police check alcohol/drug level: 2.000.000VND-3.000.000VND
Leave kick stand down when driving: 2.000.000vnd-3.000.000vnd