Reading Time:
8
minutes
In December of 2008, the dream of driving across Vietnam was proven to a mass market that would forever change the idea of traveling Vietnam. A 75-minute BBC special for Top Gear featuring the dynamic trio Jeremy Clarkson, Richard Hammond & James May as they crawled, crashed and completed (mostly) a motorcycle journey from Ho Chi Minh City to Halong Bay in the north of Vietnam. 
Top Gear Vietnam Episode – What You Should Know
What motorbikes they choose

The show premise 

Where the Top Gear UK guys really went in Vietnam

How you can travel the same route as the Top Gear Motorbike crew
The show was obviously laid out to evoke the most amount of drama possible. Watching three guys ride down the road on brand new Hondas wouldn't be that entertaining to watch.
These boys instead rode three piles of scrap metal, requiring various repairs and the mighty Vespa Clarkson choose even needed a full engine replacement! What you don't see in the background is the caravan of help that was following them along. 
For those of you who don't plan to ride Vietnam with a full support team ( you could,  things in Vietnam are cheap), a good introduction to the country is a fully guided motorbike tour, or simply rent a quality motorbike for a one way journey across Vietnam. 
What Motorcycles Did They Choose?
James May goes for the classic

Honda Cub

Richard Hammond settles for a 125cc

Russian Minsk

Jeremy Clarkson goes for an iconic 1967 Vespa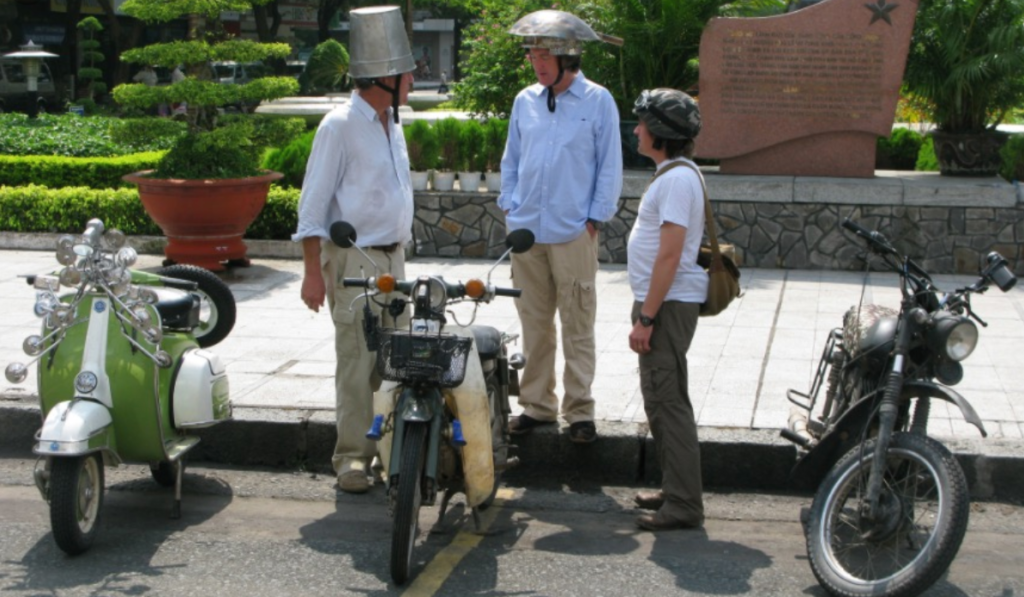 Top Gear Show Premise
Top Gear is typically centered around fast cars or luxury vehicles, and with that in mind our hosts Hammond, Clarkson, and May are given boxes full of cash to purchase a vehicle to travel the length of Vietnam. To their initial delight, there are millions in the box, this quickly turns to dismay as the millions is Vietnamese Dong and not Pounds or Dollars. 
The original plan to buy a muscle car or any car for that matter evaporates as they learn the Dong to Dollars conversion leaves them with around $1000. The price of import taxes in Vietnam on new cars is high and they instead settle on buying cheap motorcycles. If you know Clarkson well, you'll know his distaste for all things motorbike. 
Show Overview – Saigon To Halong Bay In Eight Days
Highlights
Jeremy Clarkson (who

hates

motorbikes), realizing he does not have the money for a car. He is forced to buy a motorbike.

The challenging chaos of riding out of

Ho Chi Minh City

.

Jeremy Clarkson, failing to start his motorbike, is told he is going to die by a passing tourist. 

Richard Hammond struggling with Vietnamese food and passes on the Snake Vodka

Dalat.

Risking it all by driving in the dark of night

Nha Trang. Beach driving & drowning a motorbike. The peaceful coastal resorts and Jeremy Clarkson enjoys a fish massage.

Riding the beautiful

Hai Van Pass

Hoi An.

Having custom Vietnamese suits made

Richard Hammond is gifted a Spanish Gallon (This gets strapped to his bike)

James May is gifted marble ballet dancer in the marble mountain region of Danang (This gets strapped to the bike)

Jeremy Clarkson is gifted a painting. (This gets strapped to the bike)

The train ride. 13hrs where the Top Gear boys attempt to fix their broken gifts with items bought on the train.

Ha Long Bay

and the creation of amphibious motorbikes.

Clarkson sums up the trip by quoting a phrase he heard prior to leaving

"Vietnam: You don't know, man! You weren't there!"

A broken clutch cable, running out of fuel, getting drenched in the rains, replacing an entire engine, crashing, sinking the bike boats in the ocean, and much more
Stage 1 – Saigon to Dalat
The trio are given instructions that they'll need to make it from Saigon to Halong Bay in 8-days. In preparation, they try to purchase helmets for the adventure. Hammond found one without issue, but May and Clarkson find their heads a bit out of sizing for the Vietnamese market and need to get custom helmets made. Eventually, they arrive in Dalat with a bit of extra effort from May who needs to push his Cub to make it up a hill and finish the journey.
Stage 2 – Dalat to Nha Trang
The boys set off from Dalat in the mountains to the coastal city of Nha Trang. Before leaving Hammond is presented with a new pink helmet to replace his previously destroyed one. During the ride they are hit with penetrating rains, May runs out of fuel, and producers add a 73 Honda Chaly mini bike painted in Easy Rider stars and stripes to the roster as a backup bike.
Stage 3 & 4 – Nha Trang Via The Hai Van Pass To Hue
On this leg, the group opts to stop and have suites made in historic Hoi An, looking quite smart they continue on. On the road, the bikers make their way up and over the Hai Van Pass. The pass is a stunning section of roadway connecting the modern city of Danang with the historic city of Hue. The suit stop has since become an icon of Hoi An and the scenic route over the Hai Van pass part of a must do pilgrimage for travelers of Vietnam. 
Stage 5 & 6 – Hue To Halong Via Hanoi
Stage five opens with the boys trying to obtain Vietnam drivers licenses from an instructor strictly in Vietnamese. As you can imagine this doesn't go well. Clarkson does answer one question correct but fails the drivers test miserably.
 Back on the road, the trio comes to the conclusion they'll never make Halong Bay in time. They opt to put their motorbikes on the train, but they arrive only to realize they've made a mistake and arrived in the wrong city, but did they really? 
Final Stage – Halong Bay
Producers devise a new challenge; The boys need to find a remote bar in Halong Bay by converting their motorbikes to amphibious vehicles in a workshop during the night. Each sets off from shore and Hammond and Clarkson make it.  May's boat sinks, twice, before he swims to the final destination on dry land. 

How You Can Ride The Top Gear Vietnam Route
Behind the scenes, the Top Gear team only travel for around 4-days on their motorbikes. In true Top Gear fashion, the boys' banter and a comical scene of hilarious breakdowns unfold. Once edited down to 75-minutes this makes for excellent entertainment. Breakdowns, banter, blown budgets, and sinking boats might be an adventure for a select few. However, once you're actually standing on the side of the road hours from nowhere with a broken bike you might have wished you just picked up a quality motorbike rental. 
 In reality, the average travel time to do this route on a motorbike holiday would be closer to 25-days. You could do it faster or slower obviously, but 25-days is going to be the average amount of time you'll want to take.
We've linked section of their route below with more details on how to complete each stage. Reading these routes you'll understand that there is plenty to see and many kilometers to complete in order to experience this section of Vietnam properly.
Section By Section Route Guides 
Watch The Top Gear Vietnam Episode
How Should Newbies Attempt The Top Gear Route?
The wild popularity of the Top Gear special opened the gates to backpackers with zero motorbike experience and limited budgets hoping to recreate the highly edited and well-funded Top Gear special of their own.
To do this they began buying up $300 Honda Win motorbikes letting themselves believe the derelict bikes are roadworthy machines. The result, holidays ruined by blown budgets, breakdowns, and feeling that the buyer has been ripped off by the seller. 
To regain some of their losses, these travelers will then sell off these problem bikes to the next poor soul via Craigslist and Facebook ads that can easily be seen in the copy and paste versions titled "Reliable With No Breakdowns". The cycle continues, leading travelers to believe that Vietnam is only filled with garbage motorcycles. 
Can the inexperienced motorcycle rider backpacking Vietnam still traverse the country without the headaches of a landmine motorbike? Yes! But know what you're looking for. Check your gearbox thoroughly before handing over your Dong or Dollars, or rent from a reliable company (ahem!)
Buying An Authentic Motorbike Pros and Cons
Pros
Extremely reliable

A quality Honda has minimal depreciation

More fuel efficient than Chinese

Low maintenance costs

Much safer

The Honda reliability will apply to authentic bike

If you're staying in Vietnam more than 3-months, it's cheaper to buy a motorbike
Cons
Initial costs are likely to be more than a Chinese bike

Harder to sell to price-focused backpackers

You'll be more concerned about aesthetics for the resale value than scratching the plastics on a Win

If you're buying used, you might not know how to tell if it's been maintained with unauthentic parts

It will take more time to seek out an authentic and well-maintained one
Buying A Chinese Motorbike Pros and Cons
Pros
Cheap, usually less than $700

If you buy a Chinese bike for under $500, it's likely not going to depreciate much more

Can get it fixed almost anywhere

You can own it and on the surface save some money over

motorbike rentals

Cheaper to fix than an authentic
Cons
It will be in constant need of repairs $50-$100 each time

Oil changes every 500kms. Factor this in and the math equals a 33% increase to your fuel cost

You can't sell to a local

The bike will need to be replaced every several years $500-$700

They are not known for there safety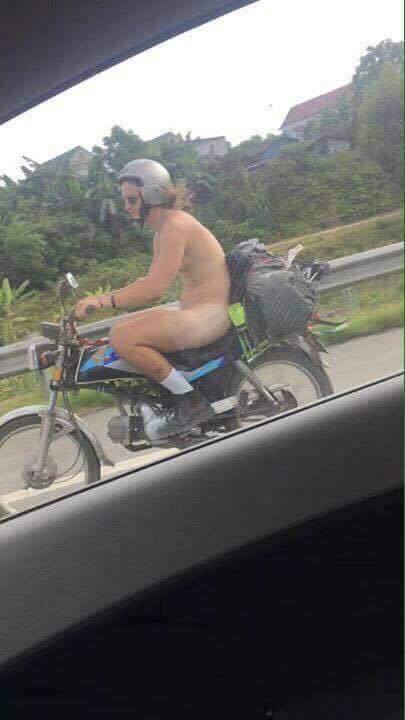 How the Honda Win looks with a board-shorts tan!
Vietnam Motorcycling – The Secrets Of A Successful Trip
Anyone can travel Vietnam by motorbike and we've seen hundreds of happy faces do it from all over the world and at all ages. The secret is in the beautiful back roads of Vietnam and the locals you'll meet along the way. Road speeds in Vietnam are incredibly slow and you'll find that 50kmh is the average speed you'll travel in a day. 
For those who opt to take the backroads and routes through the countryside, you'll meet the friendliest people. A night in a homestay will give you a memorable view of what life's like in Vietnam. If that's not your thing, a party hostel is never far away and you can brag about what you were able to see on your motorbike opposed to out the window of a bus.
For those of you who still need more convincing, we sat down and wrote up the 16-reasons why anyone can travel Vietnam on a motorbike. Read number 13 if you're the adventurous type. Vietnam has an unbelievable amount to offer, and we can thank the Top Gear special for helping open the doors about these secrets to the masses. 
Secrets Of Vietnam
Road speeds are slow. Often under 50kmh

People are incredibly friendly. You'll easily find yourself in some kind of conversation (English or hand gestures) about your bike, where you're from, or simply the weather. 

Most people under 30 speak basic English. Finding someone that knows your language is never far away.

Prices are extremely affordable. Under $50/day will cover accommodation, food,

motorbike rental

, and beers.
How To Travel Vietnam By Motorcycle?
You too can travel the Top Gear route and Tigit Motorbikes can help. The total length of the country is 1,650-kilometers and we can make your dreams of riding any part of it a reality.
We have set packages from one day to one month or more, that allow plenty of time to experience the beautiful mountain roads, stunning scenery, and amazing cultures that run through Vietnam. 
Honda Blade 110cc
Honda XR150



Honda Winner
Yamaha Exciter
-110cc
-Semi Automatic
-Unlimited KM rental
-3.7L fuel tank
-Most common rental bike

-150cc
-Manual
-Unlimited KM rental
-12L fuel tank
-Best option for two ppl

-150cc
-Manual
-Unlimited KM rental
-4.5L fuel tank
-High quality all-arounder

-150cc
-Manual
-Unlimited KM rental
-3.7L fuel tank
-Most common bike in Vietnam

Rent A Honda Blade         Rent A XR150        Rent A Honda Winner      Rent A Yamaha Exciter
Route Tips – Ask And You Shall Receive
If you want to recreate the exact route as seen on the Top Gear special, simply let us know when you book your motorcycle rental. We can offer some route suggestions and pointers that will help you discover some of Vietnam's gems as well as some of the signature moments brought to you by Top Gear.