Reading Time:
13
minutes
The Mekong has almost become a catchphrase for culture. The Mekong Delta is a defining feature of South East Asia, beginning in China and draining from the South of Vietnam. It's unsurprising how many tourists choose the Mekong for the authentic real-world experiences of local life. It's also handy the Mekong is right next door to the biggest city; Ho Chi Minh. You can get a feel for local life without straying too far from creature comforts.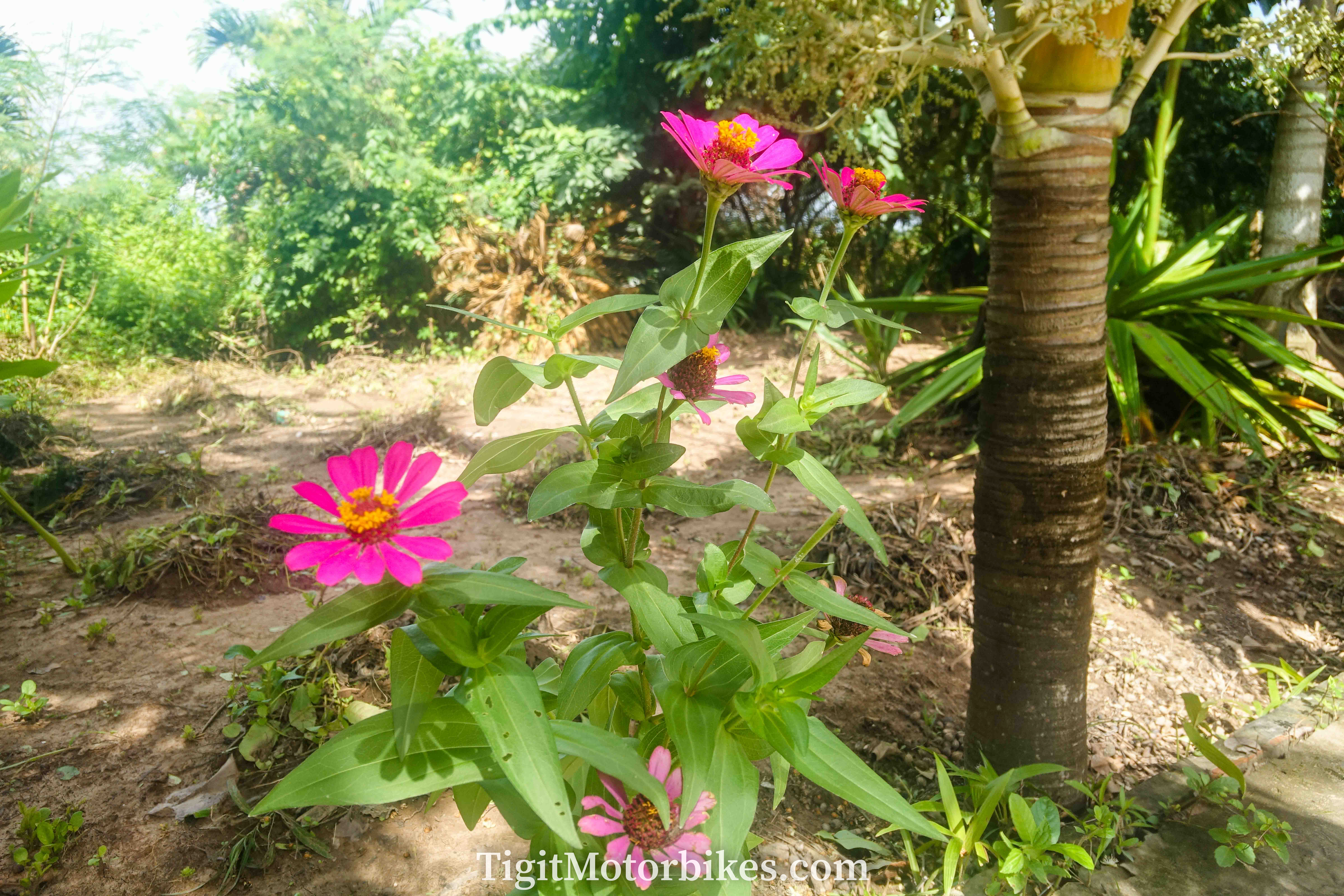 The 'authentic local experience' of the Mekong is agriculture and industry. The maze of waterways through the area serve as highways for container boats, the Mekong basin contributes to 65% of aquaculture (Vietnam's 3rd largest export is seafood), and the 40,000 kilometres of land grow over half the total rice production in Vietnam. We're talking ~25 million metric tons of rice per year from the Mekong.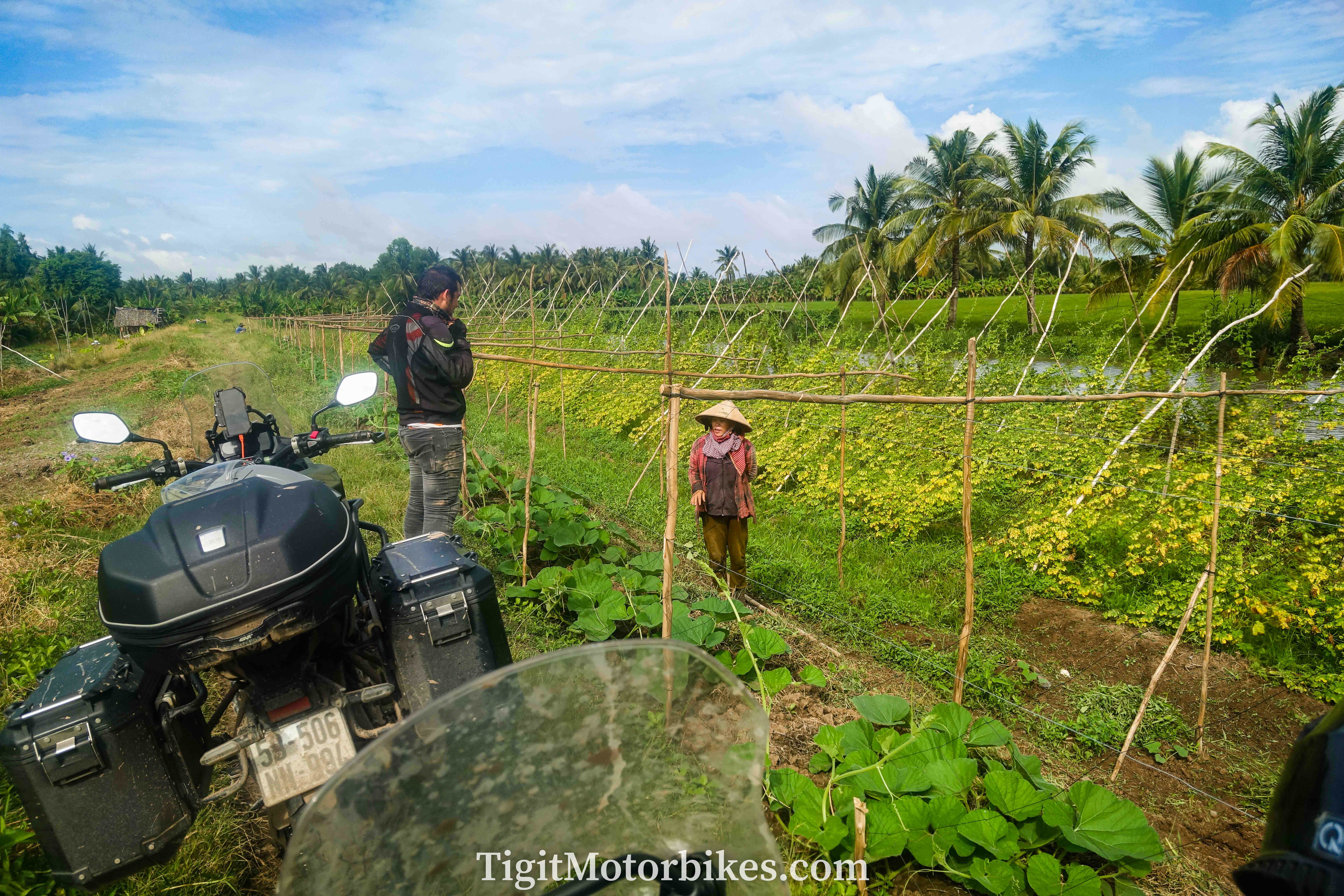 Fishing and farming in the Mekong is a critical part of production in Vietnam. It's understandable tourists want to visit the places where the magic happens. Mekong tour companies use photographs of vast, green, sweeping landscapes across rice fields, small fishing villages where markets are on boats, and endless backroads along winding rivers through banana and coconut trees. This is an aesthetic most dream of when planning their trip to Vietnam. Rightfully so, as the Mekong ticks off every defining characteristic about the Vietnamese landscape.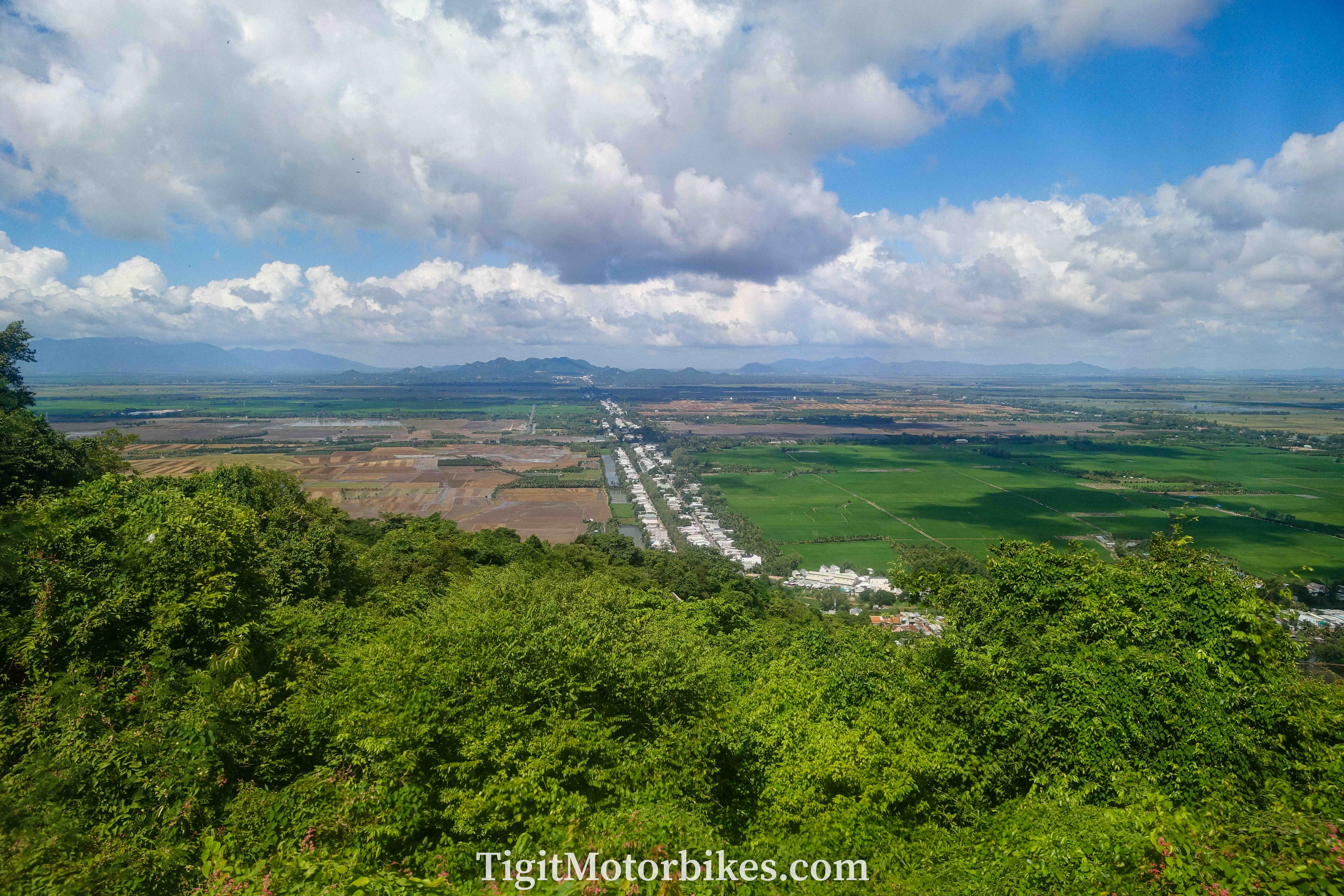 However, tourism is a cash cow. It takes minutes for a place to become popular with tourists, and moments for locals to make bank on this. One viral photoshopped Instagram post of Can Tho's floating markets, and it's suddenly on everyone's bucket list. Unfortunately, this can equal a lot of unrealistic, fabricated experiences sold as authentic.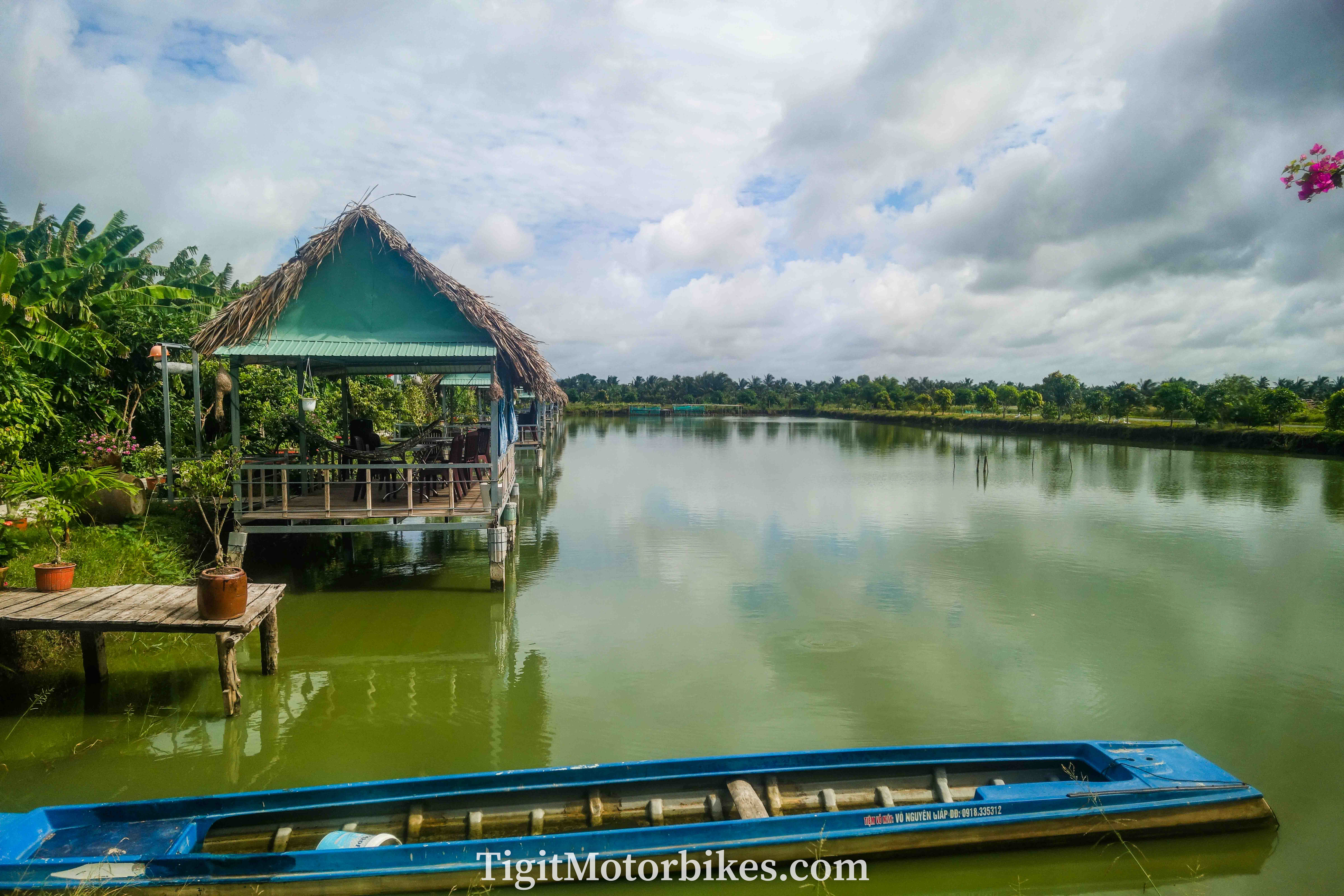 Can a paid experience ever be true?
Let me take a minute to play the arrogant 'woke' expat. I've lived in Vietnam for 8 years, most of the time if you're paying an entrance fee for a local experience, it is often staged. I have never stepped foot in a cafe in a tiny rural town and found an older Vietnamese guy playing guitar, with a beautiful young woman in an ao dai singing traditional songs. The real Vietnam is the older guy coughing up a lung next to your table, and the young woman who is far too busy running her parents' restaurant to dress up. 
For comparison, I can imagine taking tourists to Australia, dressing up as Steve Irwin, holding a didgeridoo, a Foster's beer and exclaiming 'throw another shrimp on the barbie'. Then charging them 20 dollars each for the experience. This is the equivalent of most commercial Mekong tours. And if you don't know, and don't care, by all means go for it. Not everyone needs to be a sceptical connoisseur when travelling, some just enjoy a wholesome experience. Like my parents for example. 
But that's not for me. So, I set off with Renzo the King of the Mekong to find new and exciting routes off the beaten track, and away from the tourist traps. In my 8 years in Vietnam, my Mekong riding has been minimal. My longest trip was only 1 year ago, when Renzo and I rode from Phu Quoc to Ho Chi Minh. Safe to say, the majority of my Mekong experience is in the company of Renzo and for reasons that will become very obvious. 
Let's start at the end. Should you ride the Mekong?
If you're an advanced rider, no. If you're a beginner rider, no. For the advanced riders, you'll be asleep at the bars. For the beginner riders, you'll never want to look at a bike again. 
The roads
The Mekong seems to be constantly under construction. An absolute dream for someone who loves any terrain over tarmac. Not great for a beginner on a Blade. Sometimes the construction would close the road completely, forcing us to backtrack. Other times the construction crew became our private tour guide, where we sat for a some time waiting for an excavator to clear the way ahead. If you're looking to avoid off-road riding, it's near impossible in the Mekong. Moreover, it might be tarmac one day and torn up the next.
The routes
You can pick the long, straight and flat highways and gas it full throttle for 100kms without a single turn. Or you can pick the small backroads which take you in circles, or make your journey twice as long. Most small backroads lead to farms and farm houses.
Then we have these winding river roads, what a dream. The winding river roads have 2 options on either side, and they often split off into the opposite direction. Which means a lot of backtracking to the small bridges. You can either spend hours of time studying the tiny roads and making sure they follow the right path, or you can stop by every bridge to see if you're on the correct side of the river. This makes mapping the Mekong incredibly hard and takes a lot of patience.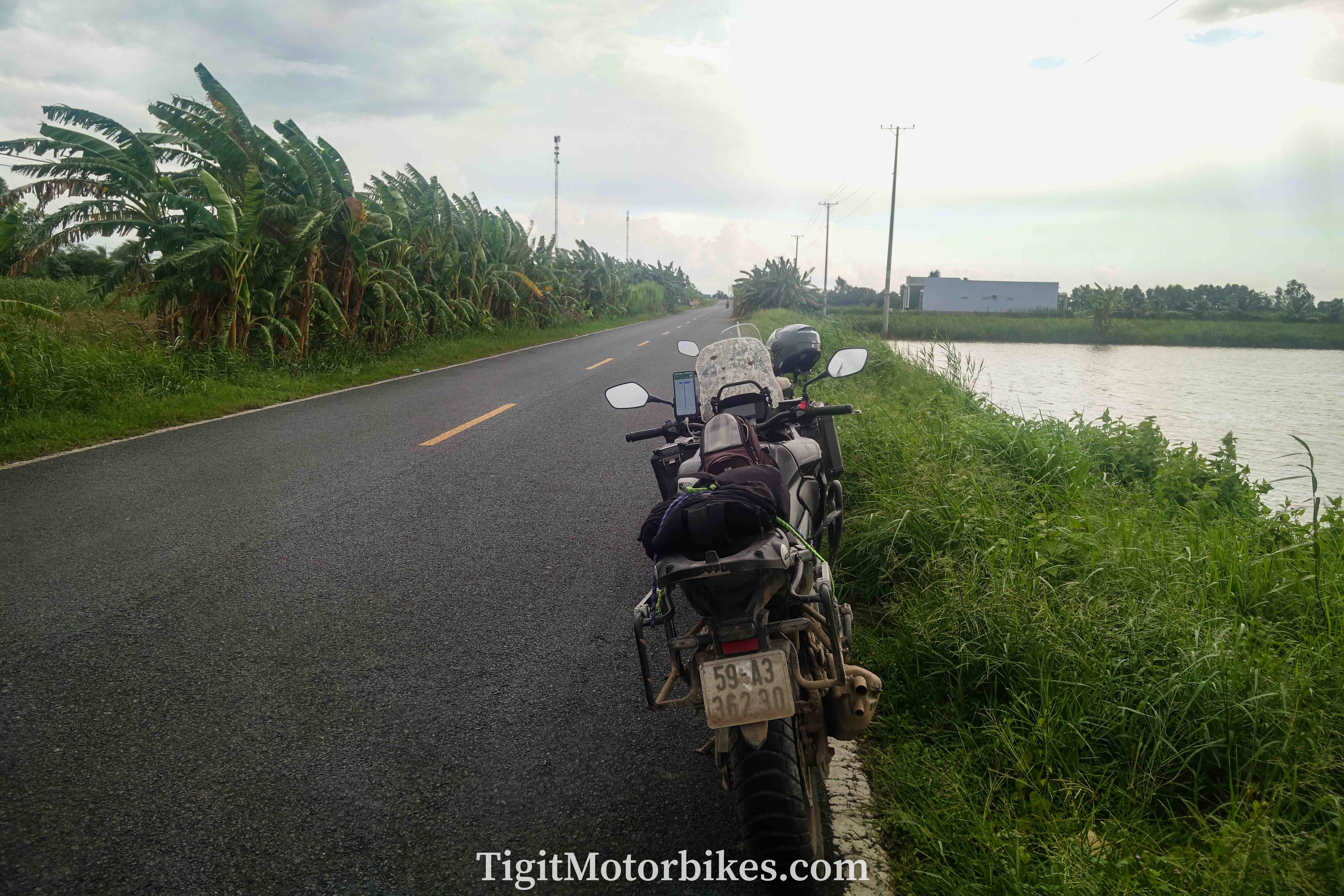 The ferries
The ferries are extremely difficult to plan the ride around, a short delay will have you waiting up to 45 minutes. Check the ferry photos on Google maps, some are large barges, some are small fishing boats. You must be comfortable with shifting your bike around on a rocking boat with locals rolling their eyes at your rookie kickstand pivot turn. Be sure to watch the cash the locals are handing over, don't pay the extortionate tourist tax because you don't understand the currency. Or you think $5usd is an appropriate cost for a 5 minute boat ride (spoiler: it is not).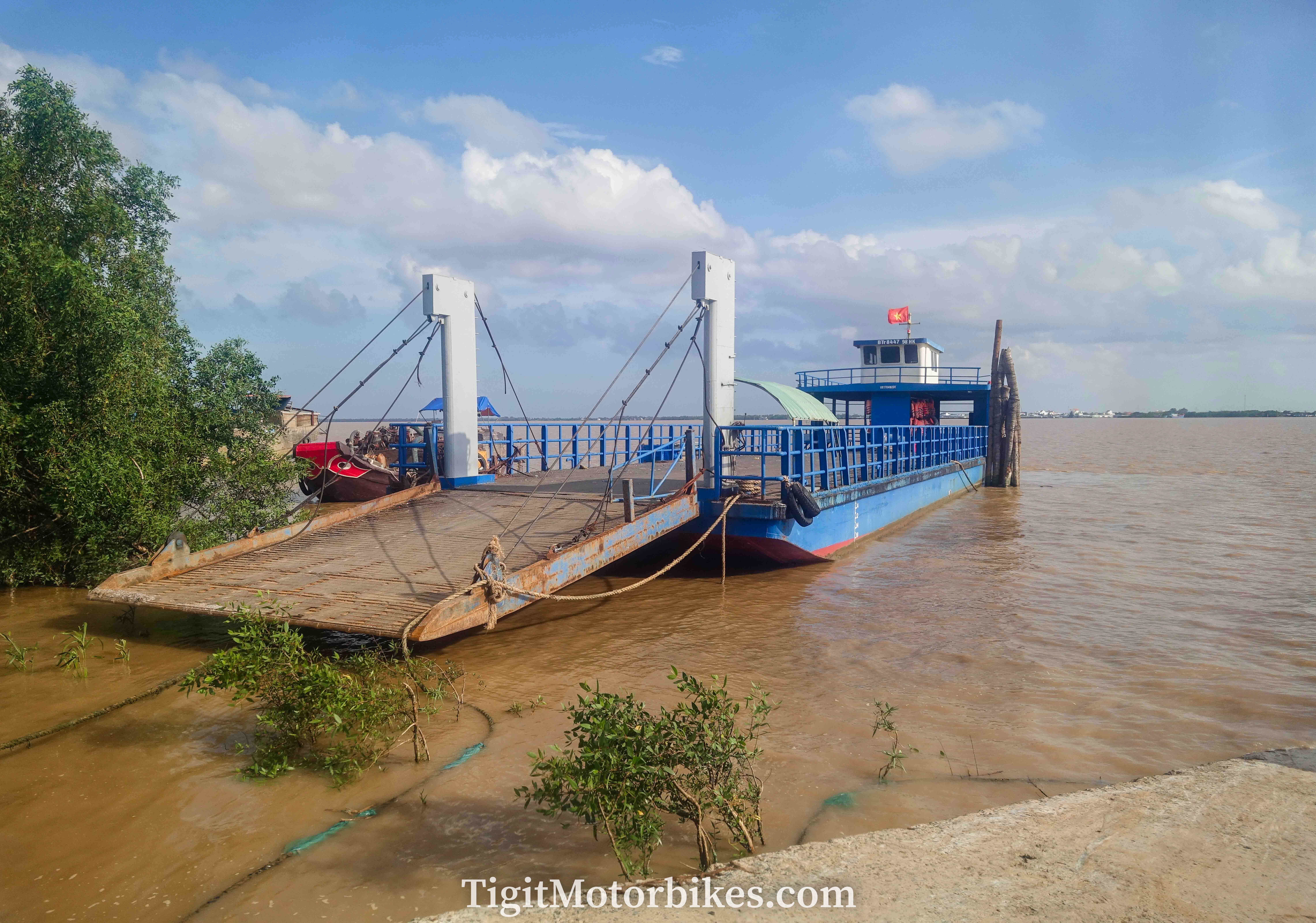 The tourist attractions
The Mekong is not big on foreign tourism, I could tell this by the mix of friendly amazement we received. To say Renzo is fluent in Vietnamese is an understatement, he earns a PHD in the language in my eyes. Without his translation, my experience would be reduced to 50%. He was able to translate all the signs in the Ba Chuc museum, translated the entire tour guide speech in the Mo So cave, ask locals for directions when the roads were closed, and genuinely help me connect better with the culture and people. The Mekong is not really set up for English language tourism, you'll be relying on Google translate 12 hours a day.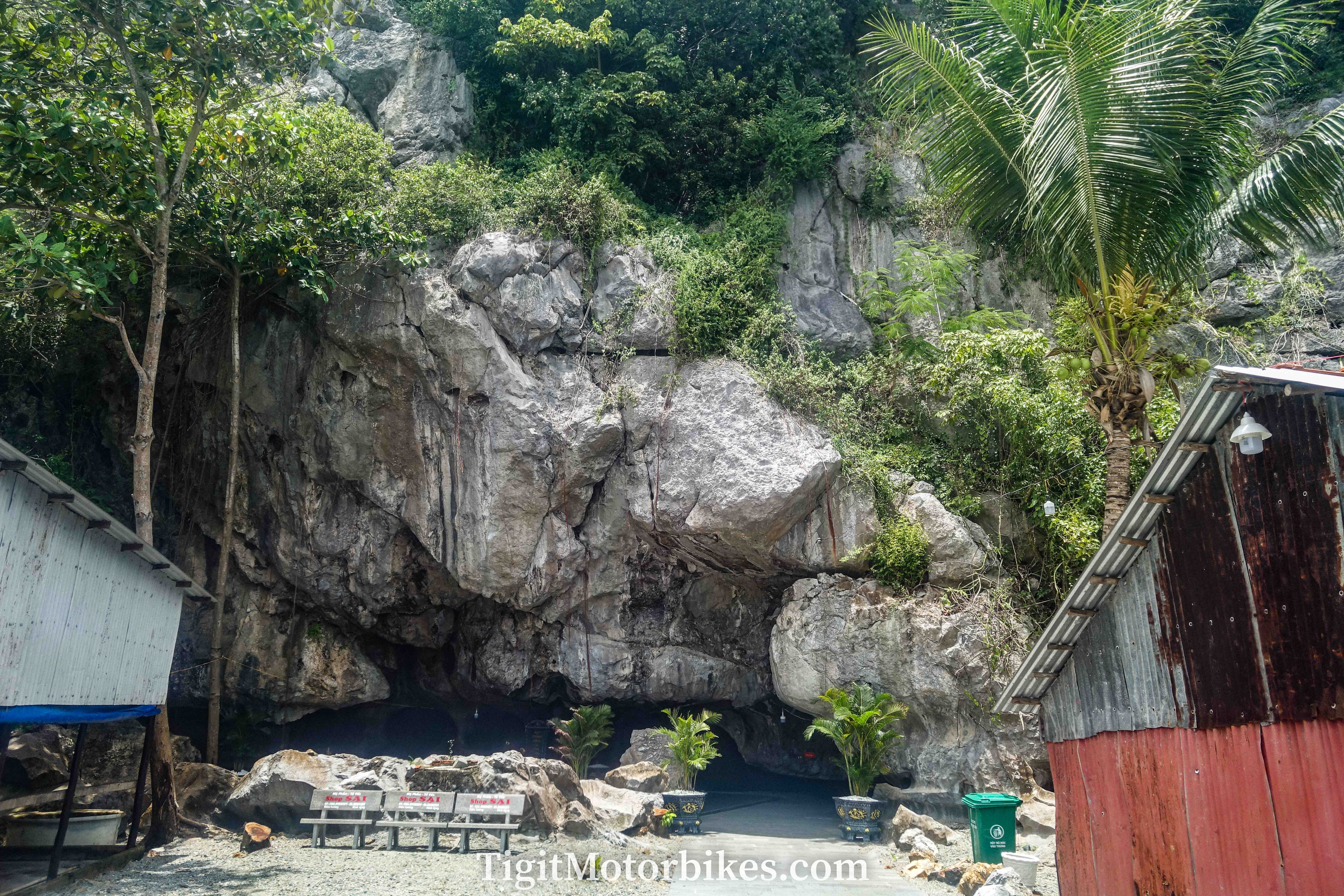 Local experience
On top of that, as a result of Renzo's long term experience with the Mekong, he has many local friends who invite us to eat, drink and 'di nhau'. And I know Renzo isn't getting kickbacks from this, whereas most commercial Mekong tours will take you from one souvenir shop to the next and pressure you to buy. Perhaps it's a post covid effect, but eyes light up when seeing foreign tourists. More power to them for recognising an easy sale. But I've lived here too long to enjoy the fancy overpriced chopsticks and conical hats with 'Toi Yeu Vietnam'. 
The hotels
Armed with a litre of bug repellant, I was ready to rough it in the eco-lodges, farm stays and riverside bungalows. I saw a direct split between these modern, fancy high rise hotels that separate you from the public and these quaint, nature homestays. The hotels were obviously more comfortable, but surprisingly more affordable. We got 5 star service for under $30usd a night. The major corporation VinGroup is alive and well in the Mekong. The eco-lodges and homestays were priced higher despite having less facilities. I can only guess they are selling the 'authentic experience' everyone comes for. You pay a higher price to sweat under a fan, fight off dengue and be woken at 4am by roosters (after being kept up until 12am with karaoke).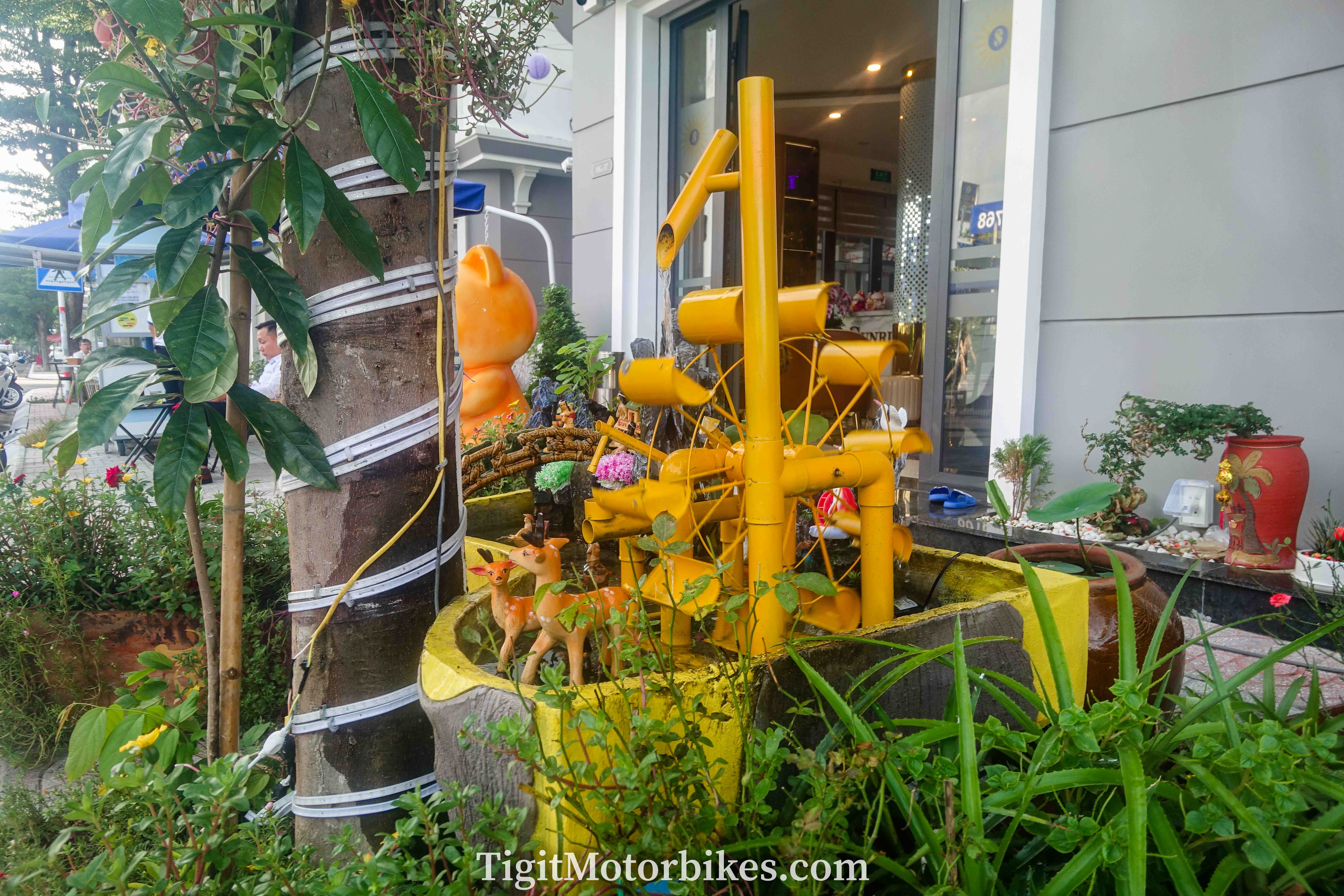 The people
The hospitality of the Mekong is second to none. But the locals are very local, it's rare to see tourists riding through their towns. So rare in fact, once I was spotted I had people stop in the middle of the road to stare. The average speed of a Mekong local is 20-30 kms. I felt like I was speeding through every town like a hooligan at just 50 kms. 
Sam's last Mekong musing

 
Jon sent me to find decent riding routes, I returned empty handed. I enjoyed my touring of the Mekong, I enjoyed hanging out with Renzo, I enjoyed the tourist activities, but I did not enjoy the riding.
I work for Tigit. The clue is in the name; Tigit Motorbikes is a motorbike company. We employ motorbike enthusiasts and train them to answer emails, make bookings and take phone calls, not the other way around. Meaning the company has genuinely passionate riders who want genuinely fulfilling rides and routes. The Mekong is beautiful, I could sit staring at the rice fields for hours and achieve inner peace.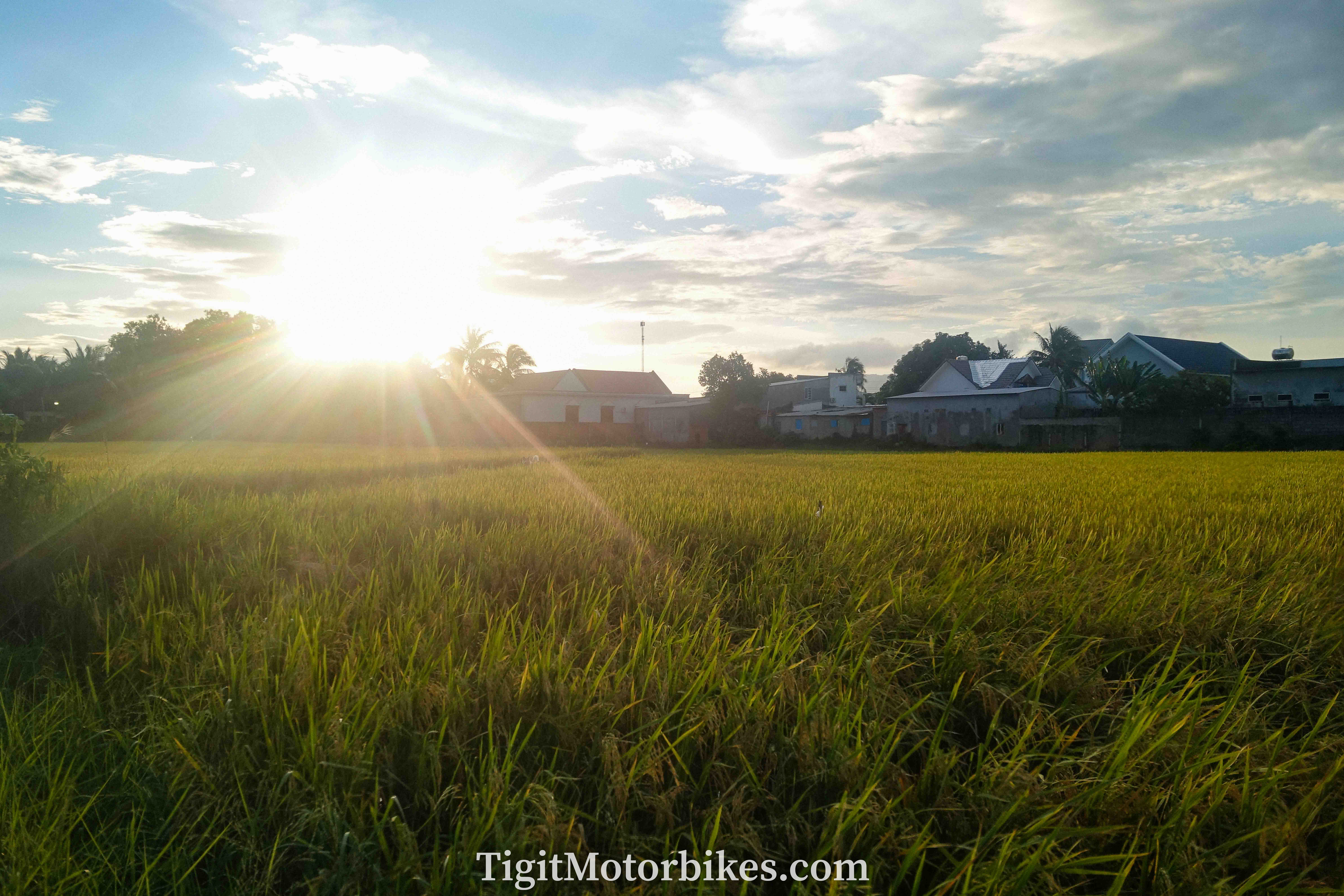 What I can't do for hours is ride through them. Endless rice fields create grid style roads in a rectangular formation. Fancy a full day ride with a total of 4 turns? The Mekong has you covered. It's not like I need to get a knee down, but it's not fun spending the whole day upright. 
The travel diary
The aim was to cover as much of the Mekong as possible in just 4 days. 
Day 1 consisted of 7 ferries. If you ride the Mekong, your bike is crossing a river at some point or other. Not to fear, the ferry drivers were incredibly skilled with our heavy CB500s, pushing them up a tiny wood plank onto the bow as though they're weightless. Renzo and I made it 300 kms south to a town called Bac Lieu. We broke the cardinal rule of 'no night driving' and arrived around 9pm. 
The ferry rides are an exciting novelty when travelling Vietnam, and it becomes a key part to your Mekong route planning. Some ferries only leave once every hour. If you find yourself arriving at the terminal at 4:35pm, you're waiting until the 5:30pm ferry. 
Luckily with Renzo, he has the routes planned like clockwork and it was smooth sailing. Pun very much intended, but not really an accurate description of the choppy currents.
Day 2
Day 2 began in Bac Lieu, with plans to push on south to Ca Mau. A nice touch that comes with Mekong travel is the hospitality. In the morning, I sat with a coffee outside the hotel. Within 10 minutes, I had greeted half the town. People would pass on scooters, then double back to wave and say hello. The atmosphere of places keeps you coming back. To quote a famous Aussie "how's the serenity?".
Leaving my newfound friends, we drove ~200 kms down to Dat Mui, in Ca Mau. In Vietnamese, dat roughly translates to land, and mui (also meaning nose) roughly translates to the tip. So Dat Mui is the tip of the land; and the most southern tip at that.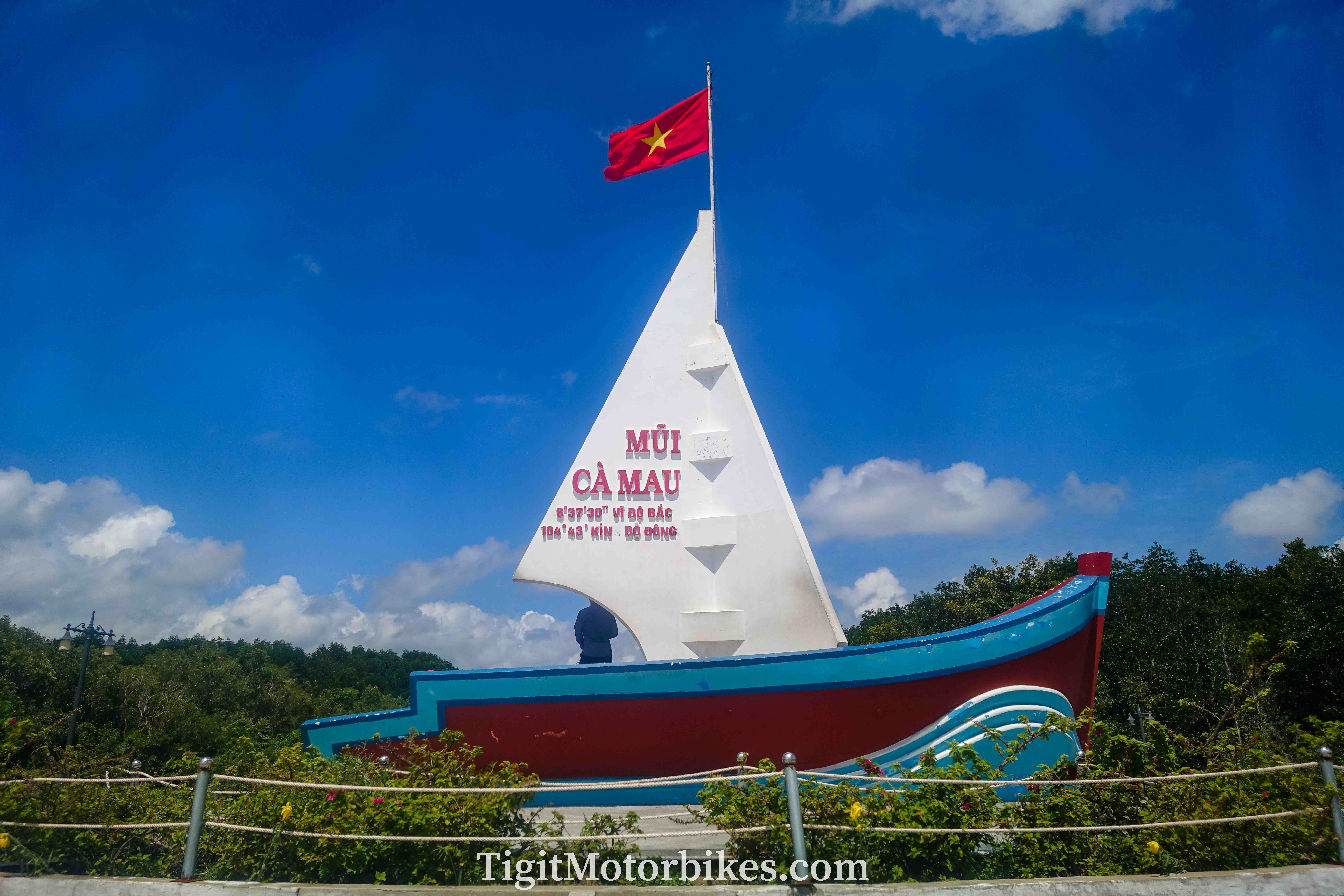 The ride out to Dat Mui is quite the commitment, there's few and far between in the area. We had a 100 km stretch of straight highway to reach the tourist attraction, then had to follow it back again. On a CB500X, it's a little boring, but speedy and comfortable. On a Honda Blade 110cc, I'd be seeing the melting horizon in front of me like a mirage in the desert. 
To keep you awake, there are Mekong speed bumps. Mekong roads are always in and around rivers, both big and tiny. Tiny rivers equal tiny bridges unseen from a distance. This led to a fast, straight highway ride with sudden brake slamming when we saw the raised road. FYI, Jon is wrong. You can in fact jump a CB500. I was as surprised at the time, as he probably is reading this now. 
After seeing Dat Mui in Ca Mau, we had a further 300 kms back up north to the city of Rach Gia. This was a city neither Renzo or I had been before, despite being long term expats. We made it to the hotel just before sunset, and what a strange area to be in. If you're a fan of video games, this was like staying in Nuke Town from Call of Duty. These brand new, identical, mostly empty buildings in perfect rows with parks in between. Vietnam is seeing more and more of these closed off gentrified communities being built. It reminds me of fake towns from theme parks, it was surreal. 
The ride through Rach Gia city was even more astounding. We passed by these grandiose 5 star cafes, covered in Christmas lights and giant LED screens. It felt like a mini Times Square. The main strip was one extravagant cafe, hotel, restaurant, karaoke bar, club, gym, after the other.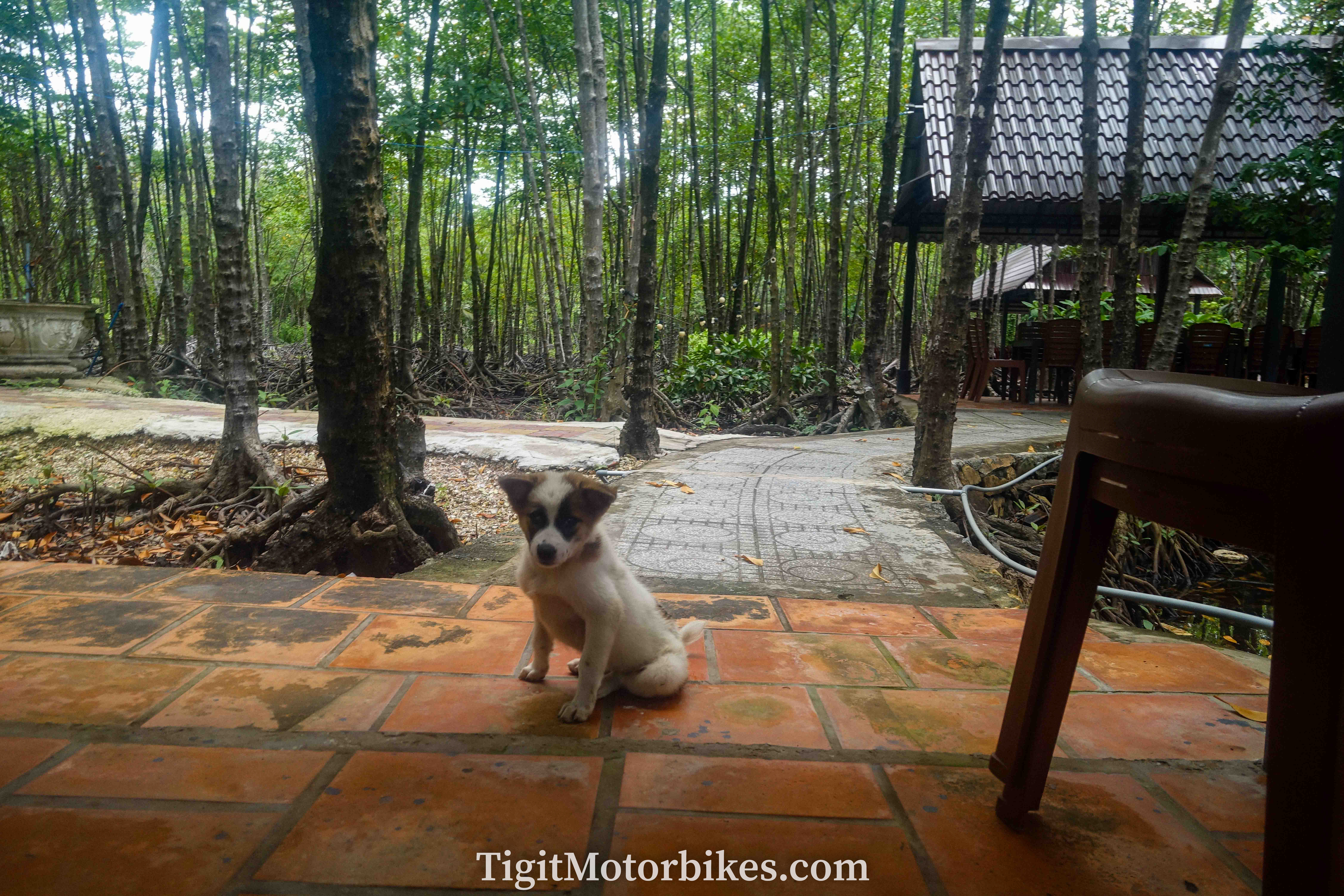 Day 3
Day 3 was an easier day for distance; from Rach Gia to Tri Ton. Which opened up some more typical touristy activities. We visited the Mo So cave, the Ba Chuc museum, and a Khmer temple (Chua Tual Prasat).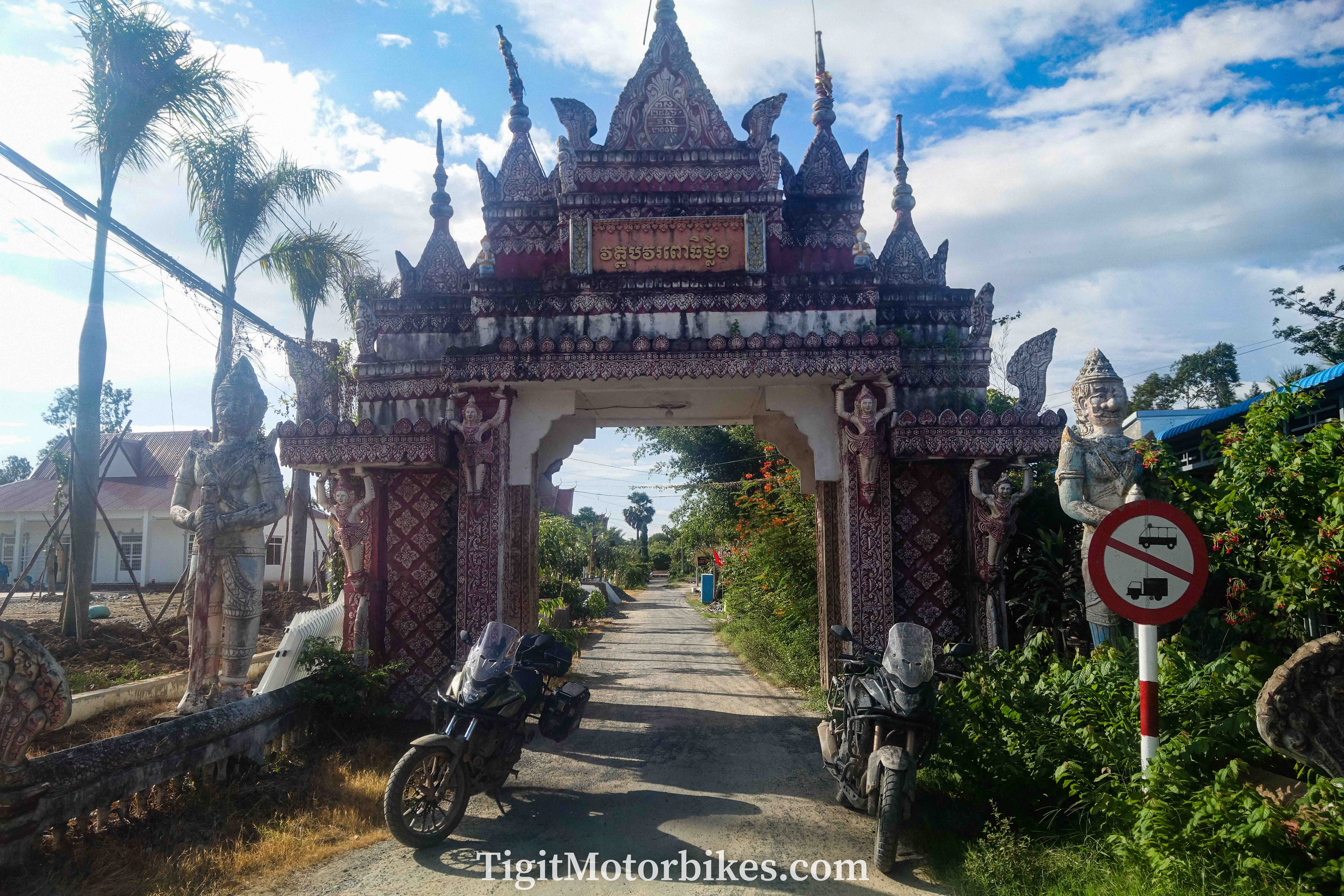 Mo So Cave
I was ever grateful to have Renzo play the role of translator in the Mo So cave. 
The cave was used during the war for Vietnamese to both hide then ambush the enemy. Unfortunately, it's not kept in pristine condition and free of litter. With my limited Vietnamese I enjoyed a guessing game as the older Vietnamese lady pointed to rock formations and told me which object they resemble. I got a C+ at best.  Without Renzo, half the information would have been lost on me too. The lady pointed to a bulbous shape in the rock and said 'bong bong'. I know this from my kindergarten days as balloon, or ball. Nope. It means 'breasts' says Renzo. Close enough.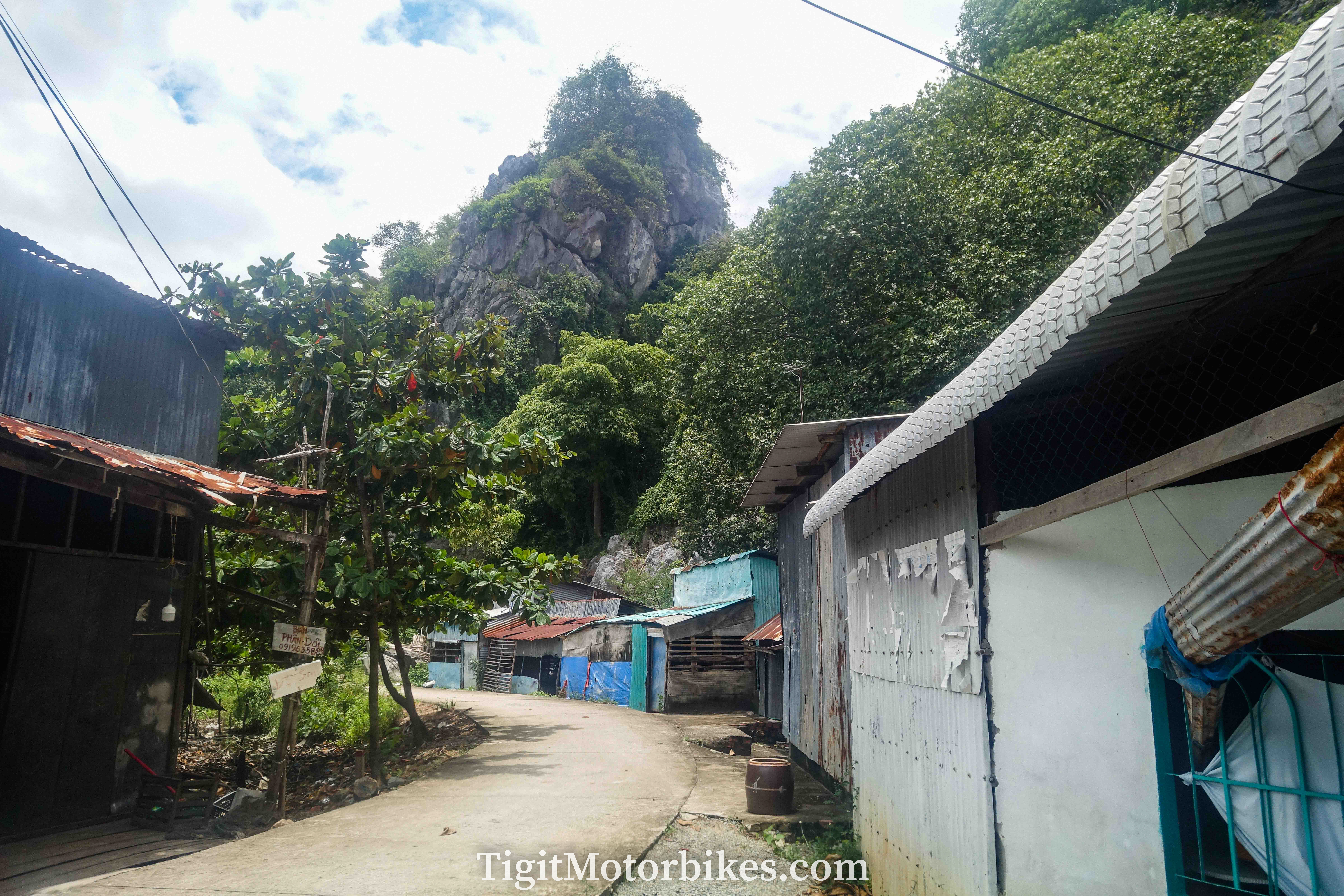 Ba Chuc Museum
The Ba Chuc museum has peaked my interest since first hearing of it. It is incredibly difficult to find detailed information of Vietnamese history, especially the Indochina and American war. It's even more difficult when the information is all in Vietnamese. I'll let the reader google the Ba Chuc massacre at their own risk, but in a sentence; it's been called the Vietnamese Killing Fields.  
We finished the day with a traditional Khmer temple built right in the middle of the rice fields, then set off to see Renzo's good friend Min in Tri Ton. It is here where I made the grave mistake of trying hot vit lon (this is the egg with the duck foetus inside). I'll try anything once. And when eating a boiled egg complete with a beak and feathers… there is no chance of twice.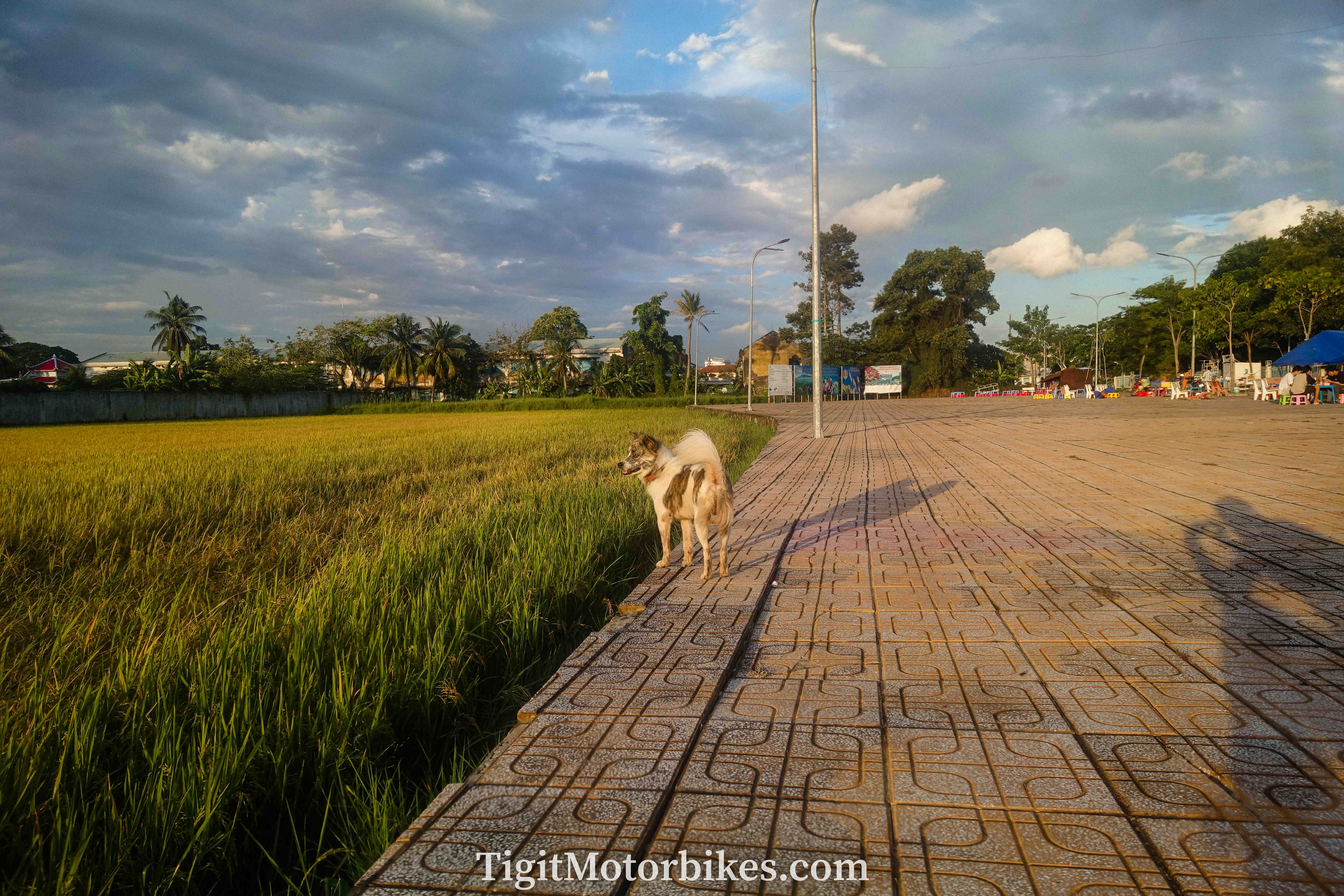 After the delicious feast, we set off to Homestay Nui Cam. It is a private tourist area, meaning we had to park the bikes at the bottom of the mountain for the night, and catch a lift up to the homestay. The lift was an enthusiastic Vietnamese guy on a tiny Suzuki raider. The 3 of us pile on to the scooter (farewell rear suspension) and taxi up the mountain. Local Vietnamese skill and control of anything on 2 wheels will never cease to amaze me. And the scooter was the little engine that could. 
Day 4
Day 4 was time to part ways as Renzo was heading West out to Phu Quoc island, and I headed East back towards Ho Chi Minh. The night before, I painstakingly studied the maps. The plan was to go from Tri Ton to Can Tho. Another city I had yet to properly explore. I zoomed in on every small back road and followed it to the end, hoping it would lead me in the right direction along the main highway route. I found a twisty little path along a tiny river and excitedly began to drop pins to direct me. Around the 10th pin, I saw something familiar… another pin. That's my pin. I plotted a route that took me in a complete circle. The roads are so small you must really zoom in on your phone, and lose sight of the wider area. 
After wasting a few hours, I picked the 2 twistiest roads I could find between Tri Ton and Can Tho. The route had 3 ferries, some of which turn into school 'water buses' at certain times of the day. If you're in the middle of school rush hour, there are no queues. I had to muscle my way through just to get a ticket.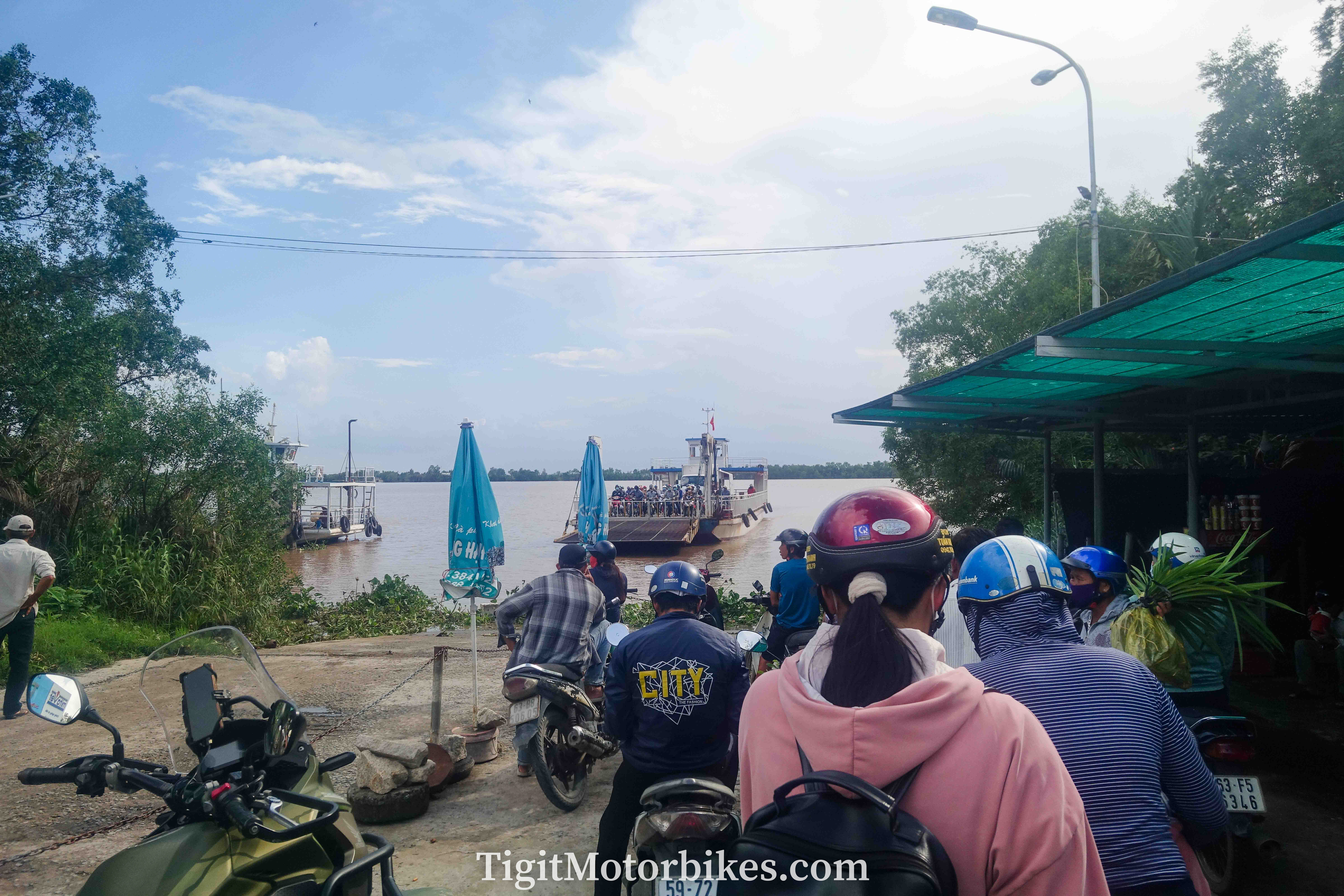 All alone
The first ferry takes me to an island on An Giang, there is a river that splits it and on the other side in Dong Thap. I was curious about seeing such a small town that's completely surrounded by water. The outcome wasn't great. I've said recently that small towns don't have roads, it's more like a shopping mall. People are browsing, chatting, bumping into each other, changing direction randomly, and stopping in the way. And why not? You live on an island of a few thousand people, the roads are like your hallways at home. For me, it was too stressful having to dodge young children using the gutters as playgrounds.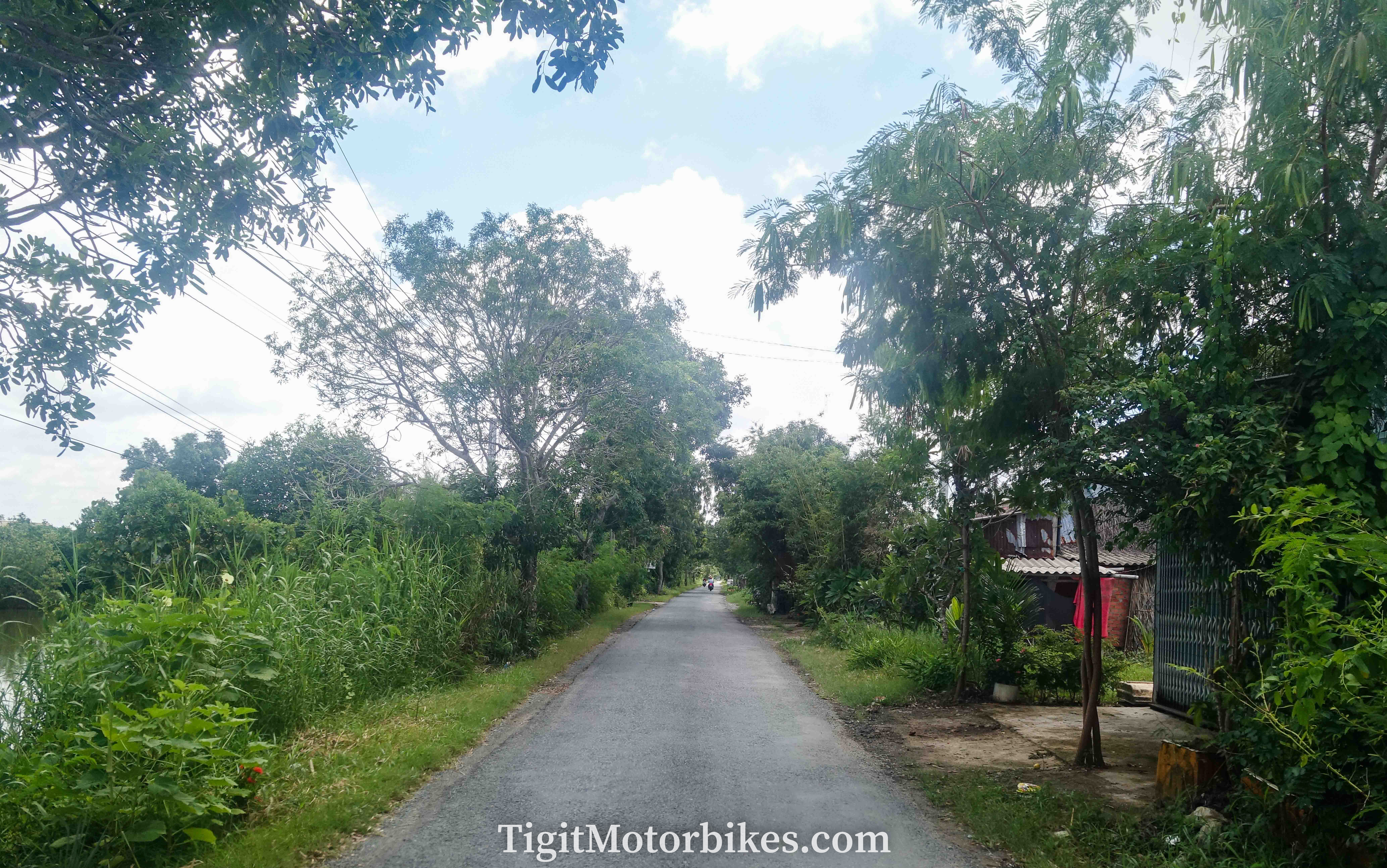 The second ferry takes me to the second island, also split between An Giang and Dong Thap. Much to my disappointment, the riding and roads were similar. Thankfully I had time on my side and planned to explore small roads around Can Tho city. I found a nice, winding road around a tiny river. Unfortunately, after the mornings failure, my battery was finished by 2pm and I headed to Mekong Daniel Homestay. There, I rented a bicycle and cycled along tiny back roads near the homestay. These roads were far too narrow for the CB. 
Defeated drinking
I admitted defeat for the day, bought some lukewarm beers from a local tap hoa and sat by the river.
I discovered this is the right way to do Can Tho, on a bicycle with no time limit, no schedule, no route, just slow, relaxing exploration by pedal power. I made sure to send a few grateful messages to Renzo for his guidance in the first 3 days. 
The aim of the trip was to cast the tour net even wider over the Mekong, and create a web of routes between places, doable on any bike from Blade to CB500. It's no secret Tigit has discouraged tourists from discovering the Mekong by themselves. The trip really hit home as to why this is. 
Save yourself the stress and book a tour.