Reading Time:
7
minutes
Alternative Nightlife to Bui Vien
Bui Vien Street has always been a rite of passage for travelers coming to Saigon. It's an assault on the senses and needs to be experienced to be believed.
Spending all your Saigon travel time on Bui Vien Street will surely empty your wallet and mind. Not to mention, Bui Vien has changed their tactics post covid. Cheap beer on cheap plastic stools have been replaced by fancy, overpriced nightclubs.
Culture shock is fun and all, but let's be honest; it can be exhausting. Sometimes you just want to enjoy a beer, in a bar where you can hear yourself speak, on a street without fire-breathing children performing for tips.
So where to find the middle ground between $20 cocktails and $5 fake-vodka buckets?
The land of the expats is where the middle ground lies. A land between local and foreign. A fusion if you will. If you're looking to escape the tourist trap, here are 2 alternative drinking holes To Bui Vien.
Introducing Thao Dien, aka 'the bubble'
Appropriately dubbed "the bubble" because it traps you inside its walls, albeit comfortably so. A trip to Thao Dien will have you wondering if you've stepped into the Western suburbs. It sounds unfathomable for this country, but I'd dare say this is one place in Vietnam where cars outnumber the bikes. All being luxury vehicles with private drivers of course. Due to the huge expat population in Thao Dien, the bar scene has exploded over recent years. The narrow main street of Xuan Thuy has become a cleaner alternative to Bui Vien.
In no particular order, I'm going to talk about the main staples of nightlife in the Thao Dien ward.
Buddha bar.
The 'Cheers' of expat bars; sometimes you wanna go where everybody knows your name, as well as your drunken antics. Not to worry, what happens in Buddha bar stays in Buddha bar. (except for covid)
This venue used to be the only option in the area, so it's earned its place on the list as a Thao Dien historical landmark. It is worth mentioning Buddha may not be the world's greatest bar, but it's open, welcoming and cozy enough to remind you of a homely pub or tavern.
Saigon Outcast

Thao Dien's family favourite venue. It's the local hub of food & drink festivals, live music, stand-up comedy and open air cinema nights. Outcast's humble beginnings consisted of 3 single shipping containers, now it's the home to Saigon events. The biggest draw has to be Push, their rock climbing walls. Off-set your alcohol intake with some exercise beforehand. For those that want to combine drinking and movement, there's corn hole and giant Jenga. Don't forget your mandatory, spontaneous travel tattoo at Outcast's pop-up tattoo shop (you guessed it, in a shipping container).
If you're lucky enough to be traveling Saigon during an Outcast event, don't miss the opportunity to drop by. Otherwise, just drop by anyway, it is always open.
Hem Chill
As a long-term expat I feel it's a sin to admit I enjoyed Bui Vien in the old days. Sitting on the sidewalk, beer in hand and watching the world go by will always be a favourite pastime. Hem Chill gives the same 'people watching' vibes, without feeling the need to clutch your purse strings the whole time. It's right on the river, under the Saigon Bridge and with views of District 1. If you're worried about risking street food eats, Hem Chill recreates these dishes from inside a kitchen.
Bia Craft
Bia Craft comes as a relief to many expats. I will always defend a crisp Tiger beer 'on the rocks', there's no shame in that. However, if you have a more sophisticated pallet than myself, Thao Dien is full of options for locally brewed craft beer. The industry has exploded exponentially all over Vietnam as more expats cry for beer that tastes like beer, not beer with hints of beer. Bia Craft sits on the busy Xuan Thuy street. Once you've had your fill of artisan ales, stumble left or right to discover more nightlife (and craft beer).
Sip n Play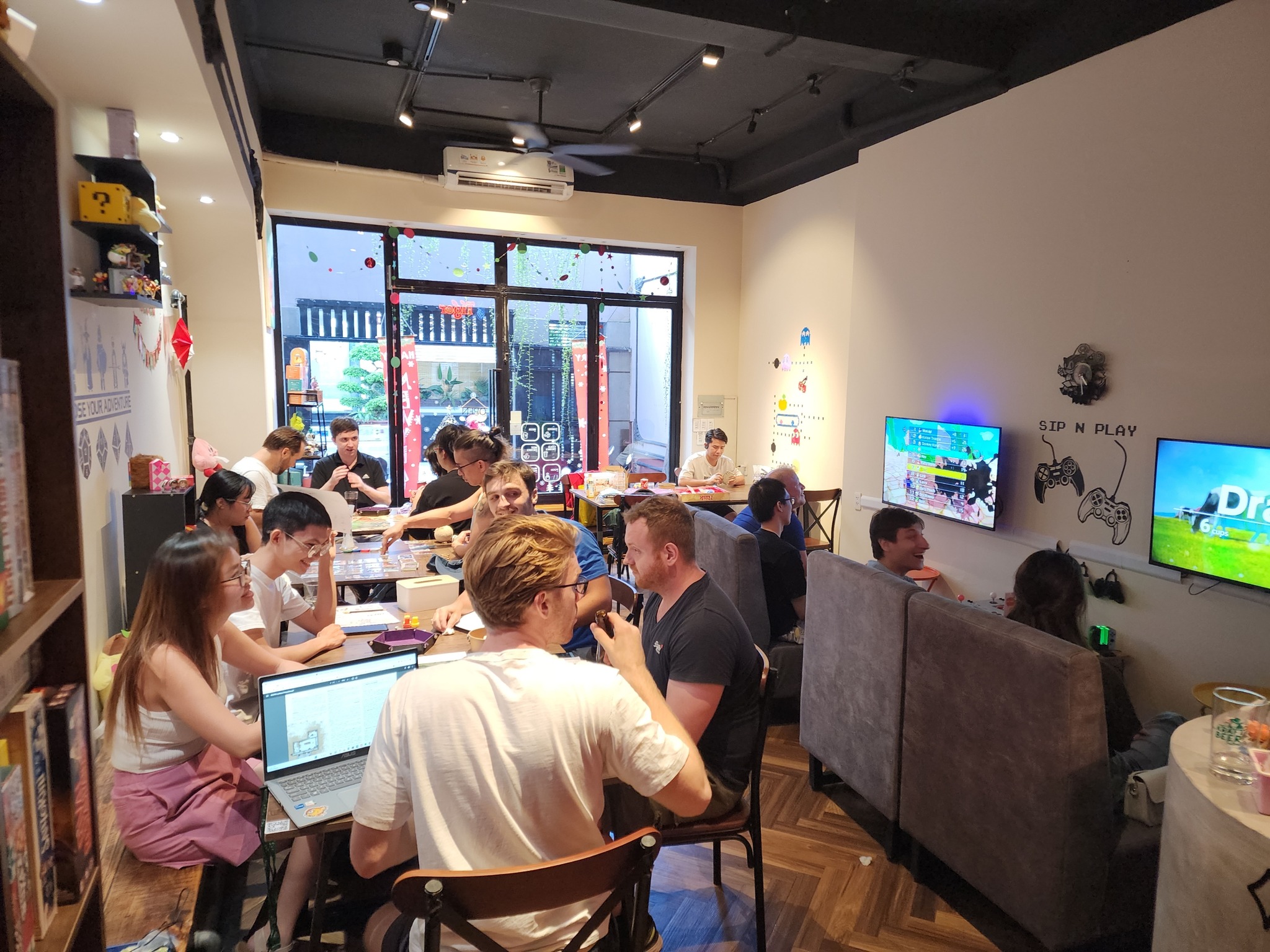 New to Thao Dien and a fantastic addition to the list. Drinking culture amongst expats is strong, and many search for an escape from the bottom of the glass. Sip n Play is a video and board game café with the added bonus of being dog friendly, as well as human friendly. Got no friends? The staff will happily humble you in every game they have. If you're a gamer at heart, make sure to book your session first. Sip n Play has continued to grow in popularity as more and more people discover this not-so-hidden gem, in an alley off Xuan Thuy street. Well-deserved bonus points for serving 'proper popcorn' with salt and butter, and not those packaging peanuts called 'puff-corn'.
Downside to Thao Dien
Before you jump on a Grab bike and rush to Thao Dien, there is a flipside to tourists flocking to the expat capital. Expats can be closed off bunch, rolling their eyes at fresh faced, bright eyed and eager tourists. Odd how many expats here consider themselves 'Vietnam vets' when comparing themselves to backpackers. Keep this in mind; most expats have no interest in entertaining rookie tourists. You just wouldn't understand expat culture.
Another point is Thao Dien bars do close early to avoid complaints from residents; paying higher rent gets you higher privilege. Most bars will kick you out before midnight, so you can head over to Pham Viet Chanh in Binh Thanh.
Pham Viet Chanh Street, in Binh Thanh District.
Most expats love or hate the Thao Dien bubble. The ones that hate it, go to Pham Viet Chanh. Think hipster beards, ironic tattoos and abstract wall art. The bars tend to have more character; both with their patrons and their individual 'niche'. Personally, I also see a better social fusion between local Vietnamese and expats in this area. In my humble opinion, I'd say the venues are more affordable and less pretentious. If Thao Dien is considered a cleaner alternative to Bui Vien, then Pham Viet Chanh could be considered a more advant garde alternative to Thao Dien.
Khoai Bar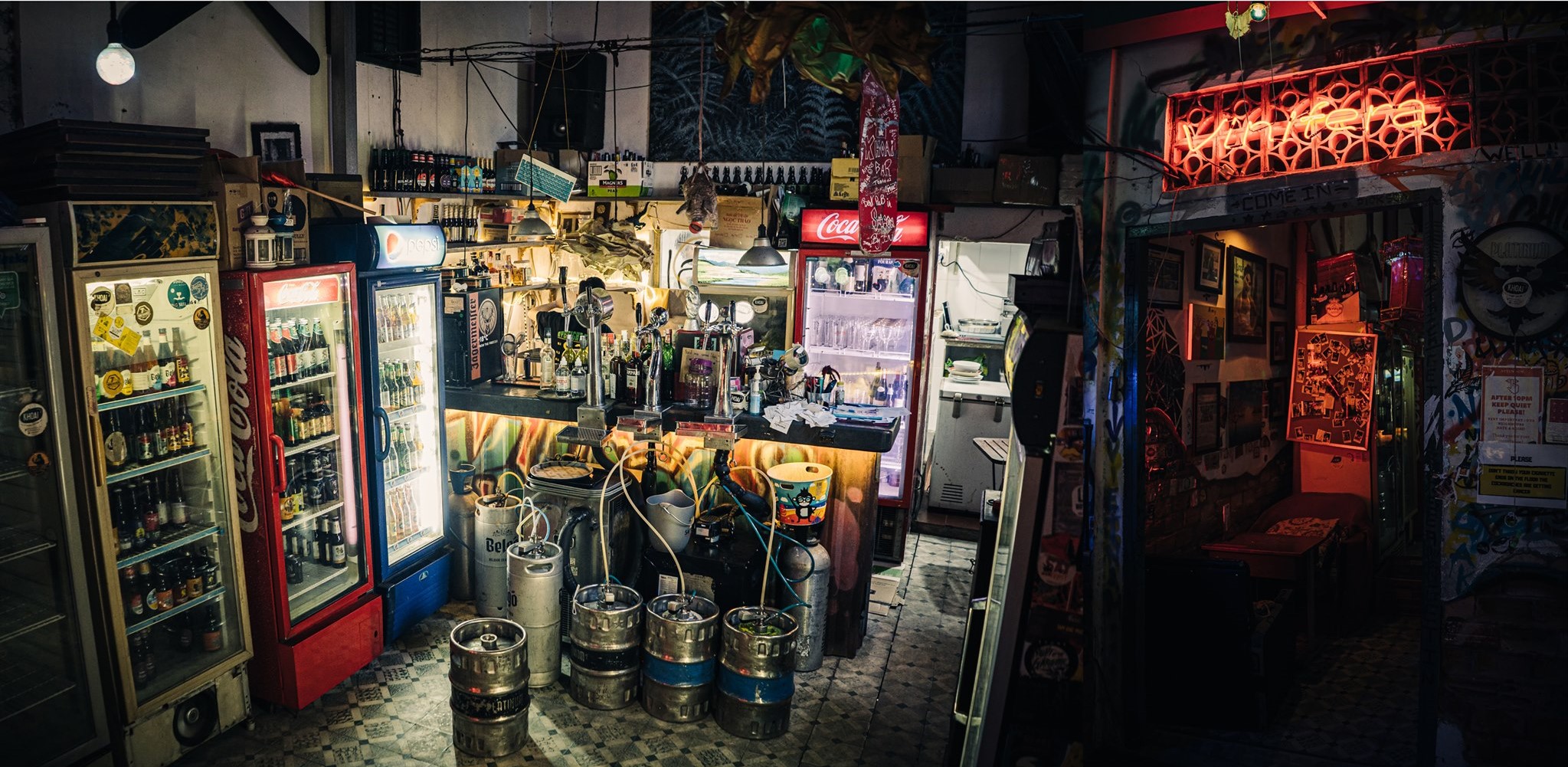 If you're heading out with the intention to drink your weight's worth in alcohol, Khoai bar is your place. The menu is half a mile long with locally made beers from different provinces around Vietnam. The décor all seems to be sourced from a junk yard sale and the more random the better. (Or perhaps it's multi-functional for the family of stray cats residing within the bar?). If you're a satisfied customer, no need to write an online review, pick up a marker and scribble on the bathroom walls, as encouraged.
Movers and Shakers
Nested in a small, quiet alleyway; Movers and Shakers is not quite a cocktail bar, not quite a pub, but something in between. It's one of those warm and friendly bars, where staff greet you like an old, long-lost friend. And reminiscent of a block party from back home; the bar spills out onto the street, pausing only momentarily for passing cars. Surely the best part of this bar is the outdoor BBQ. No need for a smoke machine to add to the atmosphere, just chuck some meat on a grill and fan it.
Retro Saigon Café
Have you ever wished for a child-free arcade that comes with a cocktail menu? Retro Saigon Café has answered your prayers. Each level of this tall, narrow building has a different theme for whatever you fancy. Billiards, board games, video games and the lifeblood of a Vietnamese party; karaoke. True to its name of Retro Saigon, the video games are so pixelated you worry your drink has been spiked. Or bring back some repressed childhood memories with your favourite board games, such as Monopoly. Luckily the bar is open until 1am.
Hot Rod Garage
It couldn't be a proper bar street without a mandatory 1950's American saloon bar. Complete with an old school jukebox in the corner and state plates hung on the walls, it feels like you've walked onto a film set. The bar staff both look and play the part, they know their way around a cocktail menu. I'm also a huge fan of activities whilst drinking (drink-tivities?) and Hot Rod doesn't disappoint. Nothing goes more hand-in-hand with alcohol consumption than a game of darts. For less hazardous fun, you can opt for the foosball table.
Bar street alternatives to Bui Vien summary
Back in my Bui Vien days, one of my favourite aspects was how easy and accessible the food was. Pham Viet Chanh has got you covered. Not just the pub-grub from the venues themselves, but the surrounding restaurants have endless options to satisfy your tipsy tastes. In fact, I'm surprised no one has created a pub crawl & food tour hybrid event down Pham Viet Chanh. When it is so easy to walk down.
A rare feature of a Vietnamese street is being able to walk down it. Bikes ride on the sidewalk and park on the sidewalk, people eat on the sidewalk and drink on the sidewalk. Around Pham Viet Chanh the alleys are generally too small for cars (a welcome relief from Thao Dien), so it feels somewhat like an open walking street. Do note; it is not a walking street, you'll still be dodging a few bikes otherwise it wouldn't be Vietnam.