Long distance travel motorbikes
Tigit Motorbikes offers long distance travel rental motorbikes designed for travelling between Ho Chi Minh, Dalat, Danang and Hanoi. The idea is to arrive in any of these cities and pickup a motorbike. Drive the motorbike to a different city and drop the motorbike off at a different office.
Tigit motorbikes offers day rentals for starting and finishing in the same city.  However where we separate ourselves from the competition is by providing long distance travel packets. Tigit operates with small garages and a large number of motorbikes chosen from a select few models that we believe are the best performing motorbikes in Vietnam.
No different from the aviation industry, our goal is to keep the motorbikes on the road at all times, and not sitting around in garages collecting dust. This enables us to provide affordable long distance packets for travelers driving the length of Vietnam.
Our most common and popular motorbike is the Honda Blade.
To rent a Honda XR 150cc Dual Sport Motorbikes.
Prices for long-distance traveling
Tigit Motorbikes has prices that get cheaper over time. The math/algorithm behind it is a little complicated, but the longer you rent, the cheaper the "per day" price is.
In the end, though, we are trying to follow a pricing structure similar to traditional car rental companies. Removing the idea of "per day rentals" and instead using math to price it correctly. Trust the computer and website!
The problem with "How much is it per day?" style pricing is that long-distance travel, or travel over time, does not get the appropriate discount. We have created algorithms to try and make the prices fair for both Tigit and the customer, depending on the duration.
Further to this, we have a refund policy on early returns. We know how difficult it is to plan a motorbike holiday accurately. We encourage you to book for the maximum amount of time possible, then return early and receive a refund on unused days. No questions asked.
We do politely remind customers to return to the correct city. We have fees for showing up in the wrong location!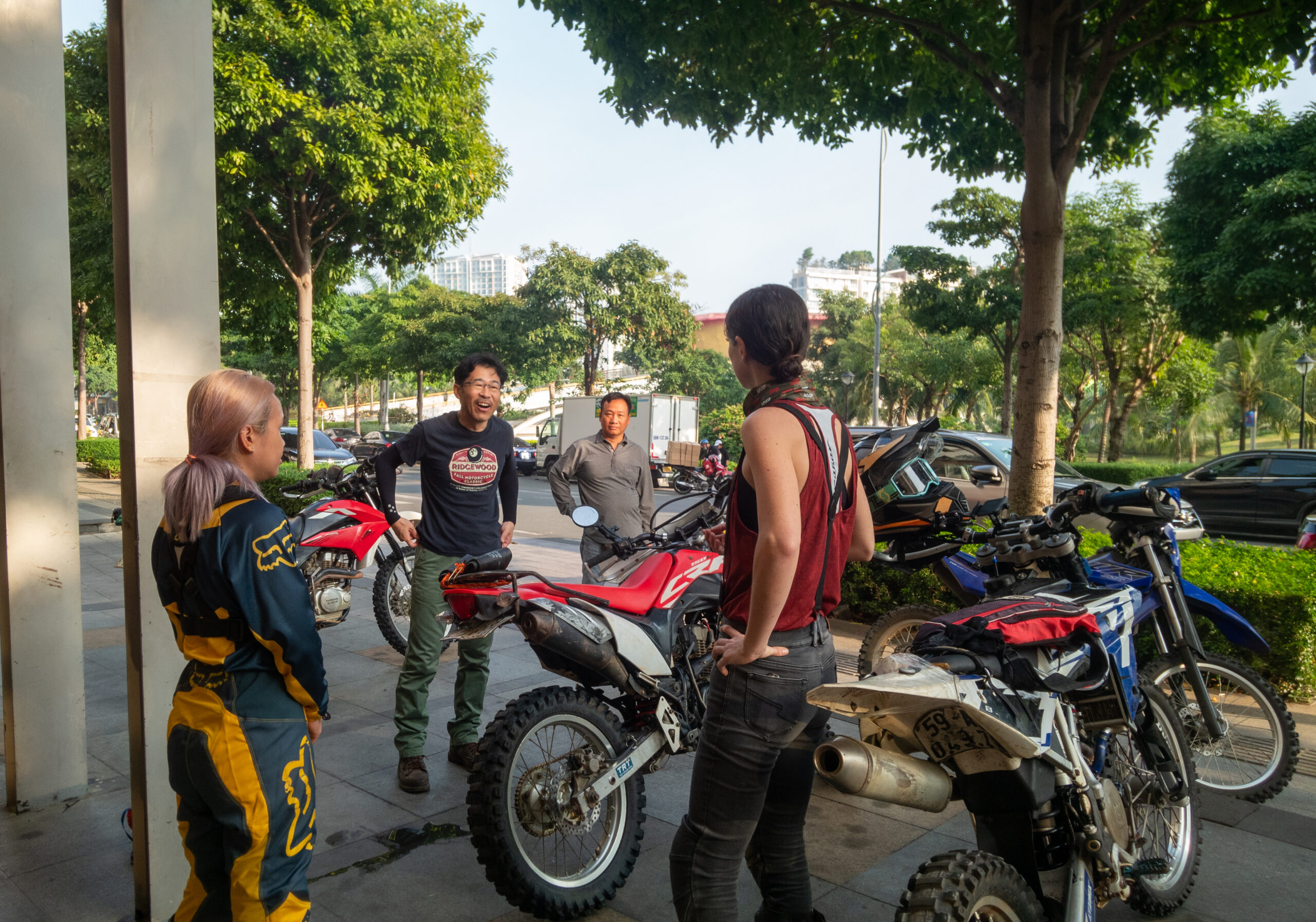 Affordable prices and powerful stock prediction technologies
Tigit never misses a booking. We invest heavily in bespoke fleet management software allowing us to track our enormous fleet relatively accurately! This helps us provide a high turnover of motorbikes with nothing sitting around collecting dust. Affordable prices, with modern and new motorbikes that get sold off after approximately 1.5 years. Our motorbikes are never old!
Book a motorbike with Tigit, and it will be waiting at the location ready for you to hop on and drive!
Fully guided Motorbike Tours
In the North of Vietnam we are using our large fleet of motorbikes to offer some of the cheapest motorbike tours on the market. Our motorbikes are not sitting around waiting for "one off tours" and are instead nearly always on the road as rentals. The freelance guides in the North have been on the job for upwards of 15 years. Experience is not a problem and the majority of tour companies all use the same circle of guides. Tigit is simply cutting out the overheads of storing motorbikes that are sitting around waiting for a tour.
Traditional tour companies can't compete!
In the South of Vietnam we are developing brand new routes that are unknown to other tour companies or travel agencies. We want to keep it this way and so we are keeping these routes close to our hearts. We do not want these routes copied and commercialized!
These new tours on the Honda XR dual sport offer a mixture of road and offroad driving. The South has the best and most consistent weather and also has the biggest variation of terrain. Whilst it is not famous for beauty like the North of Vietnam, the range of mountains, farmland and coast that can be seen and covered in a short tour is phenomenal. Great road variation for different styles of driving all whilst staying warm in the Souths amazing tropical weather!
Most trips are 2-6 days of driving and will provide the maximum value possible in terms of getting things done. A short trip to Vietnam, or a work break from the chaotic Hanoi or Ho Chi Minh City. Our guided motorbike tours will leave the customer tired and beaten, with the feeling that a long holiday has been accomplished in a short space of time!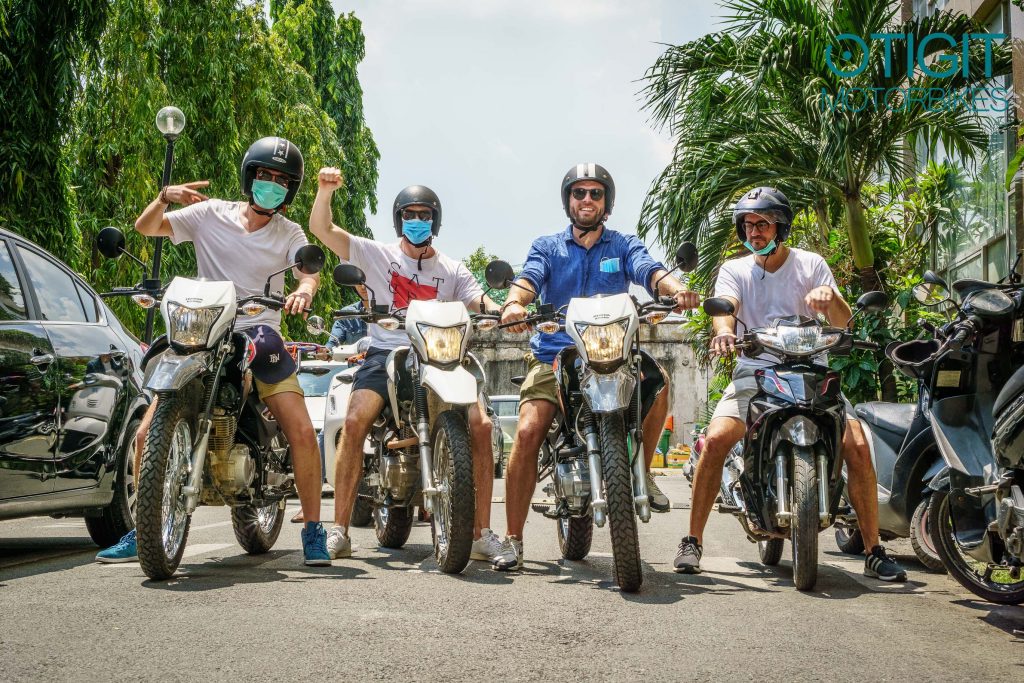 Maintenance of our motorbikes
Tigit has a fleet of over 300 motorbikes on the road.
The genuine Honda, Yamaha, Suzuki service centres have professionally trained mechanics throughout Vietnam. They also stock genuine parts which is important for the long term health of a motorbike. Using our clear contracts, customers understand the importance of maintaining our fleet of motorbikes only within the genuine service centres. If anything breaks on the motorbike a customer can pop into a genuine service centre and fix the motorbike within minutes. Provide Tigit with the receipt at the end and we will fully reimburse any costs. This can all be read on our breakdown guarantee page.
The understanding from our customers about how to maintain the motorbike, combined with our incredibly skilled mechanic, helps keep the motorbikes in optimum condition.
Tigit's amazing motorbike upkeep is understood on the local markets and as our motorbikes creep up to 30,000km or 2 years of age we sell them off on local markets.
For our long distance travel customers this means that nearly no motorbike at Tigit is over two years of age.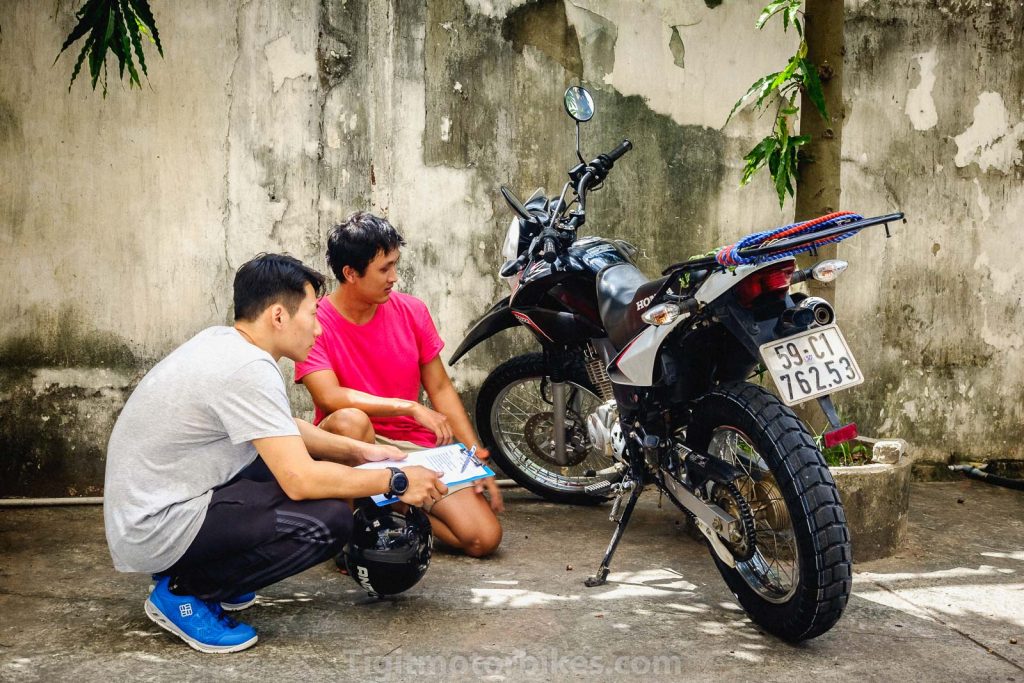 Pushing the boundaries of the Vietnamese rental industry
Tigit motorbikes is the first motorbike rental company offering long distance travel packets across Vietnam on genuine motorbikes. Before the days of Tigit Motorbikes where useless backstreet buy and sell shops which only provided Chinese motorbikes such as the Honda Win.
Tigit motorbikes is inspired by traditional car rental companies back home. Tigit is recreating the service, and quality that a car rental company can provide. The only difference is that Tigit is operating in the chaos of Vietnam. Tigit is opening up into quality import rentals and accessories, at the Tigit Motorbike accessory shop.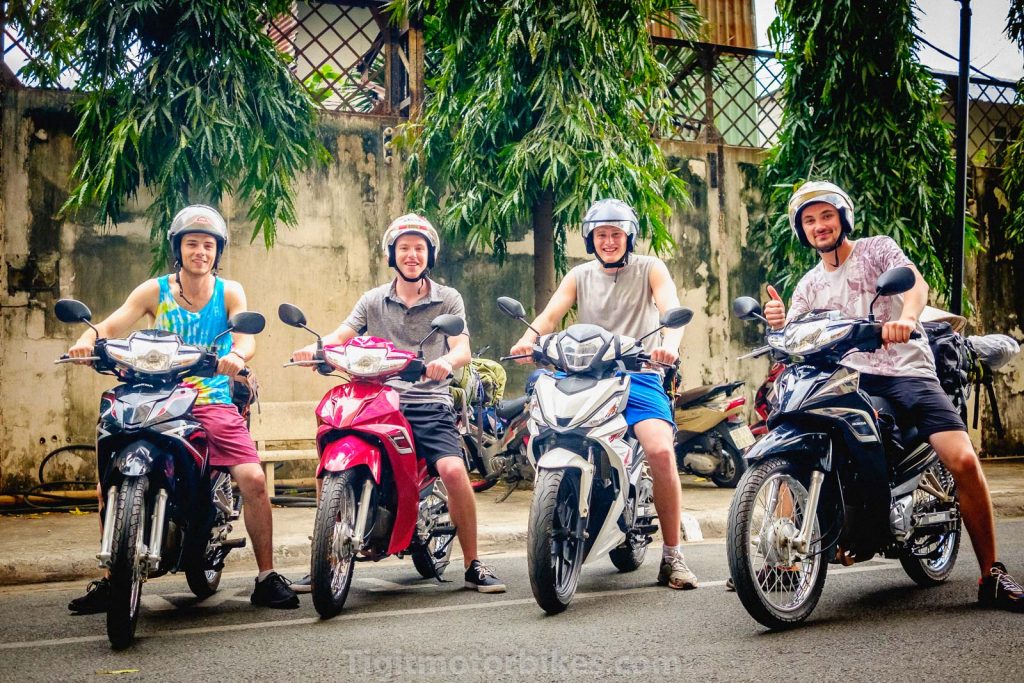 Choosing Tigit Motorbikes
Tigit Motorbikes is purposely located away from the backpacker streets. Our aim is to provide a high quality experience to travellers who know about motorbikes, or have researched and understood what they are doing.
Travellers will be met with modern Yamaha, Suzuki and Honda motorbikes that are in superb condition. Contracts, and papers that explain every detail needed for travelling Vietnam.
Tigit utilises modern payment gateways to USD, British pounds and Euro which helps keep currency conversion to a minimum.
Travellers will be given support numbers and documents of Vietnam and the routes we recommend. For a simplified version of our route, feel free to read our best routes to take in Vietnam.