Reading Time:
4
minutes
Motorcycle Parking lots in Vietnam
Secure parking lots are everywhere in Vietnam. Guys in blue uniforms looking after a collection of motorbikes. Coffee shops, the beach, you name it and there will be security guys.
Typically a secure parking lot will be protected by a man dressed in a blue uniform who is clearly looking after a collection of motorbikes. Secure parking usually has a ticket system where a security guy will hand a receipt ticket over, and in exchange look after the motorbike.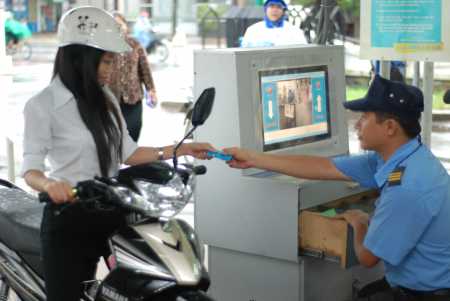 Typical rates are 5-10vnd per day. This is approximately 0.5USD.
Restaurant Parking
Every restaurant will have parking. In the countryside restaurants tend to be open plan. Sit at a table where you can see your vehicle. In the cities, every restaurant will have hired security or a system in place for sending you to a nearby parking lot. Never abandon the motorbike on the side of the road. There is always a ticket system, sometimes you just need to find it.
Hotel Parking
Nearly every hotel in Vietnam has parking available. Hotels either have basement parking, or they bring the motorbike inside. The exception to the rule is in Hanoi, where hotels struggle with motorbike parking, however they will have a solution on where to put the motorbike.
In the cities of Ho Chi Minh and Hanoi budget backpacker accommodation may claim to have secure parking when they don't. Nearly all Tigit motorbike related thefts happen in either Hanoi or Ho Chi Minh and are related to very cheap accommodation making claims of security that they can't keep. If you are using cheap accommodation we strongly recommend asking reception where the nearest major parking lot is to the hotel.
Locking the motorbike
As a general rule – if you need to lock the motorbike then it is in the wrong place!
All motorbikes from Tigit have neck locks. Additional locks can be bought for around $4 on Vietnam's streets.  However, if you need to lock the motorbike then it is in the wrong place!
Randomly abandoning the motorbike on the side of road is not needed and is asking for trouble!  Police are quick and efficient at picking up stray vehicles as a protection method. If a thief does not get the bike the police will! A lock isn't going to change the outcome. Always use hotels or secure parking lots.
Walking off into the jungle is not something a traveler is likely to do and there is no need to have the motorbike leave your eyesight in a normal day of driving. There are designated parking spots even in the extreme remote locations. A deserted and abandoned waterfall? No worries, it will have a parking place.
Protect your belongings and accessories
Security guys will protect the motorbike but not helmets or other accessories.
Take your backpacks, helmets and other items with you when you leave the bike! Security are happy to protect the motorbike, but they are not interested in your accessories. In-fact, they are likely to help themselves if given the room to do so.
Questions about Navigating Vietnam? Our Tigit Guide will sort you out!
Losing your parking ticket
A lost parking ticket is a large problem. Protect the little piece of paper with your life, don't lose it.
If the ticket is lost then security will not let you leave the premises. They will ask for the "Blue card" of the motorbike. As a normal rental client of Tigit you are unlikely to have the Bluecard on you, only the copy. Give the copy a try and see if they accept it. The next step is to call us and we can see if we can sweet talk security to let you through. The next step is for Tigit to send the Bluecard to your destination. This takes 1-2 days and we will be capturing the rental deposit.
Lost parking ticket considerations
Security guards have policy to follow. On many occasions, the policy makes no sense, and this can be frustrating. By pushing them to break policy, you are putting them in a position of being fired for a mistake.
Some security guards have the flexibility to use personal intelligence to determine if the motorbike is yours. Other corporations will not give security this freedom or flexibility.
Be nice to security and not aggressive. Explain that it is a rental motorbike, and then call us as the rental company to confirm your story.
Play the sob story about having to catch a flight (but understand the job risk you are putting them under).
Offer to pay compensation money for the inconvenience.
Respect and understand that Vietnam's security policies are mostly ridiculous. But you are in the wrong, not them.
Don't lose the parking ticket.