Reading Time:
7
minutes

Parking in Vietnam is easy and safe. There are parking lots and security guys everywhere.
Every hotel has some sort of parking
Every restaurant has some sort of parking
Parking lots are everywhere
Security Guards are everywhere
How does parking work in the cities?
In cities and major tourist towns, there are two types of parking.
The first is large-scale underground parking lots. They usually have an electronic ticket system where a picture is taken of your number plate and assigned to a card. When you leave, you have to check the card out. These usually cost between 2,000 and 10,000dong.
The second is security men on the side of the road. It isn't uncommon to see a collection of motorbikes seemingly abandoned on the side of the road. These conglomerates of motorbikes will have a security guard somewhere nearby. The security will write your number plate on a piece of paper. You need to keep this until you leave the parking lot, where you hand it over and pay.
Some of these parking lots are pay on exit, and some are pay on entry. They cost somewhere between 5,000dong and 10,000dong.
Get a Samsung Tag or Apple Tag
Both Samsung and Apple have great devices that ping from the bluetooth network of other people's phones to give the location of the device. They Cost only around $30, and these devices are the modern-day answer to GPS tracking.
Both companies offer a waterproof solution with an inbuilt battery lasting approximately one year. The batteries are easy to replace. The devices can be hidden anywhere on the motorbike, for example, under the seat or buried in the electrics. We are happy to hide the device for you!
The setup is super simple and registers directly to your Samsung or Apple account.
Tigit has extensive testing on the Samsung Tag, and the accuracy is phenomenal. It shows how many Samsung phones are spread across Vietnam!
Apples are also quite popular in Vietnam, so I would imagine the results are also great.
You should be using these devices in your checked luggage for flying. If the airline loses your bags, then you know where they are! Then switch the device over to your motorbike for riding Vietnam.
Go and buy one now!
How does parking work in hotels?
Small hotels and homestays usually bring the motorbike inside, right into their kitchen. Larger hotels will have dedicated parking lots with security. Hotels are safe, and in the history of Tigit, we have never had a motorbike stolen from a hotel.
We have, however, had a motorbike stolen from a low-end backpacker hostel. We recommend staying away from the very cheap accommodation in Vietnam.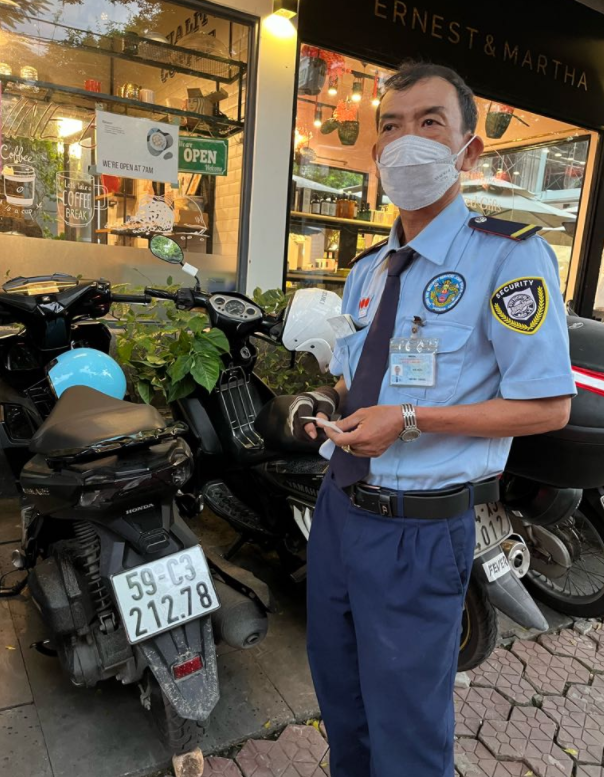 How does parking work in restaurants?
Nearly all restaurants will have a space set aside for parking. Most restaurants in Vietnam are open plan, and you can sit and watch your motorbike. The ones that are not open plan will always have security guys. Restaurants and parking are not an issue.
Losing a parking ticket
Losing your parking ticket can become a complicated business. Crying and playing sob stories may help you persuade the security guard to let the motorbike out. The official policy in these situations is that the security guard will want the blue card of the motorbike (which you don't have). They may accept a picture or a copy. But they don't have to!
Remember, it is the security guard's job on the line if he chooses to turn a blind eye to your lost parking ticket and lack of paperwork. If they reject your sob stories, you will need to wait for Tigit to send out a bluecard to your location. This can take days and won't be free.
Do not lose parking tickets!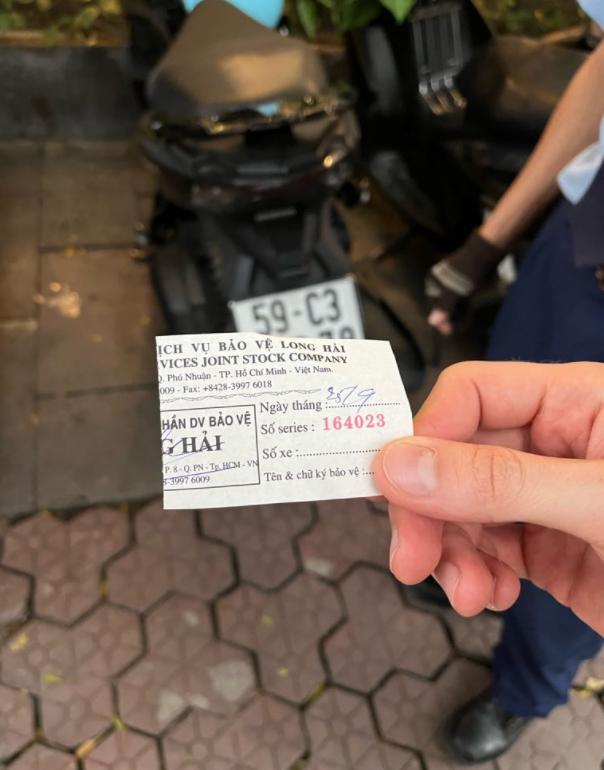 Do not lock the motorbike in parking lots
Parking lots and security guys will often move your motorbike around. They like to re-arrange the parking to create space. If your motorbike has the neck locked, they will go ahead and break it.
Leaving helmets and other belongings on the motorbike
Security guys will look after your motorbike, but they will not look after your belongings. Scooters such as the Honda Blade have simple under-the-seat locking mechanisms for helmets (ask Tigit staff). But manual motorbikes like the Honda XR 150 do not have a way to lock helmets to the motorbike.
In the city with my $25 helmet, I don't care if it gets stolen (it has never be stolen). But with my proper travel helmet, I don't leave it on the motorbike. I will carry it with me, or if it is a secure parking lot where security has a small office, then I will often ask them to look after my helmet.
Is theft common in Vietnam?
The answer is yes and no. If you leave your motorbike unattended on the side of the road, it will disappear very quickly. This is why there are parking lots and security guys everywhere in this country. I word it "If you feel you need to lock your motorbike, then it is in the wrong place." There is no hotel, restaurant, or tourist attraction that won't have some sort of secure parking nearby.
You never need to leave your bike unattended on the side of the road.
Going to a beach or walking into the jungle
Commonly, travelers will ask about remote beaches or taking a walk into the jungle. When you travel Vietnam, you will have your luggage strapped to your bike. Even if you did leave your bike on the road, you would also be leaving all your luggage. This is something you shouldn't do. It is impossible to wander off into Vietnam's jungles. They are too thick and dense.
Beaches and waterfalls, well you can drive to them on your motorbike! There are no laws against driving on the beach.
Should I carry a lock with me?
If you need to lock your motorbike, then it is parked in the wrong place. There is no reason for needing a lock a motorbike in Vietnam. If you do find yourself in a situation where you feel you need to lock the motorbike, then it is not safe, and a lock isn't going to save your machine. Some hostels and homestays may place a chain and a lock through your wheel, but this is an added deterrent to their secured parking.
Do you have theft insurance?
A heated debate at Tigit to introduce theft insurance or not. The argument for theft insurance is that it allows the company to make more money and spreads the theft damage cost evenly among travelers.
The argument against theft insurance is that "if you feel you need to lock the motorbike, then it is parked in the wrong place." In other words, there is no excuse for getting a motorbike stolen in Vietnam. If we introduce theft insurance, it may encourage travelers to be lazy and not use designated parking lots. This will increase thefts.
We don't have theft issues at Tigit, because we have high deposits and explain how to use parking lots.
Are big motorbikes more likely to get stolen than small motorbikes?
Small motorbikes are more likely to get stolen than big motorbikes! Motorbike ownership papers are a complicated business in Vietnam and a topic you don't need to understand. To sum it up, the more expensive the motorbike, the more "by the book" the papers need to be. Vietnamese don't buy expensive motorbikes with bad papers. Therefore there is little value in stealing an expensive motorbike because no one will buy it.  The Honda Blade blends into its environment. Has a market for fake papers and therefore is much more likely to get stolen than the Honda CB 500x.
Have you ever had an expensive motorbike stolen?
Customers of Tigit have never had a motorbike stolen. However, we have had close calls with travelers getting drunk and forgetting where they parked their motorbikes. This has happened numerous times; eventually, the motorbike shows up in a police station. We also have issues with customers crashing and abandoning their motorbikes on the side of the road. Our issues are not with locals stealing motorbikes but with travelers being irresponsible with our motorbikes in times of distress.
The police collecting stray motorbikes.
The police are very fast at picking up stray motorbikes. In fact if you park your motorbike somewhere it shouldn't be, it is likely to disappear. Leaving you to feel like a victim of theft. When Tigit gets involved, we contact local police departments and eventually locate the motorbike in a police department.
When the police take your motorbike, it is likely to take several days to get the motorbike out. The process will also entail multiple trips to the police station and quite a bit of bribery money. It is not a fun process.
In the end, though, if you leave the motorbike in a silly place, the police will likely get to the motorbike before the thief does. They do a great job at this. They then purposely make the retrieval process lengthy and difficult in an attempt to make you learn your lesson so you don't do it again. This is actually the way it works in Vietnam!
How about parking in Hanoi or Ho Chi Minh
Ho Chi Minh is fine. There are parking lots everywhere in Ho Chi Minh. Hanoi is the only city in Vietnam where parking can be difficult. In the old quarter and backpacker streets of Hanoi, low end hotels may send you down the road to park your motorbike. You may also struggle to park the motorbike if you try and drive to Hanoi's old-quarter at night time.
In Hanoi we recommend getting a hotel that isn't budget. A hotel 500k ($25) and above will have designated motorbike parking. Hotels below this price point may not have parking, and it can be complicated parking in Hanoi city.