Reading Time:
10
minutes
Bo is Tigit's right-hand man in a lot of ways. He greets customers at the Ho Chi Minh office, he handles problems on our support phone and via email, provides excellent translation between mechanics and customers, and he's usually the first and last smiling face you see before departing our Ho Chi Minh office on your adventure.
Now, we've flipped the script. It's Bo's turn to depart the HCM office and head towards Ha Noi on the road trip of a lifetime. Did he read Jon's article on the best route in Vietnam? Did he watch Jon's video on how not to burn the clutch? Let's find out.
Tigit Sam and Tigit Bo sat down for a chat about the trip. This interview will be written verbatim in Bo's natural English. Otherwise it just wouldn't be Bo!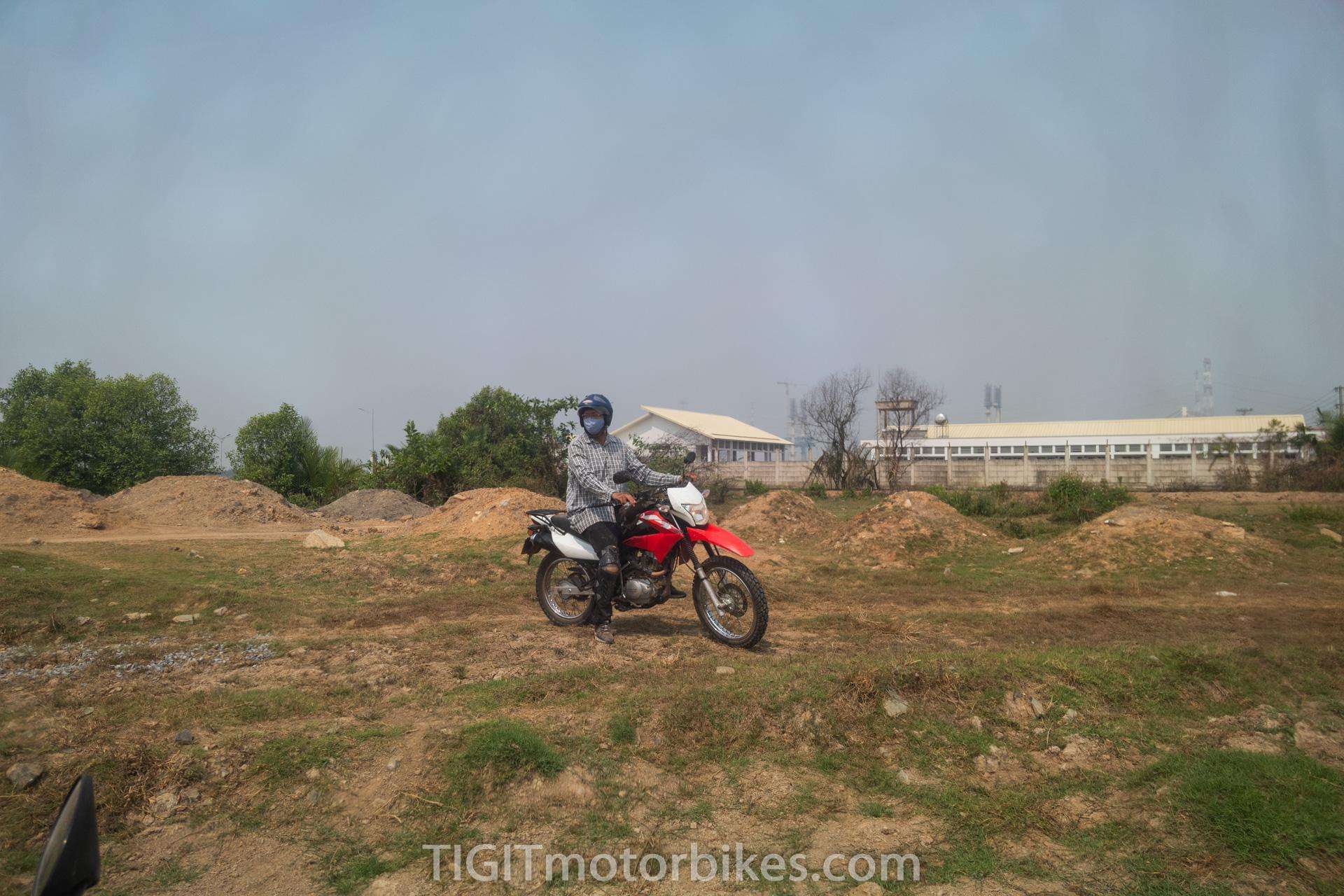 Tell us how many days, and how many kilometers you covered.
The total was 12 days, but the real travel days were 9 days. Total almost 3000kms. I rode a lot more than I thought I could, and a lot faster than I thought. I don't think much when I'm riding, and that's a good thing.
There were times I felt worried, because if something did go wrong, I was in a remote area. But I just keep riding, enjoy the view. The views are better all by myself.
Sam: (Bo does a lot of riding in the city, I think he was surprised at how you can pick up the pace on an open road with no traffic)
The upsides and downsides of riding alone versus a group…. Hmmm, alone you can rest wherever, you can pick your own speed, stop anytime you want to stop.
With the group, you don't have freedom to do what you want.
But the downside of being alone, if something goes wrong you only have yourself. With the group, all can help together. So they both have up and downsides.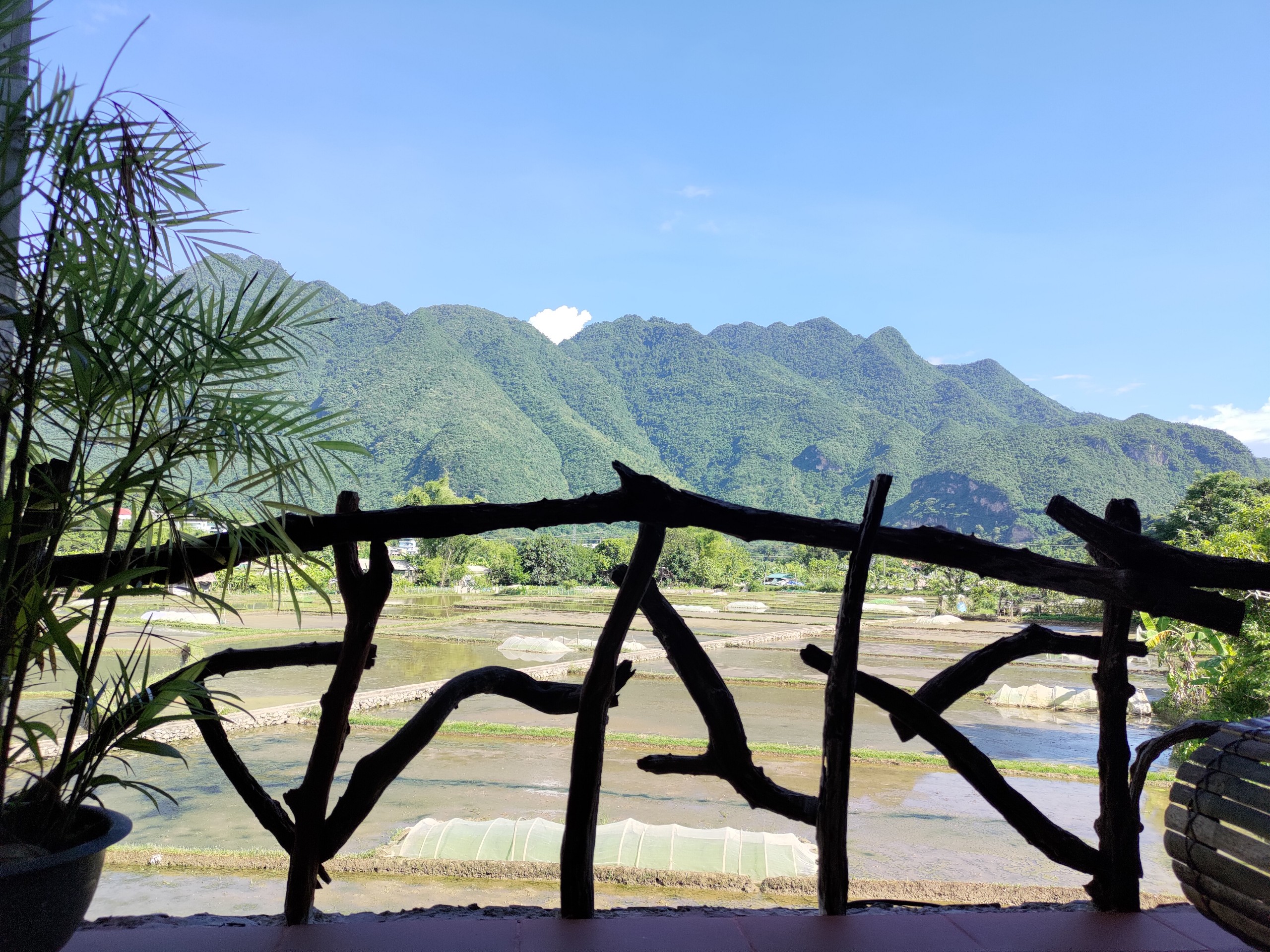 Was there a place you hadn't been before, and really wanted to see?
So, the farthest I ever go with a bike is Cat Tien. It's ~150km away.
I go to Ha Noi, my father's side is from there (Thai Binh). But I fly out there.
I never ride past Cat Tien.
And I don't really have a set place in mind to go. Sometime, that would be better. I don't really like to set a location or make myself 'have to go'. I think the view on the road when it just pops out; it is more special. When it's random, it's more special.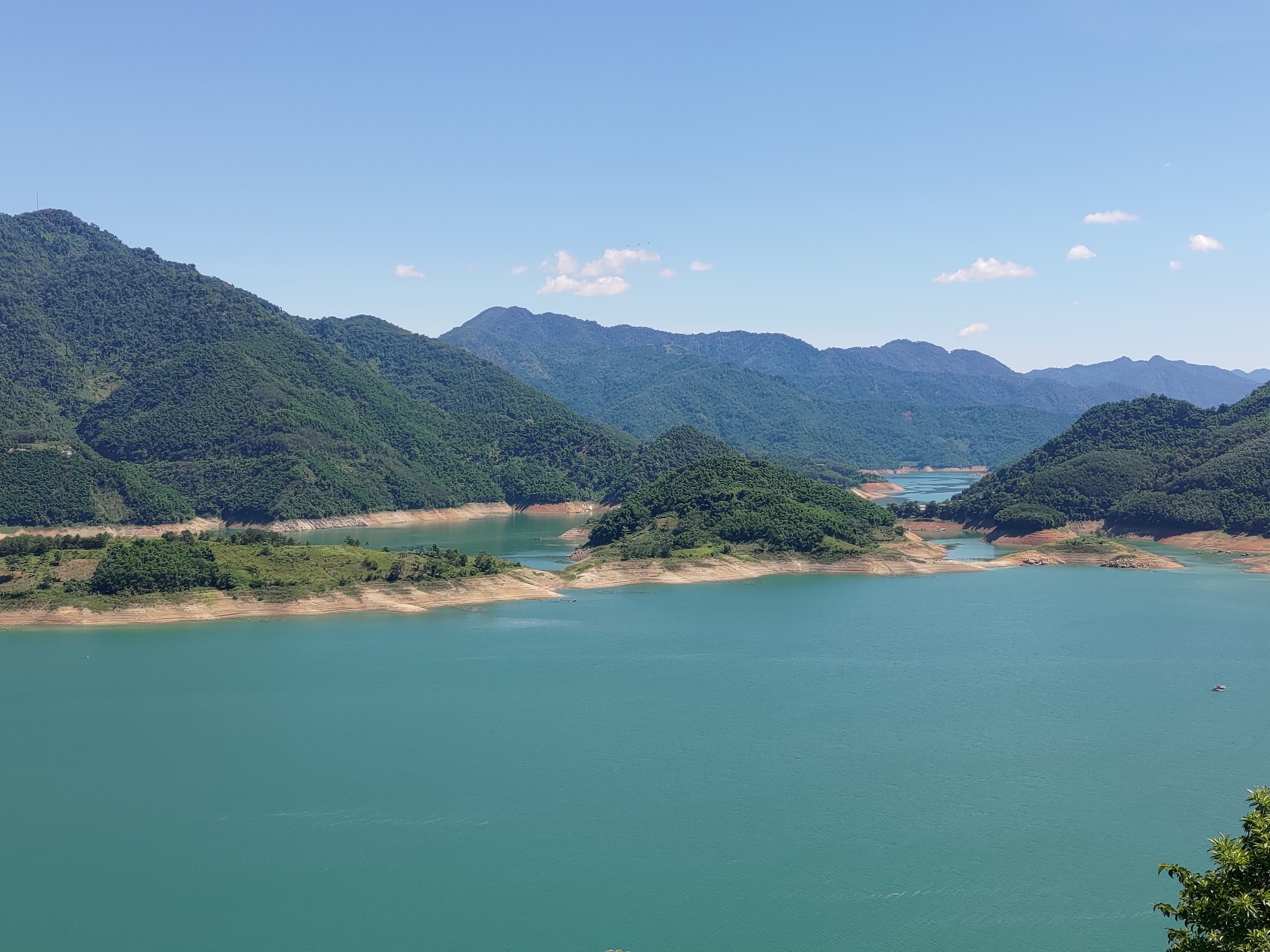 Where did you spend your 3 rest days?
So, total is 3 rest days, or 3 'lazy' days. Da Lat, Da Nang and Phong Nha. In Da Lat and Da Nang I stayed with my friends at the Tigit offices. So I can't really tell the tourist side.
Did you visit caves in Phong Nha?
Yes, I saw caves, but for the caves they are always crowded. Even towards closing time. And you cannot explore by bike. You have to park far away and trek them.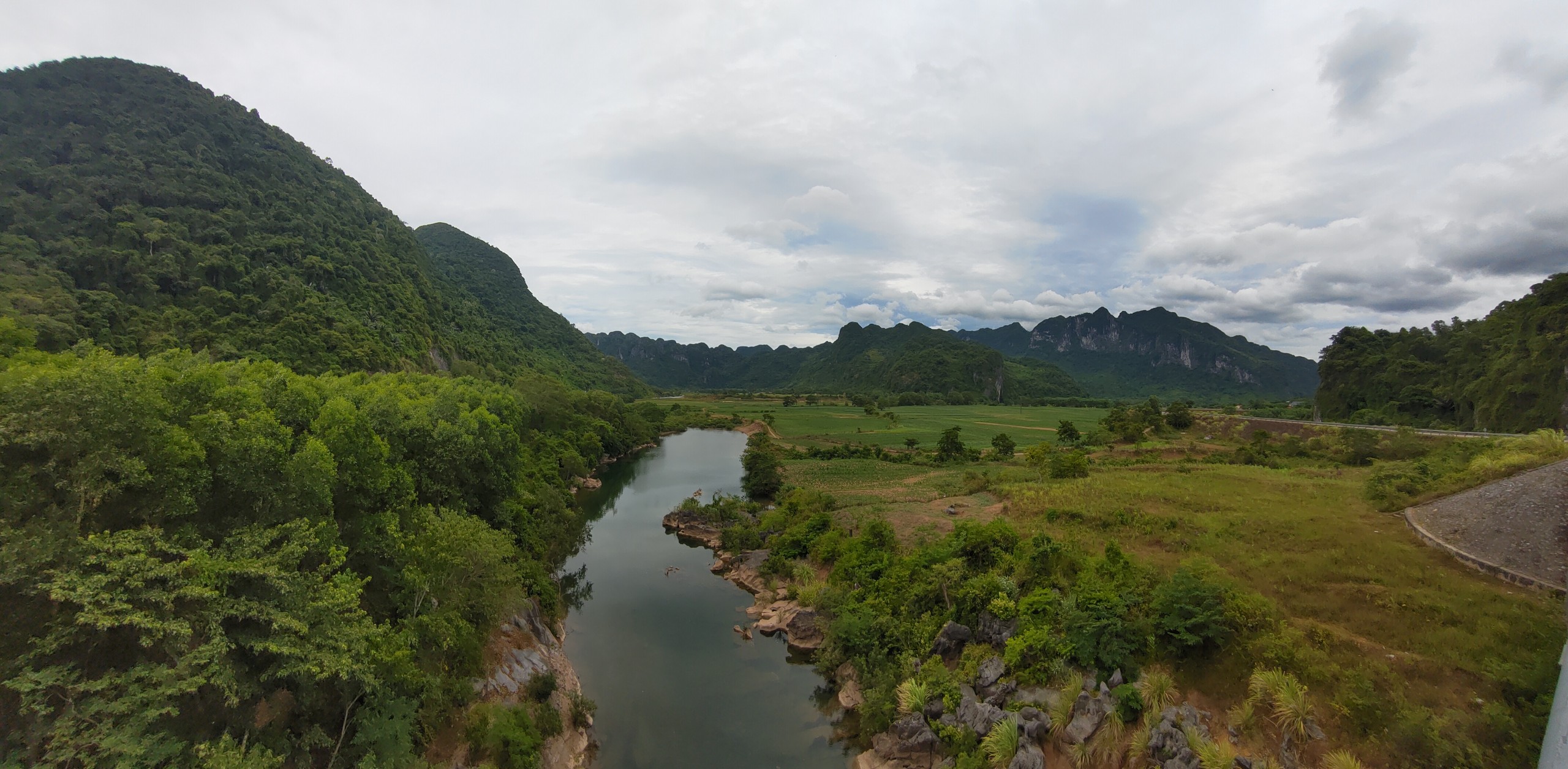 What was the most remote place you visited?
So I would say from Dong Hoi… maybe from Khe Sanh up there's a lot of small towns in a row. And it's really, really small.
Going up from there. And especially not-touristy areas are near the Laos border.
Then the HCM road itself from Da Nang onward is really, really remote already. You don't see people on the road, but the thing is, there are still rangers. Ranger stations can provide a big help in the area, because there is nothing else out there beside from the rangers. If you have any problems, they have ways to help you out. But if you have to walk to the next station, that is long way.

Do you talk to locals when you travel? 
Sam: local people are often very curious when they see foreigners traveling and will shout 'Hello' as we drive past.
Bo: I can't really answer that because most of the time, the locals thought I am a foreigner. With the XR, with the luggage on the rack, and gloves to cover my hands. Most of the time, they think me as a foreigner. They still wave and yell hello like I'm a foreigner.
Sam: (It might be important to note here, Bo is above average height for a Vietnamese person. He stands at 1.85m tall.) 
Bo: And it help with police also, they think I'm a foreigner so they just let me be.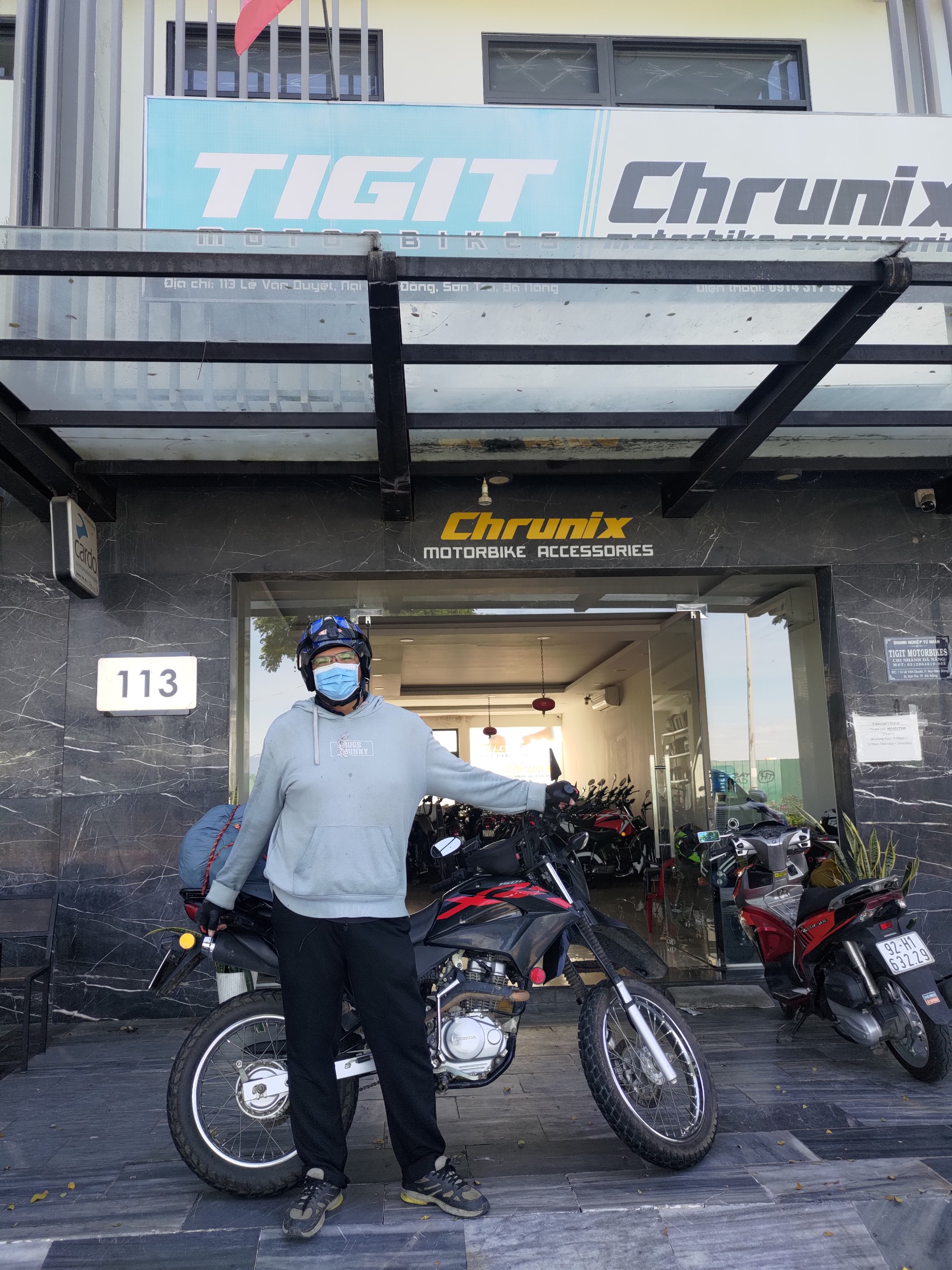 So when you take off your helmet, do they realise you are Vietnamese?
 Most of the time, not until I speak in Vietnamese they still think I'm a foreigner. Still try to greet me with English in most of the hotels.
At first, I don't get it why people are waving at me. And then I just say hello back. Alright then!
Do you like to talk to people when you travel?
No. I like to be by myself a lot more. The only people I think I talk with are hotel receptionists and convenience store owners. I don't like too much chat.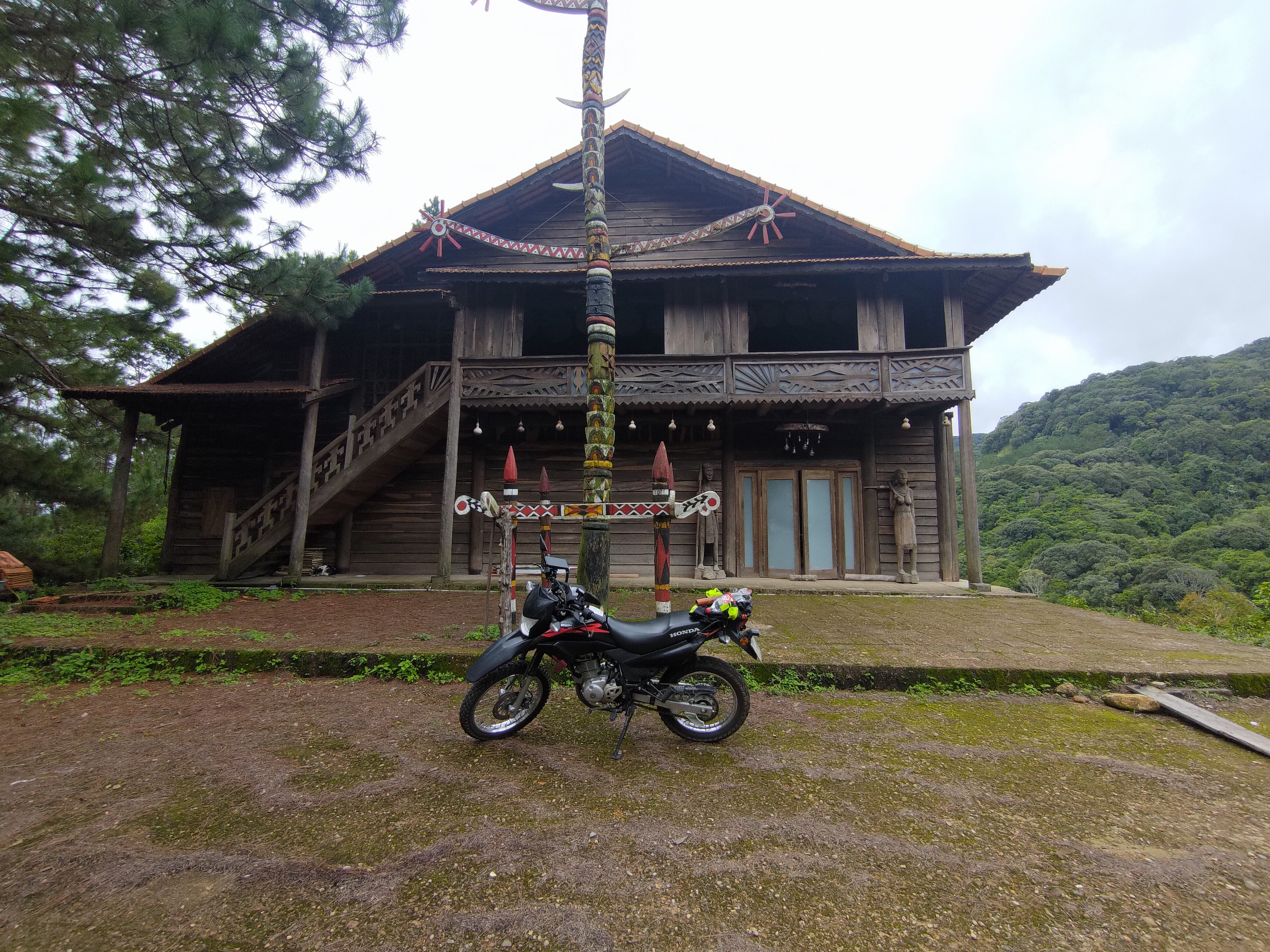 Do you feel more confident doing a solo trip because you work at Tigit?
Yes, I guess so. I know how to process and deal with problems on the road. Because I already have the knowledge and what to do in situations.
I had no breakdowns or flat tires.
Sam: 'oh that's lucky.'
Bo: 'well, Jon says it's not luck, you make your own luck. Maybe half half. Half depends on how you drive the bike, half could be luck. You can never say when you'll get a flat, that's unlucky. But burning the clutch has nothing to do with luck.
Sam asks 'you said you know the Tigit map so well'
The plan is half and half as well. I know the recommended route by Tigit so well now, I don't spend too much time on it. The other half of the time, I wing it on the road. Explore with a few random turns to discover more from the original route.
First it's still good to set a route going up. But if you feel like you want to check something out, do it. A lot of times I asked myself 'should I turn here to check it out?'. And most of the time, it was no. I kept on the route. But sometimes, I thought 'f*ck it' and I just turned off the route.

Did you discover anything with this 'f*ck it' attitude?
Yes, in Mang Den going out of that area, it was the most beautiful pass. All because I chose a lot of wrong turns on that day. There is a DT road only used by an electric company. The road is mainly dirt and they use it to plant the electric tower. Halfway through that, I stop because the road hasn't been made yet.
With their help, I can turn the bike back. So it is so steep and narrow, you can't turn by yourself. Definitely not. The workers helped me go back. They know the road is not paved ahead. With a road that steep, luckily they were there. I'm not sure if I could go out. Because that was really really steep going back down and the road was way too narrow.
Is there a place our customers talk about and how beautiful it is, that made you want to go and see for yourself?
The thing is, it is different for everyone. It's their point of view. Some might see nice, some might not like it. I usually avoid the plan. For the rest, lazy days, I will say you find a place you really want to stay more. And it's only you that can feel that when you're there. And you won't know until you're there.
Is there one place that you'd recommend?
The most surprising thing was the cities. Most of my life I live in HCM city all the chaos and everything
But when you pass Da Lat, every city is not crowded and the way to go in and out has more scenery. Going in and out of Ho Chi Minh city is quite plain and similar, just house, house, building.
Going in and out of Da Nang, even on the highway, was also a very special feeling. With the solar farms, and wind turbines. You can even see that from the highway. I was most surprised other cities were nice to drive into and out from. The view is not plain, you can still see the mountains.
For me, the best road going out of a city was Quy Nhon. The ways in and out are between rice fields and mountains.
Was there anything that disappointed you?
2 small things
   

The XR seat is not as comfortable as I thought. I should bring a small pillow with me next time! The first 3 days I could ride 100 kms without a rest. After that, I was stopping every 50-60kms to rest my butt.

   

I recommend the MadFox rain cover over the dry bags! If you want to take your bag off the bike and walk around to explore, I would recommend the rain cover is easier, you can use it to cover your backpack while on your back.
How was the weather?
For rain, I guess I was quite lucky also with that. I only have 1 day in rain. That is the day I tried to push 500kms from Quy Nhon to Da Nang. 525km for that day. That is the only day I was caught by the rain.

525 kilometers in one day is quite a feat!
So, I kind of underestimate the distance. The day before I did 200kms. The day before that from Da Lat down to Phan Rang and up to Nha Trang is around 300kms. And I found out I was still fine.
So I think I can go more than 300kms. The thing is, the first 200km fly by really quick and easy, Quy Nhon to Mang Den even in the rain I reached there around 10:30-11am.
And I felt like it was so boring in there so I decided to keep going up to Da Nang. And that is another 300km more. The thing I didn't know is, the longer you go on the bike, it will multiply your tiredness over time. You get tired a lot faster, the longer you go. The first 100kms is ok, but every 100kms after that takes longer, and longer.
The last 100kms to reach Da Nang I was really burnt out and couldn't focus. The rain made it worse. 525kms took me about 13 hours. 
Did you do any tourist activities?

 
I try Hai Van Pass, try Da Nang city a little bit. But maybe I had bad luck as it rained. I only went out for half the day, the other half stay inside.

Now that you've done this trip yourself, would you change any advice you give to customers?
Probably not. Still, I will remind everyone of sunburn and sunscreen. I found sunscreen did not help at all, even really heavy. Gloves and a long shirt is a must. I rode only 2 days without gloves and sunscreen and my hands were bubbling from sunburn.  
Would you do another motorbike trip?
Maybe. Next time it could be the Ha Giang loop, or another trip to Ha Noi but a different route. Another ride where I could prepare a bit more, but each trip is different and this one I had no troubles on the road.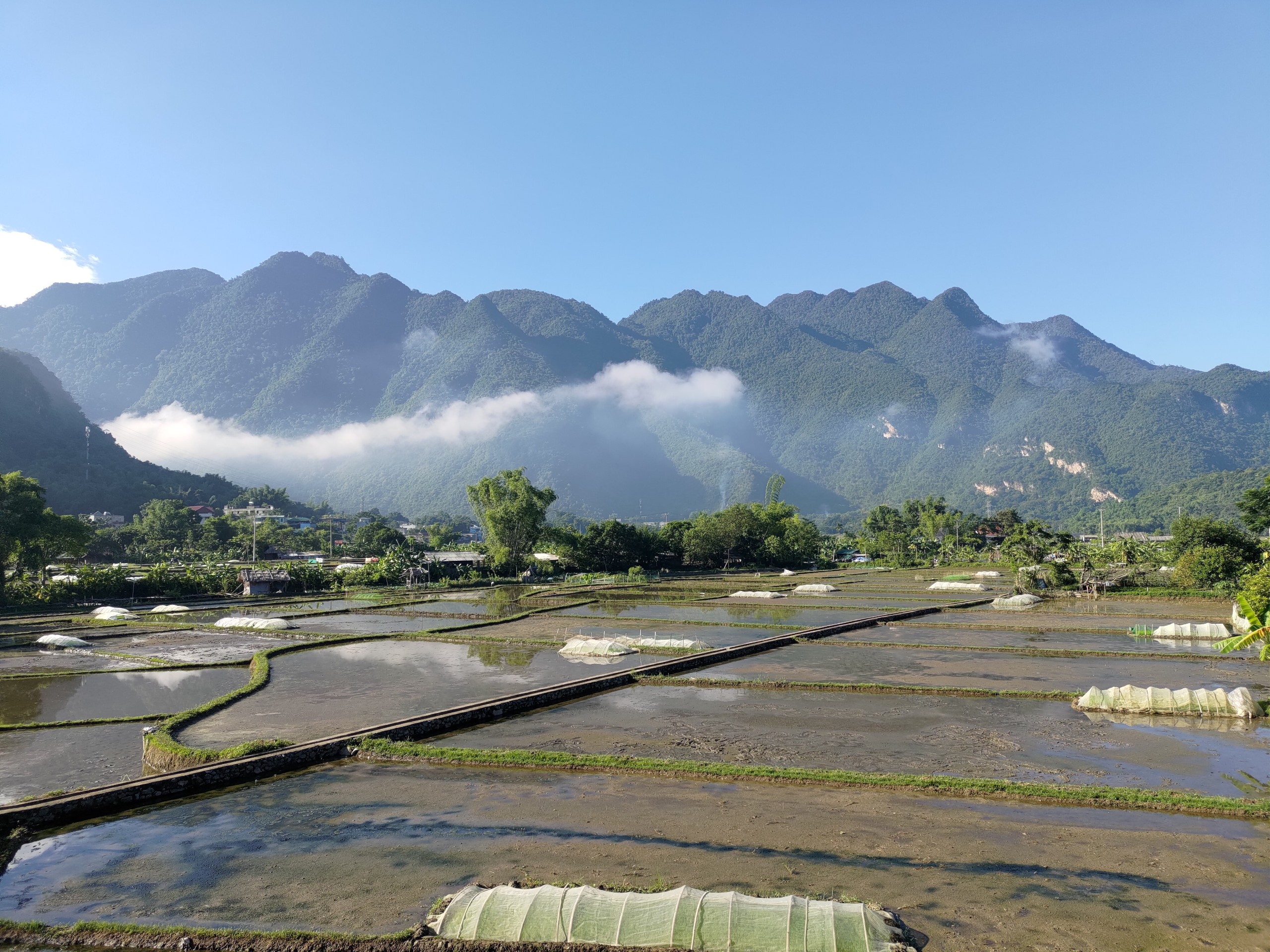 Would you take a different bike?
No. With the dual sport, if you go off the map and off-road the XR can handle it. But CB I would feel like it's a lot harder to control and turn around. Some corners are very sharp and it would be harder to control. The XR would be my best choice, I feel it's better.
Would you change anything?

 
The biggest thing is my expectations are always set on low. That's why I enjoy it so much, the road and not the place. That's why I kept moving to travel, the mountain views are always beautiful. People with high expectations of places to visit, often push to that location in a hurry, and then get disappointed instead of enjoying the journey. For me, the journey is a lot more important. I enjoy the road more than the place. That's why I didn't set destinations, but focused on the route and exploring.
On the road from Quy Nhon to Da Nang, the big day. I chose a lot of random roads to explore, and plus with the rain it just drained my stamina. So after that, I think my mind was already a bit tired. From then, every turn I questioned it more. And didn't take so many random turns.

You seemed surprise you did the trip in 9 days, when Tigit recommends 10-21 days, how do you think you managed?
For me 9 days is possible. But I'm very used to the traffic and I ride motorcycles a lot.
I still stand by my opinion, 9 days is too rushed and you ride too many hours.
15 days is better, but 21 days is the best as we suggest. If you enjoy the road and keep riding, and keep riding then 10-15 days is ok. But you have to understand the danger of getting tired.
The more you go, the more hours you sit on the bike, the quicker you get tired. The long hours make you suddenly get tired very fast. (exponentially).
Enjoy the drinks stops and hammocks stops. When it was way too hot, I had to take a rest. 
 Tigit staff in Ho Chi Minh enjoyed the photos Giang sent from the north. I heard you tried a 1 Day Off-Road tour with him in Ha Noi. How did that go?
The thing is, I underestimate the level for off-roading in the north. When they said easy, I thought easy for me with no off-road skill. But in the south, it's easy. Easy in the north is way more above the level of the south. Intermediate. And I have limited off-road experience, but I found Dong Nai trip very easy as you can take Honda Blades. So easy level. Ha Noi has more hills and obstacles, but even if you cheat and take the long way around, it's still hard. I took an XR150 with dual sport tires, that made it very difficult.
Will you do it again?
Maybe. Maybe not. I can't tell right now, but if I have more experience it could be more fun.
Dong Nai is an easy level to reach with a few manual lessons and practice. But in Ha Noi, their easy level is our intermediate!