Reading Time:
56
minutes
The Ho Chi Minh Road

The Ho Chi Minh is a famous road in Vietnam for motorbiking. No one really knows the technical "start" and "finish" of the road, however, the famous section for driving is between the small town of Prao and the National Park of Phong Nha.
The remote road is on the Laos border and it twists and turns through the nearly impossible mountain terrain. Carving out perfection on the edge of cliffs whilst following the flow of a beautiful turquoise river. The surrounding jungle is lush and thick which adds to the feel of remoteness. The Ho Chi Minh road combines mountains, jungles, and rivers into one phenomenally beautiful drive.
The riding surface is comprised of concrete slabs, mostly wide enough for one car. The Ho Chi Minh Road is mostly in good condition, although slippery in parts. This sort of surface is common in Vietnam when tackling remote roads. Generally, when a motorcyclist finds a road of this composite, it is a strong signal that everything to come will be amazing. The Ho Chi Minh Road does not disappoint.
A quick history of the Ho Chi Minh Road
The Ho Chi Minh road is based on the "Ho Chi Minh Trails" which is a maze of secret trails that are found in Laos. The Vietcong used the Ho Chi Minh Trails to transport goods down to the South during the Vietnam War.
The Ho Chi Minh road may or may not have been used as part of Laos based Ho Chi Minh Trails, but the Ho Chi Minh Road took over the name and has stolen the history from the true areas of secrecy based in Laos. The true Ho Chi Minh Trails in Laos remain a dirt track, can't be found on Googlemaps and remains to be the most bombed-out areas in the world.
The  Vietnam Ho Chi Minh Road, on the other hand, is a well-paved road of perfection that meanders up the Laos Border. Seemingly purpose-built for travelers on motorcycles with the pretense of history thrown on top. In terms of real history, it does pass through Khe Sanh, where the "Battle of Khe Sanh" took place, known to be the bloodiest battle in the Vietnam War. Today, a museum remains with old tanks and aircraft. There is time to stop by this little museum when arriving at Khe Sanh in the afternoon.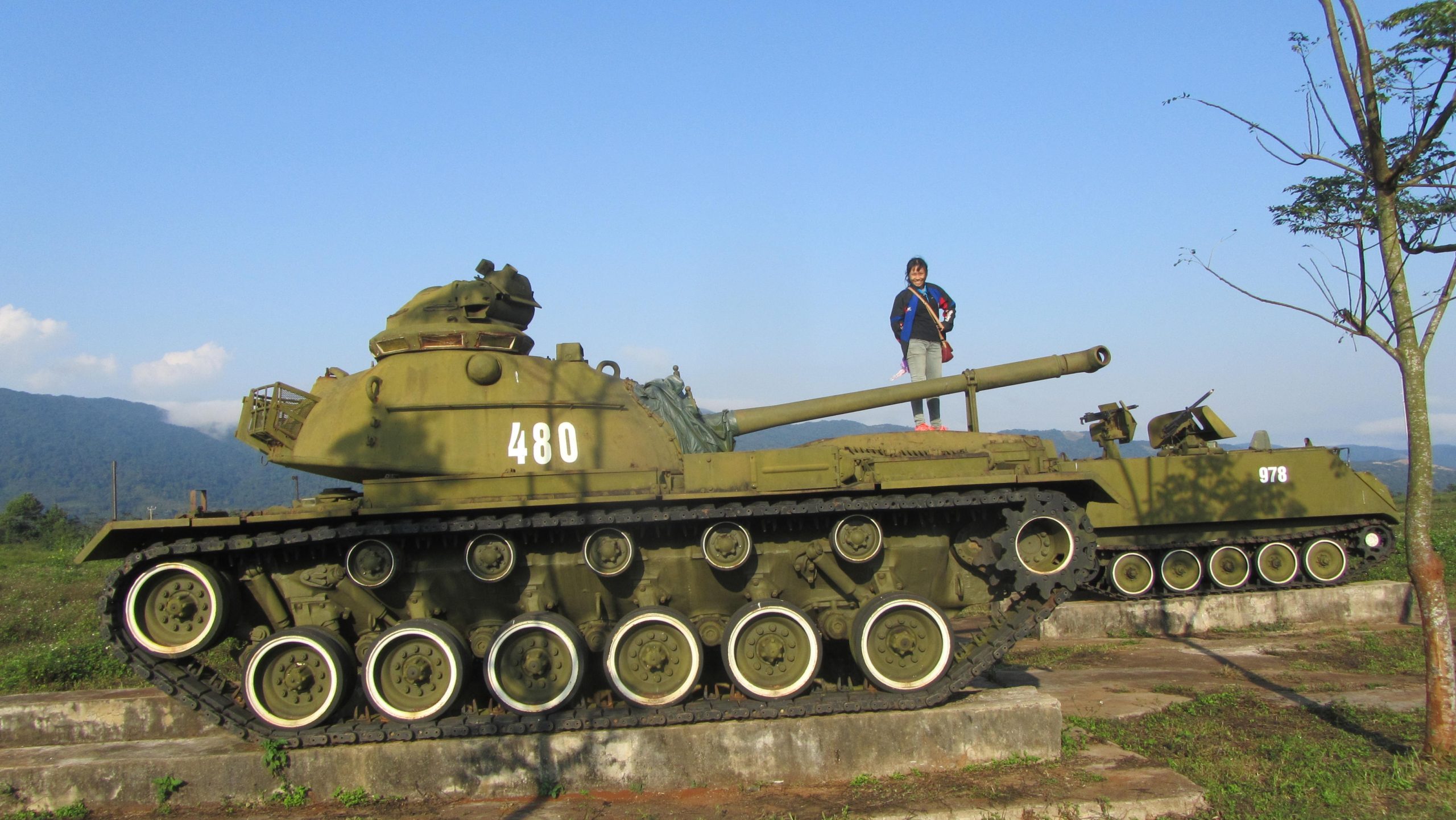 The Hai Van Pass:  The Remote Mountain Road
Hoi An to Hue to Khe Sanh
This is not part of "The Ho Chi Minh Road", but most travelers will tackle the Hai Van Pass between Hoi An and Hue. The Hai Van Pass is "the most famous road" in Vietnam for motorcycling. If using the Hai Van pass it is possible to drive the QL49 and the Ql14 to connect Hue and Khe Sanh in one simple drive.
Hoi An to Khe Sanh (Tunnel route)
The Hai Van Pass is a short drive and could be classified in the realms of "touristy". For those trying to stay remote and beautiful, this option is the far better and more beautiful alternative to the Hai Van pass.
Hoi An along the QL14B and up the QL 14 all the way to Khe Sanh. This is a massive drive and needs a big commitment. The very slightly shorter alternative is to use the QL14G instead of the QL14B. The town of A Lưới provides a bed if you fail to reach Khe Sanh. However, this puts the driver in a difficult spot as A Lưới to Khe Sanh is very short and A Lưới to Phong Nha is very long. Failure to complete the ride of Hoi An to Khe Sanh will disrupt the rhythm of the ride.
Either way, the reward of commitment to a driving holiday is to be on the Ql14 for the maximum amount of time. A great mountain pass with two spectacular remote tunnels blown through the mountains. A road and place that very few people bother to go out and see.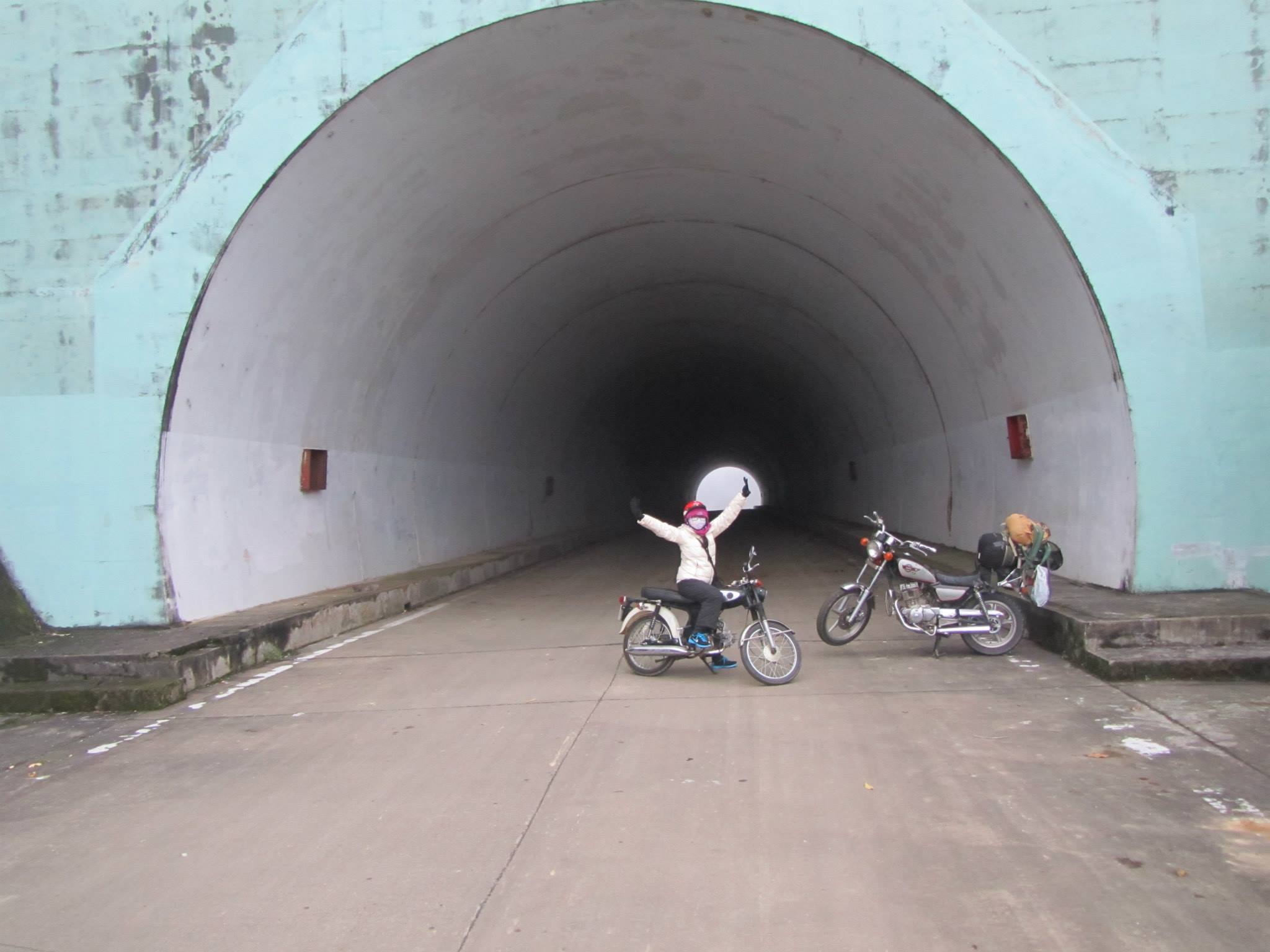 The Ho Chi Minh Road between Khe Sanh and Phong Nha
This piece of road is arguably the best road in Vietnam, and possibly the planet. It combines rivers and mountain beauty with lush thick forests. Tight corners, open straights and plenty of outrageous bridges to drive over. A masterful piece of road that goes through zones like a computer game, mixing up the style as the rider begins to get too familiar with their surroundings.
The road is remote but accessible. Anyone can drive it, and today there is plenty of help if something goes wrong. When coming to Vietnam, this is "the road" to drive.
The Ho Chi Minh Road between Phong Nha and Vinh
The Ho Chi Minh road exists between Phong Nha and Vinh, but this is not the famous driving section. Near to Phong Nha the Ql15 remains nice, but as it gets closer to Hanoi the road becomes busier and flatter. The objective is to get from Hanoi to Phong Nha as quickly as possible, the stopping point being Vinh and staying over in the only decent hotel in the area "Vinh Dong Loan Hotel".
Ninh Binh or Mai Chai
Ninh Binh is a popular place on the tourist circuit. The problem with Ninh Binh is it sets the driver up for a horrible entrance and exit to Hanoi. Taking the driver off the path of remote roads and straight into the chaos of Hanoi for a prolonged period of time.
Mai Chai is better setup for the motorcyclist, keeping the driver off to the west and away from the main entrance to Hanoi. Mai Chai is a growing tourist destination and has become famous for amazing authentic homestays. The journey into Hanoi from Mai Chai is much more pleasant than Ninh Binh to Hanoi.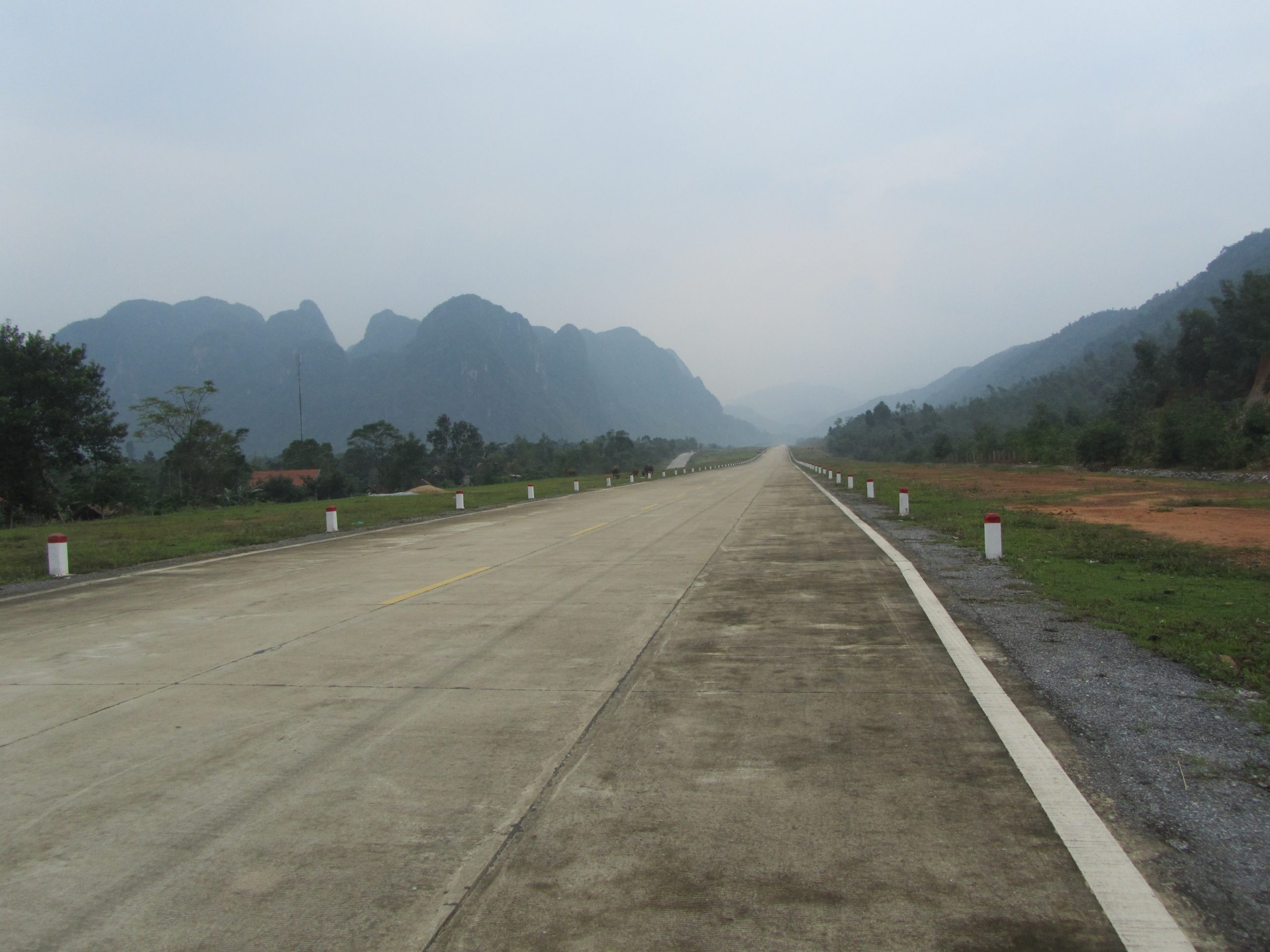 Outdated Ho Chi Minh Route
WARNING: The remaining part of this guide is based on old outdated information about the best way to travel the Ho Chi Minh Road by motorbike. Vietnam has developed considerably since it was written. The majority of this route is a dirty busy highway. WE DO NOT RECOMMEND YOU TAKE THIS ROUTE. But there are some interesting spots along the way should you have the time and hearty sense of adventure required to tackle it.
Old HCM Road Notes
HCM to Kon Tum 546kms
   The Ho Chi Minh Highway (*often referred incorrectly as the HCM Trail) or Ho Chi Minh Road as it's also called, is a cross-country strip of pavement that connects the South of Vietnam to the North. A drivable reminder of the nations once leader, Ho Chi Minh, who was also credited for joining the South and North of Vietnam as a united country. Here on this often vacant route through the country, you'll find some of the countries most pristine motorcycle riding. Roads that cut through the lush jungle, over cloud-cresting mountains, and down empty stretches of highway.
     The roads official beginning starts just east of the tri-country divide with Cambodia, Laos, and Vietnam, in the city of Ngoc Hoi. Some 600kms or so North of Ho Chi Minh City. From here the road stretches its way along the meandering back of Laos, and all the way up to Hoa Lac, near Hanoi.
From here you can learn about the 2nd stage of the HCM Highway Kon Tum to Pho Chau, then follow our 3rd stage taking riders from Pho Chau towards Hanoi.
Important Note***Be sure not to confuse the Ho Chi Minh Road with the Ho Chi Minh Trail. The Ho Chi Minh Trail was a network of thousands of different routes that are mostly located in Laos, the most bombed part of the world. Not an easy ride by any means.
Ask Jon Tigit about the ramshackle HCM Trail in person if you think you're up for the challenge.
How Long Will It Take?
All in, the official HCM highway totals close to 1300kms of two-lane pavement. The future, however, sees this scenic route expanding to an asphalt-excessive highway that will traverse from Cao Bang Province to Ca Mau Province. Tallying up over 3,000kms of landscape-erasing tarmac.
For the purpose of this guide, we will run the route from Ho Chi Minh City in the South to Hanoi in the North, about 2000-kms. Why? Because no traveler starts a motorbike trip 600kms from HCM and finishes it shy of Hanoi, you'd be missing out on the calamity of HCM and would never know the contrast of Hanoi.
     Taking on the Ho Chi Minh trail by motorbike in Vietnam on this route will take you at least a couple of weeks. That said, there are so many options to make small detours along the way; like a stop at a coffee farm, go to a national park, explore remote villages. That if you fancy yourself an explorer, you might need to double this amount of time.
 Ho Chi Minh Trail Map for the South Western Border routes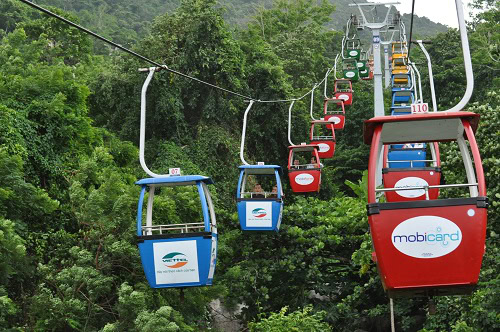 The Ba Ra Cable Car near Phuoc Long makes for an easy way to see the vistas from the comfort of a handy cable car. You can hike it too, it's a 7-kilometer route one way. Come prepared!
HCM to Phuoc Long – 145kms 
    Ho Chi Minh City is a fantastic place to dive right into Vietnamese culture, get to know the local party scene in the backpacker area around Bui Vien street and try the local Vietnamese cuisine. Once you've got your fill of Saigon adventure, Pho, and Tiger beer pick up this route guide and motorbike your way into the mountains.
    On day one, get out of the city and make your way towards the bustling city of Dong Xoai. It's close enough and/or far enough from HCM to justify a first nights stop. Make your way out of the city to the DT9 road and follow it to the DT741 up to Dong Xoai.
     In Dong Xoai you'll find everything you need, except for entertainment. Seriously, scour the internet and see if you can find a list of fun things to do in Dong Xoai. Ok, you could visit the market or hit up a coffee shop. Vietnam war historians might be keen to learn about a Viet Cong Vs America battle June 9th, 1965. Read the book "Dong Xoai Vietnam 1965" if that's your thing.
  Otherwise, we might suggest that if you can make it a bit further up the road to Phuoc Long, you'll be better rewarded with activities. Stay on the DT741 if you plan to go up to Phuoc Long.
If you like a little mid-day exercise, this might be for you.
Activities: 
   Phuoc Long is not on the HCM highway per-say, but you can easily venture off there for the night and then back onto the HCM highway the next day. Phuoc Long is a smaller town where you can check out the little lake in the town center. For a quick motorcycle side-trip, you can zip out of town to the Chua Thien Hung temple for a look at the beautiful shrine at its lakeside location. These suggestions are more time-killer stops then say, killer stops!
     A memorable side-trip would be to visit Ba Na Mountain. Ba Na Mountain is a favorite spot with local Vietnamese tourists for hiking or taking in its fun cable car ride. From the base to the top is about a 15-minute ride. Fancy a good hike? Hiking to the top is about seven kilometers long and includes 1767 anti-calorie stone steps.
   Once you've reached the summit, you can visit the shrine, as well as take in a full panorama view of Phouc Long and its neighboring Thac Mo Lake. The lake has 10 islands on it you can spot, and if you arrive during the rainy season from May-October, you'll be treated to an impressive 12,000ha of water that fills the gaps of the forest and valley below.
     To get to the base of Ba Ra, it's only about 4kms from Phuoc Long Central. Search "Nu Ba Ra Phuoc Long" to find it in google maps, as the roads have no official names. Just make sure not to confuse the "Ba Ra Cable Car" with "Ba Na Cable Car." These two attractions are wildly different and in different parts of the country.
 As this stop isn't on the typical backpacking Vietnam tourist route, we'd love to hear how you enjoyed the hike or cable car.
  Sleeping:   
 If you're looking for accommodation, use this handy guide. Or search in Google  " Phuoc Long Vietnam Guesthouse," for several in-town options.
HCM to Phuoc Long Overview
HCM City to Dong Xoai 100kms
HCM City to Phuoc Long 145kms
Phuoc Long to the Chua Thien Hung Temple 15kms
Spend the night in Dong Xoai if you like the bustle of cities
Spend the night in Phuoc Long if you'd prefer to stay in a mellow town
In Phuoc Long, take a quick trip to the Chua Thien Hung Temple if you need something to do for an hour
For a nice hike or short cable car ride with pristine views. Check out the Ba Ra Mountain, just 4kms from Phuoc Long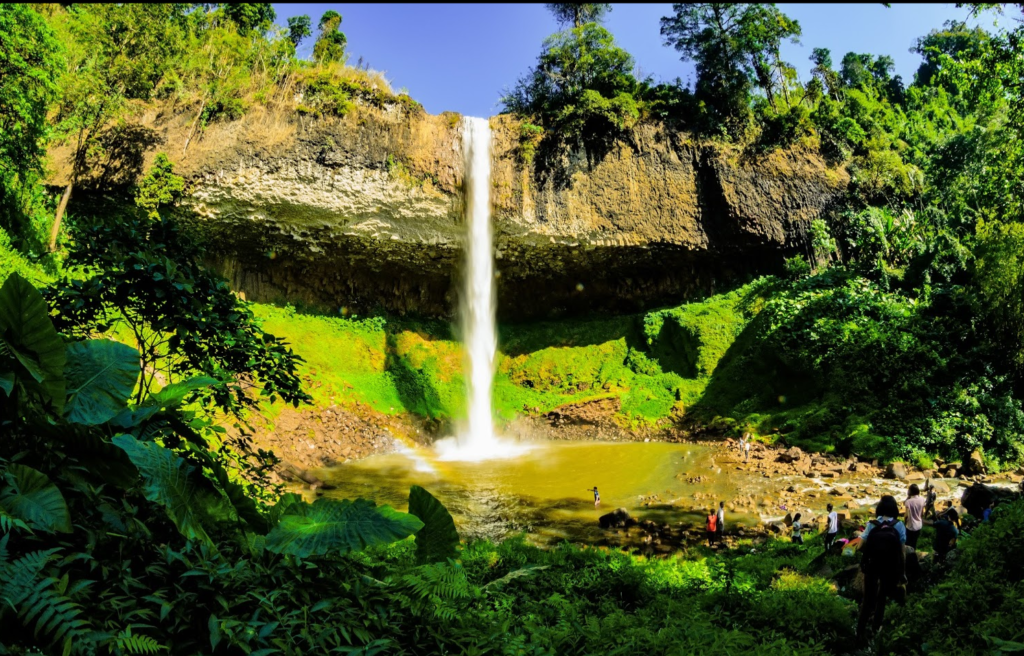 Image: ha the bao   –   The waterfalls near Gia Nghia. Easy to get to for some warm weather splashing around. These falls are far from the tourist circuit, leaving you to spend the day with the locals.
[return to Old HCM Road Notes]
Phuoc Long to Gia Nghia – 115kms
    Once you're back on the road, start to venture North on what is listed as the QL14 road on Google maps, to the city of Gia Nghia. Here you'll begin to see the beauty of Vietnam slowly unfold, as you begin to seek out more of the areas hidden gems.
Activities:   
 Waterfalls- For a cool side-trip that's watered down for all the right reasons, venture out to Thac Lieng Nung waterfalls. It's a locals hideaway void of much outside tourism, located just over 10kms from Gia Nghia. Enjoy the tranquillity, practice your Vietnamese pleasantries, and get used to the friendly stares.
     To get to the waterfalls, follow the QL28 road out of town the 10kms, and it will bring you to the parking area where you can take the short walk to the waterfalls. If you're motorbiking Vietnam solo, no problem, the area is quite safe.
    Local Fun- Once back in Gia Nghia, you'll notice your full-size motorbike rental stands out just as much as you do, the place isn't touristy.  To rustle up a little local excitement, you might want to drive by the San Van Dong football field to see if there are any local matches. There are online rumors of an amusement park in town with a roller coaster, ask the locals how to get there.
     To find your way around the city, aim for "Cau Dak Nong," it's a man-made set of cascading waterfalls where the main cities bridge is located. From here, food, drink, and accommodation is all easy to find in this area.
Phuoc Long to Gia Nghia Overview
Phuoc Long to Gia Nghia 115kms
Venture the 10kms out to the Thac Lieng Nung waterfalls. A nice treat to hang out with the locals
Head to Cau Dak Nong to center yourself in the city or maybe see the locals playing near the water
In Gia Nghia food and accommodation are easy to find, but don't expect pub crawls & McHamburgers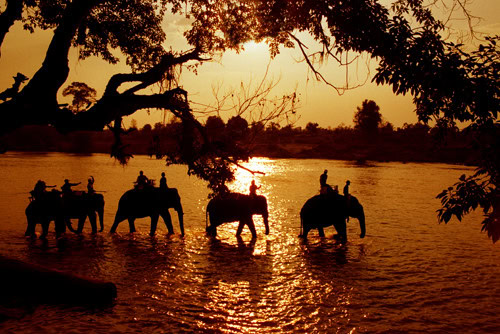 Image: vovworld.vn    –    Controversial or not, riding an elephant in this area has been going on since long before travelers arrived. Check your morals at the edge of the town and decide if this experience is for you.
[return to Old HCM Road Notes]
Phuoc Long to Buon Ma Thuot – 125kms 
    Buon Ma Thuot is many things to many people. Prime coffee country, nearby villages where elephants roam, big city living, it's all here. Much like a lot of the HCM highway, this area is not a stop that sees busses full of t-shirt buying tourist. Despite the cities population of close to half a million people, you aren't going to see the streets lined with backpackers. 
     Prepared with your Vietnam motorcycle rental you can drive from Phuoc to Buon Ma Thuot. This drive will offer up a contrasting view of what the HCM highway used to look like VS where it is inevitably headed. The thick forest of the area is slowly being taken over by the various farms and plantations, giving the landscape a mix of hope for the farmers and loss for the planet.
    Sections of this drive allow you to almost get a glimpse over into Cambodia before steering you back on the QL14 and up into Buon Ma Thuot. There is a lot of climatic variations in this part of the country, be sure you've researched what to bring and wear.
Image: wikipedia   – Boa Dai one of Vietnams ruling emperors from 1926 to 1945. The guy liked elephants, maybe you will too.
Activities:   
     Elephant Ride- The village itself is probably most famous for its long history with the elephants and the locals' ability to tame them. An elephant ride will be one of those amazing things to do in Vietnam. You can arrange this in town with a tour agency or guide at the Yok Don main national park entry located in our map. Or, if your Vietnamese is good, chat up a mahout and you'll probably get a small discount on a large elephant!
     For those of you thinking about mentally picketing someone who's turned a wild elephant into work elephant before you get here. Take note that these people have been utilizing elephants for generations in this area to help work alongside the local people. There is even a statue in town dedicated to a man named Khusanup, born in 1827 and lived to be 110 years old. He was credited with taming over 480 elephants and presenting the once king of Vietnam, Bao Dai with a pair of these domesticated giants. I'm sure it hasn't all been pretty over the years, but I also doubt you'll feel sympathy for a pair of water buffalos you'll see digging trenches in the rice fields. Being more adorable shouldn't garner more sympathy.
     In town, you'll want to take a walk around the village. Here, nestled in the trees you'll find some photo-worthy bamboo bridges that are lovely photo opportunities all on their own. If you're looking to #Vietnam some photos, you could also spend thirty minutes with your travel tripod and camera timer trying to capture the right image of you walking casually across these bamboo beauties. Both photos should get you the desired likes you need, but not nearly as many as a photo on an elephant will!
 Yok Don Overview
Ride an elephant. You can ask almost anywhere in the village, and someone should be able to point you in the right direction. *Don't forget the selfie stick!
Take a walk across the bamboo bridges. It's a small place, they're easy to find.
Visit the stilt and longhouses. There's a fee and you'll be offered an elephant keychain to buy, but when's the last time you were in a wooden house on stilts?
Image: @vietnamlive    –  A drones eyeview of the wild looking Dray Sap waterfalls. The falls in Vietnam are incredible and there is plenty of them to go around.
Buon Ma Thuot Waterfalls. Dray Sap & Dry Nur– 25kms
     On your Saigon to Hanoi by motorbike tour, you should keep track of all the waterfalls you visit. There are plenty to see along the way. These cascading tourist attractions are as abundant in Vietnam as your bowl of Pho. Why? Because they can make for a refreshing swim, stunning scenic photo, and an inexpensive stop. That's usually worth the drive alone. Check our waterfall guide to Dalat for when you're headed that way. Around Buon Ma Thuot there's a couple you should add to your ongoing list.
     Dray Sap and Dray Nur are the two falls worth the stop around Buon Ma Thuot. Though they look like neighbors on the map, they are separated by a derelict bridge that probably isn't high in the cities list of things to repair. Each is beautiful, each is popular, and each comes with an entry fee of around 35,000vnd plus a small parking fee.
    Directions: To get to either just search out the corresponding name on google maps and follow the AH17 road out of Buon Ma Thuot where it eventually comes to a fork. At the fork, you can continue on the AH17 to Dray Sap, or take the CN1 out to Dray Nur. Both are roughly 25kms from the city, and subsequently, they are about a 25km drive from each other. *Check our Ho Chi Minh Trail Map.
Buon Ma Thuot Overview
Dray Sap waterfall. 25kms from Buon Ma Thuot on the AH17
Dray Nur waterfall. 25kms from Buon Ma Thuot on the AH17 / CN1
Each waterfall is also about 25kms apart from each other
Both come with an entry fee of around 35,000vnd plus a small parking fee
Keep track of your waterfall stops in Vietnam, in the end, you'll be surprised!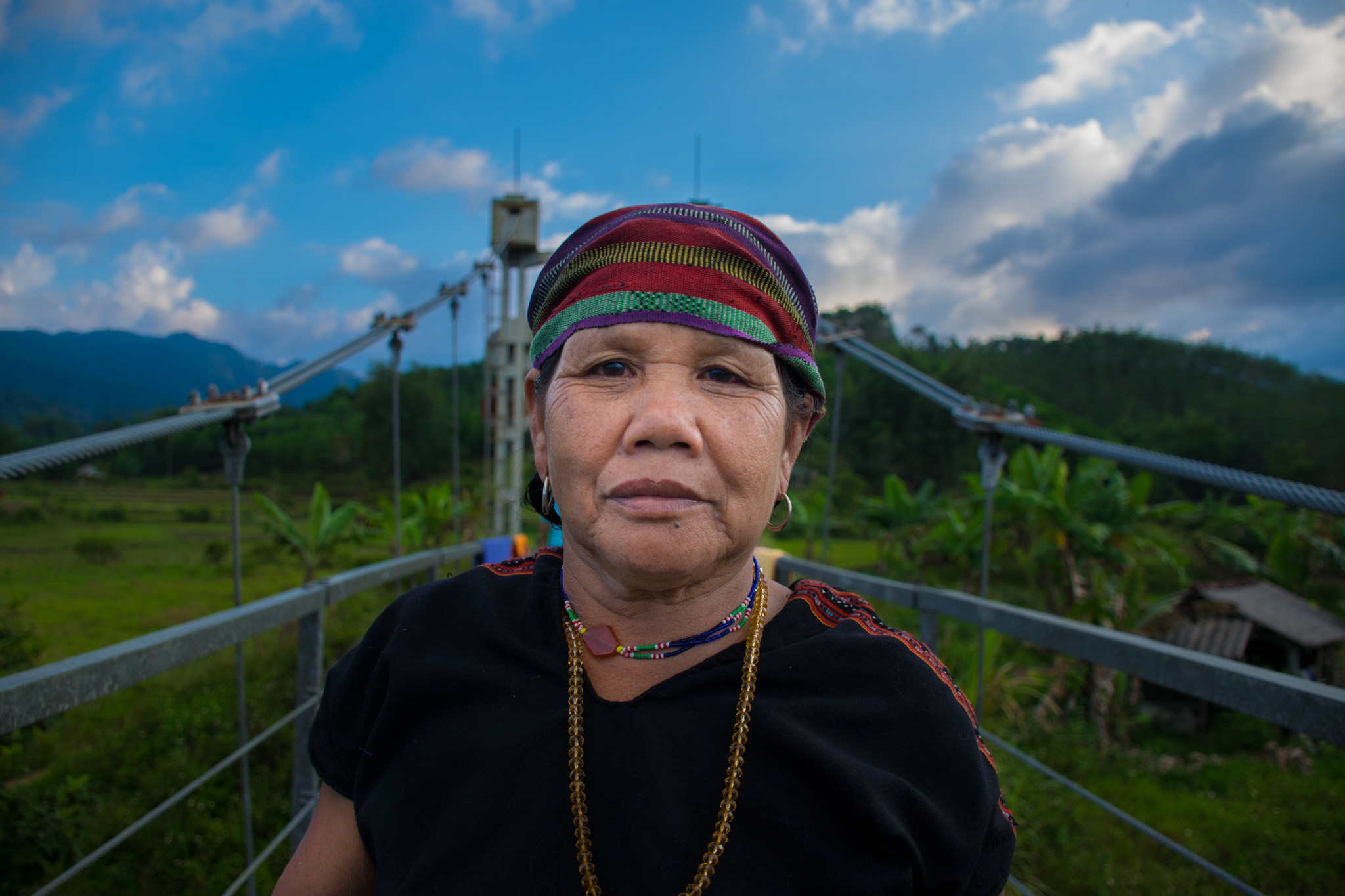 As you venture deep into the Ho Chi Minh Highway, you'll notice the faces change with the landscapes. Here you'll find locals evolving as they have for centuries.
Rice Paper Village – 5kms from Buon Ma Thuot
    If you've ever wandered out to a fish market to see where your dinner is sourced or walked through a coffee plantation to revel at the beans, you'll be equally as intrigued by a rice paper village.
   By now you've indeed consumed this edible rice-wrapper around salad rolls and other Vietnamese delights, now you can see it being made. Just 5kms from Buon Ma Thuot on your Vietnam road trip itinerary is a wee village known as Khu 1, Chi Lang.
  As you arrive in town, you'll be greeted with the sight of rice paper sanitarily drying outside, all across the village.
    You're not going to find any tours here or anyone looking to sell you a roll of rice paper. You will, however, find some incredibly unique photos of a Vietnamese culinary art that's disappearing faster than the previously mentioned appetizer salad rolls.
    You'll basically be taking pictures of people going about their daily work. Try not to make your presence too awkward. Or find someone in Buon Ma Thuot that can translate for you and bring them along! I'm sure a local would appreciate your keen interest in rice paper. Aim for the Catholic church in town (check our map), and this will take you out to the village.
Buon Ma Thuot Overview
Rice paper village is just 5kms from Buon Ma Thuot
This is not a tourist attraction, yet. So be cool and remember these friendly folks are at work
Round up a local translator if you really what to ask some questions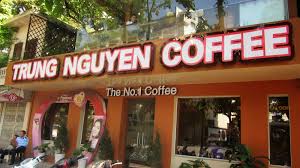 Photo: walkandeat.blogspot.com  –  A must stop for national and foreign tourists alike, the Trung Nguyen Coffee Village is always busteling with coffee related excitment. 
[return to Old HCM Road Notes]
Trung Nguyen Coffee Village – In Buon Ma Thuot
     The city of Buon Ma Thuot is dubbed as the coffee capital of Vietnam, so expectations are high, but so are opportunities to enjoy a cup of black gold. Located about 5kms from the city center is the Lang Ca Phe Trung Nguyen Coffee Village. It's less like a village, and more like a tourist town. One of those favorite trips in Vietnam for locals. They do however provide quality cups of local coffee, a museum to learn about the history of coffee in Vietnam, and a scenic-setting where you can sip & savor.
    Tours are available if you want to get an education from bean to cup.
    You can buy bags of beans and all things coffee-related if you're interested. That, and if you're feeling like ditching the hostels and soaking up the sweet life, there is the Coffee Resort right next door. It's no beach resort, but you're likely to feel pampered all the same.
Trung Nguyen Overview
If you haven't tried the local brew yet, this stop is for you.
Here you can learn about the history of coffee and all things from bean to cup.
Student loans burning a hole in your pocket? Go all out at the "coffee resort" next door.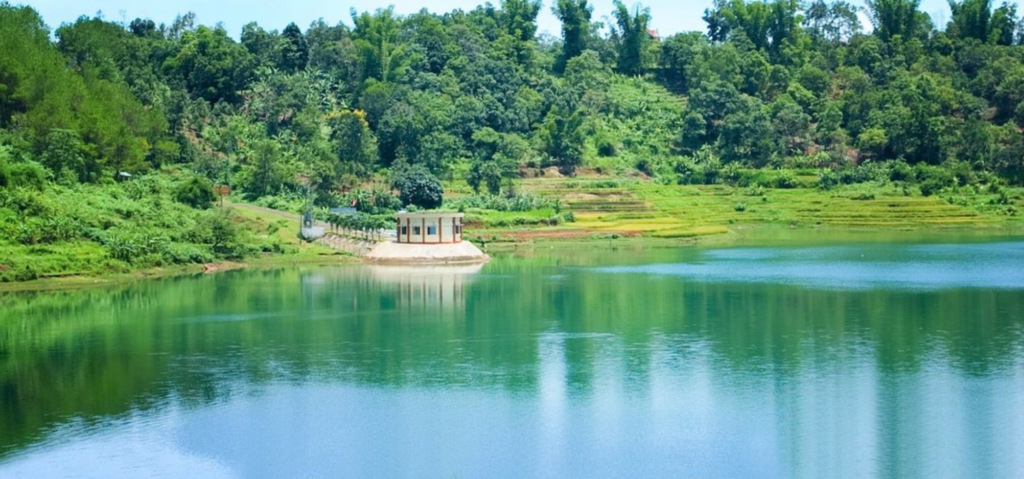 Image: Trover    –    Glimmern green and calm like a summer morning. Sea Lake is virtually the source of life around here. Find out what it means to the locals by getting to know it yourself.
Buon Ma Thuot to Pleiku – 190kms 
     The hardest part about the drive from Buon Ma Thuot to Pleiku is going to be the first 20-30 minutes while you claw your way through traffic to get out of Buon Ma Thuot. Once you're free of the trucks and traffic, you can settle in for the long red road.
   This stretch of the HCM highway is a straight and unexciting road of perfect pavement that makes its way towards the Central Highlands. The road is flanked on both sides by a remarkable deep red soil dotted growing cash crops. 

   Once you arrive in Pleiku, some 190kms later, you can treat yourself to a day trip, and a few local activates. Hopefully, you are enjoying the lack of international tourists along this route, as there aren't going to be too many more of them popping up here. In Pleiku there are a heap of sleeping and eating choices you can search out on sites like Booking.com, Hostel World, or by searching "Pleiku Vietnam Homestay" in Google Maps. Once you're settled, you can set off to explore.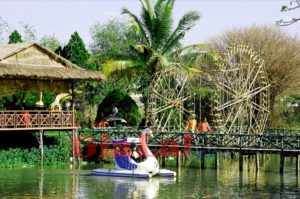 Image: Airline Airport   –  Swan boats, a little lake, a little waterslide. The place makes a nice addition to your list of things to do around Buon Ma Thuot on a motorbike. 
Activities:
   Amusement Park-Let's start with the fun stuff. Pleiku has a small amusement park just outside of town, complete with waterslide, a small zoo, and a small forest you can walkthrough. Not all attractions are going to be open during the week & the place is geared more towards families. The park's formal name is Cong Vien Dong Xanh or Fossil Tree Water Park. As a reflection of the name, there is also fossilized trees on site, but they are not likely to be the crowning achievement of your photographic memories. 
Pleiku amusement park tips– 8kms
Don't expect thrilling rides and carnival food. Think more, family fun and awkward zoo
Go on the weekends for a better chance at everything being open
If you've always wanted to see a fossilized tree, this might make your dreams come true
Just 8kms from Pleiku central
    Sea Lake- Next on the list of Pleiku, and arguably the best site to see, is the Sea Lake. Sea Lake has more alias' and legends about it than a Mafia Don. I've tried to capture a few of them here to make finding information about the place easier on you.
  Sea Lake, as it might be known in English, also goes by the local name Bien Ho, or T'Nung, as well as La Nueng. Be open to possible name miscommunication along the way. Sea Lake is dubbed by the locals as the most beautiful lake in all the land and actually sits in the top of a volcanic crater. As far as volcanic lakes go, it is undoubtedly sea-like. Boasting a girthy 250ha of water and an average depth of 18m. Its shimmering green color is remarkably beautiful.

    For the locals, Sea Lake is the primary source of drinking water for the surrounding communities as well as an abundant source of fish.
  You can take little-covered boat tours. As the drinking water supply, no commercial boats are allowed on the water, and you can't swim here. If ya need to pee, find a tree. Don't pee in the water!
    Lake legends range from captivating stories about volcanic eruptions that buried an entire village and the water that filled the crater was from the tears of the survivors.
   Another excellent bedtime story recounts that during an animal sacrifice the locals had pissed off one of the Gods. After the sacrifice was complete, the earth shook and split open swallowing up everyone but one family that had been out of town, when they returned they had seen what had happened and were able to pass on the story from one generation to the next.
   The full versions are going to be full of captivating details of unimaginable death. For today's read, I've merely summarized what you might expect to hear during a romantic boat ride on the volcanic crater. Enjoy.
Directions:
    Sea Lake is located just 13kms from Pleiku. Follow one of the great QL roads in Vietnam out, by taking the QL14/AH17 road out of town until you see the turn for the lake on the Pho Duc Chinh road. Follow that out, and you'll quickly see the Sea Lake, a little shrine, and likely get hit up for a small parking fee of around 4000vnd. 
Sea Lake Tips
A beautiful green lake located in the crater of a volcano
You can enjoy a simple boat ride here
No swimming or peeing in the lake. It's the locals drinking water supply
Located just 13kms from Pleiku

    Ho In The Park- Lastly, if you're just looking for a free and comfortable place to explore within the city, we might suggest dropping by the park to visit Uncle Ho. Right in the middle of Pleiku is the Quang Truong Dai Doan Ket park.
   It's got all your usual Vietnam park stuff, like flowers, walking area, trees, and of course the classic Uncle Ho statue that is larger than life and probably cost more to build than what the workers would have earned in a lifetime. Grab a coffee, or some takeaway, and head out into the park and kick it with a bowl of Pho and Uncle Ho.
Chillin With Uncle Ho –  Quang Truong Dai Doan Ket
Located right in the city, known locally as Quang Truong Dai Doan Ket
Cost. FREE!
Great place to enjoy a quiet park in the city center
A day with Ho Chi Minh on the Ho Chi Minh route, what could be more fitting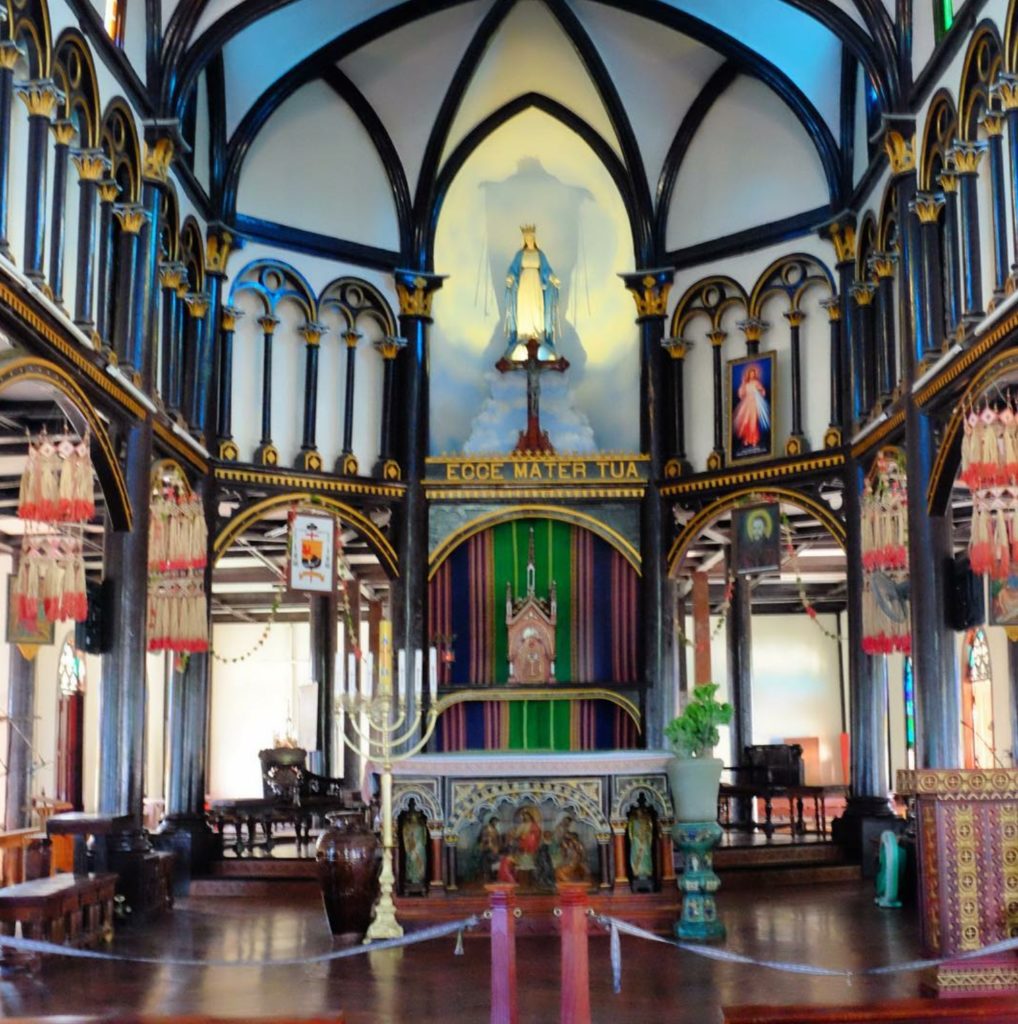 Cathedral of Kon Tum. You can look, but don't touch. Your eyes should be able to take in enough stimula here to satisfy your needs.
[return to Old HCM Road Notes]

Buon Ma Thuot to Kon Tum – 230kms   ( Pleiku to Kon Tum – 50kms)

        If Chillin with Uncle Ho and volcanic lakes aren't your thing, you can either skip Pleiku and head to Kon Tum or hit up both stops. Kun Tum from Buon Ma Thuot will make for a big 239km day, or Kon Tum from Pleiku will make for a short 50km day. Whatever you choose, it's nice to have options.

   Kon Tum is your typical small Vietnamese city at just over 150,000 people, with many eating and sleeping establishments available.
Activities:
  Cathedral- Kon Tum has several interesting side-trips to keep your newsfeed busy. First off, if you've been looking for a place to cut a deal with his holiness for all the recent sins you've committed, then look no further! The beautiful Cathedral of Kon Tum is just the place to take your recent nights of drinking with the Devil and wash them away with holy water. Seriously though, you're probably too far gone for soul-saving.

   The Cathedral of Kon Tum, a.k.a. Nha tho go Kon Tum, is a work of wooden art whose design will interest even the most devote of atheists. Built in 1932, the church has long since been the beautiful centerpiece of the areas more than 150,000 Roman Catholics. Located just on the edge of town, about a 2km ride from the main city center, it's easy to find. Use our handy map, or search "Cathedral of Kon Tum" in google maps. It should point you to the intersections of Nguyen Hue Street and Ly Tu Trong street.
Cathedral Kon Tum Highlights
Built entirely of wood, the structure is both stunning and stout.
Contrary to popular belief, you won't actually burst into flames by stepping inside.
Easy to get to, just 2kms from the city center.
Please your parents by posting photos that include at an Alter, rather than an altercation!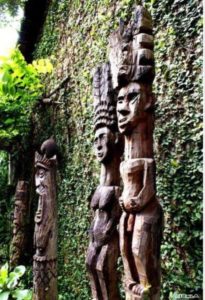 Image: Eva Cafe –  A snapshot of some local artwork via the local Kon Tum people.
   Minority Groups- A far cry from the fire-breathing dragon bridges of Danang, English food menus of Ho Chi Minh city, and happy-hour drink specials of Hue is a cultural experience that is still hidden in the hills around Kon Tum. Here, with a knowledgeable guide, you can get to know the lives of ethnic minority groups that still etch out a life reflective of the one they've known for centuries.

   It's possible to do one-day guided Ho Chi Minh trail by motorbike tours with a local agency, a homestay with a local family, or an overnight trekking tour to get into contact with these groups of people and witness a lifestyle that is fast disappearing. A local company with positive TripAdvisor reviews can take you there. Located right in Kon Tum, look up Highland Eco Tours for an experience unlike any other in Vietnam.
Cultural Interactions With The Local Tribespeople
Go on a one-day motorcycle tour to see some of the local lifestyles.
Take in an overnight trekking tour to get deep into the hills where villagers still live as they have for generations.
Stay the night in a village homestay if you really want to see what life used to be like all across Vietnam.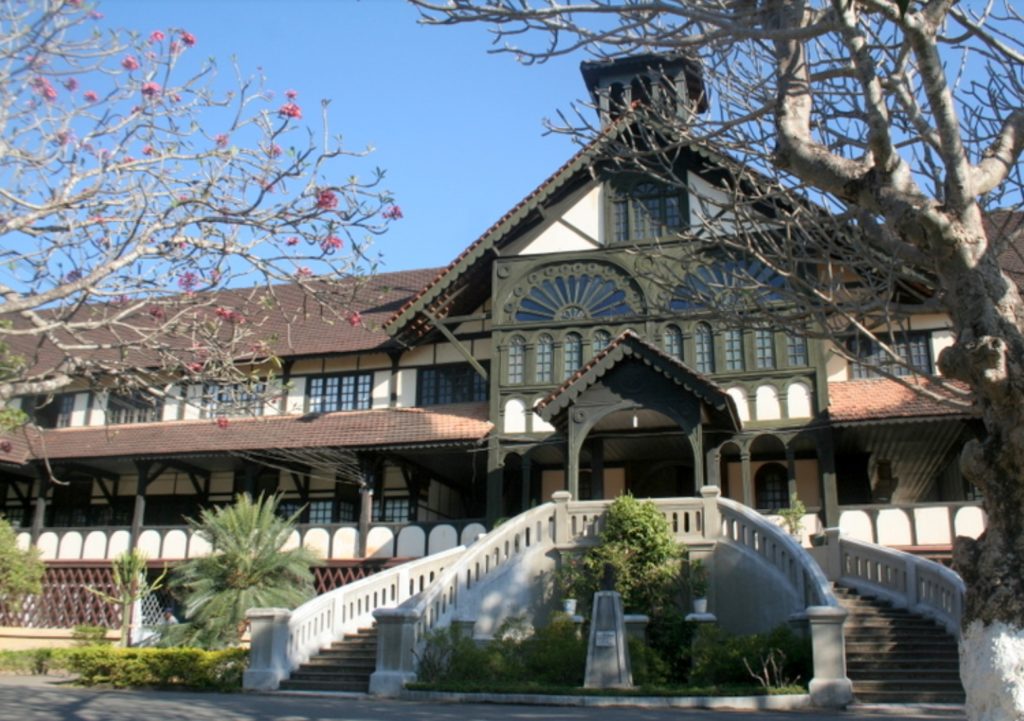 Image: wikimedia – If this is where you get to live if you're a Bishop, sign me up! Wow, check out this pad.
Bishops Palace- As an alternative for those of you short on time, but still looking to get in a bit of cultural delight. Make your way over to the Bishop of Kon Tum's buildings. Hosted on an expansive grounds of trees, gardens and natural beauty, this is where the Bishop lives. This flashy mansion-style home also doubles as an education center for any of the local tribesmen looking to get out of the fields and into a priesthood.
  If you're lucky, there is also a museum on the grounds that's sometimes open. It holds artifacts from the local people and interesting instruments you can take a crack at playing. All in, it's an excellent FREE stop that might enhance your knowledge of the area.
The Bishops Mansion/Museum
The Bishops Palace, as it could be named, is a great stop for those short on time & still looking for activities.
An expansive grounds to enjoy a bit of relaxing nature.
An on-site museum holding artifacts of the local tribespeople. Note, it does not have regular operating hours
Free! This should fit into any travelers budget
Kon Tum to Pho Chau 905kms
           This route from Kon Tum to Pho Chau, winds its way through the spiny mountains of the long central highlands up into northern Vietnam via the Ho Chi Minh highway.
Ask Jon Tigit about the ramshackle HCM trail in person if you think you're up for the challenge.
Kon Tum to Kham Duc – 175kms
    Making your way on the QL14E route from Kon Tum, you'll eventually find yourself near the town of Dak To. Make a left at the in Dak To at the intersection with the QL14, then continue on the QL14 road towards Kham Duc. To make it easier we will mark on our Ho Chi Minh Trail map the memorial park you can use as a reference that sits near this intersection. Continue on that road for exactly 20kms. 
   Once in Ngoc Hoi make a right turn in the center of town and continue on the QL14. The turn is located just before the park in Ngoc Hoi we have listed on our map. Keep those in mind, and you should ride problem-free.
Dak To Activities:
     Looking for some not-so-touristy attractions in the area? The Phoenix airstrip and Charlie Hill are just those. Here in November of 1967, the ongoing battles between Vietnam and the U.S continued. The sounding area fell victim to some of the wars horrific chemical effects. Agent Orange was highly used here by U.S. forces to kill off vegetation and help flush out the Vietnamese enemy.
   The ongoing effects of the Agent Orange have marred the locals with health problems, and it's visibly noticeable on the land and vegetation that is scant at best.
   The airstrip is known locally as, Dak To Base Camp, and can be found just on the edge of the QL14 in Dak To. Search for the " Airport Phoenix Dak To Vietnam" in Google Maps, or reference our Ho Chi Minh Trail map to find it.
   All you're going to see here now are the local farmers drying crops. Take your bike for a rip down the strip, there are only a couple of airstrip motorcycling options in the country.
     Once you've navigated the mix of straight roads and quick turns on this section, you'll eventually end up in Kham Duc. The town has plenty of accommodation options, and if you want to narrow down a few, search " Kham Duc Homestay " in Google maps to give you a list of options. Around the towns central park area is plenty of food and drink options to refuel you for the road ahead.  
The Road to Kham Duc
Watch for two important turns you need to make. One in Dak To and one in Ngoc Hoi, both noted on our map.
Ride down the abandoned Phoenix airstrip on your motorbike in Dak To.
Spend a night in Kham Duc if you're running out of daylight. Food will be easy to find near the central park
This lively bunch of bikers are enjoying the scenery on some classic Vietnam style motorcycles. They might not get far on these questionable bikes, but they'll sure look good hanging out at a backstreet mechanics shop. 
Kham Duc to Prao – 110kms
     Sticking to the QL14 from Kham Duc to Prao, you'll be treated to a Vietnam by motorbike day through twisting switchbacks that wind around the Dak Mi River. This whole area is accented by the greenery that surrounds you. At points, you are looking down on from one mountain top to another. 
     Prao itself is a rural village at the crossroads of the Ho Chi Minh highway heading further north and the urban excitement of Da Nang that calls from the seaside just 80kms to the east of it. If you can't take much more natural beauty, rural isolation, and smiley minority groups. Make a sharp right onto the QL14G and prepare yourself for the beaches, party spots, and mountain top resorts in Da Nang. Much like ordering one more round at last call, I suggest you not be tempted.
    Despite that excellent sales pitch I just provided, Prao isn't going to contend with hanging out at the beach resorts. Instead, you might swing by the Trung Tam Van Hoa in the town's center, Its a pleasantly aged wooden building with impractically large pottery out front.
  The house and pottery backdrop makes for some cool photos, and you could tell people it's a larger than life urn that holds Uncle Ho's ashes inside. Just don't share that story around a wifi connection or your facts will quickly fall apart.  After a night or quick stop in humble Prao, stock up on fuel and snacks and press on for A Luoi.
Prao, a Humble Overview
The drive into Prao is exceptionally stunning, so stop and take some photos along the way.
Visit the wooden Trung Tam Van Hoa building and its giant urn-looking pottery in the garden. Who knows maybe Uncle Ho's inside.
You could opt to change course and drive to Da Nang. However, the HCM Route is a fantastic drive that's well worth seeing through until the end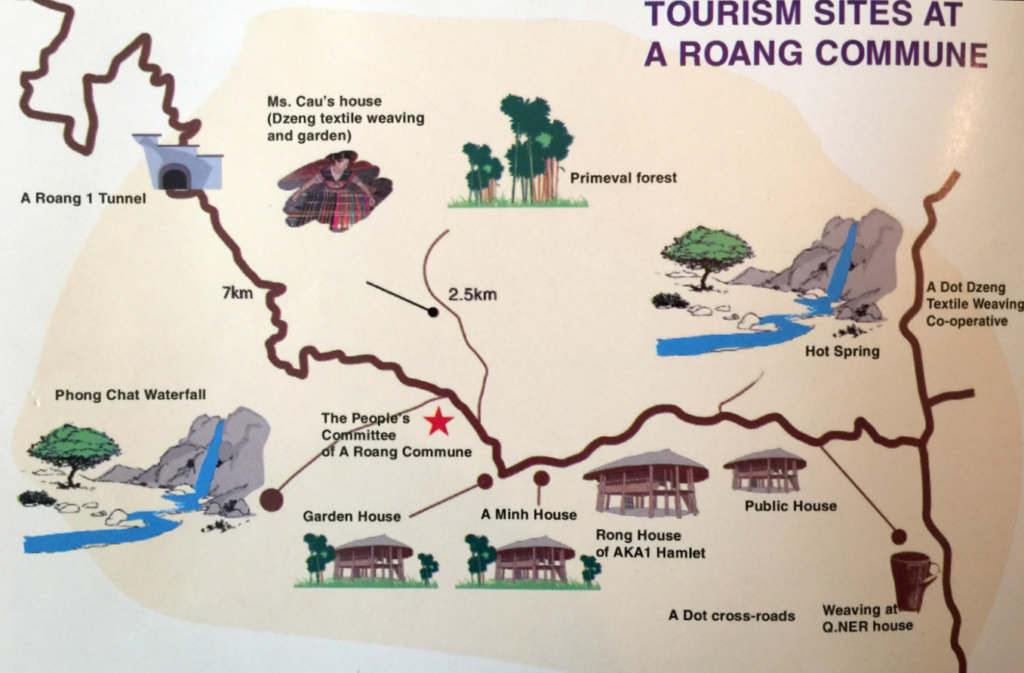 Photo: Cindy Fan – The layout of the Roang Commune. If you can't figure out where to go, ask anyone. The place is pretty small.
[return to Old HCM Road Notes]
Prao – A Roang Commune – A Luoi – Khe Sanh 210kms
     This next section runs from Prao to A Luoi, an impressive stretch of forest and mountains that climb up over one peak after another while dipping into small valleys and continuing to pass the photoshop-looking landscapes. It's more like the Ho Chi Minh Trail of today.
  The views over the vibrant forest, cloud-kissing mountain tops and occasional man-made structures on this road are likely to stretch your 106km drive into hours of scenic route photo stops.
As you meander towards A Luoi, you aren't likely to have more than a handful of vehicles pass you, an almost apocalyptic sense of isolation on almost perfect roads.
    About 30-kilometers before you reach A Luoi you have the option for turning off onto the QL14 highway going East to the small A Roang Commune. Located in A Roang are the Phong Chat Waterfalls as well as river fed hot springs. The hot springs come highly recommended by the locals, and you'll see in the above photo where they are located in reference to the town. Ask any local if you can't find your way.
    If you find that a day at the falls and relaxing in the "hot spring" cement pools have worn you out, there is a homestay in the community. Huong Danh Homestay can be found on google maps and comes with solid reviews.
 A Roang Commune Overview
Visit the hot springs. There are small cement pools here that are fed by the natural hot springs.
If you plan to spend the night, check out Huong Danh Homestay. The place comes with very positive reviews.
Ask the locals where to go in town. It's a small area, everyone around should know where to send you.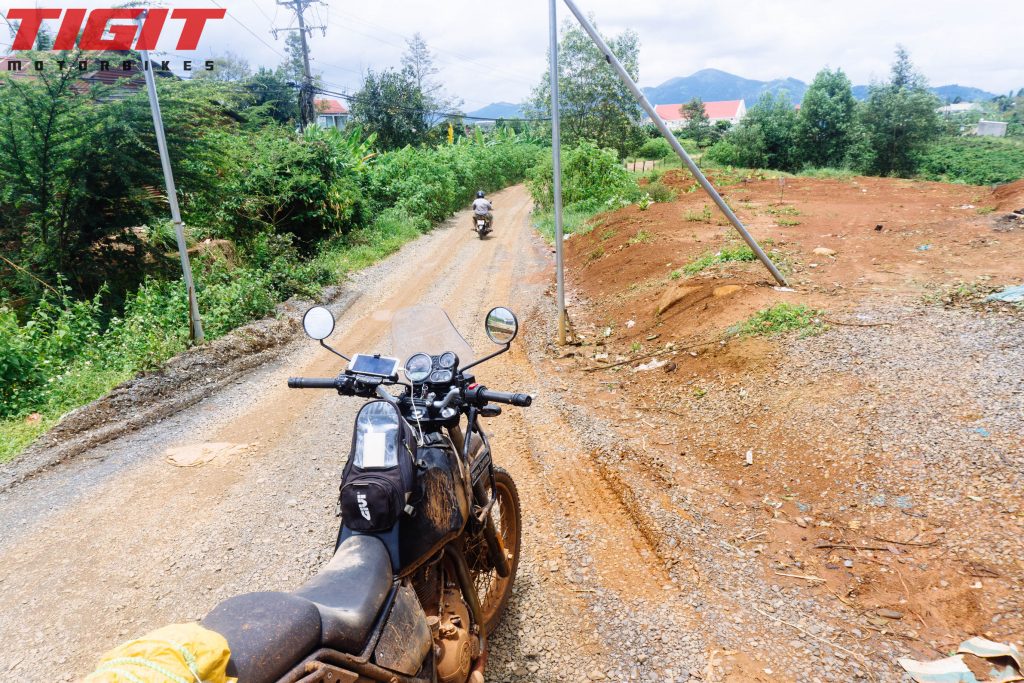 Anyone looking to do a little off-roading will find that they and the motorcycle will need a little bath afterward. This little adventure is well-suited for the Honda CRF250L, a bike built for Vietnam.
Attractions:
Hamburger Hill- In A Luoi the most well-known stop on this part of your Vietnam culture trip is the Hamburger Hill battle site and museum. This site was made famous by the Hollywood movie by the same name, Hamburger Hill, that recounts Operation Apache Snow. The infamous battle that occurred over eleven days in May 1969.  
   The catch to taking this tour is that you'd need to organize the DMZ, trekking and village excursion in advance with companies out of Hue or further north in Dong Ha. You could try asking at the local tourist office, but it's not likely they will be of much help on this one.
  Ethnic House- You can also visit a house that's designed to replicate one of the ethnic minority houses of the area. At the replica house, there are some maps of the area, and they are typically stocked with English booklets and information on a nearby waterfall and other things to do.
    The house/information center is located just off the QL14/HCM Highway right across from the post office. You'll see a driveway that heads up towards the mountains to follow, and the post office is located on our map. There are also a few places to stay in town if you choose to spend the night here as opposed to sleeping in earlier A Roang.
A Luoi Overview
Visit Hamburger hill, but you'll need to organize a tour out of Hue or Dong Ha in advance to visit it.
Drop by the ethnic minority house/tourist office across from the post office for maps and directions.
The town has plenty of places to sleep, eat and refuel.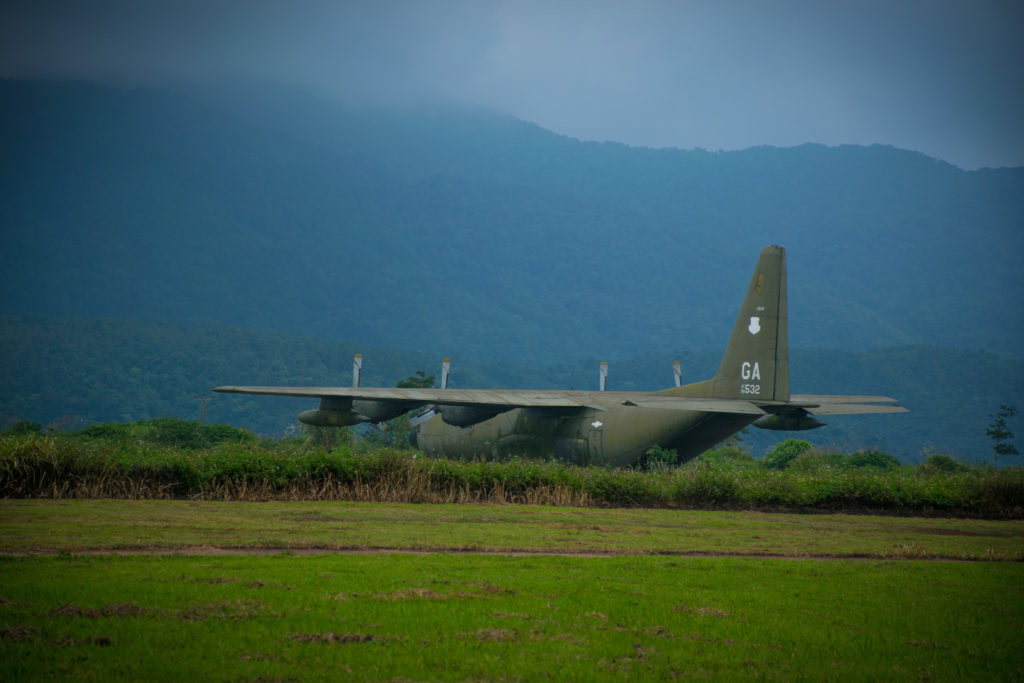 A retired military plane forever rests in the fields outside of Khe Sanh. Come and explore, as you aren't likely to get this close to a military plane anytime soon.
A Luoi to Khe Sanh 100kms
     A little over 100kms further up the road on your adventure between North and South Vietnam by motorbike will bring you into the city of Khe Sanh. Just before the city, you are welcomed by the rushing Da Krong river, that pours emerald-colored water through the valley in past Khe Sanh. The site of what looks like entirely untouched water might be enough to get you gushing a little too.
Attractions: 
   Combat Base: The other visual attraction in Khe Sanh that isn't nearly as beautiful as the river, but interesting enough to add to your backpacking Vietnam to-do list, is the Khe Sanh Combat Base.
    The Combat Base was once home to the United States Marine Corps Outpost that first saw action in January 1966. After this, the site became home to a number of battles, including the 1968 Battle of Khe Sanh. Nowadays the base sees more photo ops than Marine Ops, and you can tour around and visit the small museum. If you've never had your photo taken with a military helicopter, bomber plane or wondered what bunker life was like, you can do it all here!
    Coffee: The Arabica variety that is usually found in regions like South America and grown in slightly higher altitudes can be found in Vietnam around Khe Sanh. The Arabica bean from this region has garnered national and international attention, and the Vietnamese have chosen Khe Sanh as the area to produce their highly sought after varieties of Arabica coffee.
    With exports reaching over $25-million, the little bean has become a big business for local producers and business out of Ho Chi Minh City. As a result, you can find locally sourced, premium cups of world-class coffee right here in Khe Sanh. If you see the locals lined up for a cup of local goodness, get in line! Otherwise check out a local coffee house like, Khe Sanh Coffee.  
     There are sleeping, eating, and drinking options aplenty in and around Khe Sanh. Either check your usual sources or take a drive down the main Le Duan/QL9 road the goes through the city and you'll find some options.
Khe Sanh overview
Take a helicopter selfie at the Khe Sanh Combat Base. The only action this place sees now is from wandering tourists and pushy touts.
Stop by the Da Krong river bridge and marvel at what water used to look like before it became a dumping ground the world over.
Try the coffee, if you see the same beans brewing back in your home country they'll probably cost you 5x the price!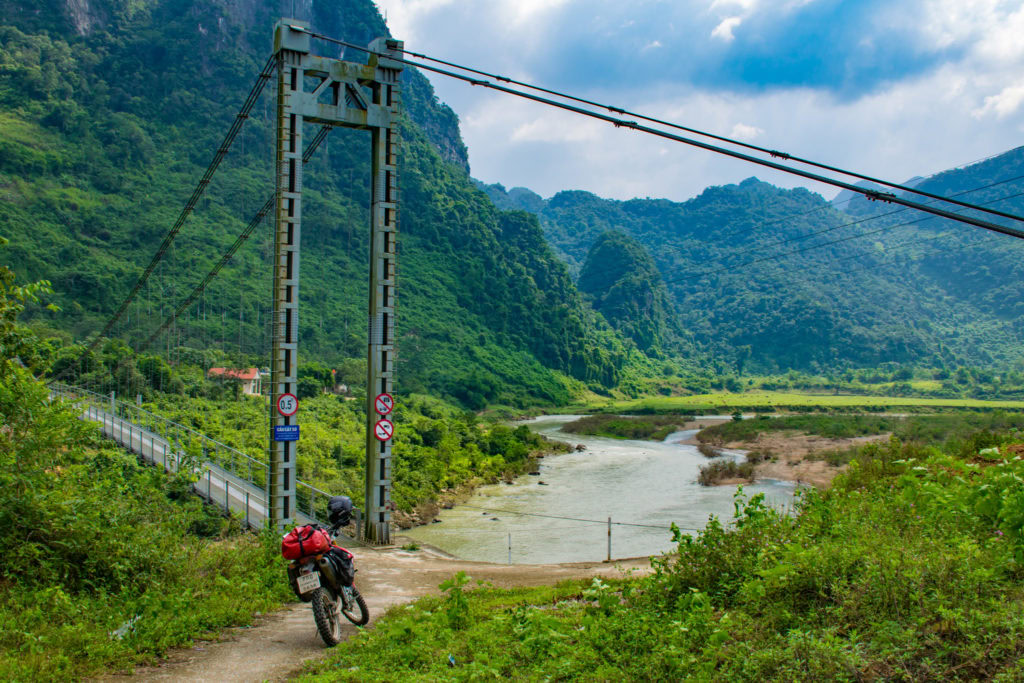 One of many foot/motorcycle bridges that you'll find crisscrossing rivers up and down the Ho Chi Minh Highway. Beautiful.
Khe Sanh – Long Son – Phong Nha 230km
   Khe Sanh
    This lengthy stretch of the HCM highway known on Google maps as the QL15 or Ho Chi Minh Tay road has fewer users than a Myspace account. The distances between fuel, food, and fun are long, and you are best to fill up on all of them when you have the chance.
   The rewards to exploring these roads on your favorite adv bike are the jungle scenery, wandering rivers, waterfalls, and utter remoteness you'll feel as you pass near Laos border.
    Start by making your way out of Khe Sanh on the Ho Chi Minh Tay road heading North. Your first fueling and food options along this route start off deceptively close to where you began under 30kms earlier. Here in Huong Phung, you should fill up with fuel, and if you're interested, there are a couple of cafes and places to get food.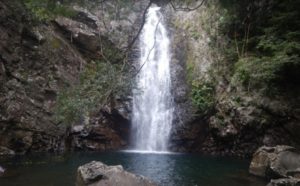 Image: Nghia Ha   –   A set of untouched waterfalls inside the Bac Huong Hoa Nature Reserve. Worth the adventure if you're up for it.
   From here continue on the way for roughly 40-kilometers more, and you'll pass by the Bac Huong Hoa Nature Reserve. A few online photos and some questionable Google translations led me to believe that the reserve is 25,000ha in size and home to hundreds of plant and tree varieties. The wildlife is a mix of 42 species of mammals, 117 species of birds, and some reptiles.
  If you're really keen on being one of the first to document some nature exploration for the motorcycling backpacker, please let us know if you can tour or hike the reserve. Google reviews show photos of an entrance and guards, so it appears like it could be possible.
    The next fuel stop is in Tang Ky, roughly 90kms from Huong Phung. Just before arriving in this little village there will be a turn for the DT10 road, don't turn there, but if you need a noodle fix, there is a small noodle shop where you can stop. Otherwise, there are a couple of food stops in town. On the sleeping side of things, you're not likely to find much here, fuel up, and keep on riding on the QL15.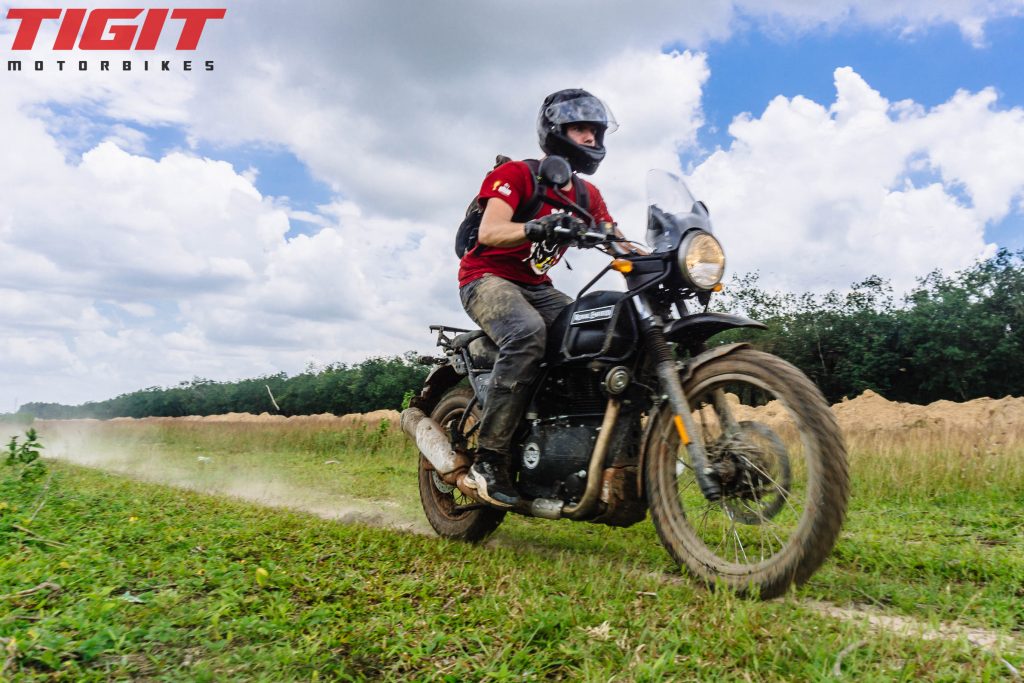 The Ho Chi Minh Highway is fun, but finding those off-road tracks along the way might be the excitement you're looking for.
   Long Son
   As you ride along, you'll start to get swimmingly close to the Long Dai River. If you're up for it, pick a sweet spot and soak your feet or go for a dip. There is even a little viewpoint you can stop at for some winding river and lush jungle photos just 12-kilometers from Tang Ky.
      Now it's only 16-kilometers on this independent motorcycle trip to your next fuel stop in Long Son. Here your options for food could probably be counted on one hand, and your options for sleeping can be counted on one finger.
    The lovely/only hotel option between Khe Sanh and Phong Nha is the Duc Ton motel in Long Son. 
   The chances are good that they won't be booked out, but unless you're packing a tent, this is it for sleeping on this particular route. If you're looking to have a little chat, sing for your supper, or talk to one of the only people in town who could give you any information on the area in English. There is one eatery in town identifying itself as  "Restaurant and Karaoke."
     More than one review notes that the lady there speaks great English and is very friendly! This might be the town's closest option for both food and tourist information. Get it while you can!
Khe Sanh to Long Son Overview
Stop along the way and get your feet wet in the Long Dai river, there's also a viewpoint we've noted along the way.
Long Son has the only sleeping option on this drive, the Duc Ton mo.
Likely the only English speaking restaurant anywhere close by, is the "Restaurant and Karaoke" in Long Son
     From Long Son to Phong Nha is roughly 100kms, again make sure you've got a full tank and ample daylight before setting off. If you don't want to overnight here in Long Son, you'll need to start your day as early in the morning as possible to make it the 230kms or so. 
[return to Old HCM Road Notes]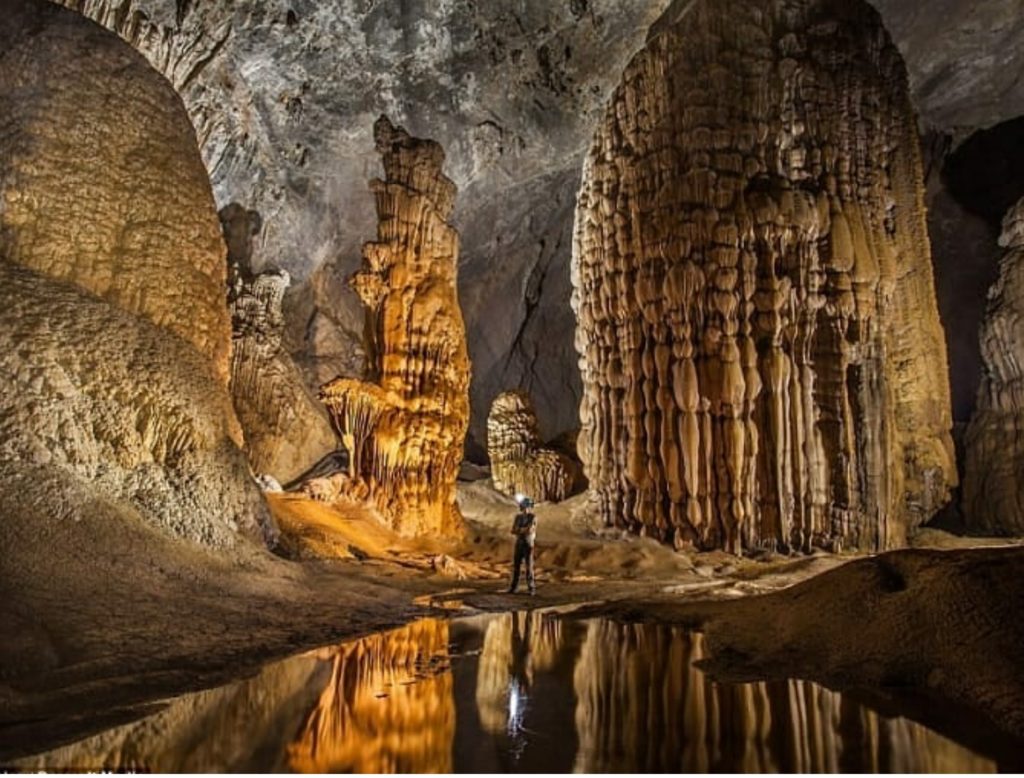 Photo: @laurentius_yudi_mulyadi  –  The awesome views from inside the spectacular Hang Son Doong Cave. You'll feel lost in a land before time down here.
Phong Nha
         After riding down what feels like a desolate trail for days, the scenery is about to change. This section of adventure between Saigon to Hanoi passes through the stunning Ke Bang National Park. The menu of exploration options around here reads off like a top-shelf liquor menu at the Four Seasons.
     The parks 885sq kms of jungle are home to the oldest karst limestone mountains in Asia, dating back somewhere around 400-million years, give or take a few birthdays. Coveted by the mountains are unimaginable underground rivers and caves big enough to arrange boat tours into.
      If age and beauty weren't sufficient enough to put the area on the map, a 2009 discovery in this immaculate UNESCO park uncovered what is the largest cave on the planet. The Hang Son Doong or Son Doong cave is about 150-meters wide, 200-meters high, about 9-kilometers deep.
    To get yourself on a five-day caving excursion into the caves you'll just need to arrange the top-shelf cover charge of $3000!
    If the $3K is too much, you can either come back once they've built the planned cable-car. Or, you can arrange a trip to several nearby caves that don't come with the, one arm and one leg price tag.
    Phong Nha, for example, can be accessed from the town of Phong Nha via a nifty Dragon boat ride. Up the road, Dark Cave (Hang Toi) is more of the adventure option that includes kayaking, a muddy trek, zip lining, and a little swim in the bone-chilling waters.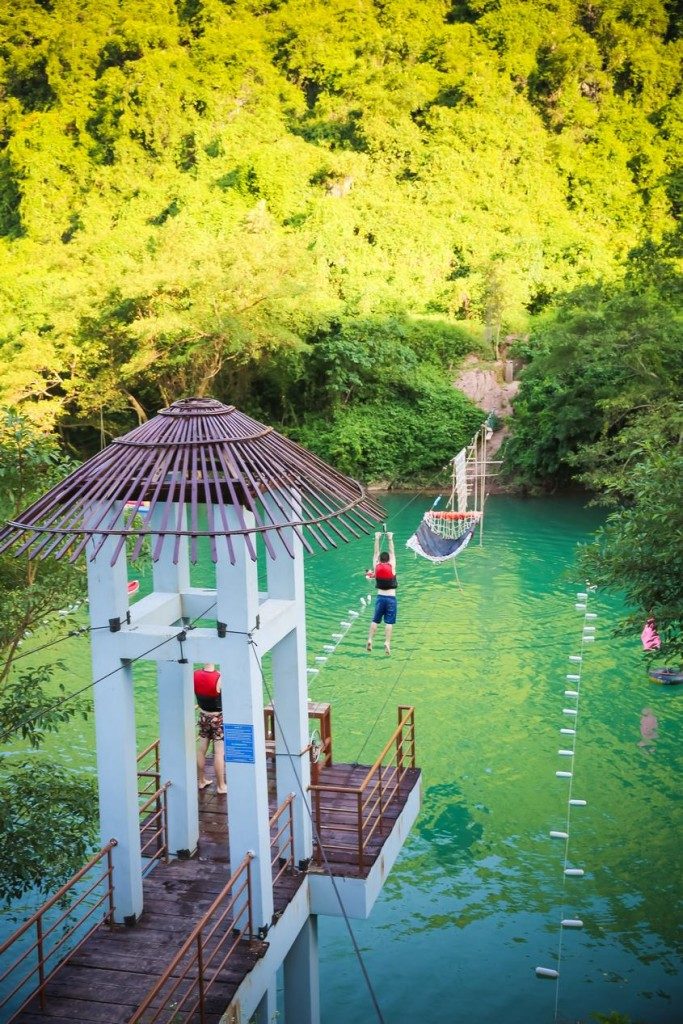 Photo: phongnhatourism.com.vn   –    A look at one of the adventure activities at Dark Cave. Test your zip line skills to see how long you can stay dry for.
Self Guided Tour of the Phong Nha – Ke Bang National Park 55kms
    Take yourself on a self-guided Vietnam motorbike rental tour of the Phong Nha-Ke Bang National Park. If you're two-up, it will be a bit like our Back Of The Bike Tours. For the journey, you don't require a guide and it's totally free, you just pay for any of the activities you might want to stop and do along the way.
  The route is marked out on our Ho Chi Minh Trail map, but overall it's easy to figure out. Start from the National Park entrance then head out on the DT20 road as though you are heading towards Laos. It's about 7kms from the park entrance to your first stop, the Botanical Gardens.
    The gardens offer up a couple of hike options that can include fabulous flora and a waterfall. The trails are well marked, and you can get information at the sign-in station when you arrive.
      Next, head further down the DT20 about 9kms, and it will turn into the DT562 just after the intersection with the HCM highway. This stop will be to the Eight Ladies Cave and memorial, known locally as Hang Tam Co.
     You can't go in the cave, the stop here is more about the temple and memorial that pays tribute to a group of eight ladies who became trapped during a bombing on the area on November 14, 1972. Rescue efforts failed, and all eight women trapped inside died. You'll need to wear respectful attire including shirt and pants, or shorts long enough to cover your knees.
    Paradise cave is next on the park loop. An impressive 31km long, and up to 72-meters high and 150-meters wide. Paradise cave is roughly 11kms from the eight ladies stop.
     Turn back towards the HCM road then turn left and make your next left on the unnamed road out to the cave, it won't be hard to find. The parking area is a little over a kilometer from the actual cave, and if you're not up for the walk, you can get a ride to the entrance.
    The beauty here is the spectacular stalactites and stalagmites are said to be some of the most stunning of all the caves. It'll be fun to ask how many of your friends googled the words "stalactites and stalagmites" on your post.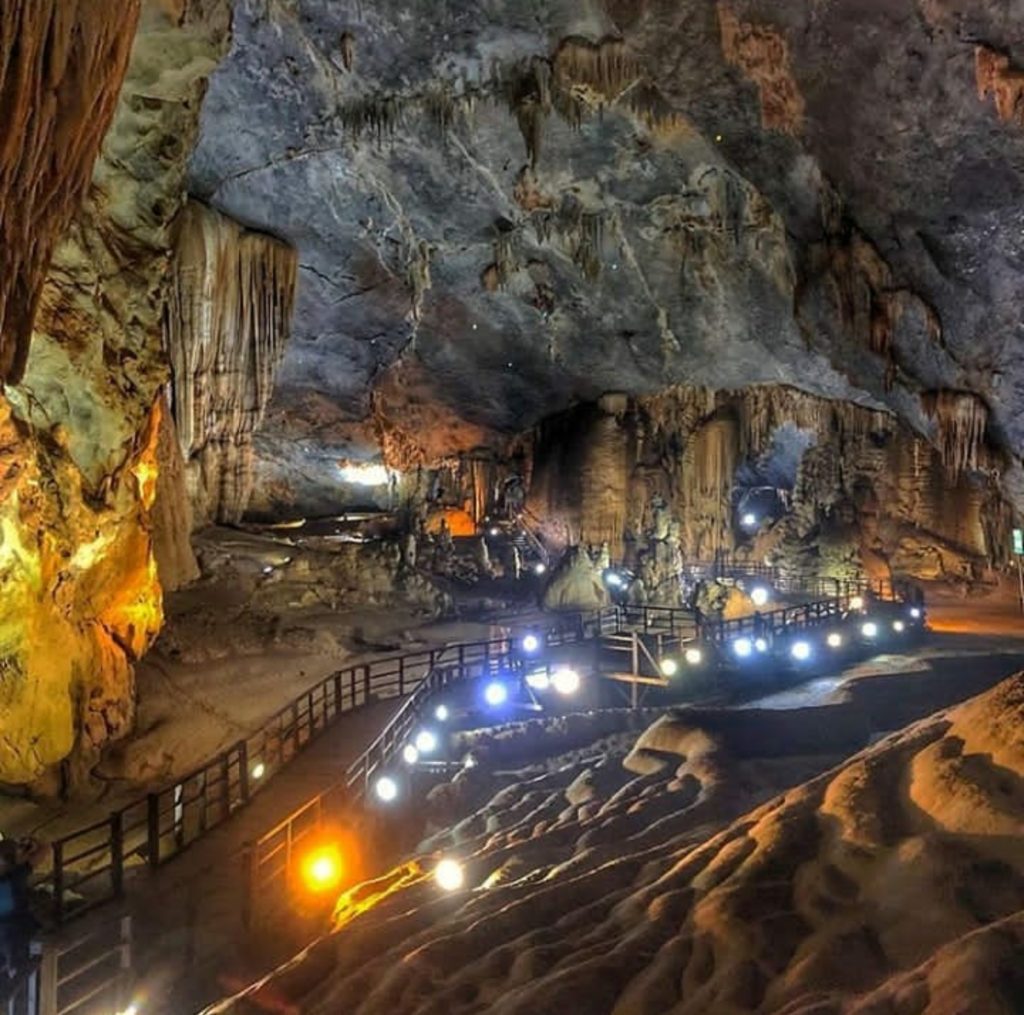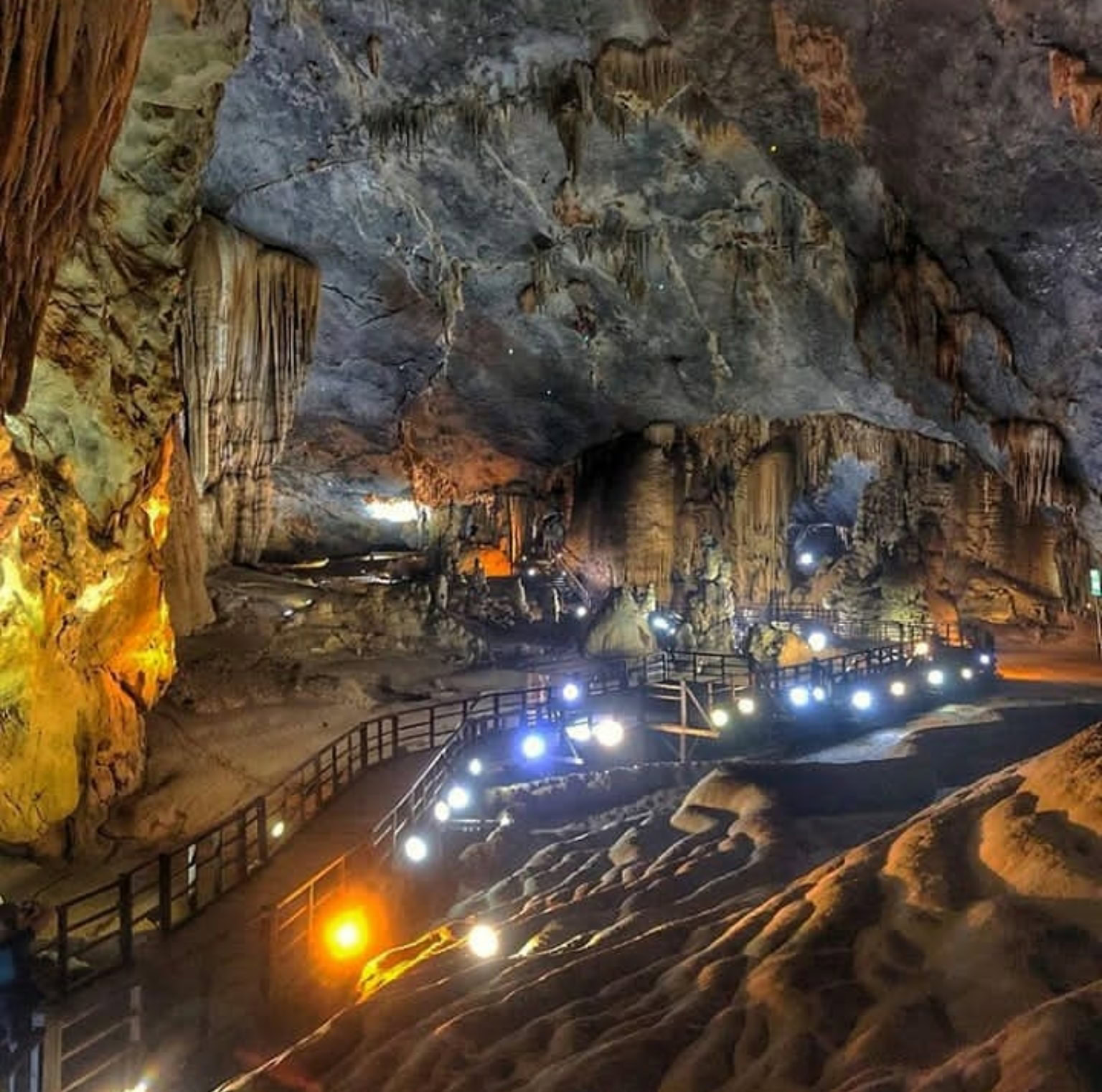 Image: @_17.05c   – Wow Paradise Cave! Just look at the inside of this hidden treasure. Like a time capsule that has been waiting to be explored for millions of years.
Activities:
  Nuoc Mooc Spring Eco Trail- After the optional stop at Paradise Cave, head back towards the HCM highway and follow it to the Nuoc Mooc Spring Eco Trail, roughly 5kms start to finish. This purpose-built park was designed to help aid with the extraction of Dong from the pockets of a large number of tourists that now frequent the area. If you like busy tourist stops, this is for you!
    Here you can kayak, explore the forest, walk the rope bridge, swim in the unnaturally vibrant turquoise waters that flow from the waterfall, and enjoy a deliciously overpriced lunch. All in, it's a good time. Just don't expect to run around in pure freedom and cannonball your heart out.  
    Dark Cave- Once you're done with the rope bridge, you can venture off into Dark Cave. Just under 3kms staying on the same route up the HCM highway will take you to fun without sun and one of those amazing things to do in Vietnam.
   Hang Toi as it's known in Vietnamese, Dark Cave got its name as there are no artificial lights inside the cave. You'll need to strap a torch to your head to see further than the end of your nose. To access the cave, you'll be hanging from the longest zip-line in Vietnam.
    A zippy 400-meter double line will take you screaming from daylight to darkness and eventually drop you off to negotiate a muddy track through the cave. The eventual end to this hike is met by a chocolate pudding dense mud pit.
Image: phongnhatourisium.com   –    A bamboo bridge inside the Nuoc Mooc Spring Eco Trail. Fun, but hold on. 
    Once you've stained your favorite Saigon Beer shirt beyond recognition, you can rinse off in the river and kayak out, play in the water obstacle course, or have a go at the flying fox. At the end of the day, you'll either be ready for a celebratory beer or a celebratory nap! 
    Back To Phong Nha- To get back for a rest, an ATM, or a beer, just head back out on the HCM highway 10kms or so until it reaches the turn for the QL16. Follow the QL16 another 10kms back to Phong Nha. Here in Phong Nha places have cheesy tourist names like Easy Tiger Hostel Jungle Bar and Magic Fingers Massage. Check out this related post if you like crazy places to sleep.  The whole loop should run you around 55kms and depending on activities, could take a few hours or a full day.
Self Guided Tour Overview
Start from the park entrance and then make your way to the Botanical Gardens
Stop at the Eight Ladies Cave and Memorial and pay your respects
Paradise cave is next on the park loop. 31km long, and up to 72-meters high and 150-meters wide. Paradise cave is roughly 11kms from the eight ladies stop
For purpose-built family fun, check out Nuoc Mooc Springs Eco Trail just 5kms from the Eight Ladies
3kms from Nuoc Mooc Springs is Dark Cave. The adventure thrillers answer to caving excitement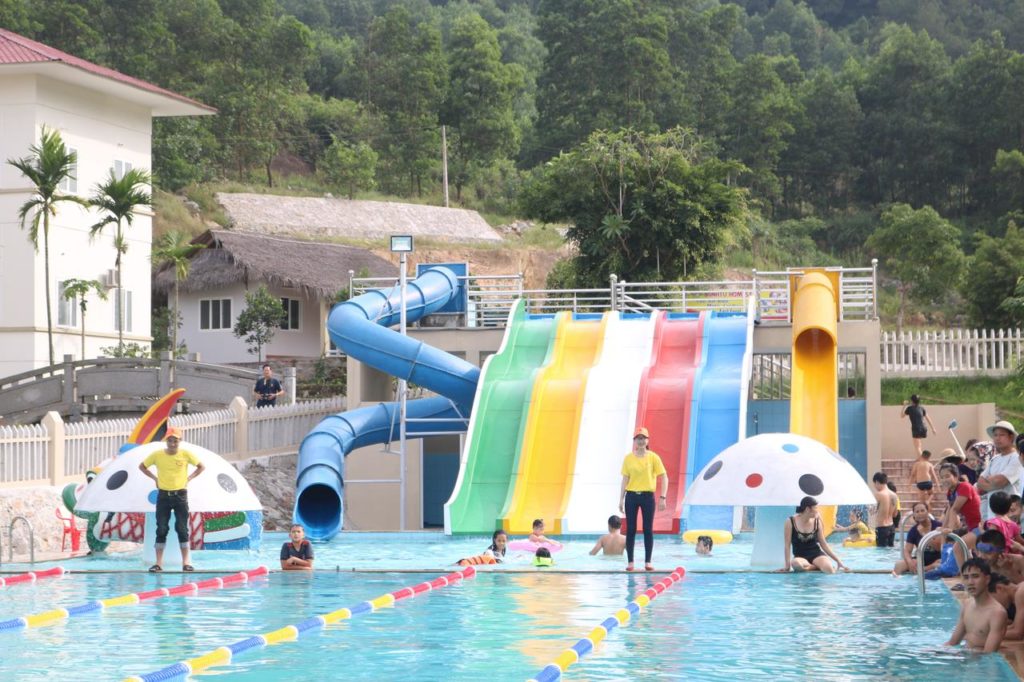 Photo: Hai Thuong Eco Resort  –   It looks like all the fun here is reserved for the kids, but the sight of a couple of travelers ripping down the slides will be fun for everyone to watch!
[return to Old HCM Road Notes]
Phong Nha – Huong Khe – Pho Chau 185kmm
     Leaving behind the zip-lines and caving adventures of Phong Nha, your next possible stop for services is going to be the town of Huong Khe. Make your way out of Phong Nha on the QL16 until it quickly joins back up with the QL15/HCM Highway. It's roughly 125kms to Huong Khe, so fuel up.
   This section of highway is going to have all the pretty scenery as the roads you've been riding, but traffic is going to become more noticeable as vehicles and transport trucks utilize this road too.
     The drive will turn from trees to concrete and eventually take you into the sprawling town of Huong Khe. Huong Khe will have all your basic sleeping, eating and drinking needs covered, as well as mechanics for issues like a flat tire.
    To make your search simple, head for the Ho Uy Ban lake in the center of the town. It has food and accommodation surrounding it and is easy to access. Will mark it on the map at a little Banh Mi sub shop near the water. From the sub shop, follow the road around it to find everything else.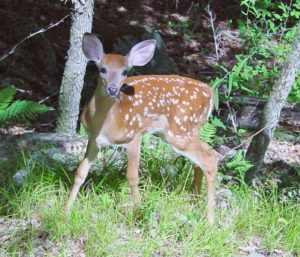 Image: deer-pictures.com   –  A smaller version of the Giant Muntjac.
Now, why would anyone want to go and hunt this cute little guy?
  Activities:
   Vu Quang National Park- If you don't do the night in Huong Khe, head towards Pho Chau past the Vu Quang National Park on the HCM highway. The 550sq km park is comprised of dense, remote forest that is often unexplored. The isolation of this area lead to some newly found species like the Saola and Giant Muntjac, a type of deer. These were only discovered in the '90s, and other species are still being discovered as of late.
     You're not likely to make your way into the park, but that might help the wildlife as its also difficult for hunters and poachers to access.
     Once in Pho Chau a little over 50kms later, you'll be greeted with all amenities again. One well-reviewed hotel is the Ly Ha hotel. For something to do, you can take a quick drive to see the views at the Tuong dai Hai Thuong Lan Ong monument. The monument is of a famous Vietnamese Doctor.
  Hai Thuong Eco Resort- If the weather is good, there is also an overpriced hotel just outside of town that has a pool. The Hai Thuong Eco Resort will let you pay a small fee to use the pool if you're not staying at the hotel. The hotel is home to a five-lane set of waterslides, a great place to race locals to the bottom. In addition to these short waterslides, they also have a couple of small tube-style slides. Don't expect an all-encompassing theme park, but it should be cheap fun for the day.
Huong Kha and Pho Chau Overview
In Huong Kha look for Ho Uy Ban Lake in the center of town. Around here are some sleeping and eating options
Pho Chau Ly Ha Hotel comes well-reviewed for a nights stay
A quick drive to the monument of a Doctor outside Pho Chau will give a pleasant view of the area
For a day of family-style water fun, check out the Hai Thuong Eco Resort. Here you can pay to play for the day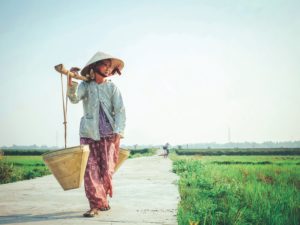 This section from Kon Tum to Pho Chau is a vast stretch of the Ho Chi Minh Highway that reaches over 900-kilometers. The drive will take you from complete isolation, into bustling cities, and across some of the most beautiful sections of Vietnam.
    For some of the trip you'll need to be prepared with proper riding gear and long distances between fuel and food, but you'll also be rewarded with options to see highly unexplored areas, as well as visit some of the most sought after caves on the planet.
Pho Chau to Hanoi 253kms
Pho Chau to Thanh An Tea Hills – 37kms
If you skipped it the firsts two installments of HCM Highway By Motorbike series, go back and read over HCM City to Kon Tum, then the central section that covers Kon Tum to Pho Chau. After, you'll be up to speed on 2/3 of the route and be ready to ride this final section towards Hanoi!

    Leaving Pho Chau and heading North on the final stretch of the Ho Chi Minh highway towards Hanoi the road will dull off from those dramatic cuts through the mountains, into long flat stretches flanked by local and industrial farmland that are all part of North Vietnam by motorbike. Lucky for you there are a number of interesting, edible, and odd detours that would make a great addition to adventures like a tea or coffee tour by motorbike tour around by motorbike.

   From Pho Chau to your first scenic stop is just 37-kilometers up the road. Here your camera & taste buds will be significantly rewarded for pulling over. Just off the edge of the HCM highway sits Dap Cau Cau Lake, the home to some of the most majestic looking tea farms on the planet. If you worked for Crayola and wanted to define the shade "Tea Green," you would bring your development team here – it's that stunning.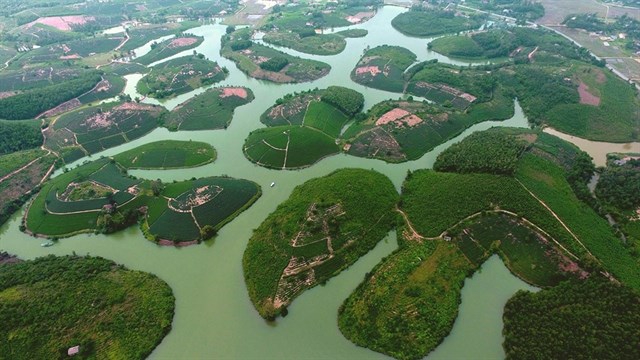 The Thanh An Tea Hills you'll find here in Nghe An province, are rolling hills that grow the regions sensuous tea. The locals didn't just limit themselves to the hills, there is also a tea island that you can visit by boat and do some little hikes around the tea crops. You can even rent boats to go up and down the small inlets of the lake. Trips out to the island around 40,000vnd, and taking a boat up the channels of the lake starts around 150,000vnd. If you happen to be packing a drone, this stop will make for some amazing photos and probably scare the pants off of some of the field workers!

    Reviewers even seemed surprised by this stop. One of the many five-star Google reviews stated, "…It's actually my favorite place on earth. It's romantic, natural, beautiful, clean… just amazing…".  

   Once finished at the Thanh An Tea Hills area, there are several options for food, plenty of choices for a bowl of tea, and a few sleeping options. If you want to wake up to the fresh scent of flowering tea, check out Gio Lao Eco Lodge. The lodge is simple, inexpensive, and you can book or read reviews through Booking.com.

Pros:
Taking photos here is worth the trip alone
You can hire boats to add to the adventure
You can wake up to the scent of blooming tea at the Gio Lao Eco Lodge
Cons:
The area can get busy with locals, avoid it on holidays
You can't access the inner hills or island by bike and will need to hire a boat to get to it
[return to Old HCM Road Notes]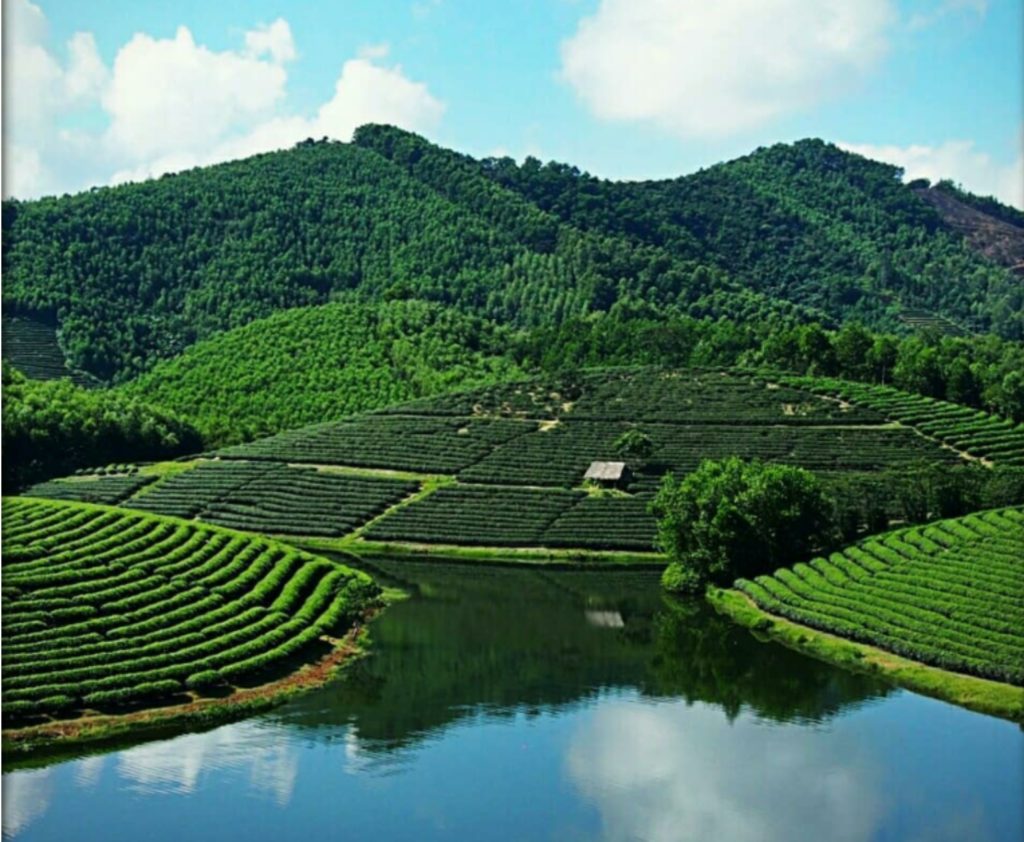 Tea Hills to Uncle Ho's Childhood Home – 39kms
After you've steamed, sipped and savored your way around the Tea Hills you have some route decisions to make. From here you can continue north along the route as planned. Or, you could make a historically significant detour about 39-kilometers to the childhood home of Uncle Ho. For decisions like this, I recommended having the coin toss app pre-downloaded on your phone.
The village here is a far cry from Ho Chi Minh City and has been preserved to look similar to how it did back during the turn of the 20th century. It's not much of a regular tourist stop and is more of a memorialized place of respect by the Vietnamese.
Here, you'll get to know Uncle Ho on more of a personal level. Viewing the home where he lived, the preserved villages of his mother and father, and you could also see where his grandmother, mother and infant brother are buried on the mountainside.
Expect a warm, friendly atmosphere of Vietnamese people in their most humble form.
To get there, you'll need to venture back a bit South until the QL46C road and go East until the T-intersection with the QL46A road. Take a right here and follow that road to Kim Lien village where you should find the location easily. Otherwise, enter " Kim Lien Relic Vietnam " in Google maps to take you right there. While near the village you might want to try some of the local vietnamese dishes.
Pros:
You'll instantly gain the respect of locals when you tell them of your visit here
A great stop for those who want a rich & unique Vietnam experience
Everyone here will be extremely welcoming
Cons:
It's a detour so this will chew up some of your time
Not an exciting stop for those of you into adventure
You aren't likely to find an English tour guide to explain the full history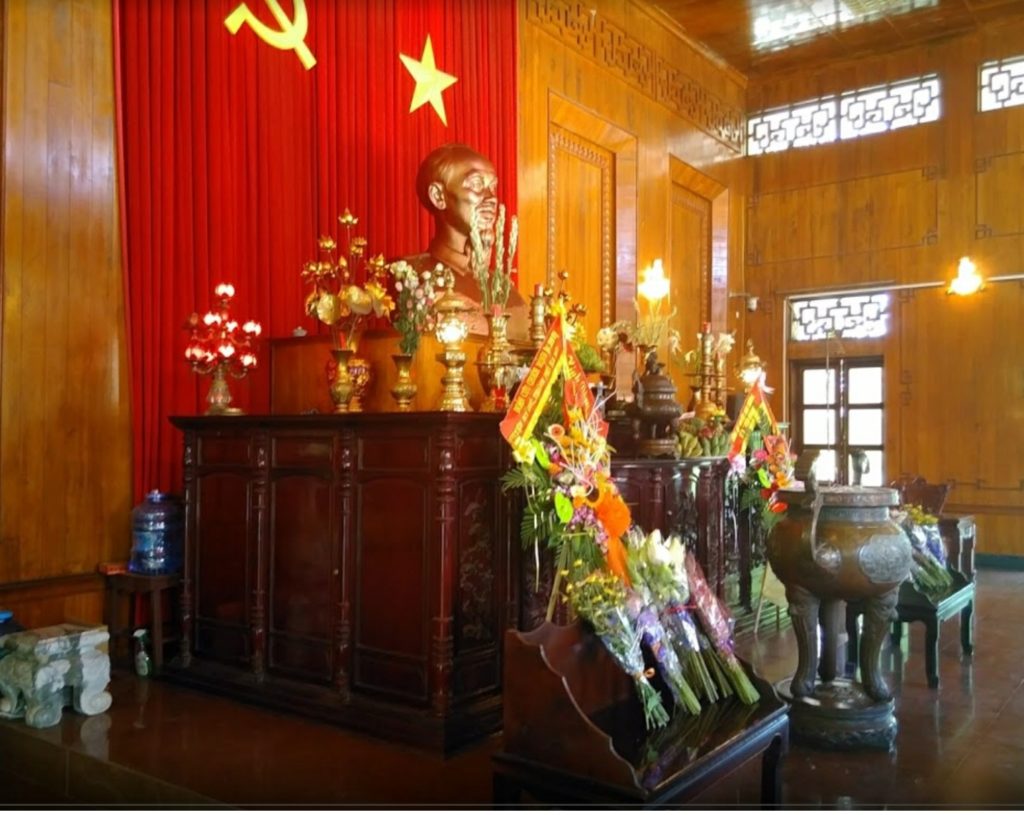 Image: Ho Trong Hoan.     –  Ho Chi Minh memorialized in his home village. A place scared homage where national citizens come to pay respect and reflect on the possibilities of their own humble lives. 
Ho Chi Minh's Childhood Home to KM-0 Marker – 62kms
 If you don't take the detour, continue North on the HCM highway. If you do take the detour, follow the directions in reverse to get back to the tea hills, or you can cut across on the QL15 road that goes around Van Dien and meets back with the HCM highway 62-kilometers later at the marker for KM-0 of the Truong Son Dong road in Nghe An province.
The Truong Son Dong Road, also known as the Ho Chi Minh Trail, was a series of roads, paths, and routes used by the Vietnamese during the war to evade the enemy. The road has significant sentimental value in Vietnam, and the monument here is to memorialize that. It's worth stopping for the photo since you'll be coming by here no matter what route you take. 

Depending on what route you took and how much time you have left in the day, you can either overnight here in Tan Ky or press on a further 165-kilometers towards Cam Thuy. In Tan Ky, there are plenty of sleeping and eating options available around the KM-0 marker and alongside the HCM Highway.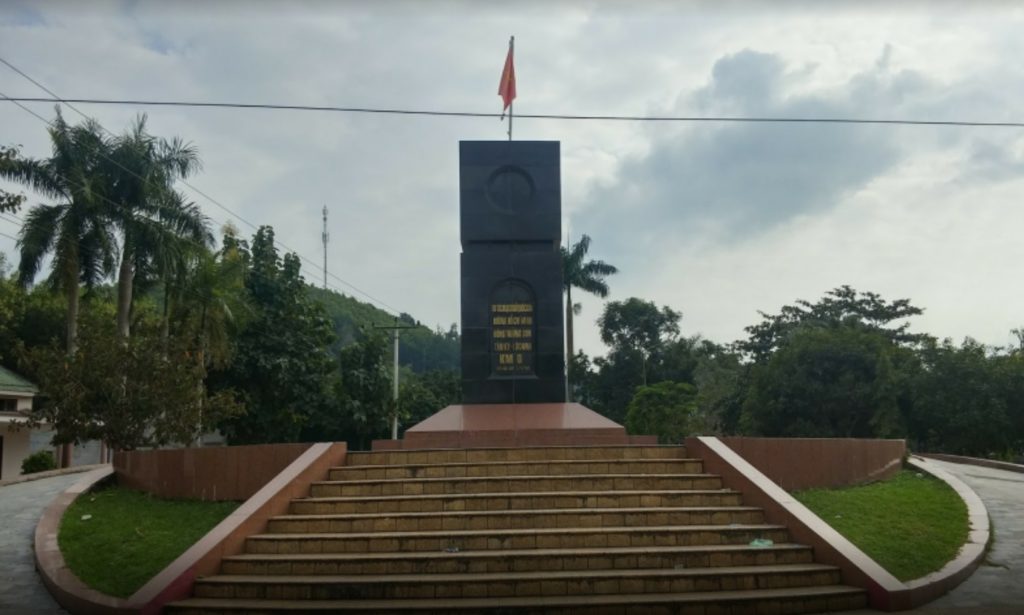 Image: Su Nguyen         
A shot of the KM-0 marker perched atop this little monument. This marks the start of the Truong Son Dong Road / HCM Trail.
KM-0 to TH Milk – 52kms
After the KM-0 stop, head out of town on the QL15/HCM Highway continuing north. Along the way, you'll likely be greeted by big trucks and light traffic, as well as a few sites to look at as you drive along.
As for the next major sightseeing option, well, if you like white mustaches, are craving a bowl of cereal, or simply just had no idea where milk comes from, you're in luck.
"The biggest centralized dairy farm with hi-tech operations in Asia."
A dairy farm on a colossal scale doesn't quite rank as one of those amazing things to do in Vietnam, but you'll make some memories here. There are nearly 45,000-cows on site which were originally imported from Australia, New Zealand, Canada & the USA. If you're from one of these countries, maybe you've already had a glass of milk from one of these 'udderly' beautiful bovines.

The farm also doubles as a spot for pretty flower photos. They grow fields of sunflowers to feed the cattle and it's said that these are typically in full-bloom around December. As for a more 'mooooving experience', there are plenty of photos from people who've taken a tour here. Your best bet for getting inside the dairy dynasty is to contact them via their website the week before, and hopefully, someone can show you the whole process, from teats to table 🙂

Pros:
This will leave you with a Vietnam travel story like no one else
You can take a teats-to-table-tour and wow your friends with udderly amazing photos
It's free
Cons:
You'll need to organize a tour in advance
Sunflowers aren't in season year round
English tours may not be possible
Image: thmilk.vn 
An overview of what happens at the TH Milk facility from cow to courier. A look at this operation from the inside out will forever change the way you look at your morning glass of milk.
[return to Old HCM Road Notes]
TH Milk to Lam Kinh Historic Site – 76kms
    As the road rolls on you'll find your day switching from dairy dynasties to actual dynasties. 76-kilometers straight ahead on the HCM Highway you'll have the option to stop at the site of the Lam Kinh imperial temples in Thanh Hoa province , a great part of your Vietnam culture trip.
Why is this worth the stop you ask? Well, there are some restaurants close by that sell beer. Aside from that, it's also where the royal tombs rest of one of Vietnam's most important dynasties.
   
A quick dynastic run-down;
Lei Lo, later changed to Ly Thai To (Le Thai To), the most significant and initial ruler of the Le Dynasty (1428-1788). Defeated the Lam Son Troops in the 15th century and pushed the Chinese Ming Dynasty who'd been ruling the Vietnamese, back across the mountains where they came from.
This 15th-century victory and reclamation of the lands back from the Chinese would positively change the mindsets of the Vietnamese, and forever launch Ly Thai To into ruling class super-stardom.
The Ly dynasty was also responsible for setting up present-day Hanoi as the nation's then capital. Ha Noi, meaning between two rivers, was initially called Thang Long, or Rising Dragon before the Ly dynasty got their hands on it. Personally, I like Rising Dragon better, but my dynasty wasn't asked for their input on this political matter.
As for Ly Thai To, after winning his battle against the Chinese in 1428, he became king and chose his birthplace as the location to build his imperial city, here in Lam Kinh.
There are various mythical tales about a magical sword that Ly had. One was that he had to assemble a sword from two separate pieces and once he did this he obtained all the swords magical powers. It's gripping, it's edgy, and it could probably be a Hollywood blockbuster, but I don't want to dull you with the details. If you want to dull yourself, check out the lengthy Wikipedia page on the matter.
At the Lam Kinh historical site, you can expect to see a 300-year-old Banyan tree, tombs of some Kings from the dynasty, and restored buildings with all their intricate designs.

Pros:
The place is very interactive, with tombs and temples to explore
You can get up close with a 300-year-old Banyan tree
The area is quite pretty
Cons:
A touch boring without a guide to explain everything
This stop could take most of a day. Check your schedule first
There is a fee to get in


Image: Trung Thai.  
One of the restored buildings at Lam Kinh. Notice the incredible detail in both wood carving and decor. Stunning!
Cam Thuy to The Mythical Fountain – 15kms

  After a day or two of drinking tea in the lush green hills, checking out Uncle Ho's previous pad, stopping to smell the sunflowers and see the teats, and getting to know your dynasties, you'll need a break.
Just 40-kilometers more of HCM highway will bring you to Cam Thuy. Here you can take a pho-break from all your exciting exploration around the Ho Chi Minh highway, before setting off on the final leg of this journey. It has been a long haul so hopefully, you choose the best motorcycle to drive in Vietnam.  
 Cam Thuy will make for a good night rest, and from here there are a couple of side-trips to add to your Vietnam road trip itinerary if you're looking to explore more.
15-kilometers North-West of town on the QL217 road you'll find the Cam Luong Mythical Fountain. No, not the fountain of youth, so don't drink that water. But the mythical fountain complete with holy fish, river, and interesting cave walk.
This stop is crazy-popular with local Vietnamese tourists. The kind of popular that you could just go and people watch rather than fish watch. As for foreigners, you'll probably be the only ones there.
   
  To get here, you'll need to cross a one-lane bridge of wooden planks that will bring you to the parking area. Once inside, you can walk around and explore all the mythical options. From the nearby cave in the Bo Um mountain flows water carrying big dark fish with bright red lips.
According to local legend, the fish are holy, and as a result, no one dares to catch or eat them. According to local security, you are also not allowed to feed them, but everyone does. So bring a little bread and get in on the fish frenzy. You can explore the cave, have lunch, shop at the many booths, and take fish selfies with your own personal fish lip poses.
There's a small fee for parking and another small fee to enter, something like 40,000vnd. Really though, it makes for an interesting day out, at an incredibly low fee!

Pros:
Where else are you going to see a mythical fountain?
Entrance fee is cheap, around 40,000vnd
The walks are easy and the fish make for good photos
Cons:
They have rules here, like don't feed the fish. (but everyone does)
You can't (shouldn't) go fishing here
It's busy. Very, very, busy
Image: Dao Nah.  –  The place is teaming with Red-Lipped fish at The Mythical Fountain. These fabulous fish will never end up on a lunch menu, they don't know just how good they've got it!
Cam Thuy to the Ho Citadel – 28kms

   Your other option for things to do if Cam Thuy is your base point and you've got the right amount of time. Is to venture 28-kilometers in the complete opposite direction, South East, and seek out the Ho Citadel. This UNESCO World Heritage Site was built by the Ho dynasty to mark what was the capital during their short reign of power from 1398-1407.
The more interesting points about the location is that is was designed based on feng shui principles. The layout focuses its well-designed setting between the Tuong Son and Don Son mountains, at a crossroads with the Ma and Buoi rivers. The less than cool points are that all that is really remaining to see is the main gates of the Citadel. The rest is minor buildings, rubble, or grass.
Is it worth the drive? Well, if UNESCO World Heritage sites are on your list, then yes. If holy fish with red lips are more your thing, hit up the other detour.

    Ho Citadel Overview
28-kilometers each way from Cam Thuy
A UNESCO World Heritage Site
Learn about the short reign of the Ho Dynasty
Remember to pack your imagination, as the site will require you to use it!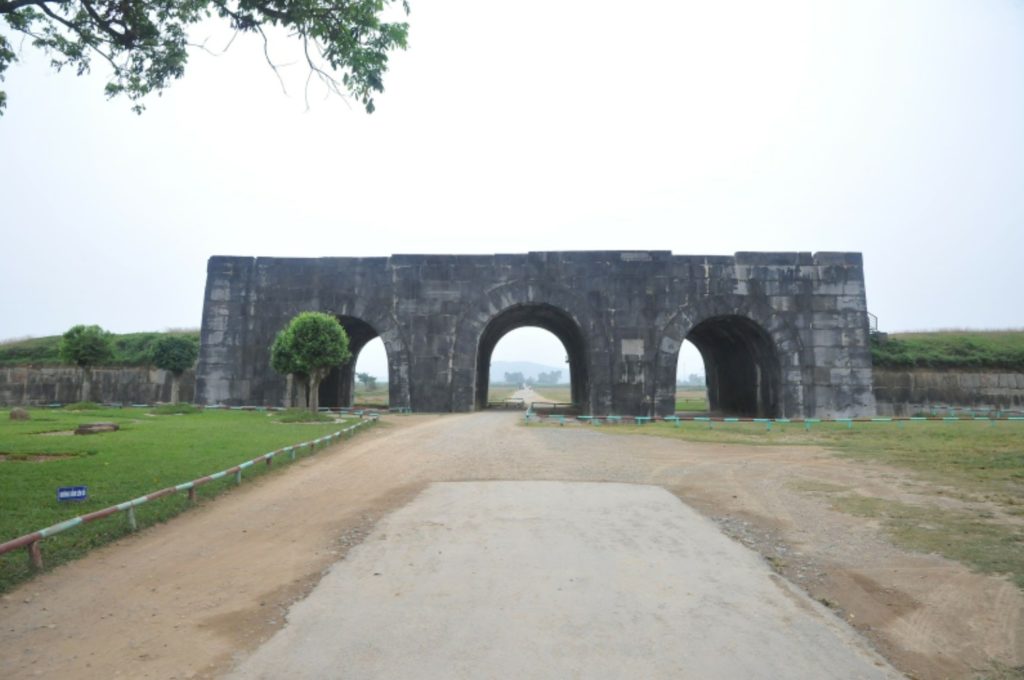 Image: Wikipedia.  –  Front Gates of the Citadel, all that remains here aside from the stories.
Cam Thuy to Cuc Phuong National Park – 50kms

   As you cross into the province of Ninh Binh you'll have a host of possible things to do before finally touching down in Hanoi. It's been a long trek with your Saigon adventure starting in the South to Hanoi in the North. I hope you saved some energy to visit the Cuc Phuong National Park in Ninh Bình Province. Ho Chi Minh himself made this the country's first ever national park in 1962, stating "Forest is gold."
This park awareness was good in that the country recognized the importance of the park for maintaining natural areas. However, it also meant that those looking to increase their position in poaching, illegal logging, and animal trade, now knew where to look. They were even treated to better roads for their harvest.
As a result of this easy hunting, animals like the tiger and Asiatic black bear are extinct in the park, and trees in the park have gone missing at an alarming rate. The good news is, that the more than 22,000-hectares of the park are still home to almost 100 mammal species, over 30 reptile species, and a wide variety of bird and plant life.
Getting to the park from Cam Thuy is about a 50-kilometer drive. Just follow the HCM highway North out of Cam Thuy, and as you make your way towards Hanoi, it will turn into the QL12B road going West. Once the road gives you the option to go back North towards Hanoi or venture back towards the South East, stay on the QL12B going South East. For this part of the road you'll be happy you got a local sim card, as you'll need to watch Google maps on your phone because the road to the park is not named. Just enter in "Cuc Phuong National Park HQ" in Google Maps, or follow it off our route map.

How To Book A Cuc Phuong Park Tour
   Once you're at the parks main headquarters, you can either arrange a guide for your day trip or take yourself on a self-guided tour. For the self-guided tour, first, stop at the headquarters and ask the staff about distances, what they'd recommend, and book yourself into a tour at the Endangered Primate Rescue Center (EPRC). To tour the center you'll need to book before you get there, so you probably want to either email their website or get the headquarters staff to arrange it, and maybe you can come back after the other stops.
The EPRC is a part rescue center, part zoo, that helps rehabilitate and breed some of Vietnam's most vulnerable primates. Basically, all those cute little primates you see for sale in dodgy markets or as display pieces that people have on Instagram. Yes, those are most likely illegally harvested from the forest and in some cases from this park. The EPRC is a great place to learn about the primates, what's being done to help them, and you can even volunteer if you'd like.
Pros:
The park is home to 22,000-hectares of land that aims to protect a number of species
You can see primates up close
You can volunteer here
Cons:
The park's design has actually made it easier to poach and as a result, many species have gone extinct here
You need to book a tour in advance
Illegal logging still goes on here



Image: Khoi Tran Photos.         
Hiking up inside the Cave of Prehistoric Man. As long as you can handle the steps, it's not that bad & worth the mini-adventure.
Park headquarters to Prehistoric Man Cave – 7kms   
It's not like you're doing a big Saigon motorbike loop around the park. There is really only one way in and out of the park so you shouldn't get lost. With that in mind, you can begin by venturing on about 7-kilometers from the main entrance to the Cave of Prehistoric Man.
From the parking area to the cave is a small hike with some stairs to climb. What you won't actually find in the cave is much in the way of Fred and Barney's caveman cousins. What you will find though, are some cool caves and caverns to explore along with many bats who reside here. Bring a headlamp or some kind of torch; otherwise, you'll be stumbling around as blind as the other bats in there.
[return to Old HCM Road Notes]
Prehistoric Man Cave to 1000-year-old tree – 11kms

   At the next stop, you'll be able to do some hiking to see the 1000-year-old tree. From the Prehistoric Man Cave to the parking area where the hike begins is about 11-kilometers. Once you're at the parking area, you'll need about 3-hours round-trip to do the hike. A little added exercise to your backpacking Vietnam adventure will be a nice touch.
A sucker for flowers? – Pack a lunch, some water, and expect to see lush and beautiful fauna along the way. We included a photo of one of the trees, so you know what to expect at the end. I don't want you to get hyped up about a dramatic finish, just a nice hike with a few beautiful and ancient trees at the end.
To get the most out of the park, go early and make a day out of it. There are places to eat along the way, and you can also spend the night in the park, but I haven't found many reassuring reviews about any great places to sleep in the park.
 Overall, the park is beautiful, but not without its ongoing controversy. Aside from the poaching and tree harvest, there is still around 2500 Muong minority tribespeople that live in the park. They live, farm and hunt here. Over the years the Vietnamese government has been trying to relocate these people to other parts of Vietnam, as you can imagine that move is not entirely welcome by the Muong people.
If you are going to go, the best time to visit the park is November to February during the dry season. Park access is cheap, only about 40,000vnd. Come, enjoy, and learn about the animals, nature, and the animals being rehabilitated inside the park, you'll be glad you did.

   Prehistoric Cave and 1000-year-old tree Overview
Bring a headlamp and check out the Cave of Prehistoric Man. You're more likely to see bats than any signs of man here, and no, not Batman!
Take a hike! Literally, to the 1000-year-old tree. It's about 3-hours round-trip, so be prepared with snacks, water, and mid-range expectations
You can book accommodation inside the park, but do your research first as the reviews aren't all gleaming
The entry is cheap, around 40,000vnd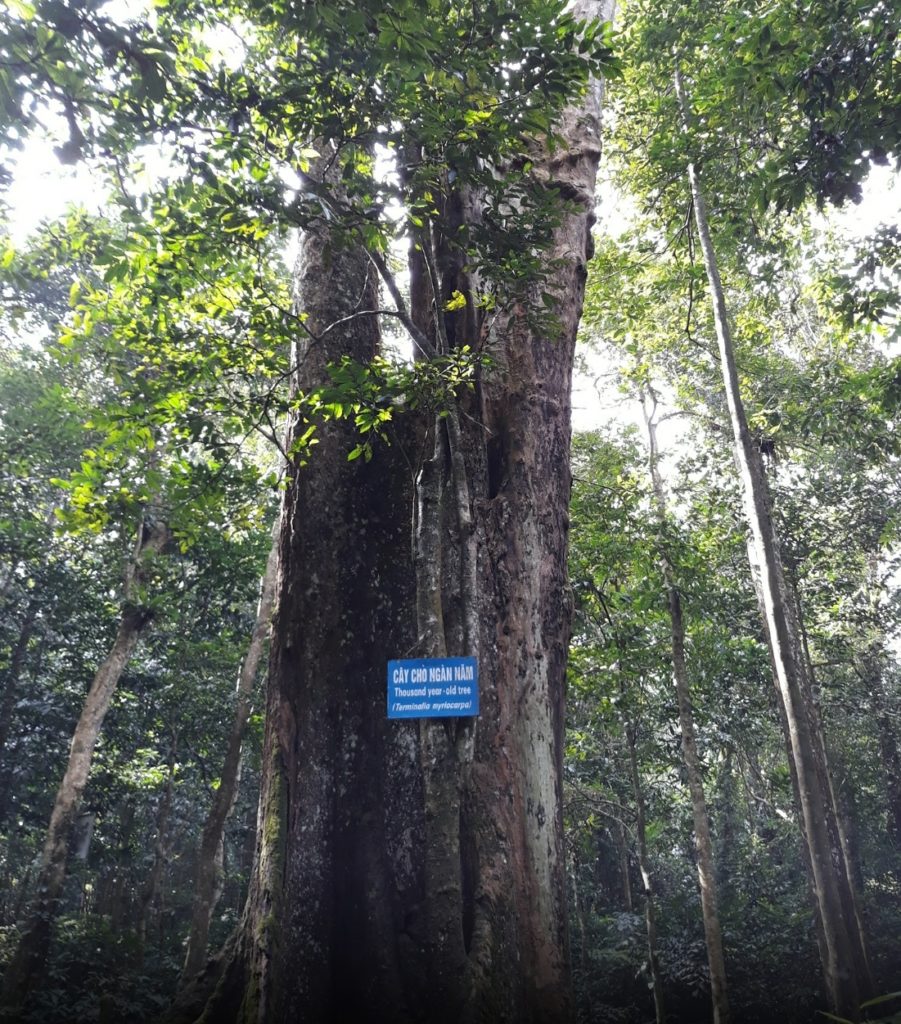 Image: Thu Trang.   
 A shot of the 1000-year old tree, with a slightly out of place modern blue sign attached to it. Really, not so different than many parts of Vietnam, an old world with signs of the modern world just slapped on the front.
Cuc Phuong National Park to Hanoi – 120kms    
Though the HCM highway won't actually take you right into Hanoi, your best efforts for following it through to the city, are to ride back the way you came on the QL12B road until you hit the HCM again. From here the Ho Chi Minh to Hanoi route that has carried you across jungles, mountains, through remote villages, and over some of the most adventurous and diversified landscapes in Vietnam will slip away. The Ho Chi Minh highway veers left towards Son Tay as you veer right and follow the AH13 into Hanoi.
Exploring Ninh Binh
    Anyone looking to explore the area around Ninh Binh for a day or seven before finally touching down in Hanoi. Will be treated with options ranging from outdoor hikes to unique regional food, and off the beaten path motorcycle rides that not all tourists get to enjoy.
When looking on a map you'll notice that Ninh Binh is one: a province. and two: the name of a city. Then if you were to ask locals where various sites are, they would reference the area around Ninh Binh city as the zone of Ninh Binh. It's best you have a good idea of where you want to go, to avoid too much confusion while in the area. Even if you get lost though, it will probably be to someplace beautiful.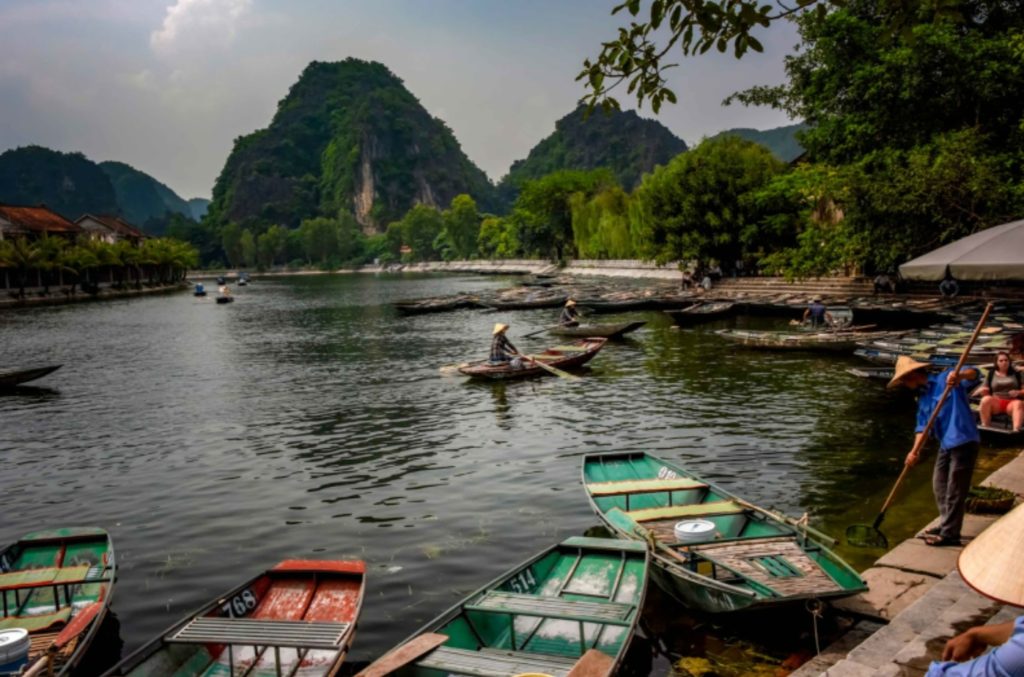 Image: Tom Waddington via Flickr   
A taste of what to expect around Tam Coc. Hop in a boat with a local guide and let the day slowly slip away while you enjoy the tranquility on the water through the beautiful landscapes.
Tam Coc
Some of the top sites to visit around Ninh Binh include locations like Tam Coc. An eye-popping, jaw-dropping view of lush karst mountains, and abundant rice fields caressing the Ngo Dong River. It was made famous with the help of Oscar-winning movie Indochine that featured scenes shot here. A great way to get to know the area is with the two-hour rowboat tour and hiking the area.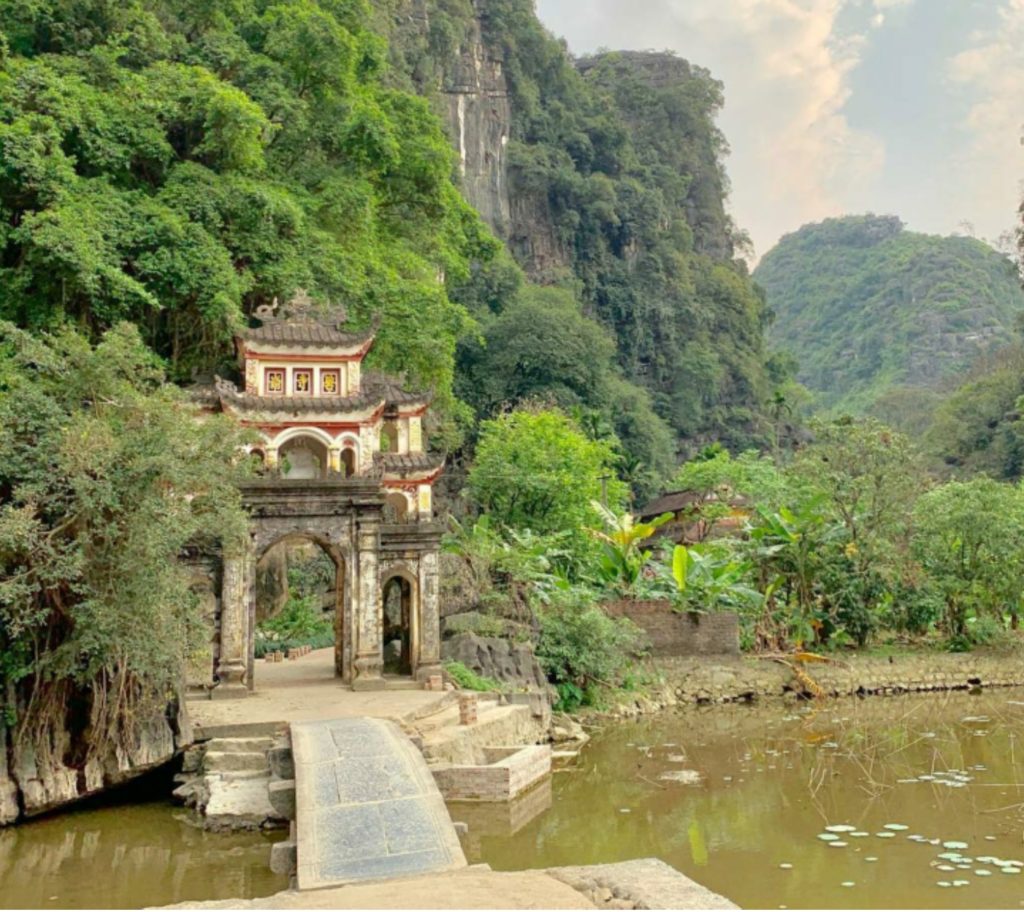 Image:@tharider89   
The eloquently placed rock bridge brings you from your rewarding hike, across the life-giving waters that surround it, and into the entrance of the three centuries-old holy Pagoda. It's a short walk through time with long-lasting memories.
Bich Dong Pagoda
In the early 1700s, two Monks named Tri set about the area building Pagodas and the beauty of the Bich Dong mountains seemed a perfect fit for their life's work. The Pagoda was built in three stages with a separate bottom middle and top. To reach the various stages is a mildly challenging rock staircase that will reward you with pristine views and some cave exploration along the way.
    To reach this Pagoda is a quick 3-kilometer ride on your motorcycle rental from Tam Coc and has no entry fee. Free exercise and free entry, could a backpacker ask for much more? OK, well there's no free beer, but it's still beautiful.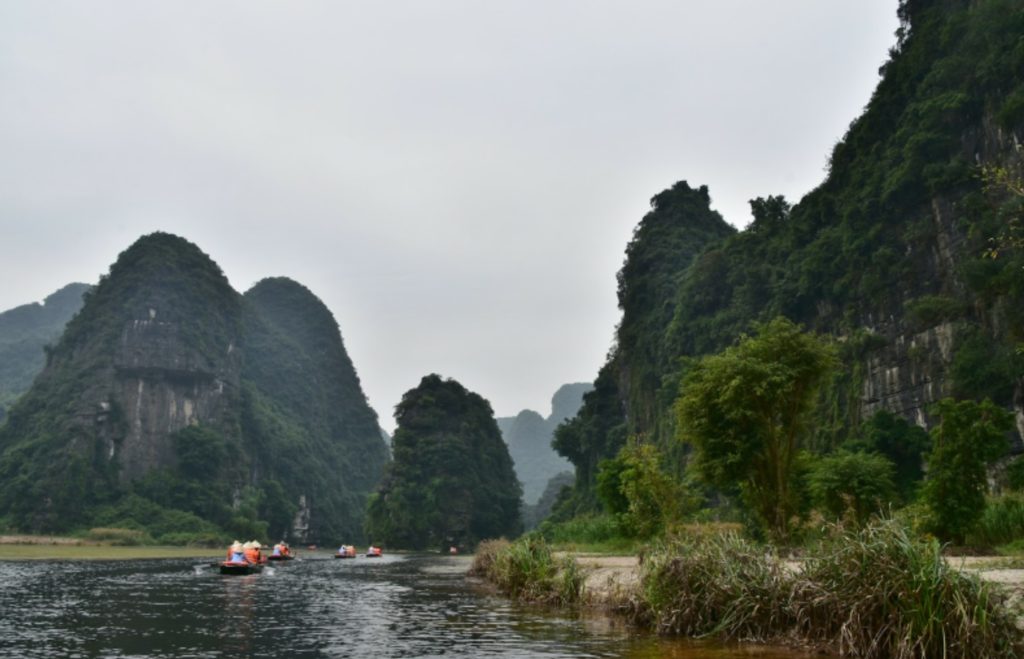 Image: Richard Mortel via Flickr    –   The lush landscapes along the karst peaks that jettison out of the water-filled valley below. You better make sure your batteries are charged for this tour around the Trang An Scenic Area.
Trang An Scenic Area
A UNESCO World Heritage site, the Trang An Scenic Area makes for spectacular photos. Having found evidence of people living in the area for the last 30,000-years, the Trang An Scenic area is home to rich history and plenty of opportunities to learn about it.
A tour here is best taken by boat to enjoy several caves along the river and the karst peaks. The tour is an amazing way to visit the local pagodas and see the villages here that have seen occupation since the beginning of man.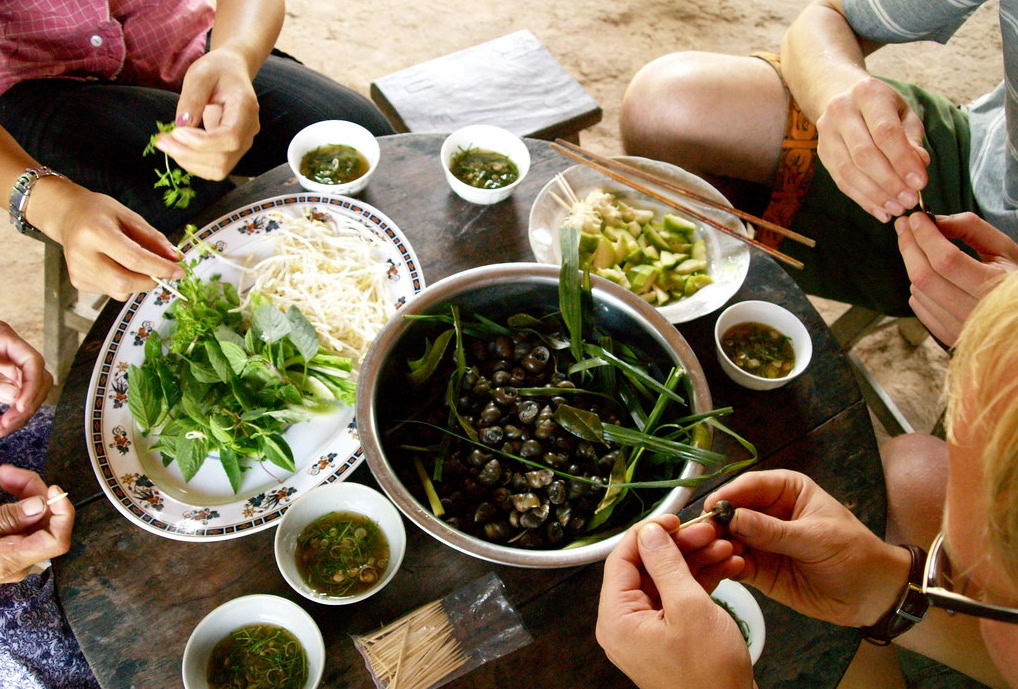 Image: Matt Preston via Flickr  –   A group readies themselves for a nice shared meal of snails. If you thought watching them get anywhere was slow going. Watch a group of foreigners trying to finish a bowl full of fresh snails. Now that's slow going!
Try The Local Cuisine
The area around Ninh Binh has some regional delights that must be tried by every adventuring motorcycle enthusiast. Goat (Thit de), is a specialty of the region and the distinct vegetation of the area gives the goat here a flavor that can't be savored anyplace else on earth. There are a variety of dishes ranging from Thit de nuong (grilled goat meat), that can be found topped with sesame seeds and herbs. To slightly more challenging styles to wrap your taste buds around, like Chan de ham thuoc bac (stewed goat foot).
If the goat-foot isn't your achilles heel, perhaps you'll be ready to up your epicurean game. Mountain snail (Oc Nui),  are a popular dish of the region and can be found seasonally (April – August) around Tam Diep town, Yen Mo, Nho Quan and other nearby areas. Try them sauteed with lemongrass, on a salad, or a straight snail, if you've had a few drinks of courage. If ever in doubt, read up on Vietnam food terms to reduce surprises.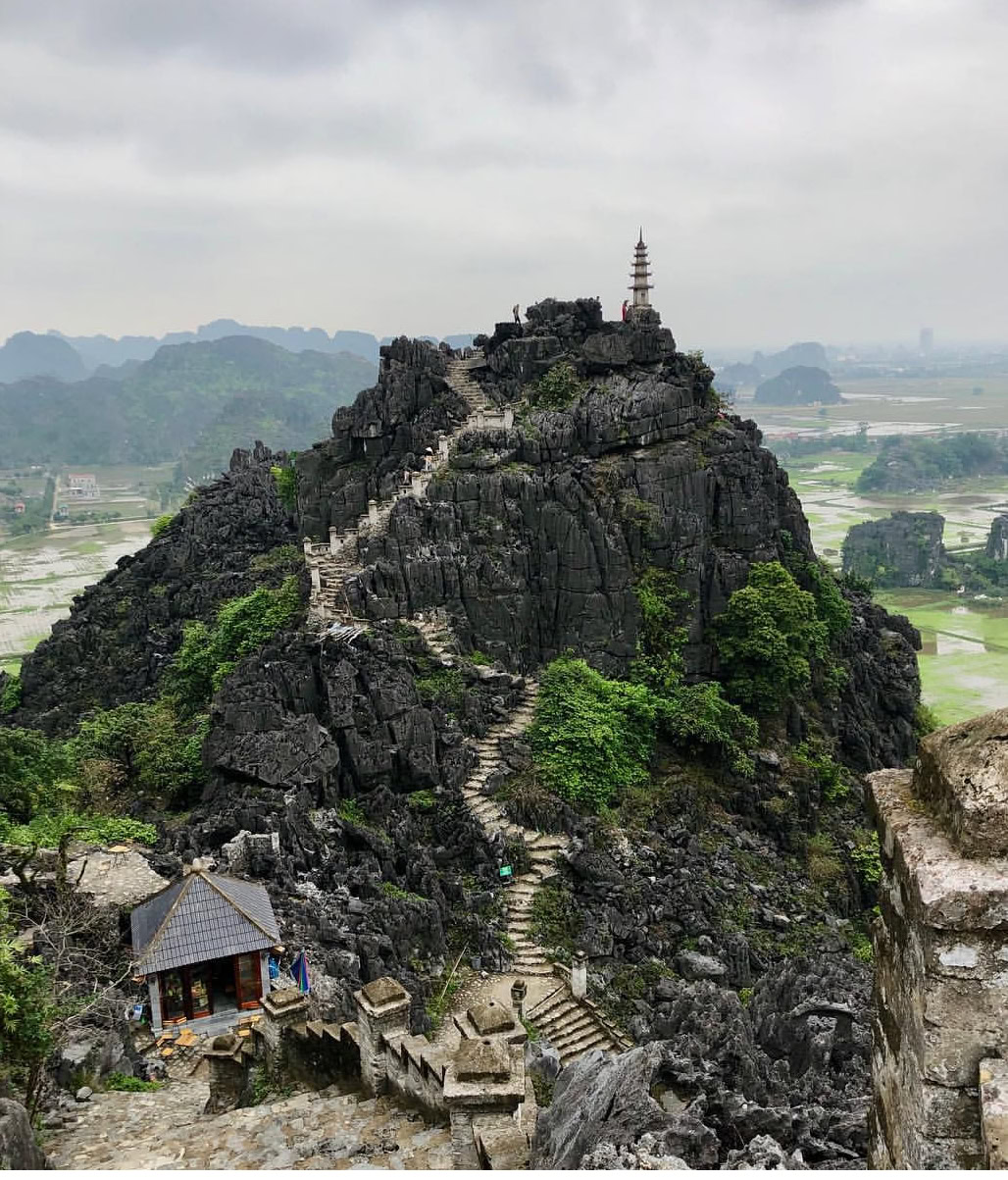 Image:@anett_pol   
 A race to the top of Hang Mua Peak is one of those challenges you set the night before and resolve to let the other person win 251-steps in. The hike up may wear you down, but the photo ops can't be outdone.
Ninh Binh's Other Highlights
With time on your side, there is no need to just touch on the highlights around the Ninh Binh area before heading into Hanoi. If you want to learn more about how to travel Vietnam and are looking for more to enjoy around the area, you might want to seek out some of the following activities:
Explore the Hoa Lu Temples
Go birding at Thung Nham Bird Garden
Get to know the floating Chicken (Kenh Ga) Village
Count your 500-steps to reach Hang Mua Peak
Visit the gothic-inspired Phat Diem Cathedral

   Depending on if your days or Dong run out first, Hanoi is just a quick ride north of here to wrap things up. Once you arrive, Hanoi, what once was the nation's capital. Will treat you to unbelievable amounts of traffic, English menus, the option to pay with your credit card, and people no longer giving you a second look. You'll wonder what happened to those endless miles of lonesome highway that passed you by not so long ago.
You can spend some time exploring the city, return your bike to our Hanoi location. There is really no bad choice from here and you'll be rewarded with every adventure.