Reading Time:
5
minutes
You have all the money in the world, but no time. Family, business and life commitments are all in the way. I am no different, and with a two year old daughter at home, my average trips are two days of ambitious routes that most people wouldn't know was possible. With my short two day trips I manage to cover most of Vietnam, to the point that people think I have lots of time to travel to remote sites on my motorbike. In reality, I am an expert and ambitious planner who maximizes the use of my limited time. In this article I am going to share some ambitious routes that will turn a weekend into a holiday. If you are still unsure, and have a bottomless pit of money, then check out our guided tours. If you still can't find anything, then send an email and we can figure out a way to make your dreams happen.
The aim is to get you somewhere remote and on great driving terrain for Saturday and Sunday. Back in the comfort of your own bed by Sunday evening.
The Ho Chi Minh Trail Da Nang to Dong Hoi in two days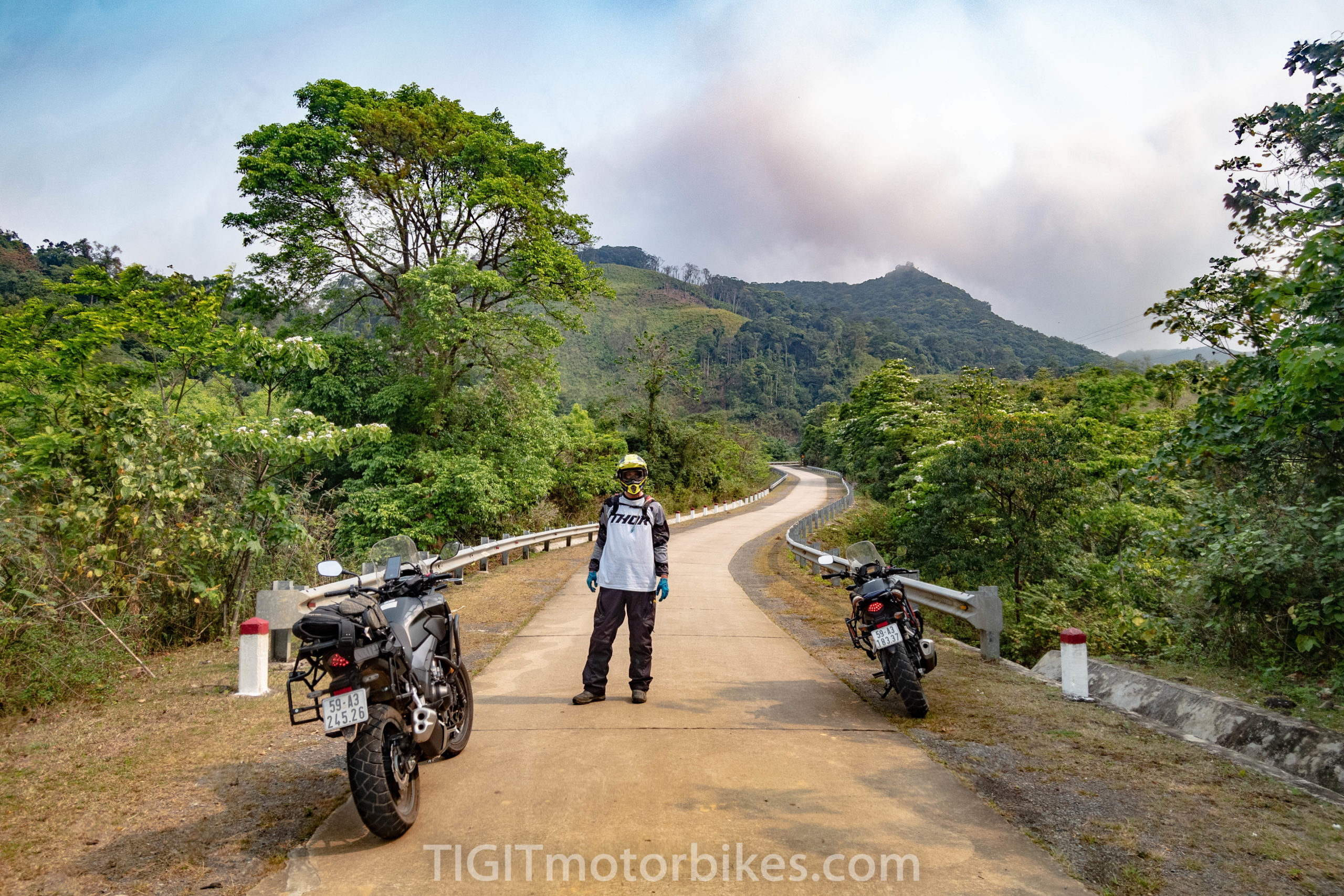 This is probably the best two day road ride in the entire country. It does require some planning and perhaps a compromise to a three day weekend. It is also an expensive option, but with one hell of a pay off.
Step one: Fly into Da Nang Friday evening or very early Saturday morning. There are hundreds of flights to Da Nang, finding one will be easy.
Step two: Rent a motorbike from Tigit Motorbikes Danang
Step three: Hit the QL14g out of Da Nang to the Ho Chi Minh Road
Step four: Smash the Ho Chi Minh Road
Step five: Stay in Khe Sanh Saturday Night
Step six: Wake up early and continue smashing the Ho Chi Minh road
Step seven: Drive through Phong Nha, and around to Dong Hoi
Step eight: Send the motorbike back to Tigit Motorbikes using Dong Hoi Train Station
Step nine: Fly back from Dong Hoi.
Dong Hoi to Ho Chi Minh, the flight is around 7pm. Dong Hoi to Hanoi, the flight is around 9am, which means flying back monday morning or taking an over night train to Hanoi.

Disadvantage of the Da Nang to Dong Hoi route in two days
An expensive option with Dong Hoi being an expensive train station and usually an expensive place to fly from.

Limited flights means this would be a safer journey as a three day weekend with some relaxing in Phong Nha. However this can be compensated with several "bail out" points on the Ho Chi Minh Road meaning that you should reach the flight in a timely fashion when attempting two days, even if it means missing parts of the road.
Da Nang to Nha Trang in two days
Logistically and price wise, this is one of the easiest two day ambitious rides to pull off. It covers some spectacular scenery and remote rides on one of the most underrated trails in the country. For full information please read Danang to Nha trang, the best route.
Step one: Fly into Da Nang Friday evening or Saturday morning
Step two: Rent a motorbike from Tigit Motorbikes Danang
Step three: Smash the map provided on danang to Nha Trang the best route
Step four: Put the bike on a train from Nha Trang to Tigit in Saigon
Step five: Fly out of Nha Trang

Optional ideas
Da Nang to Nha Trang is a very big drive. For a more casual solution then Da Nang to Quy Nhon is a good option. It may be worth delaying booking the flight until the journey is underway and a final destination can be decided toward the end of day one.
Ho Chi Minh to Da Lat in two days through Bao Loc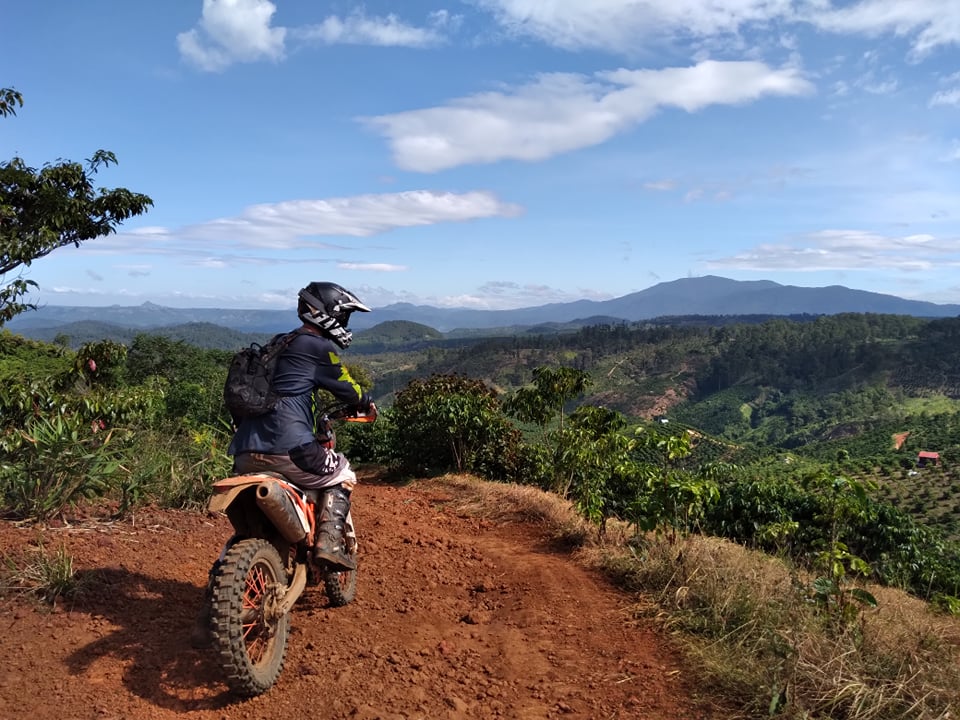 Ho Chi Minh to Da Lat is a super easy two day journey with great rewards. As an expat living in Saigon, I can't stand the drive back into Ho Chi Minh City, so most of my journeys actually finish in Da Lat.
Different route options are out there to see different kinds of scenery.
Step one: Rent a motorbike from Tigit Motorbikes Saigon
Step two: Follow the "the best route out of Saigon"
Step three: Drive to around the Bao Loc area, there are so many options to keep this journey interesting
Step four: Find a homestay in remote countryside and chill
Step five: Drive to Da Lat, perhaps visit waterfalls on your way in
Step six: Drop the motorbike off at Tigit Motorbikes Dalat.
Step seven: Fly home
Ho Chi Minh to Da Lat in two days through Mui Ne
The drive to Mui Ne is a fairly linear one, but little do people know that directly after Mui Ne is the best coastal riding in Vietnam. Why waste day two cruising back up the busy highway to Ho Chi Minh when instead you can drive to Da Lat. Take advantage of Tigit Motorbikes Da Lat as a drop off point and the super convenient flights from Da Lat to Saigon or Ha Noi.
Step one: Rent a motorbike from Tigit Motorbikes Saigon
Step two: Drive to Mui Ne along the coast
Step three: Chill on the beach

Step four: Choose the short option of QL28B to Da Lat or the long option of the coast through Phan Rang.
Planning and preparation
It is important to check flights from all Airlines in Vietnam to choose the one that best matches your schedule. Vietnam Airlines, VietJet and Bamboo Airlines. Check the location of the airport to the proximity of the return location (bus station or train station or Tigit office). Some airports are located well outside the cities. Pack light, I take no more than a backpack on these trips. If you do have body armor and boots, then send these back with the motorbike. I often go on flights in bare feet!
These routes will see you fly from the big airports at the beginning of the journey, and fly out of the small airports at the end of the journey. This helps avoid airport traffic and check in processes. The idea is to have a fluid process of dropping the motorbike off, taxi to the airport and walking straight onto a plane.
I usually book the flight at the end of day one. Which allows for plan B options if the journey is not on schedule. It does raise the price due to a last minute ticket and occasionally the flight can fill up. With an ambitious two day weekend always assume the worst and make sure you are comfortable enough with the plan going wrong. Make sure rolling into the office late on a Monday morning isn't going to annoy too many people.
Plan the route in detail. If you don't want to plan, arrange a guided tour. If you don't want a tour and remain on a limited schedule then you need to have option A, B, C and D. I explain how I do my mapping on this video below.