Reading Time:
9
minutes
What is the Tam Bo Jungle Run
The Tam Bo Jungle run, is a route located near the town of Di Linh and circles the lake of Kala. For years I have heard whispers about this trail and how remote it is, but it has never been on my radar to try and tackle it due to the location.  Most people attempt the trail as a two or three-day camping trip. On google images, there are hikers, cyclists, motorcyclists, and offroad cars all giving this remote trail a shot.
It is known to be difficult but doesn't hold the same claim to fame as Ta Nang, which more commonly has aspiring dirt bikers attempting and failing on a regular basis. Ta Nang is so commonly attempted and failed infact, that there is now a Honda Dream rescue service to bail you out.
The Tam Bo Jungle Run goes unnoticed. The people who attempt it keep it quiet. It is a secret, and the route was kept a secret for a long time. Plotting this route on Google Earth is also impossible, so there is no way to find it unless you hold the keys to the GPS data!
The GPS became available a few years ago, and there have been many claims of people doing it since that date. Yet, no one has ever updated the GPS data from the first release. When I ask people for the latest version of GPS, they always send me the same old file from years ago. So are these people doing the trail? Or are they just claiming to do it? 
The trail returned to my radar as a friend recently drove it over three days of camping. This pushed me to put together a team and give it a go. I don't do camping, so this three-day camping trip, must be turned into a one-day smash.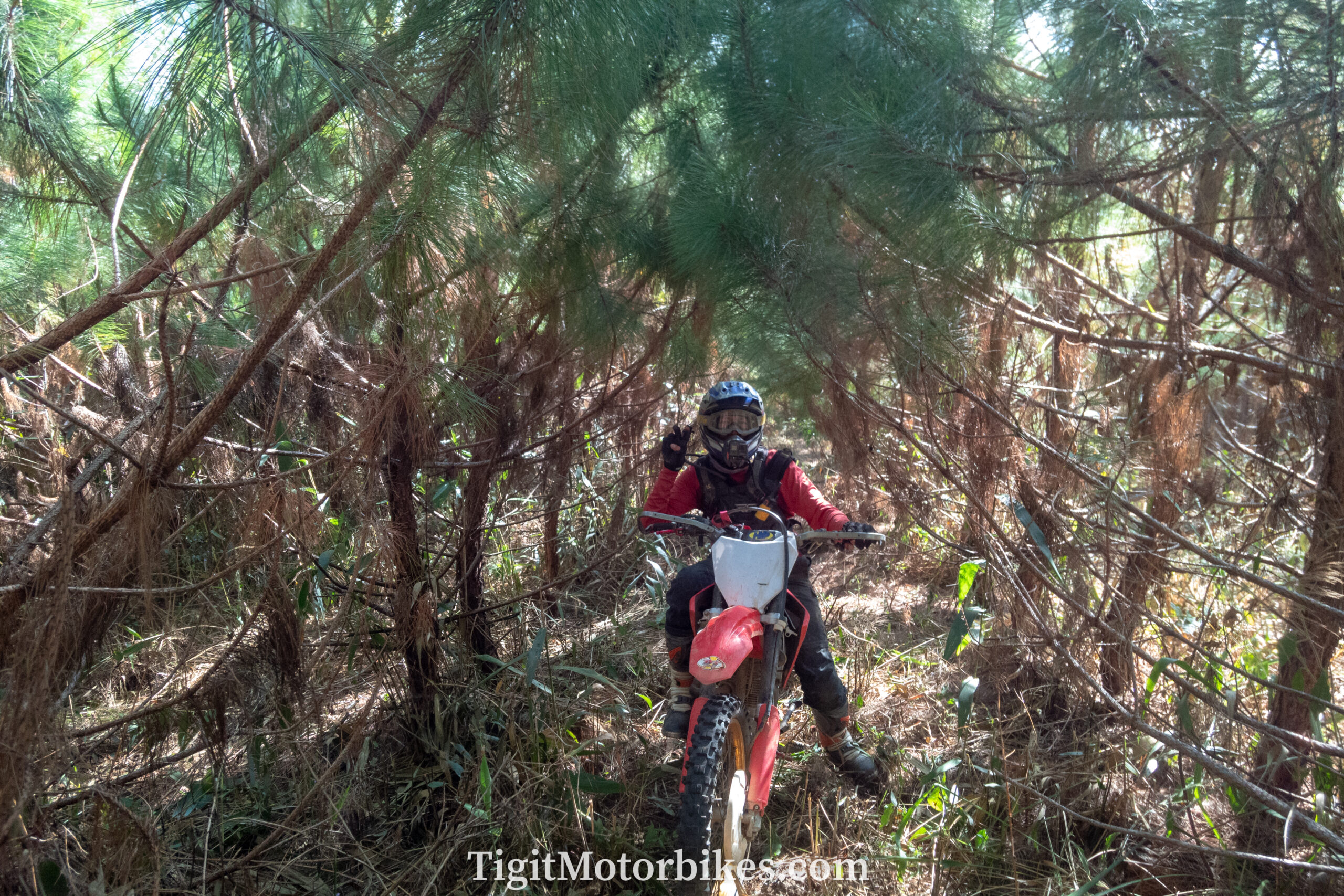 The team I put together
I chose a few riders that I felt could achieve this trail. These riders have experience under their belt. For example, they don't have bags falling off their bikes, they know how to carry water, and they have the right safety gear, tool kits, and spare parts for their bikes. Most importantly, they have a positive attitude.  On rides like this, mistakes can be life or death. A crew you can trust is very important.
We were kitted out with radios, around 3 liters of water each, and a few candy bars. We planned to beat the trail within the day, so camping was going to be an uncomfortable last resort.
Slow progress
We woke up at 5:30am, had breakfast and were on the bikes by 7am. It isn't exactly an early start, but I know from experience that exhaustion creates failure, not daylight. A good night's sleep and breakfast is more important than a super early start.
The trail started with a very steep rutty hill climb, and it didn't take long for Todd (the Tigit guide) to struggle on his XR 150. Todd is a strong individual, but the XR has a limiting point on steep climbs where the power isn't enough to get up.
Progress was slow, and I threatened to kick him back home. He kept on requesting a five-minute rest, but I wouldn't give it to him. If you want to rest, then turn around. Go home. Time is of the essence on these trails, I had an idea of where we needed to be and by what time, and we were already behind schedule.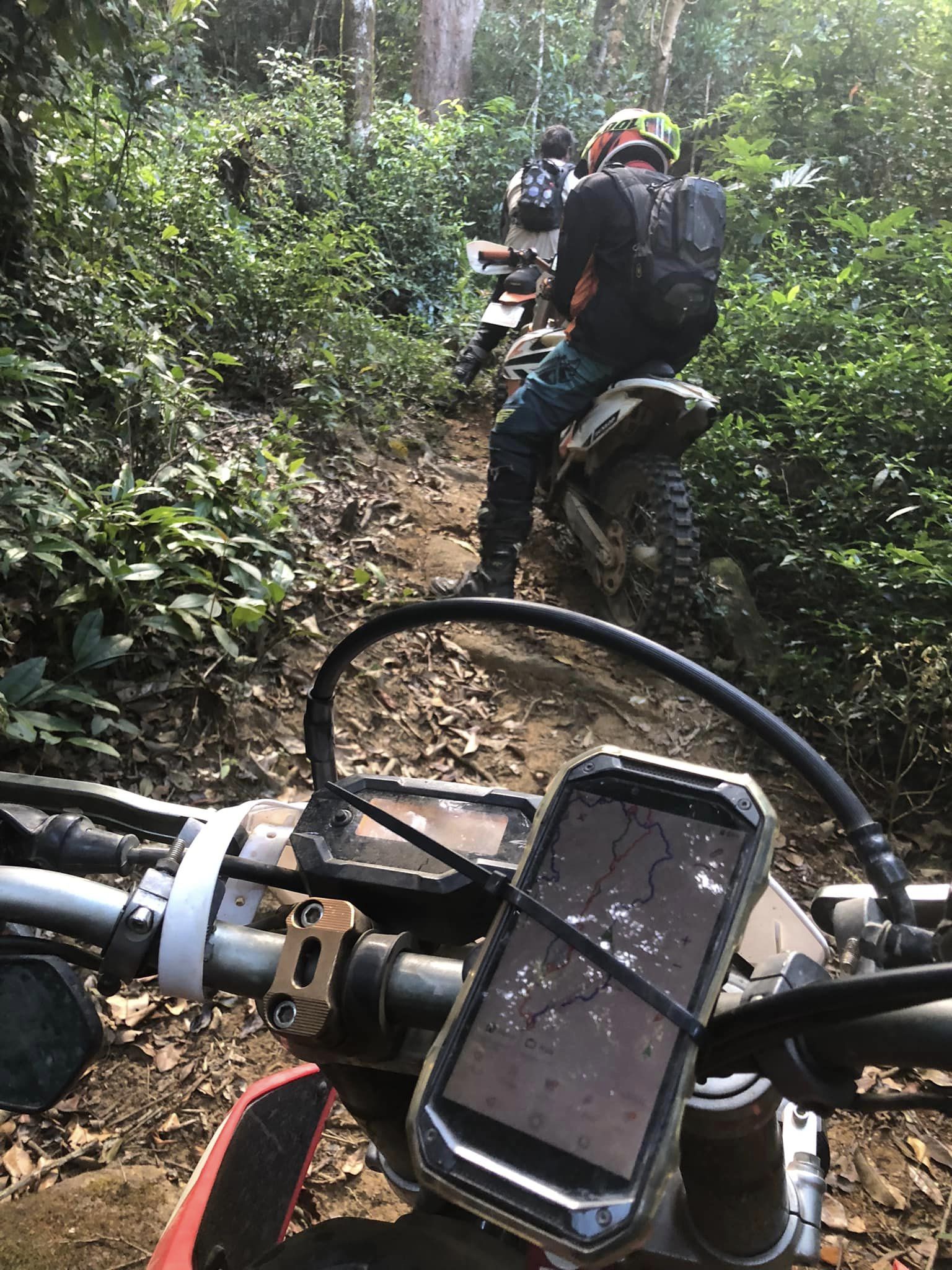 Life gets a bit easier
Todd continued, and the trail eventually broke out into open windy tracks that diggers had carved. We all thought we had done the hard part and that it would be an easy ride to the finish line.
Much to my surprise, the trail started to get hard again with dense forest, and following the tracks became increasingly difficult. I had mapped out a shorter route that had not been done in years, so we decided to try it. Unfortunately, it came to a dead end with landslides. My KTM also ran out of battery because the fan was always on. The slow progress meant the bike was struggling with the heat. I switched batteries with another bike to resolve the issue. Ultimately, all this wasted an additional hour.
The question of continuing or turning around was becoming a real one. Now at 12 o clock, an exhausted group and a continuation into the unknown. The problem with these trails is that you can hit a dead end anytime. The further you go into the jungle, the further it is to go back out.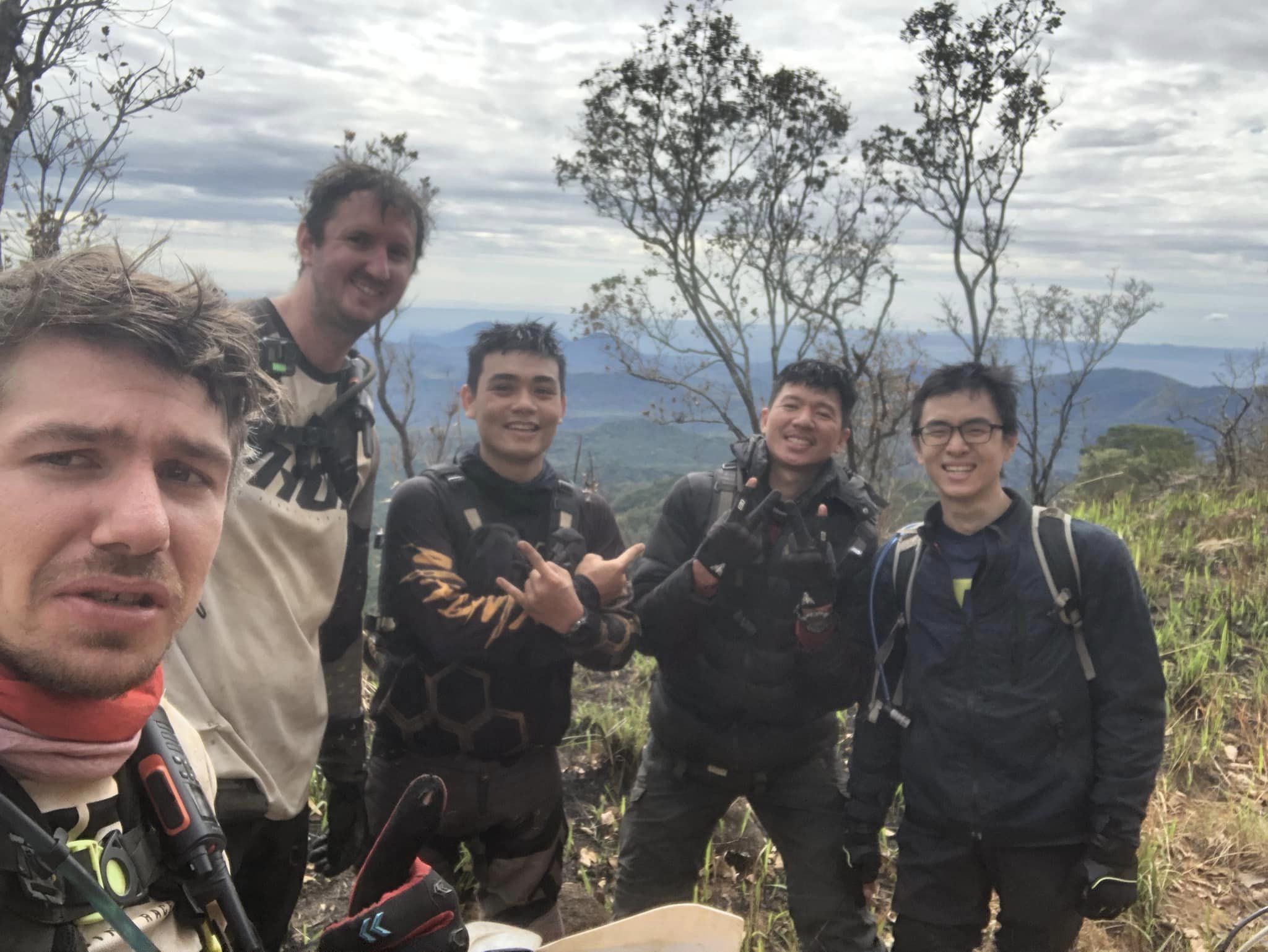 To turn back or continue
We found ourselves trying to go down a steep hill. We were still looking for the trail's exact path and had to bushwack our way down. All the Vietnamese in the group announced they had run out of water, and they were all on their knees, hardly able to walk, let alone drive. They had given it their all, but were physically and mentally exhausted. The map has an icon marked "suoi," which is Vietnamese for "water." It was only 600m down the hill, but we couldn't get there.
I sent Vincent down the hill to scout ahead. He is the strongest rider in the team and had the most energy. I felt that if the group continued down, they wouldn't be able to get back up again. Conserving their energy was becoming important. I argued a bit with Vincent about turning around or continuing, with Vincent favoring backtracking and myself favoring continuing on.
In the end, he agreed to scout ahead, and shortly after, radio contact was lost with Vincent.
Up the hill, the two at the back were also out of radio contact, and I found myself in the middle with Tigit Todd. Head in my hands, "what have I done?". Two up the hill, one down the hill, no radio contact with either. The group has no water or energy, with some members not being physically able to walk anymore.
I walk a little bit down the hill, and I spot what I think is the trail, and suddenly I hear Vincent's voice on the radio. "Jon do you copy? I can't find the track to return up the hill; you need to come down!"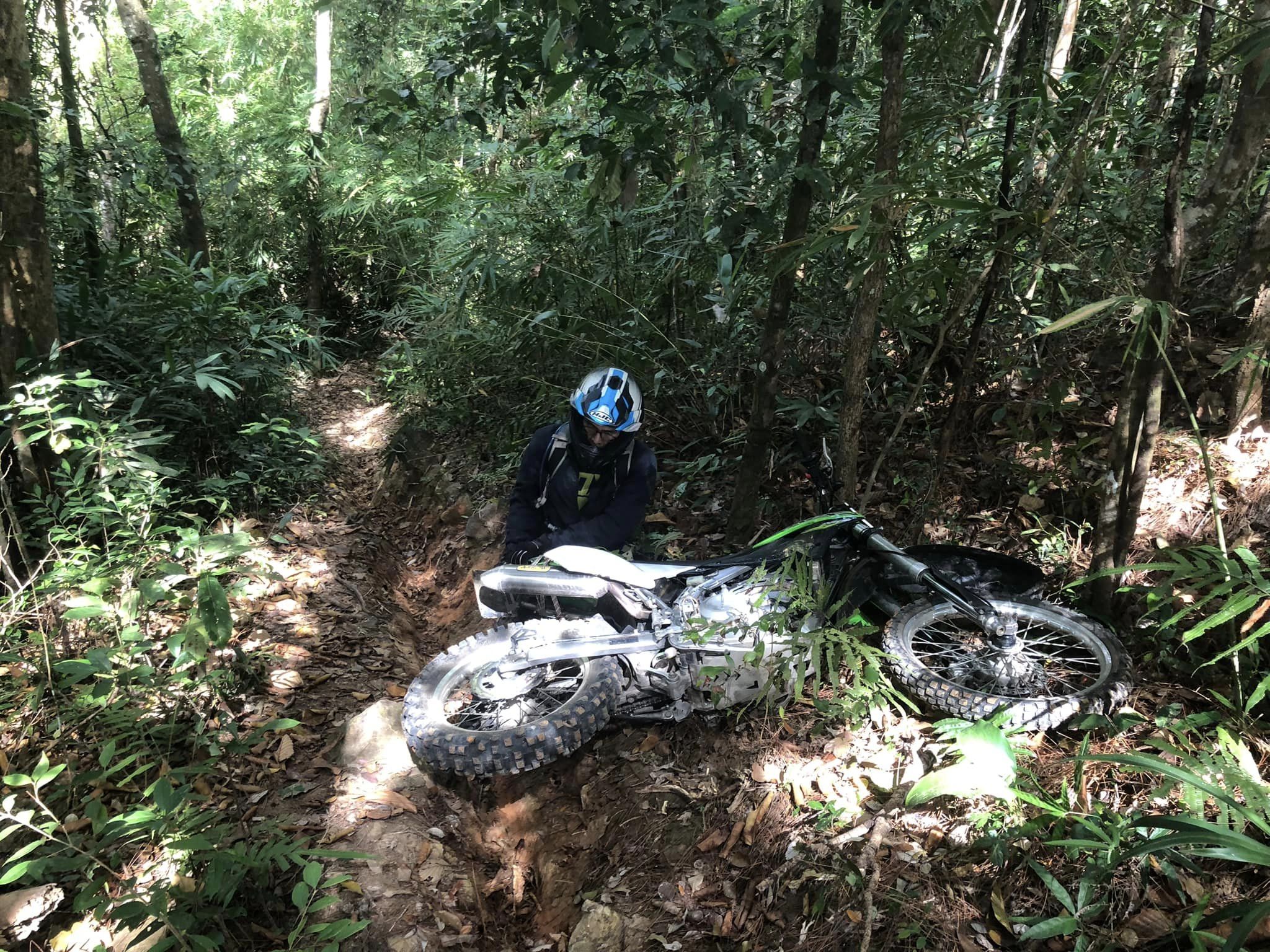 Losing a man in the jungle
I consider the range of where he could be. In a dense jungle, there will be no finding him if he disappears. It is the first time I have ever been put in a situation where a 5-minute detour of getting lost could put you in a position of being gone forever. Bikes travel fast, and Vincent travels very fast. He could be in a vast range of thick jungle.
I asked him if he had found the way down to the water, and he said no. I tell Todd that I will go down for Vincent, but Todd refuses, saying I can't leave him alone. Todd can hardly move at this point. He wants to follow me down, but going further down the hill is putting him in a dire situation to go back up. In the end, I go down by myself anyway and locate Vincent. I also discuss with Vincent if we should turn around now or follow what I think is the trail down.
We had passed some river crossings to reach this point, but I can't remember how far back. They could be hours back. I think the Vietnamese in the group need more energy to backtrack, so I want to continue in the hope that a river is at the bottom of the hill.
But if I go forward in search of this water, I could get stuck at the bottom of the hill with no way up. Also, find myself in the same situation as Vincent five minutes ago. Lost and alone by myself. There might not be any water anyway down there. It's just a water marker on a map, nothing more.
I reach the bottom of the hill and find the iconic broken-down jeep that other groups have taken pictures of. Apparently, it caught fire down there years ago. I steadily cross the ditch, ensuring I don't hurt myself; crashing here would not be a good idea. I continually talk on the radio to make sure I am in range of Vincent. Shortly I come to a fast-flowing river and radio up the hill for the others to follow down. There is water down here!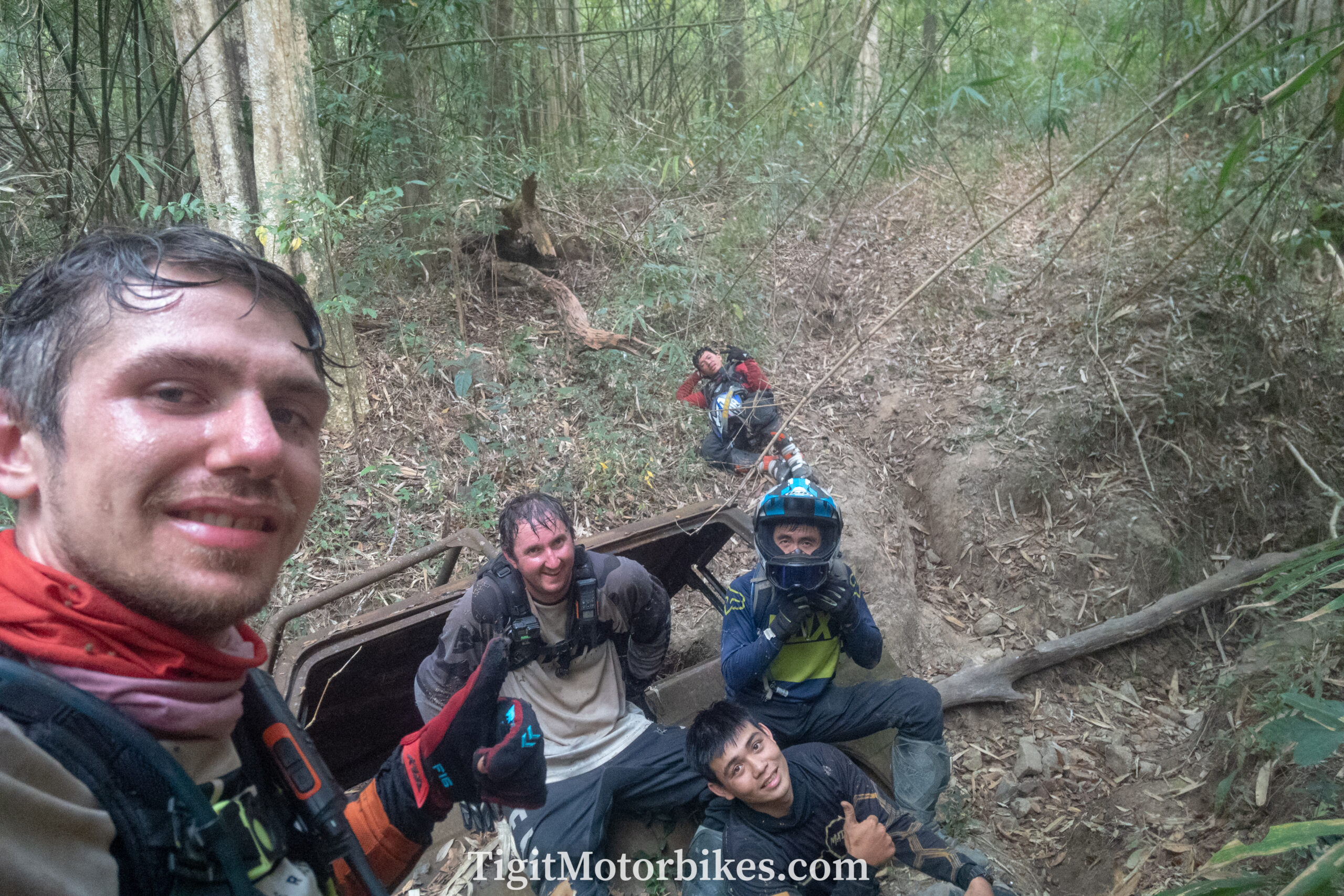 Water is found
I set myself up lying on a tree by the river's edge, knowing that we are now somewhat safe with water. Complaining about camping in the jungle was now at the back of my mind. We had water, and I would have been fine to camp that night with no food. It took the group a further hour to get down the hill. It took me five minutes. This is how tired the riders were.
Water and a swim is a life saver. I check the clock and see it is 2pm. We still have a realistic chance of getting out of this jungle today.
Cracking the whip – we can make it
I crack the whip again and broke the peaceful swimming paradise that everyone was enjoying. It is time to go, and we can make it. I scout ahead and discover the trail is over the wide river and up a steep hill. It was very hard to see the trail in the dense jungle. Again, a further 30 minutes ticked by as the exhausted group slowly geared themselves up for another tiring slog.
Once again, I sent Vincent ahead to scout the trail to ensure it was real. While this goes on, I help take the bikes over the river one by one. A bike being dropped in a river would be game over. I have seen bikes destroyed by rivers many times on tours. This was not the place for a water-logged bike. 
We are so deep in this jungle that if a bike did break down, there would be no towing it out. I was also skeptical if hiking out would be possible with the resources that we had left. We needed those bikes to work!
I pondered in my head what we would do if a bike did break, and I think we would have set up camp at the river and waited for rescue. With this river, we wouldn't die out there, but we would forever be known as those off-road riders that got stuck in a Vietnamese jungle.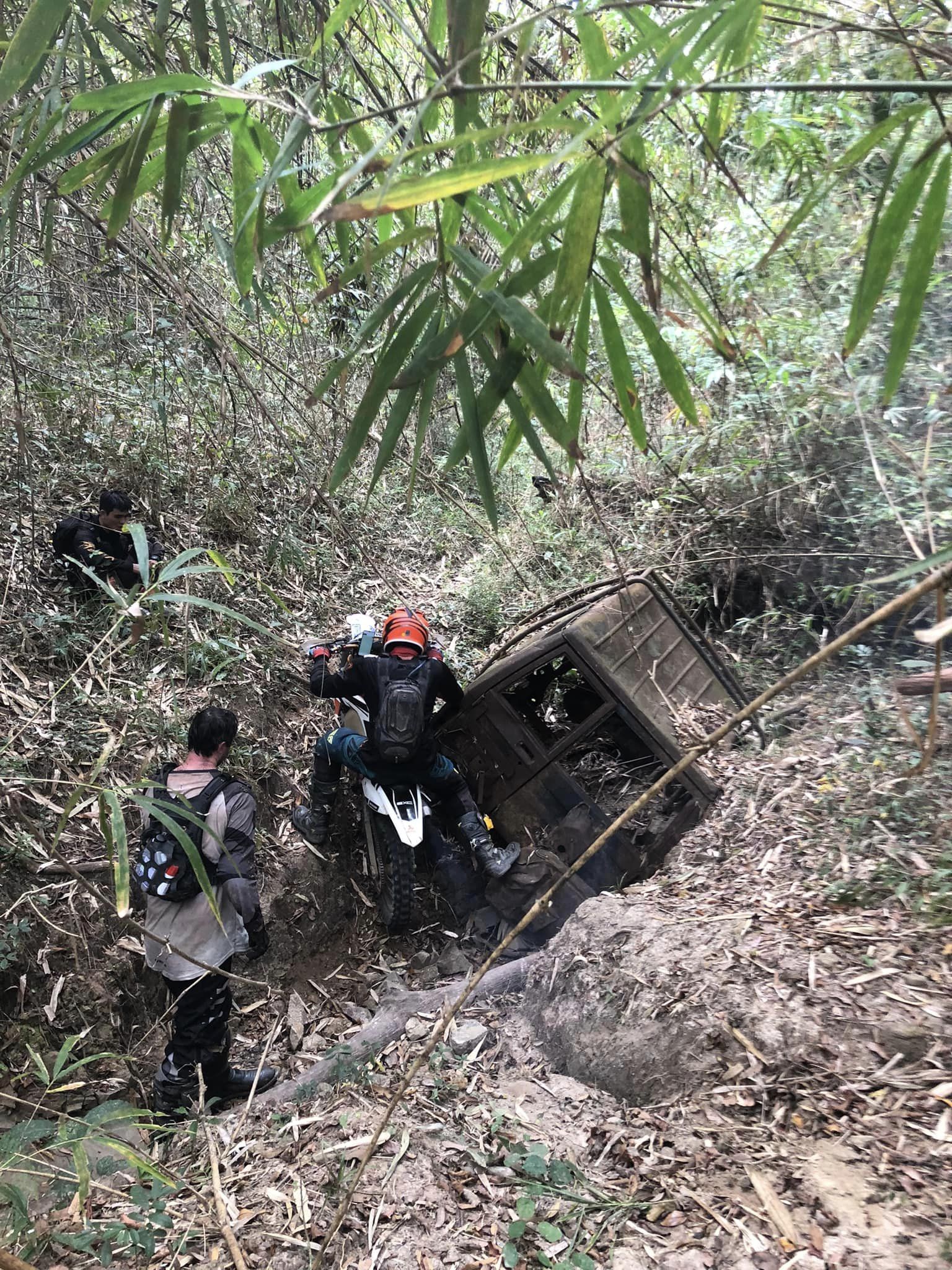 The hill climb
The hill climb was steep and went on for what felt like forever. Myself and Vincent took turns helping push bikes over difficult sections. Both recognizing the importance of conserving energy throughout the team. We cracked the whip, and we refused all requests for "just a five-minute break, please." Time was still against us. No one complained, though. In my eyes, resting meant staying in the jungle overnight. Either you continue or you stop. There isn't a middle ground of "just 5 minutes".
Just 5 minutes becomes 10 minutes, which becomes 30 minutes. If we camp, then we camp. If we continue, then we continue. There is no doubt that the team gave it their all, and as time went by, the trail began to get easier and easier. The end was a long way from sight, but it was becoming obvious the path was more trodden, and we were closing back to the developed world. Blocked routes by landslides were now becoming an impossibility, as the trail clearly had considerable daytime traffic.
The Happy night drive
Night eventually fell on us, but we knew that we would get out. It was around 8pm that we finally hit tarmac again. A celebratory coke, and then a BBQ. One of the team members gave some humbling feedback at dinner. He said that he did not intend to try this trail as he knew how dangerous it was. But when he heard Jon was the group leader and had been told that the success rates of Jon's tours were high. He felt he would tag along.
Personally, I think I went over my head on this one, and the group was not set up correctly to tackle a trail of this difficulty. But yes, it is another success story under my belt. This is mostly owed to Vincent's incredible driving and energy levels. I just cracked a massive whip at people who attempted to rest. You don't take 5 minutes on my watch, not when a soft mattress awaits! MOVE MOVE, NOW!
I am not sure if I will do this trail again. As my riding progresses, I find myself on increasingly dangerous trails. This is a camping trip, and you need camping gear and satellite phones. My stubbornness and arrogance had us unprepared for a jungle this big. It is too easy to get lost out there.
There is no go pro footage. When life gets serious, cameras are not a priority. I do have GPS data, though!