Reading Time:
10
minutes
Offroading in the South of Vietnam – Why I love it
Be sure, to check out our article for offroad riding in the North of Vietnam.
I love offroading in the South of Vietnam. It is always hot (apart from Dalat), so you don't have to worry too much about the weather! You can also pack extremely light. I will travel for a week with a single backpack.
The terrain is varied, from gravel tracks to sand rides, sand dunes, pine forests, and extremely remote jungles.
There are beautiful meandering hills all begging to be driven.
I recommend booking a guided tour, but here are the trails for if you want to try without a guide!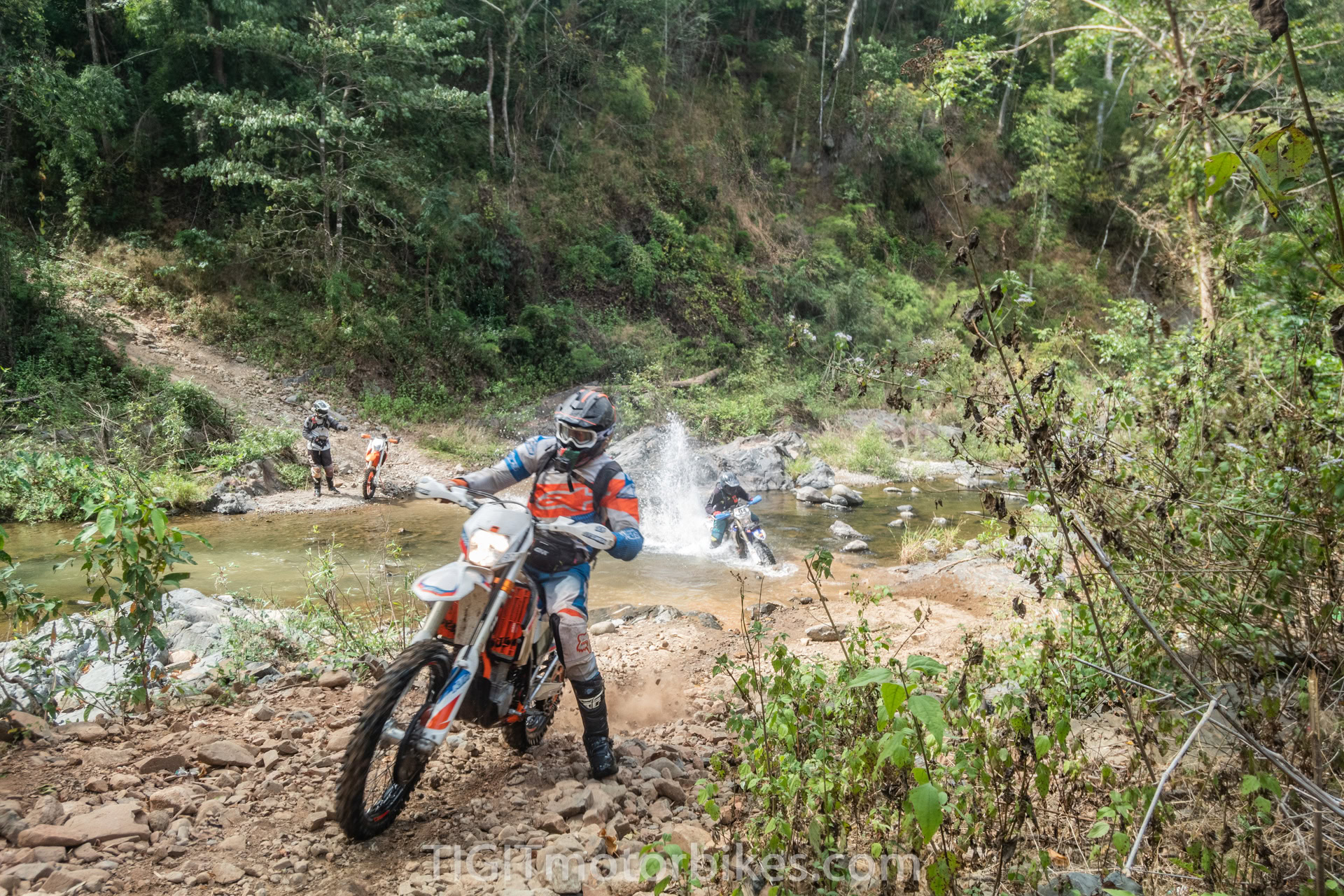 The color coding of my offroad maps
Purple are trails that I think most people will be able to do. I have put little skull icons on some of the purple trails to warn it gets a bit harder, but only temporarily. But in general, any person on a Honda XR 150 with an intermediate skillset should be able to enjoy these trails.
Red are trails that need a lot of experience to tackle. Most readers will think, "I can do that," or "that sounds like a good adrenalin holiday," but some of these trails are extremely dangerous and remote to a casual rider. They should not be attempted without considerable planning and experience. It could be debated that making them public is irresponsible, but at the same time, it warns people not to stumble into these trails accidentally.
Give Mui Ne and the Sandunes a try. Bring some water. But please be careful of the route marked "Kala Lake Jungle run", "Ta Nang" and "The Ridgeline." Both Hiking and Motorbike-related deaths have occurred on two of these three trails.
Blue are lines that others have done, or I have mapped but not yet ridden them. Give them a go, record your GPS, and let me know if they are good!
Green – The one and only green line is a ride where I felt it was too difficult for purple coloring but too easy for red coloring. It isn't a difficult trail, but it does get very remote, which makes me uncomfortable marking it as purple. For now, it sits in its own world of green!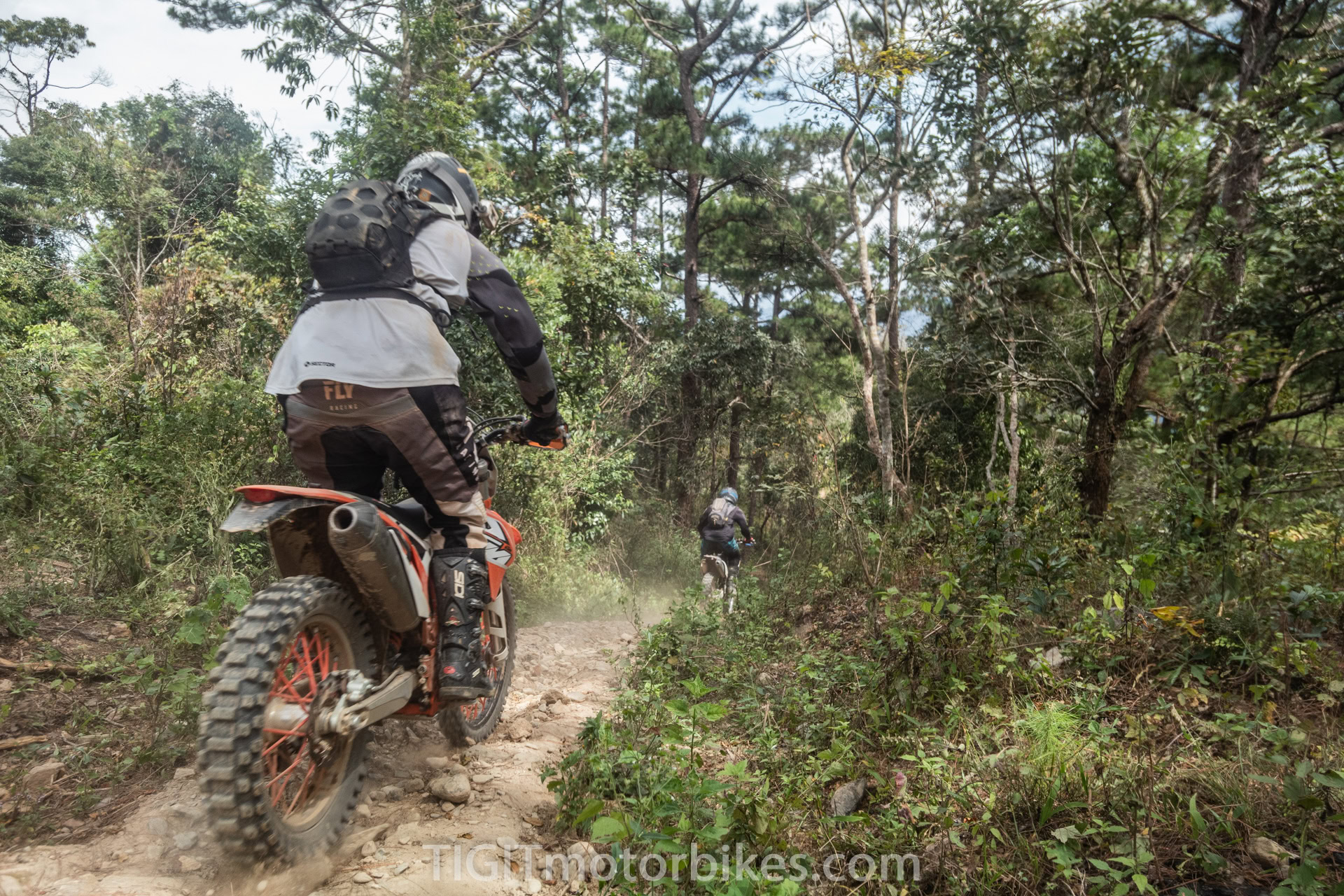 But Jon, your purple trails are too hard!
I considered if I could create "easy," "medium," and "hard." But the conditions change regularly, and I think it is risky to call a trail "easy" when it might have turned into a clay-based river ride. Cat Tien jungle is a prime example of this. It is straightforward in the dry season, but in the wet season, it is a pretty hairy ride. I decided to mark everything as purple, and most of these purple trails will challenge the average rider!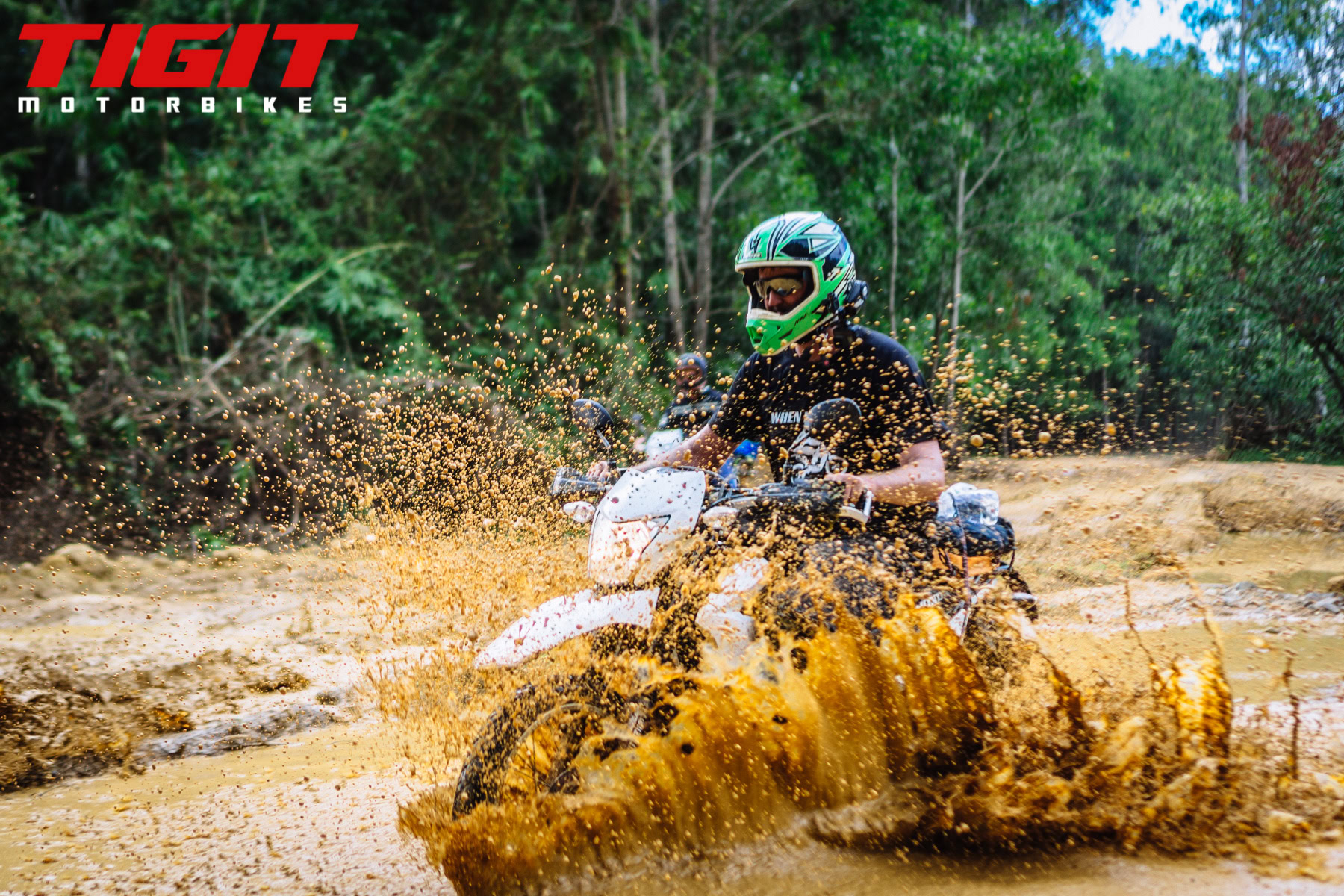 Road sections
Vietnam is forever changing; these trails sometimes get paved without me knowing. There is a chance that a trail is now tarmac. Sorry for that! Do let me know if you stumble onto a trail that is all paved.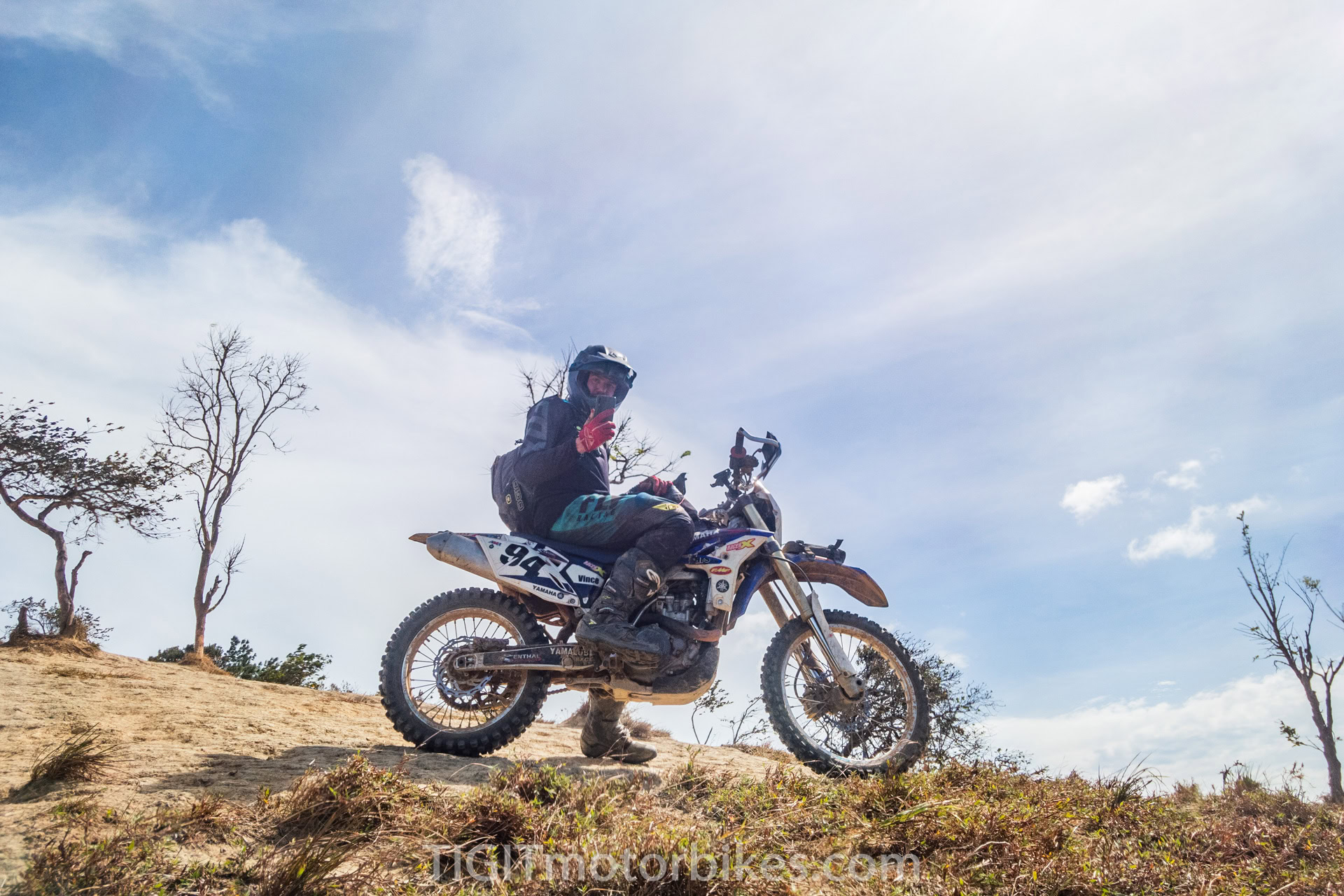 Recording GPS
I have worked to make these publically available, and I hope you enjoy them! On android download "geo tracker" and on IOS, download "ridewithme". You should be recording your GPS data every day and sending it to me if you find a nice trail.
You should also be recording GPS data for your own safety, as this allows you to use the app to backtrack if you get lost. Failing to record and share GPS data is very selfish! Please share the love of this great offroad country.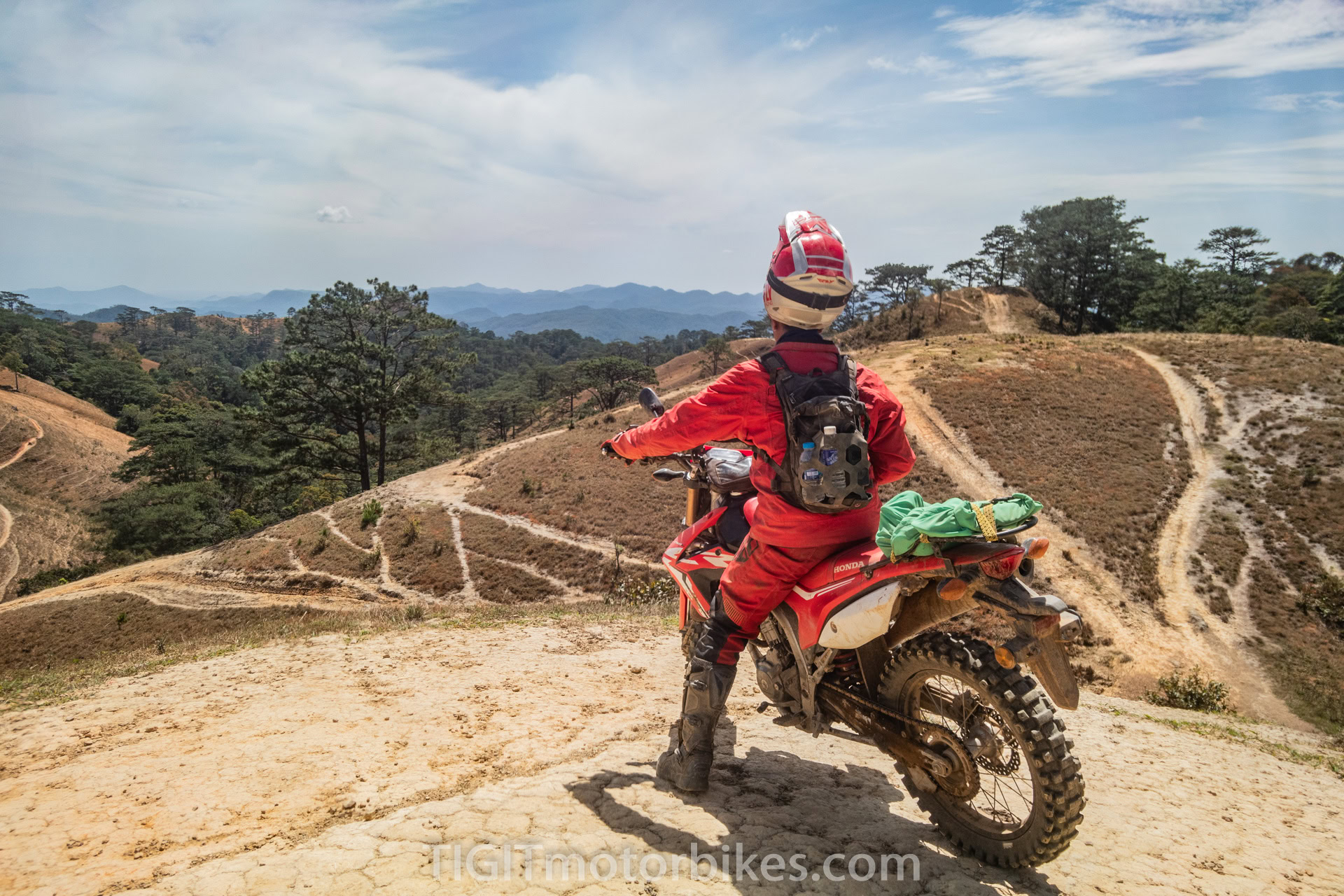 Be respectful to locals

.
Don't drive too fast through villages. Don't rev your engine with an obnoxious exhaust attached. Many houses have sleeping babies inside! Most importantly, set a good example for the locals and do not leave rubbish on the floor.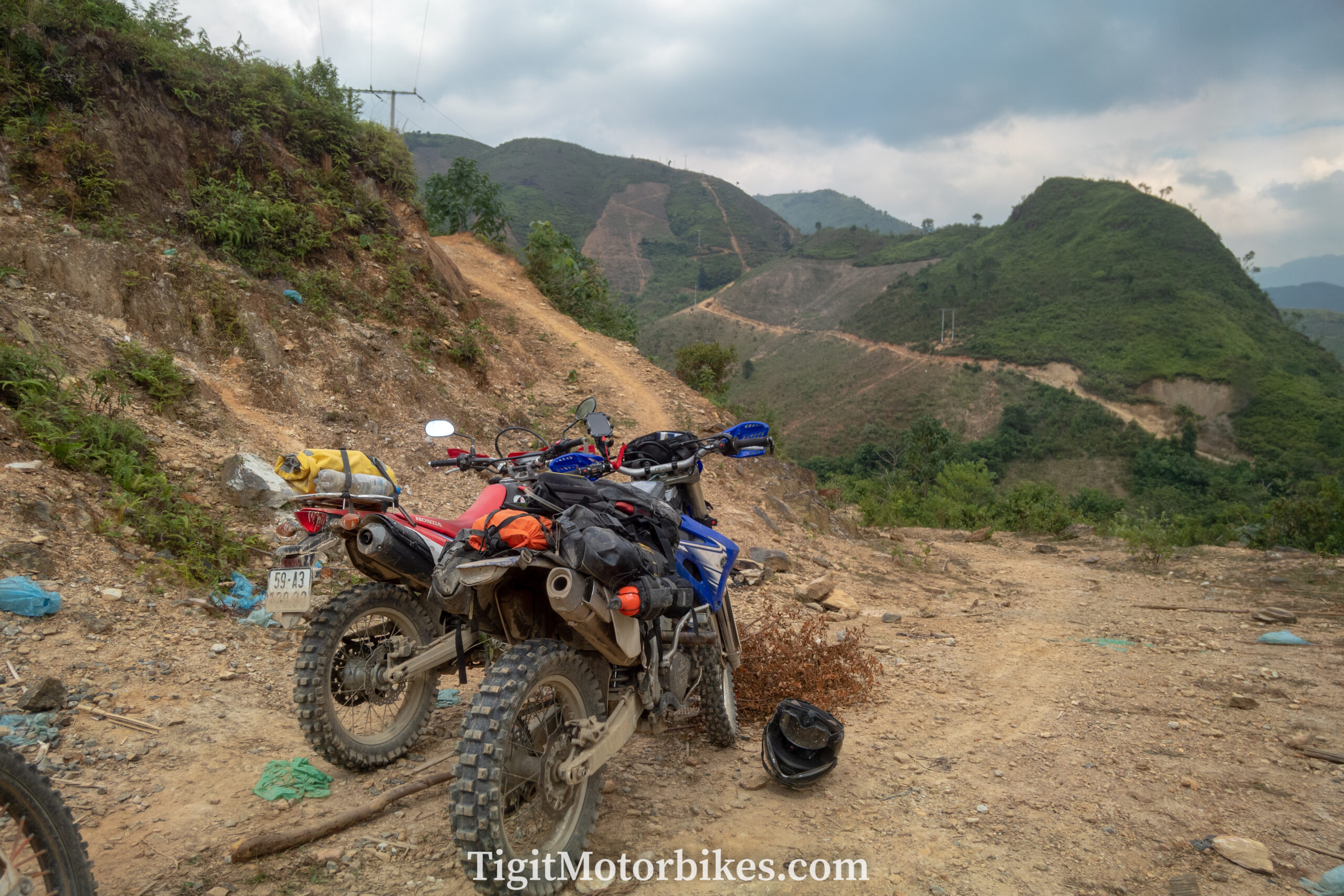 Escape Saigon Tour (purple)
Near Saigon, I marked a trail called "The Escape Saigon Tour." It is a fun drive for a one-day loop to and from Saigon! The area has a new airport being built, so we lose some of the trail each day. For now, though, this map is up to date.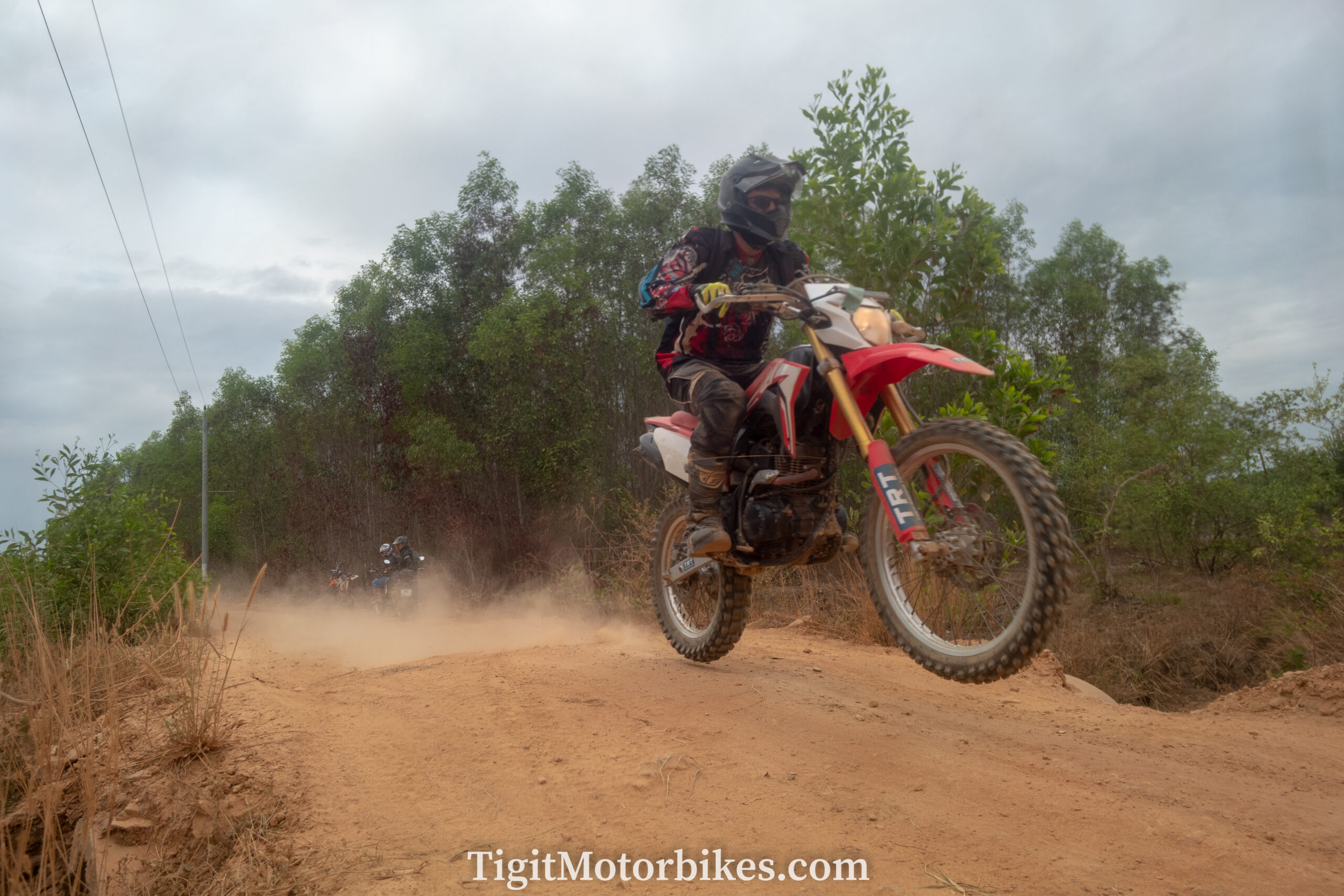 Ho Chi Minh to Vung Tau
This trail is a blast, but unfortunately, alot of it is mining territory and miliary territory. Meaning some people have reported aggressive restrictions on some of the areas. If you do manage to do it, it is a surprisingly technical ride that zigzags through urban areas.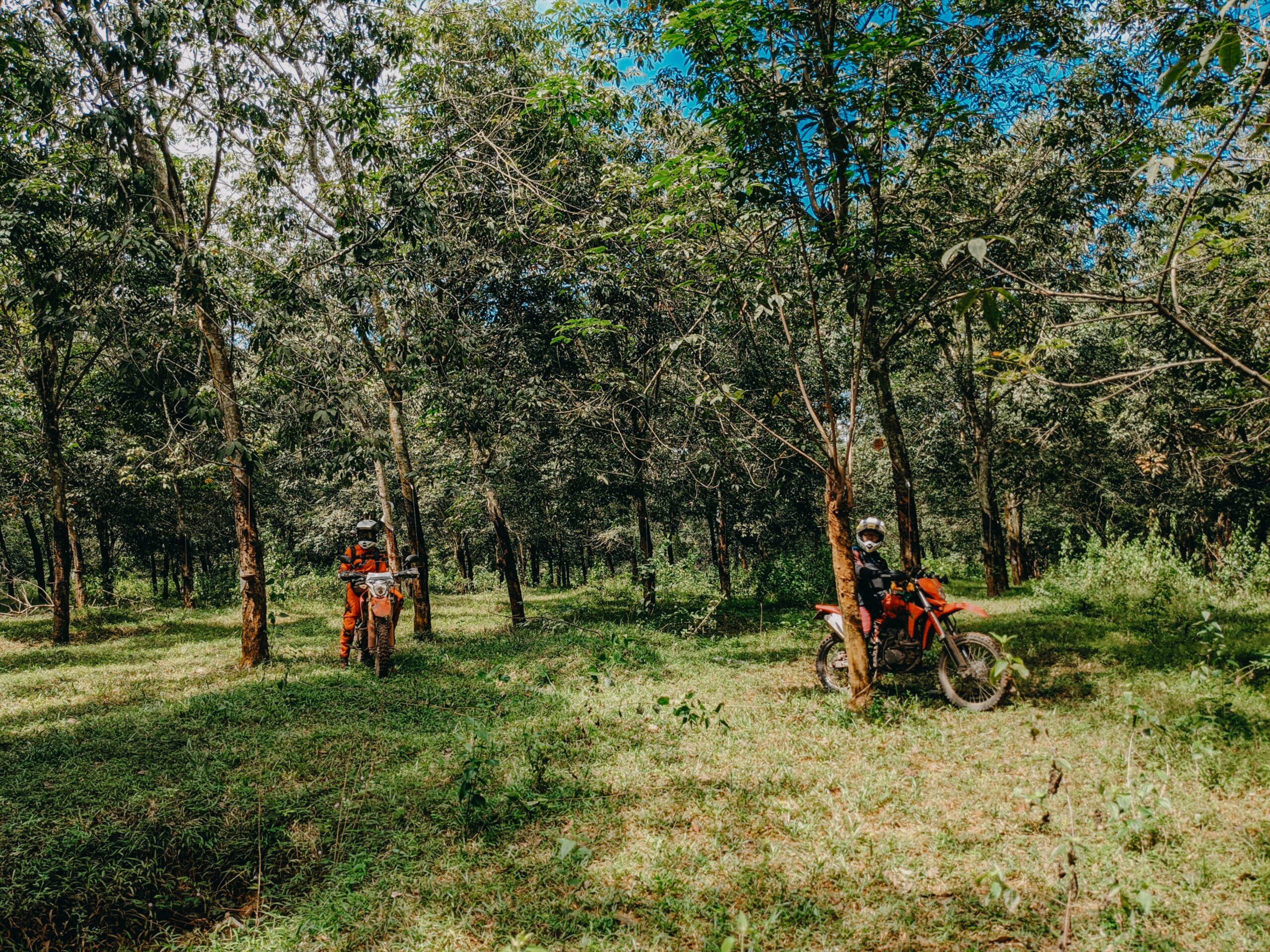 Ho Chi Minh to Lagi (purple)
A two-day loop from Saigon which is a remarkably good drive. Nothing hard, just open gravel tracks the entire way. Mild sand sections, which I have marked, but these can be skipped if needed. For your weekend getaway, this trail is perfect!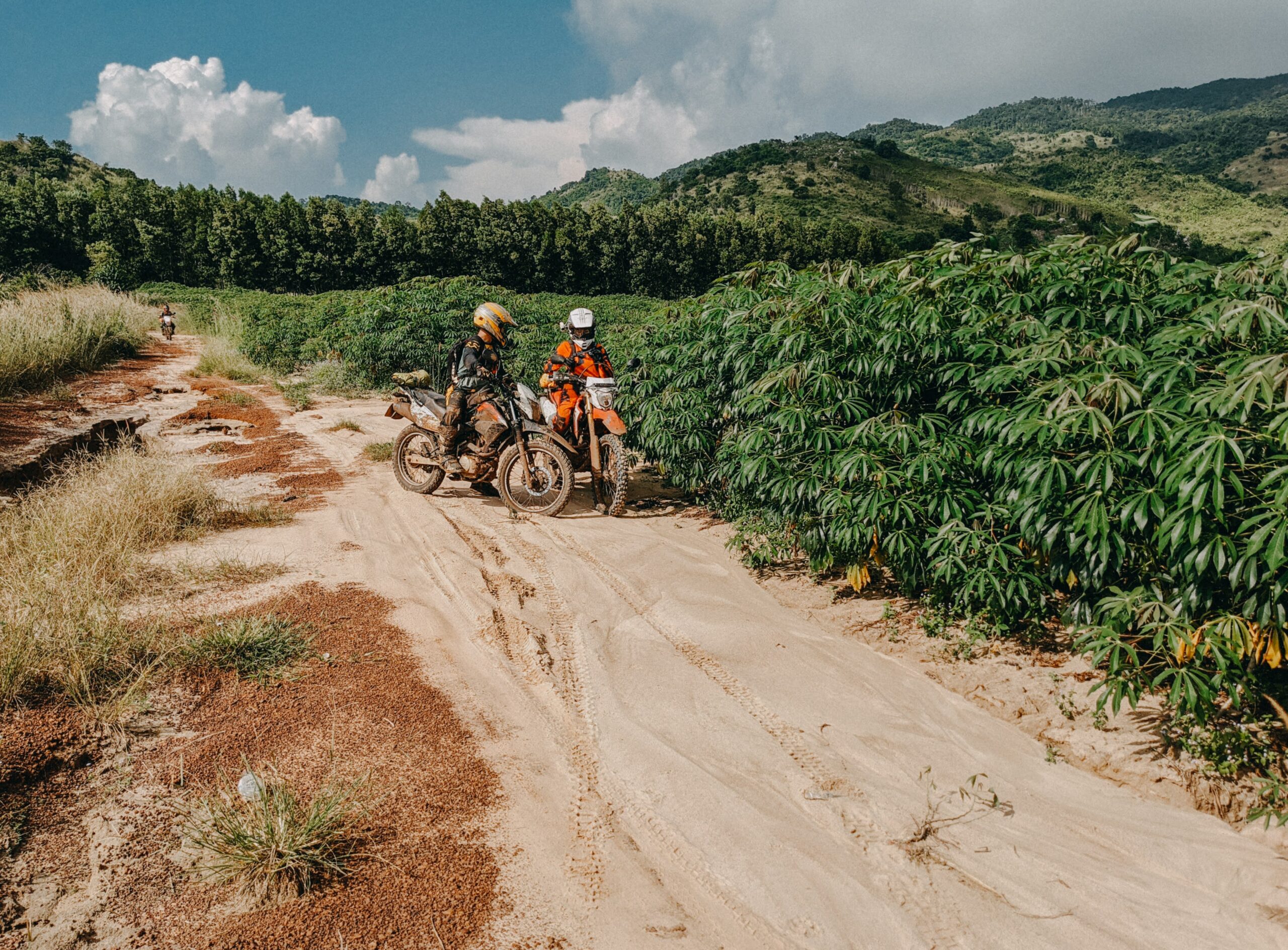 Ho Chi Minh to Mui Ne (purple)
A fun open-paced ride that follows a new highway being build between Ho Chi Minh and Mui Ne. It is basically 80% offroad all the way to Mui Ne, nothing challenging. When you are tired, hit the highway to finish off the journey quickly!
Ho Chi Minh to Cat Tien via Ho Tri An Lake (purple)
The classic and original Cat-Tien run kicked off the enduro scene in Saigon and started my love for offroading. I haven't done it in years, but I am told it now has alot of paved sections. Overall, this is a great jungle run and a two-day loop from Saigon.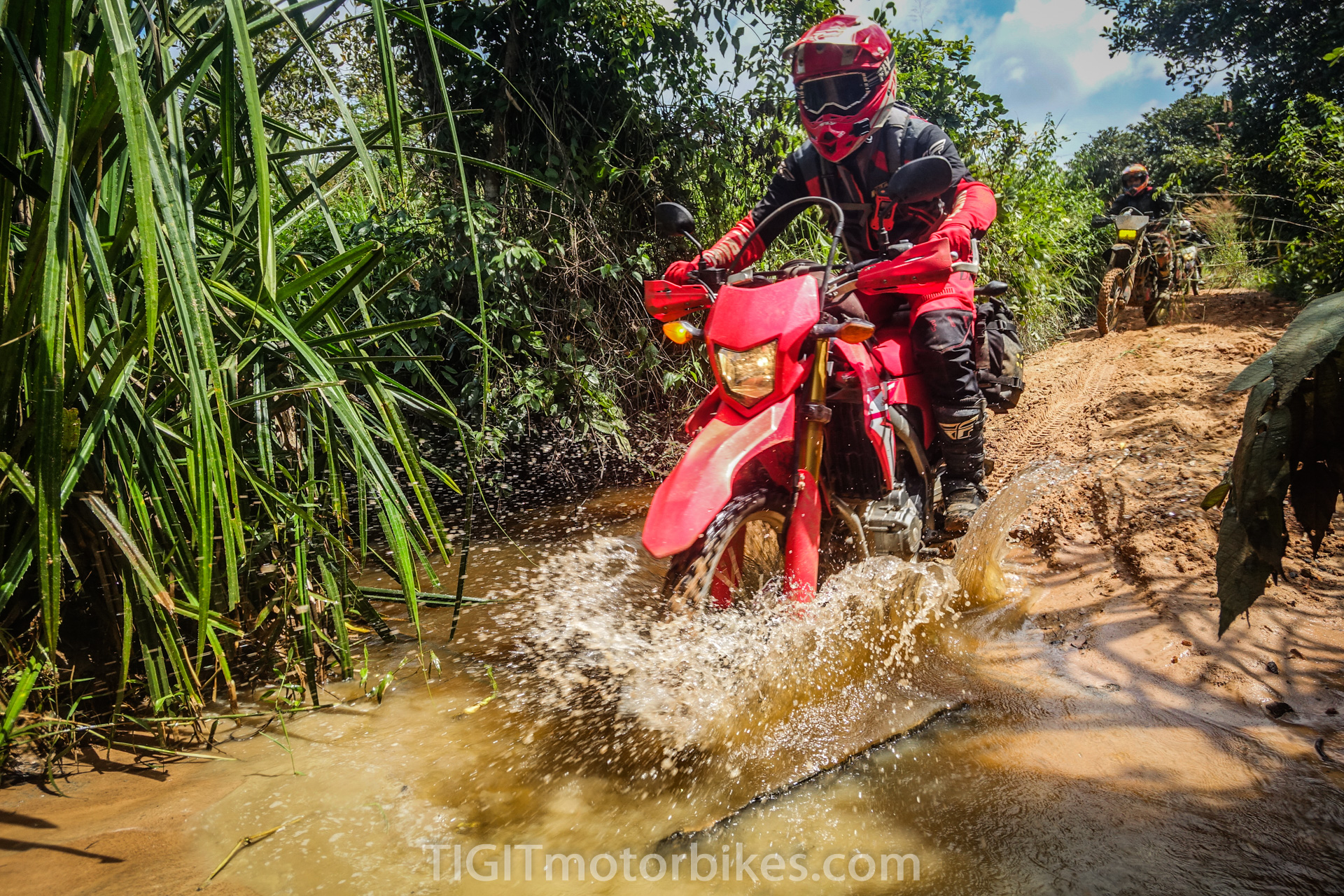 Remote Cat Tien run -(green)
Marked in green because I can't place it as purple or red. This isn't a hard trail, but sections go way off into the wilderness. An unprepared casual rider could get themselves in a mess out there. For people looking to "build" on their confidence and feel they have mastered the casual rides. Then this is a good one to go for. It looks short on the map, but it takes a while!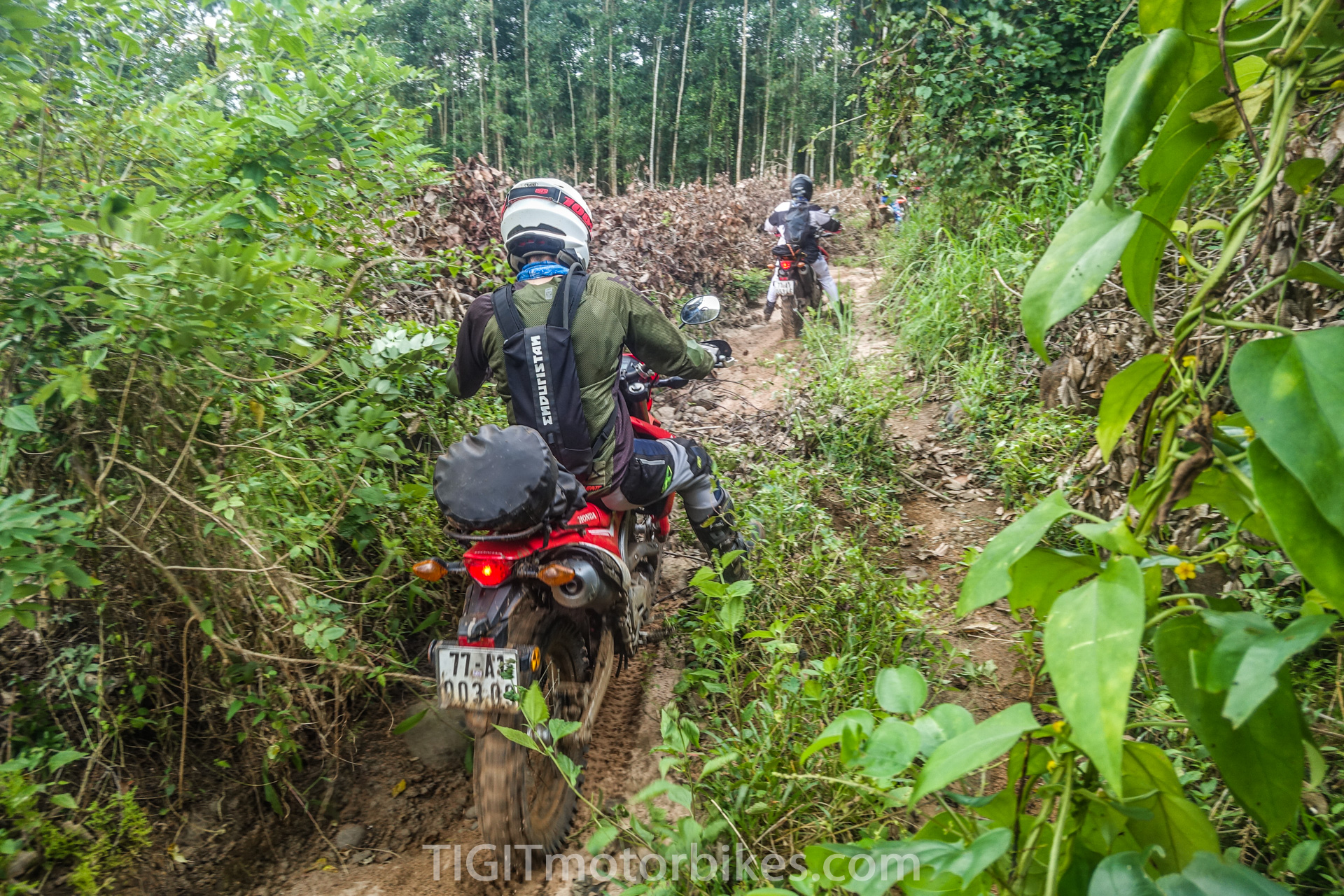 Bao Loc Hill (red)
Connecting Cat Tien and Bao Loc is a secret trail going along the ridgeline of the hills. Very steep ascents and descents. What makes this ride challenging is the slippery clay. The tree cover keeps the ground moist and slippery even in the sun. For myself, I don't particularly enjoy this kind of ride. It is technical riding due to slippery surfaces. There is not much help out there if things go wrong, (though you could definately walk your way out!).
Bao Loc circle (purple)
The Bao Loc circle is a spectacular ride. To the North of Bao Loc is open gravel tracks through plantations, and to the South of Bao Loc is pine trees and hills with amazing views. If you can find a way to get to Bao Loc city, then this one to day loop (from Bao Loc) is an absolute must!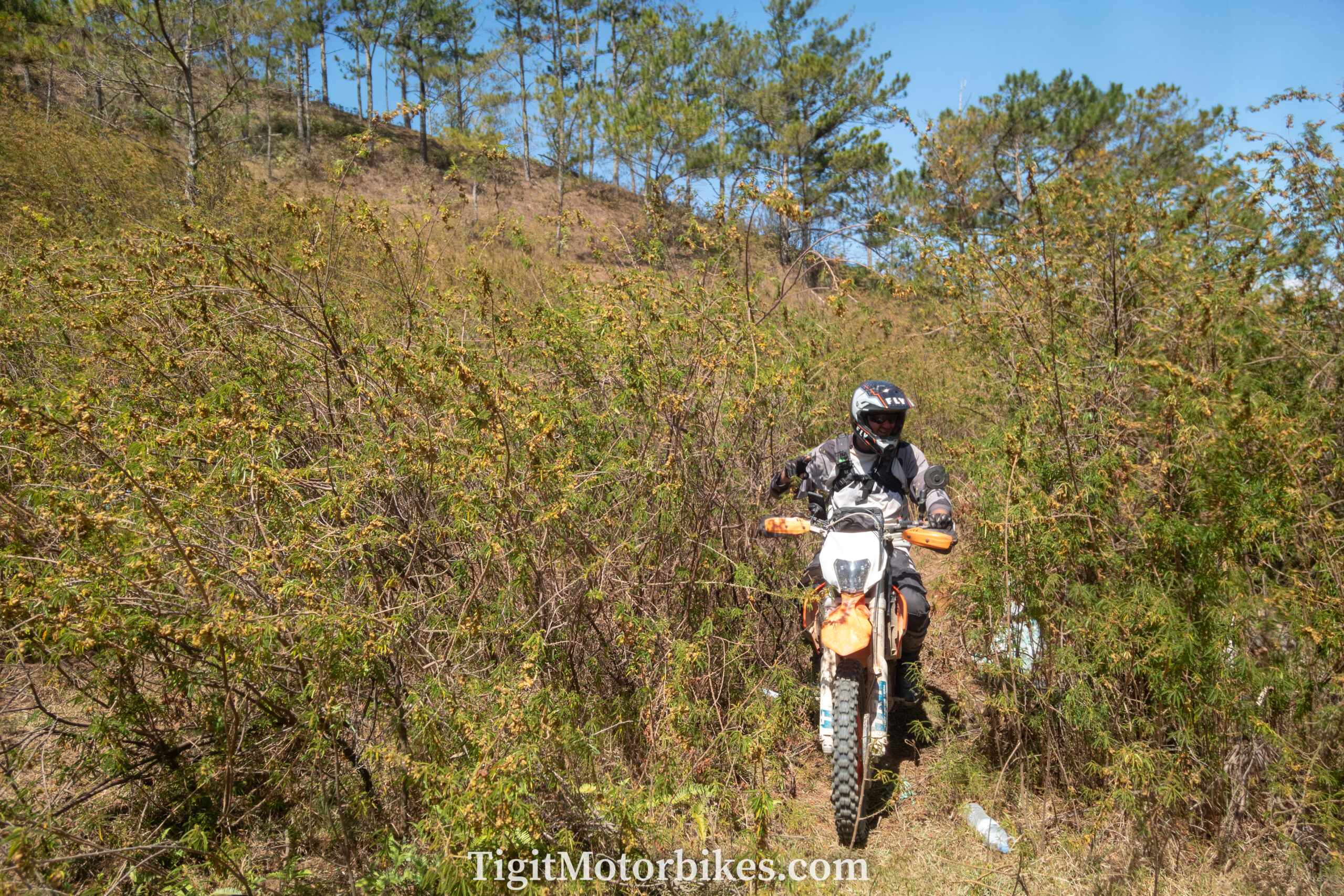 Mui Ne Sandunes (red)
An XR 150 or CRF 250L is not really enough to go into these dunes. However, you can scratch the side of them. Dunes are dangerous because breakdowns and water can be an issue. Overall you need a good bike and experience to be venturing into these dunes!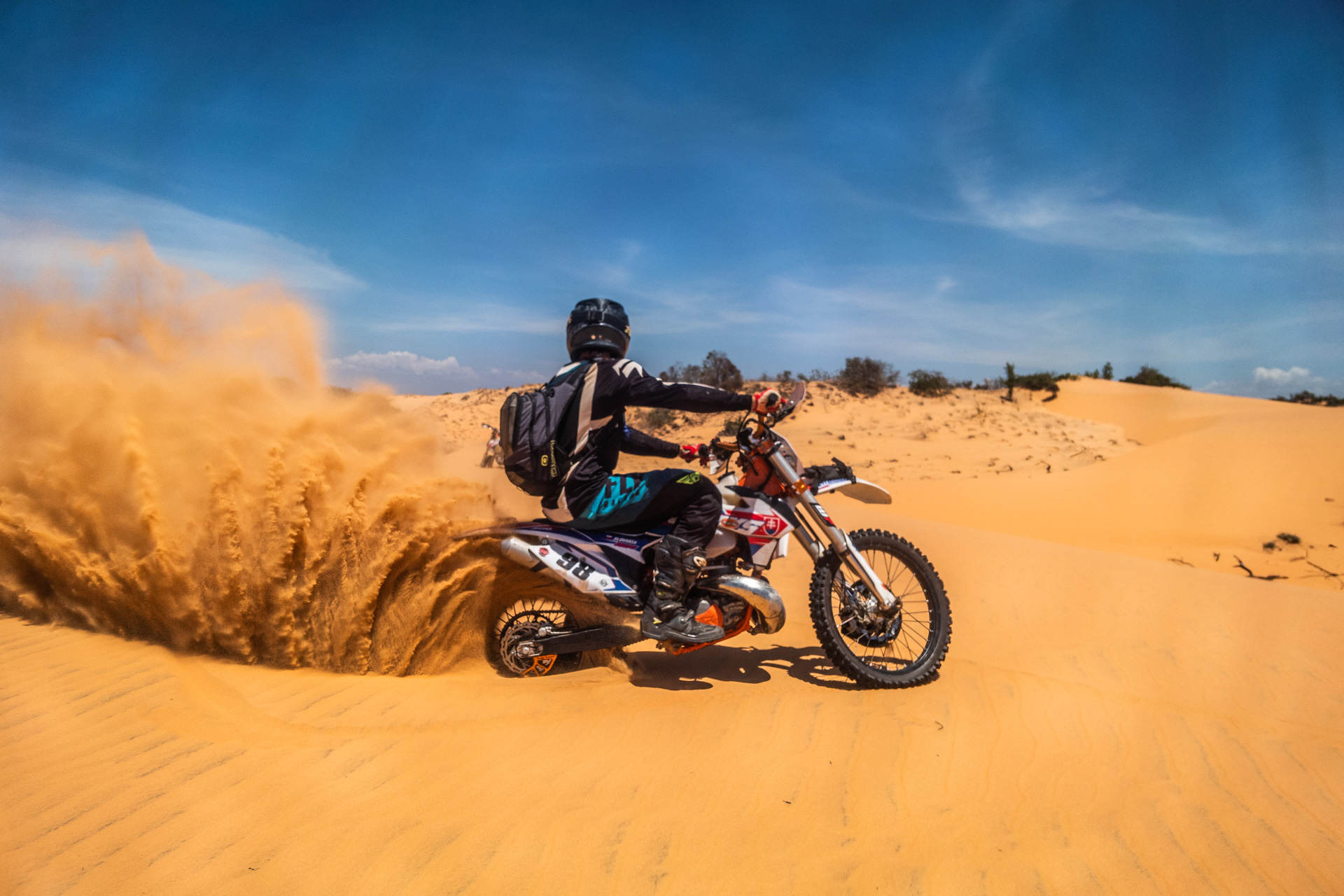 Mui Ne to Dalat (purple)
The purple sections here have sand, but can be done on any motorbike. As you head North toward Dalat the riding turns into pine tree riding. There are difficult sections, but nothing that should stop most riders. Locals go meandering through these trails as well, so if something goes wrong then rescue is likely to happen eventually.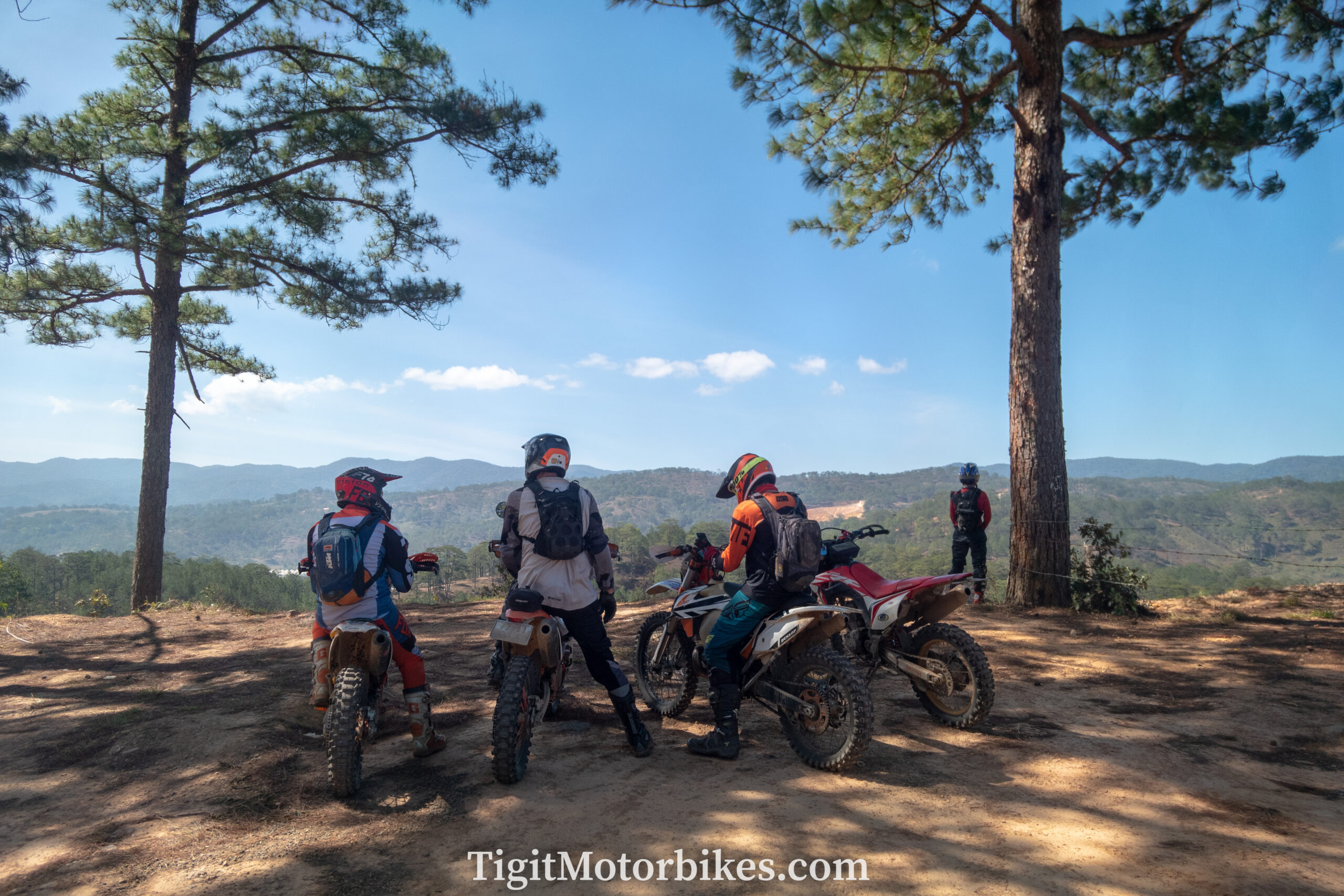 Kala Lake Jungle run (red)
A well-kept secret for many years and for a good reason. Many people claim to have completed this trail, but I can tell you, many people lie! No one ever manages to provide GPS data; go figure! I recently tackled this trail, and I can assure readers that this is an extremely dangerous and remote trail that needs not just an experienced rider but an experienced group. Hard hills climbs, a lack of water, no people, large jungle that is easy to get lost in. Almost zero chance of bumping into a local for rescue.
Build a strong team, and setup your ride for camping.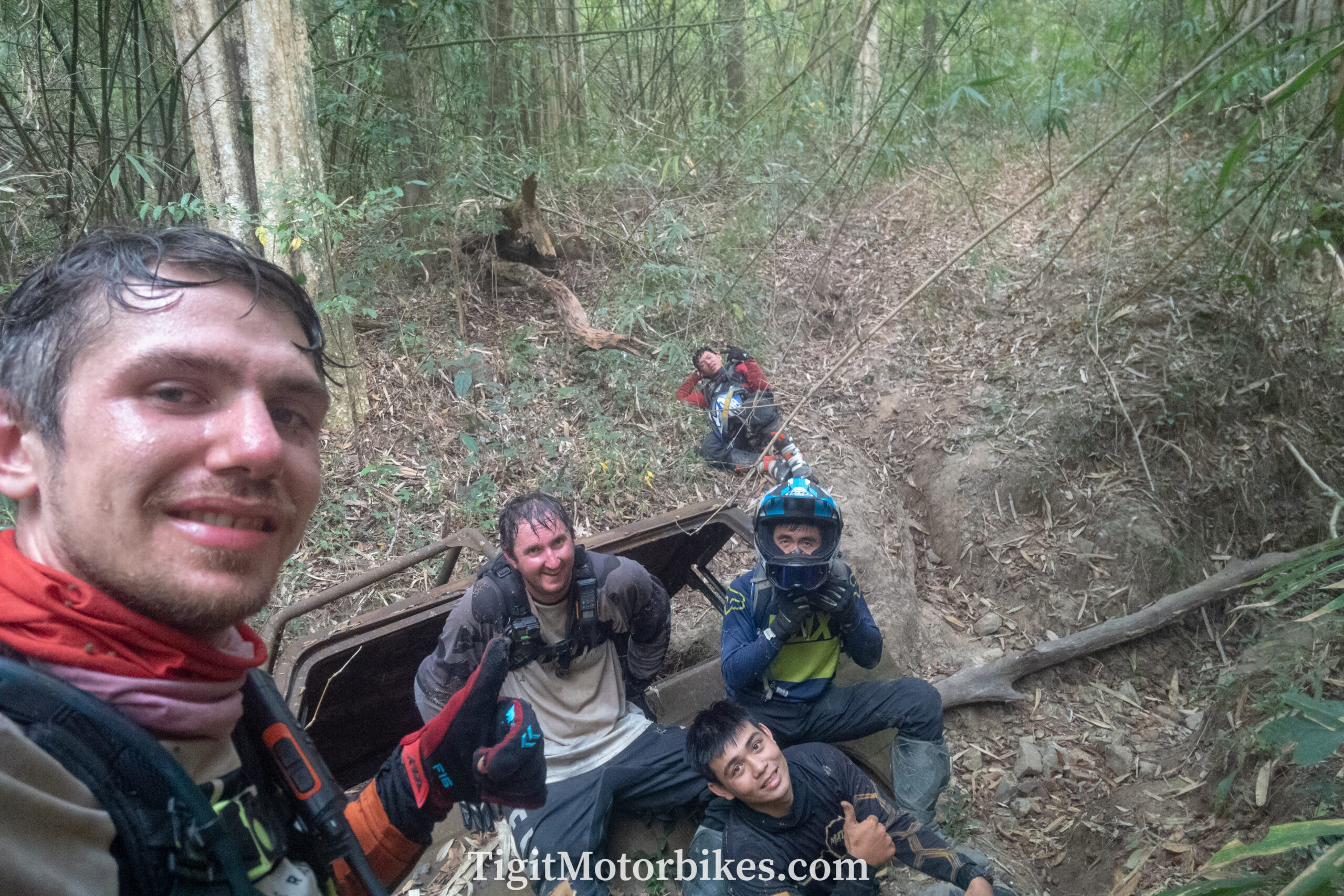 Ta Nang (red)
A notoriously famous trail to attempt. Very hard and reasonably remote. However, it does have regular hiking tours going through here. If you don't venture off the main trail, rescue will eventually come. Dirt bikers attempting and failing to tackle this trail are so common that a known Honda Dream rescue service exists in the area. Very steep hill climbs and beautiful views. Build an experienced team and give it a go! It is usually a two-day camping trip, but I have done it in three hours. Anything is possible!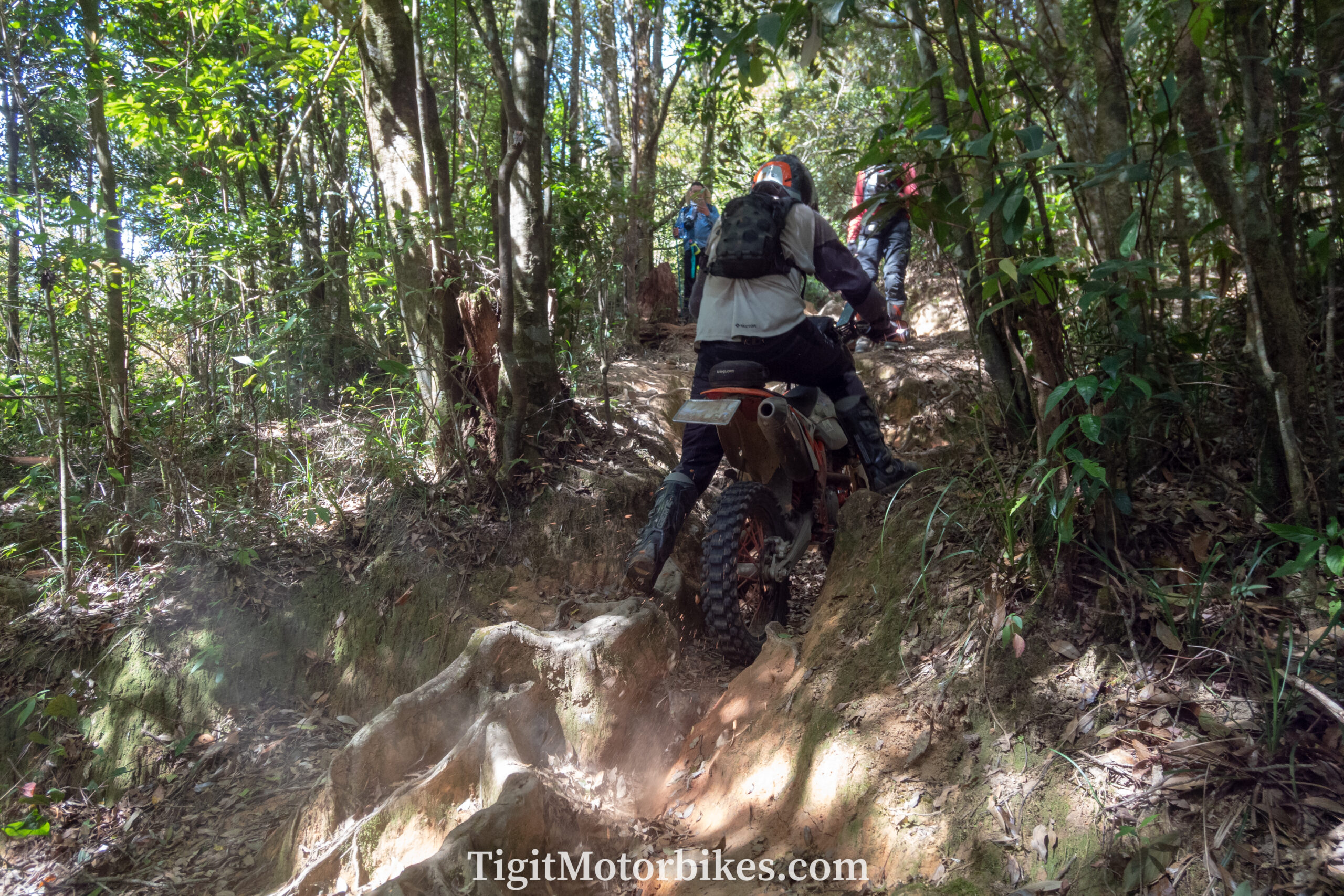 The ridgeline (red)
If you like river crossings, then this is the trail for you! It isn't particularly hard, but if your group has average riders, then dropping motorbikes in rivers is a guarantee. Motorbikes don't like water, leading to a never-ending circle of broken-down, water-logged motorbikes. Famously a group of 20+ Vietnamese and Foreigners got stuck on this trail and were unexpectedly forced to camp out there! It must have been quite the experience.
They didn't get to the hard part, though, which is the red section that ventures up toward Dalat. Thankfully, this is optional, and it is possible to take the road back to Dalat after completing all the river crossings.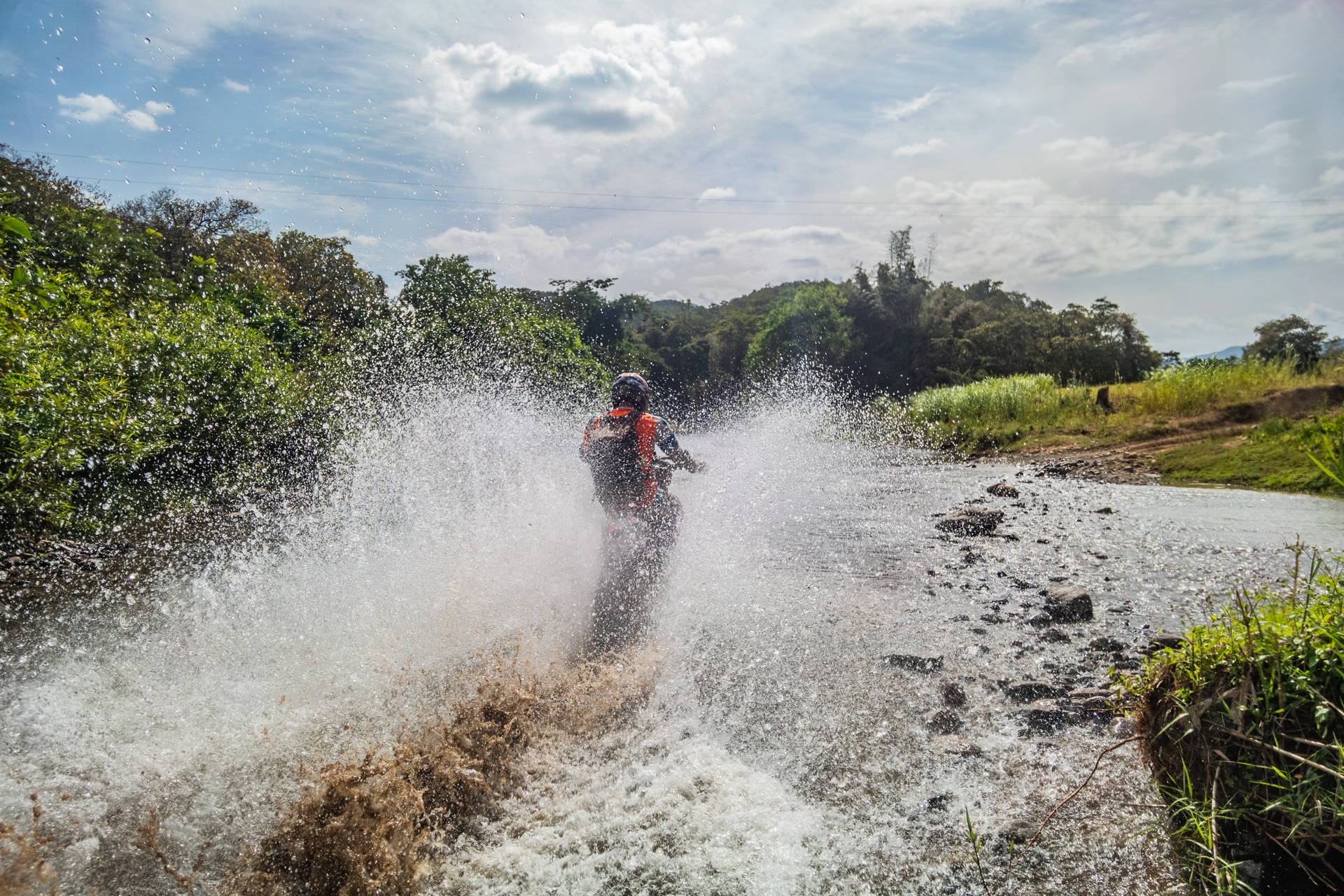 The farmland run (purple)
Heading North from Bao Loc up the West side of Dalat is the Farm Land run. This is fun meandering trails that cut through lots of Vietnamese farmland. Fast-paced, easy driving for most (although in wet it is probably hard).
I use this trail if I am heading up toward Buon Ma Thuot.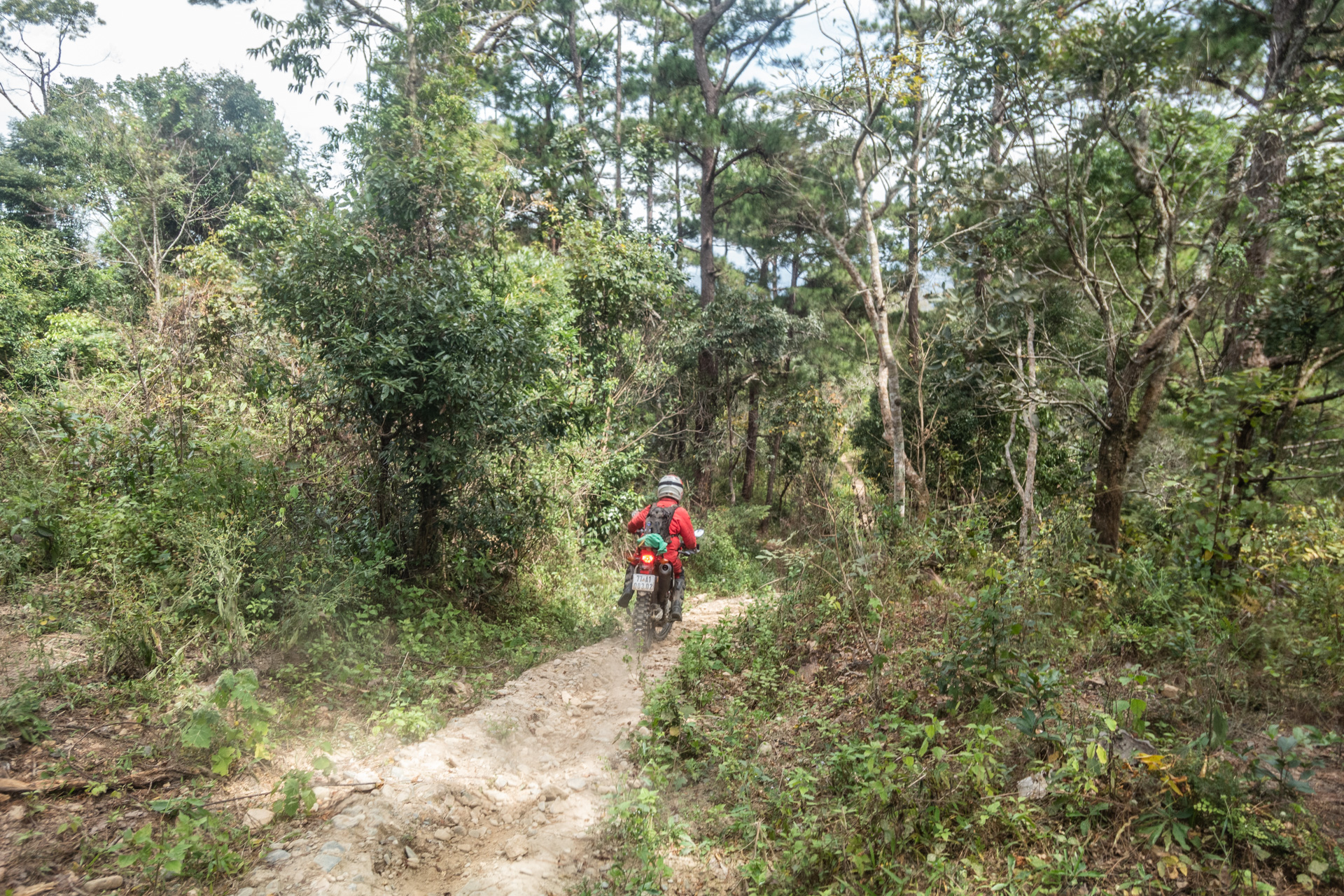 Dalat trails (purple)
All around Dalat I have marked trails in purple. For most people, these are likely to be pretty tricky. But that's the point, Dalat is a chance to have a day ride, starting and finishing in the city. If you set out on a trail and it takes you all day to complete, then this is great; crack open that beer! There is nothing dangerous or remote in Dalat. Everything here is safe and a great chance to practice your riding. Don't message me saying the XR 150 doesn't have enough power to get up a hill. Tigit Todd has made all these trails on the XR 150. Blame the rider, not the bike! Have fun.
Clutch burning is on the customer, not Tigit.
The DT722 run (red)
Heading North West out of Dalat is the DT 722, which was once one of the most difficult trails in the south. However, each year road has slowly eaten it up. As of writing this, I think it might be so easy now that you can drive a car through it. However, I still need to confirm this.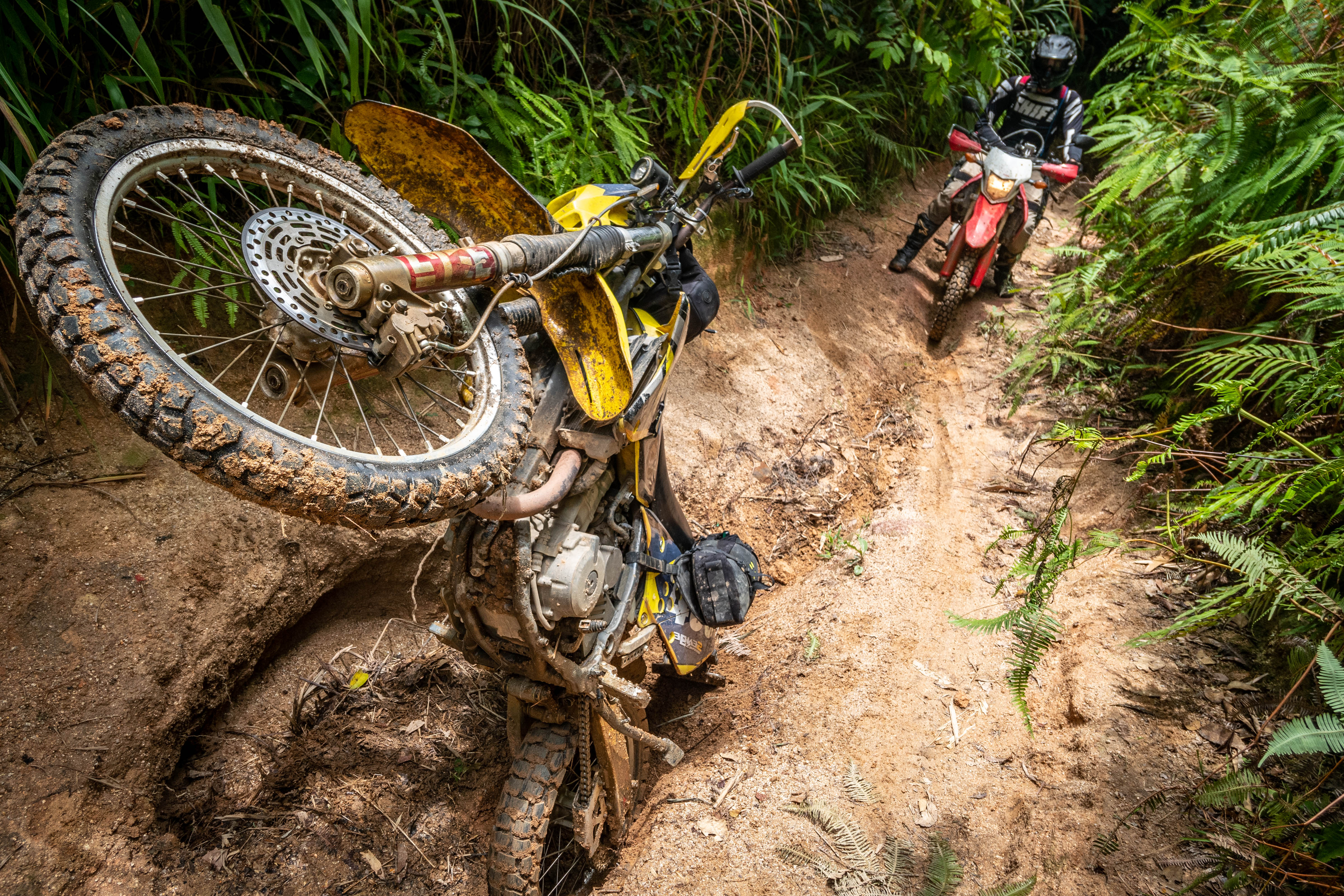 Lak Tented run (red)
To the east of the Ql27, running west of Dalat is a challenging rocky trail that calves through the countryside. Some of it is easy, and some of it isn't. This is a good trail to test your skillset to decide if you are ready for other red runs on this map!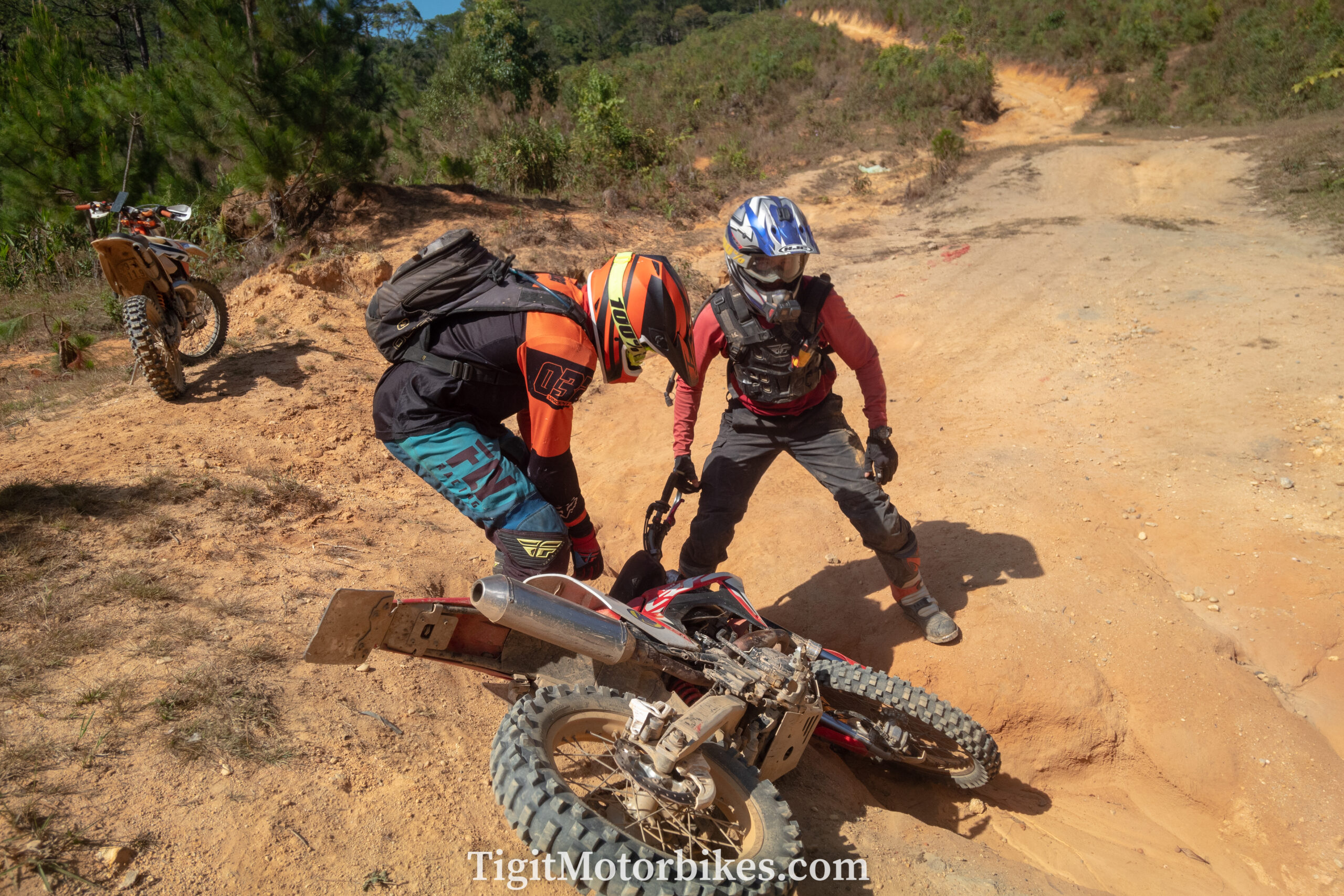 How to use these maps

The colors on the lines are not color-coded (although there are basic themes to the colors). This is due to complexities in how GoogleMy Maps works. Please read the descriptions on the pointers and send an email if anything doesn't make sense. It is impossible for us to "plan" your routes, as these are technical to the level where different riders will cover different amounts of ground depending on skillset. Within is the foundation to get your offroad motorbike adventure planning started.
Central Highland exploration

The central highland exploration route is a fascinating ride of rocky and sandy terrain. The bulk of the route that I did is the purple line on the West side of the map. It is a challenging ride that takes you far from civilization without ever being too far. We struggled on this journey with wet conditions and motorbike issues. However, to this day, it remains one of my favorite pieces of route research. We did 5 days from Dalat to Buon Ma Thuot. It is not a tried and tested route, and the central highlands area of Vietnam is rural in general. It is not an area to venture to without experience. For reference, the weird waterfall symbols are gas stations!