Reading Time:
7
minutes
Offroading in the South of Vietnam
This article will share all my offroad motorbike rides in the South of Vietnam. I hope these maps help grow the offroad scene in Vietnam and that people enjoy exploring this wonderful country outside the typical tourist areas. I ask that you treat these remote areas with respect. Don't throw trash, don't negotiate with locals, and be mindful that people would never have seen a foreigner in some of these places. I have decided to publicly post these routes, knowing that people will try and fail to tackle the trails. When you fail, feel free to book a Tigit Tour guide to show you how it's done.
Offroading in South Vietnam Disclaimer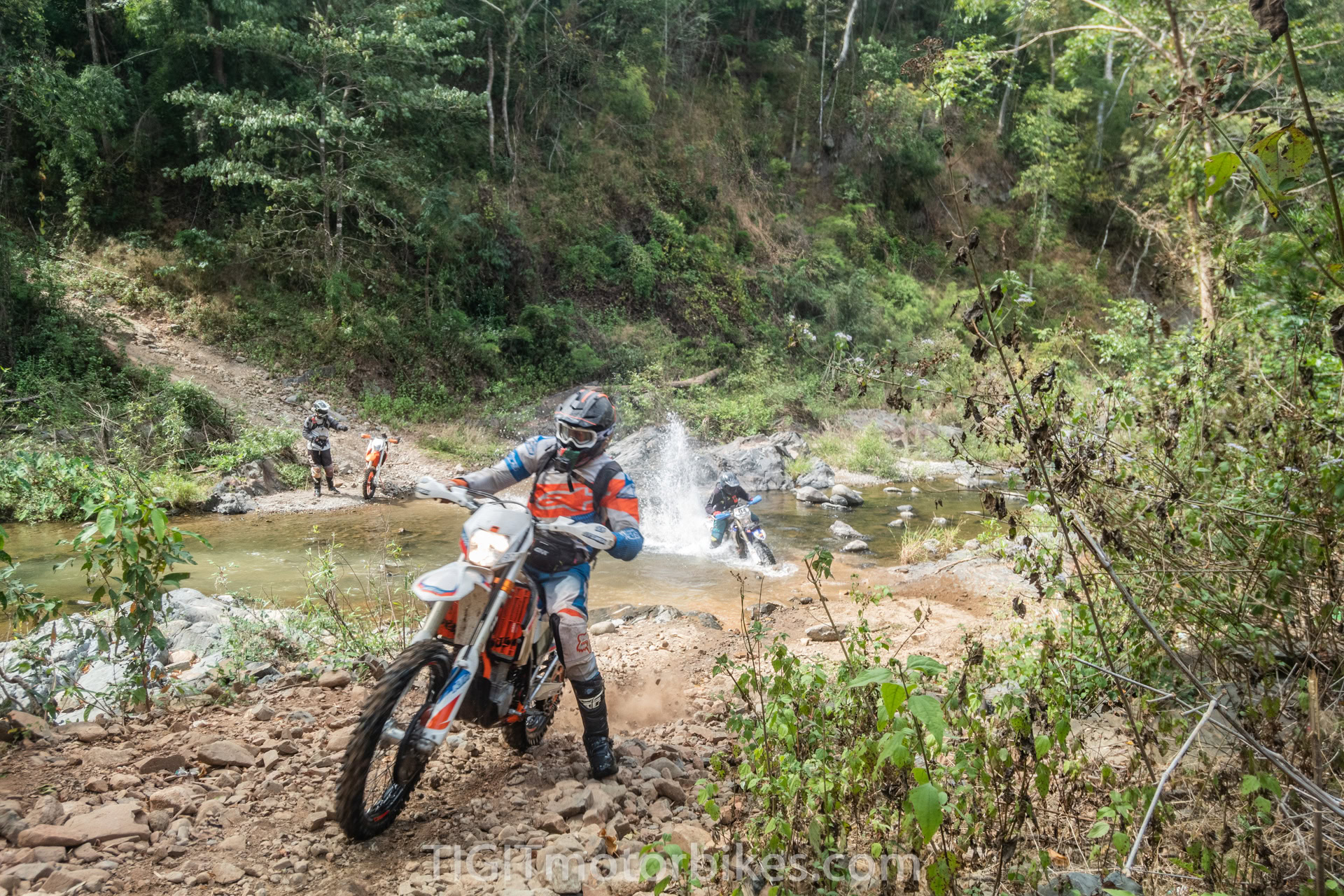 The routes documented here are not ADV rides. Most of them are challenging "Enduro" based journeys, and most people reading this article will fail to complete the journeys. Prepare plenty of water and food, and understand that some of the lines drawn on the maps are miles and miles from civilization. When you attempt a route and fail, then feel free to arrange a guide with Tigit. 
How to use these maps

The colors on the lines are not color-coded (although there are basic themes to the colors). This is due to complexities in how GoogleMy Maps works. Please read the descriptions on the pointers and send an email if anything doesn't make sense. It is impossible for us to "plan" your routes, as these are technical to the level where different riders will cover different amounts of ground depending on skillset. Within is the foundation to get your offroad motorbike adventure planning started.
Dong Nai one day escape Saigon tour
For a one-day ride, nothing beats Dong Nai. It takes around 1.5 hours to get out of Saigon and into the dirt. There are endless trails that can be driven that zig-zag between developed areas. Most Sundays, a group of ex-pats will head out in Dong Nai for a one-day offroad ride. Checkout Saigon Real Riders Facebook group to get involved.
There are muddy trails, sandy trails, and open trails. It is all there. It just falls a little bit short on being jaw-dropping due to being always surrounded by urban development. Tigit runs this dirt motorbike tour where our tour guide will help you through all the mud and adapt the route to your skill set and conditions.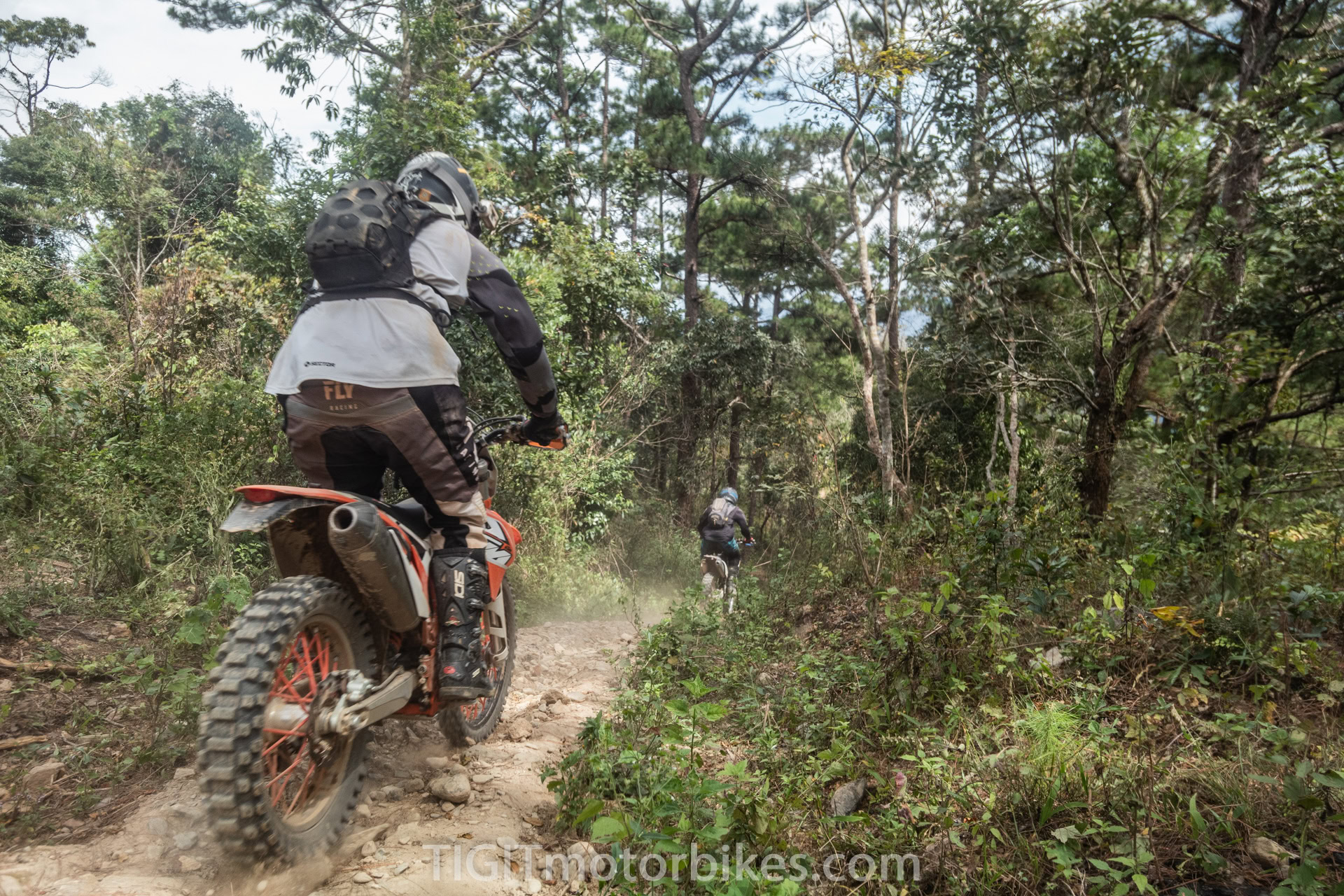 Cat Tien Two day route

Cat Tien is the route that most people learn to offroad with. Expats can spend years using Cat Tien before getting bored of its muddy trails. It only takes around 1.5 hours to get out of Saigon to the label marked "Dubai Coffee," where the offroading fun begins. 
The DT761 is where Cat Tien starts to take shape with a wonderful experience of being in the thick of the Vietnam jungle. Hot, tropical conditions with puddles that can be the size of swimming pools. The clay water splashes up and provides warm and muddy blasts all over the bike and body. 
Cat Tien itself is a nice place to stay on the river bank. Various accommodation options are local but familiar with foreign ideologies and standards.
Day two in blue meanders its way back to Saigon through banana plantations and gravel tracks. Drivers wishing to push their skillset can choose the "Escape Saigon Tour" route back to Saigon.
Alternatively, the green line is a challenging remote route back to Saigon that very few people know about. I have only done it in the dry season, and it is a reasonably lengthy trail. In the wet season, I think it will break most people.
In the wet season, Cat Tien can be challenging. The wet clay behaves like ice, and the tractor-sized ruts can swallow a motorbike hole. Clay is also heavy, and when stuck all over the motorbike, it can zap the life out of a continually crashing rider that is picking up a motorbike weighed down by a tonne of clay. In the wet season, Cat Tien needs to be treated with respect, and it will be out of the comfort zone of most riders.
In the dry season, Cat Tien is fast-paced light sand. A sandy topping with rocks underneath which provides an excellent environment for learning on.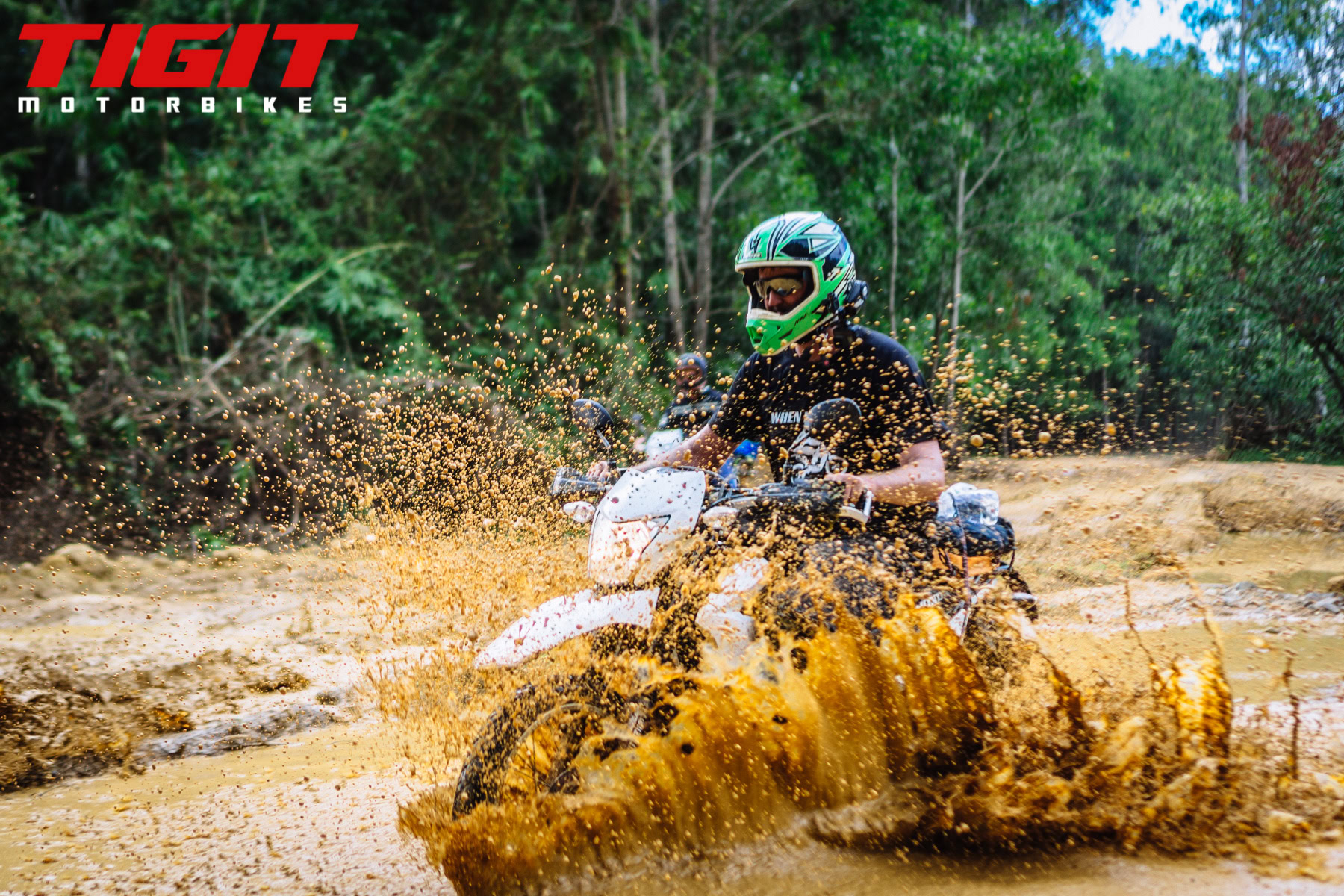 Lagi two-day run

The lagi two-day run is my favorite weekend offroad ride. The gradual change of the mud from Saigon to the rubber plantations to the sandy beach is an epic transition. It is appropriate in all conditions and shouldn't be out of the comfort zone of any driver. There are also sections of open and fast-paced driving. This route has something for everyone.
Unfortunately, Lagi still lacks in the accommodation department, with the popular coco beach camp getting more run down by the year. However, it is great to spend the night on the coast drinking beers and having a BBQ.
Day two kicks off with a bang by driving as far up the beach as you can go. It then ventures off into deep white sand that is still doable for most drivers. The kind of sand that is likely to push an entry-level rider but not beat them. Be careful out there, as it is hot. I have drawn in an optional gravel green line for those on heavy adventure motorbikes.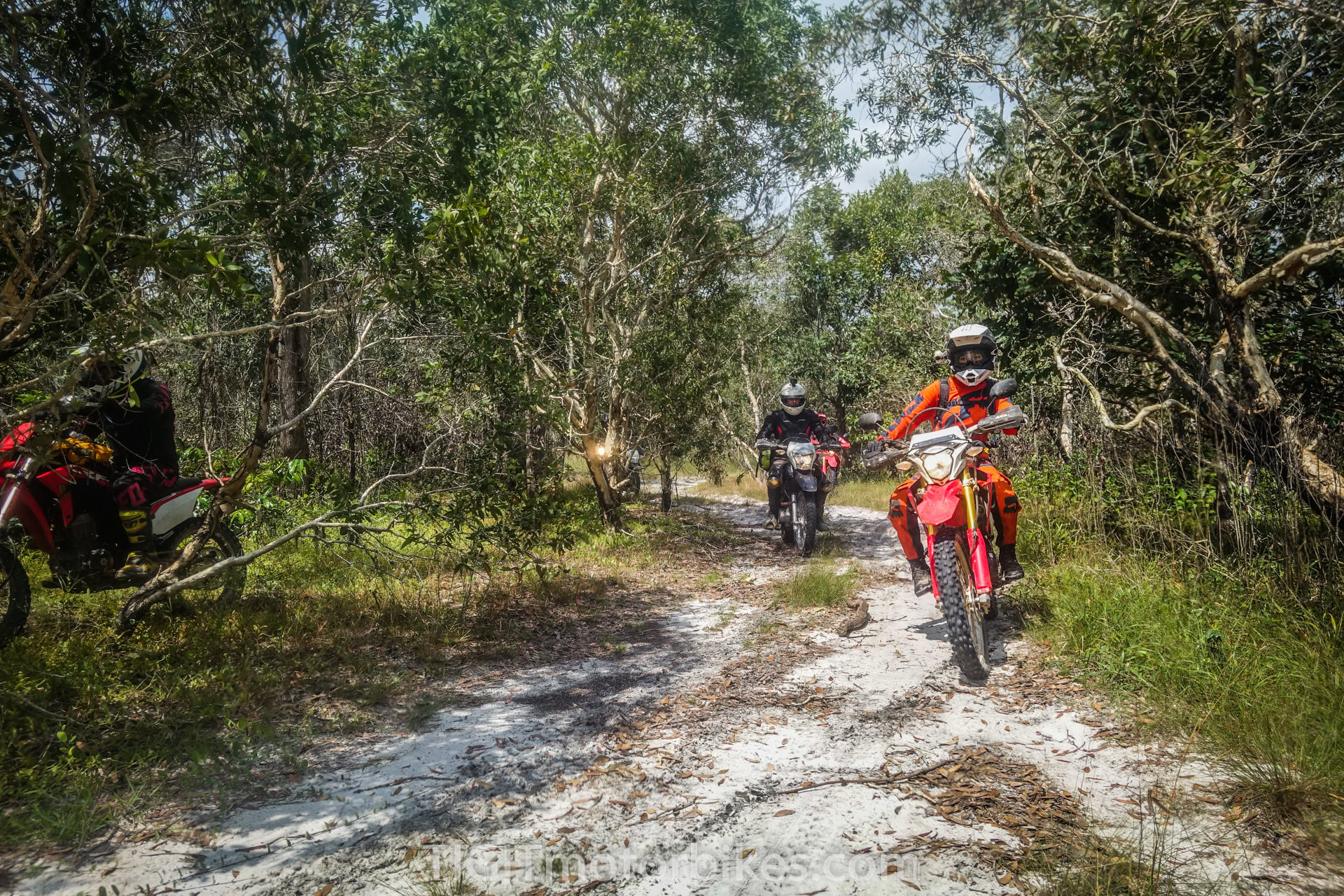 The Dalat Run Rally

Most of the documented route here is out of the comfort zone for most riders.
The concept starts with the Yellow line connecting Cat Tien to Bao Loc. This line is extremely difficult and remote. Do not attempt it without a serious amount of experience under your belt, or you will end up stranded in the jungle. There are no people out there and no help. A failure will result in a walk out of the jungle. The ride is not particularly interesting and full of steep ascents and descents plastered with the most slippery clay imaginable. It is not a pleasurable experience tackling this trail, but it is certainly one to prove your worth on a motorbike.
We then connect into the brown line north of Bao Loc, which is open plantations and fun for all levels of riding. It then shifts into pine forests which are great fun.
Continue north on the yellow or brown line—an area of Vietnam full of single-track trails surrounded by farmhouses. Although rural, there are plenty of people around. Again, the surface is clay material that is fine in the dry, but it will be a nightmare to tackle in the wet.
We head up to the DT722, which is one of the best trails in Vietnam. Unfortunately, it gets easier each year as development inevitably takes over this connection between Buon Ma Thuot and Dalat. However, it still remains a challenging single-track trail that is outside the skill set of most drivers. Be prepared and start the trail early in the day, and you will eventually slog your way through it. This is one of the best tracks available to go from a beginner rider into the realms of an intermediate offroader. It is remote, but there are always locals plodding through on Honda Dreams, so someone will eventually save you if everything goes wrong.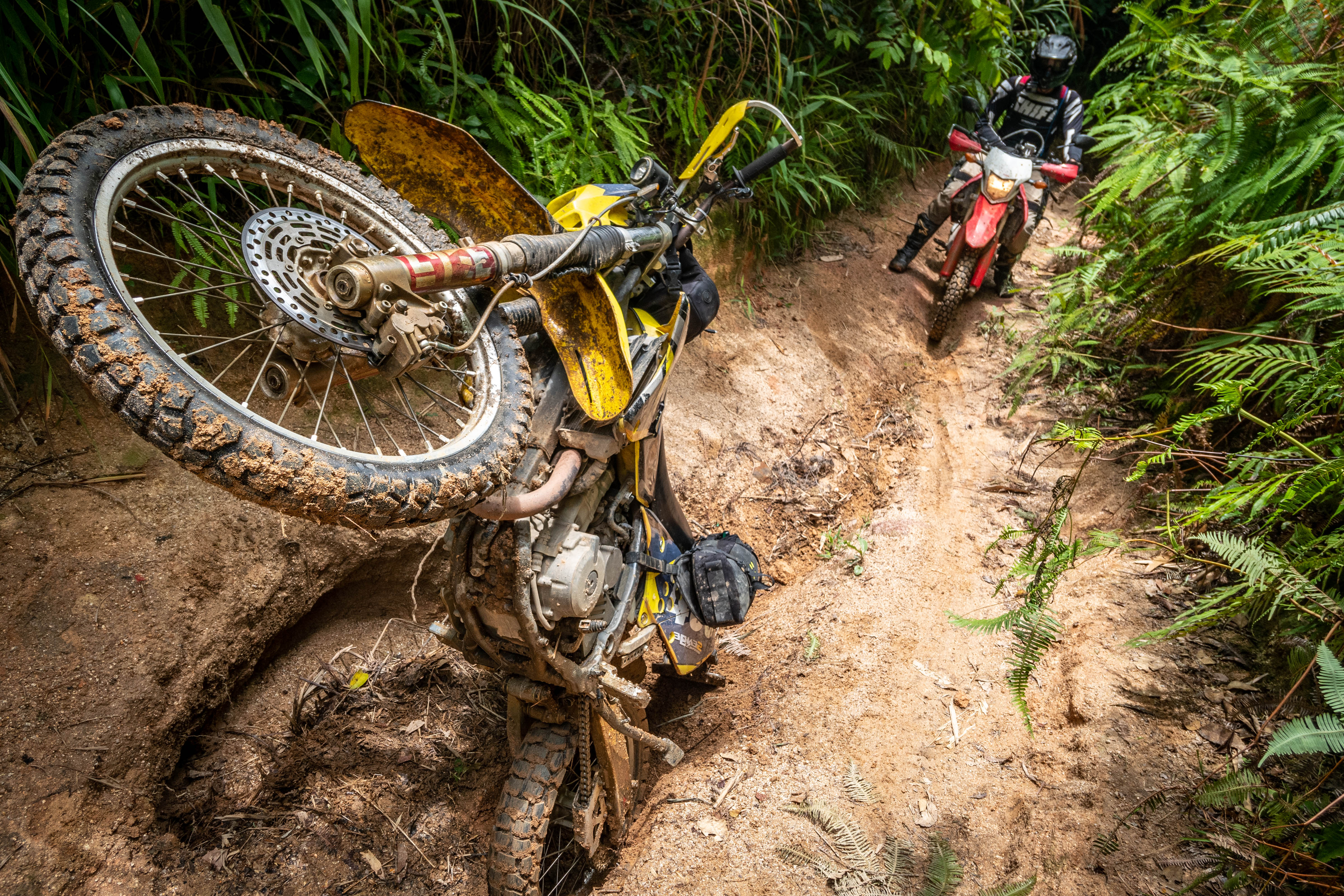 Ta nang the Suicide crossing

Ta Nang is an iconic trail known for being difficult. Usually tackled as a two-day camping trip, it can be done in one day on a motorbike with the right preparation and skill set.
Ta Nang is not a joke, and there have been two deaths in the National Park in recent years. Ta Nang should not be attempted without an experienced group of riders. From mechanical skills to survival skills, this is not a place that you want to find yourself stranded in.
From Dalat, I recommend making the one-day loop labeled as "The Ridgeline." This is a test to see if your group has the skillset to tackle Ta Nang itself. With a successful loop back to Dalat airport, you are now able to attempt Ta Nang. Good luck and bring plenty of water.
Apart from proving your worth on a motorbike, Ta Nang is a stunning area that is eventually destined to be an outdoor adventure landscape for hiking and mountain biking. Instead of rugged mountains, we have spectacular rolling hills as far as the eye can see. It is a unique and beautiful landscape that will remain in your memory for the rest of time.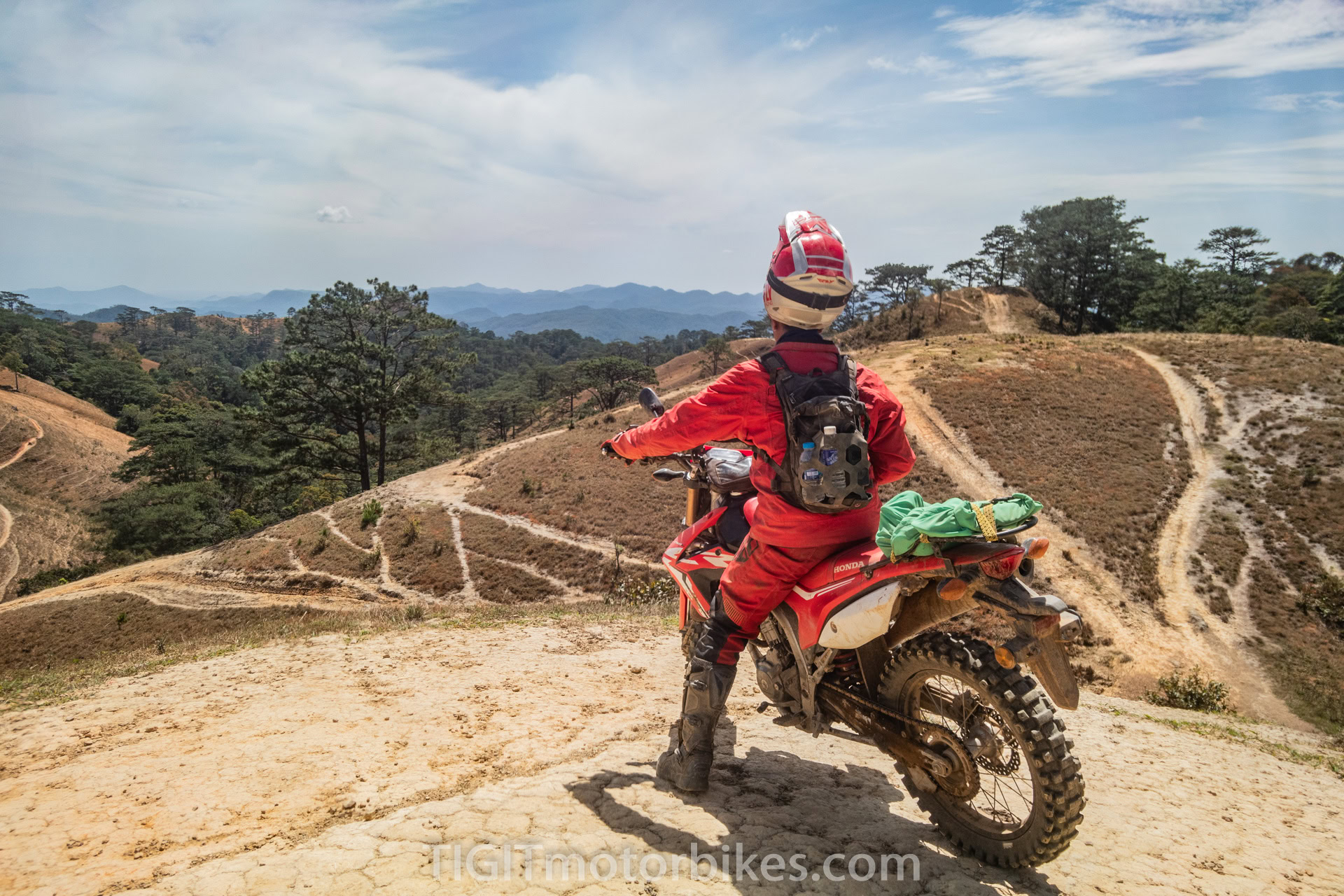 Central Highland exploration

The central highland exploration route is a fascinating ride of rocky and sandy terrain. The bulk of the route that I did is the purple line on the West side of the map. It is a challenging ride that takes you far from civilization without ever being too far. We struggled on this journey with wet conditions and motorbike issues. However, to this day, it remains one of my favorite pieces of route research. We did 5 days from Dalat to Buon Ma Thuot. It is not a tried and tested route, and the central highlands area of Vietnam is rural in general. It is not an area to venture to without experience. For reference, the weird waterfall symbols are gas stations!