Reading Time:
18
minutes
     In this article, we explore why virtually anyone can travel Vietnam by motorbike no matter their budget or experience with adventure.  To prove that point we've come up with 16 reasons why traveling around Vietnam is one of the best experiences anywhere. Disagree? Leave a comment below. We can take it!
1- Top Destinations Are Only One Day Apart
    Vietnam is a long and narrow country with each major city or must visit place situated within one day's drive of each other. Between the cities are spectacular countryside environments which remain undeveloped and relatively untouched. Check all our recommended routes for traveling Vietnam by motorbike.
    A day of traveling on your motorbike trip goes from the comfort of a big city or tourist location to winding through spectacular mountain and coastal scenery, which shows off fascinating local culture. By the end of the day, it is possible to land back in another city or a comfortable tourist area.
    Few places in the world allow a rider to drive through developed major centers then take them through remote inhabited terrain in a days drive. Perfectly set up to experience beautiful untouched roads without ever wandering too far from civilization.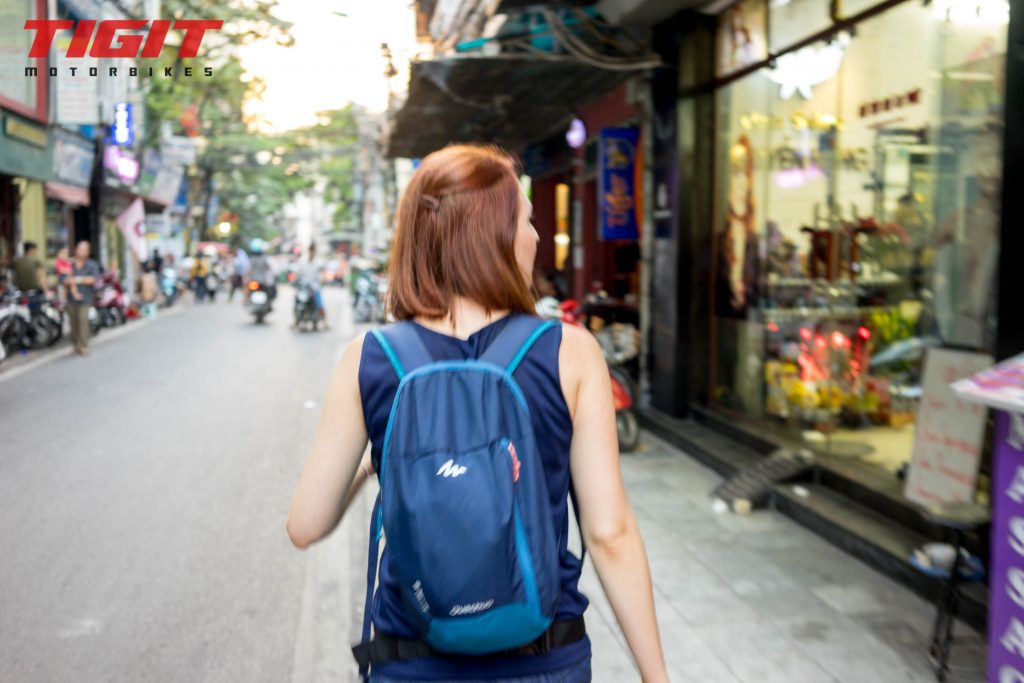 2- Hotels Are Cheap And Everywhere
     Hotels in the major cities can range from $5 dorm rooms up to 4/5 star resorts. In the countryside, hotels are also frequent and cost around $10-15 a night. The rooms are nothing to get excited about, but they provide basic sleeping conditions during your trips in Vietnam, and can be found everywhere. If a traveler fails to make it to the desired location, then a countryside hotel will get them through the night.
    Travelers often ask if Vietnam is a good country for camping? In reality, hotels are so common and cheap that there is no need to lug camping gear around. If you choose to though, it's easy & safe to do.
     Homestays and Airbnb are becoming popular as a way to offset low incomes. Many Vietnamese know a bit of English, and a night in a Homestay or Airbnb will usually land you as the center of attention. Hosts will provide you a warm and welcoming time with some basic communication. Also, the $5-$10 rates will directly benefit the income of the family you are staying with. Local pride is important, and people are happy to show off traditions and foods while also being eager to learn any English you can teach them.
     We have a full guide explaining accommodation in Vietnam. In this country, there is truly something for everyone.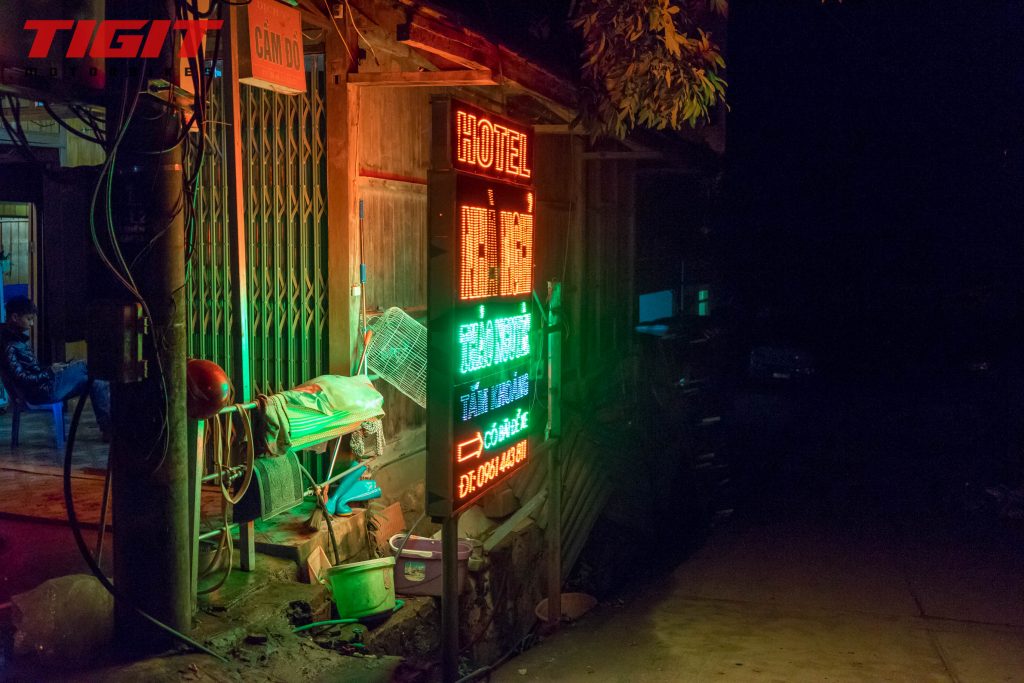 3- Food For All Tastes – Cautious Western Food & Adventures Vietnamese Cuisine
    Vietnamese food is famous the world over, but often not talked about is the skills to replicate western dishes. Every major tourist city will have Pizza and Hamburger joints, often run by passionate foreigners. Underpriced and usually delicious. If your first stop is Saigon, do your research and search out the best street food in Ho Chi Minh.
    Even in the countryside, Vietnam can provide dishes for both the adventurous and the cautious. For simple tastes, Pho Bo (beef noodles) are a popular fix. This basic dish is found everywhere & travelers will soon learn to watch for the "Pho Bo" sign as they drive along. Banh Mi (baguette-style sandwiches) are also readily available as a quick pick up to enjoy later.
     The adventurous foody can find all kinds of creepy crawlies like snails and duck fetus if that's your idea of entertainment. Or universal tastes like Vietnam's incredible coffee scene. You can also push the boundaries with off-limits food like dog.  Local ethnic groups and villages often specialize in some sort of delicacy. To try these local dishes just search around for where the locals are eating, and you'll find it. This is also an excellent way to get involved in the local spirit, just walk into the restaurant looking confused. This confused look is a sure way to get some attention and provide entertainment for everyone.
     Locals love a party, and a confused looking foreigner is a great excuse to crack open more beers. The Vietnamese are open, friendly and quite hospitable and they'll quickly see you as a respected person of interest, and not an intruder. Just remember that it is rude to drink alone and you must be able to handle your alcohol!
| Name In Vietnamese | Name In English | Average Cost |
| --- | --- | --- |
| Po Bo | Beef Noodles | $2.50 |
| Banh Mi | Baguette Sandwhich | $1 |
| Com Ga | Rice With Chicken | $3 |
| Banh Xeo | Crispy Pancake | $3 |
| Goi Cuon | Fresh Spring Roll | $2 |
| Burger With Fries | Burger With Fries | $5 |
| English Breakfast | English Breakfast | $4 |
| Com | Rice | varies |
| Ech | Frog | varies |
| Oc | Snail | by the gram |
| Thit Cho | Dog | |
Read more: what to eat in Vietnam
4- Street Vendors And Convenience Stores On Every Corner
    Vietnam has no shortage of convenience stores, rows of identical shops stocking the same stuff. Anything from shampoo to Oreos can be found in these little beauties. Sometimes when the going gets tough a little bit of the packaged western calories need to be enjoyed. Stop for a bottled coke and some Haribo ready for your next mammoth drive. Well, maybe not Haribo…. but the dirty and cheap Vietnamese equivalent!
    These handy shops stock a surprising variation of items that can take you from feeling like you're in the middle of nowhere, to placing a familiar chocolate bar in your hands and transporting your mind to home. Not worrying about bringing every little item will help cut down on what to bring and wear.
    The convenience shops are easy to spot, you'll see a small open storefront with fruits, foods, packaged snacks and random household goods spilling out onto the streets. As for the bicycle shops, look an old woman riding a bike with a yellow box on the back.  Inside the yellow box you'll find cold Coke and other drinks, random fruits, and edible sugar cane. When you spot these old ladies and their mobile shops, you'll slam on the brakes and think… actually, yes, now is about the right time for a sugary drink.
Convenience Store Item
Cost
Coke 330ml
9,000vnd - $0.40
Oreo 137g
16,000vnd - $0.70
Shower Gel - Dove 530g
124,000vnd - $5.32
Shampoo - Dove 340g
79,000vnd - $3.50
Toilet Paper - 2 Pack
10,000vnd - $0.43
Saigon Beer 330ml
14,000vnd - $0.60
Marlboro Cigarettes 20pack
22,000vnd - $1
Haribo, sort of... 160g
67,000vnd - $2.90
Bananas 1 unit
Bananas 1kg
8,000vnd - $0.40 Street
32,000vnd - $1.40 Super Market
Kit Kat / Green Tea Kit Kat / Snickers 51g
15,000vnd - $0.65
How much is a water bottle in Vietnam? (500ml)
Just 5,000vnd - $0.22 from the mobile shop!
5- Mechanic Shops Are Everywhere
     Mechanic shops are everywhere, but riders on quality bikes can avoid them. When you rent a proper motorbike from Tigit, travelers can skip past the black hole of mechanic shops. Why? Your motorcycle is not going to break down. If you are an expat in Vietnam looking to service your motorbike, then take a look at the Tigit Mechanic shop.
    Who gets to spend their holiday and holiday money at these shops? The backpacker who bought a $200 piece of Honda Win garbage. It's nice of these people to support the local economy, but spending that same money on beers at the beaches is a better investment.
     For the traveler on a quality motorbike, you'll only need to visit these shops for a cheap flat tire fix. Unfortunately, flat tires are often caused by bored mechanics laying shrapnel on the road to get your business. At some point, you're going to get a flat. Flat repairs also aid the local economy, but on a small scale.
     In South-East Asia, everything is created on scale, and motorbikes are no different. Honda, Yamaha, and Suzuki make a select few standardized models on a massive scale which allows for spectacularly quick and cheap fixes.
     Finding genuine service centers like Honda or Yamaha are easy to find in every town. If you have any mechanical issues or safety concerns, these places employ professional mechanics. When you rent with Tigit, we reimburse the traveler for any mechanical work that needs to be done at a genuine service center. We guarantee a safe and convenient way to travel 2000+km in a foreign land.
Motorbike Costs
Buying a motorbike $500-$1000

Motorcycle rental

low end $10/day high end $45/day

Fuel $5/ 200kms

Oil changes $5/ 400kms on a cheap Honda win $5/1000kms on quality Honda

Flat tire fix $2-$5
6- Vietnamese Are Good At English
    In major cities, English is widely spoken. In primary schools, English is mandatory, and you'll always find someone with a basic grasp on the language. Convenience stores, hospitals, or any significant services are likely to have some English speaking staff. Even in the countryside, it is incredible how many people speak English.
    During your Vietnam culture trip, you'll learn that the youth from smaller towns are sent to work in the big cities and send the money home to help the families. While they are there, the workers will often pick up some English or even become fluent from watching NetFlix and excessively browsing Facebook. This means that even when your exploring areas like the Danang motorbike loops and its more remote areas, a university graduate from the big city might pop out of the forest eager to assist you.
    For the westerner, it's incredibly challenging to learn Vietnamese. The Vietnamese know this, and it has become of utmost importance for the Vietnamese to speak English to interact with the outside world. The Vietnamese love technology, Facebook, Western movies, and outside fashions are widely followed. The internet is everywhere in Vietnam, and where there is internet, there is English.
    A love to understand the outside world makes any conversation with you worth its weight in gold. Speaking to a native English speaker is a rare opportunity outside the city, and a local is going to want to share everything and anything with you to prolong a conversation. It also means there is plenty of willing help, should you ever need it!
    Language Stats
53% of Vietnam's 95-million person population speak English

*Source UK Daily Mail

A bachelor's degree and TEFL certificate are required for westerners to teach English in Vietnam. They have high standards.

English is mandatory in Vietnam's primary schools.

Vietnam was once a French colony. In communities like Da Lat, many older people will actually speak French.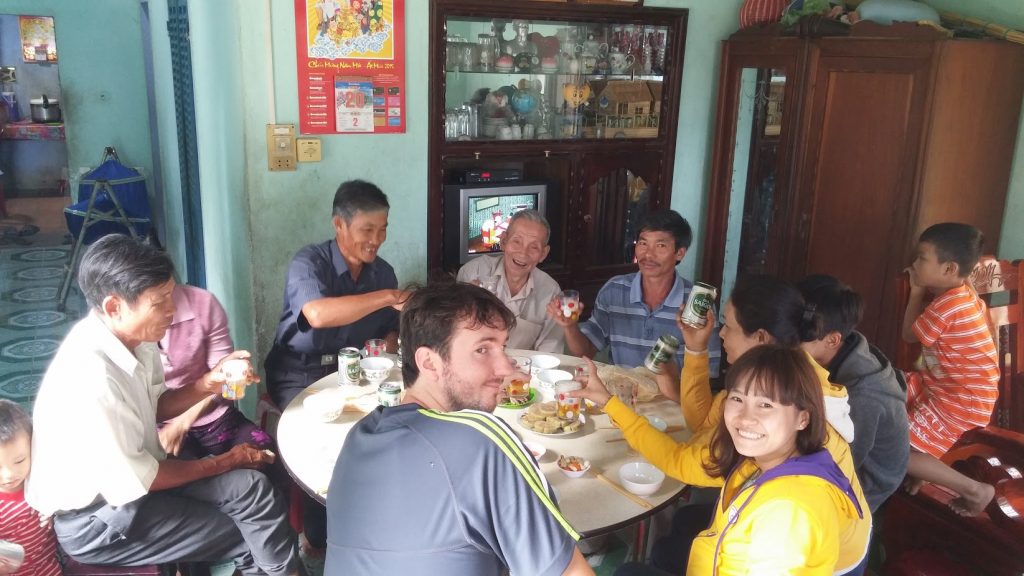 7- You'll Meet Friendly and Curious Locals
    The culture of the young working hard in the big cities to support their family back in the country has given a lot of people have nothing but time on their hands. Groups of men can be seen smoking pipes and drinking rice wine for breakfast, so if starting your day with a light head is your thing, then get involved!
     For the more casual people out there, the roads are clustered with identical coffee shops. Roll up to one of these establishments, and it is not long until the entire village fancies their chances at a conversation with you.
    The locals consider the concept of motorbiking across the country an insane suicide mission. Perhaps they are right, but they are interested to know why you are doing this and the stories that you may have. The people in the countryside are incredibly patriotic, so if you are enjoying the scenic route through their beautiful country, be assured that they want to know about it!
Best Ways To Meet The Locals
Walk into any local pub or eatery. The smaller the city, the more of a novelty you'll be.

Have a problem. The Vietnamese are a friendly bunch, if you need help, they'll usually assist you.

Stay in a homestay. These are rooms in locals houses for rent. You'll be the guest of honor.

Eat what they eat, and ask questions. Pull up a chair at a street food vendor and ask how to eat the dish. Instant friends!

Even the

Vietnam gay

culture is open and relaxed in big cities. Talk to the locals, they'll tell you where to go.

Ride a motorcycle. Anything over 125cc is a big bike in Vietnam. Show up in a small town on a

Honda CRF250L

is like Ferrari status.
9- Aodai Style Of Dress Can Stop A Man In His Tracks
     The Ao dai must be one of the most elegant and beautiful clothing styles on the planet. Ao meaning shirt and Dai meaning long, is a vibrant style of silk tunic that forms tightly to a woman's upper body then drapes down across her pants.  
    This style of clothing dates back to the 18th century worn by both men and women. The Ao dai has been revived over the years to a more fashionable and tighter look and now mostly excludes men. This dying tradition can still be seen in its authentic form in the countryside and during Vietnam public holidays and festivals.
   The Ao dai has hidden meanings with the different colors representing different messages. This Ao dai can be attributed to why many men find themselves forever in Vietnam (ask Jon Tigit about this syndrome). Be warned, if beautiful Vietnamese women in tight-fitting silk tunics smiling at you and taking an uncommon interest in your travels is too much for you, stick to the dodgy Russian night clubs 🙂
    Ao dai or Aodai fast facts
Often worn at weddings, by female school teachers, or at formal events.

Ao dai is said to "…cover everything, but hide nothing".

A custom Ao dai cost around $40 in Vietnam or $200 in the USA

In today's world, an all-white Ao dai is a fashionable form of dress for semi-formal events.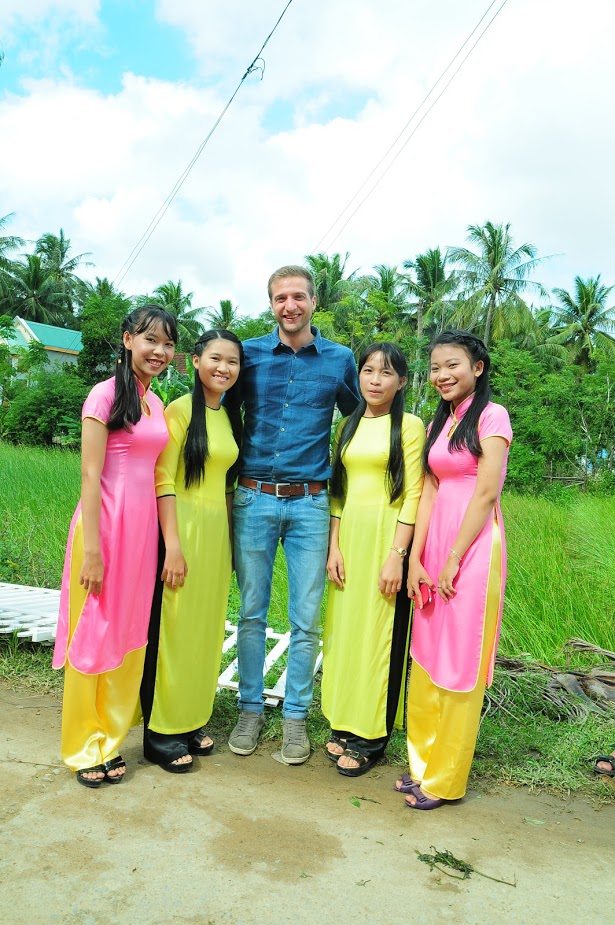 9- The Police Are Relaxed
     Shifting gears back to motorcycling Vietnam, you can rest assured that the police in Vietnam are an easy going bunch. Why? Well their bosses, the government, are basically a clueless bunch of baboons shuffling bananas around corporate offices.
   This lack of organization and direction trickles down to the police who have very loose guidelines for rules to follow. This is reflected in all laws in Vietnam. The rule is; laws are guidelines, and these guidelines are rarely taken seriously.
   If the police find a foreigner without proper driving and motorbike papers that are technically correct, handing over some "coffee money" is the easiest way to rectify the situation. The reality is the police don't know the actual laws, no one does. Acting with full ignorance in these situations will go along way.
   Not all bad, if you ever have a serious incident or accident, the police will dutifully help you in a professional manner. If you find yourself at a rare police check, know that this small inconvenience will come full circle when you need them.
   At Tigit, we hope the laws become clearer, and it does seem like authorities are trying. A general lack of understanding of international agreements appears to be holding things back.
  Keep Yourself On The Right Side Of The Law
Carry an international driver's permit

Wear a helmet

Follow the low-speed limits outside of town limits

300,000vnd in a separate pocket will usually solve any policing issue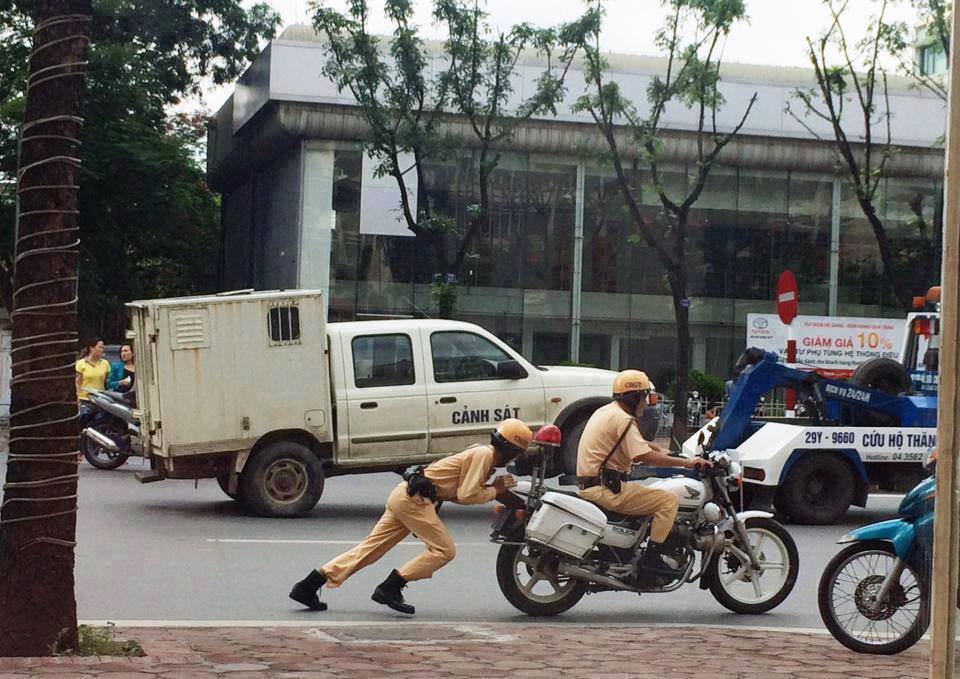 10- Everything Is Cheap
     Once a traveler gets their head around the currency and all the zeros they use, you'll see just how cheap things are in Vietnam. Including a motorbike rental and covering your daily basic needs a budget traveler can live for $25/day, a flashpacker from $35/day and a mid-range traveler for around $50+/day.
    Money in Vietnam will go a very long way if used correctly. Primarily in the well-traveled tourist tracks, there is a two-tier price system with foreigners often getting charged more than locals, especially when it comes to the average price of drinking water. Keep your wits about you and don't pay more than an item is worth to you. The Vietnamese enjoy a friendly game of bargaining, give them a run for their money.
   To save more, try to avoid big purchases at expensive tourist areas and use your motorbike freedom to visit local markets and shops. If you're looking for more answers, we have a full FAQ section with everything from bike costs to where to travel.
Some of the typical costs around Vietnam:
Vietnam food prices

are low, even in a tourist restaurant meals are $5-$10

Countryside beef noodles around $2.5

Beer from convenience stores around $0.5

Beer in restaurants or bars, $1.5.

Hotels are around $10-15 and to get a really good hotel is $50+

Fuel is roughly $2.50 for 120km or $5 for a full day drive!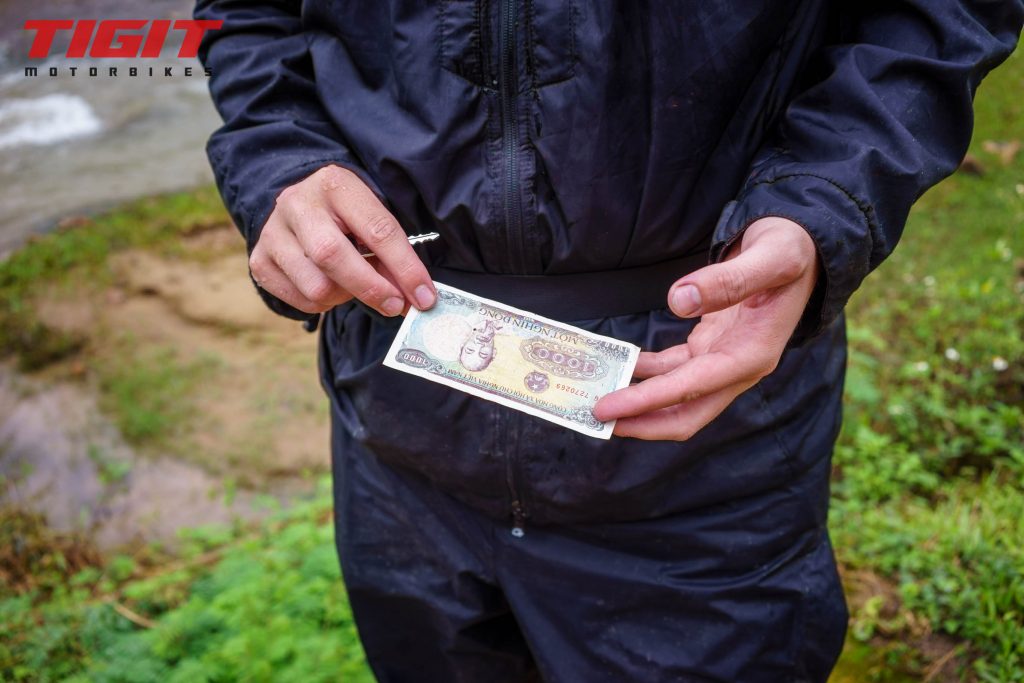 11- The Weather Is Generally Nice
  Overall the weather is consistently pleasant with the South and North having different seasons. Most travelers will experience a bit of all weather conditions from cold to hot with some tropical rain thrown in. Providing you are prepared for a holiday that includes a dynamic mix of temperatures and isn't just beach clothes, you'll be fine.
   There is no magical "right time to travel Vietnam" due to the localized climates. On a motorbike, it is possible to drive through the rain to come out the other side with the blistering hot sun again.
   Storms can do damage, and knowing Vietnam's seasonal weather will help avoid them. Overall the Vietnamese are prepared and very quick to resume a normal life. Articles of mostly fake news and destruction may continue to circulate the internet for weeks after the event, but the Vietnamese have already resumed life, and the sun is often shining again. A traveler can simply take advantage of the slightly lower tourist numbers while this misleading news circulates around!
   The South below Danang, all the way to the far corner of Phu Quoc island, is consistently hot. For a safe holiday with nice weather, stay in the South. The further North you go, the more beautiful the roads become. With this rugged beauty comes random and volatile weather conditions.
  There are no conditions that would make a motorbike holiday unbearable. Just make sure you prepare the correct clothing! This is a motorbike adventure holiday, and at Tigit we really do try to avoid renting to a mislead clientele.
    Weather Vietnam Generalities
The South is nearly always hot

The North above Hanoi can be very cold. November-February being the coldest.

Central Vietnam

sees cyclone season in September-December. This will never delay you by more than 2-days.

Don't plan your motorcycle adventure around the weather, instead pack for it.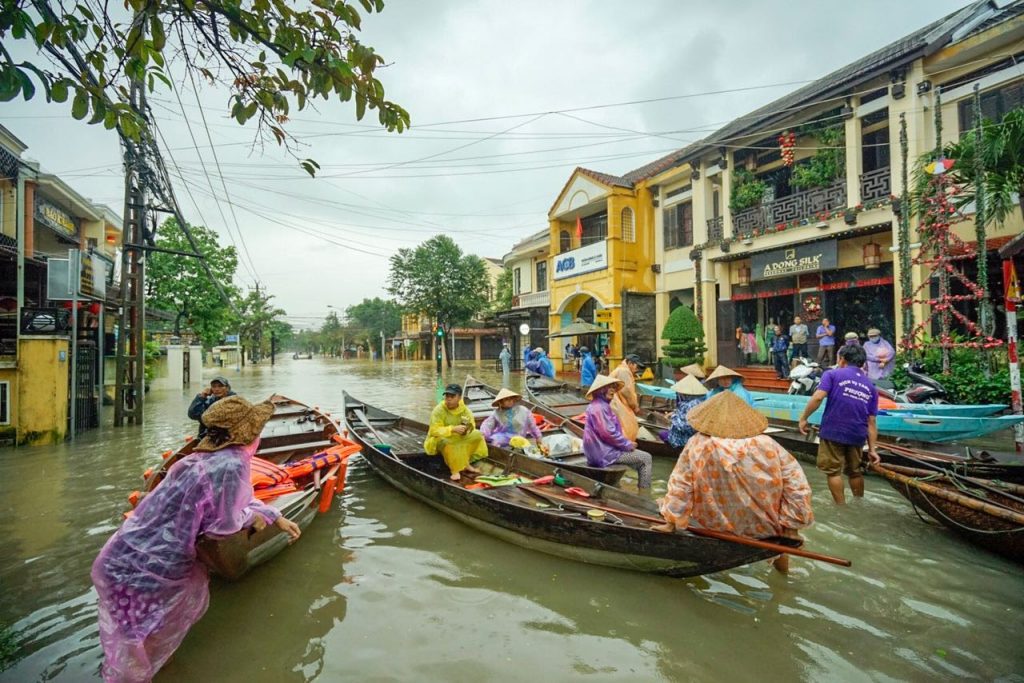 12- Flights, Trains And Buses Are Efficient
Vietnam is an incredibly well-connected country allowing for easy and cheap transport between major cities. Putting your motorbike on a bus or train is possible, and it can often arrive with the passenger.
    For the traveler, this allows a cheap and easy way to skip boring sections of the country while spending the night on an overnight train or bus. If you really run low on time, cheap domestic flights can get you to and from major cities effectively.
    For Tigit, the fantastic transport network allows us to send motorbikes around the country for bookings in a variety of cities. Or if luck finds you in a desperate situation, we've even rescued customers in the most remote parts of the country. There are few areas of this country we don't have some sort of trucking access to, and although not often mentioned on our site, this is a huge benefit of using Tigit Motorbikes.
Check out our related post for a look into just how effective domestic air travel is in Vietnam.
    Transport Tips
You can send a motorbike on a train to many cities across the country.

Download the Grab App if you plan to fly. It's an easy way to organize a taxi for when you land.

Holidays change everything. If you plan to travel during TET or Christmas, plan well ahead.

Busses 1-2days. $15-$30

Trains 1-2days. $20-$50

Planes 1-2.5 hours. $50-$80
13- Beaches and Mountains Are In A Days Drive
    Vietnam is a long and narrow country with the coast supporting flat highway driving that passes through amazing cities to explore like Da Nang. If the riding choice was Indonesia vs Vietnam vs Thailand, Vietnam and its inland rolling mountains that stretch along Cambodia and Laos, all the way up to China should be at the top of your list.  The further North you ride, the bigger the mountains become.
    Riding from the coast and up through the mountains can be done in as little as a few hours. On some drives, you can incorporate these features into a single day. The variety of scenery that can be enjoyed just by venturing out around places like Da Lat, Nha Trang, the Mekong Delta, or even around Ho Chi Minh City is impressive. More importantly though, for the motorbike enthusiast, the variety in driving styles and skills required makes for incredible fun. Open coastal roads that meander through the mountains in the South to technical narrow tracks or off-road riding in the North offer up challenges for every class of rider.
    The narrow landscape means a traveler can get remote, without ever being more than a few hours from a major city. This easy bailout in times of trouble is invaluable to safety and allows people to travel alone across this spectacular country safely. A traveler may think they are all alone but guaranteed a local will pop out of the bushes when you need them.
 Top mountain and beach activities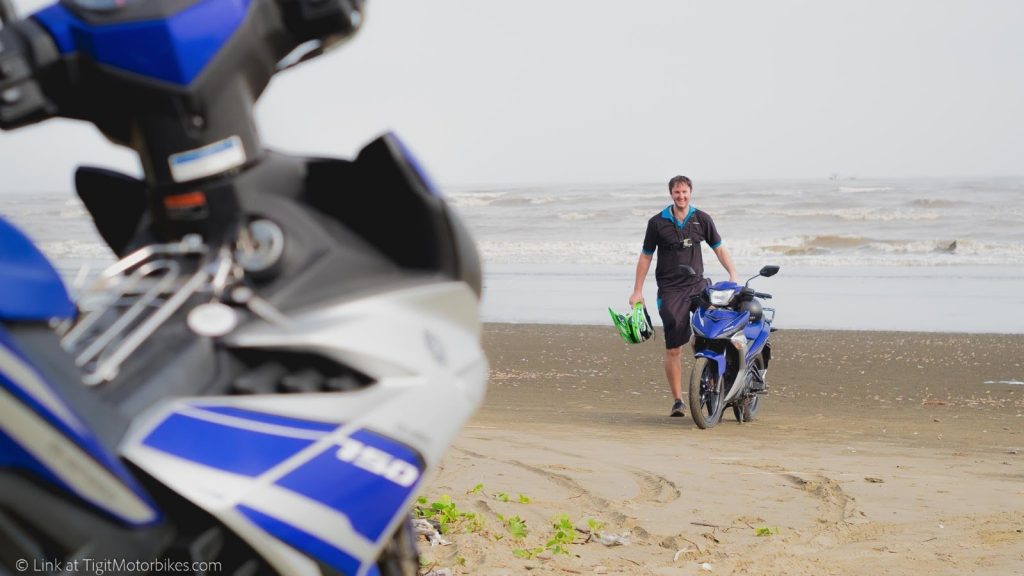 14- Cheap motorbikes
     A new Honda motorbike can be bought for around $1000, and with the incredible service centers through Vietnam, these bikes can have very long life cycles. Tigit rents the Honda Blade for $250 for 1 month, and travelers can do between 2000km and 5000km in this time. This is unbelievably cheap, and there aren't many places in the world where with quality and value is this high.
    However, the "high end" motorcycle rental services like Tigit are not the cause of budget backpackers flocking to Vietnam to ride motorbikes. This is caused by the Chinese motorbike market of replica Honda's which can be bought for $600 new, or $200 second hand.
    This market is an excellent area for lies, horror stories, and failed holidays. However, travelers tend to bury the bad and only promote the good. So this ideology of buying $200 "good" motorbikes circulates backpacking Vietnam groups and keeps people coming!
   In the end, most people complete the journey and at the very least, get a life-long story out of it. So even if the $200 two wheel trash heap didn't make it… there are worse things to lose money over. Besides, nothing is stopping a traveler advertising a motorbike with "no breakdowns" to the next clueless backpacker. So it is possible to leave Vietnam with your wallet just how it was before you bought the fake Honda, then onto another adventure!
Checkout our articles on the best motorbike rental shops in Ho Chi Minh, and the best motorbike rental shops in Hanoi.
  Buying/renting a motorbike
Decent motorbike $600 – $1000+

Questionable Honda Win $200 (used)

Quality rental motorbike $10-$45/day

Helmet. Free basic helmet with rentals or buy from $25+

Selling a motorcycle in the condition you bought it will see only a slight decrease in value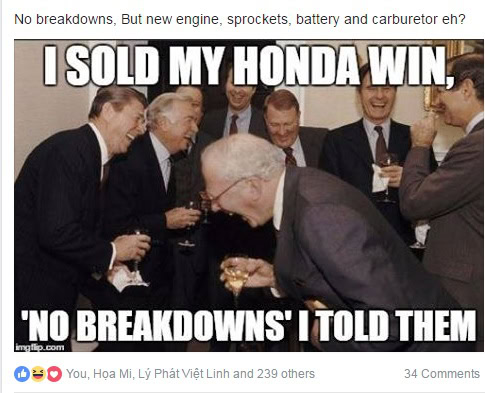 15- Small Displacement Motorcycles
    Is riding a small displacement motorcycle a good or a bad thing? Definitely a good thing!
    One of the hardest concepts to promote online is this idea that 150cc really is enough. Motorbikes in Vietnam are optimized for maximum power to weight ratio, and travelers never complain about a lack of power. We even broke down the top 40 best and worst motorbikes in Vietnam to give people an idea of what stands the test of time here.
    The low skilled, chaotic driving style of the locals is more than enough to divert your attention away from the fact you are only buzzing along on your Saigon adventure at 60km/h. A wonderful speed which influenced by local chaos can get your adrenaline flowing. The low speed means mistakes can usually be forgiven, and most accidents are successfully walked away from with minimal recourse. Tigit Jon talks about low speed driving in detail when explaining how to drive a motorbike in Vietnam.
     Low CC motorbikes are light in weight, and what they lack in power they make up for in handling. The roads in Vietnam are mostly narrow and mountainous. This means that lightweight go-kart style motorbikes are the perfect design for the conditions.
    A traveler still wanting a big 250cc needs to be very confident on a motorbike. Wielding a high capacity machine around Vietnam takes some serious skills and concentration!
 Most popular motorbike rentals in Vietnam
Honda Blade 110cc

Honda XR/CRF 150cc

Honda CB500X

Honda Winner 150cc
16- Tigit Motorbikes Is In Vietnam!
    Not to toot our own horn, but the reality is there aren't many adventure activities in the world that allow for a month of traveling entertainment off a $250-$450 motorbike rental. We try our best to reach the international thrill seeker and adrenaline junky. Rather than a ski holiday or a diving holiday… give touring by motorbike a shot on your next holiday. Some crazy customers come back yearly for their adventure fulfillment, tackling Vietnam, Cambodia, and Laos on a Tigit Motorbike. If one country isn't enough for you, there are lots more to see and do in this part of the world!
    Even for travelers who are short on time, we can offer one and multi-day fully guided motorbike tours. You just show up, and we do the rest.
    When it comes to value for money, motorbiking Vietnam must be right up there as one of the best activities to do.
    Tigit Motorbikes has three offices across Vietnam, which allows for an easy pickup and drop off. Drive the length of this beautiful country for as little as $250, and tick the box of motorbiking Vietnam from your bucket list!
 How we can help you