Reading Time:
5
minutes
How to Book an Appointment for Motorbike Service
Tigit Motorbikes /  Chrunix.com in Saigon offers motorbike service, repair and checkup.
In Saigon, we have experienced mechanics that are responsible for the Tigit Motorbike rental fleet, during Covid-19 times we now have enough spare time to service outside motorbikes!
Check here for full terms and conditions, prices and service on offer.
Full-service checkup 250K
250,000vnd per hour
Rescue service 500k (with free replacement bike to use while we fix yours)
Most parts imported from overseas and we always recommend to use OEM parts.
Motorbike Repair Cost Table
Service
Description
Cost
Wash the bike

50k
Oil change

We advise all owners of "expensive" motorbikes to stock their own oil filters which they should give to us on the change. We are happy to help source oil filters in bulk. They take around 4 weeks to arrive in Vietnam.
Cost of the bottle of oil, no labor
General Repair and Servicing
250,000 vnd per hour
Test Drives and Mechanic "Consultations"
100,000 vnd per hour
Change front tire

100k

Change back tire, chain and sprocket or drum brakes
150k

Clean and oil air filter

A one day process of cleaning the air filter with Ipone air filter cleaner. Letting the air filter dry, then oiling it with Ipone air filter oil.
150k

Overnight parking
Sala Condo Rates
Loaner scooter when repairs run past business hours
Free
Perform Leak down test

(A quick test that tells a mechanic if there is an internal engine problem. If there is a problem, It gives a mechanic an indication of what might be wrong, but not at an exact science level. What it is primarily used for is to diagnose dying pistons or valves before they fail out there on the road.

200k
Cleaning the carburetor
Clean top and bottom end of the carb properly and to diagnose if the carb really is the problem.
XR or similar - 300k
DRZ, KTM - 700k
FCR - 1,750,000
Valve clearance check without adjustment

Remove cylinder head cover, measure clearance and check if they are in spec. Client will be provided with the OEM spec of the model + the measured spec
1.5 mil

Valve clearance check with adjustment
PROx shims or Hot Cams shims (not Vietnamese), will be used to correct the valve gaps
2 mil

Disassemble the engine for piston change, ring change or cylinder head gasket change
2 mil 5 hundred

Finding, ordering and importing parts from overseas.
Delivery to Vietnam included.
Price of the part + 40%

Importing tires from overseas
Price of the tire + $100 per tire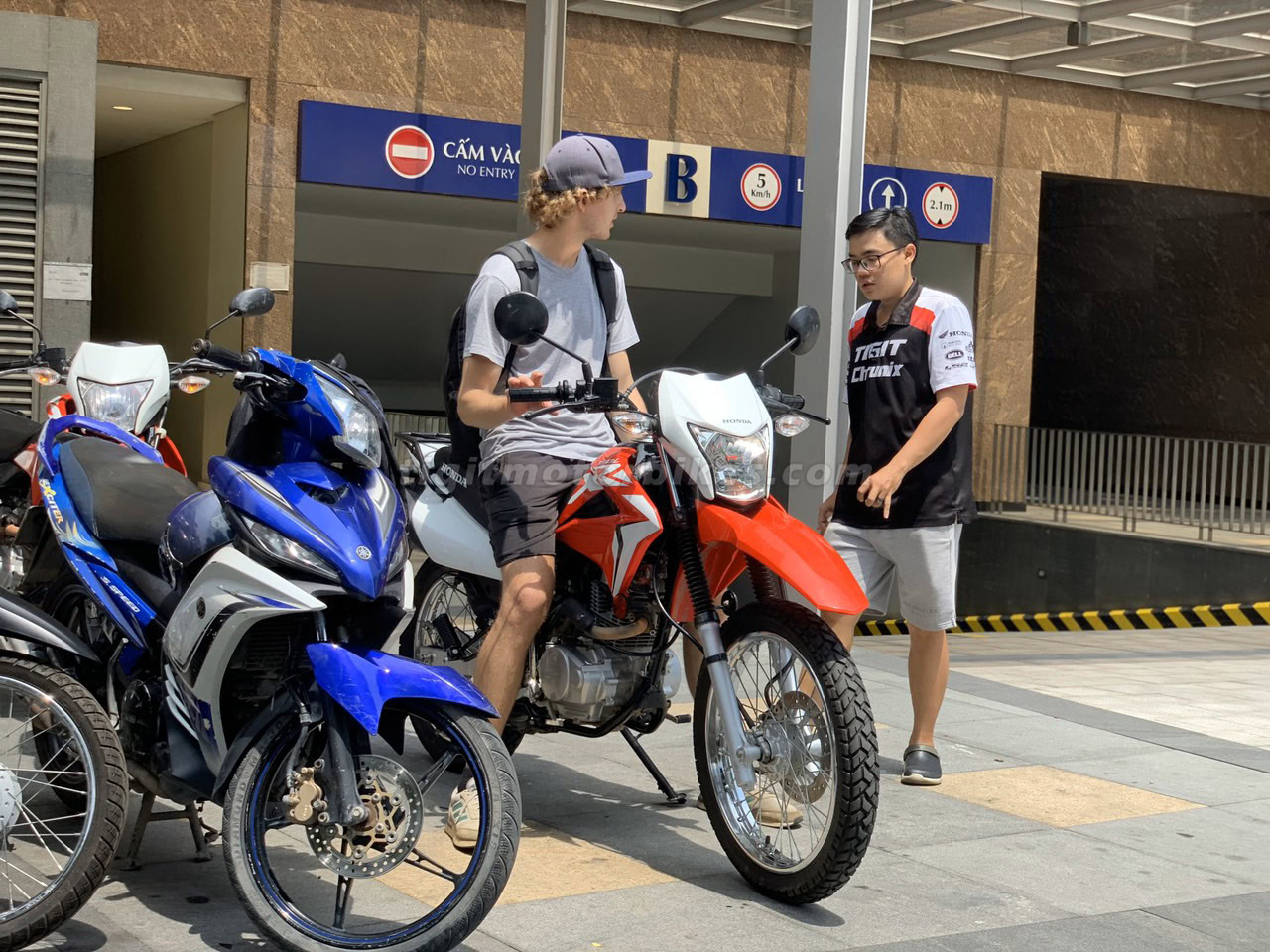 The benefits of the Tigit Mechanic Shop
High-quality parts that are used in the Tigit rental fleet. Our parts are tried and tested for maximum value for money over distance.
Mechanics with the skillset to predict the parts that should be replaced now, to avoid breakdown issues later.
Part ordering worldwide from the USA or UK, OEM parts to custom parts. We can get anything!
English speaking management for when things go wrong!
We specialize in offroad and dual-sport bikes but can work on all motorbikes. Please see our mechanic shop service request in the attached document.
We also perform valve checks, something it is rare in Vietnam!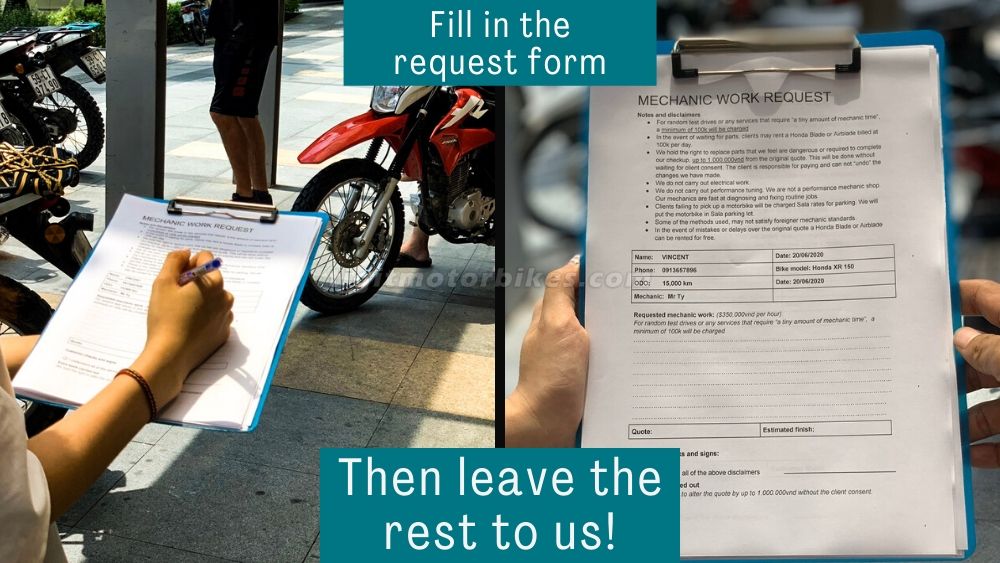 Summary of repair costs and services
Repair and Servicing work billed by the hour 250,000vnd per hour.

For random test drives or any services that require "a tiny amount of mechanic time",  a

minimum of 100k will be charged

In the event of waiting for parts, clients may rent a Honda Blade or Airblade billed at 100k per day.

We hold the right to replace parts that we feel are dangerous or required to complete our checkup,

up to 1.000.000vnd

from the original quote. This will be done without waiting for client consent. The client is responsible for paying and can not "undo" the changes we have made.

We do not carry out performance tuning. We are not a performance mechanic shop. Our mechanics are fast at diagnosing and fixing routine repairs. 

Clients failing to pick up a motorbike will be charged on-site rates for parking. We will put the motorbike in Sala Towers parking lot.

Some of the methods used, may not satisfy foreigner mechanic standards. 

In the event of mistakes or delays over the original quote, a Honda Blade or Airblade can be rented for free.
Major engine work disclaimer
Option one:
Buy the cylinder head gasket or gasket kit. (ETA one month)
Client can take motorbike home
When the gasket kit arrives, we will disassemble the engine and make a list of parts.
Clients can now agree or reject the list.
If client rejects the list: We can assemble the bike having only charged labour + gasket
If client agrees: We go ahead and order parts (ETA one month)
Total – 3 months
Option one advantage: This option is the safest for all parties. It allows a cost efficient way to create a part list and quote. If a client rejects the quote then all parties can move on without big financial damages.
This is suitable for motorbikes with large engine problems where the cost of repairing the motorbike may be above its value (a write off).
Option one disadvantage: The process takes around three months.
Month one: Order Gasket kit
Month two: Order parts
Month three: Order more parts if we missed pieces
Option two:
We disassemble the motorbike straight away and create a complete part list. With this option it is not possible for us to reassemble the motorbike into a usable condition without the gaskets. The motorbike will be left in our shop waiting for a gasket kit, even under the circumstance of a quote disagreement.
Total – 1 months
Option two advantage: It is a fast way to build a quote and get the service rolling.
Option two disadvantage: It can lead to problems when the customer disagrees with the quote leaving everyone in a strange spot as the motorbike can't be reassembled until a gasket kit arrives. There are also significant labor costs, without any real "fixing" being done to the motorbike. Many clients don't understand this.
Option three:
Same as option one in terms of ordering the gasket in advance. However this time we fix the motorbike to a usable condition with parts in our store and local fixes.
We then suggest parts that should be replaced but we can't do due to part shortage.
Client can take the motorbike in its repaired state while we order the rest of the parts.
Total – 1 month for use (2 months for complete built)
Option three advantage: Quickest way to get the motorbike back on the road
Option three disadvantage: Requires us to disassemble the motorbike for a second time when the remaining parts arrive. This will be done at 50% labour price.
What is a gasket
There are many gaskets in a motorbike. They seal parts together and keep the engine water tight from leaking oil.
Some gaskets can be made locally in Vietnam, however the quality does not match OEM.
Most gaskets can't be made locally in Vietnam. (they can… but they don't work). It all depends where on the motorbike the gasket is.
A common gasket to fail is the cylinder head gasket. A failure here usually leads to water coolant dripping from the engine. These gaskets are deep in the motorbike and when accessed it is a good idea to replace them with high quality replacements. (don't want repeat failures as it is expensive with labor)
Being a mechanic by the book, will mean replacing the gasket every time the motorbike is reassembled. However in the real world this isn't cost efficient. Usually in Vietnam mechanics can "fix" oem gaskets, but it is not a 100% guarantee. This is why having replacement gaskets on site is important. Without them, the mechanic will assemble the motorbike leaving the client with oil leaks. We have all been there and seen that! We don't want it in the Tigit shop.
This is why our three options are based around the gaskets being onsite, so we can at least reassemble the motorbike to a reasonable condition.