Reading Time:
8
minutes
Weather in Vietnam – The Best Time To Visit
       Endless beach days and riding your scooter in sandals with a selfie stick capturing the serene moments are not the reality of a Vietnam adventure. They exist, but this skewed view is only a slice of Vietnam's climatic pie. Keep feasting on Instagram's portrayal of a Vietnam vacation, but save room for the truth.
Vietnam has incredibly varying climatic conditions that range from cloud-breaching mountains in the North above Hanoi where you might find a frosty layer of dew on your motorcycle rental in the morning. Down through the hills and densely forested lowlands, that make their way towards Hoi An, an area that can flood during monsoon season. Winding south to the tropical and subtropical regions as you get to know the best times to visit Ho Chi Minh City and the Mekong Delta. These areas can take your soft skin to a crispy finish during a beach day in March. Here's the truth about Vietnam weather.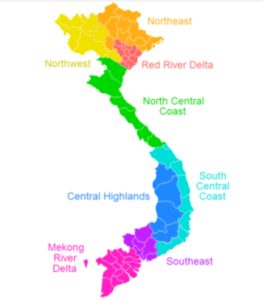 Image: Wikipedia.     Vietnam is broken into numerous regions, and each one is a little different than the other. Don't expeect the weather to be the same in one to the next
When is the best time to visit Vietnam?
Regions
The best time for Vietnam trips will depend on where you want to go or what you're willing to miss. You shouldn't plan your motorcycle adventure around the weather in Vietnam, it's no different than planning a trip to Indonesia or Thailand. Instead, you should plan your motorcycle adventure then pack for the conditions making informed decisions about what to bring and wear.
As a simplified whole, Vietnam could be divided into three regions. The North, Central Coast/Highlands, and the South.
The North:

Hanoi and anything North of there. Colder than most people think. From November to February can see extreme lows. Picture the

Vietnam weather December

at a cool 8oC, while riding the

Mi Pi Leng Pass

.

​
Central Vietnam:

Hoi An to Hanoi. Central Vietnam cyclones can appear from around September to December. Not a regular occurrence, but it happens. Picture two days waiting out a storm in your hostel in Vinh.
The South:

Anything from Hoi An and South. It's almost always hot. Think 30oC riding your XR150 to the beach in Vung Tau.
 Within these regions, you can then try to identify their individual seasons.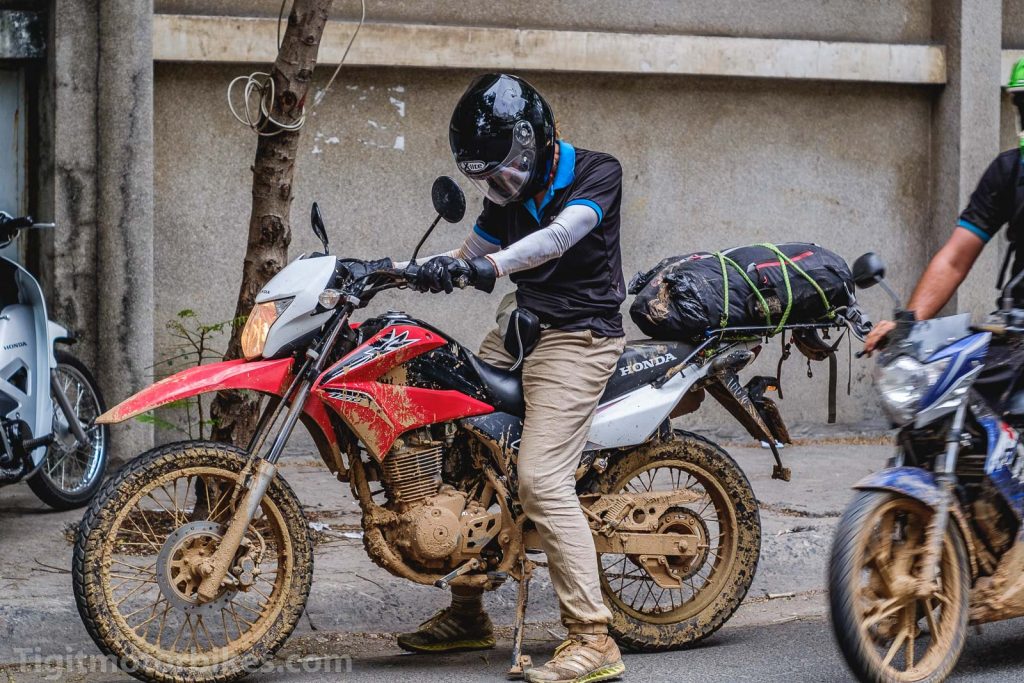 Seasons
Vietnam weather in April, as well as March, are going to be the best overall times to travel & coincides with the best time to visit Cambodia if you're headed that way. Across the country, the weather conditions and climate are mostly stable. Don't assume perfect conditions from Ho Chi Minh to Hanoi though, and don't let yourself believe the other ten months aren't worth coming either. It's impossible to assume a similar forecast or generalize such a large and diverse country.
Northern Vietnam. Hanoi And The North
Hanoi from November-April is the dryer winter, while January-March temperatures hover in the high teens, with rainfall in January around 20mm. Temperatures at this time can dip down to freezing at night.

May-October is summer or the rainy season. The weather is warm and humid with temps in the high 20's and low 30's. Factor in another 8-10oC of heat on very humid days.

June-July-August sees the peak rainfall, around 300mm in August.

Late October to December the monsoons dry up and days are typically pleasant.

North of Hanoi is more unpredictable. You should prepare for even colder, wetter, and more extreme climates to those of Hanoi.

Overall March/April and October/November are the most stable months to visit Hanoi and The North for motorbiking.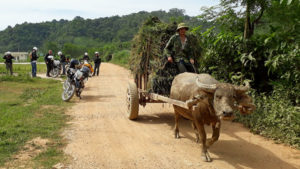 Travelling Vietnam you can literally come across anything. Take this photogenic water buffalo for example.
Central Vietnam. Hanoi–Hoi An
A vast temperate region whose monsoon/typhoon season is influenced by the coastline and Truong Son mountain range that runs the length of this area and the

Central Highlands Route

.
August-December is the wet & rainy time of year. With October-November being the wettest months that can see some areas briefly flooded.
Da Nang:

January-March average 20oC. June-August 25oC with rainfall averaging 85mm. The peak of the rainy season is October with around 600mm of rain.
Nha Trang:

January-March average 22oC. June-August 25oC with rainfall averaging 45mm. The peak of the rainfall is November with 360mm+ of rain.
Overall, the optimal time for dry, warm weather will be mid-January to late March in Central Vietnam.
Inland Central Vietnam
Once you head inland in Central Vietnam, you can include areas like Pleiku and North to Hanoi. Here you'll find yourself in the mountains and higher from sea level. This results in cooler temperatures and a slightly different climate.

Pleiku

yearly average temperatures sit in the high 20's. From October to March though they cool off with an average in the mid-teens at night.

Here the rains run from May-November, peaking from August to October with over 300mm of rain falling in October.

Overall December to early April are the most temperate and dry months to visit inland Central Vietnam for motorbiking the region.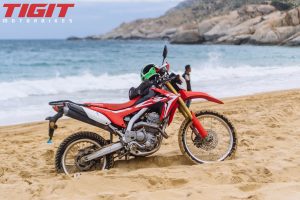 A day at the beach with a Tigit motorbike.
South Vietnam. Hoi An–South of Ho Chi Minh City
The South of Vietnam is typically hot, a bit like tiny Singapore. If you were picturing endless sunny beach days, this area would provide the best chance for that becoming a reality. The choices here are hot and hotter, with the monsoons bringing more humidity and heat.
Around the

Mekong Delta and Ho Chi Minh City

the dry temperate time of year is December to mid-February when the temperatures are most tolerable.  High 20's to Low 30's
Mid-February to April are still dry but hotter, with temperatures reaching the mid-30's
May temperatures peak and can reach 40oC with the humidity of the coming monsoons.
May-October is the wet, summer months, tapering off in November. With rains peaking in June and reaching over 300mm.
Overall December to February are the optimal months when searching for Vietnam's best places to visit in the South. Air conditioning, short day trips, sea breezes, and pools can make any time of year possible though.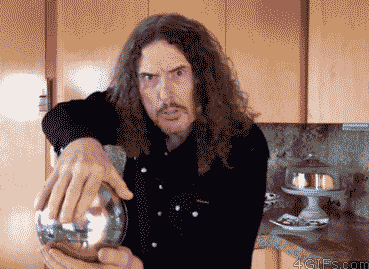 Vietnam Weather Myths Revealed
        The Always Warm Sunny Climate: Despite having access to all the information in the world, travelers still show up for Vietnam trips and their motorcycle adventure with shorts and a t-shirt expecting every day to be sunny and all regions to be warm. If you read the detailed information above you will see that this is clearly not the case. We are doing our best to un-train the minds of those conditioned by years of Vietnam tour companies selling the idea that every day in Vietnam is a beach day. No asian vacation can provide this promise, not Malaysia, not Thailand, certainly not Vietnam.
        Storms & rain in Vietnam will ruin your holiday: The monsoon season in Vietnam is often overdramatized and should not ruin your holiday. Like all doomsday newscasters and fake news providers, the situation is never as bad as it's portrayed in the media. Often areas that have been hit with devastating monsoons are a collaboration of poor infrastructure and harsh weather. Unfortunately, when the rains hit poorer less-developed regions, they can wash out wooden homes and up-root poorly constructed buildings. When those same storms hit developed cities, they easily wash away unnoticed in a day or two.
Information is easily accessible, and if you're really concerned, contact major hotels or other travelers in the area you are headed to see what's happening in real-time. The negative clickbait news like those found on Vietnam Facebook groups is so extreme that we advise ignoring it entirely. Plan as you go, knowing that significant storms clear up quickly, and use sites such as Accurate Weather for 24-hour forecasts.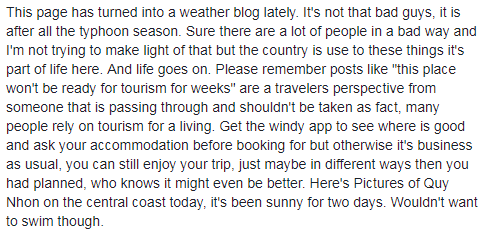 Avoiding The wrong time to travel here
There is no wrong time to travel to Vietnam. Storms pass quickly and will often never delay your travels for more than a day. Intense heat can be remedied with pools, oceans, and happy hours. Extreme cold can be planned for by purchasing cheap clothing in Vietnam or using our easy luggage shipping service to get your motorcycle gear into the North of Vietnam by train. Let's be clear, endless sunny days don't exist. Vietnam has plenty of them, and you can plan your travels to try and maximize sunny days here along with knowing the best time to visit Laos, if you're planning to go there too. Just be aware you'll never get endless sunny days and warm nights. For adventure motorcycle riders, Vietnam can be explored year round.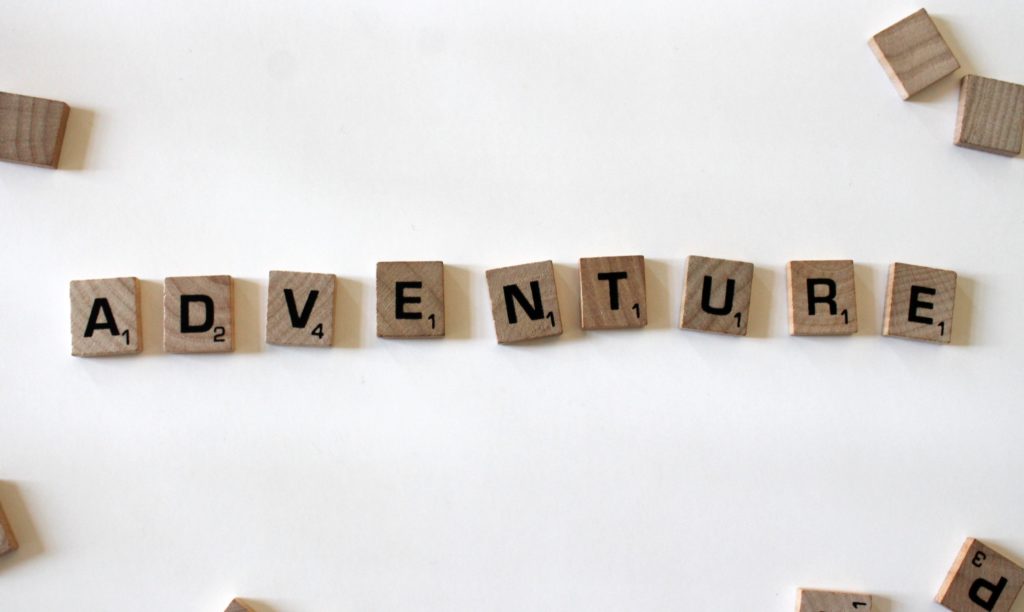 Why refunds aren't given based on the weather
    Since the Top Gear Special on motorbikes in Vietnam, the country has exploded as one of Asia's premier adventure riding destinations. Tourists from across the planet have since flocked to Vietnam searching out their own amazing social media worthy story.
    Often these story-seekers have no, or minimal previous motorcycle experience, and jump in with both feet to a world where the roads, culture, climate, and extreme driving conditions are like nothing they have ever faced in their lives.
    You'll need to be clear with yourself that motorcycling in Vietnam is an extreme sport just like any other. You can expect the unexpected around every corner and should be prepared and plan for it accordingly. This includes, but is not limited to the weather. As outlined here the weather can vary drastically from region to region and season to season. When booking, plan for extreme winter heat, cold, summer rain, mud, and monsoon. Once you're prepared for this mentally and physically, you'll be ready for everything mother nature offers up. For this reason, we feel you have been fully informed of the climatic conditions, and we do not provide weather-influenced refunds, only weather-influenced adventure.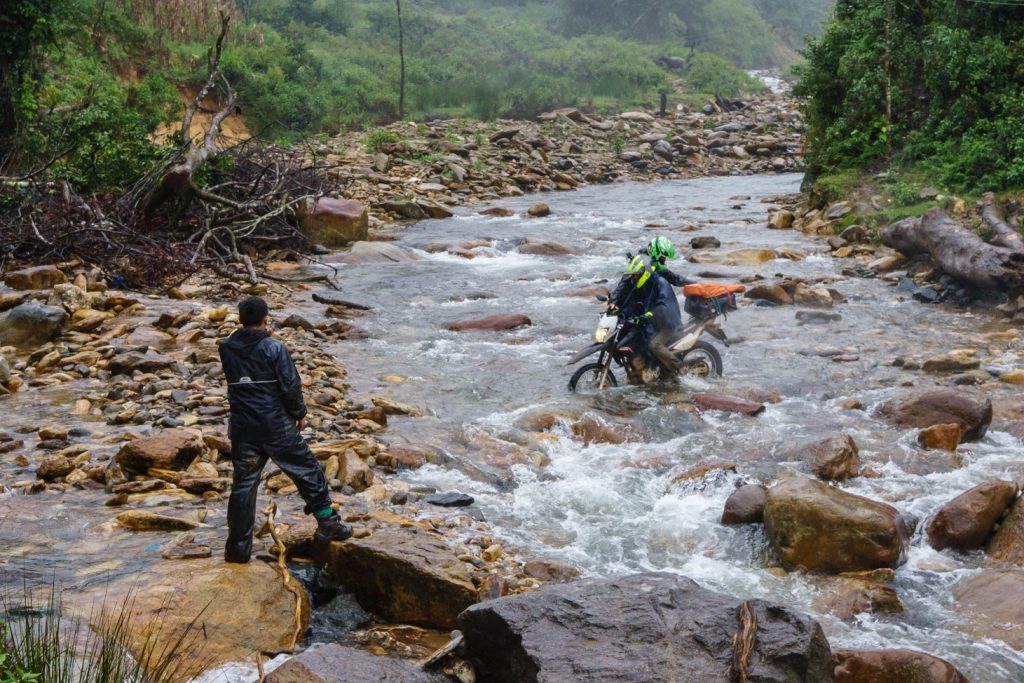 This isn't a trip to the store to get milk. THIS IS AN ADVENTURE! Be prepared for it, and it could be the most amazing adventure of your life. 
How to guarantee an amazing motorcycle adventure in Vietnam.
    The answer to this question is in the title, adventure. Travelers looking to experience Vietnam motorcycling need to show up with an adventure attitude. Life in Vietnam can't be experienced behind a guide book, looking out your hotel room window, or waiting for the perfect weather.
    When you show up in Vietnam with an adventure attitude Tigit can pair you with an adventure motorcycle and written motorbike guides on where to seek out the optimum adventure for your interests. We've got your travel topics covered on everything from the well known Hai Van Pass, to Vietnam coffee tours, and even the less-traveled regions like Hanoi and the North.
    These are some of our best tips for traveling Vietnam, and once you choose to arrive with the right adventure mindset, proper clothing, and an interest in the country. The possibilities' of experiences and adventures to find or lose yourself in are unimaginably endless.   
Origonal Header Image: Stanislav Baranov on Flickr