Reading Time:
25
minutes
Please read the update and shorter list of the most popular motorbikes on the expat market in 2021.
This is an opinion piece about the 40 best and worst(!) motorbikes in Vietnam by Tigit Jon. I've included the average used prices for handy reference. Most people reading this have no interest in buying a brand new model so comparison price accordingly on other sites.
Note – I do love Suzuki and Honda, but I do not work for them!
These are some of the main scooters and bikes you'll see when travelling on the streets around Ho Chi Minh and Hanoi.
Be warned!, Some motorbikes are cheap because they are rubbish…. So understanding and researching what you are buying is incredibly important!
Motorbike List
Chinese Honda Win Manual Transmission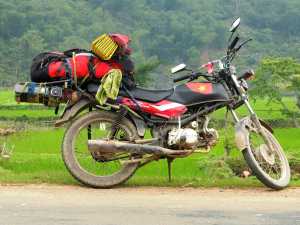 $150-250

Usually found flogged in the backpacker street. It is also probably one of the worst motorbikes in Vietnam!
A comical joke of a motorbike that wobbles around and breaks down all through the country. Surprisingly expensive to fix and generally an absolute burner of dollar notes in mechanic bills. The Honda Win looks "cool" so backpackers fall in love with it, only to find a holiday riddled with unpredictable and expensive breakdowns.
| Pros | Cons |
| --- | --- |
| It looks cool. | It doesn't work. |
| It makes noise. | It is expensive to fix. |
| It is cheap. | It is dangerous to drive. |
The Win is for:
If you are an adventure seeker!  You are a lad on tour wanting a "laugh"!
Honda SH Automatic Transmission
$3000+ (never owned, but have driven one)
The SH 150cc is the icon of the Vietnamese scooter world. The creme de la creme of what is possible. The target and dream of any up and coming city boy or girl. We have Ferrari's and Lamborghini's in our magazines… the Vietnamese have the SH.
The irony is that it is so popular now, and city folk are now making "real money" that these scooters have become unbelievably common and normal. Despite this, the SH has managed to maintain its image of  "I have more money than you" and it continues to be the eye candy of dreams.
The scooter now comes in all different sizes and colours, basically, a "for him SH" and a "for her SH", ranging in physical size to actual power. The mother-load of the SH being around an 11,000usd 300cc Rolls Royce of class.
It goes without saying that the SH is built properly and it does not have corner-cutting, money-saving techniques such as cheap suspension and low-quality brakes. These corner-cutting, price-slashing methods have been erased and the SH drives how a scooter should. Smooth acceleration, good power, and brakes that actually work.
The downside to these scooters is that they weigh a tonne which is not ideal for the cramped style parking in the cities. Some parking lots may have a special SH row for the upper class, but if this is not the case, your $3000 scooter is piled in with the rest of the trash, ready to get scratched to pieces.
Buy or Rent the Honda SH if:
Money is no object and you want the best officially supported scooter in Vietnam.