Reading Time:
3
minutes
Yamaha Exciter – The First Manual Underbone in Vietnam
The Yamaha Exciter is sold and rented by Tigit Motorbikes. Tigit operates with a select few models that we feel are the best performing motorbikes in Vietnam. The Yamaha Exciter is the only Yamaha motorbike to make it into our long distance travel fleet!
The Yamaha Exciter first appeared in 2005, with a cutting-edge sporty design and 4 stroke 135cc liquid-cooled engine, plus all the new technology , the Yamaha Exciter was made to be the symbol of the everyday casual motorbike in Vietnam, and later, dominate the market for approximately 8 years from there.
Not too long from being debuted, the Exciter actually became the standard that most girls would look for in guys. Says with an Exciter, your chance of seducing a girl just went up to 80%! That's why I bought mine, 😀
Yamaha Exciter through the years
First Gen Exciter in between 2005 – 2010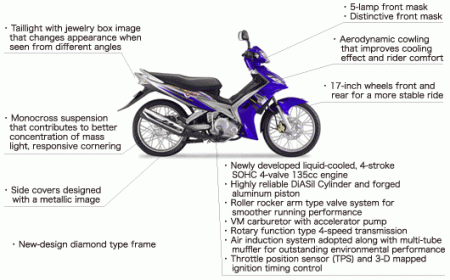 First named Yamaha T135
semi automatic – 4 gears SOHC engine, 4 valves, 135cc, highest displacement for underbone in the market at the time!
Sturdier frame than other brands, can stand up to 140km/h vibration.
the most advanced engine in Vietnam market at the time.
The manual version for 1st gen was released on market in 2007, with the price 500k higher than semi-auto. It looks exactly like the semi-auto, but with a clutch!
I bought mine in 2007 and it's still kicking well in 2016, max speed tested at 130 km/h. Best purchase ever
2nd Gen 2011 – 2014 Exciter
With slightly bigger frame and bigger tires, 5 gear engine, front & rear disk brakes, digital display tachometer. In my opinion, this one has the least sexy design of all three models, but comparing to other underbones on the market, still make it to the top 3 bikes with best designs. In fact, price for 1st Gen model was even higher than the 2nd Gen when it made its way to the market!
3rd Gen 2015 – 2016 Exciter
150cc 5 gear engine, fuel injected, bigger frame and tires, front & rear disk brakes, digital display tachometer. Tigit Motorbikes currently owns many of these bad boys and our customers just can't get enough of them! This bike can transform from a regular normal scooter to a monstrous street fighter in a few heartbeats!

Yamaha Exciter's performance on the street
The Exciter always brings a comfortable feeling when cruising the streets. It slides through crowded traffic with easy steering and great acceleration. Aero dynamic design and a relatively large frame keeps the bike steady at high speeds, and 2 disk brakes at front and back are there in case of any road incidents.
Clutch is much easier to grasp, squeeze and feels lighter than the Honda Winner clutch.
Digital tachometer with gears indicators make it good for people who are not too familiar with driving manual
Gear changing is smooth at high RPM.
Exhaust sound is the thing I love most about Exciters. Ever since the very first model, Exciter has always been able to create a cool vrooming sound that make you stand out among others on the street, especially when accelerating with high throttle.
Pimped up for RACING!
The Exciter 135cc seems to be the most popular bike for the Drag Racing contest, both in Thailand and Vietnam. Big garages upgrade their bikes with bigger cylinder and cam shaft for much higher torque and acceleration, goes with bigger carburetor, air filter and all other stufs… all bodywork removed for lighter weight, stiffer rear suspension for more stability at high speed..
400M Drag is so simple, it's all about torque, acceleration and driver's toughness and skills!!!
The King of The Streets
I left my 2007 semi-auto Exciter home when I moved to Saigon and now I'm happy with my GN125. Still, I always have a thing for the Exciter and Yamaha in general. It may not provide a solid feeling as the Winner does, not so much bling and flare as the Raider and sure cannot compete with the sound and speed of a 2 stroke bike like Suzuki RGV, the Exciter is a combination of all, with characteristic, versatility, cost-efficiency and great acceleration!
Thanks for reading!
Written and created by Link.