Reading Time:
3
minutes
"Chinese" Made Hondas
Most backpackers in Vietnam will select the cheap Chinese made motorbikes. Everything seen on the internet or in the backpacker areas in the $300 price bracket will be a copy Chinese Honda . An authentic motorbike is worth some "real money".
Read our main article on this topic of buying vs renting a motorbike in Vietnam.
At around $300 Chinese motorbikes are cheap to buy and then sell to another backpacker when finishing the journey. Allowing for a small initial investment.
Hanoi and Ho Chi Minh have different market values for motorcycles made in China. Market prices fluctuate weekly but prices tend to follow a fairly clear pricing model. The main takeaway is that Hanoi is usually cheaper than Ho Chi Minh for buying a Chinese motorbike. As it is a smaller market and it is closer to the source, China. You can plan your selling strategically by buying in the North and selling in the South in Ho Chi Minh City.
Unsure where to start your journey?

5 reasons Hanoi to Chi Minh is better by motorbike.
Selecting a Chinese motorbike and a holiday of breakdowns and mechanic shops should be expected. No different from buying a $300 car back in the Western world, just because this is Vietnam does not mean that a quality vehicle can be bought cheaply. Chinese motorbikes are unlikely to survive in good condition from one end of the country to the other. They are throw away vehicles and locals rarely use them. They are mostly only found in the backpacker streets being sold to foreigners who have no idea what they are doing.
Chinese motorbikes are unlikely to have a working speedometer, fuel gauge, backlights/brake lights or an effective working front brake.
Now lets explain this ridiculous situation of motorbike branding, "but it is a Detech so it is reliable!":
Before Detech it was Sufat, before Sufat it was Ferroli, before Ferroli is was Mekado before Mekado.
As the manufacturer gets tarnished for being the useless garbage that it is, the Vietnamese shops must look to re-brand and introduce the "new and best thing". Standard marketing tactics used in industries around the world. A simple way to keep the models fresh and unique.
Cheap Honda Win for $250
Assume a 2000km journey. 2000km/300km (suggested oil changes) = 6 times at 4usd a time. Total = $24

Breakdowns (realistically) between $50 and $100. Will continue this maths with $50 on the low end.

Expected sale value (leaving country quickly) = $150,   Purchase value less the sale value, $250-150 = $100

$100 (loss on sale) + $24 (oil changes) + $50 maintenance = $174 total expense
Genuine Honda Motorbikes
A genuine modern Honda/Yamaha/Suzuki is the ideal motorbike for travelling Vietnam. Pleasurable to drive and over the duration of a journey, should work out similar or cheaper than trying to buy and sell a cheap backpacker motorbike. Less oil changes, no breakdowns, and good gas consumption bring the cost into a similar range as the hidden expenses in buying and selling a cheap motorbike.
Tigit has an article explaining about the differences in the after service of the mainstream motorbike brands, compare this to our attitude on fixing motorbikes for foreigners. Hopefully a clear picture is painted and the realities of a $300 are beginning to make sense!
Safety is also important and a genuine motorbike in good condition is unlikely to fail. Chinese motorbikes, which are only $300, can have failing brakes and lights and on some occasions, have been known to snap in half. Are you willing to risk your safety for a few hundred dollars? Consider all your options before taking the plunge with a cheap Chinese Honda.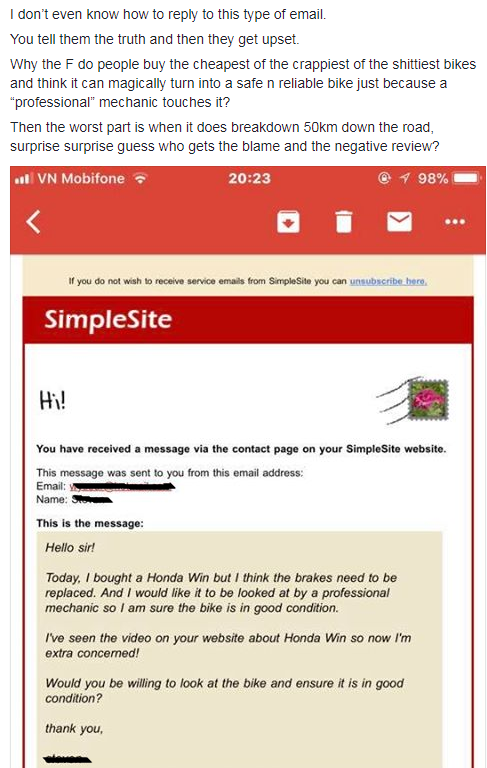 Other considerations
Chinese motorbikes drive badly and there is no pleasure in traveling on a motorbike that wobbles around and is fundamentally unstable and dangerous.
Locals do not use Chinese motorbikes as their everyday commuter vehicles.
The streets of Vietnam rarely have Honda Win's because they are not reliable bikes.
No dealers/rental companies on review websites deal with Chinese motorbikes. This is because it is impossible to keep the customer happy.
Chinese motorbikes have around half the power of an authentic motorbike.
We discovered the Vietnamese version on Ebay on a search for the Honda Win. Prices around 17 mil which is roughly $750. Huge variation of prices depending on Fake, real or even half real.