Reading Time:
9
minutes
Ha Giang Loop  7 days 
This article is written by a Tigit Vietnamese Tour Guide. The grammar and English have been fixed, with an attempt to keep the style local and authentic. Not over edited!
Ha Giang loop is the most famous loop to ride in the North. Starting from Ha Giang city to ride through many districts such as Yen Minh – Lung Cu – Dong Van – Meo Vac and get back to Ha Giang in 4 days.
Ha Giang is full of motorbike rental and tour companies which makes it a lot easier for people to ride the loop.
To get there, people can take a night-sleeping bus (book at your hotel or the bus station). Tigit customers usually ride straight to Ha Giang, or they book with us to transport the bikes there by truck. This costs 35 usd per bike.
The Ha Giang loop described here is a bit different and longer, and can be done within 7 days. We're using it for people looking to ride with us, but we also publish it for everybody.
We map out the loop with Tigit recommendations for everything you need: Routes, Hotels, Foods, Tips, also FAQ about Ha Giang loop.
Day 1: Hanoi – Hoang Su Phi 260km
Hoang Su Phi is a district in Ha Giang.
Is it worth the ride?
Yes, It is. We prefer riding to sleeping on a bus for 6 hours. 
Why?
In my opinion:
City riding is not as dangerous as it looks, people may not like it but it is good practice before you get to the mountain riding in the North.
Riding is faster than a bus. There is not only 6 hours on the bus, but they normally drop you off at around 2 – 3 am to find a hotel.
The highlight of the day is Hoang Su Phi Bungalow, which is the most beautiful homestay during the trip, located on top of a mountain and surrounded by terraced rice fields. The mountain pass to get there is awesome. You can see a big difference in changing weather, from city to local places, from lower to higher points.
You can't take a bus to the Homestay instead of riding as buses do not go near this homestay.
Room costs: 900.000 vnd ~ 40 usd per night, soft mattress, good Vietnamese food.
Note:  I pin some coffee breaks, sugar cane juice along the way and a good restaurant for lunch in Tuyen Quang.
Day 2: Hoang Su Phi to Hagiang city 80km or Hoang Su Phi to Quan Ba 120km
Is it too short to ride?
No. It is not. We recommend riding a lot to escape the city traffic on day 1, and then recovering in Hoang Su Phi bungalow. Day 2 should be a relaxing day.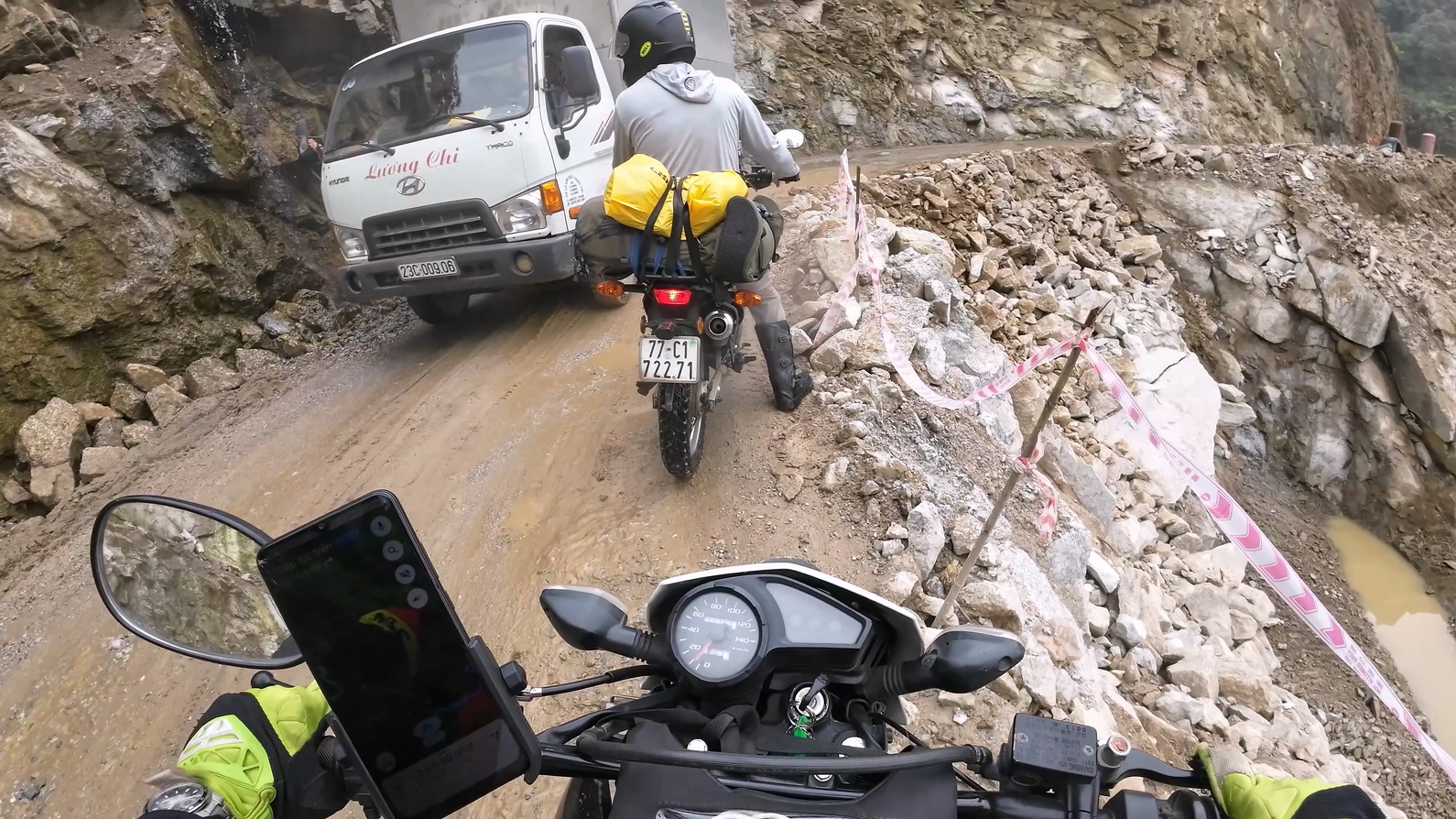 The highlight of the day is DT177 which is 100% off-roading, beginners may struggle a bit, but the good news is that the trail is not steep. The reward for good riders is having lunch in Ha Giang city.
You can see a longer option for DT177 on the map.
Note: after 260km riding on day 1, you really need the gas station we pin on the map, don't miss it!
What is the difference between Ha Giang city and Quan Ba?
If you like big cities, parties, pizza, good massages… you go Ha Giang city.
Our recommendation to stay is Phuc Lam Hotel, 600.000vnd ~ 25 usd per night, soft mattress. There are a lot of good places to eat and drink along the river that are close to the hotel.
Note: You should try and get a good massage in Ha Giang, for 300.000 vnd ~ 12 usd, we pin it on the map but you can actually show it to the receptionist and ask them to book for you, taxi pick up is included.
If you like more adventure, quieter, you go Quan Ba. Our recommendation to stay is Nha Nghi Luxury Motel, VIP room costs 500.000 vnd ~ 20 usd per night, with a soft mattress. I was surprised about the room. You can have a nice night-ride to eat at the restaurant we pin, the best one in town but local, non-English speakers.
Note: they have draft beer, buffalo meat in the upstairs kitchen, local sausage, organic pork and chicken,…
Quan Ba makes day 2 a bit longer, but day 3 a bit shorter.
When we do trip for Tigit customers, sometimes we stop in Ha Giang, sometimes in Quan Ba, I can't compare.
Day 3: Ha Giang city or Quan Ba – Lung Cu –  Dong Van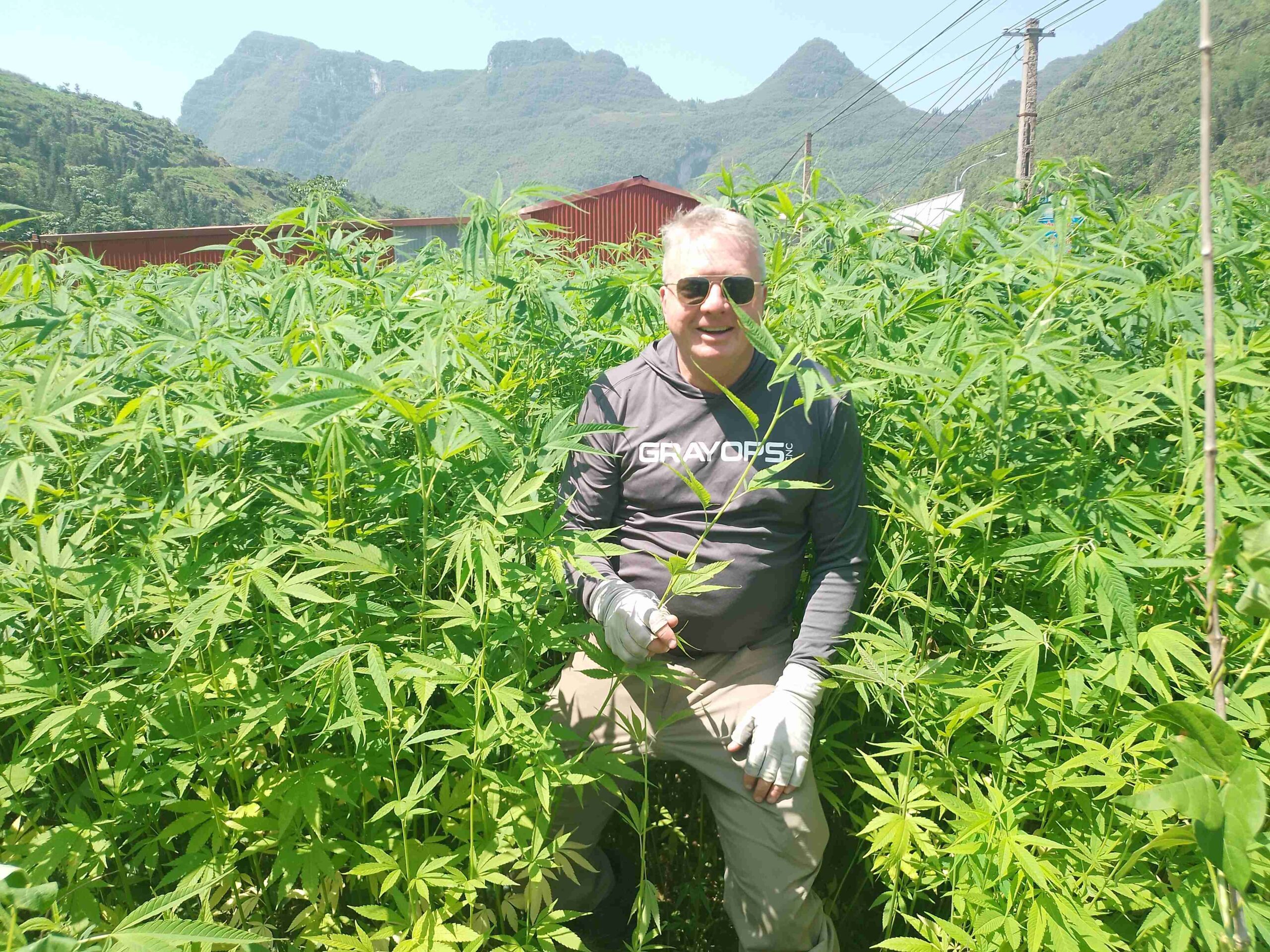 The highlight of the day is the most North point where you can see the Chinese border.
Note: Lung Cu Flagpole is very famous but not the real North point. You must park your bike and climb up there. Alot of riders are too lazy to do it. Do the pole we pin on the map.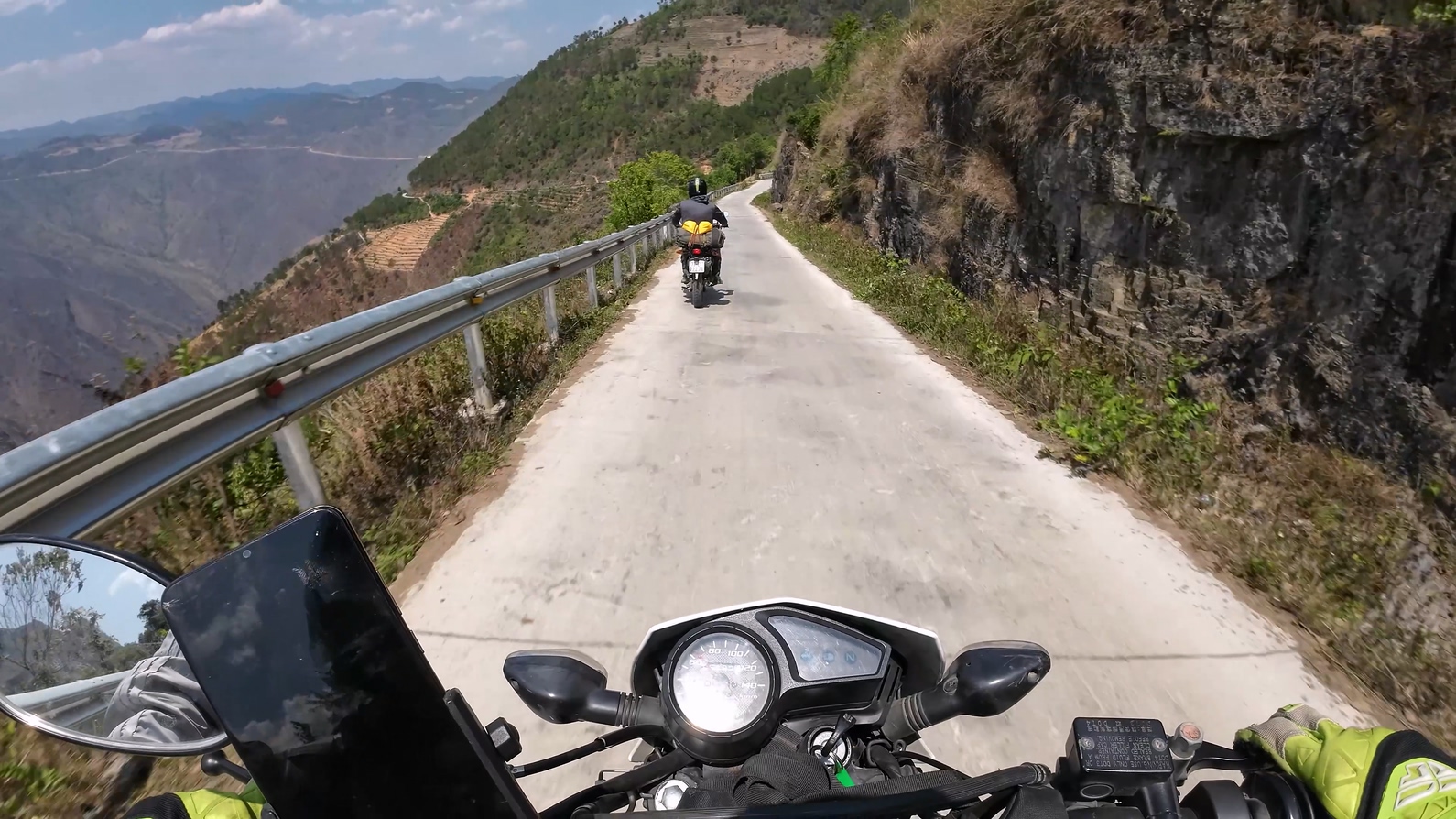 Hotel: Ma Pi Leng hotel is an acceptable hotel we did for our trip so far in Dong Van, 400.000vnd ~17usd, we don't have any other recommendations.
Food: Night market is a good place to walk and drink but outside is better to eat, I pin a place for street food where you can have good BBQ, hot pot and local buckwheat beer.
Drink: Coconut coffee, salt coffee, and typical cà phê sữa đá (icy coffee with condensed milk) are the best, they also have western coffee.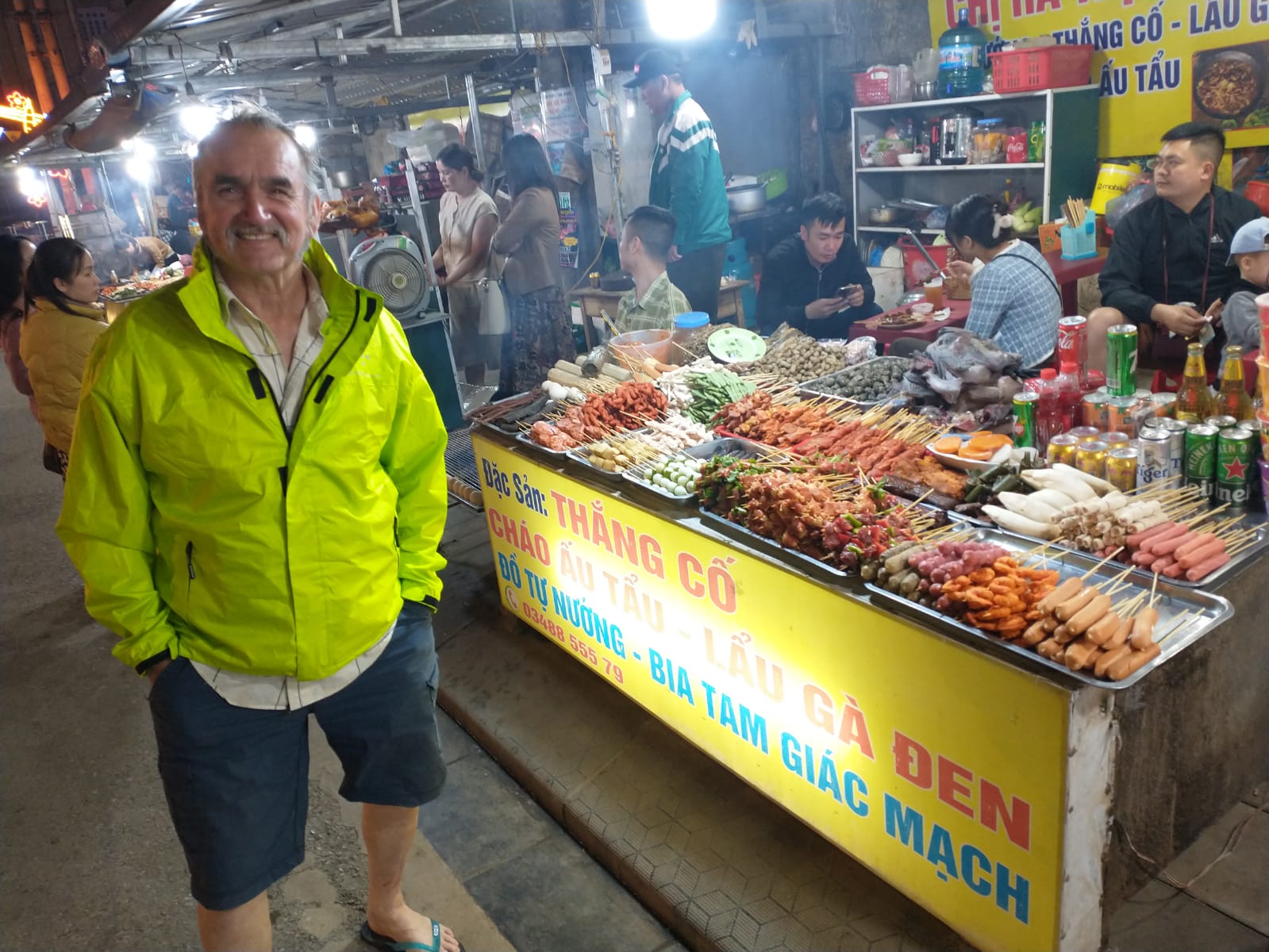 Day 4: Dong Van – Meo Vac – Bamboo Ferry – Bao Lac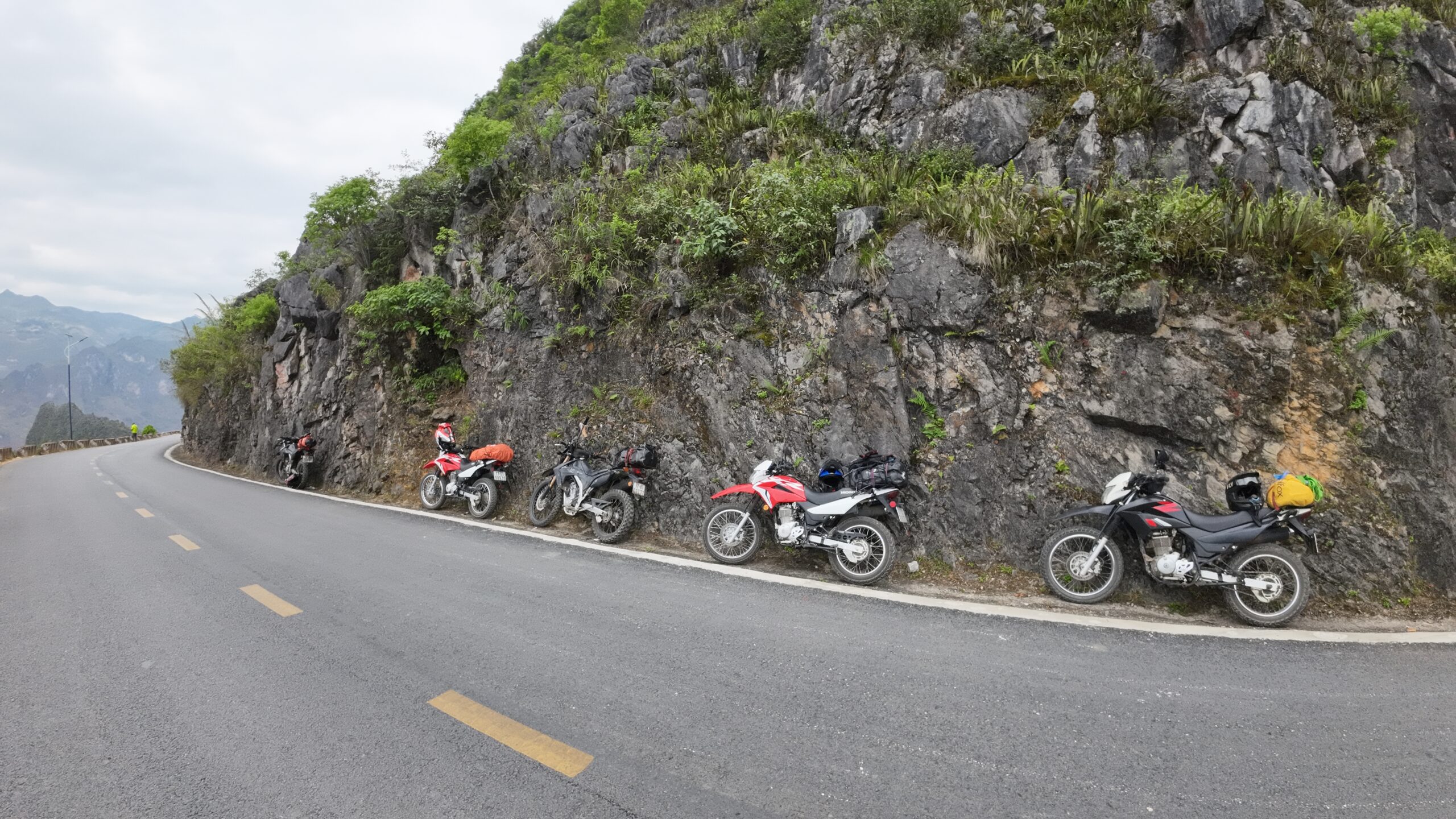 The highlights of the day are Ma Pi Leng mountain pass, crossing Nho Que river on a local bamboo ferry with your bike, off-roading to Bao Lac.
Ma Pi Leng is the most beautiful mountain pass in the country. It has stunning views but comes with a sad story. Many people had accidents when trying to build it.
The Sky path is located on this mountain pass, but you can't do it anymore. The traffic was messy so it's closed now. It is only open for locals.
Bamboo ferry is the next level of DT177 on day 2, we're sure that you're ready for it after 3 days of riding.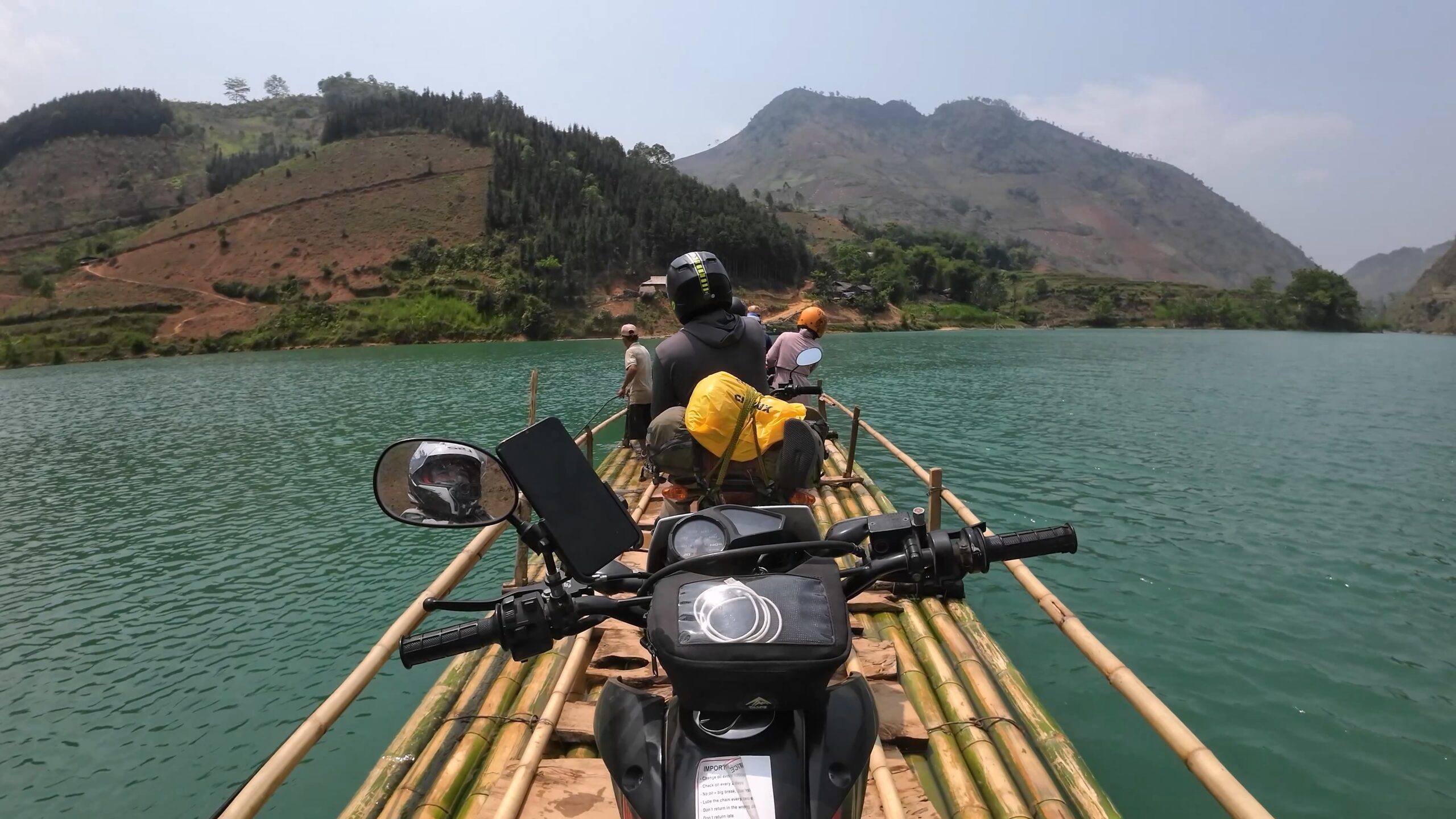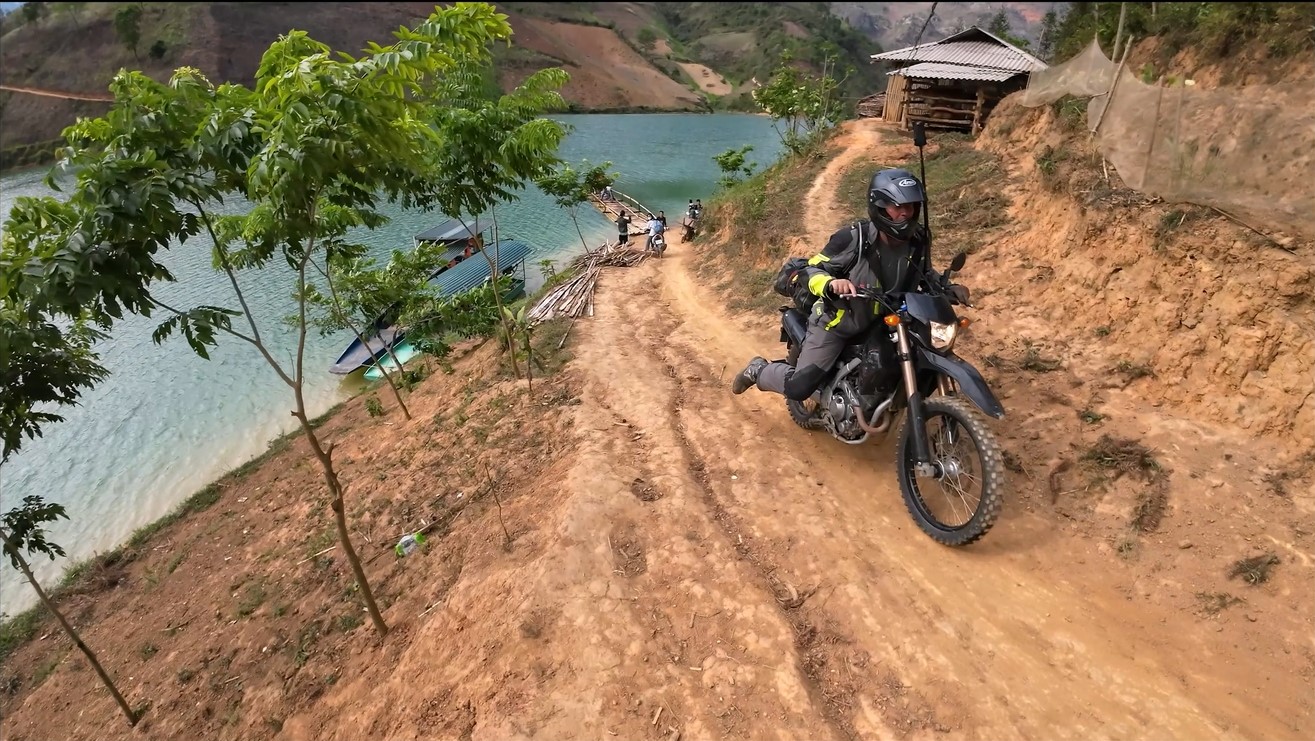 Note: don't overpack, and don't do it on rainy days, the person on the backseat sometimes has to walk. You can do it on any bike but CB500X is only for advanced riders. ABS is not good on the trail.
The XR150's clutch could be burned after 10 mins of feathering, so let the bike take a break. It is not difficult to do, don't be scared. It's a lot of fun with a group of friends.
Hotel: Sunny Bao Lac homestay, Nha Nghi Viet Hoang are our recommendation, 250.000vnd ~ 11 usd, can't be better.
Food: There is a Pho restaurant we pin on the map. You can have for whole day, breakfast, lunch, dinner, which is one of the best pho we have ever had, with original taste. You will be surprised about the price 30.000 vnd ~ 1.2 usd. (The chef seems like he is not good at making fried rice.)
You can also go to the night market to have street BBQ and beers.
There are some coffee shops that are close to the hotels.
Option: If you get to Bao Lac early in the hot season, you can go swimming at a local stream.
Day  5: Bao Lac –  Ban Gioc Waterfall 180km
The highlights of the day are Khau Coc Cha mountain pass and Ban Gioc Waterfall.
Khau Coc Cha is known as 15 Curves Mountain Pass.
The road reminds us of the HCM road, which is curvy, very quiet, and in good condition.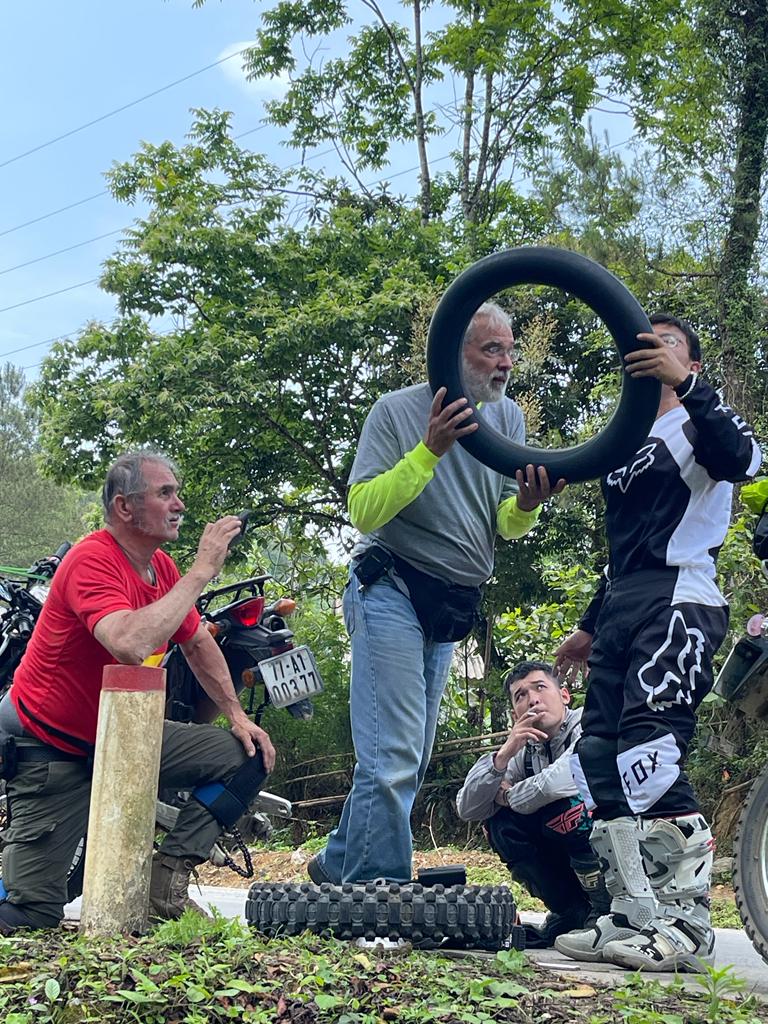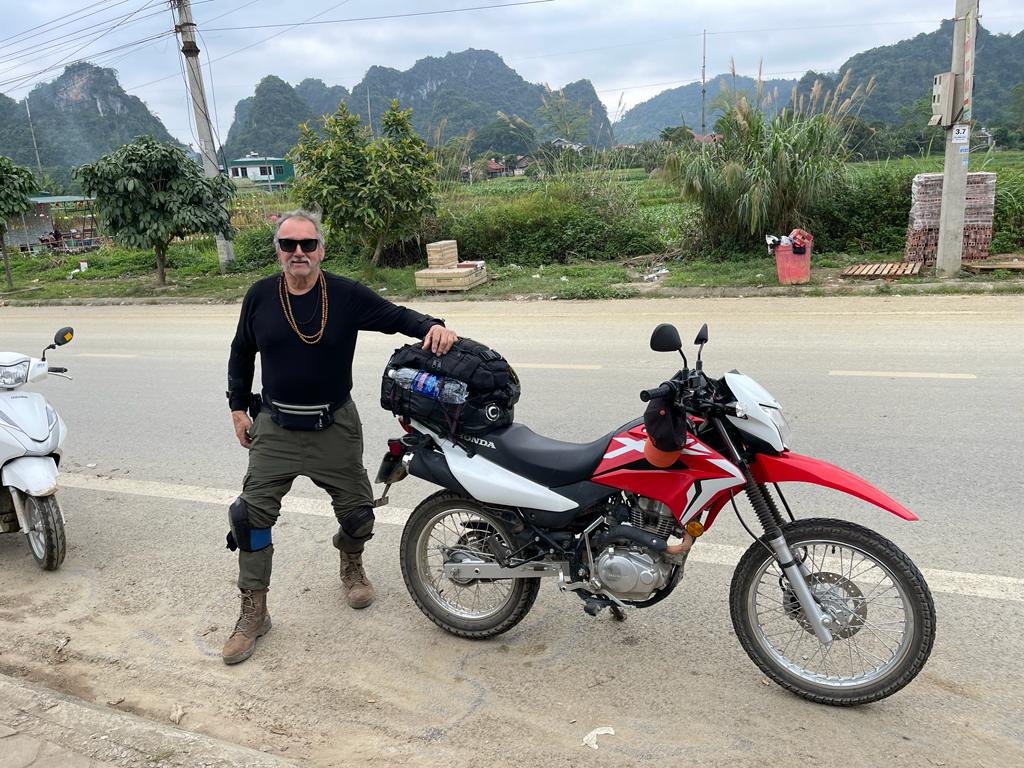 Ban Gioc waterfall is located exactly on the Chinese border, half in Vietnam, and half in China. You can see Vietnamese and Chinese boats on the river, it's even more beautiful at night when they turn the lights on.
Hotel: Yen Nhi homestay, Ban Gioc-Quay Son hotel, Saigon-Ban Gioc resort.
Yen Nhi homestay seems a bit crowded in high season, but it is the best choice in the low season. A room costs 350.000vnd ~ 15usd per night, soft mattress, a good dinner in a natural cave, beautiful stone bungalow.
Note: Most restaurants in Ban Gioc just stop working in the low season. Homestays with food are the best.
Ban Gioc-Quay Son hotel, Saigon-Ban Gioc resort are the best for hotels you can look for with soft mattresses, a quiet place, good service, available for big groups, but these hotels have boring food. A room costs from 750.000vnd ~ 30 usd per night.
Food: Banh Cuon is the best for breakfast. Go out for it even if you have breakfast included at the hotel. You can find Banh Cuon every where but Banh Cuon Cao Bang and Banh Cuon Lang Son are the best versions.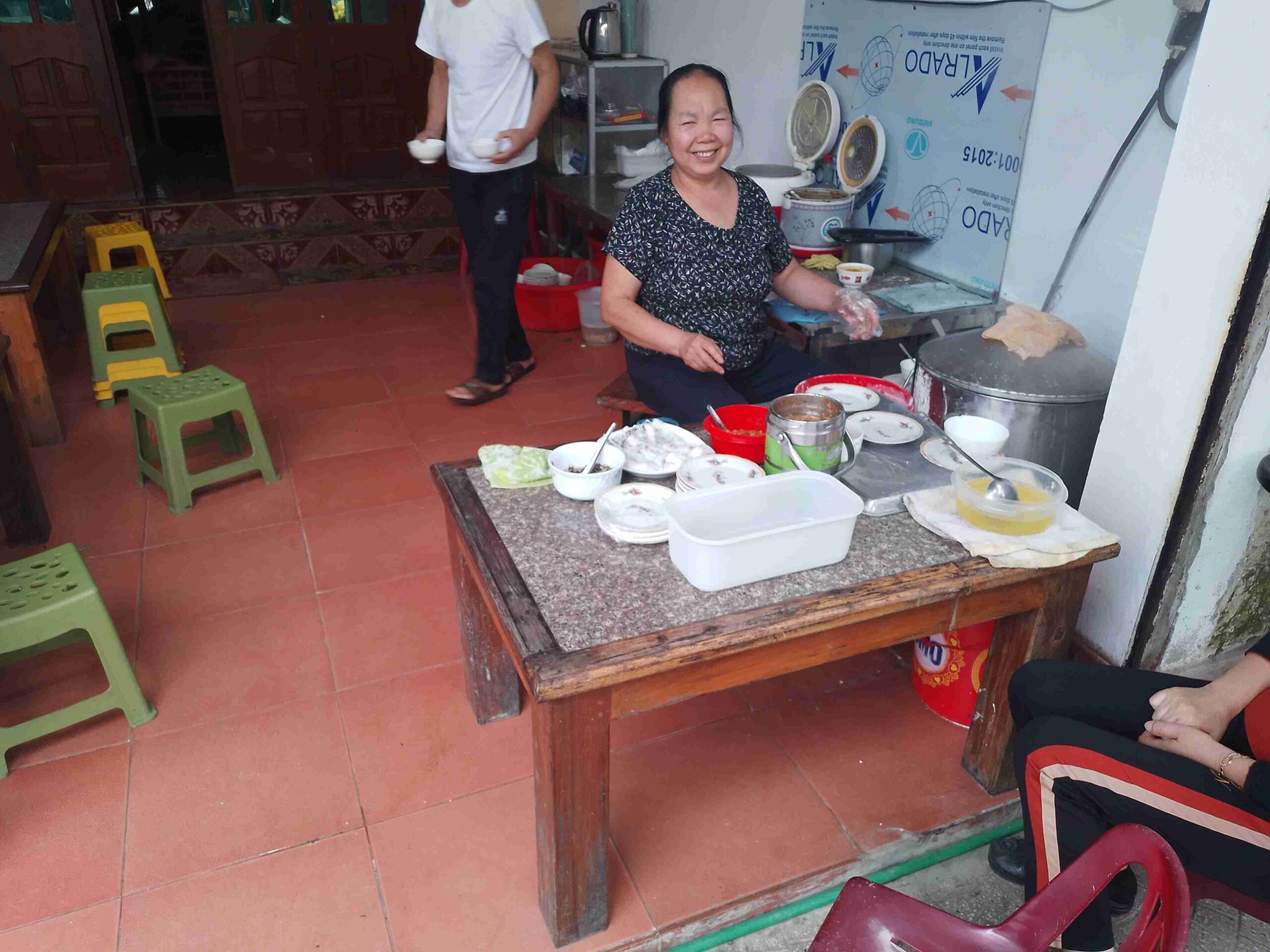 Day 6: Ban Gioc waterfall – Bac Son 180km – the highlight of the whole trip.
The highlights of the day are Tham Khach cave and bad roads to Bac Son.
Tham Khach cave is a big cave deep in a mountain which you can ride 1,5 km through it. You can even drive a car. It was a Viet Cong military base in the American War where they hid and stored everything. They kept tanks and cannons and built houses in the cave.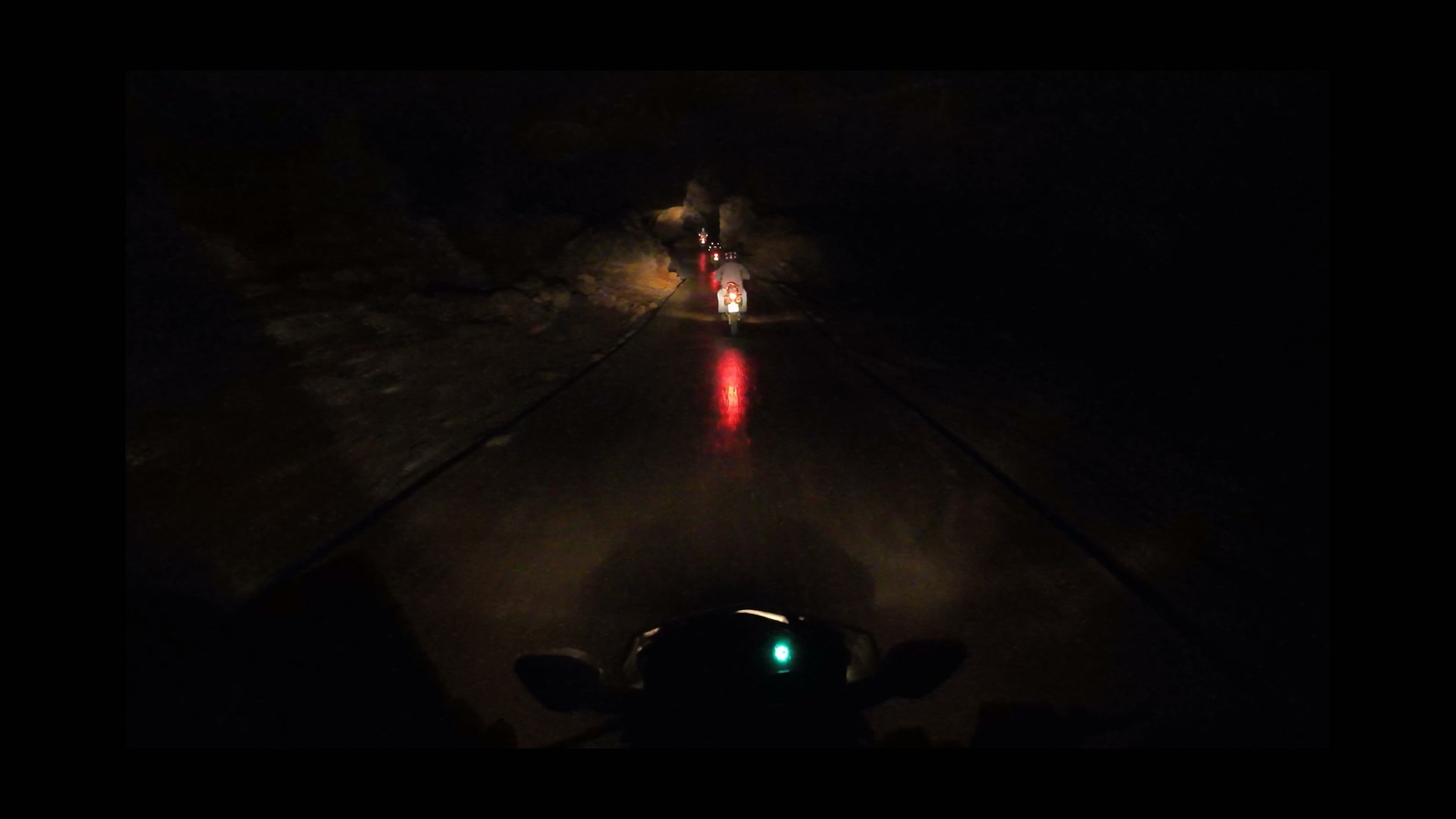 The road to Bac Son from Ban Gioc, half is good road like day 5, and half is bad, like the North West. For offroad lovers, are bad road is a good thing though!
Hotel: every hotel here cost 300.000vnd ~ 12 usd for a room. You have no choice because Vietnamese like hard mattresses, just go to any good-looking hotel.
Lunch: The restaurant we pin on the map is good for lunch, you can have a set of Vietnamese food with rice, you should try roast duck – very famous in Lang Son.
Dinner: You can eat a bit early in the afternoon at Binh Gia Sky coffee for pizza, good coffee, good smoothies, snacks.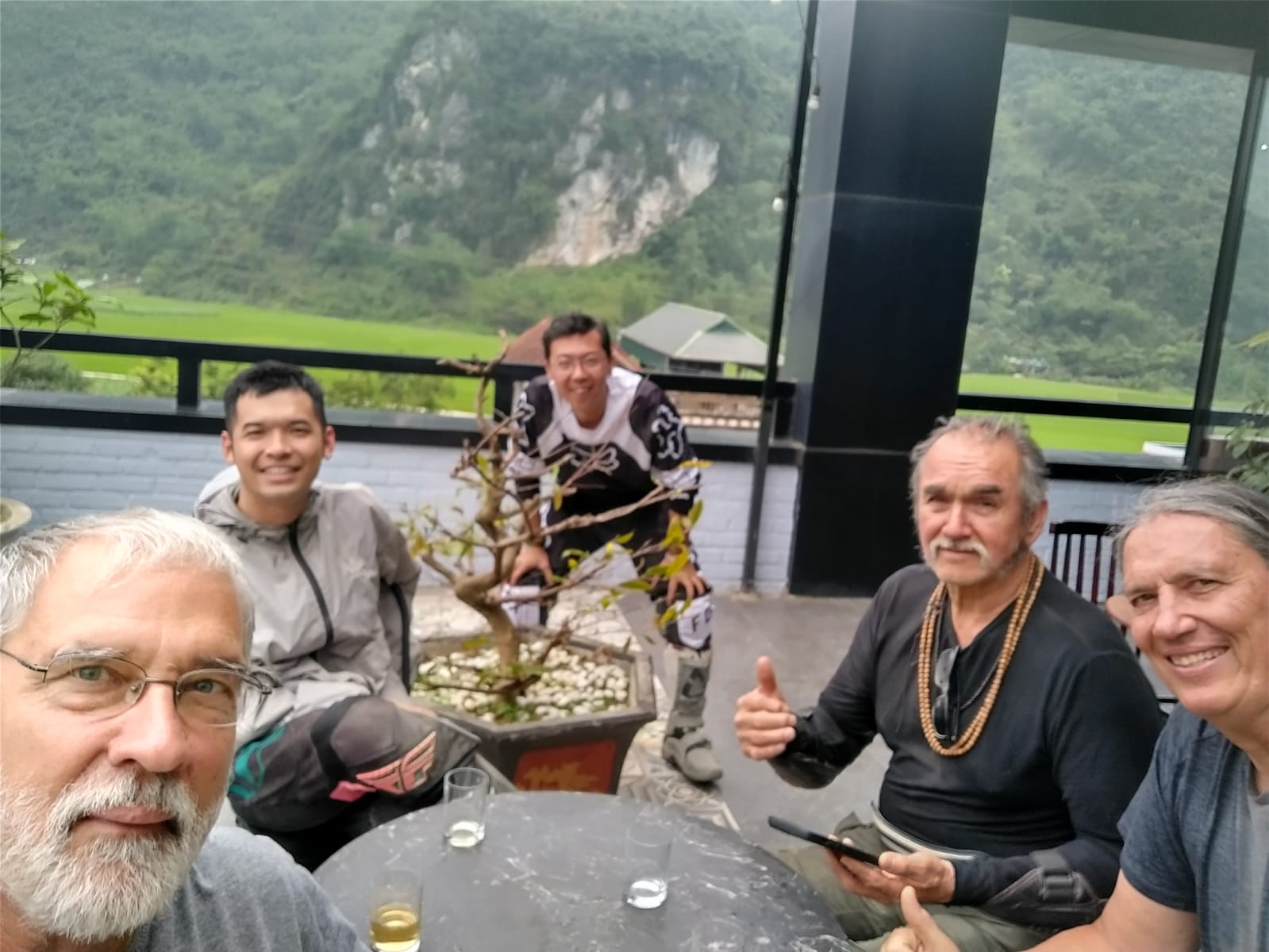 Or you can go around the town for local beer places. They always have fried rice, fried noodles, spring rolls.
Day 7: Back to Hanoi 150km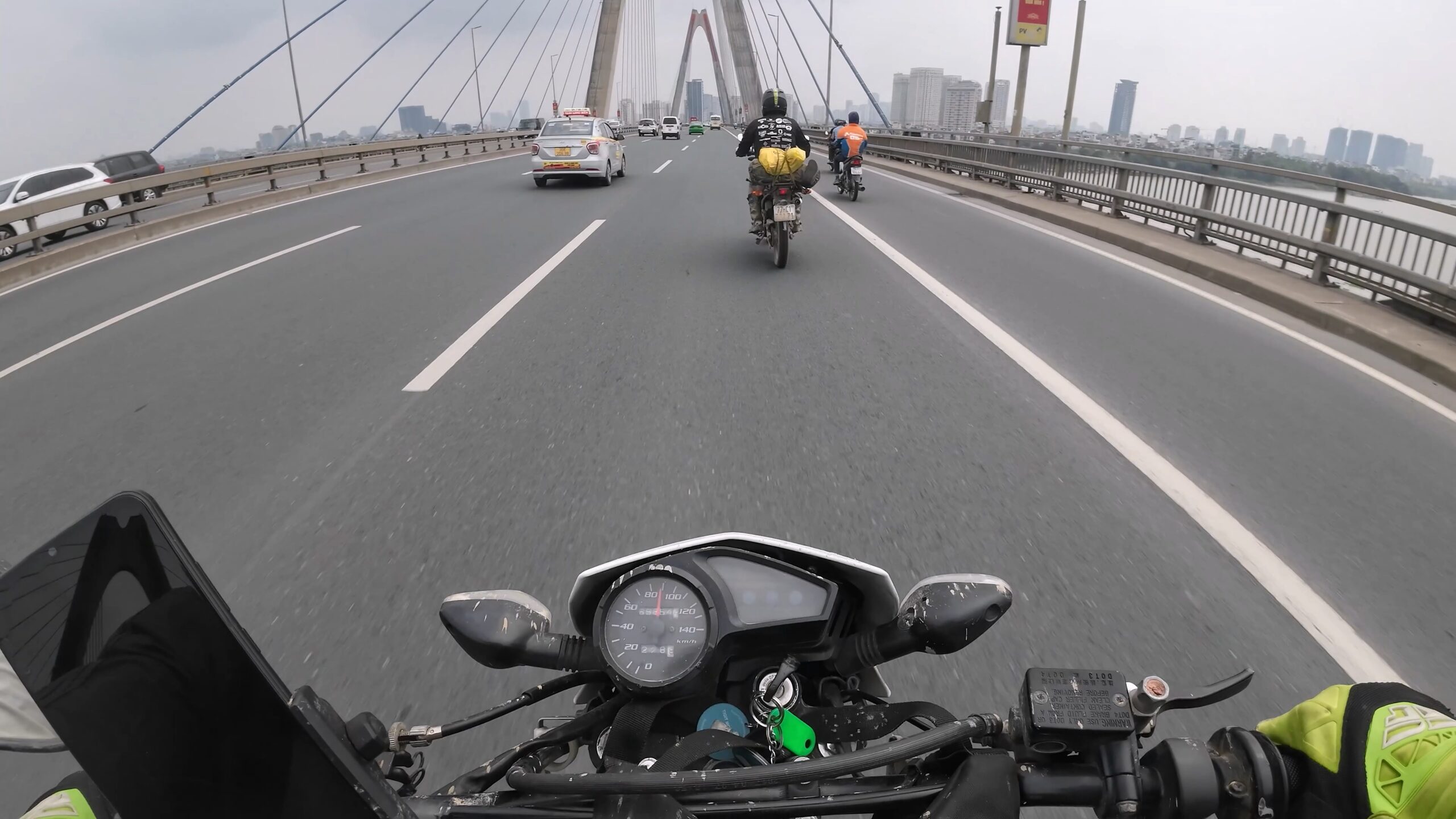 We recommend riding back early in the morning, having breakfast in Thai Nguyen, and getting back to Hanoi before noon. For many people, it's a good plan to be early in Hanoi to avoid the crazy traffic, return the bikes, get ready for your flight, also have time in the capital. Hanoi food is the best.
People who have more time can do the cave again.
You can do the opposite direction Day 7 —> Day 1. If you don't have much time to ride on Day 1, Hanoi – Bac Son in 3 hours could be a good option.
You can skip Hoang Su Phi to make the loop a bit shorter; can be done within 6 days.