North West Vietnam Motorbike tour offroad
Hanoi
Tigit Guides
Summary
The North West is my favorite part of Vietnam. Tourism exists, but it is adventure tourism, and really, only for the Vietnamese. It isn't on the Western tourist circuit at all.
The North West is also the most beautiful area of Vietnam, and you don't need to go far from Hanoi to start witnessing this.
So, why is it not more famous for Western tourists? The simple answer is that it hasn't developed. The area suffers from huge quantities of landslides and rugged and challenging terrain.
Perfect for us adventure seekers!
All these routes can be adapted to be driven on any Tigit bike, and we will cater the road and offroad balance as well as the difficulty level to your requirements.
However, Tigit Jon's recommendation will surprise you. To truly experience the Northwest, you should be selecting the Honda Blade. This is where we will have the most offroading and probably the most fun offroading.
As the motorbikes get bigger, the offroading we can do, and the remoteness the guide can take you, will lessen.
Honda Blade – Extreme Enduro
Honda XR 150 – Hard Enduro
Honda CRF 250L – Offroad Adventure
Honda CB 500x – Road-based adventure trip.
So, if you can find it within yourself, go against everything you think you know, and trust Tigit Jon. You should select the smallest possible motorbike to have the most fun!
Tour Highlights
Spectacular single track trails that wind up into the clouds

The dinosaur backbone in Ta Xua
Local Hmong communities that rarely see tourists, and would love to interact with you

Water crossings, huge ditches, land slides, and a general team effort to tackle the terrain

A guide with route capabilities to adapt the trip to your skill level and requirements
Who this tour is for
This tour is for the adventure tourist with a reasonable amount of skills on a motorbike. Whether you choose the recommended Honda Blade 110cc or the big Honda CB 500x you will find yourself in remote areas on slippery clay terrain.
Tour Itinerary
Hanoi to Phù Yên
It takes around two hours to truly leave Hanoi city. There is no way around this. Use these two hours to get used to the machine because we quickly find ourselves in a remote jungle, where clever locals have secret trails through a national park.
This means the terrain goes off the map, and we find ourselves alone in a jungle.
When we hit civilization again, we drive along tarmac roads along pretty little villages.
A few hours later, it is time for some very challenging terrain to make the customer understand that Tigit is serious about offroading. However, much to your surprise, you find out that this section of brutal offroading is actually relatively short, and it isn't long before we connect back to roads.
The day finishes with a spectacular offroad drive into Phu Yen, views you will never forget, and you will be begging for more.
Phu Yen to Ta Xua
By road Phu Yen to Ta Xua is around a 40 minute drive. But we are taking the backway into Ta Xua, and that means climbing into the clouds on steep but spectacular terrain.
We will pass through some major dam and construction projects as we go. Witness locals go about farming and run into villages that rarely see a foreigner.
The day closes with the famous dinosaur backbone, which you can choose to hike, or if you are brave enough, you can drive it.
Phu Yen to Son La
This is where the three and four-day tour options part ways. If you choose the three-day route, you will be going directly to Nghia Lo.
For Tigit Jon and his Enduro crew, Nghia Lo is "packs off heaven". We check into a hotel, leave all our gear, and proceed to do all the trails around the area. A guide can have you lost in this area for days; there is no shortage of phenomenal trails.
The four-day route will continue to Son La City and goes into areas of Vietnam that Jon thinks he is the first white guy to have driven through! There isn't any infrastructure for the entire day and nothing on the map.
However, the trail between Ta Xua and Son La is relatively busy, with plenty of remote villages going about their daily lives. These villages are not really connected to mainland civilization, though; there are no real roads in the area at all.
To connect back to mainland civilization, we take a very small boat over a very large river!
Son La to Nghia Lo
It is probably the best drive on the tour, and for many people, it will be the best drive of their entire lives. It is hard to top a day like today.
We do single-track trails through stunning corn fields before connecting into a single cement track that winds over a very large mountain. Only in Vietnam would you find a piece of road engineering this bizarre.
We see plenty of rickety wooden bridges and a few river crossings.
This is the kind of day where the terrain changes each hour, and there are so many small obstacles that you go to bed with everything in your mind being one big blur of fun. "What did I just do?"
If time allows, the tour comes to a two-hour road drive between Mu Cang Chai and Nghia Lo, basically the only road section on the entire tour!
If you make it to Nghia Lo, you will be rewarded with a hot spring bath.
Nghia Lo to Hanoi
There is no pleasant way back into Hanoi city, but we do have trails that can break up the drive a bit. In terms of road, it is around a five-hour drive.
Alternatively, we can arrange a truck (2.500.000vnd) and a taxi (2.500.000), totaling 5.000.000vnd.
Please note that if you choose the truck and taxi option, we will not charge tour guide or bike rental fees on this day.
Tour Map
Tour Prices
Prices are in USD
This is an all-inclusive tour
Duration : 3 day option, 4 day option, 5 day option.
Honda Blade 110cc (recommended): All inclusive: $155 per person per day
Honda XR150: All inclusive: 175 USD per person per day.
Honda CB500X: All inclusive: 200 USD per person per day.
Minimum 2 riders per tour. For 1 rider, please read the rent a-guide section.
Trucks and taxi (optional)
If you wish to save the last day of driving back into Hanoi. We can arrange a truck (2.500.000vnd) and a taxi (2.500.000), totaling 5.000.000vnd.
Please note that if you choose the truck and taxi option, we will not charge tour guide or bike rental fees on this day.
Tour Info
Includes
Helmet, MX boots, Knee and Elbow pads
All food and drinks
Accommodation – private where possible and no budget options
All gas and fully covered damaged waiver for crashing bikes
Excludes
Hot spring entrance ticket for yourself if we do this activity
Personal health insurance
Tour Guide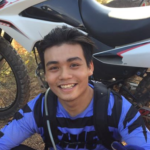 Tigit Guides
Tigit guides are local enduro enthusiasts. Passion lies in driving and motorbikes. A tour is a way to escape the Tigit office and be out there on the roads. Be assured they are enjoying the trip just as much as you are.
Tigit guides are selected based on their motorbike skills, we hope, that they have enough skills to get both themselves and you out of the mud!