HCM to Da Lat 2 Day Enduro; beach to mountains
Enduro Offroad
Tigit Guides
Summary
Saigon to Dalat through Mui Ne is an ambitious two-day enduro tour that will push you to your limits and breaking point.
The tour works perfectly because it follows the lines of the highway. The guide will push you until you beg for tarmac, at which point you can bail out back to the road and cruise to your destination.
If you want to get your holiday off to a serious bang, this is the best way to do it. A tour like this won't exist in many countries. It is phenomenal.
Tour Highlights
Sand drive, gravel driving, jungle driving

Easy exit points for when you get tired

Difficulty levels from beginner to expert, the guide can cater to all

Beautiful jungle rides, particularly on day two
Who this tour is for
When you are an adventure seeker looking at tours on the internet, it can be difficult to gauge if the tour is an adventure tour or one pretending to be. We can promise you that this is an actual adventure tour, and regardless of your skill level, you will be impressed and pushed hard.
The tour is flexible and has many different options in terms of difficulty. Even going to the extreme of tackling Ta Nang should you wish to do so. A Trail coined as one of the most difficult and remote enduro rides in Vietnam.
For beginners, you can have a stab at one of your first offroad experiences. There are plenty of sections that you can drive, and the rest can be skipped with the road. You will struggle, but it will be a great team-building experience, and you will learn a lot about motorbikes!
Tour Itinerary
HCM to Mui Ne
Set off from Ho Chi Minh at 7am in the morning. It takes around 1.5 hours before you see the dirt, but you will find yourself driving through amazing rubber plantations when you do.
As the day goes on, the landscape gradually turns to sand. There are a few train track crossings as well. So try not to get stuck!
It is a huge 200km day of 95% offroad if you can muster it. But when your day is done, let the guide know and you can cruise down the highway to Mui Ne.
Accommodation day 1
No corners cut. Your room will face a swimming pool that is no further than 5 steps from your door. A soft mattress and a BBQ dinner. We don't skimp out on hotels; a good night's rest is needed.
Mui Ne to Dalat
The day can start with some challenging sand driving if you wish. Or this can be skipped to make extra time for Dalat's jungles.
Sand eventually turns to pine forests as Dalat creeps closer. You will find yourself on some steep hill climbs with rewarding views at the top.
By the time the tour is done, you will be ready to fly back home, having only driven for two days.
Crazy people with bag loads of skill or a death wish may request Ta Nang backward into the ridgeline route, but that will require Tigit Jon as a guide. Send an email if you want to inquire about a custom price.
Farewells
The tour aims to finish in Dalat at 6pm, but this is flexible.
Drop the battered Enduro bikes in Tigit Dalat, at which point the guide will head back to Saigon. If you have a rental bike, this can be picked up from Dalat to continue your journey.
Tour Prices
Prices are in United States Dollars
This is an all-inclusive tour, including damage waiver
The standard bike for the tour is the Honda CRF 150
The prices listed are for two people or more, for one person please see rent a guide.
| | |
| --- | --- |
| Price per person CRF 150 | 350usd  |
| Price per person CRF 250 | 400usd |
| Price per person Husq 310 / WR 450 | 425usd |
| Price per person KTM EXC 350 | 450usd |
Tour Info
Includes
Forma MX Boots
Ls2 Knee pads and Elbow Pads
Ls2 Rapid Fullface Helmet
English Speaking Guide
All meals, water and soft drinks on tour
Free Damage Waiver (don't worry about crashing)
Petrol
Tour Guide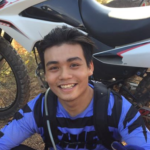 Tigit Guides
Tigit guides are local enduro enthusiasts. Passion lies in driving and motorbikes. A tour is a way to escape the Tigit office and be out there on the roads. Be assured they are enjoying the trip just as much as you are.
Tigit guides are selected based on their motorbike skills, we hope, that they have enough skills to get both themselves and you out of the mud!
The Motorbikes we use
The Honda CRF 150l
Equipped with offroad tires and upgrades so that you can crash this bike as many times as you like and hopefully it won't break.
The Honda CRF 250l
We prefer not to use the Honda CRF 250L for this tour due to its weight. Although it can be requested. We think the 150cc is better!
KTM XCF-W 350
Tigit Jons personal bike can be rented for this tour, if you know how to drive it!
Husqvarna 310 Te
Tigit Jons spare bike for his buddies. Again, you need some driving experience to drive this bike.