Deep Mekong Delta Motorbike Adventure (4D3N)
All-Inclusive
The Extra Mile Adventure
Summary
The Mekong Delta presents several mesmerizing landscapes across different provinces with their unique features. In this tour you will see more than just paddy fields and rivers. The deep Mekong tour takes you to the narrowest trails, fully surrounded by nature. We even drive within the fields far from the paved roads or any roads at all. In this way you can see most of what the Mekong has to offer: rice fields, corn fields, lemon fields, dragon fruit fields, chilly fields, all sorts of trees and vegetation. We cross several villages on narrow paths, some left intact from the French Indochina times. And we take the smallest commercial ferries to cross the multiple streams and rivers whenever bridges are absent. This tour gets you closer to the Vietnamese farmer's culture, Vietnam's history and nature.
Tour Highlights
Experience Vietnamese culture in the Mekong Delta
Drive on a mixture of road and small back lanes
Off the tourist trail and into unique areas of the Mekong
Local organic foods and homestays
Getting lost while immersed in nature
We sleep at local homestays, all with clean bathroom and showers. All food will be organic and delicious! Adventurous food can be available, ask us for more information if you would like something less conventional.
*Vegetarian food will need to be pre-booked. However, neither vegan nor
gluten-free options are possible.
Who this tour is for
This tour is perfect for those seeking some adventure while also wanting to take the time to learn about and understand the Vietnamese culture. This tour offers a great blend of some thrill seeking as well as chilling times with families to enjoy great food and drinks. It is about 500kms in total, so the visitor has to be ready to do some driving, but don't worry, we'll have time to rest and even get the chance to refresh at a swimming pool.
Tour Itinerary
Bến Tre Province
Distance: ~150kms
Difficulty: Easy, only few very uneven roads.
10% highway, 60% small local roads and 30% dirt roads.
Drive to Bến Tre in early morning.
Drive through farmlands and scenic backroads
Reach Gò Công Town for lunch.
We take a few ferries and then a system of riverside backroads
Stay at a homestay in Bến Tre.
Have dinner at the homestay.
Sleep in at the homestay.
Tân Phong island
Distance: ~120kms
Difficulty: Moderate, some slim very uneven roads.
20% main roads, 50% small roads and 30% dirt roads.
Have breakfast at the homestay.
Exit Bến Tre City through the flower farms.
Drive a system of riverside dirt roads and several paved backroads.
Reach the island of Tân Phong island for lunch.
Make a complete tour of the Tân Phong island, a very natural and stunning location.
BBQ dinner in a remote field.
Cái Bè – Cao Lãnh
Distance: ~110kms
Difficulty: Moderate, some slim very uneven roads.
20% highway, 50% small roads and 30% dirt roads.
This day starts with a full morning by boat. A unique and famous feature of the Mekong Delta is the floating markets. Nearly every tourist goes to Can Tho for the famous floating market, but it has been overrun by commercial tourism. We go to a local natural floating market with a diverse range of products. Very few tourists get to see this phenomenal floating market. The boat continues on to a industrial rice market (no tourists) and it's an opportunity to talk about the Vietnamese economy. We also go to a famous old house that has some of the oldest and most expensive wood in the country. We spend that night in a very exclusive location, quite special for its cultural and historic heritage.
Have breakfast at the homestay.
We go to Cái Bé's floating market.
We see the commercial fruit floating market
We also see the industrial rice floating market
We visit the old houses and cruise the river on a private boat.
We buy the lunch ingredients at the market.
We come back for lunch to the homestay.
In the afternoon we take several very small trails in between villages and then some offroad across paddy fields and several crops.
We reach the city of Cao Lanh to stay overnight.
We have dinner in town, modern Vietnamese style.
Đồng Thấp
Distance: ~170kms
Difficulty: Moderate, some slim very uneven roads.
20% highway, 40% small roads and 40% dirt roads.
The province of Dong Thap is famous for its lotus flower and chili fields. We have the chance this day to drive through several fields in plain nature with a lot of dirt trails and even through forests. The nature in this province is amazing and we will cross all of it. We even have the chance to observe the farming fields of the prisons (don't worry, it's safe). There is more offroad to do on this day and the nature around is stunning. We finally reach Ho Chi Minh City in the afternoon, right on time to avoid the rush hour craziness.
We ride small village roads towards infinite paddy fields.
We ride riverside and through a bamboo lane to cross a small forest
We reach the lunch place where we have food over the lotus fields
We head back to Ho Chi Minh City through pineapple fields on offroad only.
We reach the city in the afternoon.
Tour Prices
Prices are in United States Dollars
This is an all-inclusive tour, excluding damage waiver
The standard bike for the tour is the Honda XR 150
The prices listed are for two people or more:
| | |
| --- | --- |
| Price per person on Honda XR 150 | 600 USD  |
| Price per person on HondaCRF 150 | 660 USD |
| Price per person on HondaCRF 250 | 700 USD |
| Price per person on Honda CB500X | 800 USD |
Tour Info
Includes
Motorbike
English Speaking Guide
All meals, water and soft drinks on tour
Accommodation in local home stays and hotels
Petrol
Excludes
Personal expenses
Beer and alcohol on tour
Personal health insurance
Tips and gratuity
Damage to the motorbike
Tour Guide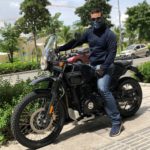 The Extra Mile Adventure
Tigit is partnered with The Extra Mile Adventure for use of multi lingual and experienced guides.
Fascinated by local culture and cuisine, Renzo is one of few expats to master the difficult Vietnamese language. Renzo is able to translate and display traditional Vietnam with his language skills and passion for food which will take travelers to places that are undiscovered and unique.
Also fluent in French, Spanish, English and a touch of Malay, Indonesian and Japanese, Renzo is the guide for the job for answering all those fascinating unanswered questions about different cultures.
Culture and language skills aside, Renzo runs The Extra Mile Premium Bike Rental service in Ho Chi Minh City. This has lead to an interest in providing motorbike related guided tours which dive deep into the countryside and stay distant from the standard tourist trails.
Renzo and his team will be the guides for your adventure.