1 Day Escape Saigon by Motorbike
All-inclusive tour
$150 per rider
Tigit Guides
Summary
This is an Offroad/Enduro focused tour that gets outside and back into Saigon within one day. It avoids most of the hectic traffic and drivers will find themselves muddy within the first hour. For a one day journey, this tour gets surprisingly deep into the countryside and has terrain to challenge all skills levels.
Tour Highlights
Seeing the authentic and real Vietnam just outside the big city

Riding that will challenge all skill levels 

No major traffic

Beautiful roads along rivers, tree plantations, and farmland

Gravel driving. Mud driving. Clay driving. BIG puddles!

A short ferry ride across the Soai Rap River 
Who this tour is for
Within about 40-minutes from departure, most clients are already drenched in mud and have gently crashed or dropped their motorbike at least once. No worries, the bikes on this tour are covered by the Tigit Damage Waiver. We've set this tour up for maximum fun with minimum worries. You'll think you're lost, stranded, and in the middle of nowhere, but not to worry, we know exactly where you are and how you'll get out of this mess.
Intermediate drivers will have fun on the entry-level dirt roads and splashing through puddles. Experienced drivers can try and keep up with our guides who twist and turn from roads to fields to ditches, trying their best to get you permanently stuck in the mud.
Tour Itinerary
Day
Escape Saigon
Difficulty: Medium – Hard
The purpose of this tour is to find the mud, however most of the mud can be skipped or easily escaped. The tour has the abilities to get difficult enough to challenge talented riders.
8:00am:
 Meet at Tigit Motorbikes

 Preparation of your motorcycle gear & motorbike
During The Day: 
A short ferry ride to escape the city. 

Mud, mud puddles, mud roads, mud photos. 

Gravel and tarmac roads to improve or test your skills.

A stop for lunch, provided by us. 

Quick photo opportunities during breaks
6pm: 
Arrive back at TigitMotorbikes 

Drop off your motorbike and let us take care of the dirty work

All of this, just one day out of Ho Chi Minh!
Tour Prices
Prices are in United States Dollars
This is an all-inclusive tour including damage waiver
The standard bike for the tour is the Honda CRF 150L / XR 150L
| | |
| --- | --- |
| Price per person CRF 150 | 150usd |
| Price per person CRF 250 | 175usd |
| Price per person Husq 310/WR 450 | 185usd |
| Price per person KTM EXC 350 | 200usd |
| Price per person KTM XCF-W 350 | 400usd |
Tour Info
Includes
MX Boots
Ls2 Knee pads and Elbow Pads
Ls2 Rapid Fullface Helmet
English Speaking Guide
All meals, water and soft drinks on tour
Free Damage Waiver (don't worry about crashed)
Petrol
Tour Guide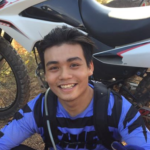 Tigit Guides
Tigit guides are local enduro enthusiasts. English is average at best. Passion lies in driving and motorbikes. A tour is a way to escape the Tigit office and be out there on the roads. Be assured they are enjoying the trip just as much as you are.
Tigit guides are selected based on their motorbike skills, we hope, that they have enough skills to get both themselves and you out of the mud!
The Motorbikes we use
Equipped with aggressive off-road tires
Free Damage Waiver