1 Day Escape Saigon by Motorbike
1 Day Escape Saigon by Motorbike
  Do you like mud holes, water obstacles, bridges that require three people pushing to get you and your motorbike over? Maybe the pleasure of laughing at your guide or friends face-planting into the mud? Perhaps the rewarding feeling of finding bruises for weeks to come at various places on your arms and legs gets you excited.
   For those of you who find pleasure in the pain, we have compiled a route from some of the most questionable, ego-challenging options just outside of Saigon. We offer up this challenge to anyone with an adventure attitude and an appetite to take on Mother Nature in her own backyard.
   Anyone looking for crazy day trips from Saigon, where only the gnarliest of motorbikes shall go, take this tour and show us what you're made of.
 
Price

$120 per /rider
All-inclusive tour
Minimum 2 people

Distance
Tour guide

Local riders who can hopefully
get you out of the mud.

Motorbikes

Honda XR/CRF 150cc (default)
Honda CRF 250 +$20 upgrade
Included free damage Waiver.

Roads
Skill level

Beginner & Intermediate & Expert
Knee pads / Elbow pads provided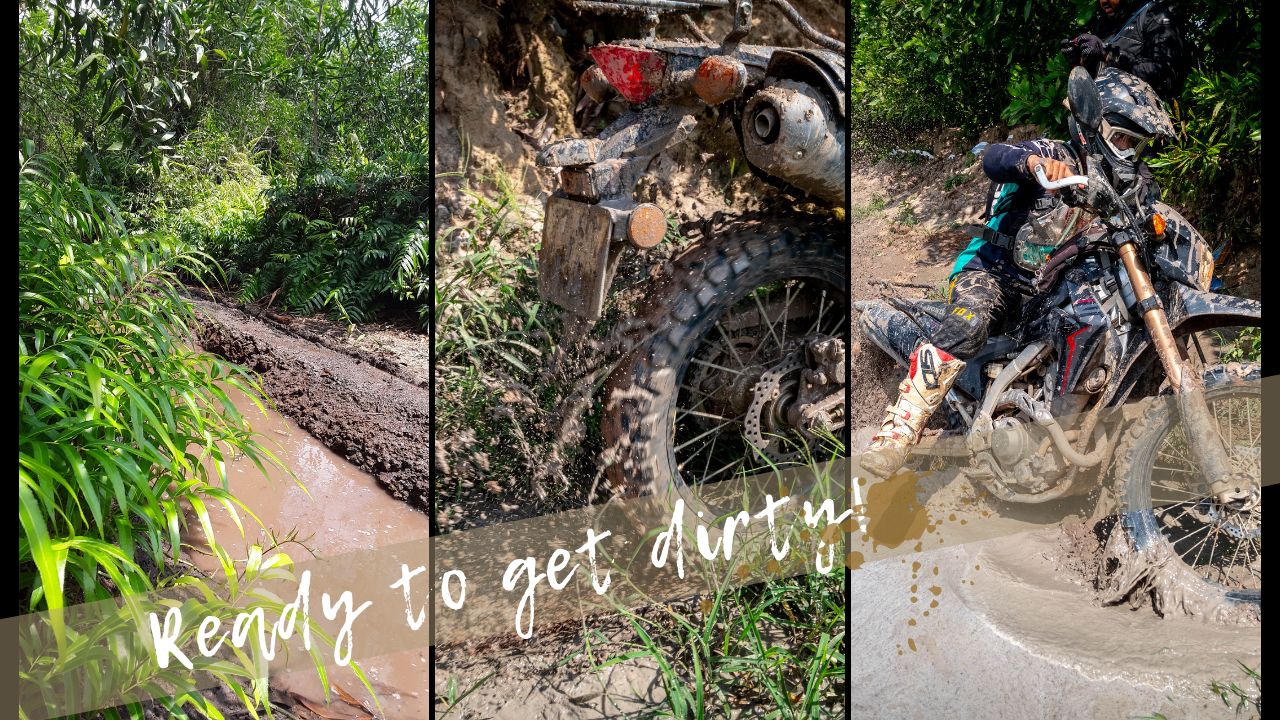 Saigon Motorbike Tour Highlights
Seeing the authentic and real Vietnam just outside the big city

Riding that will challenge all skill levels 

No major traffic

Beautiful roads along rivers, tree plantations, and farmland

Gravel driving. Mud driving. Clay driving. BIG puddles!

A short ferry ride across the Soai River 

Photo opportunities of; Authentic Vietnam, your dirty adventures, HCMC from outside of it, and the development that's coming.

Visit "Nam's Forest"
Who This Tour Is For
  Within about 40-minutes from departure, most clients are already drenched in mud and have gently crashed or dropped their motorbike at least once. No worries, the bikes on this tour are covered by the Tigit Damage Waiver. We've set this tour up for maximum fun with minimum worries. You'll think you're lost, stranded, and in the middle of nowhere, but not to worry, we know exactly where you are and how you'll get out of this mess.
    Intermediate drivers will have fun on the entry-level dirt roads and splashing through puddles. Experienced drivers can try and keep up with our guides who twist and turn from roads to fields to ditches, trying their best to get you permanently stuck in the mud.
What We Expect From You
    Skill level is not hugely important, but what we require from you is an adventurous dedicated attitude towards crashing and getting stuck in the mud. 
A complainer? Then this tour is not for you!
A hero? Then this tour is for you!
    Even a skilless goon of a driver has pushing and pulling capabilities and we expect you to get stuck, really stuck, and ask for help to bail you out. Then dig deep to help your buddies and the guides out of other tough situations in the roasting tropical heat of Saigon.  The terrain is variable, things go wrong, guides get stuck, and this should all be considered part of the experience!
Saigon Adventure Tours – What It Looks Like
     Tigit Motorbikes convenient location is already outside the city center so riders can quickly escape the busy city and head out onto quiet, open roads. Within 20-minutes of driving, this motorbike tour is already on a ferry and off to the Vietnamese countryside.
     We'll head out onto gravel tracks and areas of countryside where extreme development is starting to take place. Then we take a quick break to marvel at the contrast of an area this close to central Ho Chi Minh that is still traditional farmland in the quiet countryside. This area will soon disappear to modern development as this and other cities near Ho Chi Minh continue to grow. 
   The tour then winds around country lanes before heading off into forest-like plantations we like to call "Nam's Forest." Here in Nam's Forest is where the game changes and the opportunity to get muddy literally surround you. This tour is an extreme off-road tour at heart, but unlike other routes, drivers have the option and flexibility to skip out on riding through most of the mud if they choose. However, this is likely the only chance you'll get to ride in the mud where your guide expects you to get stuck and is willing to help. Think of it like a controlled environment to get out of control.
Tour Itinerary 
8:00am:
 Meet at Tigit Motorbikes

 Preparation of your motorcycle gear & motorbike
During The Day: 
A short ferry ride to escape the city. 

Mud, mud puddles, mud roads, mud photos. 

Gravel and tarmac roads to improve or test your skills.

A stop for lunch, provided by us. 

Quick photo opportunities during breaks
6pm: 
Arrive back at TigitMotorbikes 

Drop off your motorbike and let us take care of the dirty work

All of this, just one day out of Ho Chi Minh!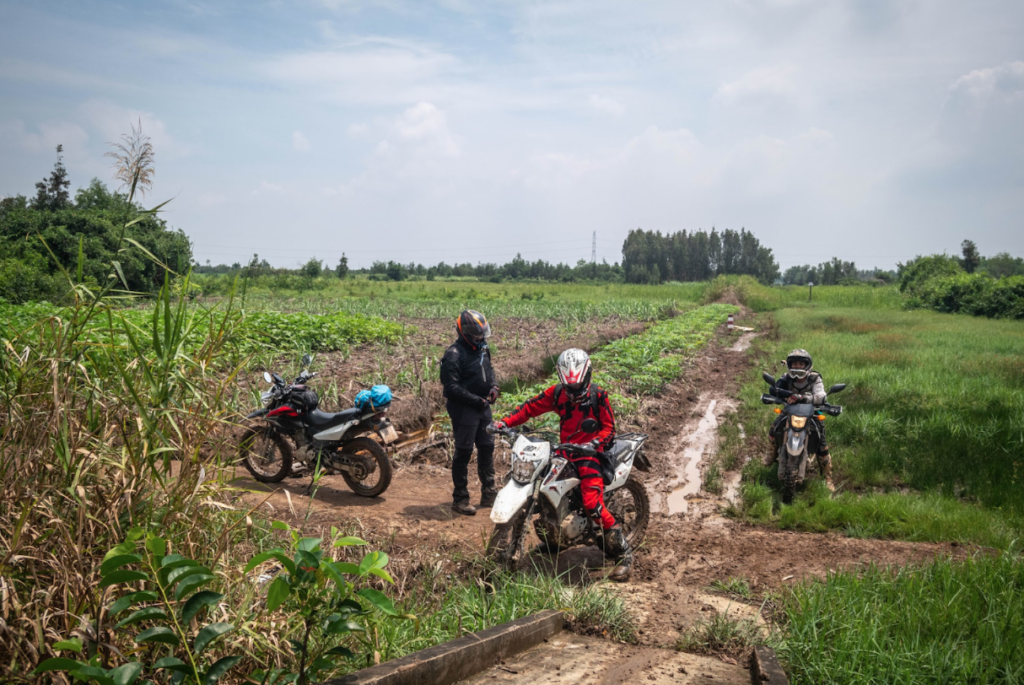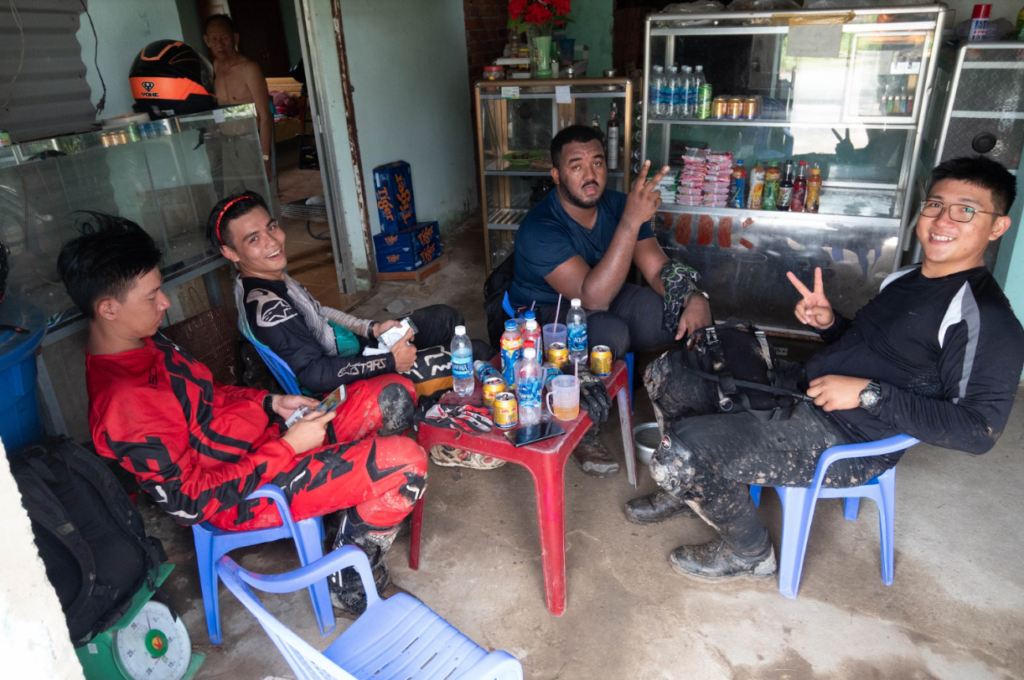 Explore Outside Saigon
On A Motorbike One Day Tour
Pros 
We know these roads like we made them. You'd be lost on your own
You can experience authentic Vietnam in a one day tour unlike any other
Tested routes with proven excitement
Tigits damage waiver to save you from potential motorbike repairs
Mud and puddles in a controlled environment with easy exits!
Cons
Anyone who's never ridden a motorbike, this isn't your tour. Sorry.
This isn't a scooter ride around Saigon. You're going to get muddy, dirty, and probably fall over, though we can rent you a scooter from $10.
Saigon is hot, and this tour will push your body to its limits! Ah sorry, this is a pro.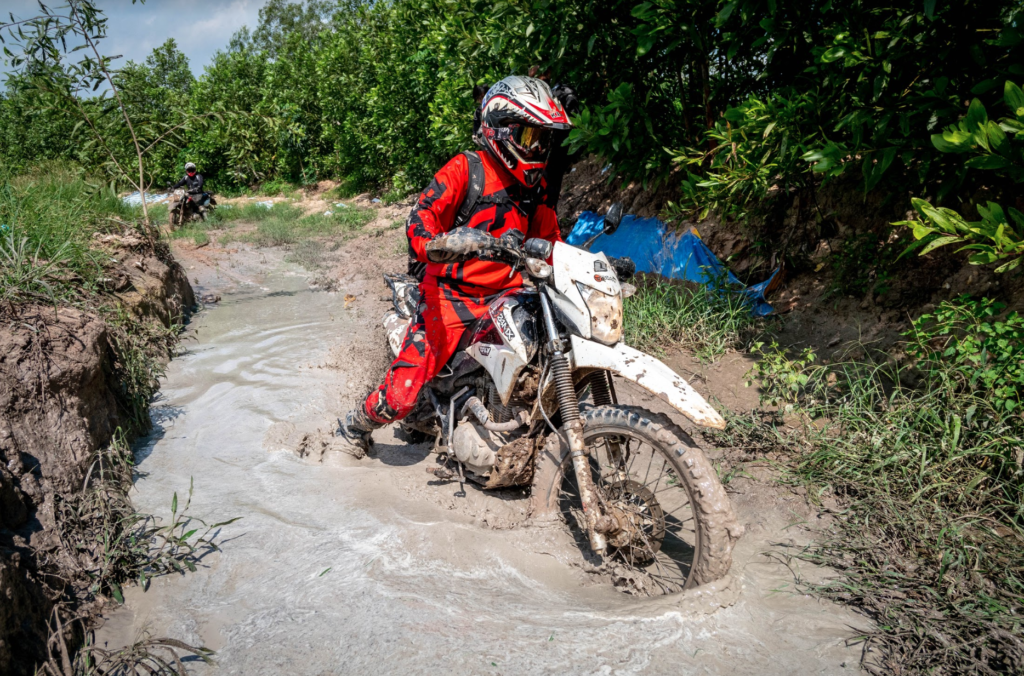 This adventure tour is hosted by our high-energy guides who spend their free time riding the random tracks around Saigon
The Motorbikes we use
The Honda XR150cc is the default bikes for this tour.
Experienced riders can upgrade to CRF250 for a smoother acceleration on the tour.
Tour Price
Prices are in USD
This is an all-inclusive tour so leave your wallet at home!
the standard bike for the tour is the Honda XR150
All inclusive Package Mekong Motorbike Adventure
| | | |
| --- | --- | --- |
| RIDERS | Honda CRF 150 | Honda CRF250 |
| 2+ | $120/rider | $140/rider |
Tour Information
What's included

Motorbike rental (Blade / XR)
Lunch
All meals, water and soft drinks/beer
Motorbike Gas/petrol
Motorbike Damage Waiver (don' worry about crashing!)
English speaking Tour  Guide
Booking Tour