The South Enduro offroad
All-Inclusive
$120 per day per rider
Tigit Guides
Summary
One to six days +, our Enduro tours are loosely planned. Distances covered vary depending on conditions and driver skill level. However, Tigit guides are armed with limitless offroad opportunities, many of which are border line physically impossible roads.
Our aim is to have seamless on the fly customization with no real destination objectives. We don't wish to "underplan" itineraries for the experienced riders, and we don't want to push the inexperienced riders to uncomfortable breaking points. Go with the flow is the Tigit way of doing things.
Tour Highlights
A real Offroad/Enduro tour catered for people wanting to challenge themselves


Riding that will challenge all skill levels 

Get stuck in Vietnam's jungle in places where very few people go

Tigis purpose used Honda CRF 150cc offroad motorbikes

Tour guides with the skills to hopefully get you out of the mud when all hope is lost


A guarantee of 70/80% offroad on all routes.

A tour that will exhaust all riders
Who this tour is for
This is Tigits effort to attract the extremely keen intermediate riders who want to push themselves to the limits. Or to attract the experienced riders with a mountain of offroad experience. Enduro and offroad do not properly exist in Vietnam, but Tigit as a shop has both staff and a surrounding building community passionate about offroading.
This tour is not for the faint hearted
Tour Itinerary
Escape Saigon
The tours start from Saigon and heads North in the direction of Cat Tien National Park.
The Escape saigon Tour is Tigits flagship offroad tour. A simple one day route that avoids Ho Chi Minh traffic and has the ability to cater to all rider experience levels.
Cat Tien
Cat Tien National park, back and through the Escape Saigon. When considering value for money and time spent on the tarmac roads, the two day is the least efficient option.
Getting out there
The fun but expensive way of doing things is to battle to Dalat and fly back on Day three. Expensive in terms of flights and buses for the bikes.
The cheaper way of playing a three day tour is Cat Tien to Bao Loc, down toward the coast and then utilise the Escape Saigon Tour into Ho Chi Minh.
Sand Dune Drive
Sand dune driving, this extra 4th day gets us to the tourist town of Mui Ne. Now we have the chance to go from the mountains, to the sand!
The true Enduro to Dalat
Apart from the 3 day flight option, the five day tour is the "shortest" tour that throws in the incredible single track trail that goes into Dalat. This road is probably one of the best single track enduro trails in the world. It is hard though and sometimes impossible! Give it a go and see what happens.
Secrets
Includes a secret trail from Dalat to Phan Rang that we guarantee no foreigner has done before. It also allows us a quick break for some road riding along one of the best coastal roads in the world. Even the serious offroad rider will gladly take a rest for this piece of tarmac.
No plans!
Anything is possible, but we haven't thought this far ahead. If you are not broken by now, the guide will be. But let us know if you want to pursue further!
Tour Prices
Below are links to tours and their pricing. These tours can be booked with Enduro in mind, and the original routes developed by Tigit are Enduro routes, then simplied to be ADV.
To gain an overview of the tour and prices please click the links below.
Tours finishing in cities that are not starting/finishing in Saigon are subject to $100 of extra fees per person (bike transport etc). Customer is responsible for their own logistics back to the starting city. Or feel free to stay in destination for an extended holiday!
Customer is not responsible for the tour guides journey back to Tigit.
Tour Info
Includes
Honda CRF 150cc or 250cc equipped for offroad use
Saddle bag kit
Helmet, Knee pads, Elbow Pads, Motocross boots (size 8-15US)
English Speaking Guide
All meals, water and soft drinks on tour
All accommodation
Free Damage Waiver (don't worry about crashed)
Petrol
Tour Guide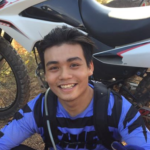 Tigit Guides
Tigit guides are local enduro enthusiasts. English is average at best. Passion lies in driving and motorbikes. A tour is a way to escape the Tigit office and be out there on the roads. Be assured they are enjoying the trip just as much as you are.
Tigit guides are selected based on their motorbike skills, we hope, that they have enough skills to get both themselves and you out of the mud!
The Motorbikes we use
The motorbike used for this tour will be a Honda CRF 150 or Honda CRF 250 equipped with 2 x 12 litre saddles bags and offroad tires.