Reading Time:
19
minutes
Considering half of the country rests on the ocean, this well-positioned Southeast Asia destination is lined with coastal and island beaches of postcard-perfect tropical beauty. With literally thousands of options to choose from, we picked the top beaches in Vietnam based on fun motorbike day trips, party beaches, exciting island beaches, and beaches where you can just kick back and relax. Say hello sweet beach-life, goodbye to life's problems.
Nearby Beaches Accessible by Motorbike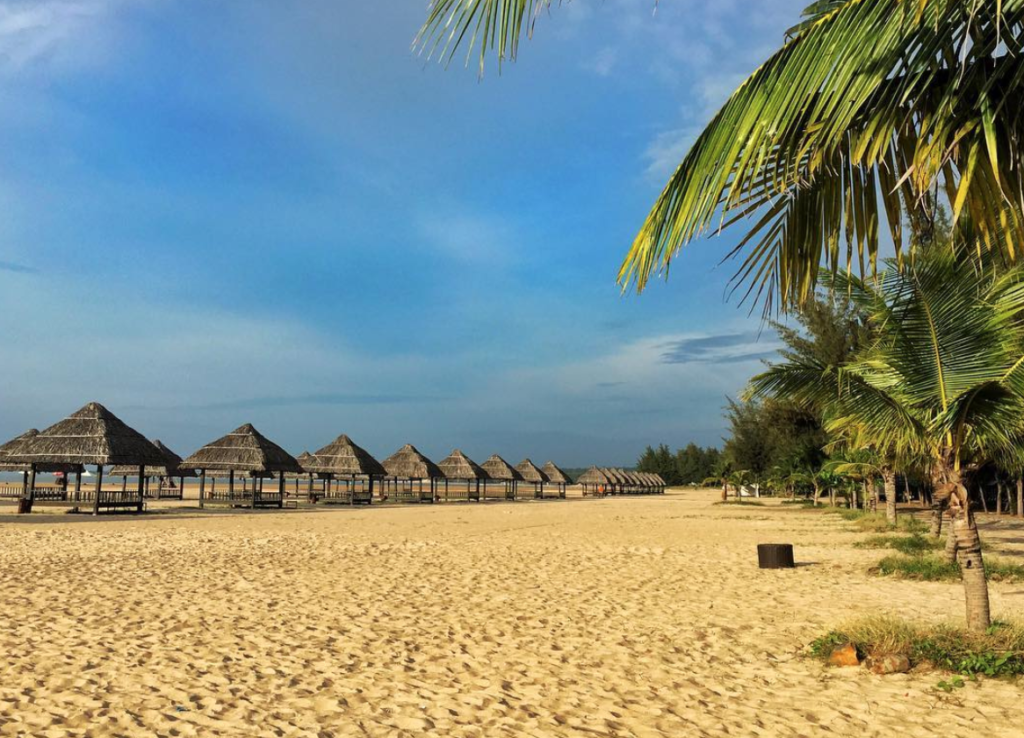 Image: @hao.trann – Some of the closest beach options from HCMC, if you're looking to venture out of the sensual assault of the city and out to the tranquil beach huts and palms, it's waiting for you here.
Ho Coc Beach, Ho Coc.
Another great one day trip from Saigon, Ho Coc beach is your best option for sun, sand & saltwater. Roughly a 110km ride, you should do it over two or three day to really enjoy the surroundings. It's not one of the best beaches in Vietnam, but it makes for a nice escape from the city.
You'll find 5-star beach resorts here, however, the backpacking motorcycle rider will be happy to know there is also cheap accommodation and even camping right near the beach. 
What To Do Nearby
Beach.

Beach life will center around Ho Coc and nearby Ho Tram beaches. If you want the prime spots and clean,

soft sand

you'll probably need to pay. Sadly the remote sections are part litter part beach.
Binh Chau Hot Springs.

A quick motorbike ride from Ho Coc, these natural springs make for an excellent way to soak away the day. Come mid-week or be prepared for more people and less relaxation.

Activities.

For free you can hike in the Jungle, for a hefty fee you can gamble in the casino. For those of you in the middle, you can find fishing and even golf!   
Where To Stay
Camping.

Saigon-Ho Coc Resort and Huong Phong both offer accommodation as well as cheap camping. Saigon is B.Y.O.Tent, however, Phong has tents for rent.

Ven Ven Hotel. Flashpacker pricing will land you in rooms from $30-$50. Away from the beach in a quiet natural setting, you'll be in a whole other world from HCMC.
Ho Coc Backpacker.

Cheap, homey, and a welcome reception all add up to the perfect night stay here. Rooms from $10 with breakfast and a quick motorbike ride to the beach.
Just you and a little round fishing boat after dark overlooking Da Nang City.
My Khe, Da Nang.
Earmarked as one of the "World's Most Luxurious Beaches" by Forbes Magazine, Vietnam is one of the best places for beach life when you're in Southeast Asia. My Khe's inviting white sand is free for tourists to enjoy, has plenty of water activities, nearby resorts, and abundant drinking and eating options. Not all budget options, but there are options. 
Just a 5kms motorbike ride from Da Nang, or 25kms from Hoi An, it makes for an easy road trip of relaxing fun in the sun. The blue waters and beach are clean, the ocean calm, and with over 35kms of coastline, you'll have plenty of options. 
What To Do Nearby
Dragon Bridge.

Ride or walk down to the Dragon Bridge at 9pm on weekends to watch come to life in fire & lights.

Beaches.

Not the only beach option, you can also check out nearby Red Beach, usually empty. Or, ride to Non Nuoc Beach, busy with lots of water activities.
Marble Mountain.

A 10km motorbike ride will take you into the incredible caves named for the five elements. One of a

full list of the best things to do in Da Nang on a motorbike

.

Ba Na Cable Car.

One of the most photographed bridges on the planet, a love garden, Guinness Book cable car ride, and more action then we can pack into this preview. Check it out! 
Where To Eat & Drink
Bamboo 2 Bar.

A two-story pub with a great view of the Dragon Bridge, plenty of sports on t.v. and all the people watching you can handle. 

Bep Hen. A locals joint that's been discovered by travelers. Here family-friendly cooking meets modern tastes in everything from local seafood to vegetarian dishes and local favorites.
Pizza 4P's.

Italian Japanese in style with a focus on the perfect Pizza. 4P's has a staggering 2000, 4.5-star Google Reviews. If you're looking for a break from Vietnam, check out this impressive Italian- Japanese hybrid pizza.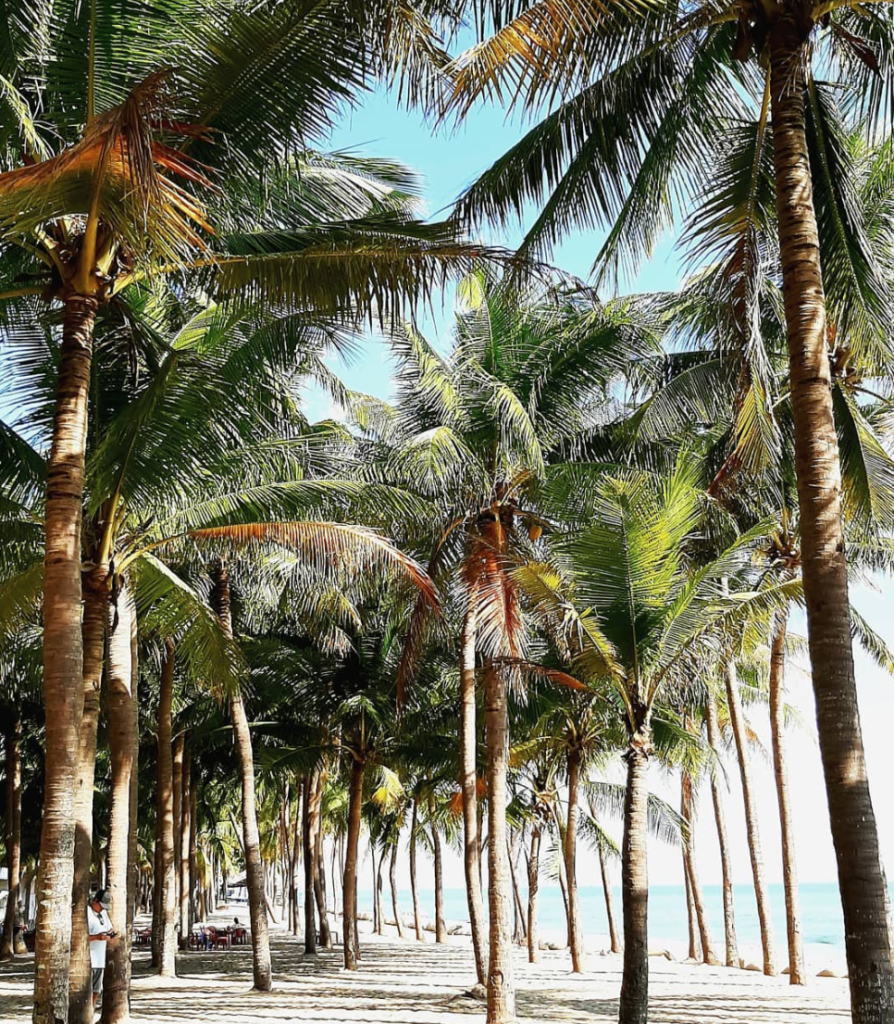 Image:@hillars – Walk among the palms, sink your toes in the sand, and explore around Cua Dai Beach. If you're looking to see what's under the sea, strap on some scuba gear and head underwater. 
Cua Dai Beach, Hoi An.
A quick 30km ride when traveling from beach Da Nang you'll find yourself on the quieter beaches of Hoi An. As an environmental side effect, each year erosion takes away more of the beach and along with that goes more of the tourism. Easy to find, this 8km stretch of soft sand starts on the Cua Dai road and continues on past large resorts, simple local eateries, and eye-sore beach-saving construction.
If you're looking to relax you'll be better off paying a fee to the beach resorts or renting a beach lounger to enjoy the prime spots. The free sections of the beach are more likely to be lined with sandbags and machinery working away in the background. 
What To Do Nearby
Cham Island.

A quick boat trip will transport you to the eight tiny U

NESCO World Heritage

islands. You can stay in the sun, spend the night, or just explore the area by boat.

Scuba.

A top spot for scuba diving & snorkeling in Vietnam, the best time for underwater views is March-September. It'll make your life easier to know

the best time to travel Vietnam

, as the waters are impassible in the monsoon season from October-February.

Basket Boat Tour.

Hop in those cute little round fishing boats and take a tour down the Thu Bon River. You'll probably spend half your time paddles in circles, but the photos will be funny

#TigitMotorbikes

so we can get a laugh!
Food & Drink
An Gia Restaurant.

In a virtual sea of seafood restaurants struggling for recognition around Hoi An, this off-street family business wins top marks. Try the stuffed squid, lotus salad, and organic coconut coffee.

Hair Of The Dog Bar. If you're looking to dance all night after happy hour in the old town, Hair Of The Dog is your unapologetic place to get drunk. As the name would suggest, drop by for breakfast too and start over!
The Golden Fish.

Set in a little garden, you can escape the sun for some cocktails or signature fish dishes. Inside the restaurant is basic, but the dishes are delicious. Check out the 2-4-1 deals.

 3 Dragons.

Games, live sports, beers, you get the idea. For pints with you pals or to meet other travelers out for a chill night, 3 Dragons have you covered. 
Island Beaches
Image:@elise.elisenquyen – Ocean-Beach-Pool, you could literally crawl from one beach lounger to the next on Phu Quoc Island. Maybe spend the morning soaking in the saltwater, and the afternoon poolside. 
Long Beach, Phu Quoc Island.
Taking your beach time off of the mainland and across the blue water, Long Beach a.k.a. Bai Truong, is located at the southern end of Vietnam on the nautical border with Cambodia. There are plenty of activities and plenty of tourists on this beautiful tropical island with palm trees lining soft sand and calm ocean water. Traveling here is easy, as the South of Vietnam is nearly always hot, but you'll want to know the Vietnam weather to know when is best to go.
Mainly a luxury island, it's divided into north and south sections. The north is mostly owned by the resorts and beaches are private. In the south, you can still find several public beaches to enjoy. Check out Long Beach, Bai Sao, Sao Beach, Ong Lang Beach, or some of the deserted off the trail beaches for excellent places to bury your feet in the sand, swim, and enjoy the serenity of motorbike life. 
What To Do Nearby 
Motorbike Exploration.

Visit the pepper plantations,

Phu Quoc

National Park

, fish sauce factory (gross), f

ishing village

Ham Ninh, Suoi Tranh Waterfall, and Hang Doi Bat Cave. 

Diving & Snorkelling.

Check out marine life with a simple snorkel and mask or get PADI certified here.

Phu Quoc National Park

. Covering nearly half the island, you can hike, bird watch, camp, and climb Mount Heaven. 

 
Pearl Farms.

Have you ever wanted a pearl necklace? Pick up the real deal from one of the islands pearl farms. 

Phu Quoc Prison

. Once the home to Vietnamese prisoners, it's now a visual reminder of the brutalities of war. War artifacts and photos to bring the site to life. Cost 3,000vnd.  
What Ferry To Take
There are plenty of ferry options to get from the mainland to the island with departures all day long. You can depart & return from either Rach Gia or Ha Tien. We'll list an option from each, but there are plenty from the websites below. Then for anyone who's pressed for time, you can choose from the top airlines in Vietnam to fly directly to the island.  
Ha Tien Car Ferry

. 3-hours. 185,000vnd passenger. 80,00vnd motorbike. Departs all day.

Rach Gia Fast Boat.

2-hours.  330,000vnd passenger. 200,000vnd motorbike. Departs 12:30pm

Booking Sites.

binhanhatien.vn

,

thanhthoi.vn

,

superdong.com.vn

,

pqe.com.vn

,

ngocthanhexpress.com

,

binhanhatien.vn

, &

thanhthoi.vn
Where to Stay
Duong Dong.

This is the main town on the island. If you're looking for action and excitement you'll want to stay here. 
Ong Lang Beach.

Just 20-minutes from Duong Dong, here you'll find peace and quiet with access right to the beach. Good for those looking to relax.
Long Beach.

Beautiful, expensive, busy, and lacking that local feel. Right near the action and excitement though!

Backpacker Budget Stays.

Langchia Hostel, 88 Hilltop Hostel,

Canary Hostel, Viet Than Resort,

Or search for Homestays or 'Nha Nghi' (in Vietnamese) for the lowest priced options.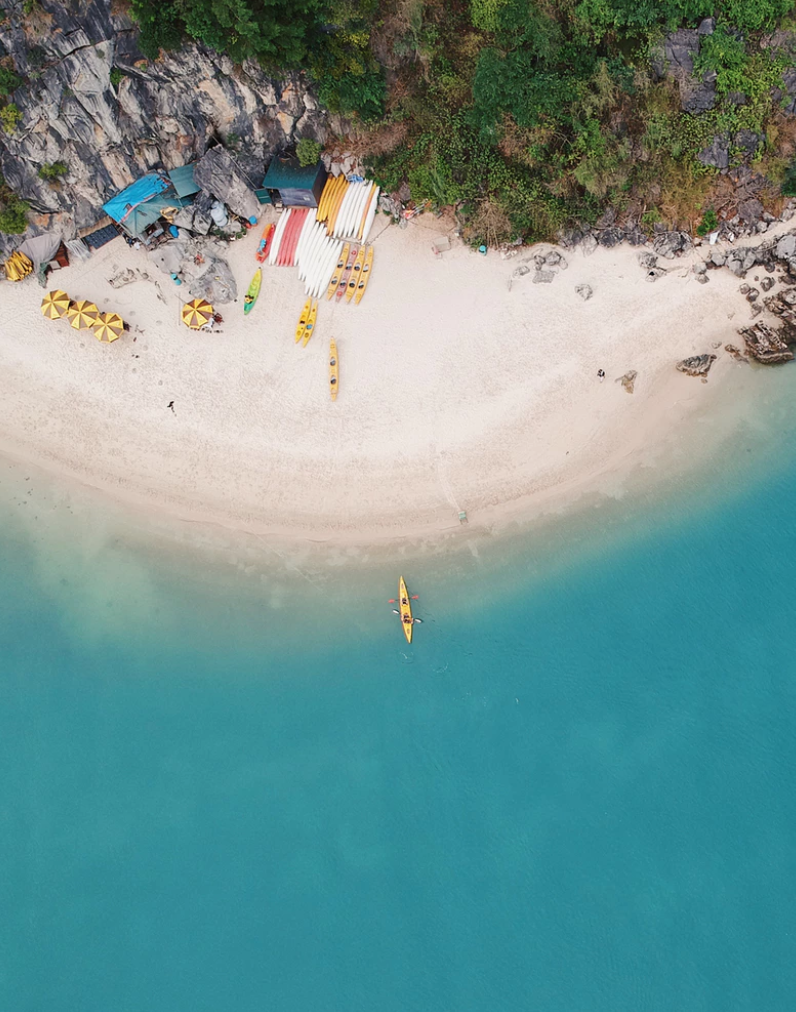 Image: Taylor Simpson via Unsplash – Halong Bay is a beach-goers dream. Grab anything that floats and get out to the islands and inlets to explore this dream location.
Tuan Chau, Halong Bay.
Roughly 150kms from Hanoi, finding beachfront in this mix of close to 2,000 islets and limestone karsts around Halong Bay won't be difficult, but if you're looking for it on an inviting island full of tourist activities head to Tuan Chau. 
This man-made beach stretches close to 2kms long and though it sits beside nearby beach resorts and accommodation it makes for a fun day trip across the jetty & over the ocean on your motorbike to explore the area. 
What To Do Nearby
Shows.

On the island is an entertainment complex with a dolphin, water, and laser shows. If you like tourist stuff, this is for you.
Beaches.

Other interesting island beach option nearby includes Titop Beach, with plenty of boat tours stopping by its easy and fun to get to. Or, Ba Trai

Dao Islands

Beach, it sits on a calm island with

blue waters

clear enough to see the ocean floor. 

Motorbike.

Off the island and into the hills, exploring the area around

Hanoi and the North

will give you an adventurous look into this less-traveled section of Vietnam.
Eat & Drink
1958 Restaurant.

Smart, small, and serving up succulent dishes, on a quiet street near the marina. Named for the year Ho Chi Minh visited Tuan Chau island, it's worth a stop.
Sandy Bay Beach Bar.

Right on the beach and close to the hotels, Sandy Bay is your go-to for a western fix. Get yourself a pizza and enjoy the relaxed ambiance.

Nha Hang Linh Dan.

An abundance of seafood surrounds you and this is one of the best places to enjoy it. Try the crab, shrimp and spring rolls for a tasty fix.
Image: @jonnyrouse7  – Palm tree, quiet beachfront, calm lapping waters. If you're looking to relax, the beaches around Nam Du Islands deserve a visit.
Nam Du Islands, Hon Lon.
A group of stunning islands resting in the Gulf of Thailand, Nam Du is a newly discovered section of Vietnam's ever-growing tourist scene. Located about 2.5-hours from Rach Gia in South Vietnam near the Mekong Delta region, you'll feel like a modern-day explorer getting to know this remote part of the country. If you're short on time you can search through the best airlines in Vietnam to catch a flight to Rach Gia from HCMC.
In previous years tourists were only allowed to visit via special permit, but these days the doors are open and islanders welcome you to their fishing villages and paradise. The problem; increased tourism has lead to increased pressure on the area and a steady flow of garbage in but not out.
 If you plan to go the best time is spring, from January to March. During this time the beach is not only smooth, but the sea is green and warm. Visit soon though, before human influence topples tropical beauty.
What To Do Nearby
Motorbike.

Bringing your own

motorbike rental

over might be difficult, but on the big island of Hon Lon you can hire a bike for

day trips

and slowly explore the 15kms or so of roads, coastline and tiny towns.
Beaches.

The south has Bai Soi, Humiso, and Phong Vu, the last being the best to swim. The west has Bai Cay Nho and Bai Cay Men, nice

sandy beaches

. If you explore you'll find completely remote stretches of sand too.

Explore.

There are close to 20 tiny islands around, some desolate and nearly untouched, hire a boat and seek them out. Also, check out the tiny villages on the big island, each one offers something unique.
Where To Stay
Bai Tret Village.

This is where you'll arrive and will have the most options for small guest houses and simple accommodation. 
Phong Vu Guesthouse.

The inviting waters out front deserve a nights stay closeby. These basic rooms will do for the night but expect trash on the beach close by.

More Islands.

You can ask around about staying on some of the other islands, but your best bet is going to be on Hon Mau. *Note that coming on weekends and holidays will limit your choices everywhere.
Party Beaches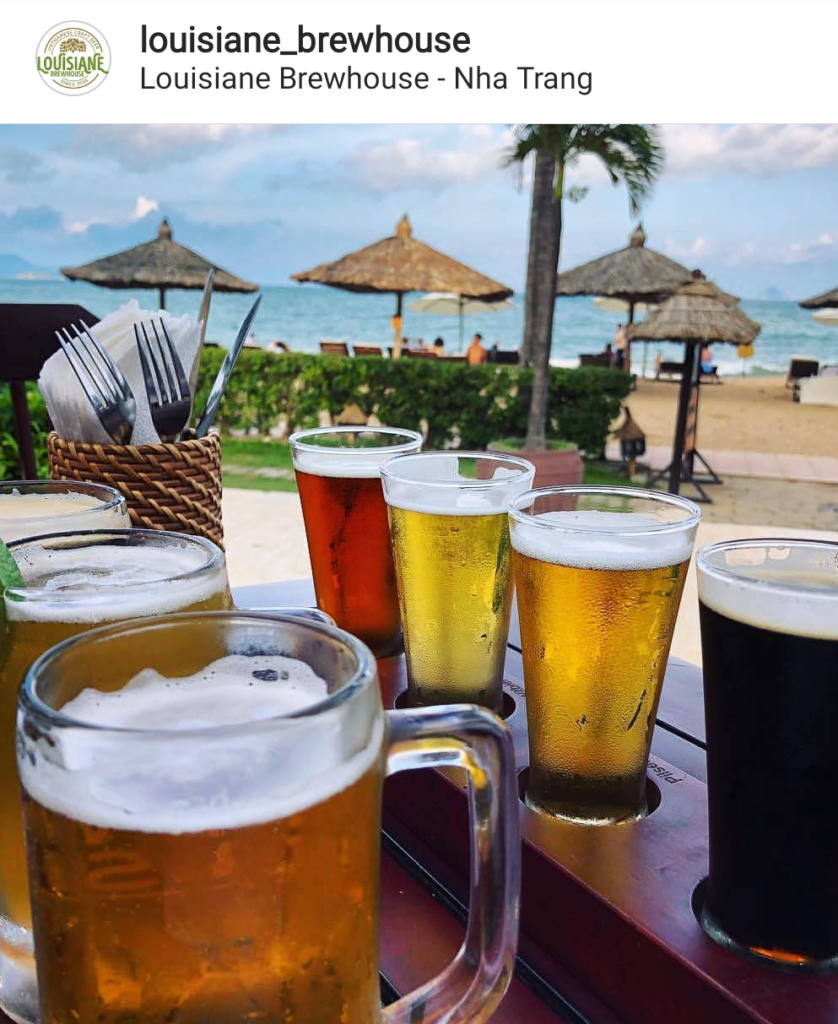 Are you sitting at a desk right now? Is it cloudy outside? Do you even have a window? What happened to life, where has your freedom gone???  This is just your typical afternoon happy hour beach-side in Nha Trang.
Welcome to the Louisiane Brewhouse!
Nha Trang Beach, Nha Trang.
As the name might suggest, this beach is located in the bustling city of Nha Trang. With six sandy kilometers of ocean-side options to choose from, you'll be able to lay your towel down and start building sandcastles or relax before a night of party action.
Nha Trang is the premier party place along the coast with plenty of options to enjoy some sandy fun. Take off your sandals and dance below the stars at one of the seaside clubs, or head into the city and explore the endless options of late-night entertainment.
What To Do Nearby
Partying.

Check out Sailing Club or Louisiane Brewhouse on the beach, Amigos Whiskey for live music, Russian dance bar the Rabbit hole, or take it up a level at the Skylight Rooftop Club. 
Kiteboarding.

If you like to mix in a workout with your watersport,

beach Nha Trang

offers plenty of kiteboarding options.
Jet Skiing.

Motorized water fun either solo or as a tour. You can hire a guide to take you on a 4-hour tour around the nearby islands. Prices are roughly $30/hr.
Flyboarding.

Hydro-fulled propulsion through the air with superhero status, flyboarding is next-level excitement. This futuristic fun runs about $80/ 20minutes.

PADI Certification.

One of the cheapest places on the planet to get certified. Prices range around $250.
Where to Stay In Nha Trang (Backpackers)
Ccasa.

Not just your own room, you can get your own sea can here! Sleep inside these repurposed and dressed up shipping containers. Recycling on a whole new level.
Mojzo Dorm.

Close to the beach, close to the action, free breakfast, and even rumors of a FREE HAPPY HOUR. The only way to be sure is to check it out.

Bondi Beach Backpackers.

Smart, sophisticated, stylish. For the homesick Aussie or general partygoers, B.B.Backpackers has a pool looking into the city, restaurant, and bar onsite.
Relaxing Beaches


Image: @64kristin – A quick trip from Doc Let Beach will take you to the hardworking crew who chip away at the salt all day trying to earn a living. You won't see them here during peak daylight, go in the evening for excellent photos of these friendly Vietnamese.
Doc Let Beach, Ninh Hoa.
A day trip from bustling Nha Trang, Doc Let Beach is miles away from the hectic city life. Here you'll find light tourism, humble villagers going about their business, and calm quiet beaches where you can escape to solidarity if you'd like.
For those looking to relax, you can get seafood grilled next to your beach towel, search out simple oceanside restaurants selling fresh coconuts, or sit in a beach chair under a palm tree listening to the water lap against the sand. It's where you go to unwind after some hard party nights in Nha Trang.
What To Do Nearby
Hon Khoi Salt Fields.

See friendly locals harvesting salt by hand. The light, location, and scenery make this an excellent place to add to your

top photography spots in Vietnam

.

 

White Sand Doclet Resort & Spa.

If the free beach isn't your thing, try the day spa here. 35,000vnd admission gets you lounging access. Then you can rent hammocks, sunbeds, or a little hut where you can have lunch and drinks with friends. 

Dong Hai Village

. Where the locals live. Stroll around and see what life is like in this tiny town. There are good eating options here, check out Paradise Resort for lunch.
Where To Stay
Paradise Resort.

As close as you can get to the ocean without sleeping on a boat. The price, views, and location can't be beat.

Wild Beach Resort & Spa.

Far from anything, Wild Beach offers stays in a natural setting built into the trees. There's a pool, restaurant and little cottages here. Expect comfort but not posh.

Hoang Khang Hotel.

A short walk to the beach and easy access to amenities, this affordable and simple accommodation is a great place to save some Dong and see the sites.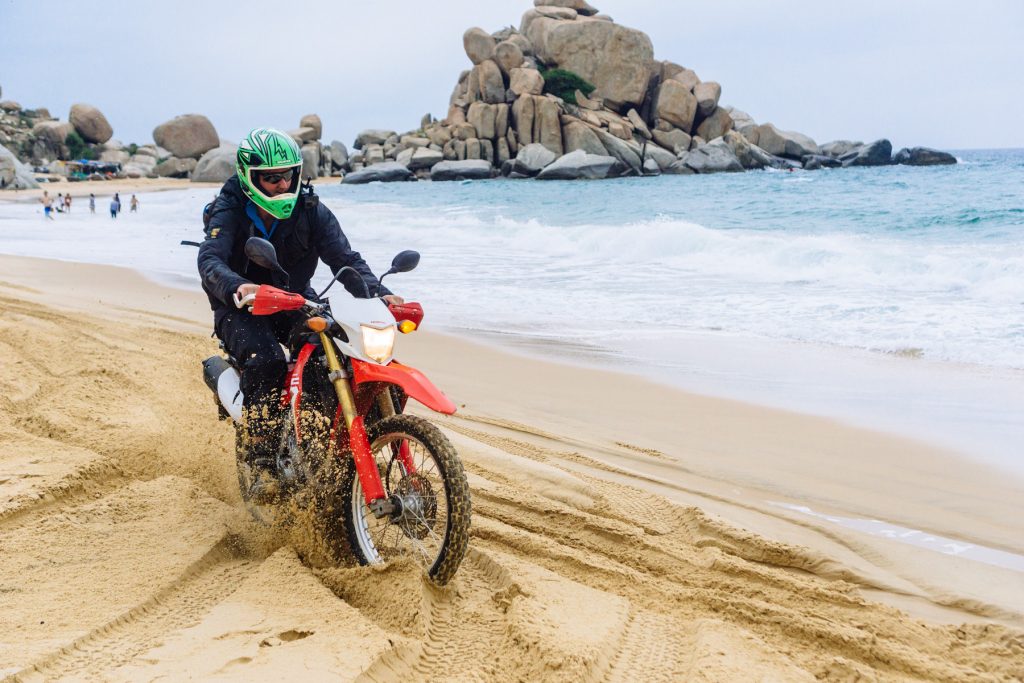 Ok, maybe you should walk and not ride down the beach, but the truck tracks were there first, so really you weren't the one to break the rules!
Mui Ne Beach, Mui Ne.
Reaching out into the sea Mui Ne's peninsula-like appearance is part resort town and part authentic fishing village trapped in time. The beach sits on the coast about halfway between Ho Chi Minh City and Nha Trang. On the ride here, stick to the speed limit. The nearby Mui Ne police sand dune trap might cost you a few travel days budget. 
If you're in the mood for a few upmarket days, head to the south end of the beach where you'll find resorts, posh shopping, and restaurants accepting dollars and dong. For a traditional look at life, the northern side is where you'll find the fishermen going about their daily lives. Those of you looking for oceanic fun, Mui Ne's pointy position make it a great spot for kite & windsurfing and the warm blue water is excellent for swimming.
The drawback to Mui Ne is the lack of clean beaches. The clean powdery white sand in front of the resort is often private, and those further north are usually dirty. You can still find some nice public sand, but it won't be as manicured as the beach resort section.
What To Do Nearby
Fishing Harbor.

The place to be at dawn to see the fishermen unloading boats of, grouper, stingray, and fresh crabs for sale. The photos will be worth the lost hours of sleep. 

Watersports.

Strap in for some excellent kite & windsurfing, kayaking & swimming. November – March is the best time for wind.

Dunes.

The nearby

sand dunes

are a fun place to ride down on a sled or ride up on an ATV. Don't forget the sunblock!

Explore

Ride your motorbike 60kms to Ta Cu Mountain. Then take the cable car up to see Linh Son Truong Tho Pagoda, the biggest statue of a reclining Buddha in Vietnam.
Where To Eat & Drink
Trinh Restaurant.

Family run, rave reviews, and rock bottom prices. For great local seafood with a local family, Trinh Restaurant is your no-frills eatery.

 Dragon Beach Bar.

D.J.'s, sweaty dance floor, house music, and a mix of tourists and locals alike. In the high season, this place is packed, and you'll be treated to fire & Go-Go dancers.

Joe's Beach Bar.

Casual, comforting, and cool. Joe's where you go for a couple of beers, some live music and audible conversation with your mates.
Remote Beaches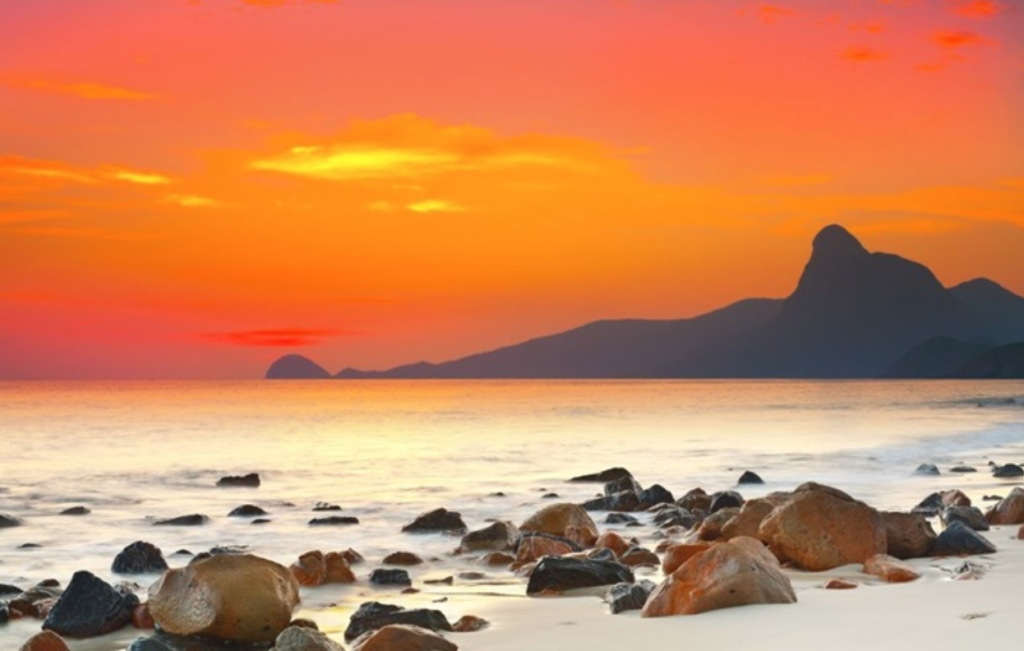 Thousands of rocks await you to sit and watch the sun melt into the sea each day. Careful, you may never want to leave this place.
Bai Nhat (Shy Beach), Con Dao.
A one hour flight from HCMC or ferry from Vung Tau or Soc Trang will land you on stunning Con Da Island. The main island is part of a 16 island archipelago that surrounds it. An incredible getaway after viewing the impressive sites & record setting towering buildings of Ho Chi Minh City to what feels like a secret part of Vietnam
If you were looking for a place to get married in Vietnam, this place blossoms with love. From Shy beach, you can see Love Peak on nearby Ba Island. The peak looks like a couple putting their hands lovingly on each other's shoulders. Couples who get their wedding photos here believe their marriage will be happy and last forever. 
 From the main town of Con Son, you can take a short 6km ride to Shy Beach. On arrival you'll be greeted with pristine white sandy beaches, clear blue waters and well-positioned stacks of pebbles & rocks that all make up this breathtaking scene. 
Fun Fact: Shy Beach in Con Dao belongs to the top 6 pristine beaches of Asia, along with Tropical (Indonesia), Furuzamami (Japan), Talalla (Sri Lanka), Kanawa Island (Indonesia) and Bako National Park (Malaysia).
What To Do Nearby
Sunsets.

An unobstructed view where it feels like the ocean meets the end of the earth translates to stunning sunsets for lovers, photographers, and hashtaggers alike.

Prison Memorial.

Next to Shy beach is a memorial for 198 prisoners who aimed to escape from French rule here in 1952. Vietnamese stop here daily to light incense in memory of the prisoners. 

Sparkling Sand.

Each day when the sun is at its peak, the tide drops and for a short few hours and the white sand sparkles like night stars. Don't miss this amazing transformation.
Where To Stay
Thien Tan Hotel.

Close to the beach in Con Son town, the rooms are basic but good value. Roughly 400,000-700,00vnd a night. 

Red Hotel.

A small hotel close to the night market. You can spend the day at the beach, then explore the market for dinner. 400,000-500,000vnd will get you a decent room. 

Nha Nghi So Ray.

If you're on a motorbike rental, this out of town homestay is built on an orchard and will make for a peaceful night or two. Around 400,000vnd will ensure a fruitful night.
Kiss your sandals goodbye, your feet are about to be caressed by soft pillowy sand that carries you down to the warm welcoming water. 
Bai Khem (Khem Beach), Phu Quoc.
The adventure of getting to alluring Phu Quoc island isn't complete without venturing into the less-traveled corners of the island itself. To the delight of the motorbiking explorer who's looking for more options of motorbike trips Vietnam, you can search out one of the most beautiful and less traveled to beaches on the island.
Roughly 25kms due south from the main town will take you to a dirt path through the forest. It's here, on what was a military base until 2009, that you'll find Khem Beach. Those that put in the effort are rewarded with sand as soft as talcum powder and waters so clear you'll think you can reach down and touch the seafloor. 
Check our detailed map for directions.
Things To Do Nearby
Motorbike Exploration.

Visit the pepper plantations,

Phu Quoc

National Park

, fish sauce factory (gross), f

ishing village

Ham Ninh, Suoi Tranh Waterfall, and Hang Doi Bat Cave. 

Long Beach.

Scroll back up for the details on Long Beach. It's where you go for tourist activities near all the action.

Phu Quoc National Park

. Covering nearly half the island, you can hike, bird watch, camp, and climb Mount Heaven. 
Food & Drink
Thang NGA.

Keeping your explorer spirt up, you should seek out this little seafood restaurant. Prices are reasonable, it's close to the beach, and you get there through a bit of forest.

Department Of Chemistry Bar.

A chemistry themed bar, be it a bit straightedge, this Marriot hotels run drinking establishment alchemizes local cocktails oceanside.

Red Rum.

Western and Vietnamese food, this joint caters heavily to the tourist crowd. If you're looking for burgers and fries, opposed to Pho in a bowl, this is your dinner choice.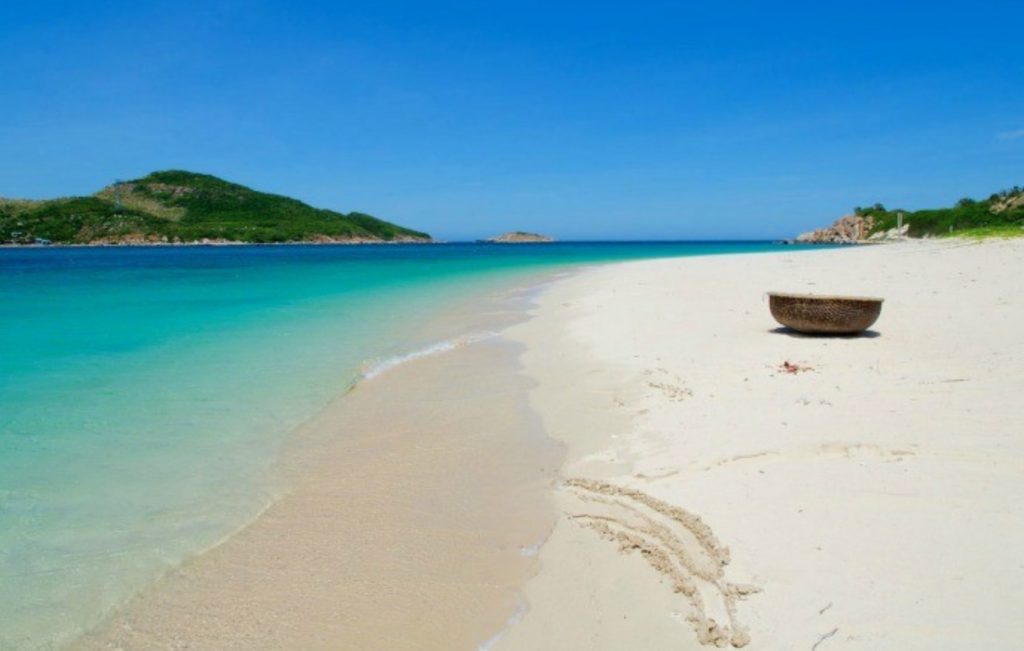 I mean, come on! It looks like the postcard you want to send home to your friends to be like, "Hey, look how sweet my life is, suckers!"
Hong Van Beach, Co To Island.
Located in northern Vietnam roughly 80kms from the mainland. Co To is one of Vietnam's 12 island districts and is made up of more than 50 large and small islands. This area also doubles as a strategic position for Vietnam's national defense and security. 
If you were barreling through the north of Vietnam getting to know the northern loops by motorbike, this will make for a welcome post-trip visit. The fine white sand, crystal blue water, and purple glory flowers that grow in the area make it a beautiful & romantic place to visit. Sadly the beauty is being tarnished by people leaving trash on the beach. Either bring a bag and do some cleaning or head further up the beach to the remote points where people don't usually venture. 
Things To Do Nearby
Bridge Rocks.

A lifetime of ocean erosion has carved out this unique sedimentary rocks. A popular place to watch the sunset.

Lighthouse.

Search out the island's recently rebuilt & more photogenic lighthouse. Note, however, the rules sometimes change, and you're not always allowed to go to the top. 

Island Hopping.

Check out some of the neighboring islands, there are plenty, but the closest is Hon Dong Nam, Thanh Lan & Co To Con.
Where To Stay
Green Co To Hotel.

Positioned next to a calm water inlet, these smart rooms have beaches out the front door and more a short walk out the backdoor. What more could you ask for?

CongAnh.

Individual huts tucked into the trees, this off-street location at Homestay CongAnh, makes you feel like you're living the relaxed rural life.

Anh Kiet.

Another budget-friendly option just up the road from CongAnh is the family-run Homestay Anh Kiet. Cozy, personal, and friendly owners will make you feel welcome.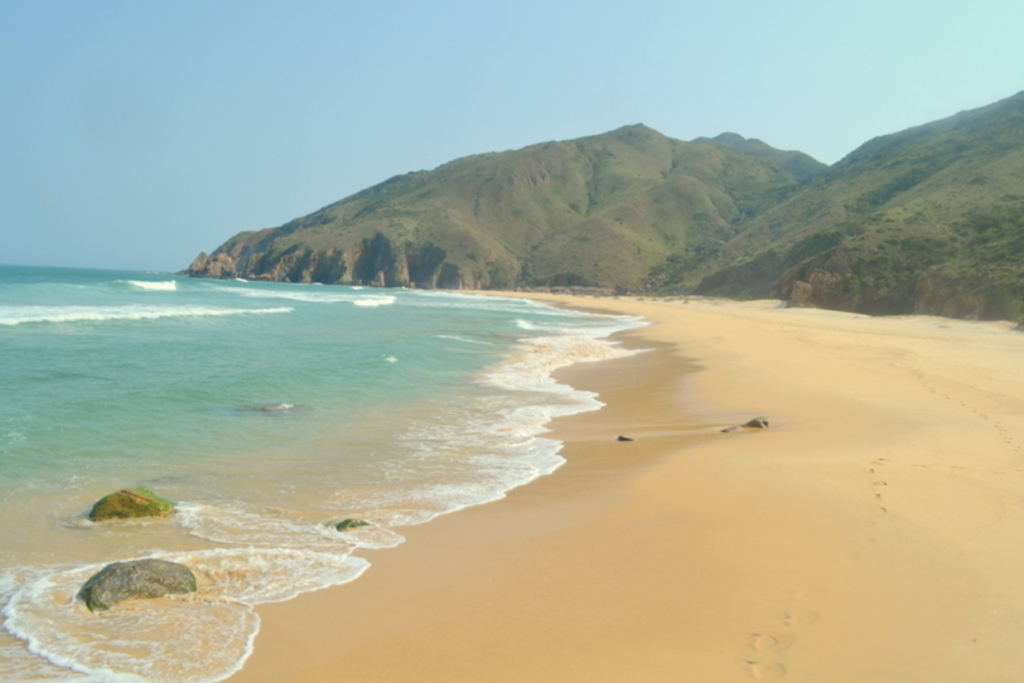 Pictures hardly do this scene justice, you'll need to come and let it sink into all five of your senses before you can really understand what's going on here. Ky Co Beach, you won't forget it.
Ky Co Beach, Qui Nhon.
Extremely wild-looking, and settled next to jade-blue water overlooked by rocky cliffs and lush green grass, sits wondrous Ky Co Beach. The beach sits on a peninsula roughly halfway between Da Nang & Nha Tang. Or if you're on the Ho Chi Minh Trail route from Buon Ma Thout to Pleiku you could add this on as a detour from the mountains to the beach.
Like a  woman too beautiful for words, Ky Co's majesty is her curse. As word of such a beach spreads, so does her popularity, and a visit will now cost you over 100,000vnd entry, plus a premium for food, drinks, and relaxation in the area. With more people comes more activities to sell, and jet skis, water sports, construction, and hotels are on the rise. Go now before her brilliant shimmer fades to a shoddy glimmer.
Things To Do Nearby
Snorkeling.

If you can restrain from taking anything out from the sea, and opt for the fullest boat to take you. This might be the lowest impact water activity outside of swimming. 

Motorbike.

Companies will try and sell you car transport, skip this and use your

motorbike rental

to drive the hills and see the views from Quy Nhon city. 30-mins of free and fun riding.

Boat Tours.

If you're looking for a package deal, boat tours will take you to visit the area, include a snorkel stop to see the reef, and stop at a restaurant for lunch. Probably the best bang for your buck.
Where To Sleep
La Beach House.

Colorful homes for two with an artistic edge wait for you in the tiny fishing town near Ky Co beach. It's fun, it's memorable, you should spend a night in these little cabins.

Nhon Hai Beach Hostel.

Located at the tip of the peninsula, Nhon Hai has clean, comfortable doubles and cheap dorm rooms. The beach is out the front door & there's even a pool table.

Qui Nhon.

If you want to stay back in the main town of Qui Nhon, there are plenty of options. Having your own motorbike rental means you can visit the beach when you want.