Reading Time:
6
minutes
The impressive landmark 81 in Saigon is the 14th tallest building in the world, and up until 2018 was the tallest building in South East Asia. No need to go to Singapore or Hong Kong for big buildings, they are right here in Vietnam.
An expensive elevator ride to the top and you can be right up there on the 81st floor with the best vantage point of Ho Chi Minh City. For other things to do, look at our top thing to do in Ho Chi Minh article.
Where is LandMark 81?
Located in District 2 of Ho Chi Minh city, Land Mark 81 is part of the Vinhome complex built by the Vingroup. Officially opened in July 2018.
Vinhomes is around 10 minutes from central District 1 and the backpacker streets. An enclosed compound, nearly an island, this is like stepping from classic Saigon into the center of Hong Kong. Only one entrance and exit, with enormous apartment complexes surrounding the straight roads. Buried at the back of Vinhomes is Vinhomes central park. An impressive and beautiful park based around the idea of New York Central park.
Kids play areas, running tracks, small golf greens and a river create a spectacular escape from the busy city. Vinhomes central park is enormous and despite the huge numbers of people coming here everyday, it remains to be spacious and at a reasonable level of busy.
People watching in Vinhomes Central Park
People watching in Vietnam is a great activity in general, but the traveler passing through is likely to miss the authentic and growing middle class. A traveler will see the chaotic city central districts, the tourist areas on the beach and the remote countryside. Very few travelers will witness the middle-class businessmen living in western style apartment complexes just outside the central districts.
Here we see roller skating, kite flying, families enjoying picnics (without throwing trash) and dating couples (without cigarettes in their mouths). Fair priced, quality restaurants and everyday, normal working people enjoying the local environment.
It may be unremarkably normal and similar to home, however, a keen eye reveals the way this impressive landmark is not quite as well engineered and planned as it seems.
Some Issues You'll See with Landmark 81 and the Vinhomes Park
1. Pedestrian crossings on blind corners. (its like they want accidents to happen).
2. Trees blocking narrow pathways. (They built the pathway, then slammed trees in the middle)
3. Low quality hacked together pathways that are already falling apart.
4. Of course, extreme numbers of selfie-takers!
5. Swimming pools for private residents, open to the public eyes passing by.
Eating and shopping at Vinhomes
Vinhomes, in general, is an enormous complex smack dab in Ho Chi Minh City. There are restaurants and shops everywhere. LandMark 81 has a western style shopping mall with an Ice Rink included. The standard mall with the standard western shops and the standard fast food places such as KFC. For an afternoon visit, this is a good way to feel back in 'civilization'; a park, shops up to international standards and excellent aircon. Not much can go wrong here. While at it, stop and buy a kite and join in with the locals on the field.
How to get to the top of LandMark 81
In basement 1, near to the Ice Rink is the option to pay for a ticket to go up to the 81st floor. The highest viewpoint in South East Asia. The fare will cost you around 1 million Vietnam dong (45usd) with a free drink and pictures. This will probably be the most expensive elevator ride of your life.
For transparency sake, I would put this activity at around $20 in terms of value for money. So this activity is certainly an optional extra for those wanting an exclusive activity that few people get to do.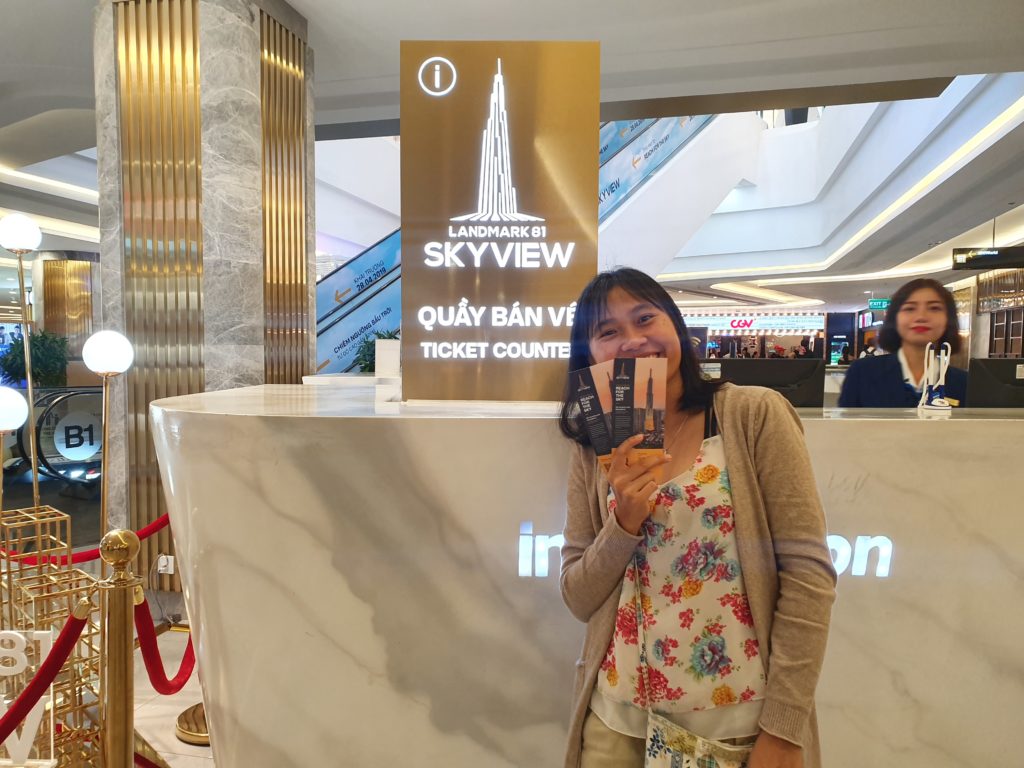 Entering a bright, exclusive expensive hallway to security systems that would put an airport to shame. Once through security, we are given a photo opportunity that will later be photo-shopped to have you standing outside LandMark 81 in Vinhomes central park. Nothing better than a bit of free photoshopping!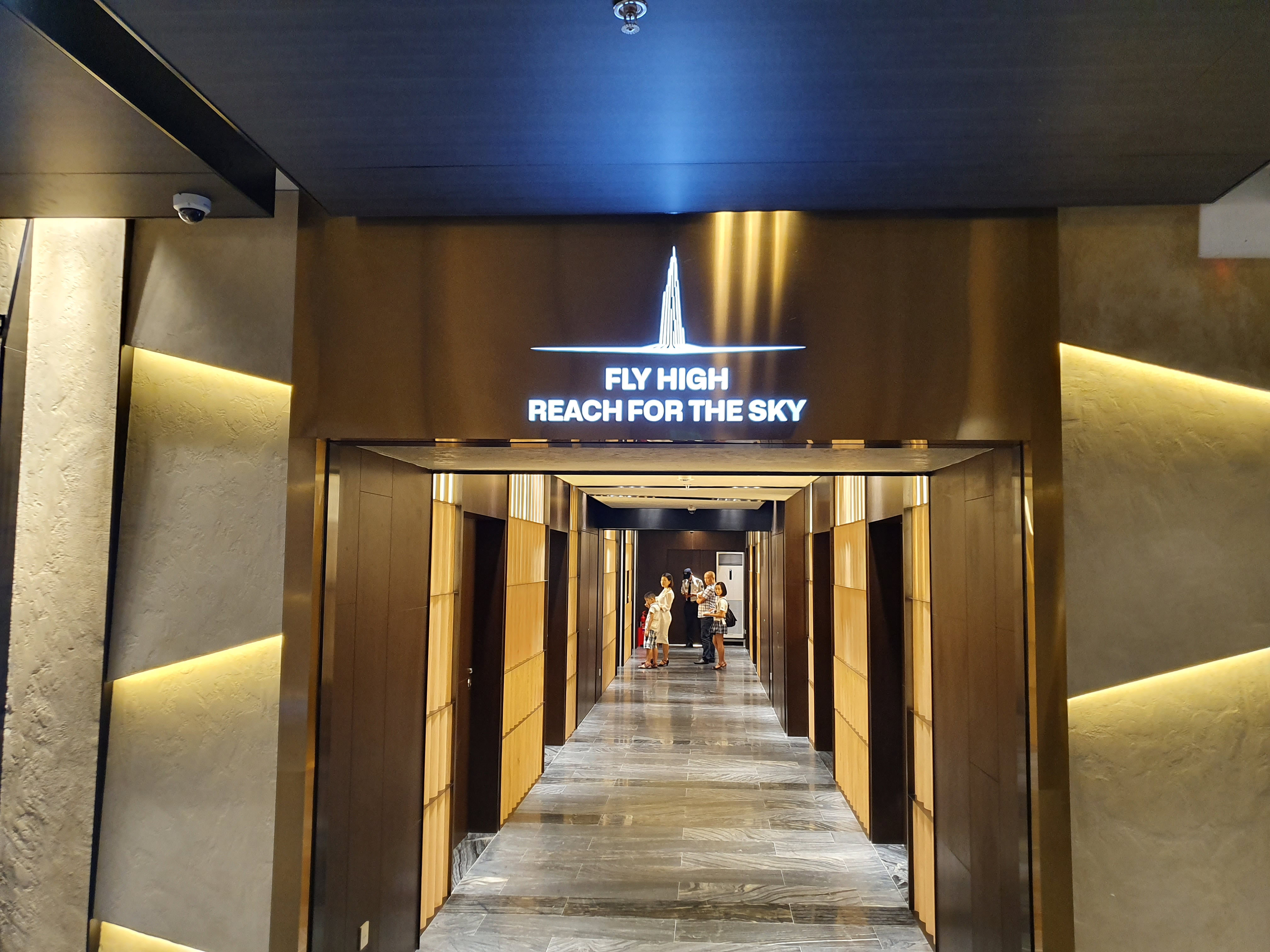 Two young employees pull out a chair ready for my portrait opportunity for photo shopping!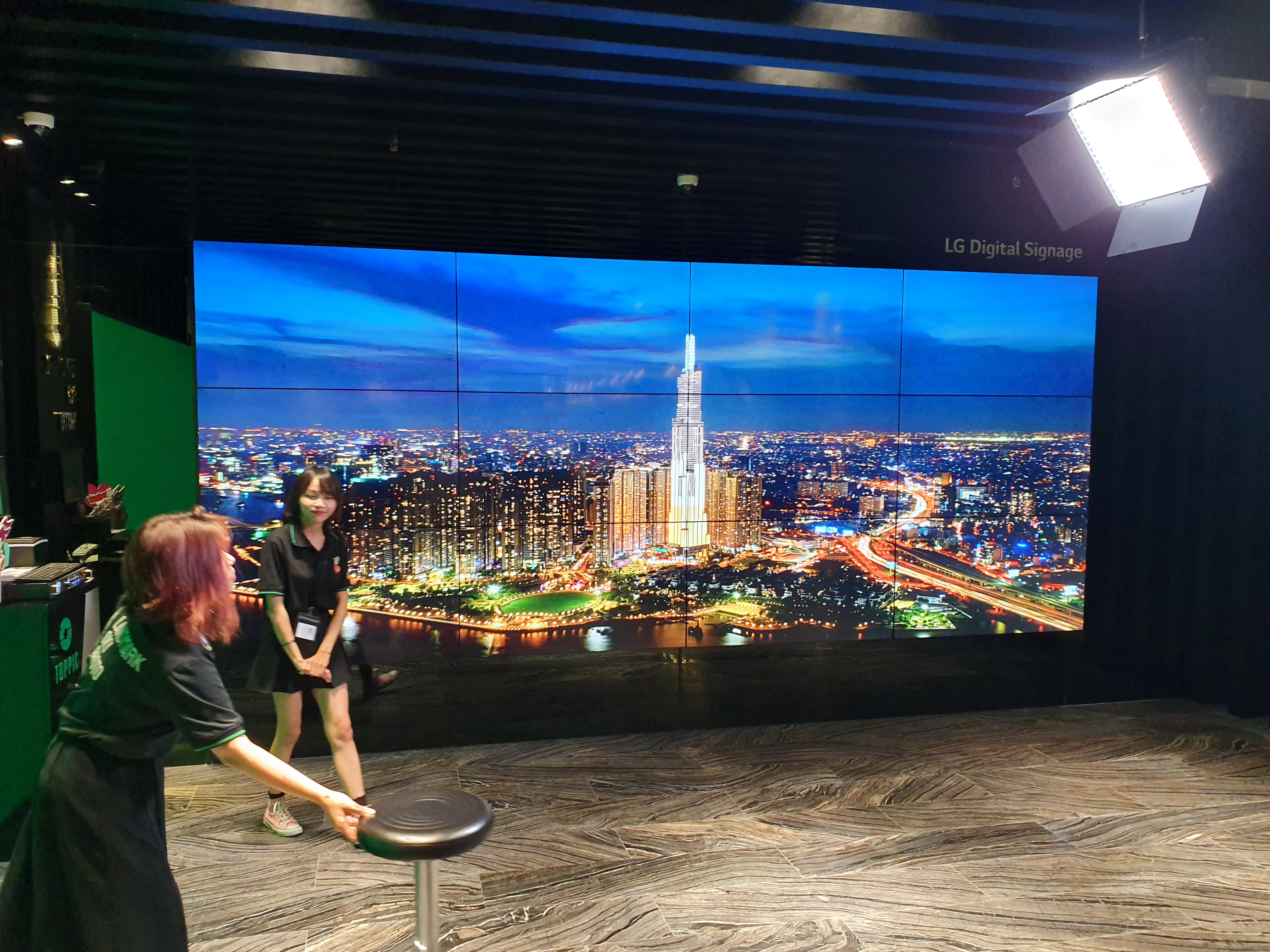 Roughly a two-minute ear-popping elevator ride up to the top and we make it to an empty bar of overpriced drinks and some souvenir shops selling teddy bears and other useless items. A difficult choice to make, walk around taking in the views or sit down and relax with a free drink. We decided to walk around first but let it be known, the free mock-tail that came with the ticket was truly excellent.
At this point we are looking through glass, but the glass is clear and the views spectacular. Can you spot the Bittexco tower, the building that used to be the tallest building in Vietnam?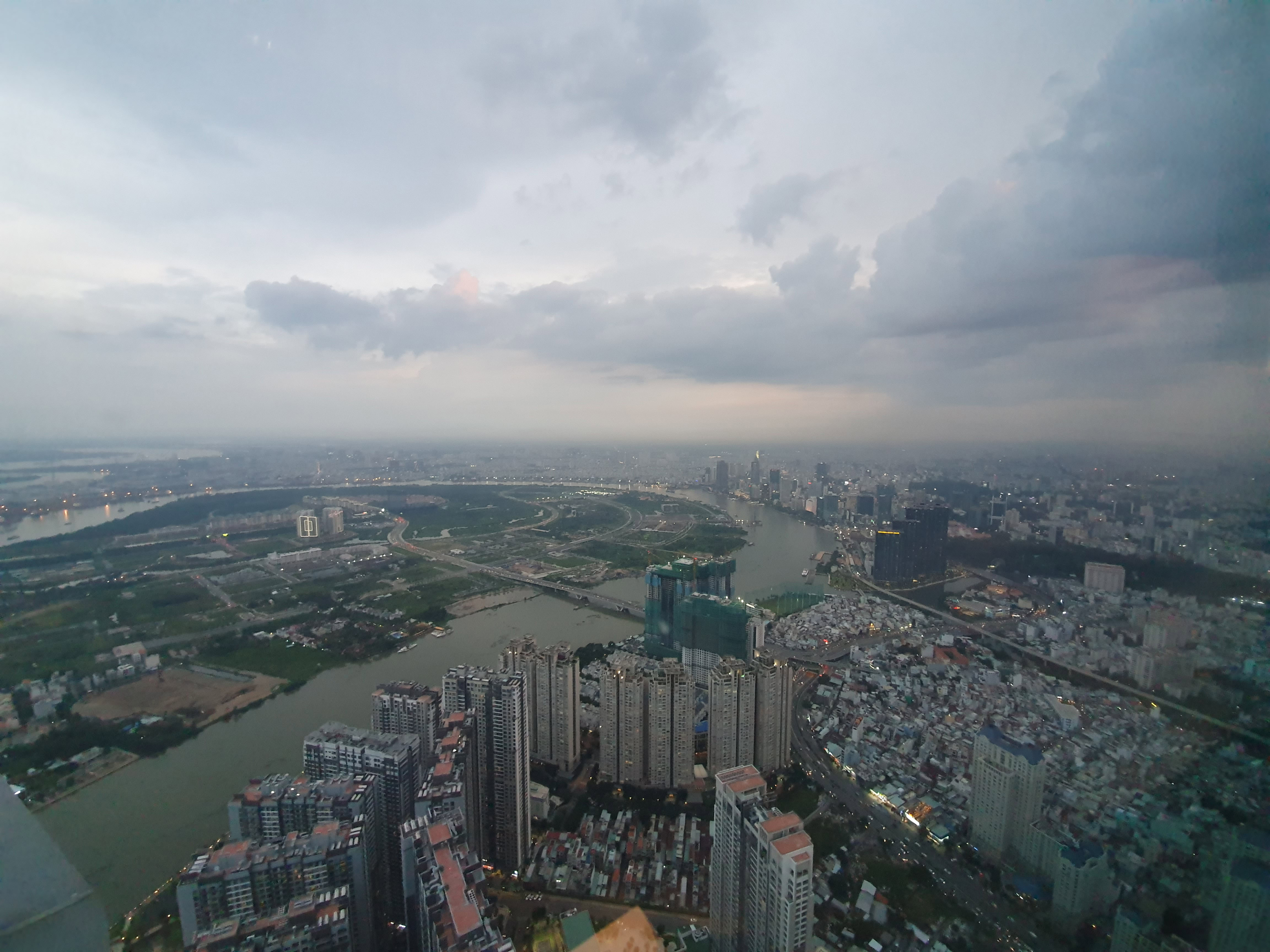 There are three floors to walk up, circling us up panoramic views of the city. Even for the modern day selfie-taking hater, it is hard not to pull out a camera. Along the walk are VR machines that can be used for $10, these are showing off a game for abseiling/jumping off a tall building. Although tempted, my cheap backpacker side got the better, and I decided not to indulge in any more gimmicky activities.
Along the walk is a restaurant named "Miwaku", I imagine an incredibly expensive restaurant. It does have an outdoor seating area and for people looking to blow some coin, this is definitely an exclusive and rare opportunity!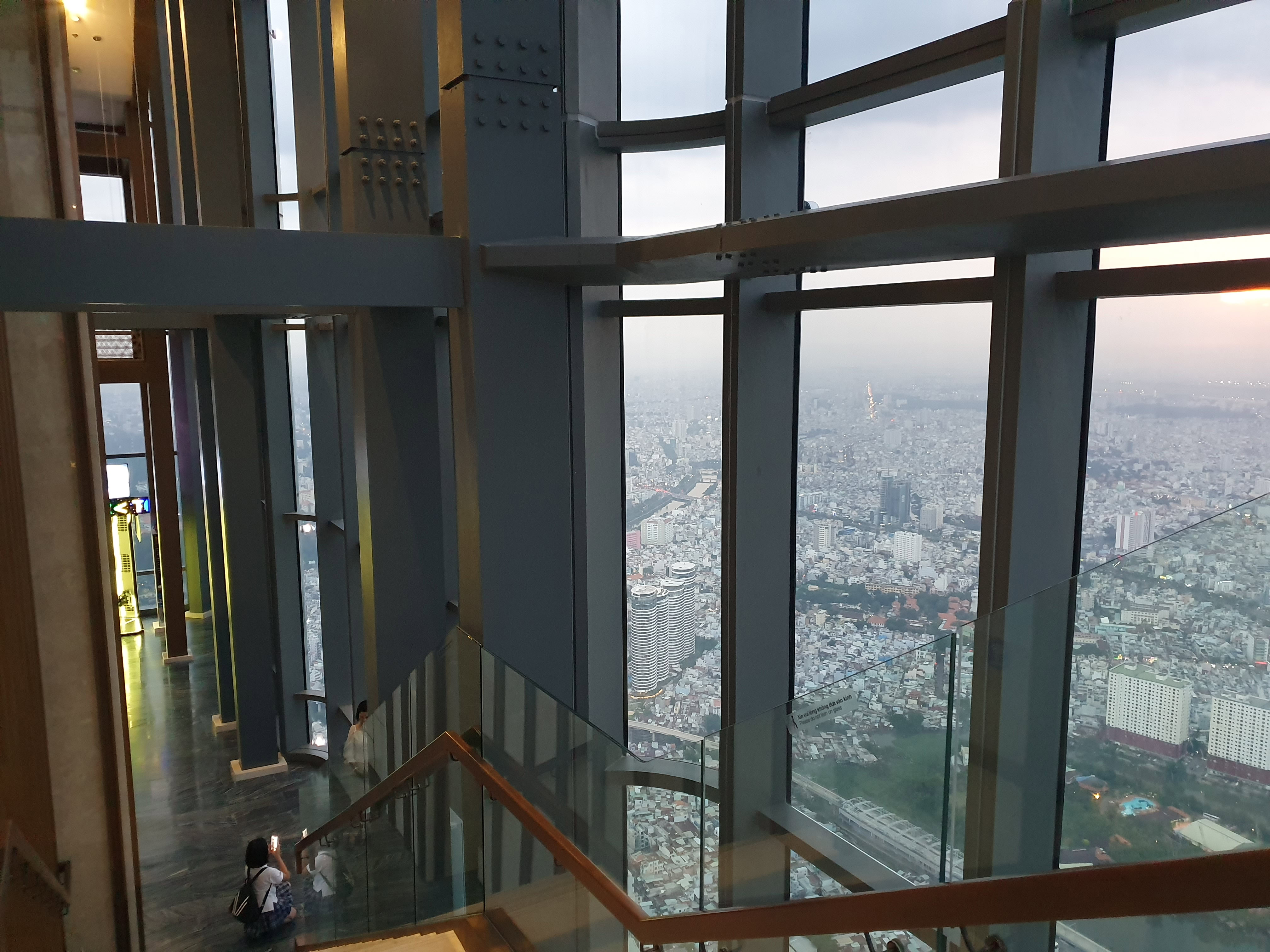 Another picture opportunity awaits with a student sitting around with a Sony camera. Free with the ticket, time to brush up and prepare for our picture that will be stamped onto the Vinhomes complex.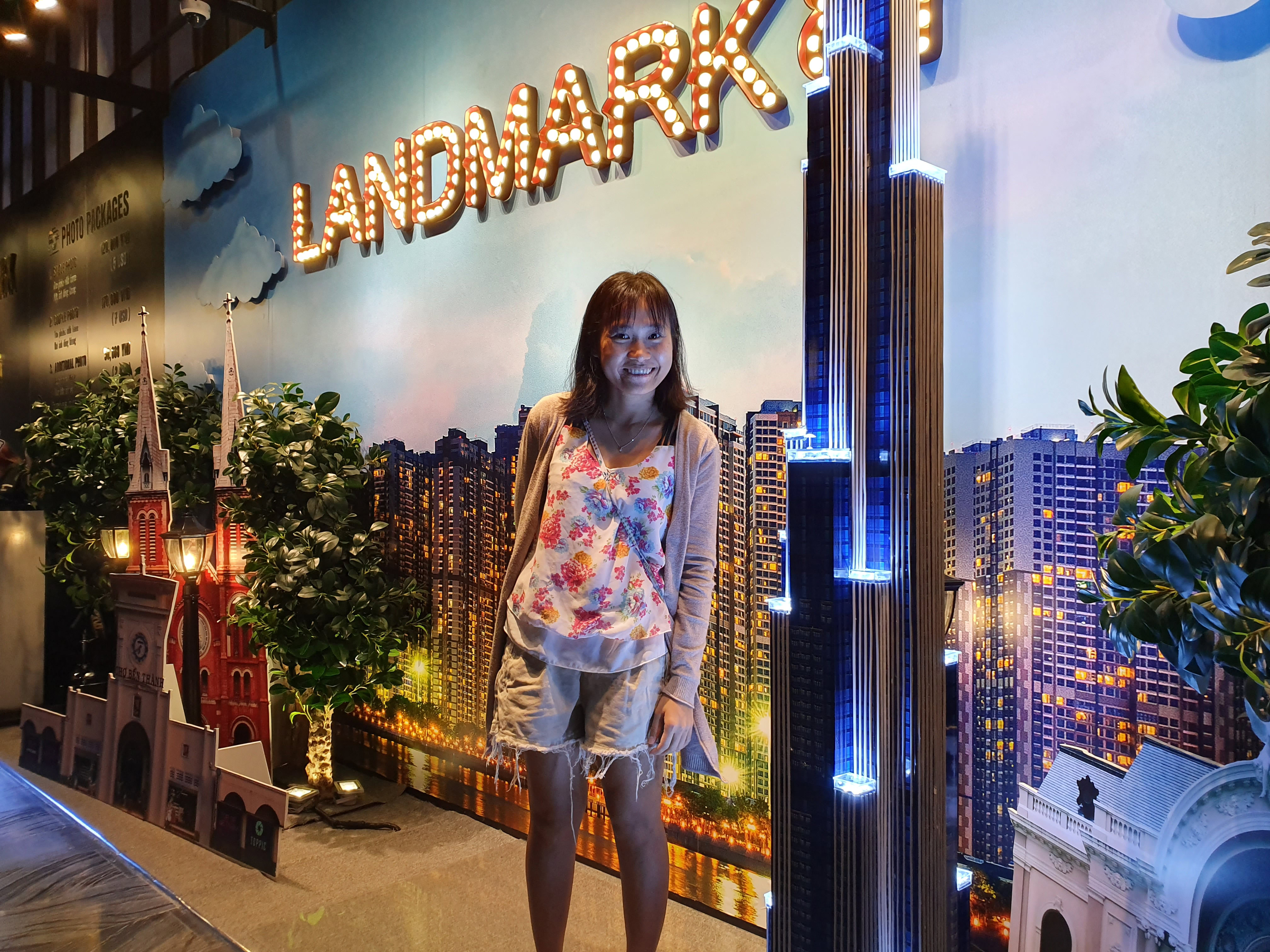 The LandMark 81 viewing platform
The moment of truth has arrived. Honestly, I was not expecting any open-air experiences with this trip. I thought the restaurant might be the only opportunity to get out in the sun. I was thrilled to see we could finally go outside. Interesting setup with an electronic floor with screens that are graphically cracking. Glass surrounding the viewpoint zone and some stairs to go even higher.
To go up the stairs we needed to suit up and put on safety harnesses.  At first I was hesitant to bother. I didn't see how a few extra steps could dramatically change the experience. However, I reluctantly suited up.
Attach the harness to the safety rail and begin the climb to the highest viewing deck in South East Asia. Most people are not tall enough to see over the glass, but myself at 2m tall had a clear spectacular view of the city.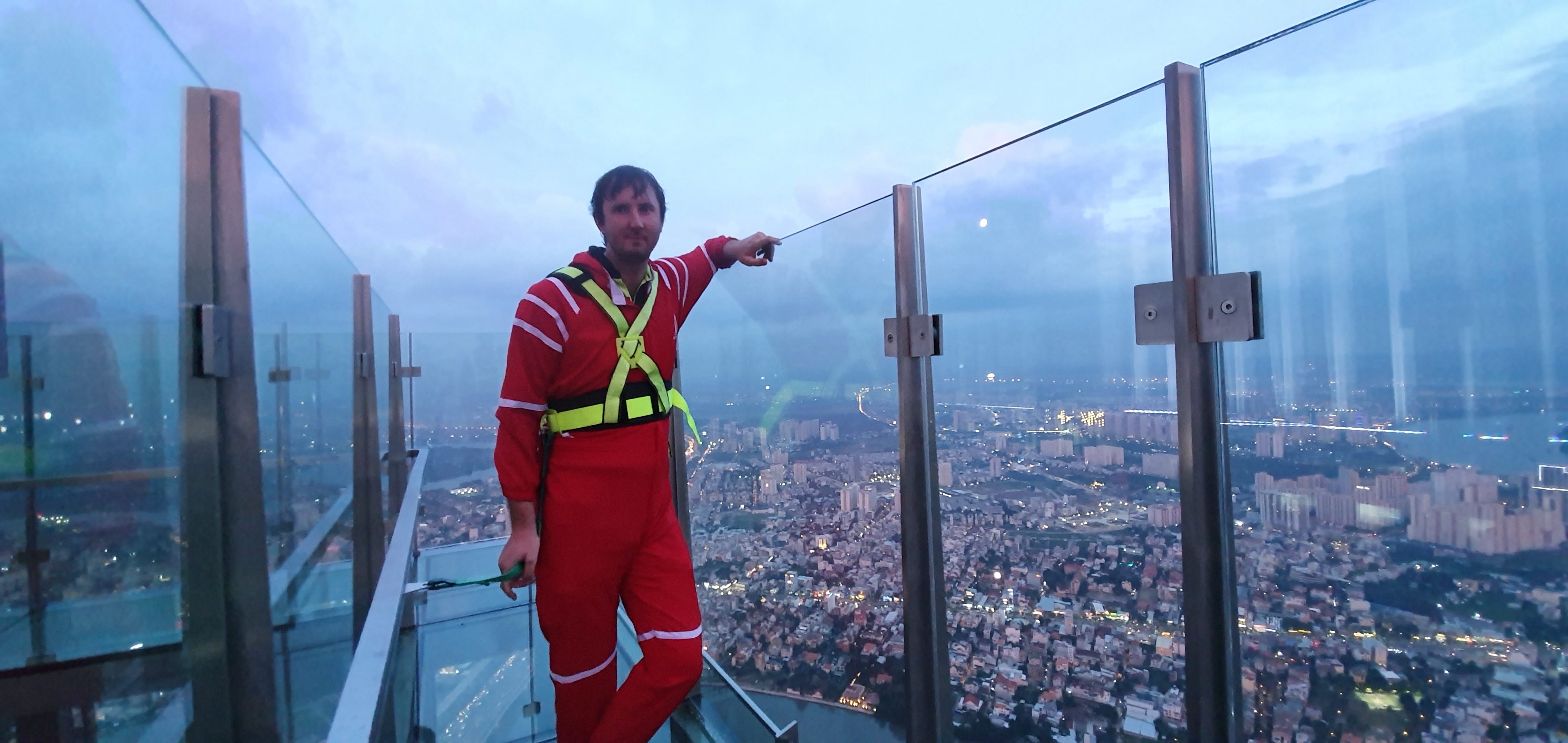 The short flight of stairs, the full glass surroundings and the over top safety gear added to the dramatic effect of being at the highest viewpoint in South East Asia. It was worth suiting up and being exposed to the elements at this great height. I am still not completely sure of the need for such safety gear, however, in my mind, it is probably a lack of confidence in the quality of glass that requires guests to suit up. Put this in your head, and now you have adrenaline to add to the experience.
The unique vista from the top of Landmark 81
Standing at the top of the world overlooking the slums of Ho Chi Minh City having bought my 1 million dong elevator ride, I scanned the view and saw many familiar sights from a new perspective. The high rise apartment complex on the far right (currently a ghost town) are government-owned buildings set up for the relocation of people that are being forcefully removed from their land. In the center of the picture, are the areas of Saigon that will soon be flattened and replaced with high rise apartments for the rapidly growing middle class. The people living in the center of this picture will likely be removed and relocated to the apartments on the right. What an incredible and rapidly changing city to be in!