Reading Time:
6
minutes
 When you need an escape from the hustle and bustle of Ho Chi Minh City, jump on your motorbike and explore some of the popular and less traveled nearby attractions on two wheels. 
Cheeky monkeys at Monkey Island.

Serene Mangrove Wetland Reserve.

Golden Scorpion Park.

Hiking the highest mountain in South Vietnam, Black Virgin.
Get to know the amazing underground tunnel system used by the Vietnamese during the Vietnam war. If you've ever played hide and seek, this will take the game to a whole other level.
Cu Chi Tunnels on Your Own – 3 hours each way
One of the most popular sites near Ho Chi Minh, is the Cu Chi Tunnels. It is an elaborate system of underground tunnels used by the Viet Cong during the Vietnam war. In the war, soldiers lived like ants; moving, hiding, and etching out a life undetected from above. The Viet Cong created supply roots, cooking, food storage areas, living quarters, weapons caches, and even hospitals underground.
   At just 3-hours by motorbike, the Cu Chi District near Ho Chi Minh City is where you can visit and explore this incredible feat of human achievement. These tunnels are spread across the country and designed to fit the Vietnamese but are too small for American soldiers. Not to worry, here at Cu Chi, some of the entrances are modified to accommodate tourists. 
How To Get to Cu Chu Tunnels on Your Own
Ho Chi Minh Motorbike rental

. About 3-hours (70kms) each way from the HCM backpacker's area. Take Cach Mang Thang 8 street and continue until you reach QL1A. Find your way to TL15 road and keep going until you reach the Cu Chi Tunnels.

Bus

. Head to the Ben Thanh Bus Station and hop on bus #13 or #79. Use these two buses to get back as well. Bus tickets should be around 10,000vnd each way.
Insider Tips for visiting Cu Chi Tunnels
There are two different sites here. One is the busier tourist site known as 

Ben Dinh Cu Chi Tunnels

, a reconstruction of the tunnels modified for tourists. The other is 

Ben Duoc Cu Chi Tunnels

. The authentic tunnels usually only visited by locals. Ben Duoc is quieter, cheaper, and the better option with a motorbike rental.

On-site is a shooting range where you can try out modern and war-era weapons for a fee.

Food and drinks are available.

Entrance fee around 100,000vnd.
If you like wildlife, this is your stop. Monkeys, birds, fish, even some crocs. It's all here.
Mangrove Park in Can Gio – 2 hours each way
Nature and outdoor enthusiasts can settle in for a relaxing walk through the Can Gio Mangrove UNESCO Biosphere Reserve. Just a two-hour drive (50kms) from your busy Saigon adventure, you can escape to the vibrant sights and sounds of this nature-rich reserve. You'll get a chance to see macaws and various other birdlife, monkeys, fish and maybe some crocodiles.
   With such a great park that's so close to Saigon, you'd think it would be crawling with tourists. When Link & Jon from Tigit went, it was empty, and you probably won't see that many people either. The drive-out should be a relaxing one, with few people on the roads. 
How to get to Mangrove Park
Motorbike rental. 

Head out of HCMC towards the "Huynh Tan Phat" road until it meets the "Pha Binh Khanh Ferry." After crossing the river, the road turns into "Rung Sat." Follow this until just after Can Gia town.

Search "Ban Quản Lý Rừng Phòng Hộ Cần Giờ" on Google Maps.

Boat

. Greenlines ferry from Saigon can take you from the city to Monkey Island, further down the river via boat. It'll be more expensive than a 

$10/day motorbike rental

, but it can be done!
Insider Tips for Mangrove Park
Plan 1-2 hours here

4kms of walking trails in the park to enjoy

Bring bug spray. There are mosquitoes in the jungle!

There's a seafood restaurant here, but it might be seasonal so bring your food & drink

Picnic tables, benches, swings, and even a campground are onsite 

November-May is bird mating season. Come during this time for a chance to see some Painted Storks

Entrance FREE!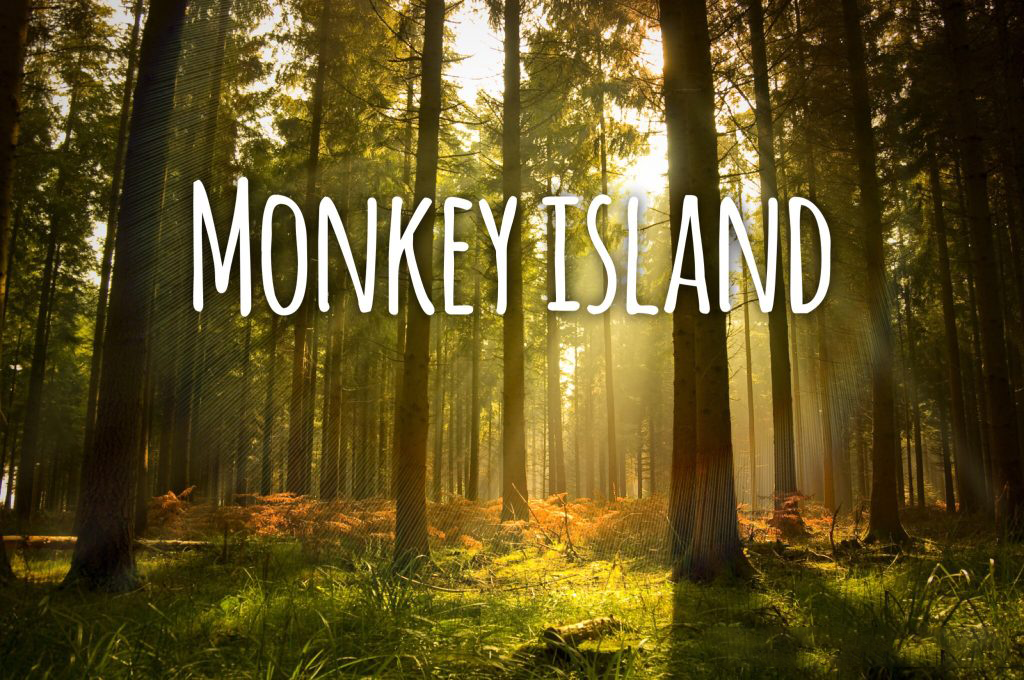 It's beautiful, it's full of tourists, monkeys will probably rob you blind. It's worth it though!
Monkey Island – 2 hours each way
   Despite the name, Monkey Island isn't an island at all. It is a place to see monkeys, though! Considerably busier than the Mangrove Park up the road, you won't have a problem seeing other tourists here. The area is more of a long walkway through the forest with almost as many monkeys as trees. There are hills to climb for ocean views towards the Mekong Delta's waters, restaurants, and places to drink
   With so many tourists coming every day, the monkeys have morphed into tiny hairy thieves. Watch your things with EXTREME CAUTION. Monkeys will steal bags, phones, hats, your girlfriend, you name it! Link & Jon had a monkey destroy a motorbike seat trying to get it open. Is a monkey attack on your motorbike seat covered by the damage waiver?
How To Get to Monkey Island
Motorbike rental. 

Head out of HCMC towards the "Huynh Tan Phat" road until it meets the "Pha Binh Khanh Ferry." After crossing the river, the road turns into "Rung Sac." Follow this until the turn onto "Duong Vao Dao Khi" road, just before the road hits the town at the end.

Boat tours exist, but we don't know how to organize them!
Insider Tips for Monkey Island
Plan 1.5-2 hours here

Seriously, watch out for thieving monkeys. 

Entrance fee 70,000vnd plus parking for foreigners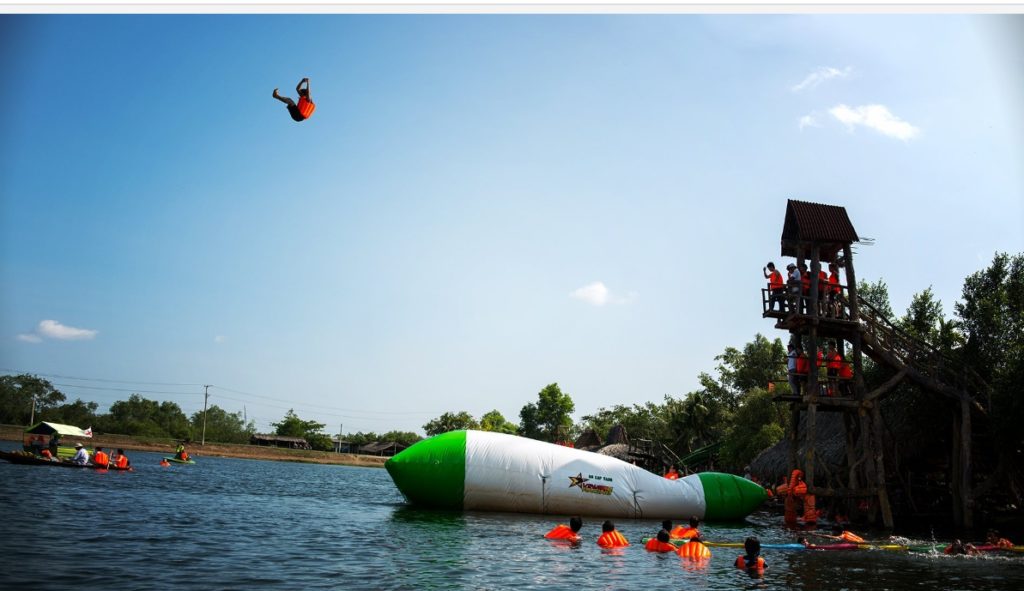 Growing tired of your travel partner? Launch their ass sky high from the Golden Scorpion water pillow.
Golden Scorpion Park – 2 hours each way

   
 Food, fun, a giant pillow to jump on, what more could you ask for? When it's too hot in the city, take a one-day motorbike trip from Saigon and drive out to Golden Scorpion Park for some watered-down fun. The park is designed with picnic and BBQ areas, places to rent paddle boats, places to swim, and a huge pillow to jump onto before splash landing into the water. There are also life vests and a lifeguard on duty for your safety.
  The park was named after a beautiful golden flower that grows in abundance throughout the area. If you come in the right season, the place is flooded with these golden beauties. If you're into camping, you should be able to organize with the site directly and spend a night or two here. 
How To Get Golden Scorpion Park
Rent a motorbike and from HCMC central, you can head out of town on the Cong Hoa road and make your way to the CT01, turning on the H13 road, then following the Nguyen Huu Canh road in.
Insider Tips for Golden Scorpion Park
There are restaurants here, but bring your own BBQ if you want to grill.

Plan a full day.

Go mid-week to avoid family crowds.

The park loans out tables & chairs (not camping equipment).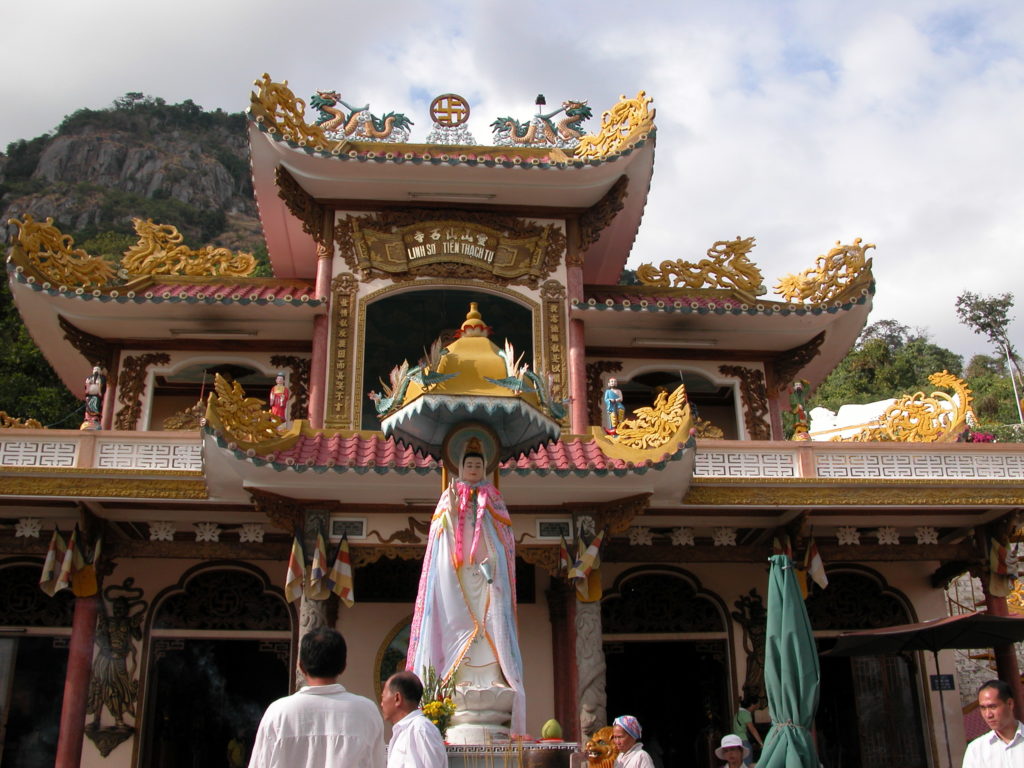 Black Virgin Mountain – 3.5 hours each way
   The highest peak in Southern Vietnam, Black Virgin Mountain, looks longingly across the landscape below. This dormant volcano was a strategic base for the Americans during the Vietnam war. What was once a war zone is now a stunning hike and relaxing cable car ride. Around 3.5-hours (100kms) each way from HCMC.
Purchase the 8,000vnd entrance ticket, then either hike the hillside in the heat or save yourself from exhaustion and pay the 150,000vnd round trip ticket for the cable car to take you part way up. On the hill, the route isn't marked, and you'll be making your own trails. 
How To Get to The Black Virgin Mountain
With a motorbike rental you can take the same route towards the Cu Chi Tunnels on the DT744 road, then follow it until it turns into the DH703, which turns into the DT781 along the lake. This road will eventually make a sharp left, and you can take the next right on "Lo Khe Don" and follow that to the mountain.

If you enjoy the scenic route, make a loop out of it by taking the DT782 back. 

Car hire. Alternatively, you could hire a car and driver to take you there, but that wouldn't be near as fun!
Insider Tips for The Black Virgin Mountain
There are no organized paths, and you'll be making your own and scrambling over boulders to get around.

Roughly 2.5 hours hiking to make it to the summit. 

Total fees including parking, about 160,000vnd.