Reading Time:
9
minutes
Vietnam is full of spectacular waterfalls. Both touristy and falls that require venture well off the beaten track. In this article, we have compelled a list of the must-visit waterfalls that Vietnam has to offer.

1.Ban Gioc Waterfall– Ha Giang
One of the must see waterfalls in Vietnam and slowly being recognized on a global scale, Ban Gioc Waterfall– Ha Giang stretches over 300-meters wide while water pours down across several limestone platforms from over 30-meters in the air.
Location.

Hidden in Dam Thuy, Trung Khanh, Cao Bang in the North of Vietnam, on the border with China. Approximately 85kms from Cao Bang city or 360kms from Hanoi by motorbike. 

Best time to visit.

September-December rains fill the falls with clear blue water. Then flowers begin to bloom in December.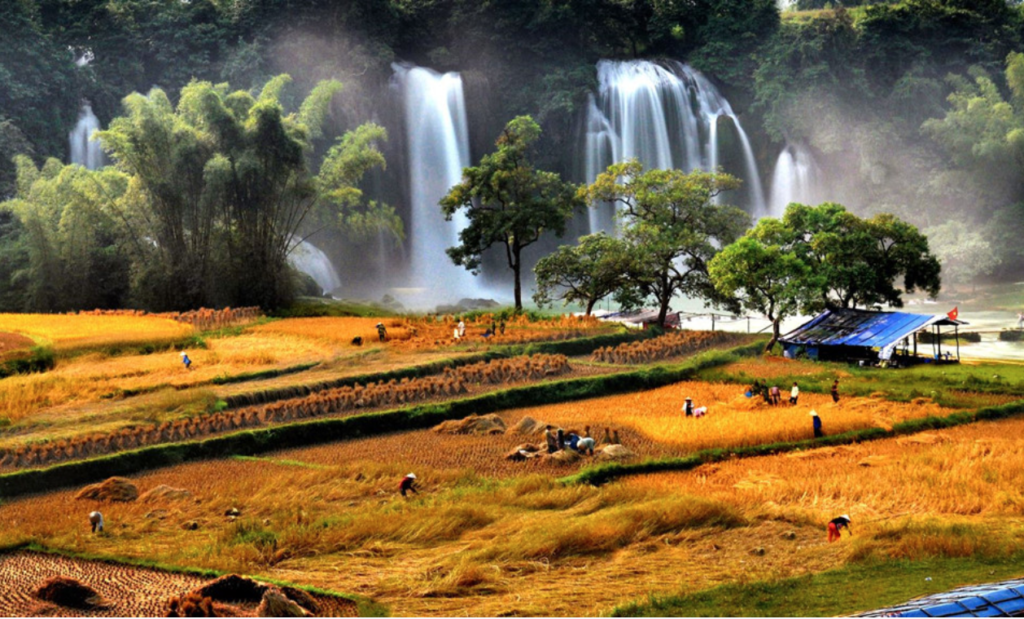 2.Tac Tinh Waterfall – Lai Chau
Off the tourist trail and down a rocky road you'll find the overgrown, and under-visited Tac Tinh waterfall in all its lush-green glory. The falls drop 120-meters from the Hoang Lien Son Mountain Range and continue downstream feeding the agricultural life and Dao people that have lived in and worked that land for centuries. 
Location.

You'll find the falls in Tam Duong Town, Tam Duong District, Lai Chau Province. 30kms from Lai Chau Town or 360kms from Hanoi.

Best time to visit.

September to December in the

rainy season

when the falls fill with life.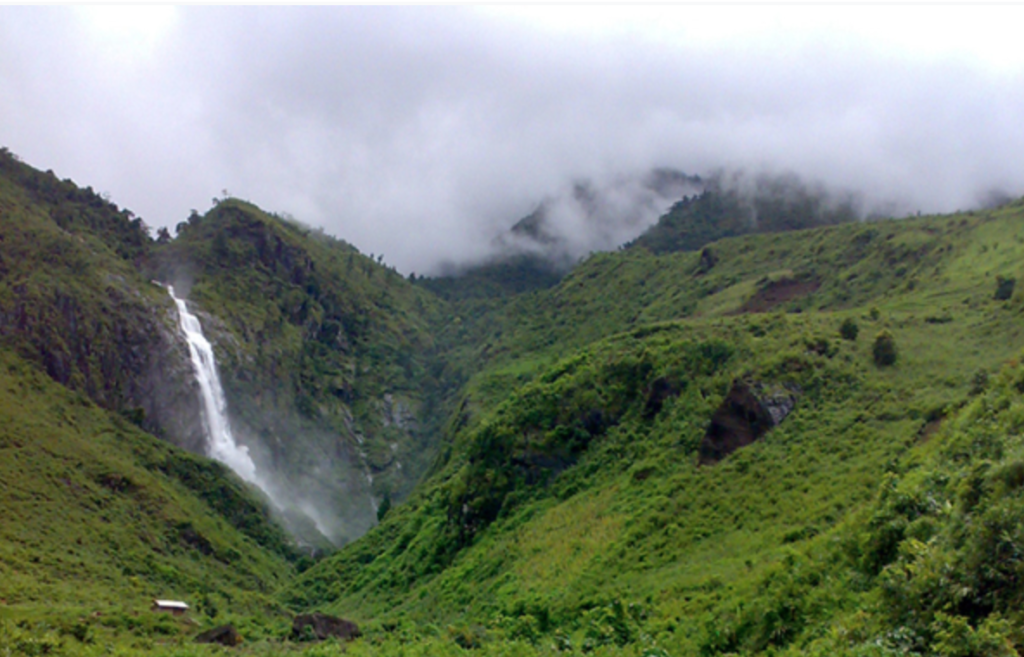 3.Silver Waterfall ( Thac Bac)- Sapa
The water washing over the dark rocks give the falls a silver shade you can more easily see from the walking bridge here. Looking up, it's a 200-meter start up near the peak of the Ham Rong mountains.
The area is surrounded by a beautiful pine forest that you can enjoy while walking the pathways around the falls. To reach the best lookout point is a brisk 5-minute hike that takes you to the bridge in front of the Silver falls. This is a great addition if you're riding the  O Quy Ho Pass towards Sapa.
Location.

Just 15-minutes by motorbike from Sapa town in Lai Chau.

Other falls nearby.

Combine a stop here with Tac Tinh. It's just 2.5kms up the road.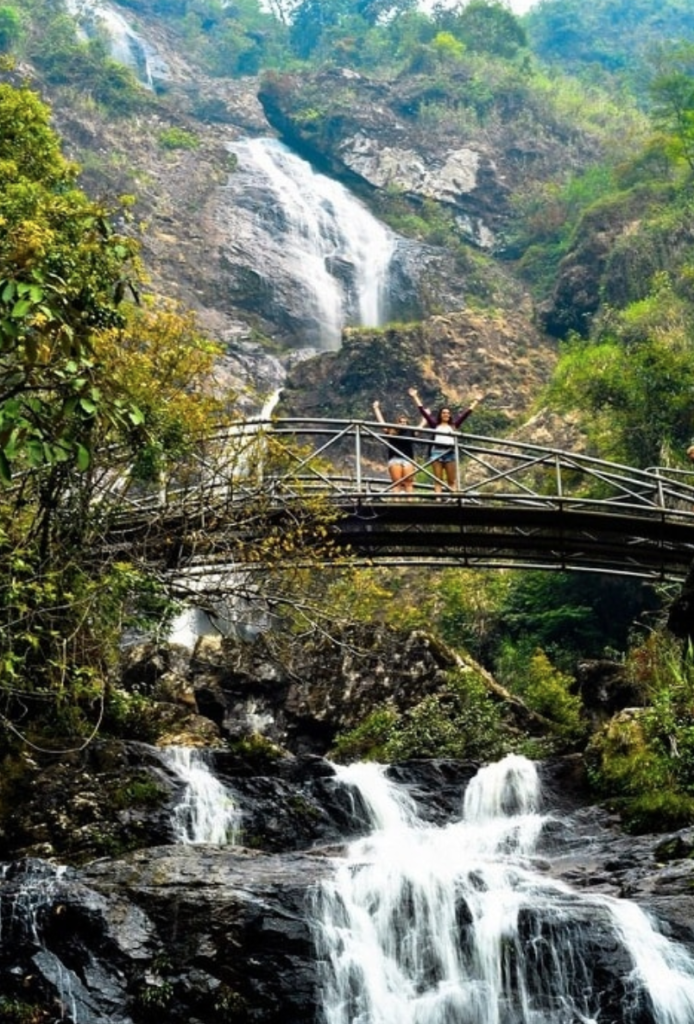 4. Khe Van Waterfall – Binh Lieu, Quang Ninh
The three levels of Khe Van each offer something different to the visitor. Level one is a small lake surrounded by a forest and flowers. Level two a large rock splits the water into two falls where the gushing water bubbles back to the surface. Level three transforms from falls into a stream around a large elephant-looking rock that visitors come to enjoy.
Location.

15kms from Binh Lieu town down a fun motorbiking road to Huc Dong commune. Roughly 120kms north of Ha Long Bay and some of the

best beaches in Vietnam

.

Travelers tip.

Swimming in waterfalls

is a great way to cool off. This is a great place for swimming, bring your suit and enjoy some splashing around here!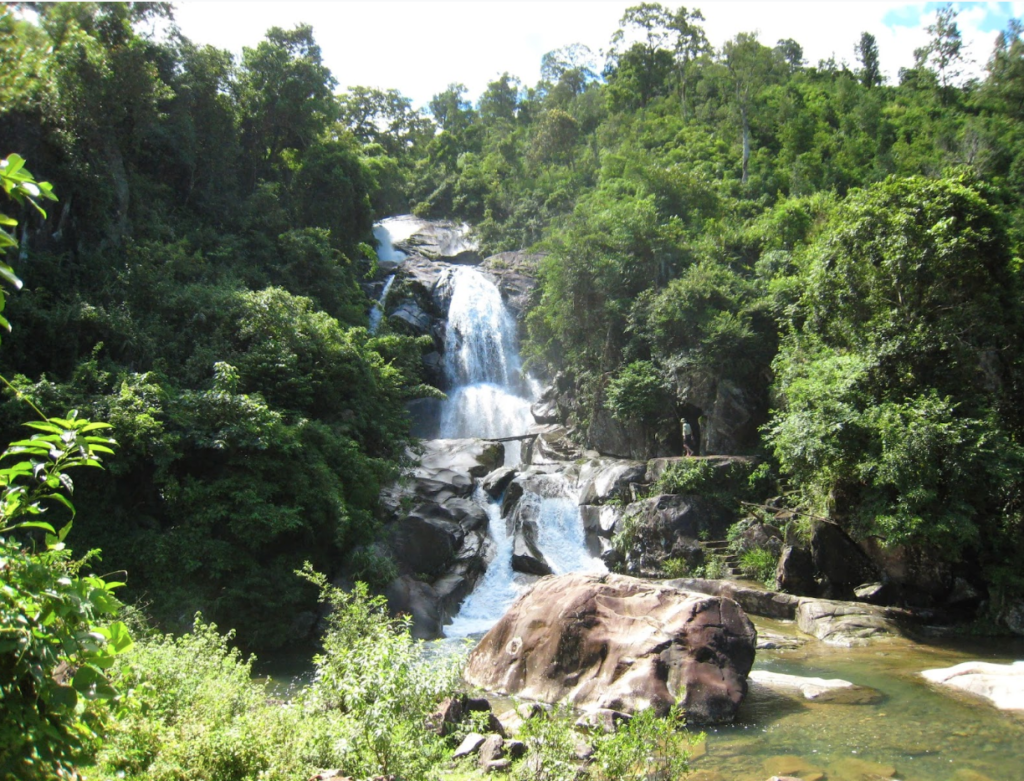 5.Cloud Waterfall ( Thac May)- Thanh Hoa
Waiting to be discovered on the edge of the Cuc Phuong National Park, Thac May drops from around 100-meters over a series of nine plateaus that make the water appear dramatic and silky. The whole area's beauty is accented by thick brush and ancient trees.
Location.

Just over 100kms southeast from Hanoi at the in Thach Lam commune in

Thanh Hoa province

, not far from the

Cuc Phuong National Park

Travelers tip.

The road into the falls is recently cemented making the drive easy. Climb the falls for a great view and a little exercise.
6. Dray Sap Waterfall- Buon Ma Thuot
Translated from the local Ede language, Dray Sap means smoke waterfall. The massive amount of water rushing over from Krong No and Krong A Na rivers cause a misty dust or smoke like appearance that you'll see when you're here. In the rainy summer months the air is thick and misty.
Location.

A short 30-minute motorbike ride from Buon Ma Thuot. This is a great day trip out and around the Vietnamese countryside, close to

 Buon Ma Thuot

.

Travelers tip.

Bring your camera, not your bathing suit. These falls make for great photos. Unfortunately, you can't swim here.
The abundant Seepok river here is well worth exploring on your motorbike for a day. Dray Sap is just one of the great stops.
7. Dray Nur Waterfall- Buon Ma Thuot
So close, yet so far away, Dray Nur waterfalls are separated from Dray Sap by a short bridge. That old bridge is collapsed and motorbike adventurers now need to backtrack 25-kilometers to reach one set of falls from the other. Overall an easy task for an adventure motorbike traveler. 
Location.

Like Dray Sap it too is just 25kms from Buon Ma Thuot. To get here follow the AH17 is a bit further before turning onto the DT684 out to the falls.  

Things to do nearby.

Coffee is one of the main reasons tourists flock to the area. The incredible basalt soils here grow some of

the best coffee in Vietnam

.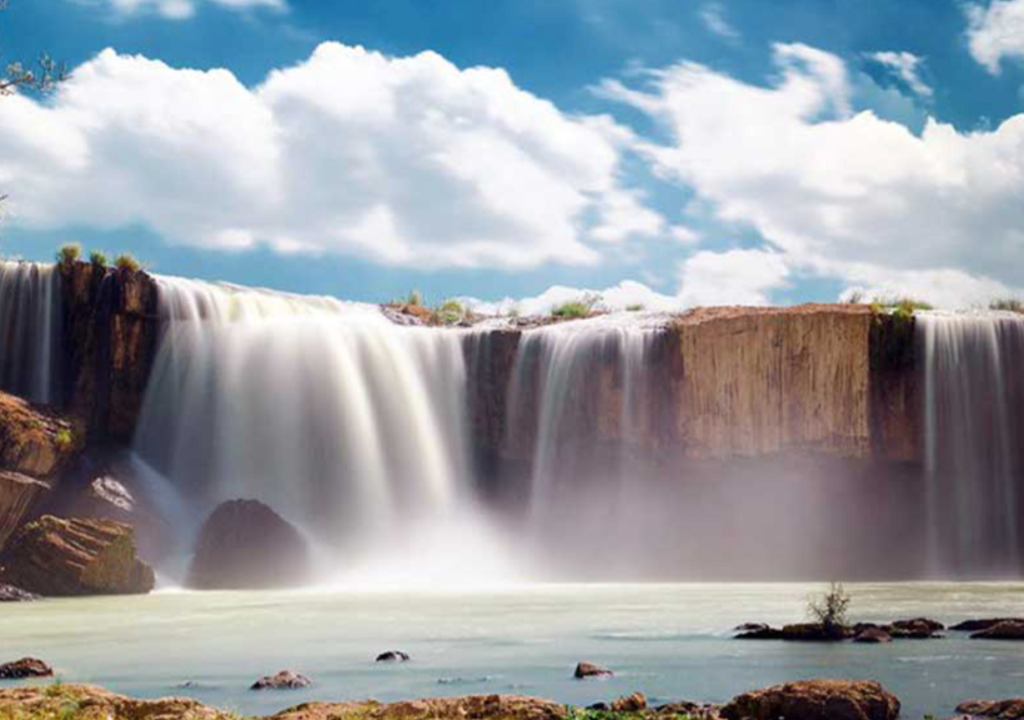 8. Thuy Tien Waterfalls – Buon Ma Thuot
Natural pools in a natural setting await those looking for a little adventure a half days ride from Buon Ma Thuot. The 40-meter wide Thuy Tien Waterfalls offer a full panoramic view of the flowing water, along with the jungle-clad canopy that surrounds it.
Location.

Close to 70kms from Buon Ma Thuot just inside the Na So Nature Reserve on the

Central Highlands Route

. If you're wondering

where to find Thuy Tien waterfalls,

ask for directions in Ea Puk commune, Krong Nang district. It's 15kms from here. 

Travelers tip.

There is an off the beaten path airstrip once used in the war here. It's not a must see, but interesting if you're in the area. Coordinates 12.68270,108.72402
9.Gia Long Waterfall – Buon Ma Thuot
A nice place to explore as well as relax, the Gia Long Waterfall is part of the Dak Lak province waterfalls series that include Dray Nur and Dray Sap. At a height of 30-meters and a width of close to 100-meters Gia Long is another stunning stop along the Serepok river.
Location.

About 15-minutes from Dray Sap, 30-minutes from Dray Nur and 45-minutes from Buon Ma Thuot.

Travelers tip.

Search out the nearby suspension bridges built by the French decades ago.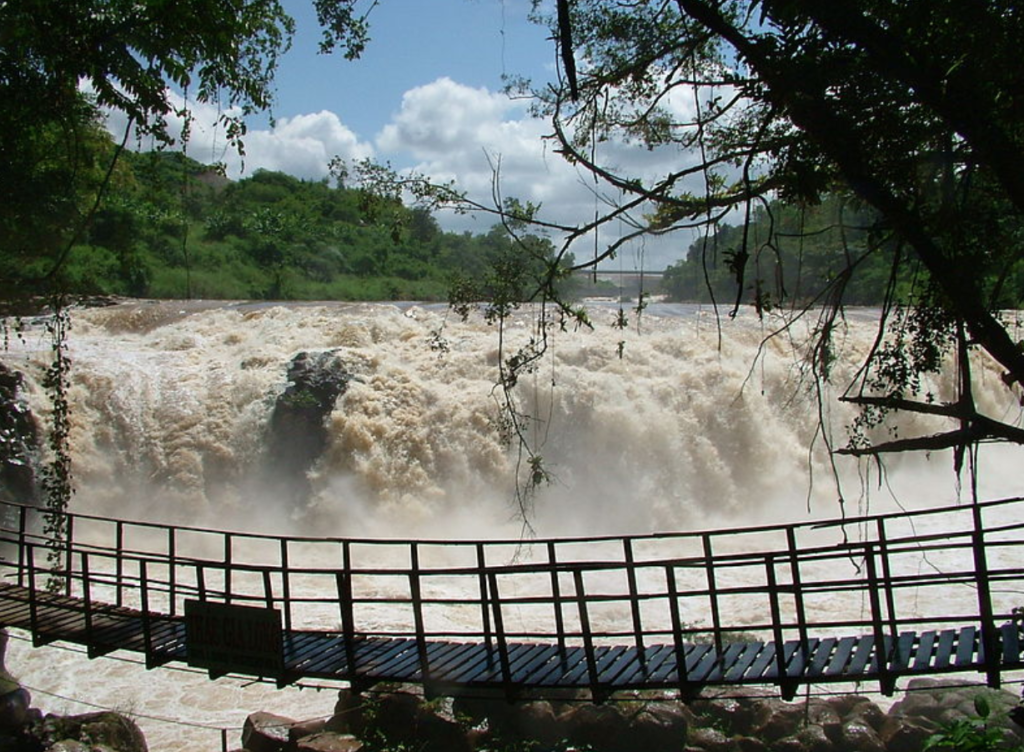 10.Datanla Waterfall- Da Lat
More theme park attraction than waterfall destination, Datanla's main draw is the roller coaster that takes you to the base of the falls and cable car ride that takes you back up. The Datanla falls are on of the top waterfalls in Vietnam for tourists, but if you enjoy an afternoon thrill it's worth the stop.
Location.

Just 4kms from Dalat, this is an easy ride on your motorbike from the city.

Things to do nearby.

Ever tried

abseiling in waterfalls

? Here you can test your skills with the help of an organized abseiling experience.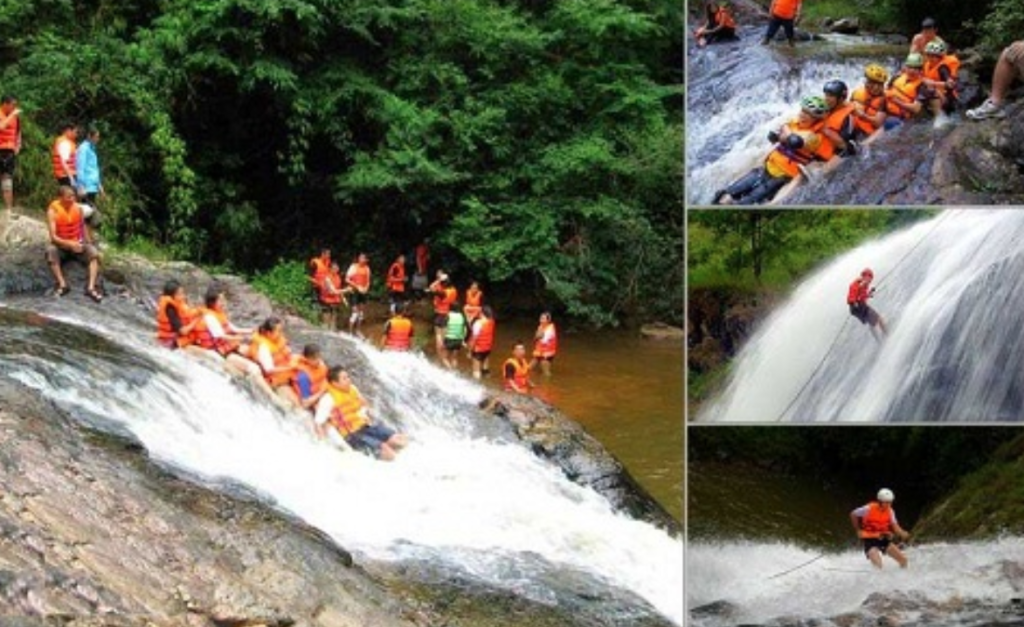 11. Elephant Waterfall ( Thac Voi) – Da Lat
One of the best parts about Elephant Falls is the motorbike ride along the winding mountain roads that takes you here. The scenery is natural and to access the falls on foot you can either walk to the man-made viewing platform or scramble down to the slippery rocks to the bottom. 
Location.

25kms southwest of Dalat city on the DT725. Google maps is your best option to find it and the

12 other Dalat waterfalls

.
Travelers tip.

If you're brave enough to get to the bottom, you can then venture behind the falls via a muddy trail.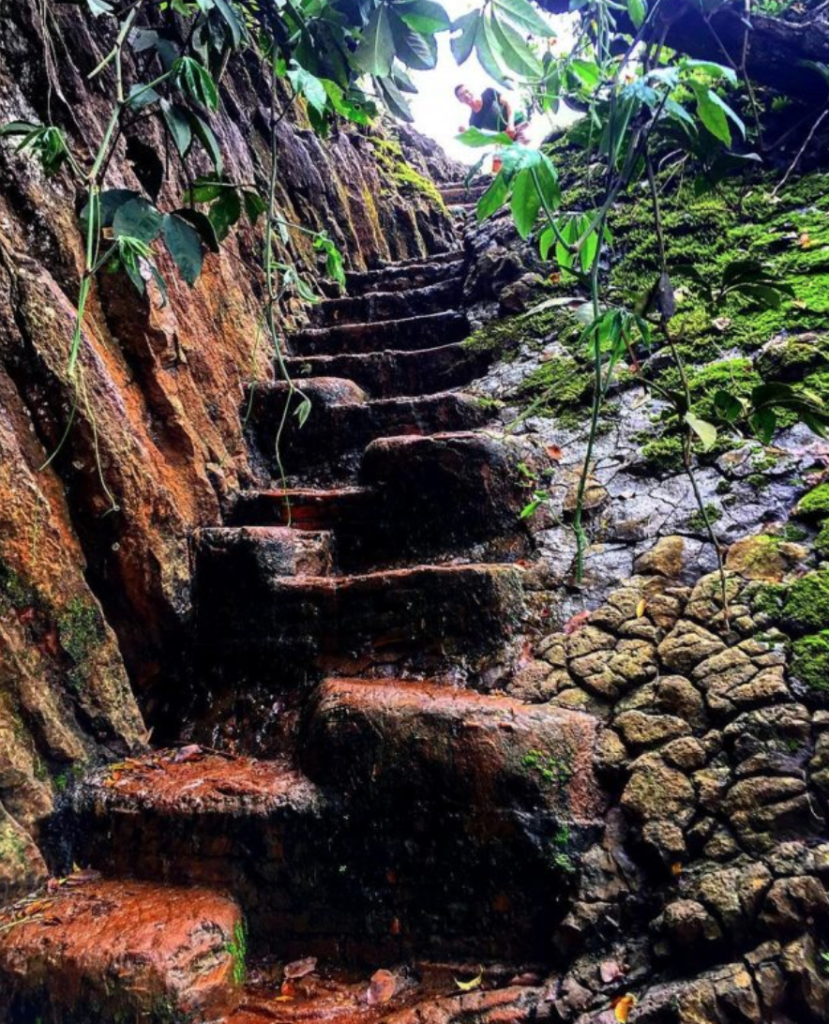 12.Pongour Waterfall – Da Lat
These beautiful falls aren't quite the flowing attraction they used to be. Though still beautiful, up-river dams have limited the amount of water that now flows over them. A great spot to sit and relax with friends, Pongour's location in the thick forest of the central highlands makes it an excellent spot to visit by motorbike.
Location.

Just under 50kms from Dalat city, these aren't the easiest falls to visit but a nice addition if you're in the area.

Other falls nearby.

If you're on a motorbike waterfall tour, adding in Elephant falls and Gougah falls make a nice tri-falls tour. 
13.Dambri Waterfall – Da Lat
One of the most incredible waterfalls in Vietnam, a massive in-your-face display of roaring water greets visitors with a damp welcome when you step out of the elevator that takes you to Dambri falls. This is one of the biggest waterfalls in Vietnam, raining down from over 60-meters. It's more than just a stunning waterfall the site also has restaurants, a theme park and plenty of places looking to trade your money for memories.
Location.

A lengthy 130km drive from Dalat or a quick 20km drive from Bao Loc city. The easiest access is via the DT735, but there is some off-roading in the area too. 

Travelers tip.

If you're looking for entertainment, plan to spend some time here. There's a roller coaster, swan boats, and some paths to hike on.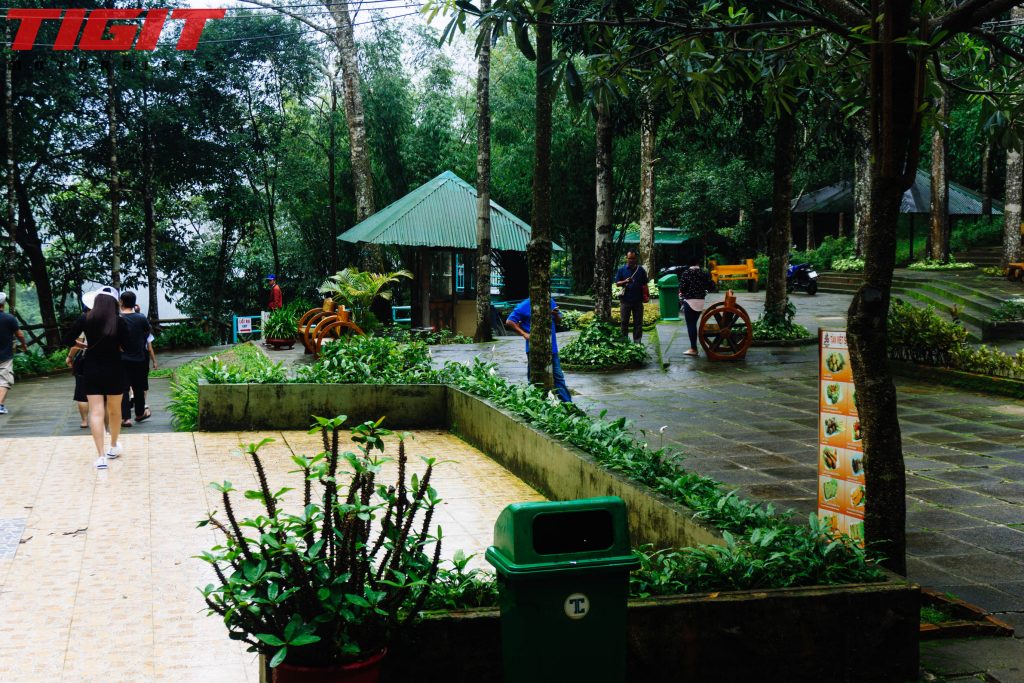 14.K50 Waterfall- Binh Dinh/Gia Lai
One of 12 falls in the Kon Chu Nature Reserve, just finding K50 will require help from park staff and a trekking mission. Known as one of the top waterfalls in Asia and most incredible waterfalls in Vietnam, this hidden gem sits in amazing natural beauty and is home to many of the park's birds. 
Location.

Roughly 100kms from Kon Tum or 150kms from Pleiku in

Binh Dinh Province

, once you reach the nature reserve it's a full day of trekking with a park guide to get you here. Come prepared.

Best time to visit.

The sunny and warm weather from March to June is one of the best times to seek out K50.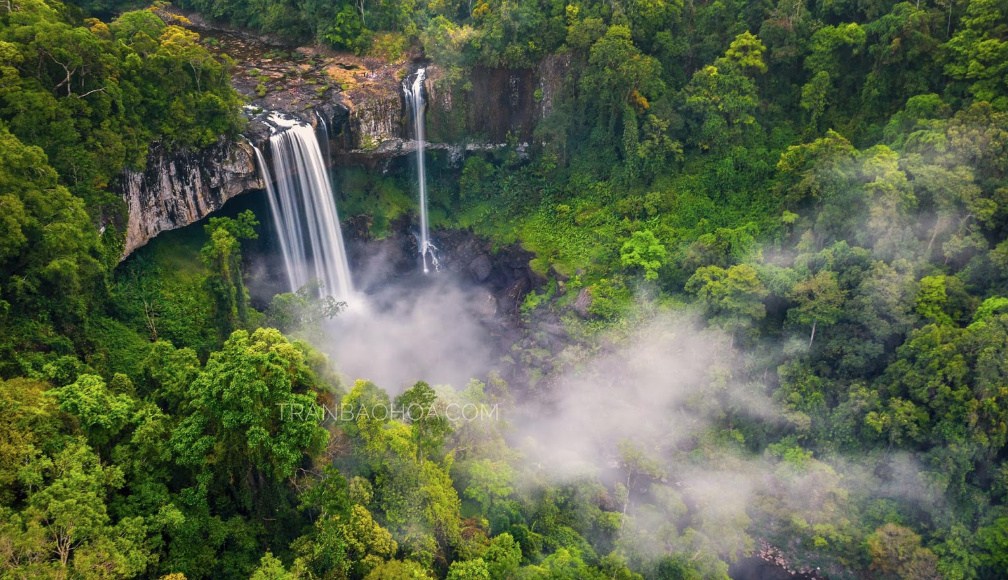 Image: tranbaohoa.com – K50 waterfall is the place to see before it finds its way into mainstream travel and loses its hidden charm.
15.Yang Bay Waterfall– Nha Trang, Khanh Hoa
Made up from the three smaller waterfalls Yang Bay, Yang Khang, and Hocho. Yang Bay is the combined result and towers up to 80-meters in height and around 2,000-meters long. Located in the Yang Bay tourist area, in Vinh Khanh district the falls are a busy attraction along with the onsite zoo and natural hot springs here. 
Location.

Roughly 45-kilometers from

Nha Trang

in the Hon Ba Nature Reserve.

Travelers tip.

Some of the

best waterfalls for swimming in Vietnam.

Here you'll find the same tiny fish found in lavish spas that nibble the dead skin from your feet.