Reading Time:
14
minutes
A strip of land on the South-Central Coast of Vietnam, full of scenery, food and culture,  Binh Dinh province is home to the incredible Cham history, exciting mountain exploration, and some of the countries culinary delights. Below we'll reveal what to taste, where to go, and why to stop and see the sites here.
Where Is Binh Dinh Province?  
Dividing the province into sections, the boundaries are marked by some of Vietnam's spectacular passes. The north holds the Binh De Pass acting as the natural boundary to Quang Ngai Province. In the south, Cu Mong Pass cuts through the rugged mountains connecting Binh Dinh Province with Phu Yen province. Heading west takes travelers through the vast Gia Lai highlands via the An Khe Pass. Finally, the east is bordered by a 140kms of the South China Sea and all of the beautiful estuaries, dunes, bays, peninsulas, and islands that come with it. 
If you were traveling from Ho Chi Minh City and trying to calculate how much time from HCM to Binh Dinh. The distance is roughly 650-kilometers if you follow the coastal route through Nha Trang. You'd want to allow 3-4 days of riding time. The journey is covered in our Saigon motorbike loops article.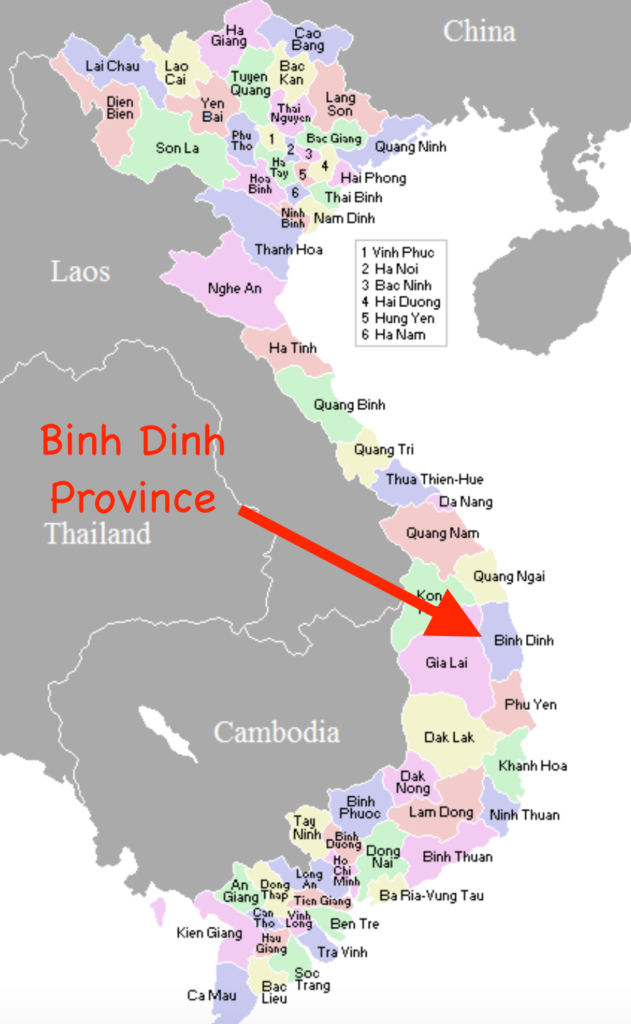 Cham Towers And Temples 
To fully understand the cultural and historical significance of the Cham Towers and Temples you must first know – What is Cham or Champa? The Cham Pa (Champa) were a group of pioneers that occupied a territory in today's Central and South Vietnam. The Cham were thought to be some of the first people to live in Binh Dinh province from roughly the 2nd to 15th century. Slowly Cham culture would succumb to various wars and by 1832 Minh Mang, a Vietnamese emperor, would annex any remaining territories the Champa had.Today descendants of Cham people are found scattered throughout Cambodia, Thailand and various parts of Southeast Asia. Many of these amazing architectural designs stood the test of time, with eight locations boasting 14 famous Cham towers. Visiting Binh Dinh will give you the opportunity to see them in person. 
Thap Banh It Tower
Located near Phuoc Hiep Commune, Tuy Phuoc. 20km from Quy Nhon City.

Built near the end of the 11th century.

4-towers built at this location

A.K.A. "Little Cake Tower" due to its cake-like appearance looking down on it.

A.K.A. "Thap Bac" or Silver Tower, named by French archeologists.

Recognized art monument by Vietnam's Ministry of Culture in 1982.
Canh Tien Tower 
Located at Do Ban Citadel in Nhon Hau Commune, An Nhon district.

Built around the sixteenth century.

Interior design includes purple sandstone that twists and carve in design.

Exterior has 4-tiers that get smaller as they rise creating the image of a bird or fairy flying.

Canh Tien translates loosely to Flying Fairy Wings.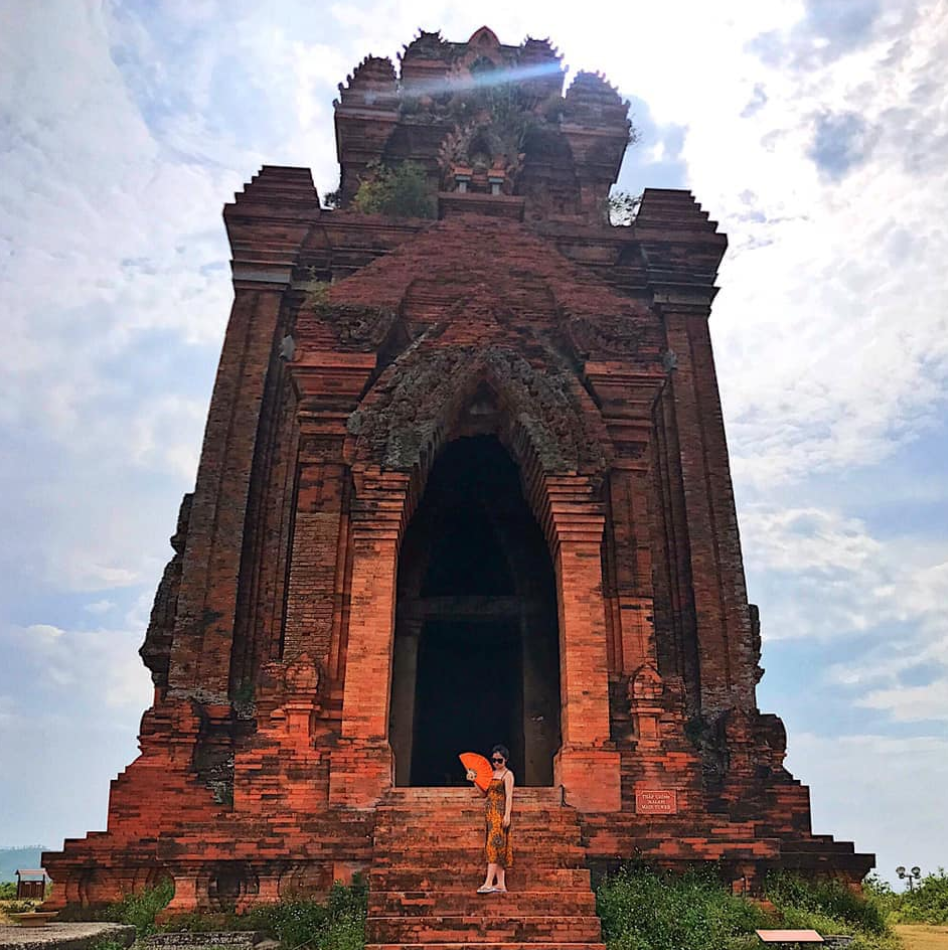 Thap Duong Long Tower
Located in Tay Binh Commune, Tay Son District, about 50km from Quy Nhon City.

Built near the end of the 12th century, and considered the most beautiful of the towers.

3-towers here. Central 42m high.

South

36m high. North 34m high. Highest in Vietnam.

Exterior made of bricks, sculptures, and carvings depicting animals that seem to come alive.

Recognized by the Ministry of Culture as an Art Architecture Monument in 1980.

Recognized by the Prime Minister as a significant national monument. December 23, 2015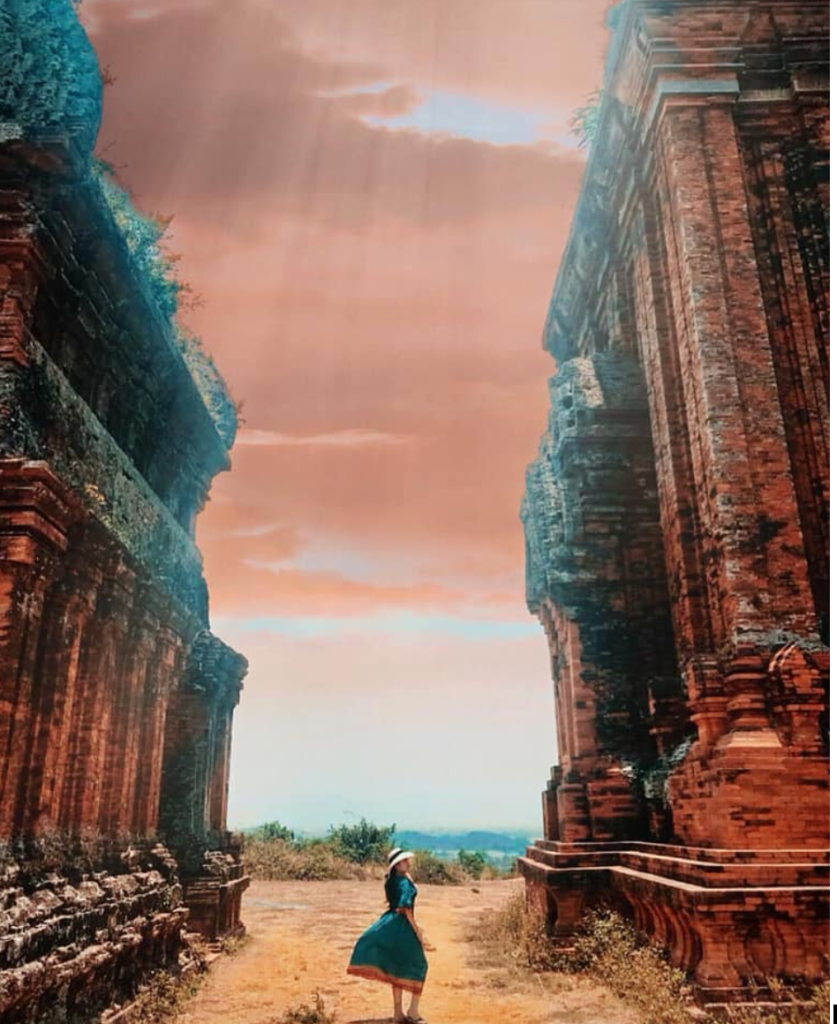 Thap Doi Towers
Located in Dong Da Ward, Quy Nhon City.

Constructed near the end of the 12th century.

A.K.A. "Twin Towers".

The two towers were constructed with roofs that curve up, unlike the typical terrace designs.

Noticeable Hindu influences in the artwork.

Garuda, Hindus part bird & part human god, sits severed at opposing corners of the roof.

Recognized by the Ministry of Culture as an Art Architecture Monument in 1980.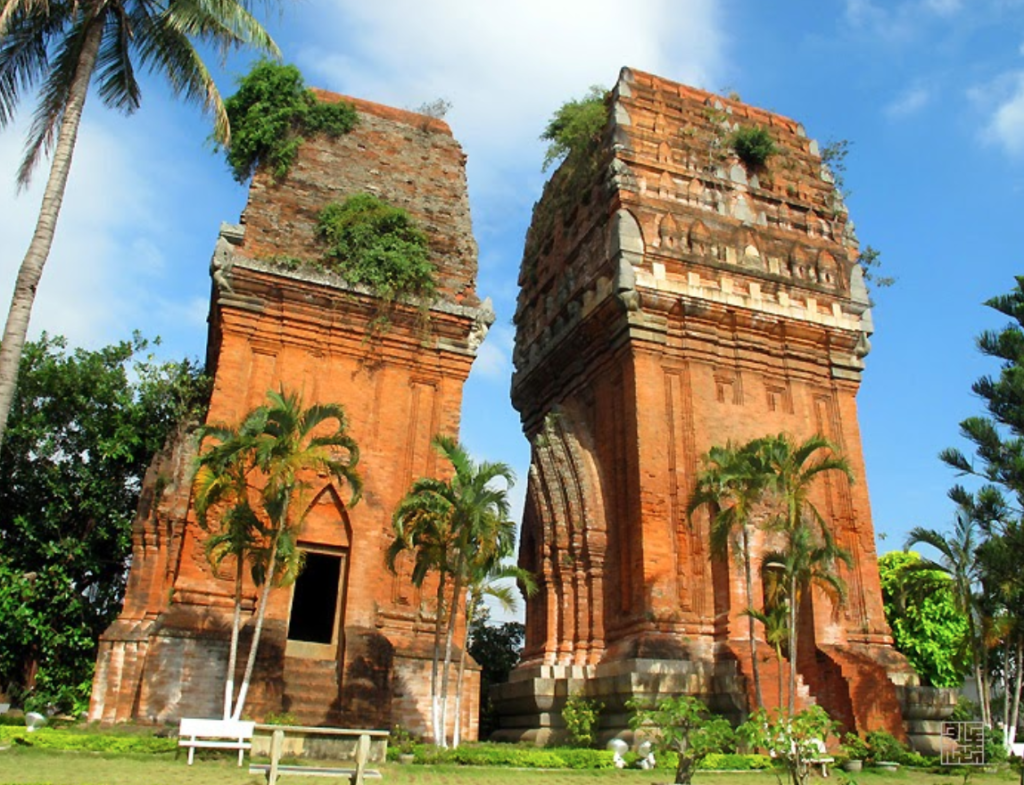 Binh Dinh Travel– Coastlines, Beaches, and Dunes
Eo Gio
Eo Gio is where the lush mossy mountains meet the calm coastal waters of the South China Sea. As a tourist destination, this is where you come to relax and enjoy the tranquility of Binh Dinh's hidden gems. 
Located just 20kms from Quy Nhon City, getting here by motorbike is great fun. Ride across the Thi Nai Bridge towards the coast and make your way towards Nhon Ly Commune.
Things To Do Nearby
Thi Nai Bridge

is another one of the

incredible bridges built around Vietnam

. 

Motorbike

the peninsula to explore Tran Hung Dao Statue, sand dunes & other beaches.

Ky Co Beach

. Calm, crystal clear water, and a little

adventure

to access. 

Seafood

is plentiful. Vist

Huong Duong restaurant for both food and tours to Ky Co.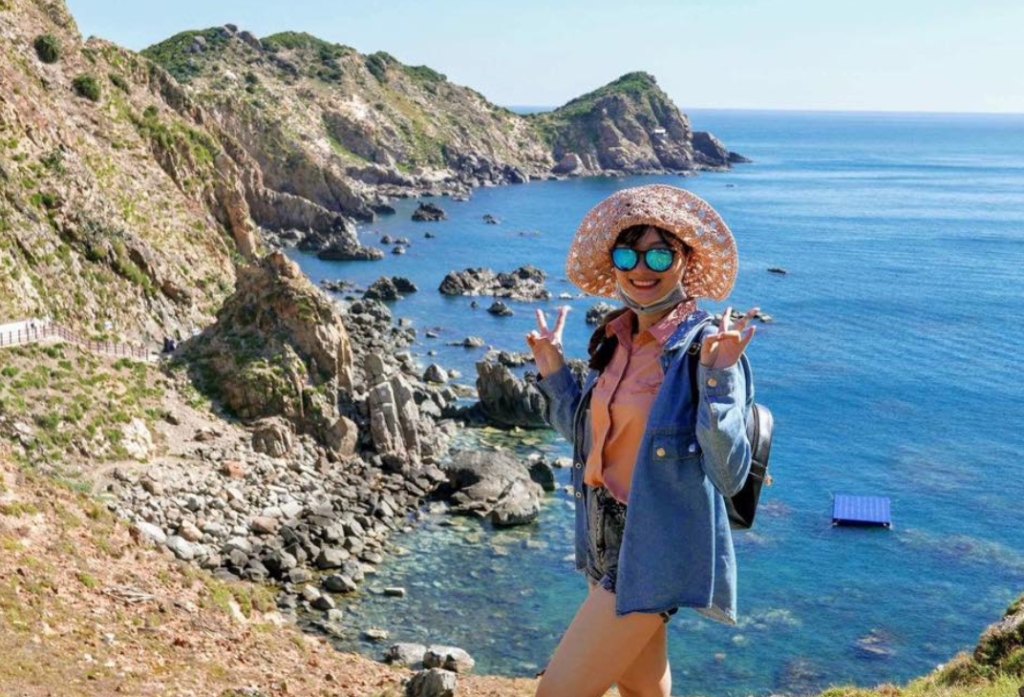 Phuong Mai Sand Dune
As part of your motorbike exploration of the island, stop and see the Phuong Mai Sand Dune or Sand Hill. The draw to these dunes is the views they provide. Towering 100-meters above sea level at points, you can see over Nhon Hoi town, Phuong Mai Peninsula, Thi Nai lagoon, and Quy Nhon City. 
Phuong Mai Sand Dune Highlights
Sunset

views here are incredible. Pack a couple cold ones and toast to the days end.

Sandboarding

is a nice way to see how out of shape you are. Find a local board to try this sandy

adventure

.

Changing scenery.

As the wind blows the dunes shift. Each visit is a new one.

Free.

Backpackers love the word free! Add this stop to the list of frugal activities.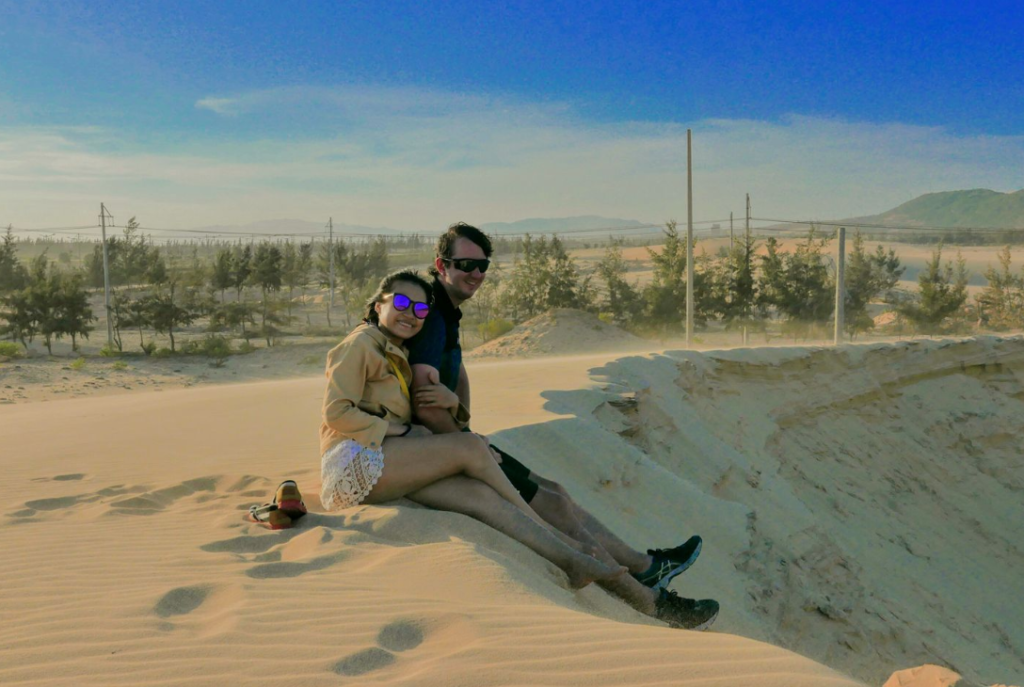 Vung Boi Beach
30-kilometers north of Quy Nhon City along Highway 640 then backtracking on the east side of the bay. A road followed by some trails and hiking will lead you to wild Vung Boi beach. For a real beach adventure with your motorbike rental ride out for the day and see where the locals go.
Vung Boi Highlights
Unspoiled by tourism with that raw feeling of quiet nature. The beach is largely dunes.

Hire a boat from De Gi to take you here. A good way to test your Vietnamese skills.

Hike from the parking area near Vinh Loi to the beach on the trails. Bring snacks and drinks, there won't be vendors on the beach.
De Gi Coastal Town
A quaint coastal town rests between a freshwater bay fed by the La Tinh River and the South China Sea. Protected by the protruding peninsula across from it, De Gi is often referred to as De Gi Bay. Located roughly 54-kilometers north of Quy Nhon, visitors here are met by friendly locals going about their lives without much influence from heavy tourism.
De Gi Activities
Fishing

is a popular activity, try your hand at spearfishing for a real challenge.

Beach

days next to lake-like calm waters void of tourists.

Swim

the freshwater bay, then switch to the sea. Notice a difference in the salt?

Image: binhdinh.info – There are plenty of underwater activities to try out around De Gi. When's the last time you went spearfishing for your dinner? Try catching a fish in its own habitat. It's a little harder then you might think. 
Lo Dieu Rocky Beach

 
A further 50-kilometers north near the border of Quang Ngai lies Lo Dieu Beach in Lo Dieu Village. You can access the area by motorbike and explore the forested mountains that surround it or just stroll along the beach with the locals.
When deciding what is the weather in Binh Dinh, the coast will be warmer than up in the mountains. March & April are always good in south/central Vietnam and the end of the year could have cyclones. 
Lo Dieu Sights
Tidal changes

reveal hidden rocky outcrops forming mossy stone structures on the ocean floor. Nature's artwork comes to life here.

Explore

the waters to uncover what sea life waits for the return of the tides.

Motorcycle

over the narrow bridge of made from sticks – Cau Vi (Vi Bridge) – that crosses Lai Giang River. No stopping, just give it some gas and look straight ahead!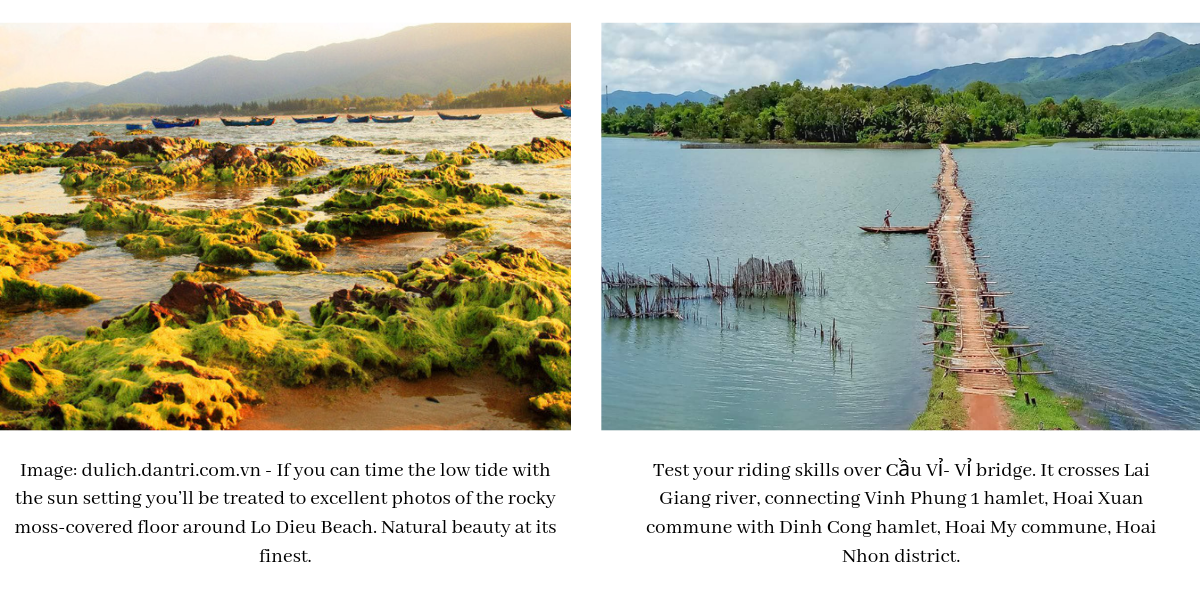 Lakes – Mountains – Waterfalls – Streams
Nui Mot Lake
Protected by mountains full of lush primeval forests that hide streams and waterfalls. The Nui Mot is a huge freshwater lake roughly 40-kilometers from Quy Nhon City. The waters here were once as bountiful as they are beautiful producing around 40-tonnes of fish annually.
Nui Mot Lake Sights
Ethnic minority groups

like the Bana people still live here. Ask around for a possible introduction.

Motorbike

out to the dam on the edge of the water then walk to lookout tower or to the small beach.

Photograph

the traditional fishermen as they set out each day to drop their nets.

Nui Mot Lake is a must-visit gem in the mountains. This incredibly large body of water provides life to the region via fresh fish and freshwater. It's truly a welcome sight to see and explore. 
K50 Waterfall
Truly a hidden wonder, the K50 Waterfall is a new discovery to the world of backpackers looking to explore deep into the heart of Vietnam. Located not far from the Ho Chi Minh Trail route in the Kon Chu Rang Nature Reserve of K'Bang district. Here you'll find the flowing life-line to the park.
The secret is kept undercover of the misty jungle where a day-long trek through unmarked trails will lead you to the majestic rockface where the river plunges like a liquid curtain before it's reunited again far below.
K50 Waterfall How To Get There
Make your way from southern Qui Nhon, central Pleiku, or northern Quang Ngai Kon Chu Rang Nature Reserve.

At the park or in advance, contact the administrative staff to inquire about help navigating through the jungle to the falls. 

Be prepared with food, water, and sturdy hiking shoes. The trek takes the whole day and is not for those who like Sunday strolls. It's well worth it.

Image: binhdinh.info – The hidden K50 waterfalls are just the challenge a true adventuring explorer needs. It's not often you get the chance to discover such a sight in the modern world. 
Ham Ho Tourism
A local tourism spot on the Kut River in Tay Phu Commune. Ham Ho is easy to travel to by motorbike, roughly 50-kilometers from Quy Nhon. The main draw here is the calm river waters you can explore on or around. 
Things to do in Ham Ho
Boat tours

on the river with man-powered punters make for a fun river ride through the rocky canals.

Swimming

in the water to cool off is popular. There are safety ropes running through the river to aid those who sink better than swim.

Quang Trung Museum

just across the Kon River has a display from once ruler,

King Quang Trung. If you're lucky, there might also be some Kung Fu Dancing reenactments.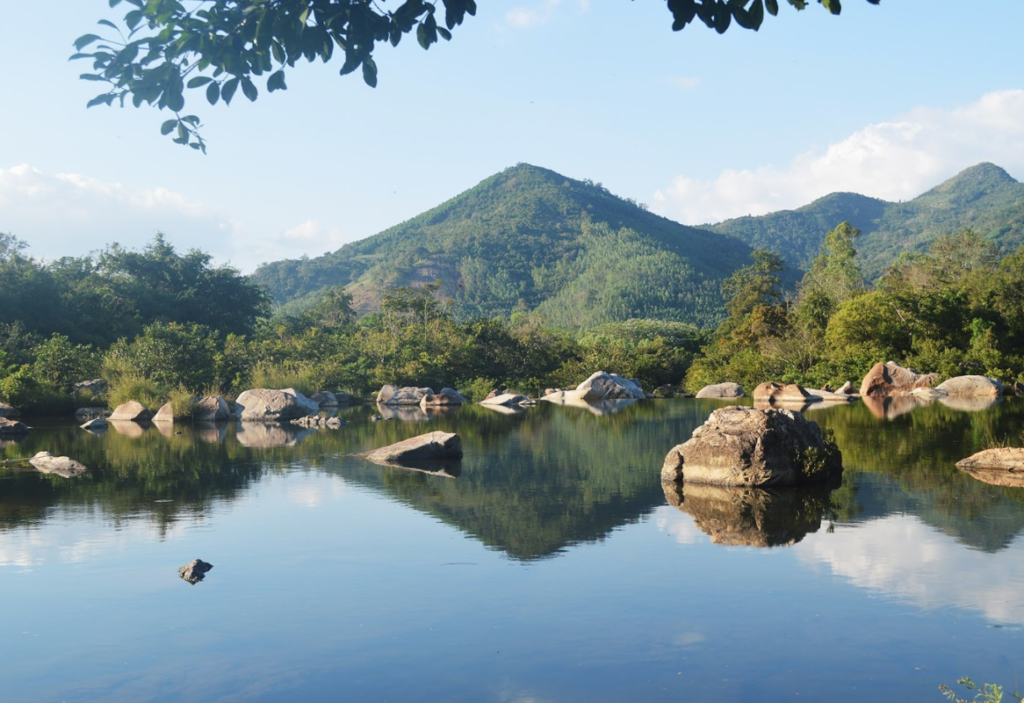 Vung Chua Mountain – Quy Nhon City
For the most impressive views over Quy Nhon City make your way up to the lookout point on Vung Chua Mountain. From here you can enjoy the panoramic vistas over the city, the bay, and the ocean. Many people make the pilgrimage here to watch the world come to life for sunrise.
Getting To Vung Chua
Motorbike

is the easiest way. From Quy Nhon, it's roughly 15-minutes up the steep road to the lookout.

Hiking

to the point is a great way to incorporate some exercise. Allow around 45-minutes. 

Queens Beach

is a little rocky beach on the ocean close by to ride out and take some photos.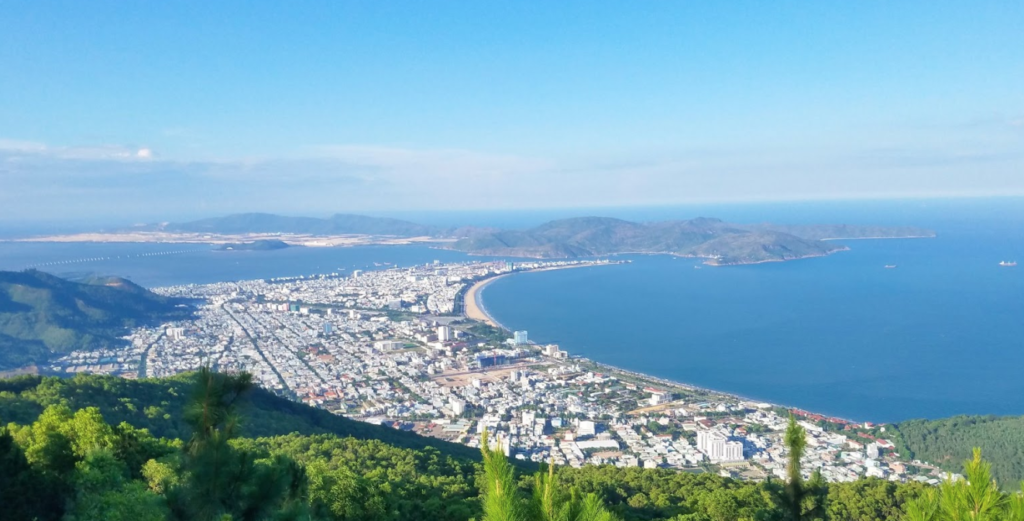 Regional Food and Dishes
Each region of the country has its own flavor and unique cuisines waiting to be discovered. Binh Dinh province is no different and we've narrowed down some of the must-try delights to find when you travel here.
Grilled Nem 
Nem Chua is a combination of pork and spices left to cure for 24-hours before being served. The idea is that the spices will aid in the curing process as well as provide flavor. In Quy Nhon, they make a Crispy Grilled Nem with a fragrant sweet and sour taste and a crispy finish. Try it with soy sauce. For and authentic Grilled Nem, stop by Tuan Restaurant on Phan Boi Chau, Quy Nhon City. 10,000vnd should cover it.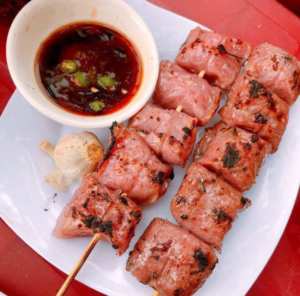 Shrimp Cakes 
The regional shrimp provide a flavor only found around Quy Nhon. To make the traditional Vietnamese Shrimp Cakes locals use only living river shrimp (Banh Xeo) that have recently been harvested. The flavor of the shrimp paste, fresh regional vegetables, and crunchy crust make for a delightful dining experience. To try them for yourself in Nguyen Thi Minh Khai, go to Hoang Hoa Tham, Dinh Bo Linh or Xuan Dieu. 5,000-50,000vnd depending on the restaurant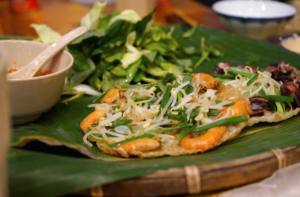 Bun Cha Fish 
The flavourful Bun Cha Fish dish is a brothy bowl full of vermicelli, fish ball, and broth served with vegetables. These ingredients blend together, creating a sweet and attractive flavor. The best place to try Bun Cha Fish is in the restaurants on Nguyen Hue street where they sell these famous fish noodles in Quy Nhon city.  25,000-30,000vnd / bowl.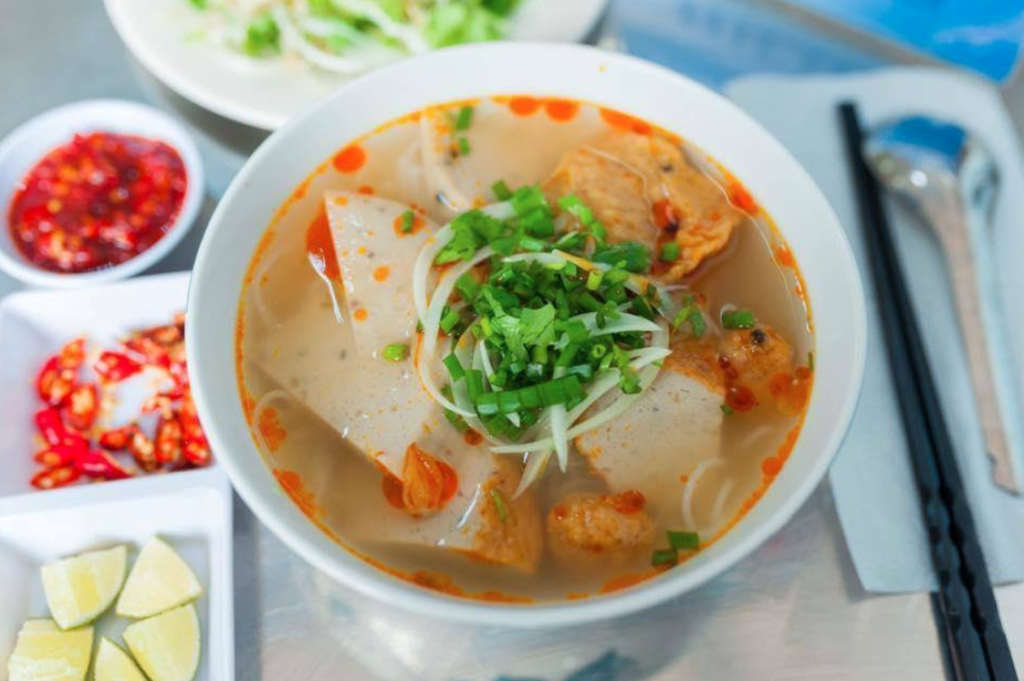 Quy Nhon Sticky Rice Paper 
A bit like a rice paper pizza, this rich dish is the combination of rice paper covered in crumbled meat and onions topped with a glazed quail egg. The full flavors and crunchiness of the dish topped with salty fish sauce are a local calorie-craving hit! The best local place to find Quy Nhon is She Binh Restaurant on Nguyen Thi Minh Khai Street. 10,000-15,000vnd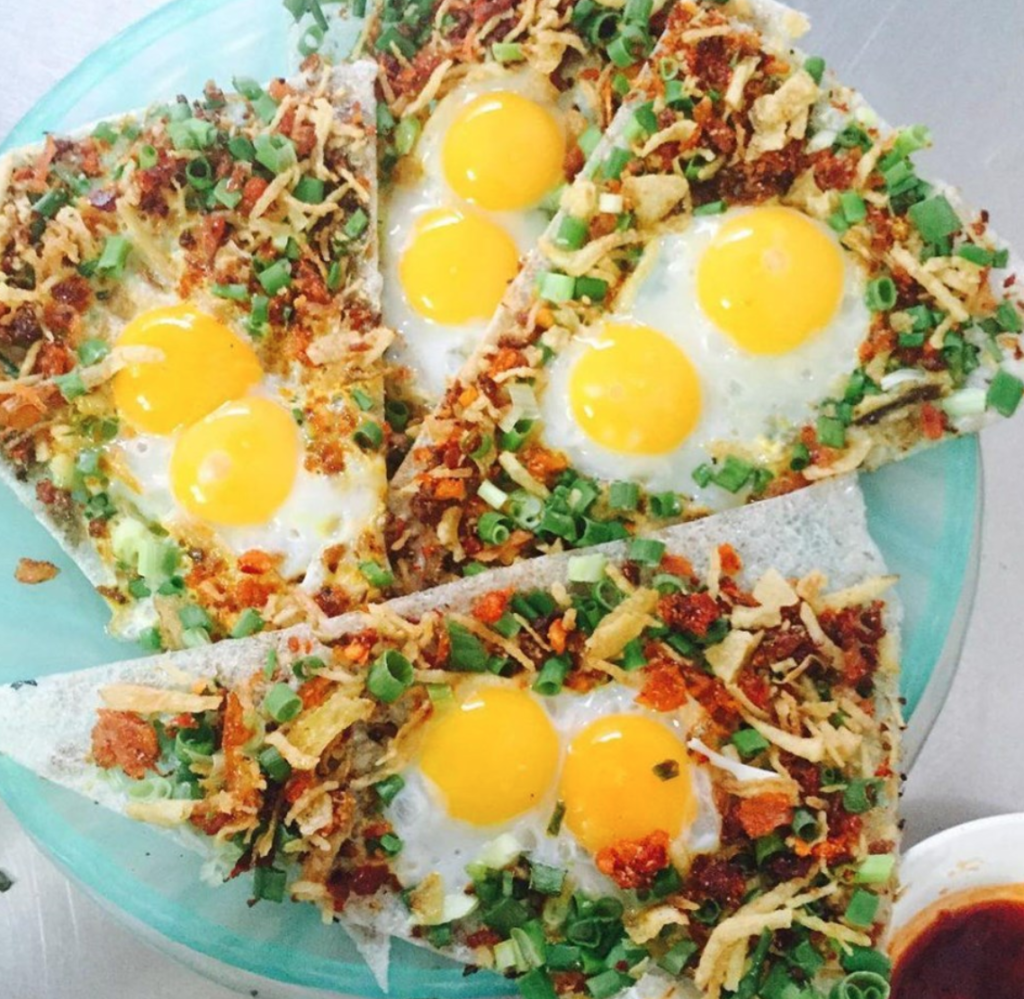 Banh Can – Small Savoury Pancakes

 
This local version of Banh Can is made from grilled rice flour, unlike regular rice flour like is used in the south of Vietnam for Banh Khot. These tiny pancakes are then pressed into molds then brushed with onion oil and fried. Finally, they are topped with shrimp and sometimes vegetables. Typically though, you'll find Banh Can topped with green mango, onions, and cucumber. Served with fish sauce for a bit of added flavor. Grab a beer and some tiny pancakes as a little snack.  Get your big foreigner fingers on these tiny treats at Ba Gia, Co Tam and Kieu shops from 20,000 – 30,000 vnd per person.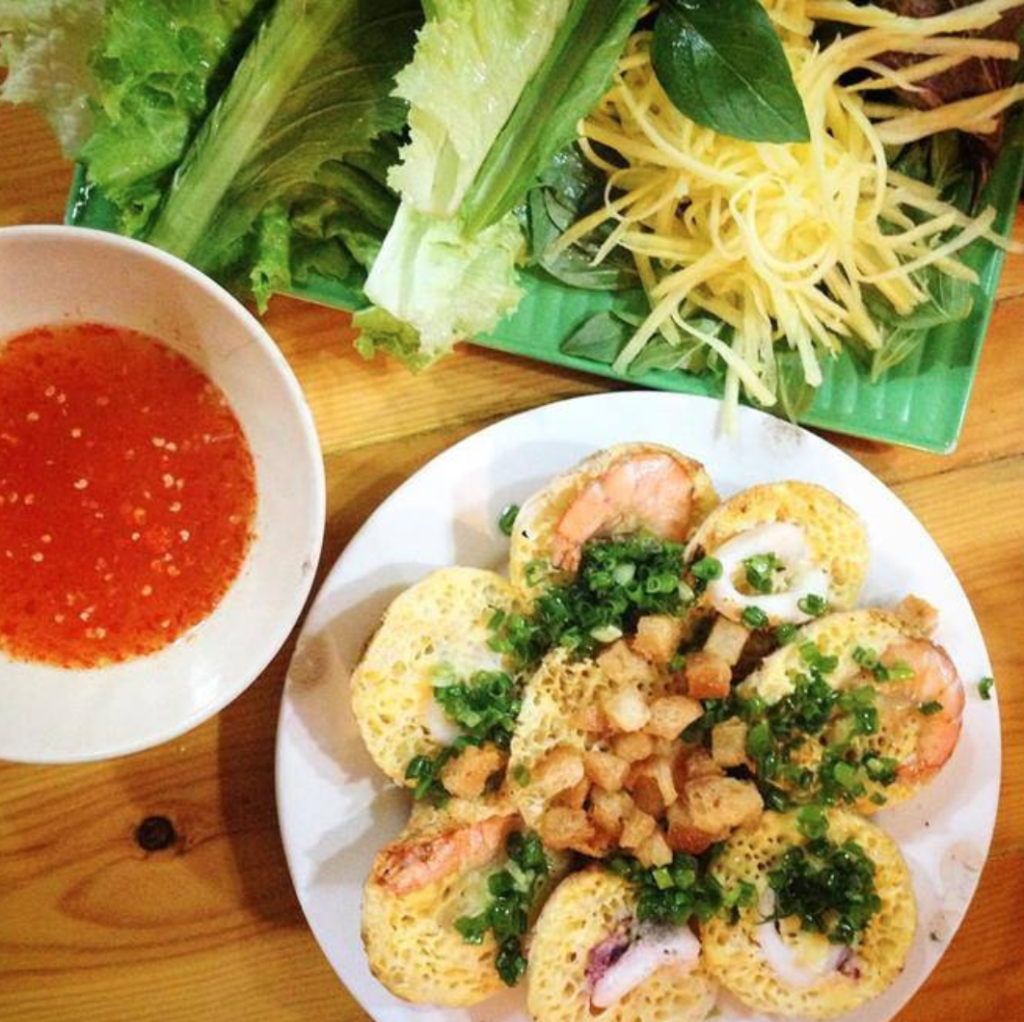 Quy Nhon Banh Beo
A dish made from rice flour, covered with a small layer of chives, shrimp and crushed roasted peanuts. An alternate version of this dish is made from crispy fried bread and pomegranate seeds then deep fried. Once cooked, it's sprinkled with sweet fish sauce for that added Vietnamese punch. Locals usually flock to Nguyen Tat Thanh, Nguyen Hue, Tran Hung Dao for their Banh Beo fic. 2,000-3,500vnd/ cup.10,000-30,000vnd/ dish. 
Raglai Bread

 
A popular breakfast dish in Quy Nhon, Raglai Bread is a hearty mix of pork, carrots, potatoes, and beans, all served with bread. Much like a hearty stew, this a good go-to dish on cold rainy days or before setting off to tackle some muddy backroads on your motorbike. You can find restaurants serving Raglai Bread on Nguyen Hue, Ngo May, and Pho Duc Chinh. 15,000-35,000vnd.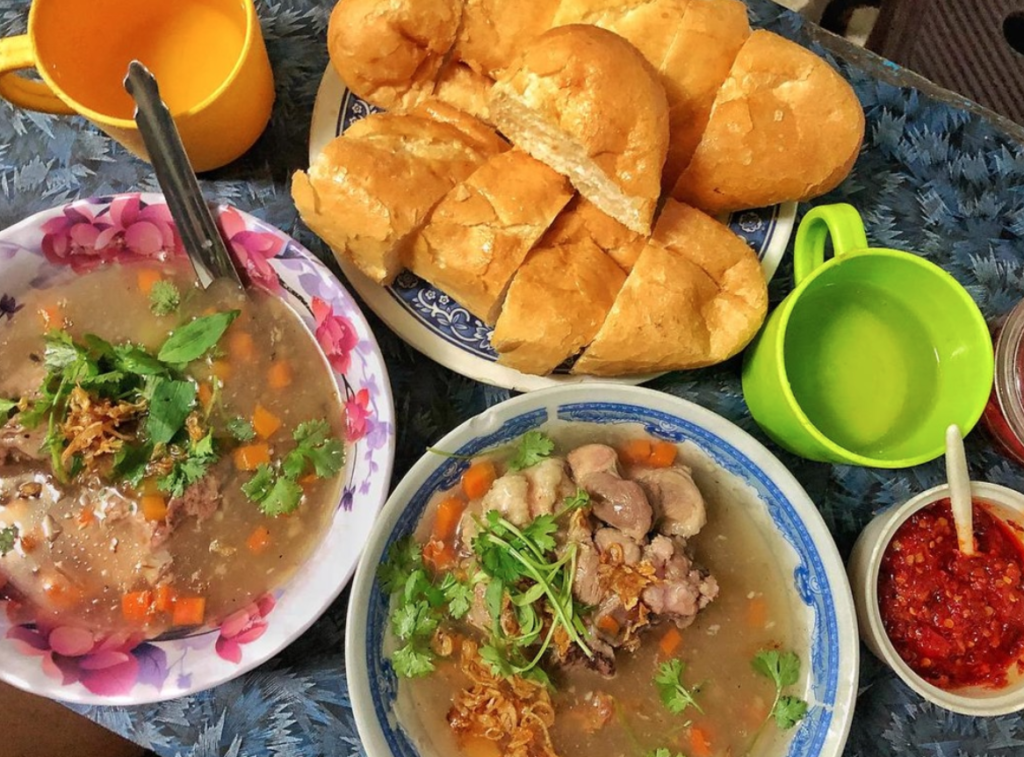 Banh Gai – Thorn Leaf Cake
Often given as a gift, Banh Gai is a soft rich cake waiting to be unwrapped from its steamed banana leaf casing. Made from hemp leaves, green beans, coconut, and ginger, this digestive aid is best savored slowly after a meal. You can visit the famous shop on Chuong Duong street to buy this gift. 3,500/ piece.
Bau Da Wine
The wine of Kings and the Royal Family, Bau Da Wine is exclusive to the region of Binh Dinh. Arsenal Bau Da winemakers must go through an elaborate process where newly-harvested brown rice grains are combined with a special water then distilled for 6-hours. 5kg of rice mixture yields 3.5 – 4 liters of this potent alcohol. 
Professional winemakers test for quality by first listening to drops of wine falling into themselves from a distance then smelling the aroma given off as it fills the air. A few snifters of the luxury 50%+ alcohol probably helps tip the quality scale in favor of these vintners 🙂  

People & Culture Of Binh Dinh
A part of the country so unique that Binh Dinh's people and culture were recognized by the Ministry of Culture, Sports and Tourism as an important part of national heritage in 2012. This land known for its deep roots in martial arts, Cham culture, regional and abundant natural beauty come together like nowhere else in Vietnam.
Martial Arts
A tradition dating back as far as 600-years, martial arts finally kicked its way into the mainstream with help from King Nguyen during the Tay Son Dynasty.  Today martial arts is practiced in many of the villages and cities throughout Binh Dinh. Every two years Binh Dinh holds the International Festival of Vietnamese Traditional Martial Arts held for national and international students and competitors.  Binh Dinh travel can lead you to local martial arts masters who can train you. One of the best places to witness the Tay Son martial arts is ​​Quang Trung Museum. Tam Quan is a good stop for motorcyclists riding the Quy Nhon to Hoi An route who want to get to know the true heart of Vietnam, its incredible cultures and the bountiful history of Binh Dinh. 

Image: news.zing.vn – A training session of the Viet Anh Dojo teachers and students at the campus of Banh It Tower, Tuy Phuoc District (Binh Dinh)