Reading Time:
8
minutes
Buying a motorbike might make or break the budget and adventure during your trip to Vietnam. The country is full of quality motorbikes and the overall value of traveling Vietnam by motorbike is one of the best in the world. To make your research easier and know what potential problems to watch out for, we broke the process of buying a motorbike in Vietnam into five simple steps.
Tigit has motorbikes for sale at their sister site Chrunix.com. Preview our current models for sale and consult with our motorbike professionals to get the best bike for your riding style.
1. How Much Money Do I Need For Vietnam?
When it comes to renting or buying a motorbike in Vietnam, the phrase "you get what you pay for" is an accurate description. Buy a motorcycle for under $300 and you are likely to get an old outdated bike that's hard to find parts for. That, or a Chinese motorbike that's going to need ongoing maintenance. This is no difference to buying a $300 car back home – don't lose perception of value for money just because this is Vietnam.
How much is it to buy a used motorbike in Vietnam?
Expect to pay $500+ for a quality used motorbike in Vietnam.
How much does it cost to rent a scooter in Vietnam?
There are two options; a cheap scooter for around the city and a quality motorbike for travelling with. 
City rentals.

Theses are cheap, low-quality scooters that are expected to stay within rescue range of where you rented it. Easy to find near hotels and tourist centers from as low as $10/day.

Travel rentals.

These are high-quality motorbikes and scooters in pristine condition that you can expect to travel with, problem free, anywhere in Vietnam. Found from reputable rental agencies expect to pay $250-$950 depending on the model.   
Check our newer post about questions related to buying a motorbike in Vietnam.
Can a foreigner buy a motorbike in Vietnam?
Yes. 
If you are looking to save money by buying and selling cheap Chinese bikes, be sure you know what you are looking for. Breakdowns, continual oil changes, and a possible loss on investment for a quick sale might be the same or more than a quality rental. 

If you plan to rent a motorbike for more than three months, you'll probably save money by purchasing either a quality bike or a Chinese model but beware of the repair issues it might have.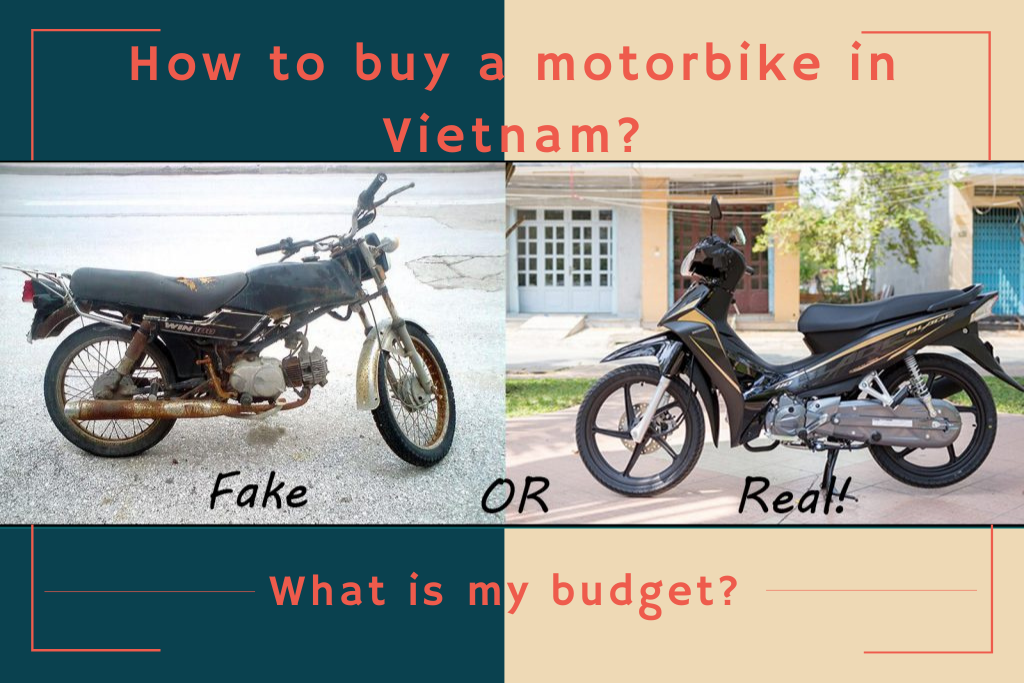 2. How Long Does It Take To Motorbike Vietnam?
It takes anywhere from one to three weeks to travel Vietnam by motorbike. When trying to budget for how much time you have for your holiday you'll need to ask yourself what's more valuable, your time or your money?
You might feel your limited money is more valuable if:
You

don't mind

waiting around for repairs on a broken-down motorbike.

A $500 deposit you should get fully refunded is

over and above

your budget.

You are

not interested in a properly performing motorbike. You just want a story on 2-wheels.

Safety is not a

priority.

You think spending a day or two in mechanic shops only adds to the experience.
If agreeing with the above statements then a Chinese motorbike or cheap scooter in the $300 range may be the right choice! If you go this way, plan some backup days at the beach or hanging out on your computer while your bike gets repaired. 
You might feel your limited time is more valuable if:
You want to see as much of Vietnam as you can while you are here.

You like the security of knowing your motorcycle will get you where you want to go.

You can afford to leave a $500 deposit that'll you should get fully refunded at the end of your trip.

You feel that riding a motorbike in a foreign country should be as safe as possible.

A planned day at the beach is better than an unplanned day at a mechanic shop.
If you agree that your limited time is more important than the chance to save money on buying a cheap motorbike. Then a rental motorbike is for you! If you go this way, you should be able to plan a fairly accurate holiday knowing your bike will get you where you need to go.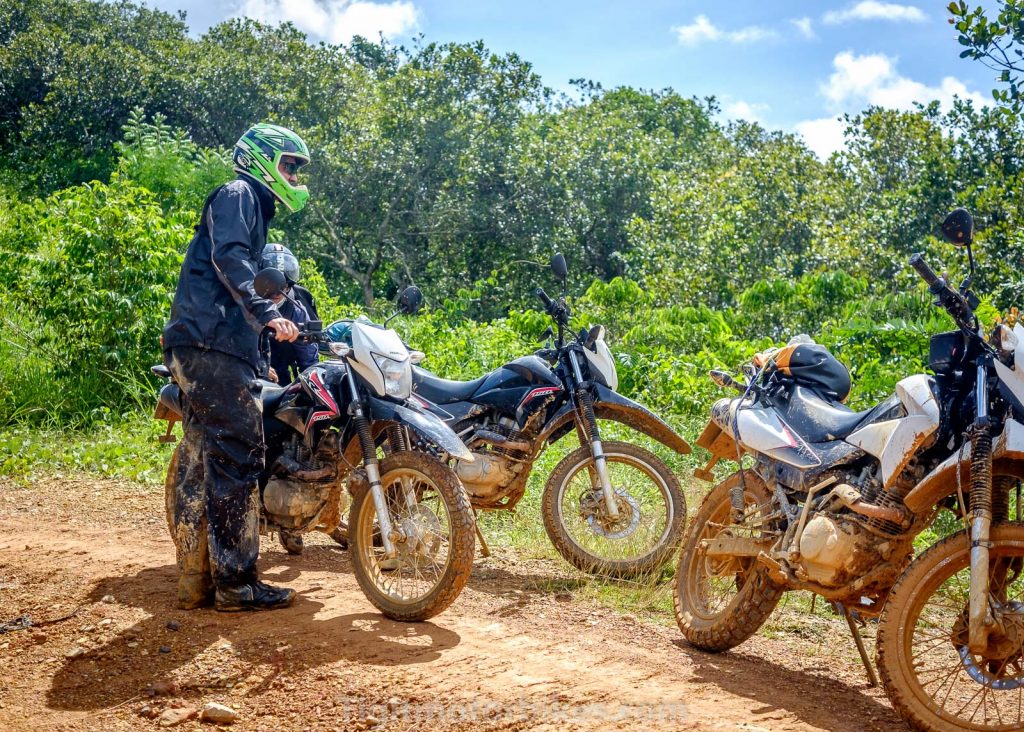 How long it takes to motorbike Vietnam all depends on what roads you decide to ride.
3. Where To Buy A Motorbike In Vietnam?
If you're still debating between buying a cheap Chinese motorbike or getting a reliable rental you'll need to know where to look and where to look out for!
In the rental market, there are only a few reputable establishments that operate between Ho Chi Minh and Hanoi offering long-distance rentals. These companies can be found sitting at the top of google searches, Trip Advisor, Facebook, and Instagram. It is a good idea to check reviews across multiple platforms and see if the company is providing good feedback across the board.
It is not wise to use the small backstreet rental companies, this is where the scams start to happen such as overcharging for scratches. Just remember the good rental companies take their reputation incredibly seriously and the chances of a bad motorbike or a failed holiday are slim.
When looking for Chinese motorbikes you can check Craigslist, Travel Swop, hostel poster boards, and Facebook groups. Here is what to expect from those.
Craigslist
Craigslist is mostly the smaller dealers with limited online reputations promoting their stock of similar motorbikes over and over again. You can usually find cheap, low-quality bikes here. These dealers are generally flipping well-known bikes. The upside is, even they avoid junk bikes that require too many repairs. The price is usually more than buying directly from another backpacker but could save you time. 
Keep an eye out for people offering "Free Motorcycle Delivery". This is never going to end well.
Travel Swop
A mostly broken and outdated website that still ranks highly on google. The Hanoi companies have manipulated the system so they always appear at the top. This website is now providing nearly no value to help buy a motorbike.
Hostel Bulletin Boards
Most dorm room related hostels will have poster boards and adverts for backpackers to backpacker sales. Backpackers often advertise "no breakdowns" and have a bad reputation for saying anything to desperately sell their motorcycle. 
 Poster boards are the riskiest way to purchase a motorbike in Vietnam. Backpackers often allow themselves to be "scammed" in order to get a cheap bike. Then they feel justified to sell that cheap bike to the next traveler in hopes of recouping some of their money, and so the cycle repeats itself. 
Facebook
If backpacker to backpacker sales really is the route that you want to take, then search buy and sell groups such as forsalevietnam. Although similar to Hostel related sales, at least here you can see the seller's profile and you can background check them enough to gain some sort of trust. 
Note: Most backpackers know nothing about motorbikes. They might honestly believe that their motorbike is in good condition. This doesn't mean that it is!
4. Best Motorbike Brands In Vietnam 
Any motorbike model in good condition has enough power to carry a traveler and luggage across Vietnam. One of the most popular motorcycles to rent is the Honda Blade Semi-Automatic, an insanely reliable bike ridden by thousands of people in Vietnam 
Some of the best motorcycle brands in Vietnam are Honda, Suzuki, Yamaha, and for the budget-conscious – SYM. When choosing off-brand or cheap motorbikes, each model has very clear pros and cons.
Cheap Automatics: 
Usually purchased by the least confident drivers. Cheap automatics such as the budget-friendly SYM Attila or the cute looking Yamaha Mio or Yamaha Nouvo are ironically some of the most dangerous choices!
Despite being manufactured by reputable companies, once they hit the $300 and below category they are usually over 14-years old (old for a scooter) and become more expensive to fix than to replace – you'll be riding a ticking time bomb!
Manual Motorbikes
"Real", manual motorbikes are rare luxury items with incredibly high taxes in Vietnam. This is why the weird market of Chinese copies exist such as the Honda Win. It made it possible for poor farmers to purchase a manual motorbike. 
You'll need to spend around $1200-2000 for a quality manual motorbike in Vietnam like the Honda Winner. The 150cc Winner is the most powerful and reliable manual motorbike in Vietnam. Buying anything less is going to turn a fun toy to a failed disaster. 
The upside is, Chinese copies like the Win can be fixed anywhere, and back-alley mechanics will happily charge you an inflated rate and get you on your way.
Semi-Automatics
Any semi-automatic, be it real or fake is likely to provide a reasonably successful holiday. The Honda Blade is a prime example of a quality motorbike used by thousands of riders in Vietnam. The Chinese semi-automatics are unbelievably cheap to fix and mechanics can put them back together with their eyes closed. Genuine Honda Semi-automatics are indestructible and come with Honda's world-class after service behind them. 
In short, Yamaha is a good motorcycle if you pick the right model. SYM is a cheap motorcycle that should be fine, but you might not want to venture far outside the cities. And, if you know nothing about motorcycles and had to choose just one. Pick a quality Honda and you'll be miles ahead of anything else for sale.
5: Test Drives And Paperwork.
A quality rental company chooses you as much as you choose them. Motorbikes are expensive, good reputations are easier to maintain than to fix, and dealing with dramatic or difficult travelers isn't usually worth the time. Desperate companies will usually deal with negotiation games, good ones usually know their worth. 
If choosing a reputable company, then you should already be happy and satisfied that the company's objective is to provide a safe and reliable motorbike. In this case, you're just getting a feel for the bike and making sure you understand it.
Test Drives. Test drive every bike before you buy it. Expect that something is probably wrong with it and that trying a few bikes before buying them could save you plenty of time down the road. We have a full article on questions for buying a motorbike in Vietnam where we go into detail about what to look out for.
The Bluecard. When buying a legal motorbike in Vietnam within the backpacker or any market, you'll want to confirm the details of the motorcycle Bluecard. What is a motorcycle Bluecard? The Bluecard is the ownership papers of the motorcycle and the importance of this card rises as the price of your motorcycle rises.
$500 and under. The Bluecard could be a paper copy or even a fake. Basically your bike isn't worth anything, who cares about the paperwork.

$1000-$2000. The Bluecard needs to be real, but the name on it isn't that important.

$2000+. All the bikes paperwork needs to be real with matching bike identification numbers and the owner's name correctly on the document.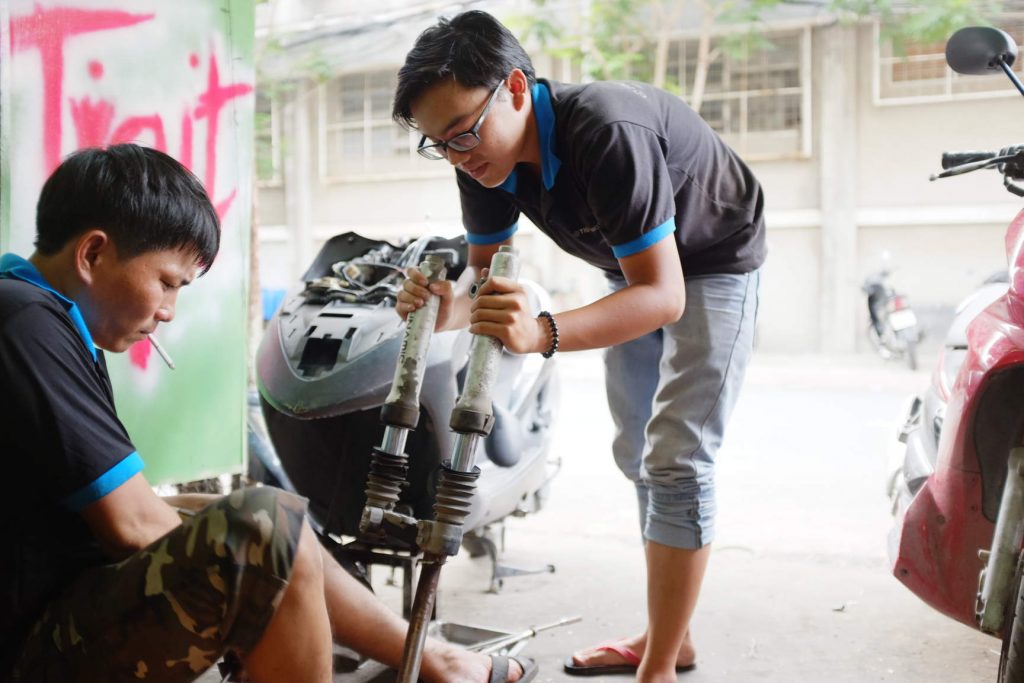 Summary
No one spends their time writing blog posts about how they made a bad motorcycle purchase, wasted their money and time in mechanic shops, or brags about wearing a plastic helmet when they knew their brain was worth more than $1. Do your research and use the best quality motorbikes and equipment you can while in Vietnam, you'll be happier you did.