Reading Time:
10
minutes
Adventure motorbikes are here in Vietnam and it's not all 70's Honda Cubs and derelict Honda Win's. Expect to see Honda CRF250's right up to BWM 1200's. The perfect bikes for Vietnam's roads and allow for the flexibility to experience offroad trails and spectacular countryside Vietnam is known for. As a rental, they are more competitively priced than the western world's red taped rules can afford. Not all legal, here's what you can expect to get your hands on.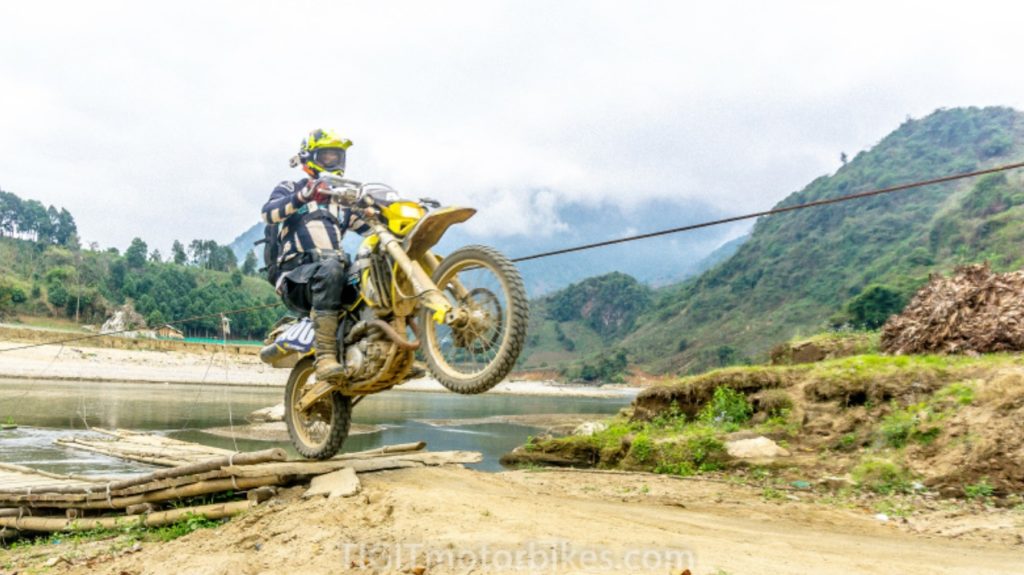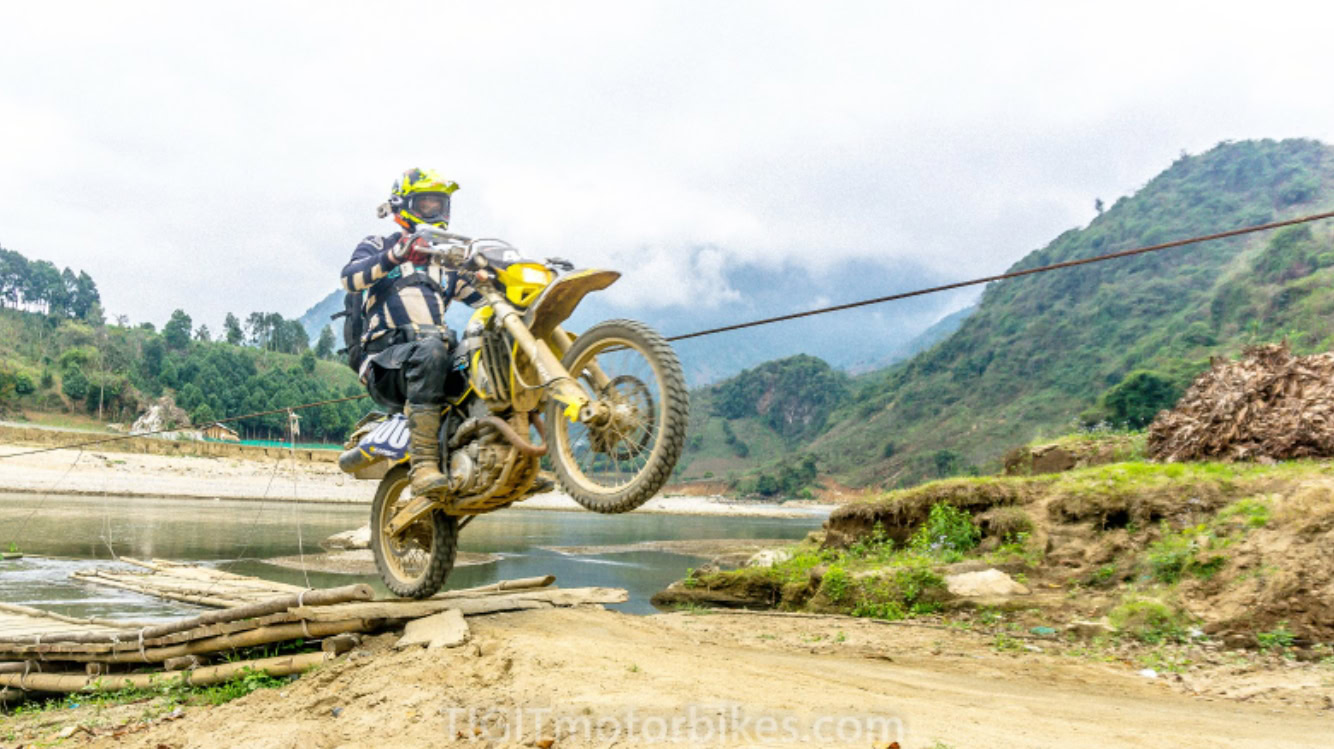 A wheelie so good it should be illegal, just like the bike is!
Why Suzuki DRZ400 Is Illegal and Kawasaki Versys Is Legal
Huge import taxes are levied on motorbikes over 175cc in Vietnam, making it impractical for the average rider to look much outside of what Vietnam is producing for motorcycles. Honda owns the brunt of the local market, but for those who can afford it, all the major manufacturers are setting up shop here. Ducati, BMW, KTM, Yamaha, Suzuki, Royal Enfield, Triumph, and the list continues to grow.
The cheapest imports are brought over from Thailand, but if you're not interested in a Kawasaki Versys 300 legally imported from Thailand and are looking for something like a DR-Z400 or Yamaha D'Tracker. Craigslist and Facebook might have your Blackmarket beauty for sale. 
Illegal "Model X" bikes like this are usually smuggled in from Cambodia without paying taxes at all. The importers generate fake paperwork for the bike and they can be seen running the roads or backroads of Vietnam. 
On occasions rarer than a traffic-free day in HCM, one of these bikes was actually imported legally by someone wealthy and has all the right documents. Eventually, the importer wants the next shiny object and this bike hits the open market. 
In our opinion, unless you can prove a very legitimate paper trail that this bike was bought in Vietnam, you'll want to avoid it like a "Free Massage".
Riding around as a confident foreigner with fake paperwork, generally, you would never need to do more than play dumb and offer up some "coffee money" if the police were to question your papers. As a local, it's a different story.
Trying to sell the bike on to a local, they know the risk of confiscation by police and that paying regular bribes will eat away at their bank balance and sleep at night. This makes owning the fake papered motorbike a risky investment. 
To put the dilemma in perspective, locals can buy a 250cc+ motorbike with no papers for around $3000, or buy a legitimate 150cc motorbike with papers for $3000.
For the extra 100cc, the perceived value for risking no papers has a huge reward. Well, a huge reward providing the motorbike isn't taken by the police! 
Illegal

– Suzuki DR Z400, used $3500. A real head turner with adv enthusiasts and riding around on two wheels illegally keeps your heart pounding.

Legal

– Honda XR 150cc used, $3000. Legal, reliable, blends in respectively well with the countries large number of Honda models.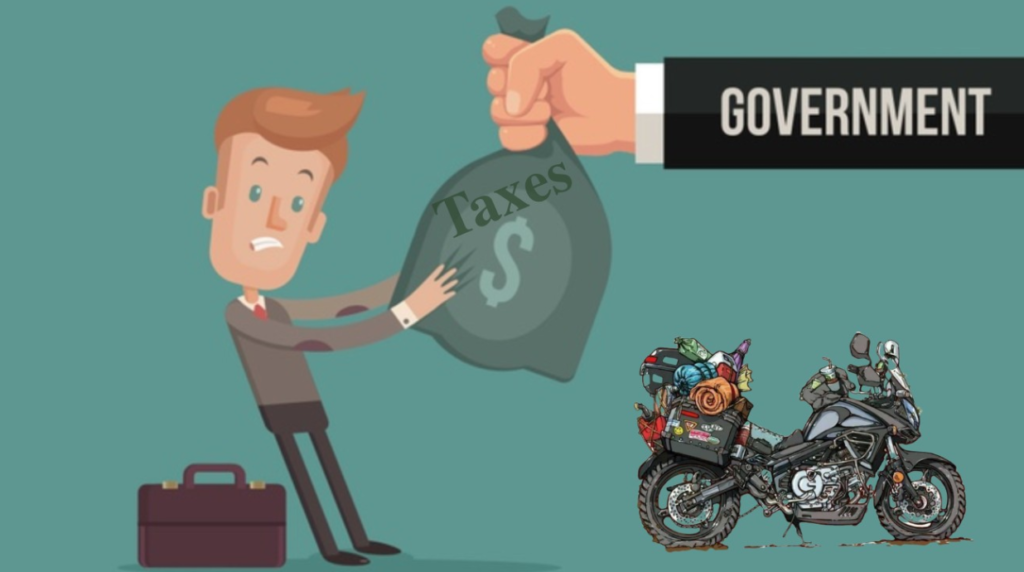 What Adventure Motorbikes Are Legally Available In Vietnam
The vast majority of Vietnamese are riding budget bikes like the Yamaha Exciter or Honda Winner, abundant and ideal for commuting. As for the adventure category, a small number of adventure motorbikes make their way to Vietnam and are legally distributed and sold. These tend to be around 40% more expensive in Vietnam than what they would be overseas. The $5000 Honda CRF 250L, turns into a $9000 Honda CRF250L in Vietnam. This hefty price increase is why fake or non-papered bikes are on the roads.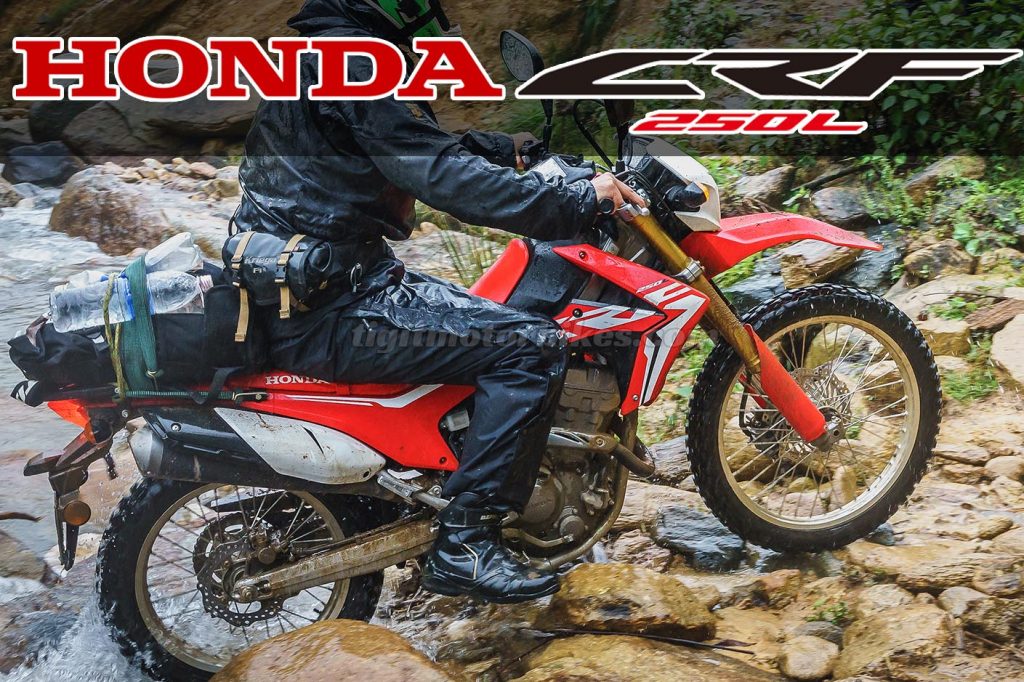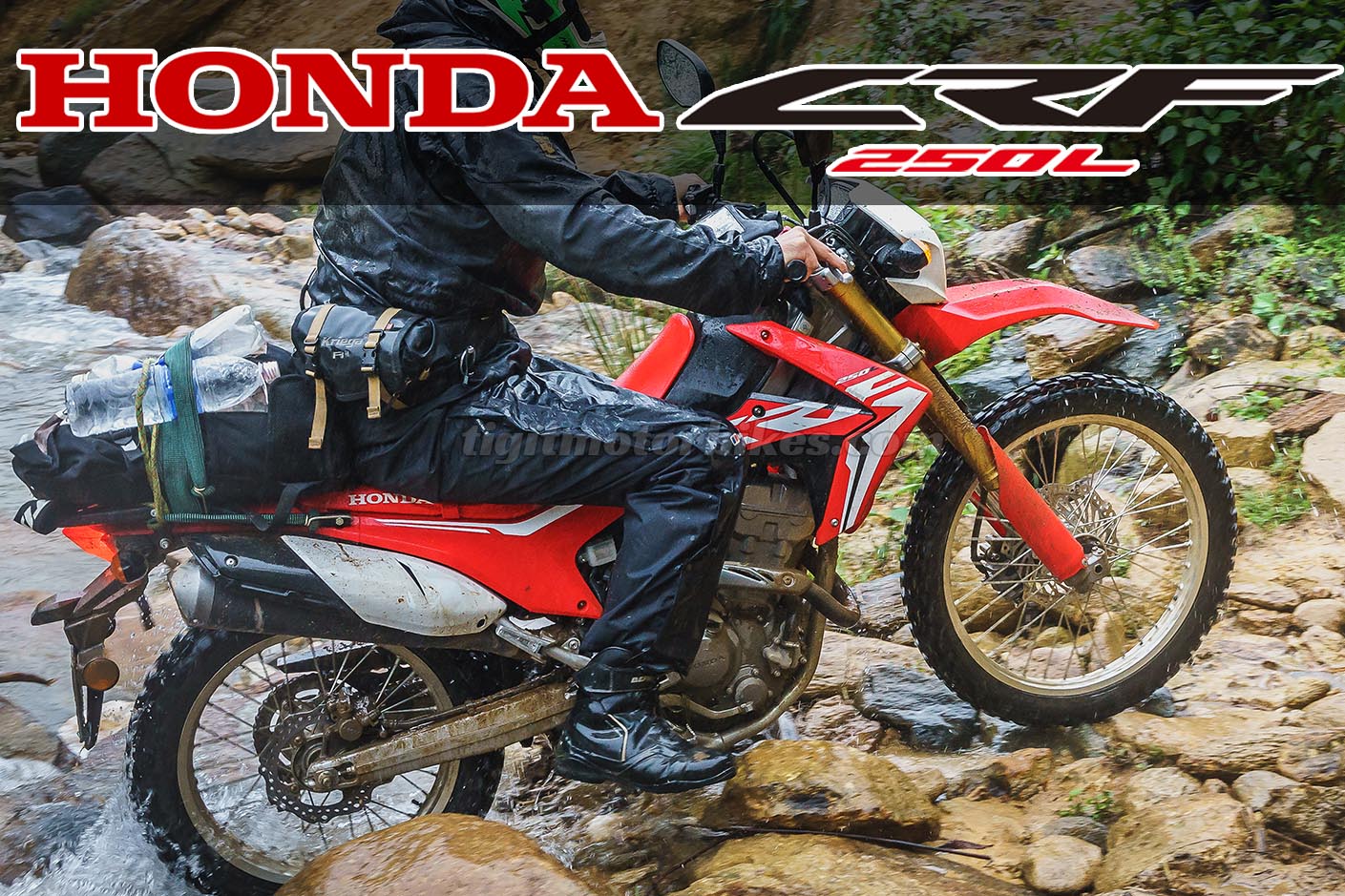 Honda CRF 250L and CRF 250 Rally
Price – $9000
Live in the UK, USA, or maybe Australia? You want to own a CRF250L. Easy, drive to your local Honda dealership and give them roughly $5000 or take the financing plan and ride away.
Live in Vietnam and want to legally drive a CRF250L? The process goes like this:
About once a year a shipping container with around twenty CRF250L bikes makes their way to Vietnam. 

This shipment is coordinated by specific importers and the combined funds from multiple motorbike tour companies. 

The bikes arrive, the 40% taxes are handed over to the government and each purchaser who could afford the $9000/ bike fee now has a coveted Honda CRF250L

You send the bike on its first tour knowing it's coming back dropped & scratched. Such is life for the imported Honda CRF250L. 
If you don't live in the motorbike community, have these contacts and have the funds, you'd never have a chance at owning this bike new in Vietnam.
These motorbikes will eventually filter into the second hand market after the motorbike tour company has used, abused and destroyed the motorbike. Hence it's common to see 10-year-old Honda XR's or CRF's for sale that actually have legit papers. If the tour company decided the motorbike was past its sell-by date, then perhaps you should too!
To understand just how difficult it is to buy a second hand motorbike, check out our article on buying a motorbike in Vietnam.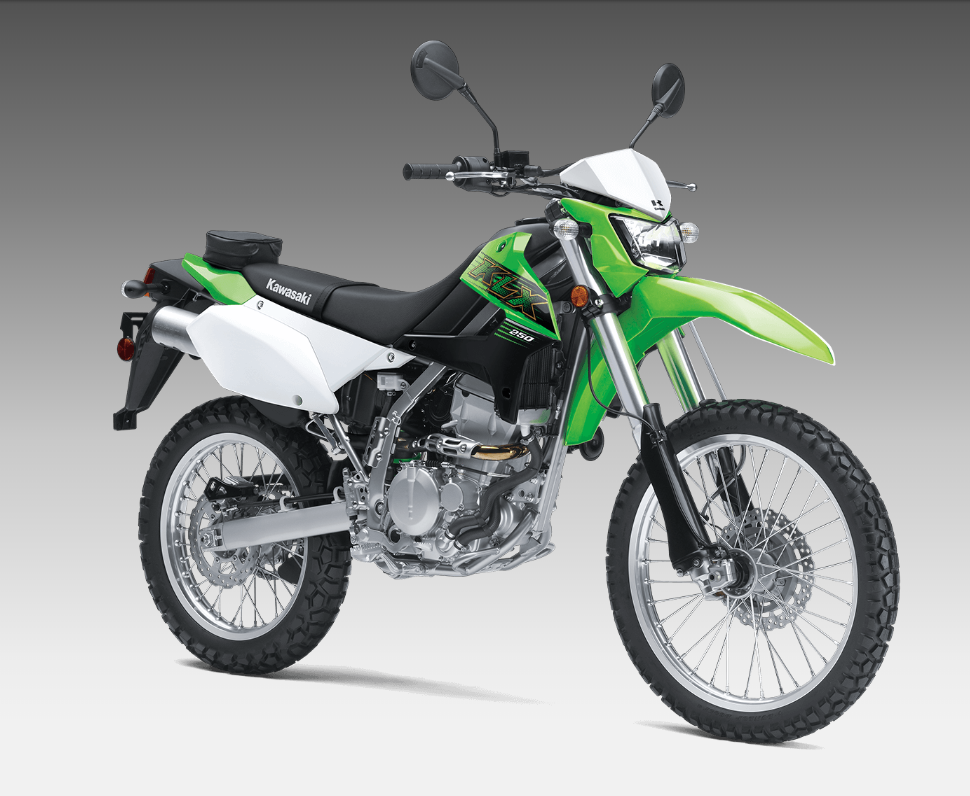 Kawasaki KLX 250cc
Price – $6000
The Kawasaki KLX 250 is one of the most popular dual sport motorbikes world wide. A more aggressive and lighter dual sport than the CRF 250L series.
The KLX 250 has been knocking around in Vietnam for years and is casually sold by Kawasaki directly. At just $6000 new, this must be one of the best value for money motorbikes on the market that is over 150cc.
It doesn't matter what model the motorbike is, a second hand "big bike" is always worth more than $3000 for the rest of its life. This means the depreciation and risk on investment is minimal when buying the Kawasaki KLX 250. Pick this up for $6000 and sell for $3000 in 10 years, an ROI like this rarely exists in the used ADV motorbike world.
The trade-off is that once Kawasaki sells the bike they have basically zero after sales support. Parts can be sourced via eBay, but Kawasaki isn't going to install them and these bikes aren't nearly as easy to service as Honda's CRF series.

Kawasaki Versys 300cc and 600cc
Price – $6500 with full adventure gear / boxes
The Kawasaki Versys was heavily promoted in Vietnam and came out with a bang. Then, Kawasaki quickly ran out of stock due to supply problems. It seems Kawasaki got the supply and demand matrix wrong. Either create demand, limit stock and raise the price. Or, stack them deep and sell them cheap. 
For $6500, fully equipped with side boxes and crash gear this motorbike is the best value purchase on the market today. Kawasaki's supply/demand problem turned the Versey's into a one-hit-wonder. Start humming Rico Suave if you see one riding around. You'll know what we mean.
Pros
Lightweight, just 184kg. Great for touring and picking up out of the mud.

Built for countries like Vietnam. Small, compact, and fits on the streets.

Reliable Ninja engine, one of Kawasaki's most proven and versatile engines.  

Value. Typically you can add 50% costs to a bikes price in luggage and extras. Here, it's already included.

Fun. This is a selling feature for a lot of riders. No one wants to be bored out of their skull when out for a ride.
Cons
There aren't many cons but the one glaring problem is a big one. The inability to get service and support means you're on your own once the bike is off the sales floor.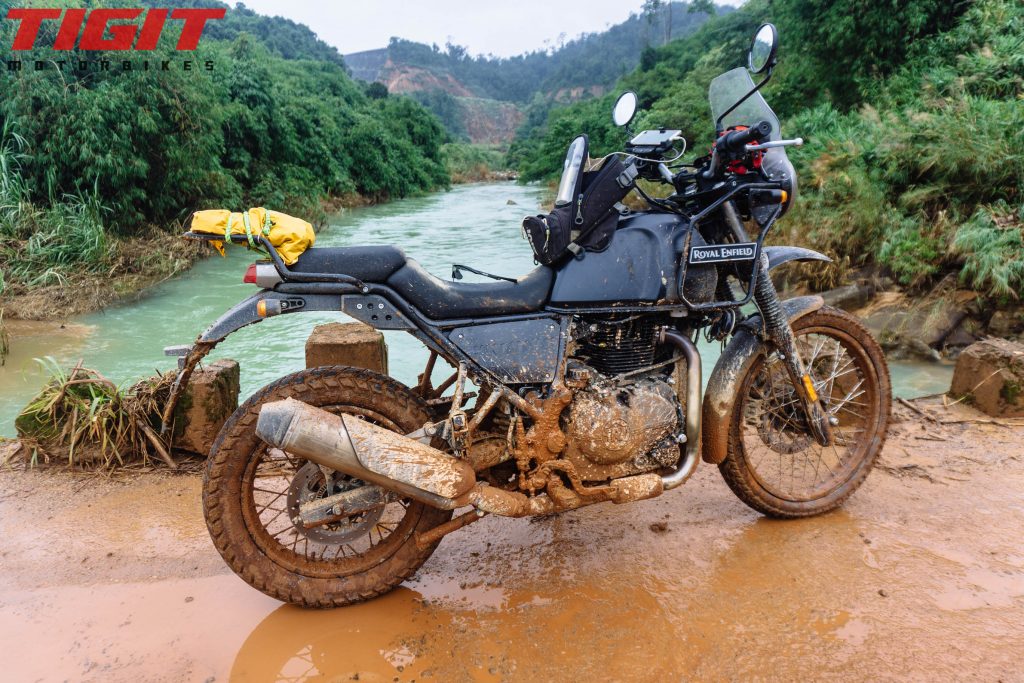 The Royal Enfield Himalayan 400cc
Price – $6500
The Royal Enfield Himalayan has caught the eye of the global market. Raising eyebrows and confusion wherever it goes. A classic looking adventure motorbike that is going against all the modern trends. 
I love the Himalayan on the roads of Vietnam and took one on a thrilling adventure motorcycle trip through Kashmir. The bike is full of character and fun to drive. The most 50/50 motorbike I've found when it comes to road and off-road capabilities. Following the same mindset as Kawasaki's KLR650, the Enfield isn't great at anything, but it is also not bad at anything either. 
When a flaw like service intervals and recalls are found in bikes like the BMM it makes the news. When you buy a Himalayan you're likely expecting defects and you're buying for character. This bike is featured more in news photos than news flaws due to its character and lackluster history. The Himalayan is an open door for conversation and happy riding. I'm sold!
Pros
Actual dual sport. The Himalayan can comfortably cruise along the highway and take a turn off into the single track to tackle tough terrain no questions asked. 

Low center of gravity, making it nimble enough to drive aggressively without being worried about getting stuck. 

It looks cool and is fun to drive. Curb appeal is half a motorcycles selling feature unless you're strictly focused on price. 

Compared to the modern "adventure tourers" claiming to have off road capabilities I would say the Himalayan has them beat hands down.
Cons
Reliability. Do you know the history of R.E.? This company has never been known to produce a reliable bike or even run a reliable business for that matter.

Not every service center is going to be able to work on a Himalayan. 

If you ride a Royal Enfield you're going to need a dealership more often than if you ride a Honda. However, you can find an R.E. dealer in Saigon, Danang, and Hanoi.

BMW 310GS
Price – $9500
BMW has their foot in the door of Vietnam and is making tracks. With two locations in HCMC, one in Da Nang and one in Hanoi, walking into their showroom is an entirely different experience than walking into any other motorcycle dealership. Expect an air of exclusivity to be wafting through the showroom as you nose around. 
With the 1200GS as BMW's most popular ADV bike, the 310GS is marketed as the lightweight adventure tourer in the GS lineup.
Why it's easy to love
Light, at just 169kg

Powerful 313cc single cylinder engine

6-speed transmission

Low center of gravity and upright riding position
For transparency's sake, I have never driven this motorbike. However, at a weight of just 169kg this does indeed make this a very lightweight adv motorbike. This lightness comes from being a tiny vehicle in the first place. The 310GS is David and the 1200GS is Goliath, each has its place battling it out in ADV riding history. 
I would say this motorbike looks great for entry level rider or female drivers needing a lighter option to the motorbikes commonly available. If you like BWM and are new to ADV riding, this is a good place to start.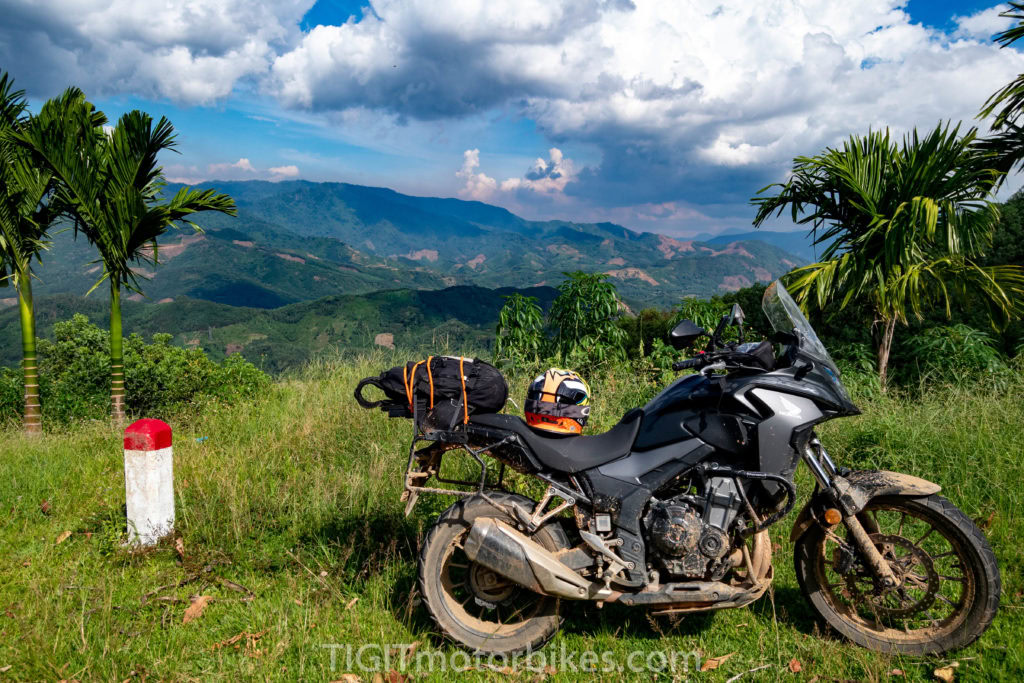 Honda CB 500X
Price – $10,000
The Honda CB 500x is a relatively new motorbike from Honda targeting the entry level adventure riders who aren't ready to commit to a bigger bike or higher price tag. Commonly found in matte black with muted silver lettering, it's a beautiful machine and it is difficult not to admire the image of this motorbike. The price, looks, and adv marketing have this bike popping up across the planet.
Pros
Honda reliability, comfort, predictability, and ease of use. 

Weight 196kg. Light, and easy to maneuver.

Fuel economy. You can ride nearly 500kms of asphalt on a 17.5L tank of fuel. 

This is one seriously cool adventure motorbike and for Vietnam, there is very little reason to get anything bigger or more powerful. 
Cons
Though marketed as an ADV bike, the short 170mm ground clearance coupled with exhaust the runs below the bike limit it's off-road capabilities. A bashplate is a must.

Pre 2019 modifications to change this into an off road bike (larger front wheel, increased fork length, longer brake line) made it comparable to just purchasing the Rally Raid. 

Factory windscreen directs wind right into your helmet. Sit low or add an extension.
 If you've ever wanted to give one a try this is an excellent country to try one out, Tigit rents the CB500X. These Honda's are so hassle free and cost efficient over their lifespan, that we have literally fallen in love with the CB 500x and Honda in general. Ride one and you'll see why.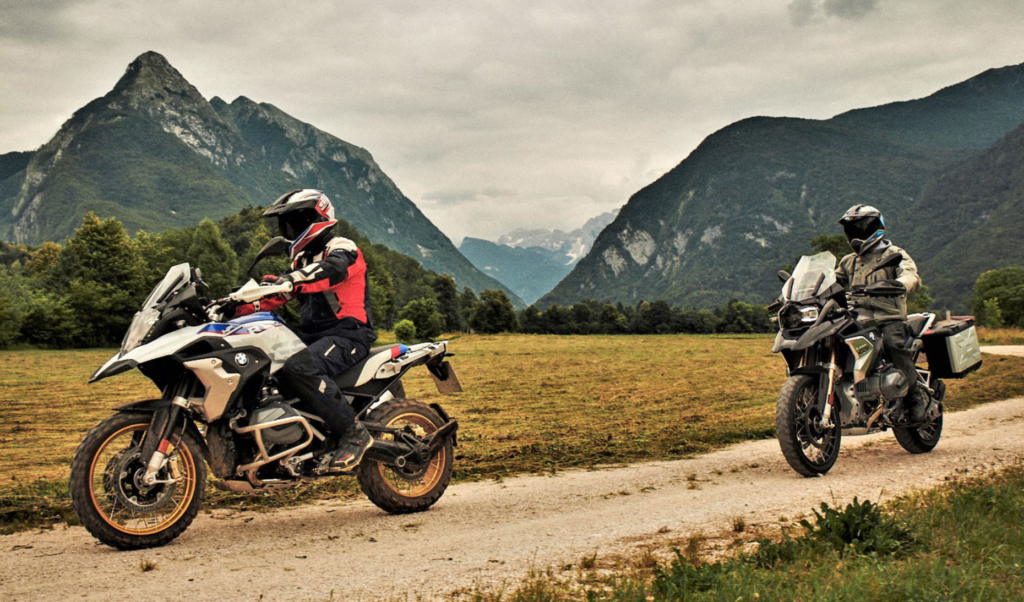 BMW 1200GS
Price – $22,000
The eye candy of the global motorbike adventure market, the BMW 1200GS is the number one ADV motorbike from BMW and for good reason. Couples with stylish good looks and as much modern technology as you could pack onto two wheels, there are some definite pros and cons to riding a 1200GS.
Pros
A highly capable machine that can take you, a mate and gear to any far off corner of Vietnam.

Instant conversation starter. For a country that lives on two wheels, you'll be pulling up on something akin to a Lamborghini most anywhere in the country.

Riding a GS across Vietnam… Heaven on earth!
Cons
Easily 2-3x the size of most motorbikes in Vietnam. Negotiating the streets in busy cities will be like driving a bus.

Attention can fall under the pro and con category. It's nice to have everyone coming 'round for a photo, you might also be looked at like a mobile ATM.

This bike will almost never require major service for the first 150,000kms or so, but if you did. HCMC and Hanoi are the only service center locations for help.
Tigit hopes to be the first-ever rental company in Vietnam to offer up this metallic masterpiece. One day soon you'll be able to ride across the country in premium-style. 
No further marketing is necessary, BMW has that covered. If you want to ride this bike we're here to help. Enquire with us for updates on when this dream becomes a rideable reality.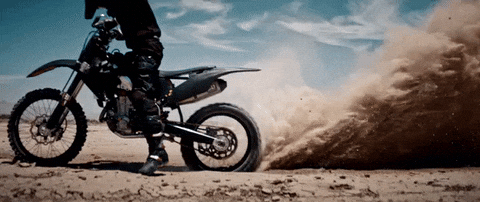 Conclusion
The choice is limited, but for the adventure motorbike rider, you know it only takes one bike as it's more about the adventure than the means of transportation. 
For the second hand purchaser, shopping in Vietnam is mostly suicide and a lot of people learn this the hard way. The supply isn't there and you're going to buy an under-serviced and overused lemon. At least they hold their value when you decide to sell it on.
For those looking for new, buying any of the above models is a far safer and financially sound decision than trying to buy second hand. Where else in the world are you going to buy a brand new ADV bike, ride it like you stole it, then sell it in 10-years for half the price? This is a rare buy and sell market.
If you're looking to try one before you buy one, Tigit can offer the brunt of the ADV market for rent and even take you out on one of our tours to test these machines in a variety of conditions. Test drive one of our ADV motorbikes for a day, week, month or on tour before investing for the long haul. Honda isn't going to take back a gently used CRF if you decide the seats too high after dropping it in the mud all day. We will, and we can put into the seat of a CB500X moments later if you want to exercise your options.