Reading Time:
10
minutes
When the open road comes a calling, and you're the one to answer it, you best be prepared with the right machine for the job. Anyone who's looking to get into the world of adventure motorcycling, looking to transition from their small scooter to something bigger, the adventure class motorbike is for you.
    Outside of the behemoth bikes you see decked out in shimmering oversized luggage and bulky protection to save them for when they kiss the ground. There are more practical adventure-style motorcycles for beginners. Smaller bikes are more practical for entry-level riders. However, some still prefer the look of a 300kg BMW but they'll never be able to drag it out of the mud. Whereas a Royal Enfield Himalayan will navigate its way around like a sturdy old mountain goat on adventures in exciting places like Dalat Vietnam. Introducing the best adventure motorcycles for beginners to shift you from dreaming into doing!
Image: bmwmotorcycles.com   – Anyone shopping based off stunning good looks alone, well, this baby-beemer turns heads every time. It's hard not to fall in love at first sight.
BMW G 310 GS
    Engine: 313cc
    Wet Weight: 169kg (374lbs)
Every major brand has its flagship model that everyone wants, and only a portion of the market can afford. You see it with car brands promoting original premium models to early adopters, then releasing a similar looking cheaper models years later. BMW is no different, and they managed to market a baby-beemer in the vastly popular GS division.
The distinct differences here are going to be the price as well as the engine. The trademark opposed-twin engine that typically hangs out both sides of a BMW would look like Dumbo ears if it were on the G 310 GS. Otherwise, for an adventure style bike, it will take you nimbly to most places a bigger GS could go. Innovative BMW off road motorcycle design, excellent handling, and brand leader with a stunning reputation. If you're looking for all the accolades maybe adopting the baby-beemer is right for you.  
Productions Years 2016-Present

10.9 Liter Fuel Tank

6 Speed

34 HP

Fuel Injected

Ground Clearance 220mm

Seat Height 835mm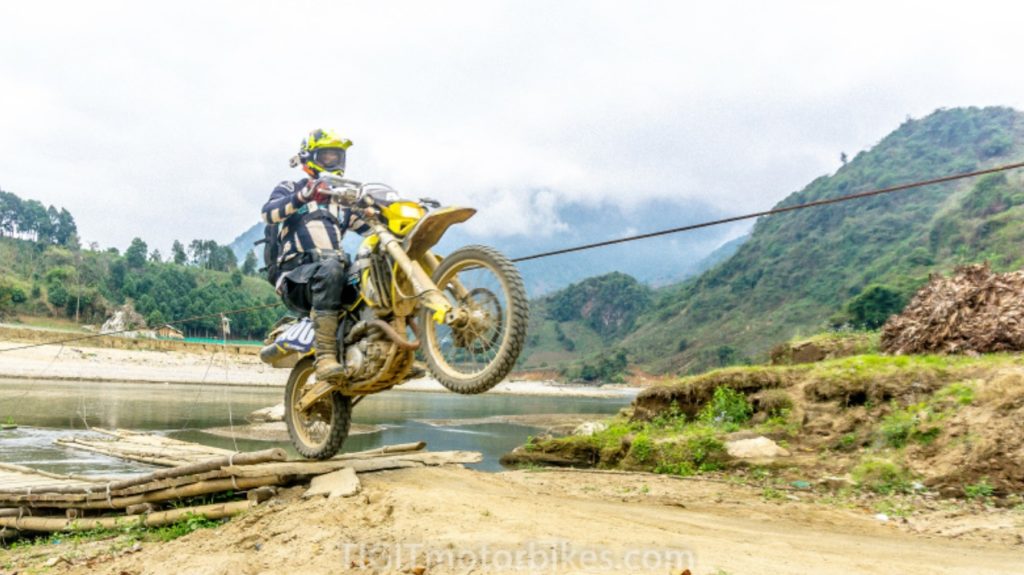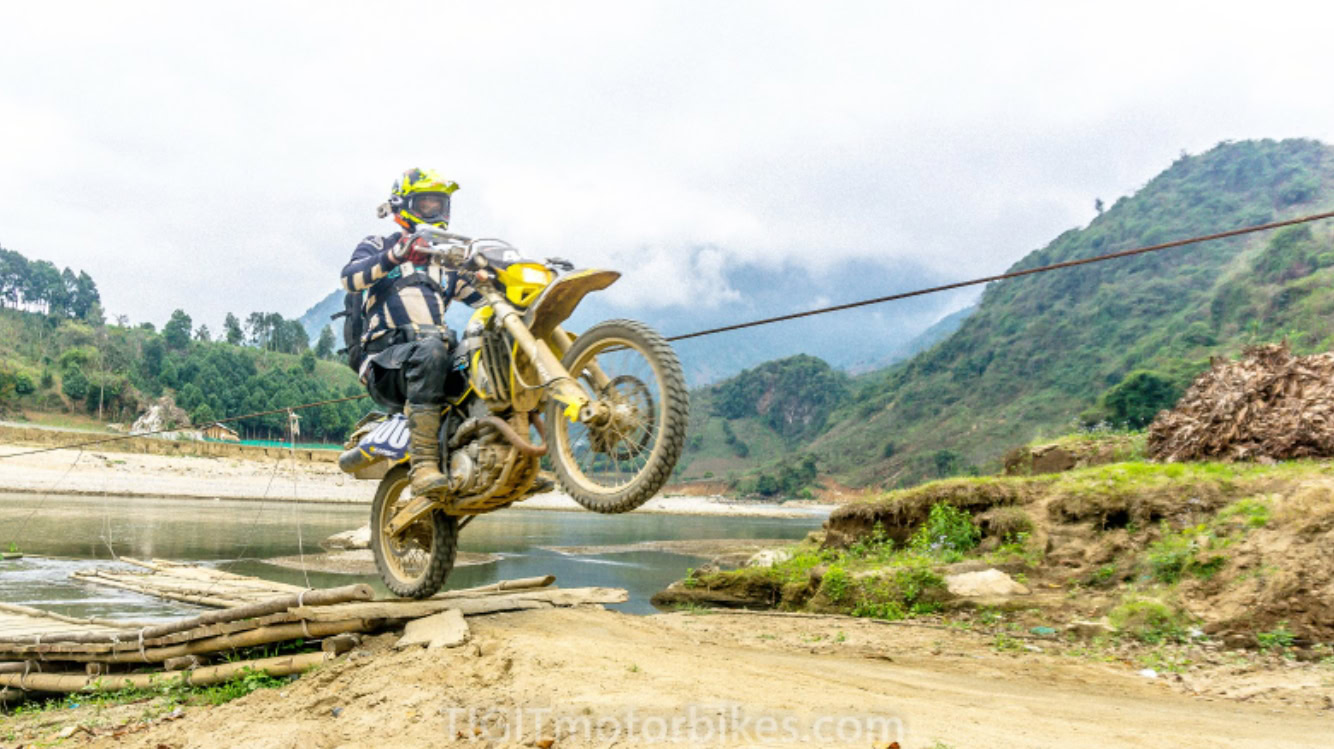 Once you get an adventure motorcycle all dirty, they are a little tougher to tell apart. This one is easy to identify as the DR Z400 by its keen ability to walk on its hind legs and inability to sit still!
DR Z400
     Engine: 398cc
     Wet Weight: 145kg (319lbs)
 Suzuki's DR Z400 started off as an off road bike for trail and dirt enthusiast back in 2000. Since then the motorcycle has morphed into the E/S/SM models taking it to a street legal machine with lights mirrors and an electric starter. Naturally, this version of Suzuki adventure bikes had a weight and price tag increase along the way, but it's incredibly affordable against class competitors.
The Suzuki DR Z400 holds onto one classic piece of age-old technology that sets the bike apart. While manufactures continually modify motorcycles to meet emissions standards, somehow the DR Z400 has held onto its carbureted engine. This is a personal plus in my books, but arguments can easily be made for both options. Those of you still debating on whether you'd benefit from a more road or off road adventure motorcycles, fear not. A quick change of tires on the DR Z400 will take the bike from aggressive asphalt supermoto to a knobby off road dirt demon. Seriously, it's that easy.
    Fun fact: The DR Z400 is the bike of choice for the Australian army.
Production Years 2000-Present
10 Liter Fuel Tank

5-Speed

39 HP

Carbureted Engine

Ground Clearance 260mm

Seat Height 890mm *SM version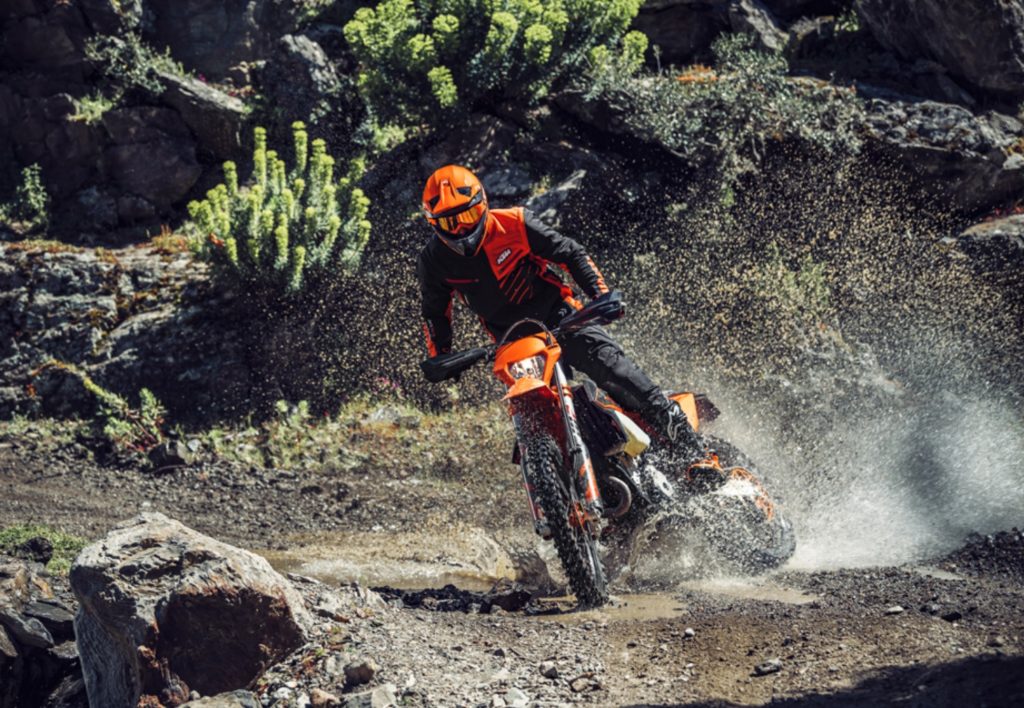 Image: ktm.com  – Usually seen eating the dirt roads for breakfast, the mighty KTM 500 EXC-F is all performance and power. Just don't stray to far from a dealership for servicing or the fun might fade a little faster than you had hoped for.
KTM 500 EXC-F
 Engine: 510cc
 Wet Weight: 124kg (275lbs)
This bike cheats its way onto the list in a couple of areas. The obvious point being the 510cc engine size. Though KTM adventure bikes market various versions of the EXC in a, 500, 520, 525, & 530. They all boast exactly the same size engine, a 510cc. The next long shot is that the 500 EXC is marginally more enduro than adventure motorcycle. For anyone getting into the game that wants to ride a KTM, the EXC-F is a good place to start.
    A couple of red flags you should be well aware of before choosing the KTM as your beginner adventure motorcycle are going to be the maintenance and the price. A KTM is a high-performance machine that requires a lot more attention than something like a Honda CRF, the KTM can't be worked on by your local or backstreet mechanic. Then, of course, there is the price tag that comes with team orange. They're expensive, and this one will set you back over $11,000!
Production Years 1999-Present

9.5 Liter Fuel Tank

6-Speed

58 HP

Fuel Injected

Ground Clearance 353mm

Seat Height 970mm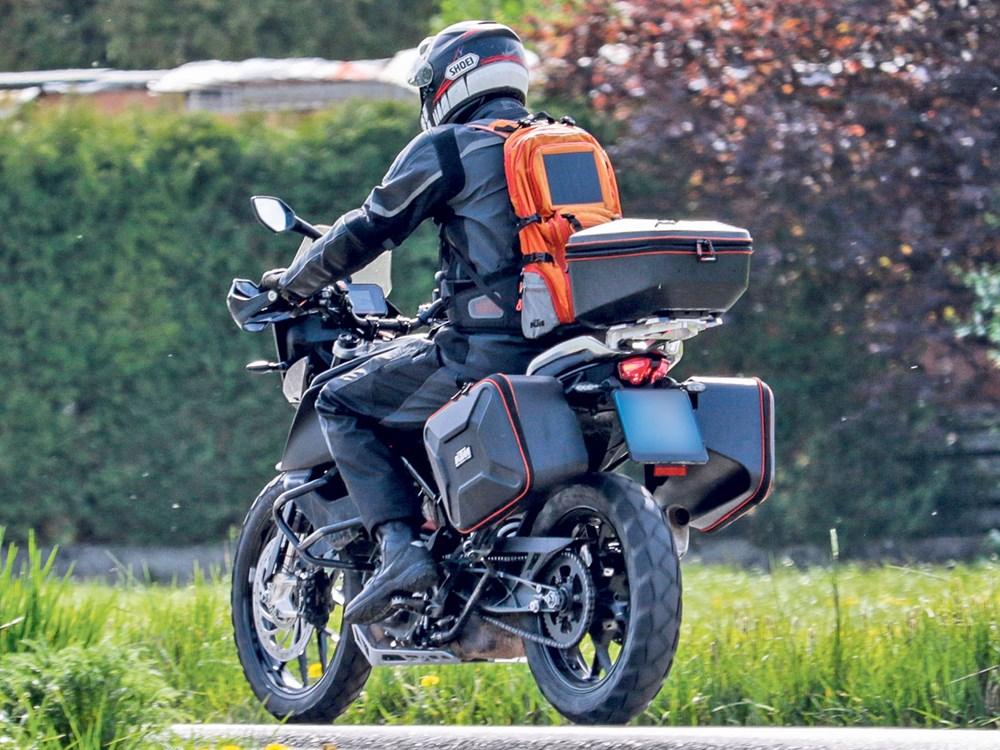 Image: maxabout.com – A look at what the KTM 390 Adventure might look like kitted out when it hits showroom floors.
KTM 390 Adventure
    Engine: 373cc
    Wet Weight: TBA
Will toss in a bonus KTM for anyone looking to get into the adventure world on a KTM at a lower price and less cc's. New to the scene, the Adventure will first be available in India then in Europe. From here, the Australian company will likely look to service markets where bikes like the Kawasaki Versys 300-X & BMW G 310GS are gaining traction.
KTM's popular Duke model will share the single cylinder engine with the 390 Adventure. That design, along with production coming from India, and KTM should have a good chance at keeping costs low and staying competitive. Lighter, more comfortable to handle, still screaming adventure, and plenty of options to add luggage, & accessories. KTM looks like they might have an entry level winner here.
Production Years 2019

Fuel Capacity: TBA

6-Speed

43 HP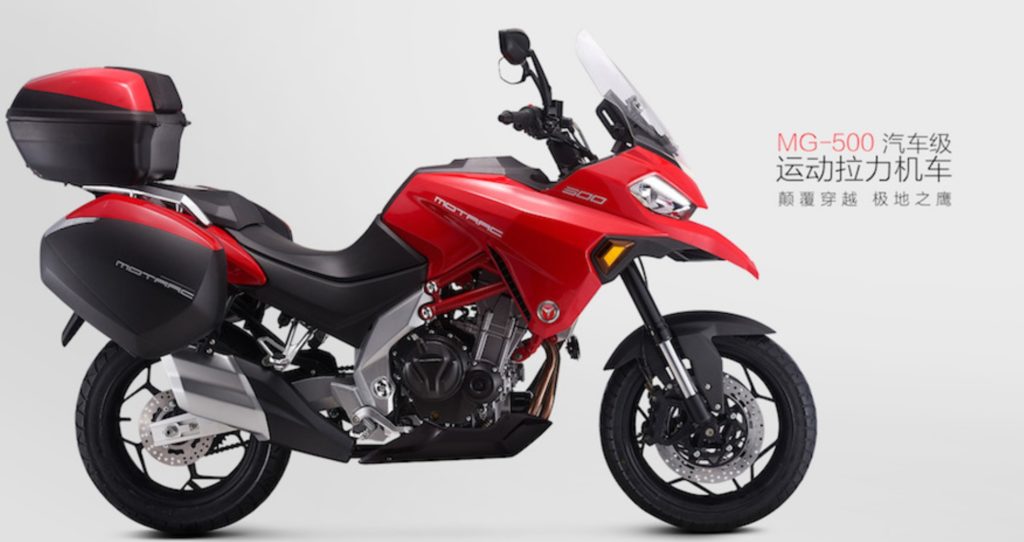 If you just wipe off the Motrac lettering and slap on a few Honda decals, who's going to know the difference really? Only time will tell if the world can regain some trust in Chinese built bikes that aren't overseen by the western world. The price and looks are a winner, cross your fingers.
Motrac MG500
    Engine: 491cc
    Dry Weight: 197kg (434lbs)
The Chinese market has a long history of turning out knock-off products of inferior quality at a discounted price like the infamous Honda Win, so it's easy to disregard them as a contender for recommended motorcycles. However, with the economy of China gradually growing and a demand for higher quality goods, some suppliers are stepping up their game. A bike like the Motrac MG500 is a top contender for fun in the beginner motorcycle category.
I'm yet to see the Motrac in person, but all English reviews are positive and intriguing. Aesthetically designed to compete with western adventure bikes if you took the decals off this and put it next to some Honda adventure bikes, and it'd blend right in. The engine even looks almost identical to Hondas CB500X parallel twin, despite probably being made by China's Loncin. With demand rising in China and plans to sell in Europe, I look forward to real-life feedback.
Production Date 2017-Present

Cost 32,800 Yuen, about $4700

46hp

Further English specs are challenging to track down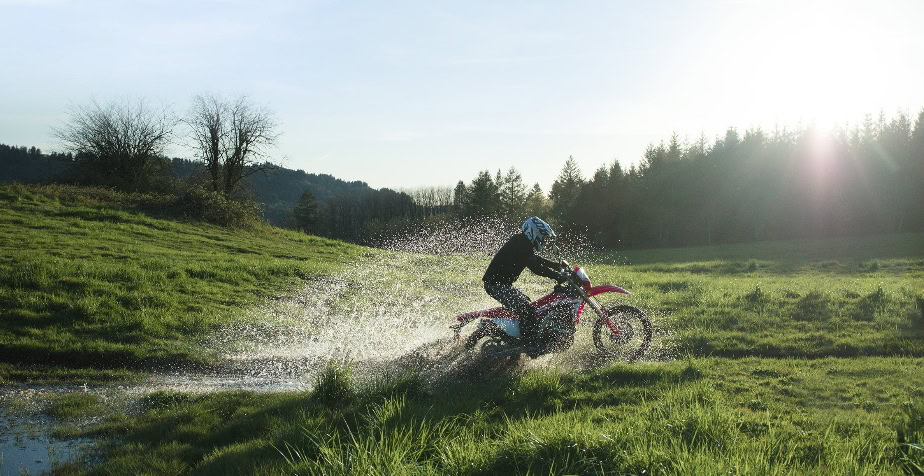 Image: honda.com  – To prove the point of just how good a Honda is. You'll see this CRF 450L coming fresh from a brief swim and back to grassy ground. You probably shouldn't take them swimming, but they'll certainly take you anywhere you want to go.
Honda CRF 450 L
    Engine: 449cc
    Wet Weight: 131kg (289lbs)
 A new test zone from the fine folks at Honda, the CRF 450L is more of an off than on the road looking bike with enough bells and whistles to keep it street legal (hence the letter "L"). Hoping to fill the void for Honda die-hards who love the performance and bulletproof reliability of bikes like the Honda CRF 250L, but want a bit more power and highway capability. If you've ever wanted to ride your motocross bike down the highway with the option of weekend luggage strapped to the back, now you can.
 Anyone looking to take the Honda further across the planet can change the dirtbike seat out, extend the windscreen and increase the fuel tank. Three simple steps and you'd have yourself an excellent around the world motorcycle. As is, the 450L is a stand-up bike for short spurts with ample breaks for your butt along the way.
Productions Years 2018-Present

7.6 Liter Fuel Tank

6-Speed

38 HP

Fuel Injected

Ground Clearance 314mm

Seat Height 942mm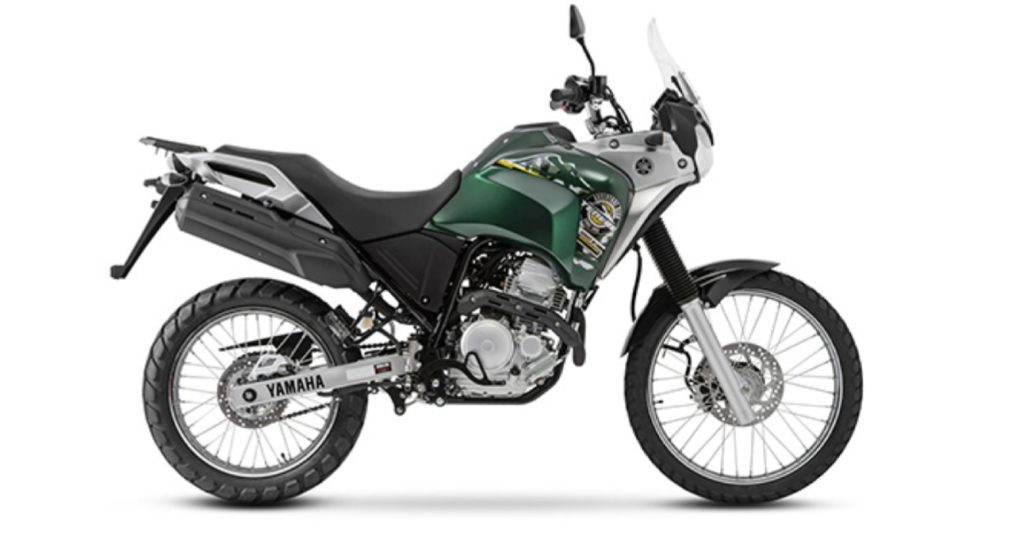 Image: yamaha-motor.com     – This is one sexy machine, the only thing that could make it more beautiful is some mud splattered across the front end next to a tent in the woods. Like a choose your own adventure novel, you just need the bike and you can choose any adventure you want.
Yamaha XTZ 250 Ténéré
    Engine: 249cc
    Wet Weight: 151kg (333lbs)
Having lived my life only seeing the XTZ 660 Ténéré and 1200 Super Ténéré, the first time I saw one of these compact versions of the dual sport bike in Brazil I had to take a second look. Then I walked over and in my worst Portuguese/Spanish blend, I finally asked the guy if it was a popular bike. He was shocked by my lackluster display of communication and replied in English that he loved the bike, and many people owned them. Hey, at least I tried!
 The original XTZ 250 has been in production in Brazil since 2006 with the release of the Ténéré version in 2010. This bike is well designed to handle most off road track and navigate regular pavement with ease too. This smaller 250 version is one of the best lightweight adventure motorcycles and could easily get you anywhere that adventure was calling, even through the less explored regions of the world. Well, at a slow, steady pace, that is.
Production Years 2010-Present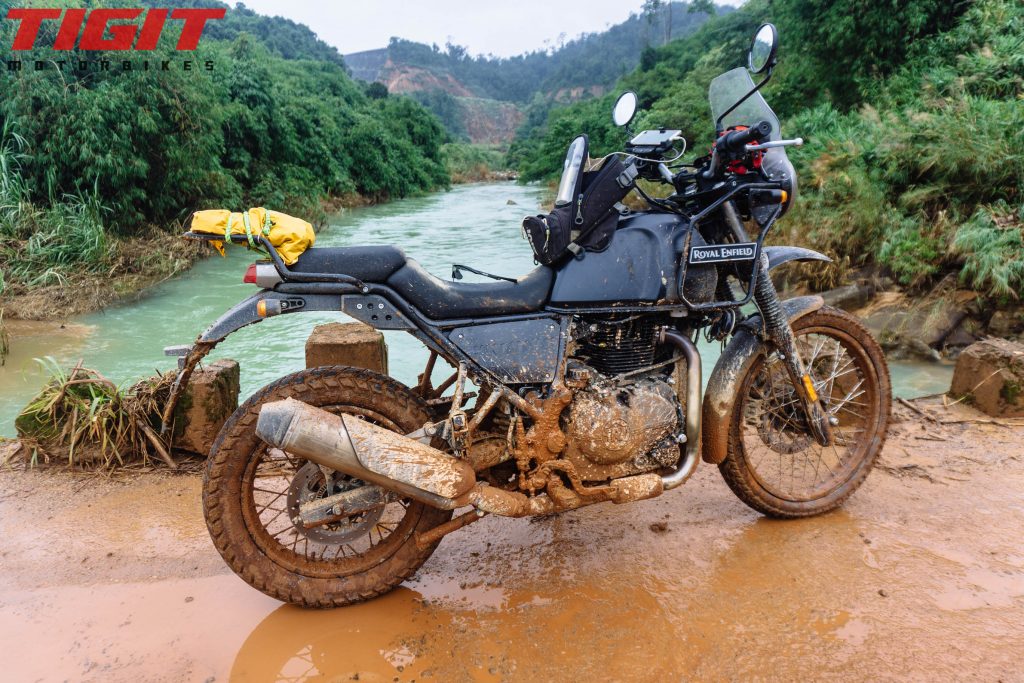 One of Tigit Motorbikes hard working Himalayan's. It looks tempting to take it for a swim here, but they work best on land and in the mud.
Royal Enfield Himalayan
    Engine: 411cc
    Wet Weight: 190kgs (421lbs)
    You can get coaxed into the world of adventure motorcycle riding in many ways. Those who find themselves lured by the nostalgia of black and white photos of the Royal Enfield Bullet ridden by a man with a leather helmet and scarf blowing in the wind might find some resolve here. The Himalayan exists today and could be the answer to your longing needs of yesterdays sophisticated explorers.
The Bullet may be the longest production motorcycle in the world, but it's only recently Royal Enfield is on a comeback. The Royal Enfield Himalayan was designed to take the beating of India's tragic backroads and city streets. From India, it has since filtered its way around the world to Areas like Vietnam and America. What can we say, it's a uniquely cool bike with slow grunting power that's designed to get you there. Just don't expect it to get you there like a BMW or KTM, and you'll be just fine.
Productions Years 2016-Present

15 Liter Fuel Tank

5-speed

24.5 HP

Fuel Injected *Carb in India

218mm Ground Clearance

800mm Seat Height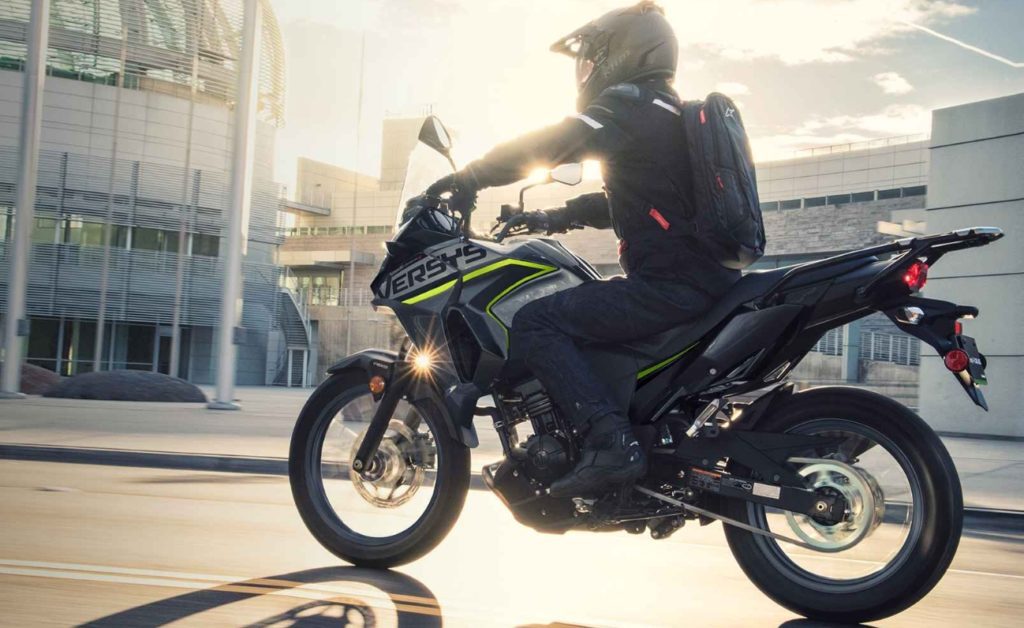 Image: kawasaki.com   – I'd say this fine chap is running away from the corporate world and into a life of adventure on his new Versys-X 300. You should join him, you really should…
Kawasaki Versys-X 300
    Engine: 296cc
    Wet Weight: 176kgs (386lbs) *without abs
    The Kawasaki Versys 650 was the first motorcycle I ever owned & will forever have a special place in my 5W-30 pumping heart. I thought that bike was small and easy to handle, but this micro X-version comes in at 30kgs lighter. Easy, inexpensive, and Kawasaki's idea to lure in soon-to-be adventure motorcycle riders the X 300 is one of the safest bets for the beginner ADV rider.
    The bike design makes it an easy bike to start with and a low enough seat to suit most mid to small sized rider. The low clearance means you won't be jumping logs and recklessly riding back roads, but the noob rider likely isn't there yet anyway. Well-rounded, versatile, and robust looks, a bike for the smart looking adventurer.
Production Years 2017-Present

17 Litre Fuel Tank

6 Speed

39.3 HP

Fuel Injected

Ground Clearance 180mm

Seat Height 815mm

Optional ABS model
A look at one of Tigit's motorcycle models showing off what a CB500X can do in the dusty backroads. We recommend helmets, but this guy is clearly a professional
Honda CB500X
    Engine: 471cc
    Wet Weight: 196kg (432lbs)
    A setback and sometimes deal breaker for anyone looking to get into adventure riding is the intimidation factor. A lot of adventure bikes are tall, heavy, and difficult to manage if you have little to no experience riding. Easy to throw a leg over and just as easy to then get your feet firmly planted on the ground, the Honda CB500X is a beginner motorcycle riders dream come true.
    This well thought through design will keep you looking the part and should be easy enough to handle for anyone. The 49hp motor is fast enough, but not so fast that you can really scare yourself. Little extras like ABS will keep new riders on two wheels while learning all about gravel. Where a disk brake on a bike like the DR Z400 might lock and then lose you, the ABS gives you at least a fighting chance to keep it together. You can rent a Honda CB500X and test out the adventure then decide for yourself if ADV bikes are for you.
Production Years 2013-Present

17.5 Liter Fuel Tank

6-Speed

Fuel Injected

49 HP

Ground Clearance 170mm

Seat Height 810mm
Comparison Chart
| MOTORBIKE | ENGINE DISPLACEMENT | WEIGHT | FUEL CAPACITY | HORSEPOWER | SEAT HEIGHT |
| --- | --- | --- | --- | --- | --- |
| BMW G 310 GS | Engine: 313cc | Wet Weight: 169kg (374lbs) | 10.9 Liter Fuel Tank | 34 HP | Seat Height 835mm |
| DR Z400 | Engine: 398cc | Wet Weight: 145kg (319lbs) | 10 Liter Fuel Tank | 39 HP | Seat Height 890mm *SM version |
| KTM 500 EXC-F | Engine: 510cc | Wet Weight: 124kg (275lbs) | 9.5 Liter Fuel Tank | 58 HP | Seat Height 970mm |
| KTM 390 Adventure | Engine: 373cc | Wet Weight: TBA | Fuel Capacity: TBA | 43 HP | Seat Height TBA |
| Motrac MG500 | Engine: 491cc | Dry Weight: 197kg (434lbs) | Fuel Capacity: TBA | 46HP | Seat Height TBA |
| Honda CRF 450 L | Engine: 449cc | Wet Weight: 131kg (289lbs) | 7.6 Liter Fuel Tank | 38HP | Seat Height 942mm |
| Yamaha XTZ 250 Ténéré | Engine: 249cc | Wet Weight: 151kg (333lbs) | 16 Litre Fuel Tank | 21HP | Seat Height 875mm |
| Royal Enfield Himalayan | Engine: 411cc | Wet Weight: 190kgs (421lbs) | 15 Liter Fuel Tank | 24.5HP | Seat Height 800mm |
| Kawasaki Versys-X 300 | Engine: 296cc | Wet Weight: 176kgs (386lbs) *without abs | 17 Litre Fuel Tank | 39.3HP | Seat Height 815mm |
| Honda CB500X | Engine: 471cc | Wet Weight: 196kg (432lbs) | 17.5 Liter Fuel Tank | 49HP | Seat Height 810mm |
| | | | | | |
Adventure motorcycles aren't for everyone, but they might be for you. For the backpacking traveler, you'll find that a Vietnam motorcycle rental is the only way to expand into the kind of adventure that bus life can't offer up. Tigit motorcycles have several beginner bikes that are just the right size for learning and for fun. Anyone seasoned in the ADV world but feels limited by the rules and restraints of touring their own country, it might be time to get on a plane to see the rest of the world. From places like Ho Chi Minh City to Hanoi by motorbike and all the adventures that arise along the way. You'll never regret a once in a lifetime experience like riding Vietnam.