Reading Time:
8
minutes
For a full article about the route options and a big map, please visit our routes and maps blog page.
The adventure motorcycle routes in Vietnam are a long list of exploration, excitement, and patches of stunning straight sections, utterly void of people. For anyone looking to get deep into the heart of the real Vietnam, we are happy to help make that happen and share our experiences. The Saigon to Hanoi by motorcycle route is one for the real adventurer, and there are some details and decisions that you should make before even touching down in Vietnam.
The Reality Of This Route
    To give you an example of reality vs what your micro-research might have provided you, first take the Google Maps estimate that you got. The one that reads something like 1-2days to complete the Saigon – Hanoi drive. Then forget it. If you are planning to ride from Saigon to Hanoi in 1-2days, you'll need a rocket attached to your ass, a 100-liter fuel tank, and sponsorship from Adderall!
    It's not possible to do this ride in 2-days. The reality is you could drive it in 10-days if you're on a mission, 15-days to do it rushed, and 20-25days if you want to enjoy the journey, staying to do tourist activities and seeing the sights as you go. After this section, if you wish to explore Sapa and the northern mountains roads above Hanoi, add in another week.
    Insider Tip: When calculating routes in Vietnam, double or triple what Google Maps Vietnam suggests and you'll have a more accurate assessment of the actual route time.  
Route Options: Coastal or Inland?
    Unless you have a couple of months to drive both routes and get to know Vietnam by motorbike, then you'll need to decide if you want to take the coastal or inland route. They both offer up incredible options, and it will probably come down to what is on your must-see list of sights in Vietnam.
    The coastal route is the road with the well-beaten path tourist path. You can expect to spend time on the beaches, hitting up party hostels, ticking off drives like the Hai Van Pass, and weather that is more consistent from the start to the finish of the day.
    The inland route is basically the opposite. Here you are less likely to run into hoards of backpackers lined up at every Lonely Planet listed stop. The experiences are more cultural and need to be sought out. You'll spend days winding through stunning mountain roads in the Central Highlands Route. The temperatures will also vary based on your altitude. Depending on the time of year you might find relief from the heat or downright freezing temperatures at times.
When we suggest you "ride the coastal route," we don't literally mean to ride right on the coast. Clearly, you can, and this lightweight Yamaha proves it. But it's not necessary.
Coastal Route Pros
If you like being relatable, you'll find plenty of options to mix with other travelers

Beaches, plenty of beaches! Like the sandy beaches around beautiful Da Nang.

Top sights along the way like; Hai Van Pass, Ba Na Hills, Dragon Bridge,

abandoned theme park

, Phong Nha Caves, and plenty more.

Western comforts are easier to find. English menus, English stout, English breakfast, English speaking tour guides. Adjusting to life is more accessible along the coast as far as English is concerned.

The roads are generally smooth, straight-ish, and easy to navigate.
Coastal Route Cons
When you see that a popular site has 2,500 online reviews, it's likely more sterile than off-path routes.

It's called the

"Banana Pancake Trail"

for a good reason. Where's the hidden adventures!

The mountains of Vietnam offer up some spectacular scenery. The coast is pretty but can be one-dimensional.

Check the weather, if it's typhoon season, the coast will see the brunt of storms.
Image: Son Pacamara Facebook
 Taking a coffee tour during the inland route is one of the best ways to learn about the entire coffee process.
Inland Pros
If adventure runs rampant through your veins, the options to explore routes less known are readily available inland.

Coffee connoisseur? Then you'll know that areas inland like Buon Ma Thuot are known for some of the

best coffee growing soil on the planet

.

Lesser traveled top sites like; K'Ho Minority Coffee Farm, Cau Dat Tea Fields, Ke Bang National Park and it's incredible caves, centuries-old longhouses in Buon Don Village, The Le Dynasty site, and on & on.

Solo cultural experiences where you won't be waiting/fighting for photos without tourists in the background.

The food is uniquely Vietnamese. Snails, when's the last time you had a bowl full of fresh snails?

Amazing winding roads that cut through valleys and over mountain tops.

The roads can be void of traffic. On some stretches, you are likely to be totally alone on endless tarmac.
Inland Cons
It certainly won't be any faster. If you're in a rush, this route isn't the one.

Every task is likely to be a touch more challenging. Using your phone to show numbers for pricing, asking for directions with your hands waving.

Searching the internet for information on routes and events won't be as plentiful as the popular coastal route.

Temperature fluctuations as you cross up and down over the mountains will require packing accordingly and changing often.

En route to larger cities, the roads can be more pothole than road.
In this situation, it will come down to a mental coin toss. Deciding if you prefer the adventure of rolling up in small communities where your Honda CRF250L seems as out of place as your funny language. Or, if you're hoping to take home the experience you've seen and read about in every review site known to man.
The compromise to the coast or inland is;
Ho Chi Minh to Dalat inland – Then Dalat down to Mui Ne and up to Quy Nhon coast –  From here Quy Nhon to Buon Ma Thuot and back to Hoi An inland – Then, finally, Hoi An to Hanoi inland.
Anyone looking to dive deeper into the details, we offer up an abundance of maps & guides in a related post that will take you all across the roads Vietnam.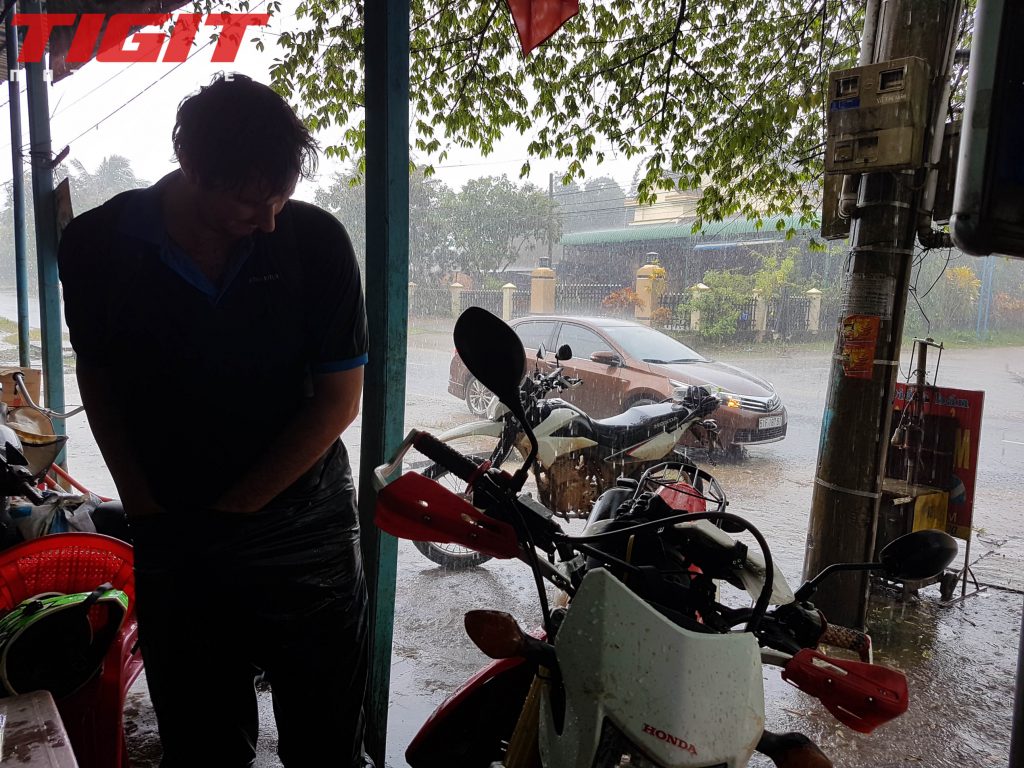 Another day of adventure here in beautiful Vietnam. The sun doesn't shine every day, then again the rains don't last long either.
Vietnam Weather
    As overlooked as Kenny Baker, and as underrated Ray Liotta, the weather in Vietnam should be taken seriously. Hotels and package tour companies push sunny beach scenes with smiles and ocean-side dining as the sunsets. Whereas, we serve up adventure along with a large helping of blatant reality.
THE WEATHER IN VIETNAM IS NOT ALWAYS HOT AND SUNNY 
    Vietnam has varying weather and seasons just like most of the planet. If anything, the weather in Vietnam can be more dramatic and unwelcomingly brash on occasion. Sun, rain, wind, storms, cold mountain cities, monsoons, blistering heat, and beautiful sunny days. Vietnam has it all, but nothing that would come close to stopping an adventure holiday. Even typhoon season isn't much more than a hiccup in your holiday.
   It would help if you used our Vietnam weather guide to aid with choosing the right clothing for your trip based on when and where you want to go. The south is often hot, the central coastal region can get monsoons, and the north may reach uncomfortable lows.
   These can all be planned for, and with the right clothing and a bit of planning, any time of year can be managed and enjoyed in Vietnam. Don't assume rainbows, sunshine, unicorns, and perfect tanning weather every day. Showing up for your cross-country motorbike rental with only sandals and shorts as riding gear will end in disappointment. Take our advice, we've been through it all.
The Best Bike For The job
    Literally any reliable motorbike can get you from Saigon to Hanoi. What you choose is influenced by the type of riding you plan to do. If you are strictly on the main roads, if you want to ride some back roads, if you think you need a "big" bike, or if you are traveling two-up on one bike.
    To help you decide on what the right bike is for you. Check out are complete guide on choosing the right adventure motorcycle. It's an upfront and honest look into what to look for when planning your adventure motorcycle trip. On a journey that spans the length of the country, it pays to be as educated on the topic as possible.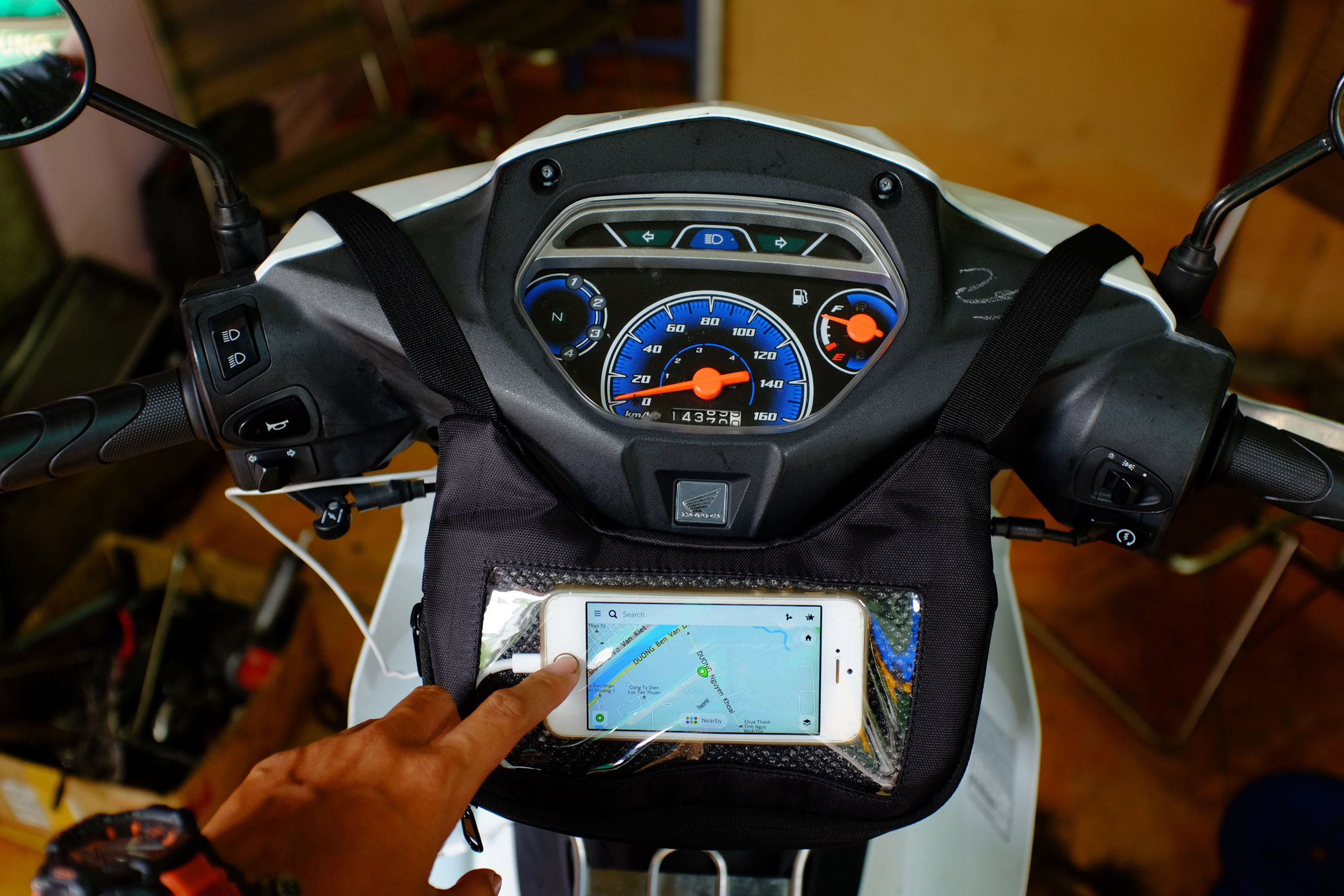 Our handy cellphone holders strap right to your bike. Dry, safe, and easy to use. Navigating Vietnam just got easier!
    If you want to get lost, it's possible. If you wish to follow the well-beaten path, it's possible too. If you want to lose yourself in Vietnam with the help of a reliable map, you'll get the experience and the comfort of knowing where you're going all in one. Use technology and cheap phone plans to your advantage  and you can have any adventure you want.
    Mobile internet in Vietnam is cheap, and service is widely available. Bring your smartphone, pick up a sim card with unlimited internet for around $8usd (170,000vnd) total, then attach the phone to your bike via a cell phone holder. Using this setup along with Google Maps and Maps.me will take any guesswork out of navigating your way through Vietnam. We have a full step-by-step cell phone guide to Vietnam take any guesswork out of the process.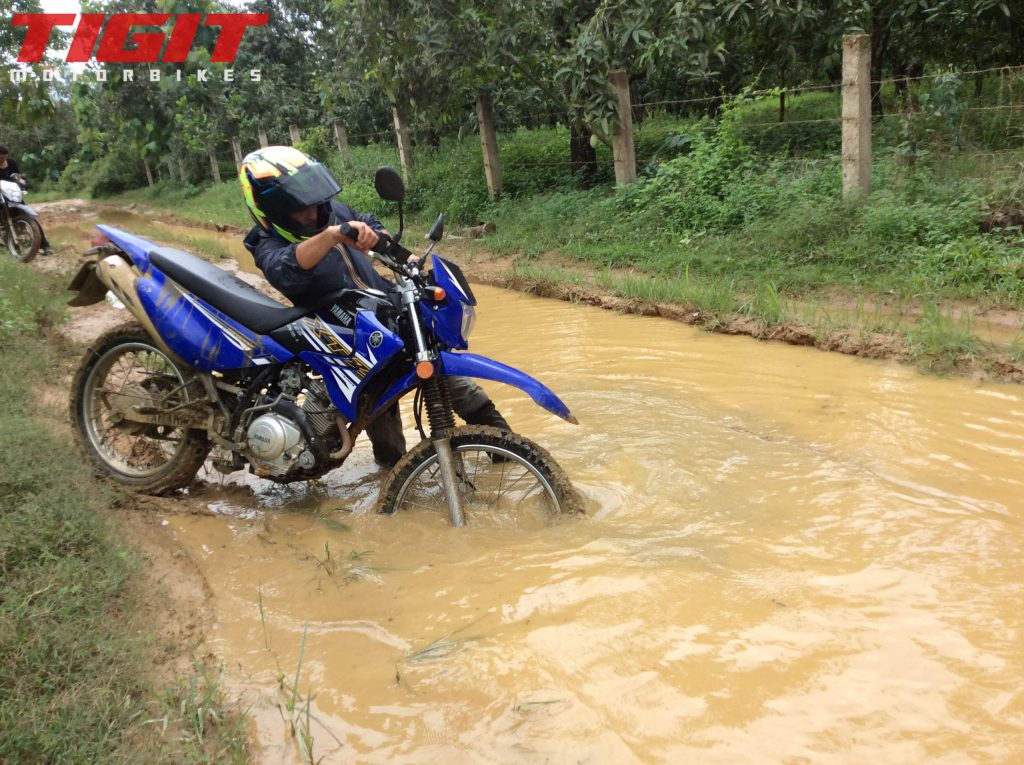 Every problem in Vietnam has a solution. Take this seemingly problematic river crossing for example. With a bit of patience and some wet feet, problem solved!
Saigon to Hanoi Summary
    There is no wrong choice when you it comes down to what route to take through Vietnam by motorbike. Every potential course, weather scenario, and timing problem can easily be overcome with a mid-journey change of plans.
Problem:

You aren't enjoying the busy coastal route and loads of tourists.

Solution:

Make a sharp turn west, and you'll be headed for the highlands.  
Problem:

You don't like the quiet mountain roads and lack of party scene.

Solution:

Make a sharp turn east, and you'll be making your way back towards the coastal crowds.
Problem:

You spent too many nights getting to know

the club scene in Nha Trang

and ran out of time to make it to Hanoi.

Solution: We have locations spread across Vietnam where you can drop off your motorbike rental.
Problem:

You underestimated the colder region north of Hanoi or seasonal rains along the coast.

Solution: Pick up some cheap clothes or rain gear and bring it along. Or, get us to send the gear ahead of you on the train for pick up at our office.
Problem:

You bought a Honda Win because the ad said

"Cheap, reliable, includes FREE BEER

," and now it's in pieces just outside of

Phan Thiet.

Solution:

Kiss that $300 goodbye and get back to us for a reliable replacement!'
    We do our best to help you to have the trip of a lifetime and aim to provide as much accurate information and transparent solutions to make sure you arrive excited and go home amazed. There's a reason over 15-million tourists made there way to Vietnam in 2018. Come and see for yourself.
Original Header Image: By Joss Woodhead on Unsplash