Reading Time:
8
minutes
The Recommended Vietnam Motorbike Route
Vietnam is a country with limitless route options. There is no right or wrong route and no right or wrong section to drive. Some people come back yearly, just like a ski holiday, and with each revisit, they tackle a new set of roads. Don't overthink your route. Whatever you do, it is going to be good!
The country is rapidly changing, and new roads open up yearly. Content from places like Tigit and VietnamCoracle can get outdated. However, for Vietnam to gain popularity, we make it a yearly objective to go out there and find the latest and greatest routes to drive. The journey documented within is what we believe is the ultimate Vietnam motorbike route for travelers.
For information about preparing for the Vietnam journey, check how to navigate Vietnam, where we answer all your "logistical, gear, and local culture questions.

Recommended motorbike route video

How long does it take to travel each part of Vietnam?
When planning your route by motorbike, consider Vietnam in three sections. This will allow you to skip some areas while spending more time in other more desirable locations.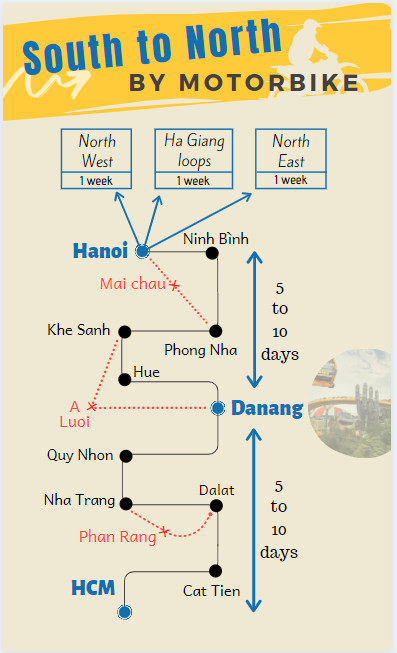 The South Motorbike Routes
The South is classified as HCM to Da Nang / Hoi An. We have a full article on Ho Chi Minh Motorbike loops.
Minimum 5 days. 4 days is possible with a big drive from HCM direct to Da Nang.
HCM — > Cat Tien — > Da Lat — > Nha Trang — > Quy Nhon — >  Da Nang
How long: Normally  7 – 10 days (963 kms)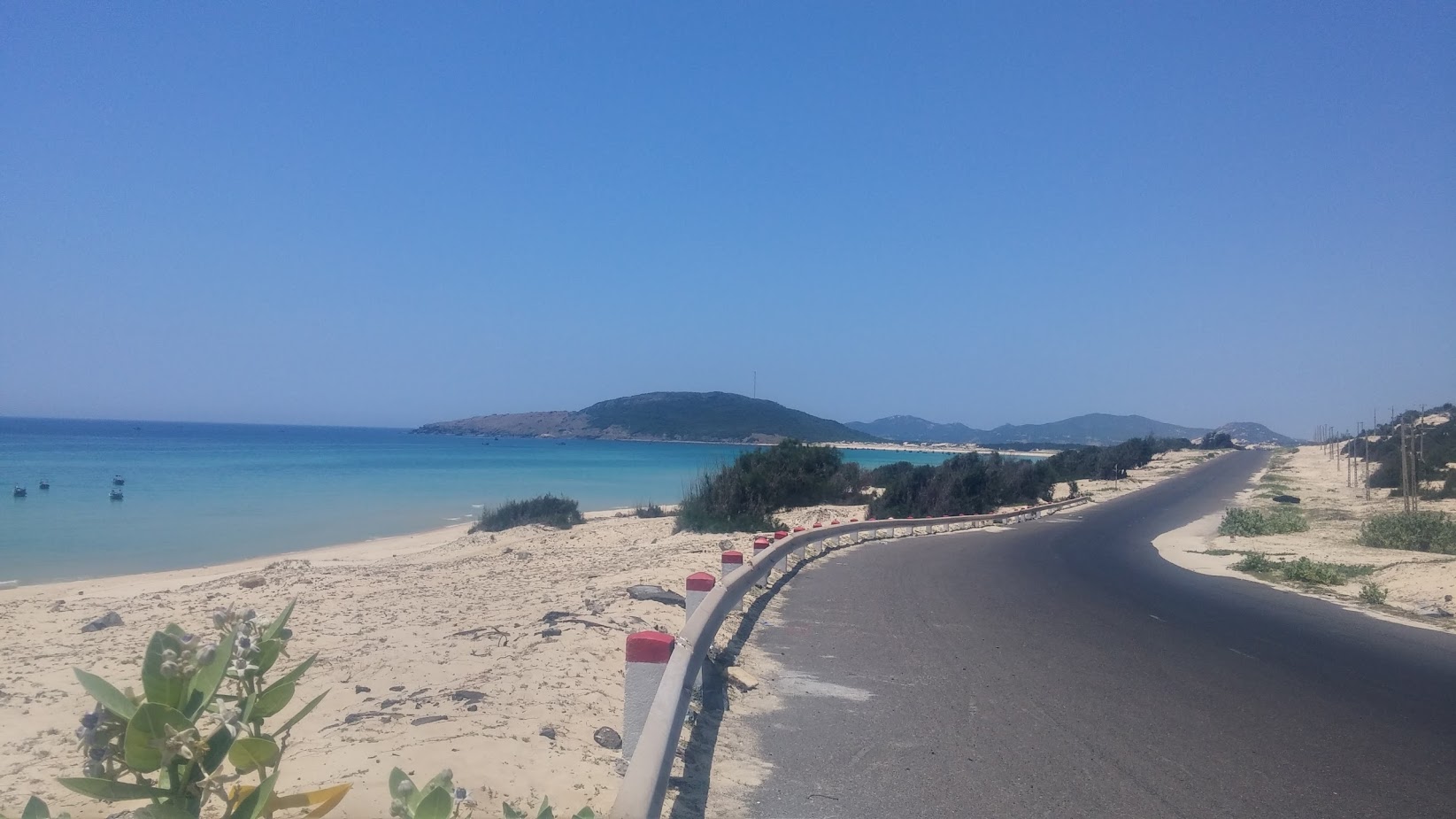 Central Vietnam Motorbike routes
Central Vietnam is classified as anything from Da Nang to Hanoi. We have a full article explaining the Ho Chi Minh Road by Motorbike.
Minimum 5 days.
Da Nang — > Hue — > Khe Sanh — > Phong Nha — > Ninh Binh — > Ha Noi
Recommended:
Phong Nha — > Mai Chau — > Ha Noi
How long: Normally  7 – 10 days (770 kms)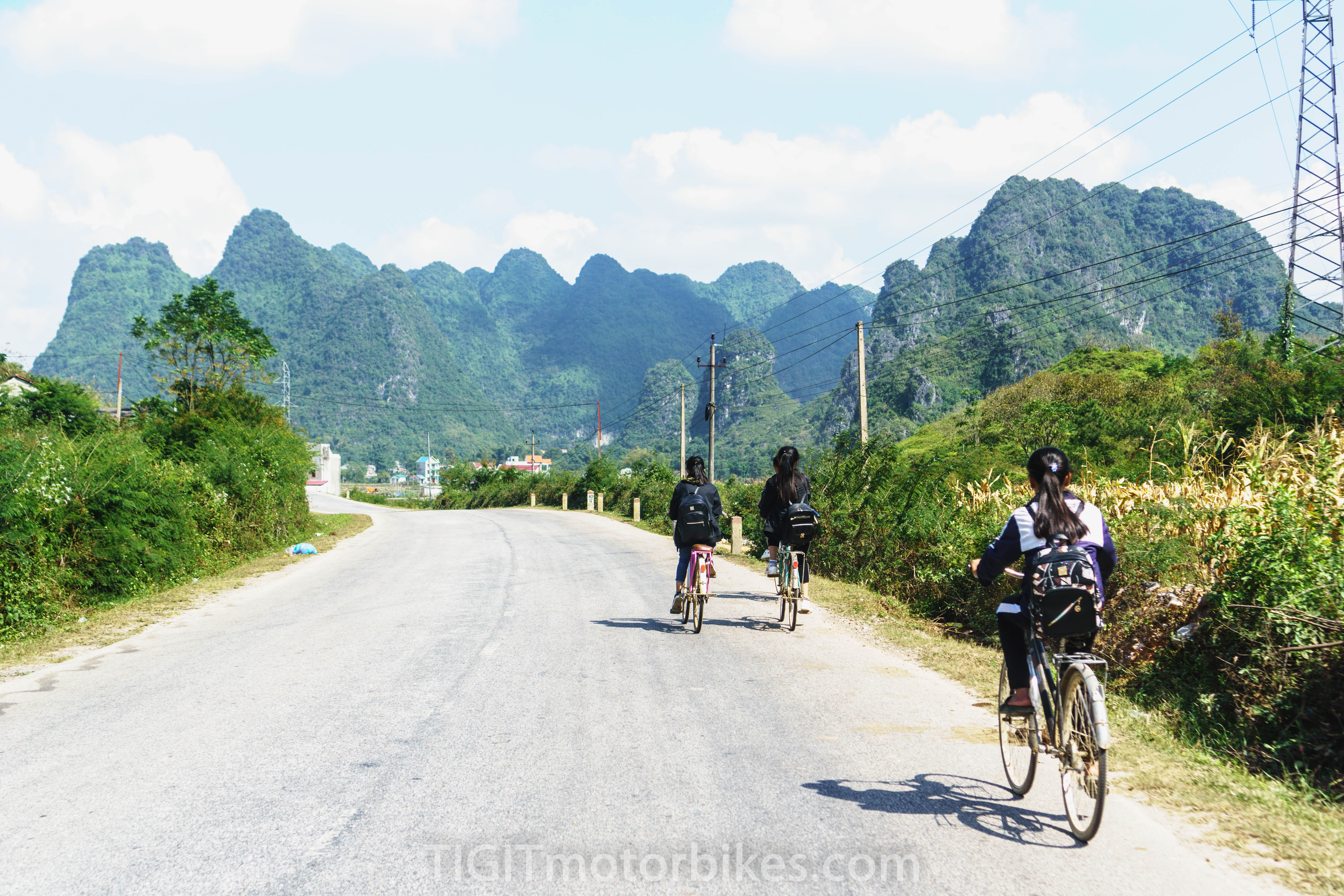 The North Motorbike Routes
The North is classified as anything above Ha Noi. Read our full article on driving the North by Motorbike. We also have a dedicated article on a three to six day North West Loop which is appropriate for people who do not have enough time for the full Ha Giang loop.
The North is subdivided into a further three sections
Ha Giang Loops – One week
The North East – One week
The North West – One week
How long: Combining all of the North, a total of three weeks of riding.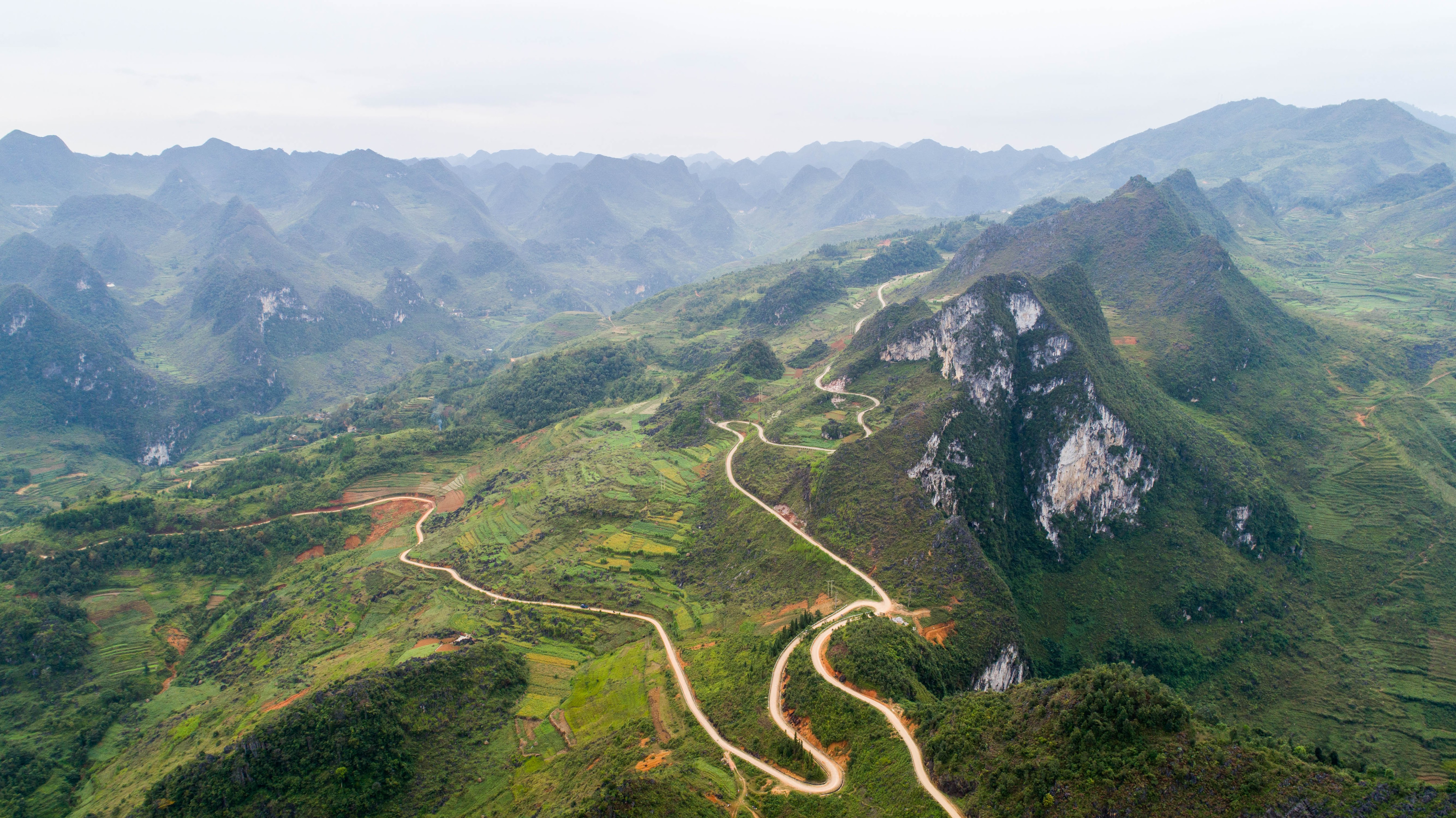 Optional – The Mekong Delta and Phu Quoc

 
We don't really recommend driving the Mekong Delta. It is suitable for a motorbike tour where a guide has developed routes to avoid chaotic traffic.
Minimum of 3 days. 
Ho Chi Minh — > Can Tho — > Phu Quoc Island
How Long: 3-5 days depending on your love of wet markets and beaches (385 km)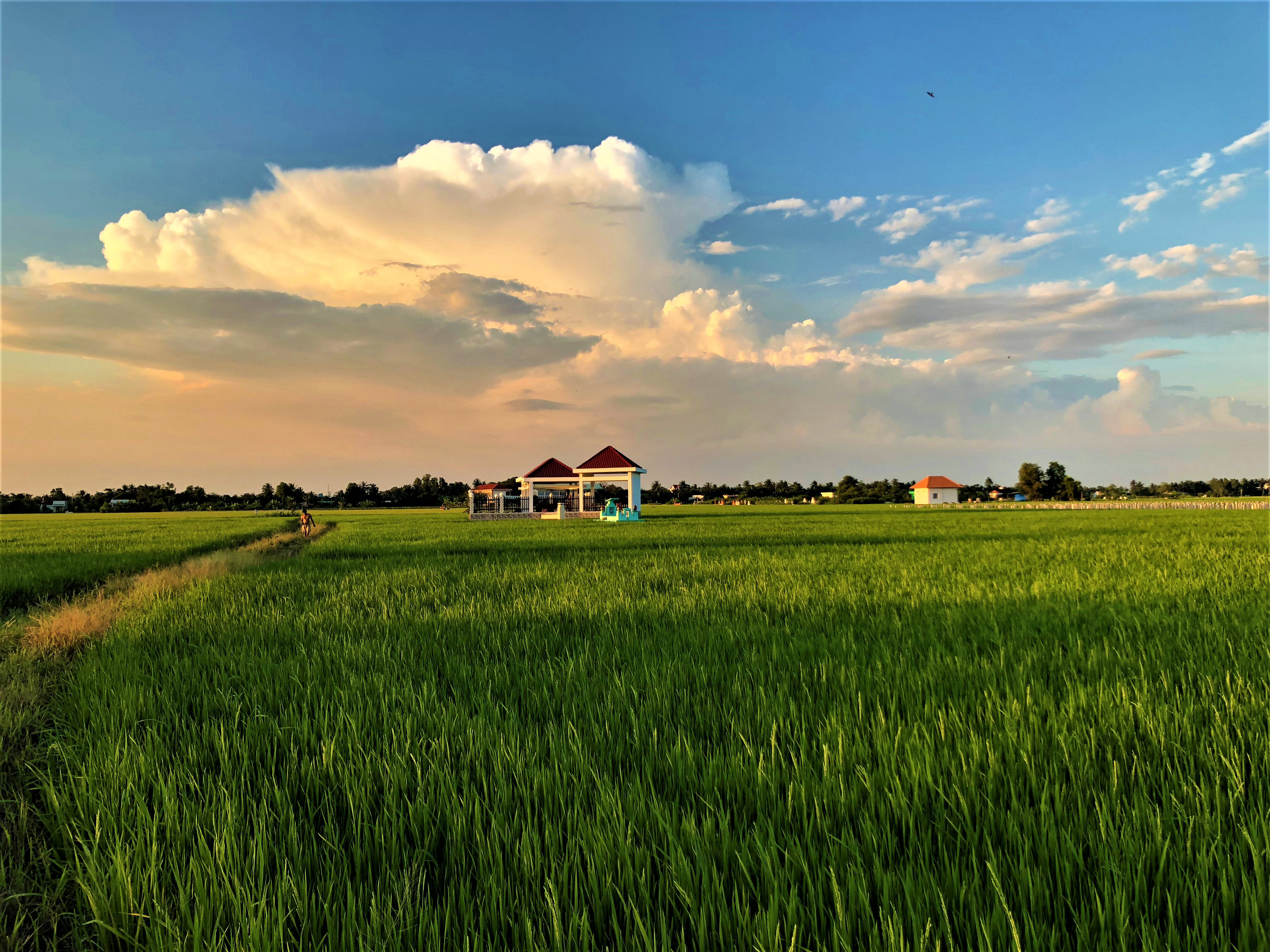 The South – Must do highlights
DT725 – A road that connects Cat Tien National Park and Da Lat. A route of open meandering corners that cut through a wide variety of different sceneries.
DT702 – A road that primarily starts after Mui Ne and continues through to Cam Ranh. The best coastal drive in Vietnam. This road goes as close to the sea as possible. It must be one of the best coastal motorbike drives in the entire world.
Ql27C – Connecting Da Lat to Nha Trang. Although short, this road is a favorite among travelers for its quick and efficient pass, connecting the two very different Da Lat and Nha Trang cities. Da Lat being a cold and peaceful mountain city. Nha Trang is the coastal party center of Vietnam.
DT669 – Loosely speaking, it connects An Khe to Hoi An. It is documented in detail on the best way to drive from Nha Trang to Danang. The DT669 is incredibly remote, perfectly paved, fast, and open. If you want to push your motorbike to its top speed, this is the place to do it.
Optional Extra: QL55B – A favorite among expats creating short adventure loops close to Ho Chi Minh City.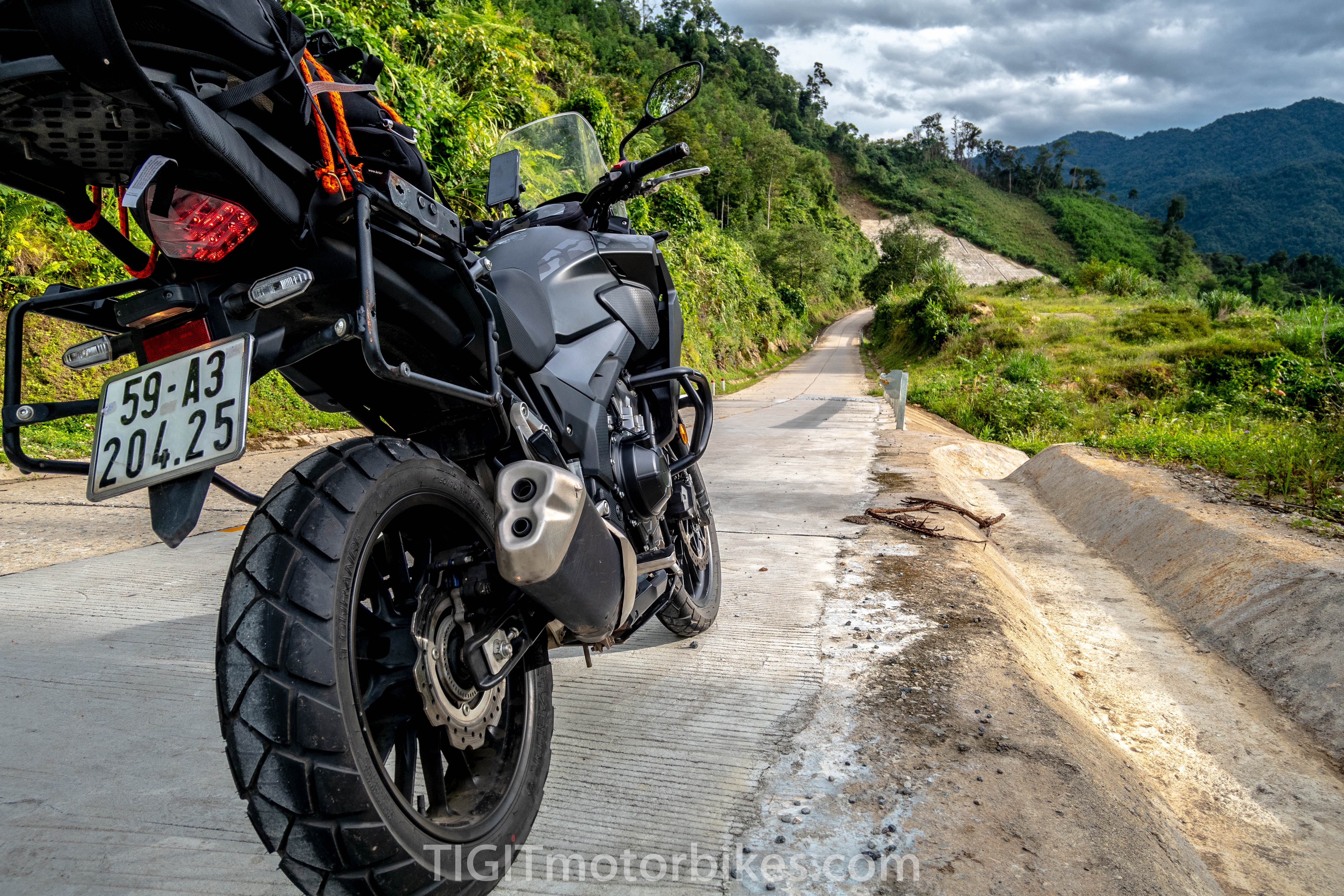 Central Vietnam – Must do highlights
The Hai Van Pass – Arguably the most famous road in Vietnam for riding a motorbike. Easily accessible for any traveler. It connects Hoi An to Hue on a roughly 4-hour coastal drive that overlooks the sea and mountains. Famous and approachable to all is its main highlight. However, it is a long shot from being "the best road in Vietnam." In many cases, it sends the adventure travelers off in the wrong direction, away from the far more impressive Ql14 on the Laos border.
Our "must do" route
Ql14 (Ho Chi Minh Road) – The Ho Chi Minh Road is the one and only "must-do" road in Vietnam. This should be done at all costs, and your entire holiday should be based around fitting this road in. It is a phenomenal mountain road used as a secret war trail. It is a remarkable piece of engineering surrounded by spectacular beauty. It loosely connects the ancient town of Hoi An and the caves of Phong Nha. 
The town of Mai Chau or Pù Luông – Ninh Binh is a famous tourist town in the area. However, to access Ninh Binh from Ha Noi puts a driver on a brutal two-day highway drive. A much better option is to stay west on the Laos border and visit the stunning rice paddies of Pu Luong or the authentic small village of Mai Chau.
The North – Must do highlights
Ha Giang Loops – Ha Giang is one of the most spectacular places on earth. Deep valleys surrounded by mountain roads provide you and your motorbike some of the best views on the planet. Despite its remote region and variable climate, it has become famous and accessible to most travelers with convenient little loops for any holiday length.
DT204 – Loosely speaking, it connects Cao Bang to Ha Giang. This road is remote and beautiful. It climbs some remarkable cliff edges. It isn't a road for beginners, but it is all paved and mostly drivable. It will give some drivers a scare at some of its steep descents.
DT 153 – A road that connects Lao Cai to Ha Giang (kind of). Not famous and rarely talked about. However, from my recollection, this is the most beautiful road in Vietnam. Perhaps I had a good day, but I recommend you go and drive it and decide for yourself!
Read more: Ha Giang Loops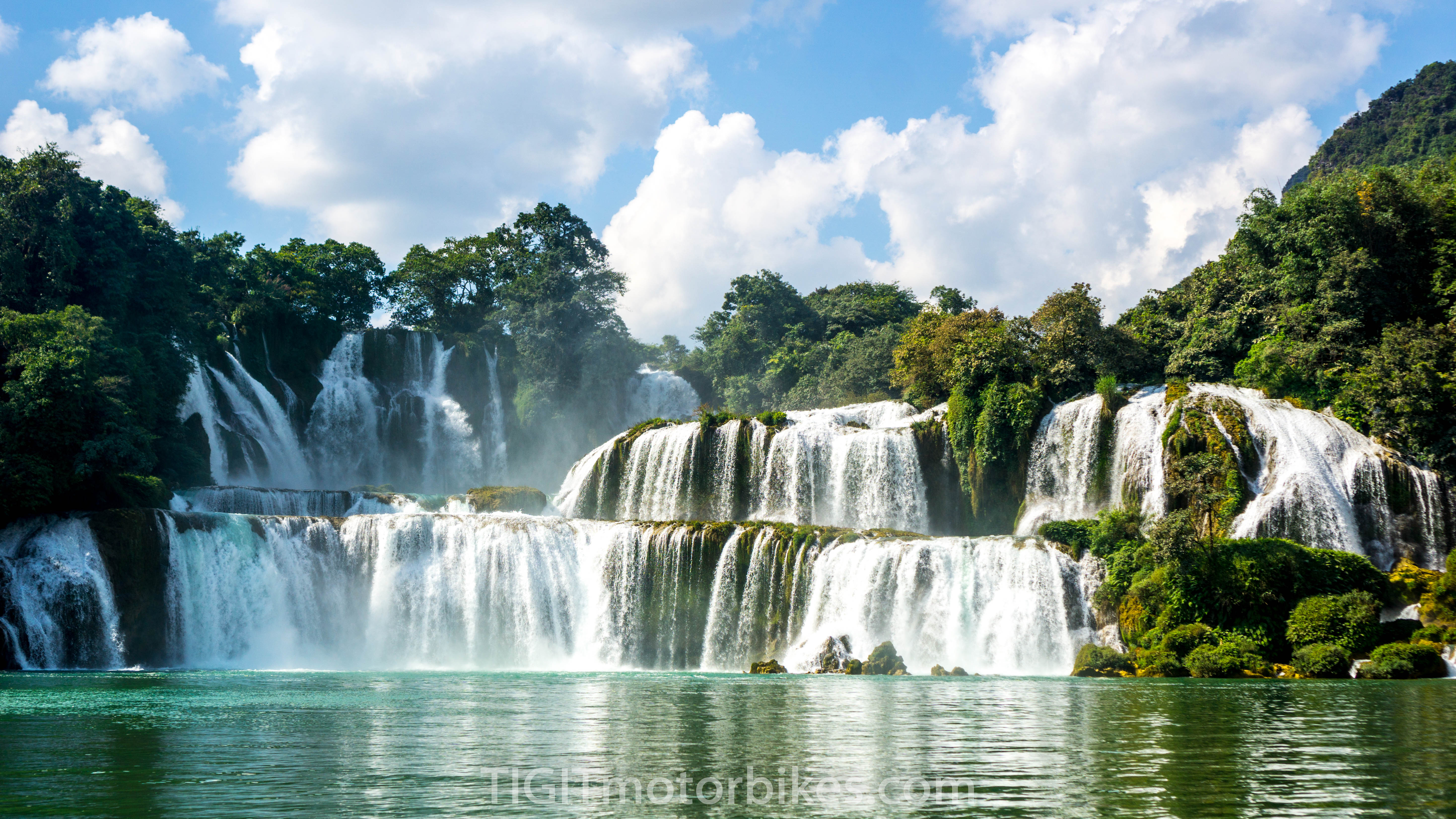 Places not to ride in Vietnam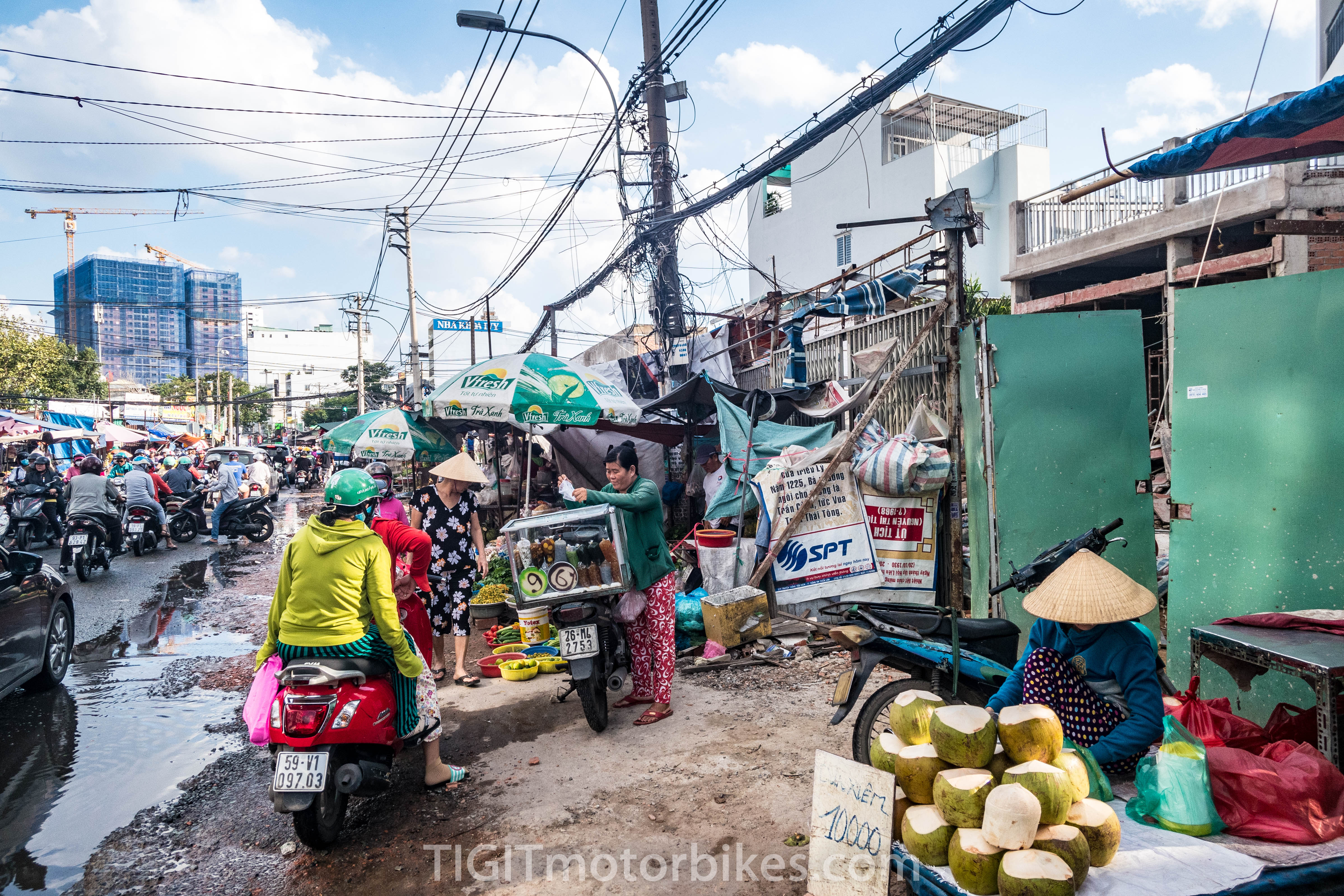 The Mekong Delta
The Mekong Delta is hot, flat, and busy. There is no real way to escape this. A fully guided tour with years of route planning can navigate the Mekong Madness to provide a feeling of remoteness. However, for the standard traveler, this is not a section to "motorbike." It is a lovely option for general culture and a relaxed holiday that is not based around covering hundreds of kilometers. 
Hanoi to Ha Long Bay
Hanoi's drive to Ha Long Bay is probably the busiest and the worst driving in the entire country. There is a reason why Ha Long Bay tours only operate from Ha Noi by bus!
If you really must drive this horrific section, then head off to Cat Ba Island and run your Ha Long Bay tour from there. 
Read More: The Best Motorbike Coast in Vietnam
The Weather
For a full article on the weather, please read the Weather article. There is no right or wrong time to travel to Vietnam by motorbike. The South has different seasons to the North, and a traveler committing to the entire country will experience the heat, the cold, and the rain. We strongly recommend not planning your holiday based on the weather. Instead, read our suggestions on what to bring and wear and pack carefully.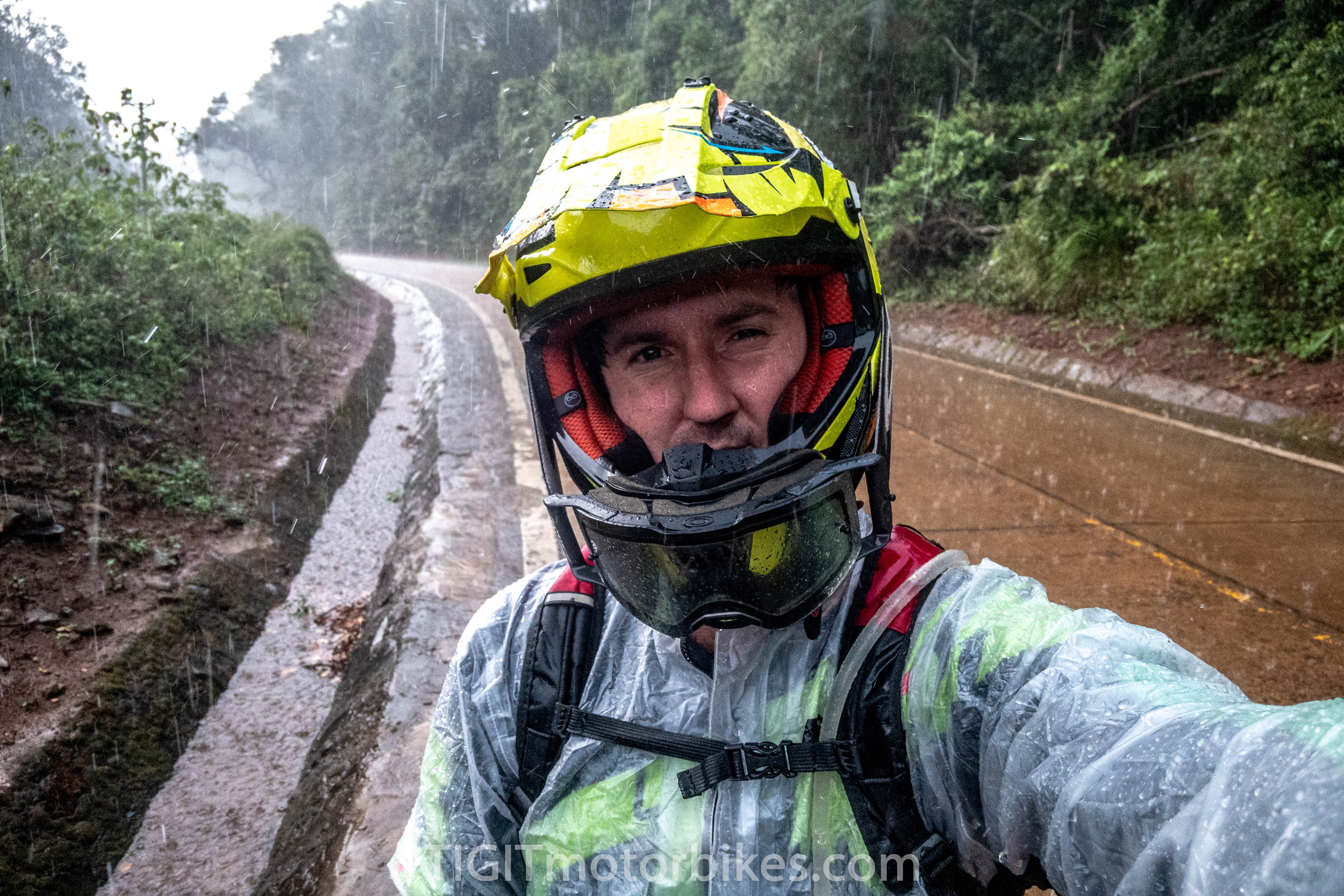 Choosing the right section to ride on a time budget

Da Nang to Hanoi by motorbike
For most people, the standard choice will be the Ho Chi Minh road between Danang and Hanoi.
This section has the "overall best road" in the country, being the Ho Chi Minh Road. It also has Hoi An, which tends to be one of the most popular destinations for tourists. The journey passes through Phong Nha, which has the world's largest cave, various other caves, and limestone water of jaw-dropping beauty.
A traveler will need to make a decision between Ninh Binh or Mai Chau, which are excellent spots for the authentic homestay experience.
Ho Chi Minh to Da Nang by motorbike
The South contains all the beaches while managing to throw in some mountain glory to go along with it. The South has the most varied riding from the coasts to the mountains, which will likely be a decision made for many people combined with the gorgeous tropical heat.
Ha Giang Loops by motorbike
The weather is volatile and unpredictable, but this is made up for by incredible mountain beauty. For views that you will never forget, then Ha Giang is the place to be.
How far is it possible to ride in a day?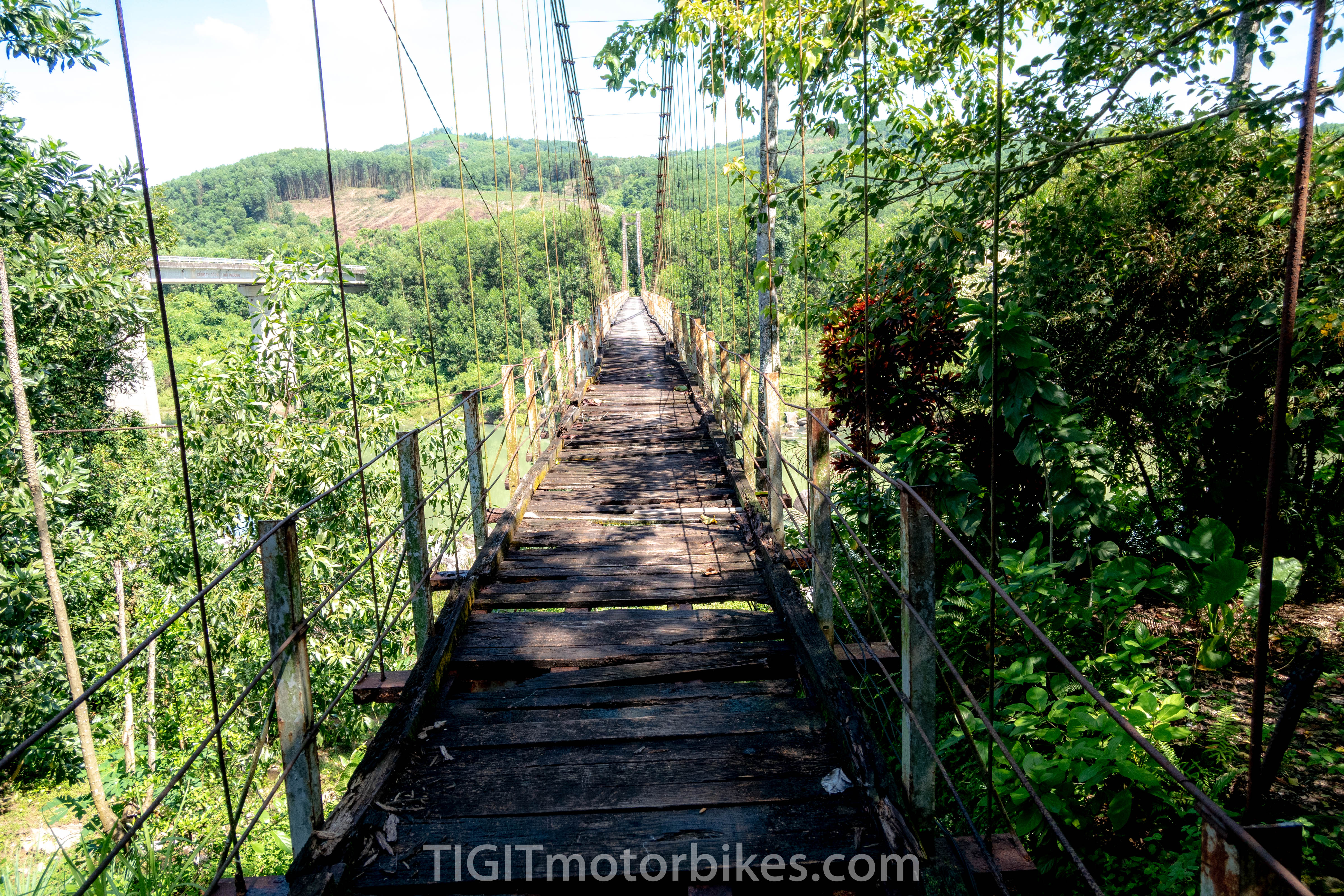 There is no mathematical equation to calculate the optimal time spent on a Vietnam motorbike route, and we cover this topic in detail on how to navigate Vietnam. Here are some general rules to follow.
For most, everything on GoogleMaps in terms of timing needs to be doubled or tripled.

For most, a typical day is 150-200km on models 150cc and below.

On models above 150cc, 200-250km becomes normal, and 300km is achievable.

There are hotels everywhere, so failing to reach the destination is not a problem.

A full day of driving includes coffee breaks, pictures, and generally relaxing, not stressful.
Common mistakes when considering motorbike distances
Booking everything in advance (apart from in High seasons and Vietnamese holidays)

A concept of "driving a little bit" each day. Commit to a full day drive, then take a rest day

Planning the holiday around "countryside hotels" is a mistake. The countryside is poor, and not fun for a tourist. Make sure to try and commit to the next city or tourist town.

It is a mistake not to plan for rest days. From experience, there needs to be at least one rest day for every four days of driving.