Reading Time:
12
minutes
As one of the top travel destinations in Southeast Asia, Vietnam is packed with adventure activities from Saigon to Hanoi. Catch some kitesurfing, explore the world's largest cave, ride off road through the Vietnamese jungle, and taste the countries taboo foods. Each of these destinations can be accessed by motorbike, the perfect Vietnam itinerary awaits the adventure traveler.
HCM to Cu Chi Tunnels – Machines Guns & Motorbikes
Anyone short on time or looking for a one day trip from Saigon can get their heart pumping with an AK47 at the Cu Chi Tunnels.
Cu Chi is part of the must-see sites on a Vietnam backpacking itinerary, this could also be a cultural tour where you learn the life and times of Vietnamese soldiers etching out an existence in tiny underground tunnels.
Frequently asked questions about Cu Chi:
How much are the Cu Chi? If you come on your own motorbikes, $5 entry. 

What are the Cu Chi Tunnels? Part museum, part tunnels, Cu Chi are the chance to see what life was like during the Vietnam war. Brutal, unimaginable, and interesting.

How to get to the Cu Chi Tunnels?

From Saigon, about 2-3hrs by motorbike. We have a

full guide to Cu Chi tunnels by motorbike

to get you there!

What about the AK47's? The easiest way to the gun range is at the end of the Ben Duoc tunnels tour. There's also M16's, M1's, and more. The guns are bolted down, it's more about the photo.
Highlights: Guns, tunnel exploration, 2-3hr motorbike road trip from Saigon.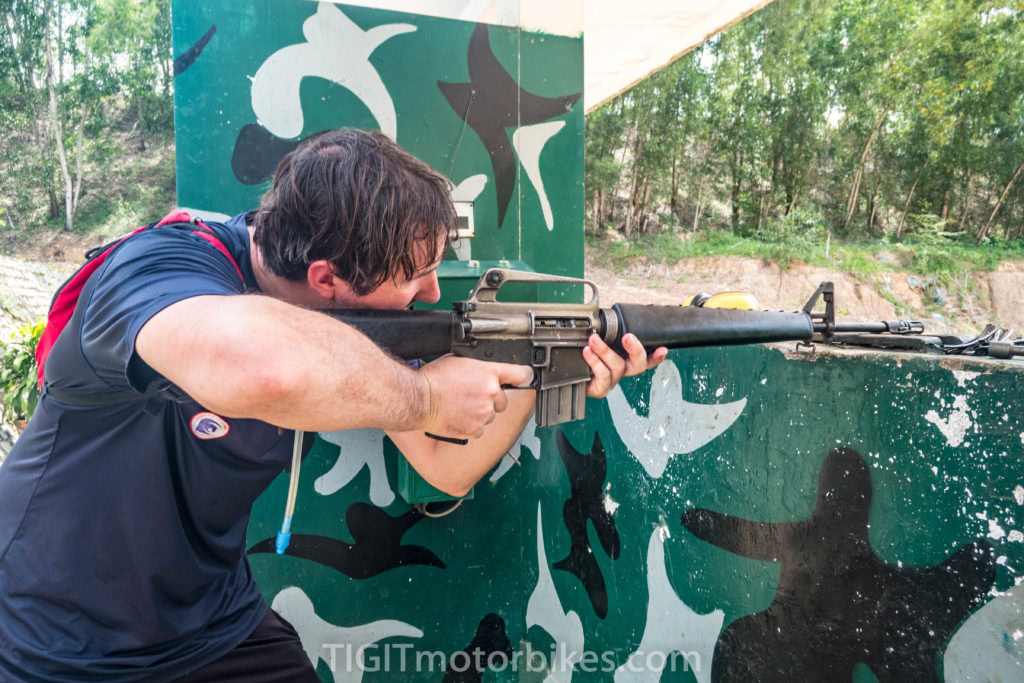 HCM to Cat Tien – Extreme Off-Road Motorbiking 
Not far from Ho Chi Minh lies the Cat Tien National Park. A beautiful piece of Vietnamese jungle that can be filled with mud holes, dirt tracks, and a beautiful city escape where you can ride virtually alone.
Frequently asked questions about Cat Tien National Park: 
Where is Cat Tien? Roughly 4.5hrs from HCM. Follow the DT768 along the river to the park. In the park, DT761 is muddy madness. The main route is more casual.
When is the best time to ride Cat Tien? May-Oct. are the monsoon season, expect mud holes! The rest of the year the roads are drier and easier to ride.
What motorcycle should I ride? For the muddy roads the Honda XR150 is a good choice.

Where to stay Cat Tien National Park? Green Bamboo Lodge is our go-to.

Can I take a Cat Tien National Park tour? Yes, we offer an excellent

guided motorcycle tour to Cat Tien National Park.

Perfect if you only have

2 weeks in Vietnam.
What else is there to see? The park has a primate sanctuary, the possibility of wildlife spotting, botanical gardens, and trekking trails.
Highlights: Off road motorbiking, a night riverside in the jungle, primate sanctuary.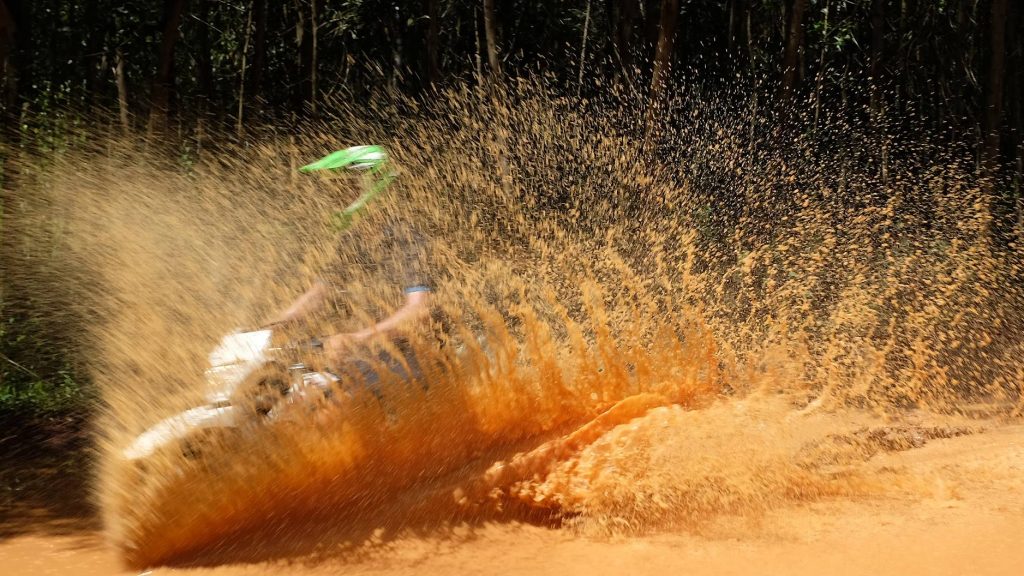 Danang to Phong Nha – Ziplines, Caving & The Hai Van Pass 
Picture yourself screaming down a 400-meter zip line only to be dropped in the waters at the other end then navigate your way via the glowing torch atop your head through a cave! On this route from Danang to Phong Nha you can zip line, ride the Hai Van Pass and view Vietnam's beautiful coastline.
Frequently asked questions about the Hai Van Pass:
Is the Hai Van pass popular? Yes. 

Is it a must do? Not really. 

Will it give your blog following a point of reference that they can google and feel a connection to your crazy travel adventure? Totally!

How to see Hai Van Pass?

Motorbike rental for the Hai Van Pass

is easy in Danang. Make the journey part of a 3-4 day loop adventure up towards Dong Ha or further to Ke Bang National Park.
Adventure route guide & sites. Danang –> Hai Van –> Phong Nha:
Danang; Explore and rappel the Marble Mountains.

Hai Van Pass; Follow the Deo Hai Van road from Danang heading north over the pass.

Adventure route: Follow the QL14 inland towards the early stages of the Ho Chi Minh Road. You'll find some single track and can venture towards Ke Bang National Park.

Casual route: Follow the QL1A road towards historical Hue then on to Phong Nha.  
For a traveler, this pristine single track road along the QL14 adventure route is something to marvel at. Although it is becoming more popular every day, it still remains remote and mostly untouched with nearly no other vehicles to be seen. As you venture further north you'll reach the incredible Ke Bang National Park. 
To do Phong Nha Ke Bang National Park;
Hike the Karst mountains.

Phong Nha Cave. Arrive inside by boat on the underground river from $10

Paradise Cave. Trek inside via an elaborate system of stairs and walkways from $10.

Dark Cave. Zipline, swim and roll around in the mud from $60. It's all part of the adventure.

Swallow Cave. Spend a day trekking and a night sleeping in the cave from $300

Hang Son Doong Cave, the biggest cave on the planet.  4 Day adventures from $3000!

Enjoy a

FREE, self-guided motorbike tour of the park

that includes stops at the Botanical Gardens, Eight Ladies Memorial, and Nuoc Mooc Springs Eco-Trail.

If you've made up a

Vietnam solo travel itinerary

you can jump on with a number of tours here.
From here you can continue on to Hanoi making a stop in rural Mai Chau, a beautiful part of northern Vietnam one days ride from Hanoi. If you are first trying to decide between visiting Sapa vs Ninh Binh. Ninh Binh is much closer to where you are now, but if you're headed into northern Sapa is worth visiting. 
Highlights: Riding the Hai Van Pass, ziplining, caving, riding single track through the mountains.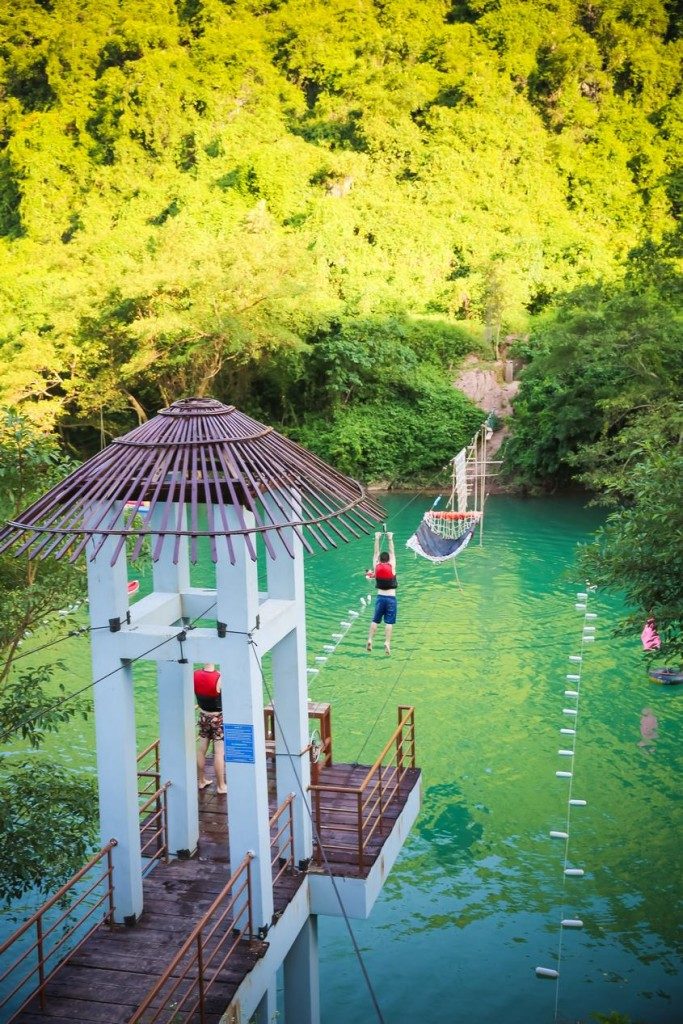 HCM to Mui Ne – Kitesurfing, Sandboarding & Beach Life
Riding the coast opens up your Vietnam itinerary to all things water sports, and Mui Ne is king when it comes to activities like sandboarding and kitesurfing. Not to worry, there is enough breezy ocean to accommodate everyone from novice to pro.
Frequently asked questions about Mui Ne kitesurfing:
Best time of year to kitesurf Mui Ne? October to March. Expect consistent 20+ knots.

Can I learn to kitesurf in Mui Ne? If you want to learn to kitesurf, there is plenty of kitesurfing schools. 

What is the best beach for kitesurfing Mui Ne? Beginners should stick to Mui Ne's main beach, it has the least obstacles to deal with. 
Those who prefer their fun to be sandy rather than salty can ride to the red (Doi Hong) and white (Doi Cat Trang)  sand dunes about 15-km from Mui Ne. Here you can hire a sandboard and practice falling on your face until you either pass out from the heat or get the hang of it.
Frequently asked questions about Mui Ne sandboarding:
How much is it to rent a sandboard? If you ask the local kids there, around $1 + tip.

When is the best time to go? Early, sunrises are amazing, temperatures are cool, and there will be fewer people.

How do I get to the Mui Ne sand dunes? Ride your motorbike, organize a jeep tour or hire a taxi.

Anything else I should know? Avoid the DT716 road along to the coast to the dunes. There is a

notorious Mui Ne Police trap

on this road and you'll likely get fined for the sake of being fined!

What else is there to do closeby? Visit the Fairy Stream. A welcome red river tinted by the dunes where you can walk barefoot in the soft watery sands along the forest edge.
Adventure route guide & sites. Saigon –> Vung Tau –> Mui Ne –> Dalat
Vung Tau; Visit Thích Ca Phật Đài Buddhist temple. Walk to Woman's Island (Hon Ba) to see the Goddess Of The Sea. Hike up to the 32-meter high Christ The King (Tuong Dai Chua Kito Vau).

Mui Ne. Ride along the QL55 coastal road. With a

Vietnam itinerary 10 days,

this route can easily be done.

Dalat. Continue the adventure inland. Dalat has cool temperatures, action activities like canyoning and rafting, and the ride in on the QL28B through the mountains is stunning.  
Highlights: Kitesurfing, sandboarding, riding the coastline and mountain ranges.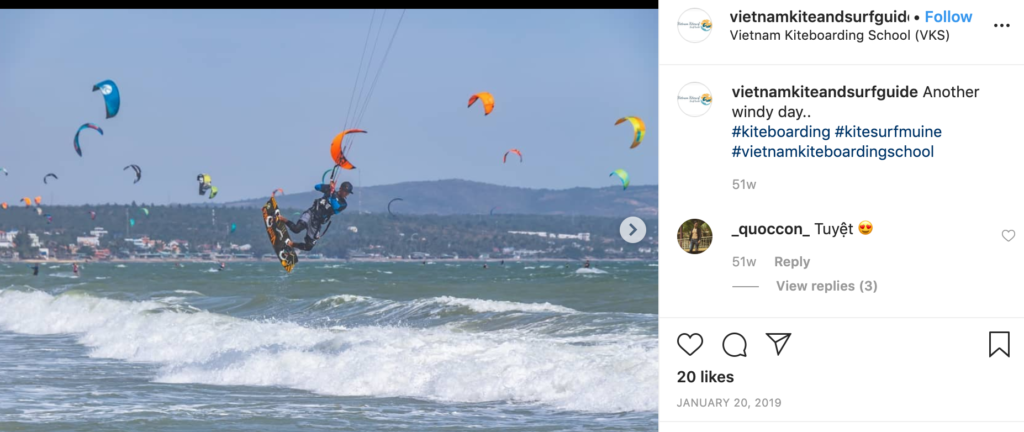 Dalat To Nha Trang – Parties & Adrenaline Water Sports
This route is split between the adventure activities of Dalat and the party scene of Nha Trang, all connected by beautiful mountain passes. As both cities continue to attract a growing number of tourists year after year, along with it grows the number of adventure options. This a great option if you have a Vietnam itinerary 1 week to work with. 
Frequently asked questions about Dalat:
What are the top Dalat activities? Canyoning, whitewater rafting, and visiting the Crazy House are all popular. Check our

Top Dalat Attractions

guide for more.

Best time to go to Dalat? The area is blessed with year-round mild temperatures. Almost anytime is a good time to go. 

Where's the giant rooster? Located about 15kms from Dalat,  just north of K'Ho coffee and a bit south of Lang Bian Mountain on Google Maps. There's nothing else to see.

What are the Clay Tunnels Dalat? Located near Tuyen Lam Lake, they're a clay recreation of Dalat City and its surroundings. Churches, trains, turtles, guitars, pagodas, all entirely build from the areas clay. This you will need to see to believe!
Frequently asked questions about Nha Trang:
What's Nha Trang like? Expect bumping bars and busy beaches. If you like to party this is your city.

Best time for diving Nha Trang? March – October. Visibility is better as the seas are calmer. 

How much os flyboarding Nha Trang? About $70/ 15-minutes. Hopefully you're a fast learner! 

Best time to windsurf Nha Trang? November – March when you can expect steady winds.

What are some other adventure activities near Nha Trang? Cliff jumping at the isolated Ba Ho Falls is popular. Search Google Maps and follow the QL1A. 

Best bars in Nha Trang? D.j's and dance music, Sailing Club. Casual cocktails, Amigos Whiskey Bar. Lazer beams, Russian vodka and party music, Z-Club.
Adventure route guide & sites. Dalat –> Nha Trang
Riding Dalat to Nha Trang by motorbike, you basically have two options;
The direct route through the mountains on the QL27C. The scenery is stunning and you can arrive in Nha Trang in about 5-hours

The coastal route, however, is where the highlights are really at. This route along the QL27B/QL1A provides some excellent riding along a beautiful bit of Vietnam's coast.
Highlights: Whitewater rafting, diving, cliff jumping, riding curvy mountain roads.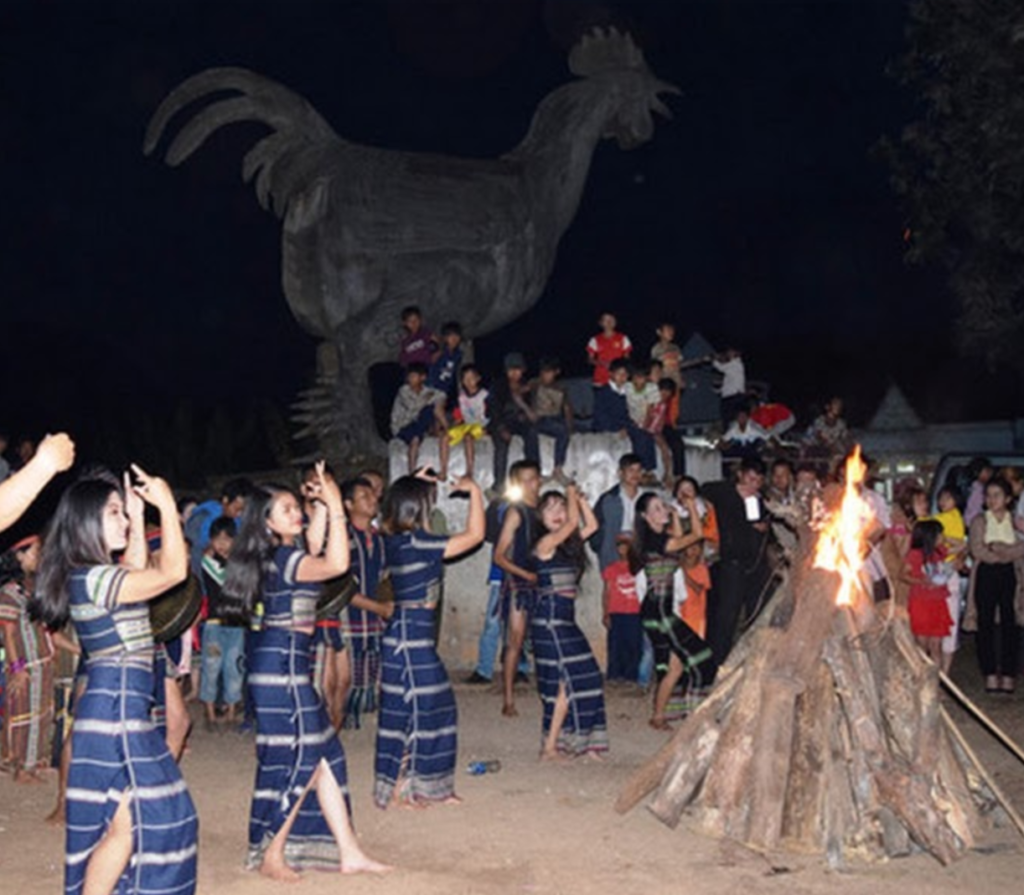 Hanoi & The North Of Vietnam – Questionable Food & Incredible Riding
Once you've made it to the north of Vietnam you've basically opened up an entirely other side of the country that is begging for your exploratory attention. When riding north Vietnam 10-days to 3-weeks is required to do it properly. That's a broad timeline, but so are the options of things to do here.  
Frequently asked questions about Hanoi & Northern Vietnam by motorbike:  
Best motorcycle routes from Hanoi?

South

on a

Ninh Binh day trip from Hanoi

to hike Bich Dong Pagoda or push yourself in further up Hang Mua Peak.

East

to Halong Bay for junk or party boat tours. The tour is good but the drive from Hanoi to Halong is traffic lunacy. Take a

Vietnam hop on hop off bus

or a regular bus.

North

to explore the Ha Giang Loops, checking out places like the Ban Gioc waterfall, and remote ethnic minority groups around Sapa.

West

to Pha Din pass or to the rest of Hanoi's four famous passes O Quy Ho, Khau Pha, & Ma Pi Leng.

We compiled all of your

options for Hanoi And The North Of Vietnam by motorbike

to make the research easier. 
Weird places in Hanoi to visit:
What do the 44th president of the United States, Anthony Bourdain, and beating snake heart all have in common? They've all been part of a memorable meal in Hanoi!
Snake shooters.

In Lệ Mật, a.k.a. Snake Village, just outside of Hanoi you can get your snake fried, grilled, or with its tiny beating heart removed and dropped in a shot of vodka. Vegans need not apply.

Tony & Barack.

At the simple Bún Chả Hương Liên noodle shop in May 2016, Anthony Bourdain and Barack Obama sat down at a small wooden table with plastic seats to sip noodles and beer. Today that spot is encased in glass and business continues as usual.

Hanoi Hilton. The Hoa Lo Prison, a.k.a. Hanoi Hilton was once a ruthless war prison, most known to Americans as the prison that held John McCain. Today you can view reenactments of the atrocities as a cold reminder of the past.

Highlights: Ha Giang Loops on a motorbike, fresh snake served in a shooter, historical Hanoi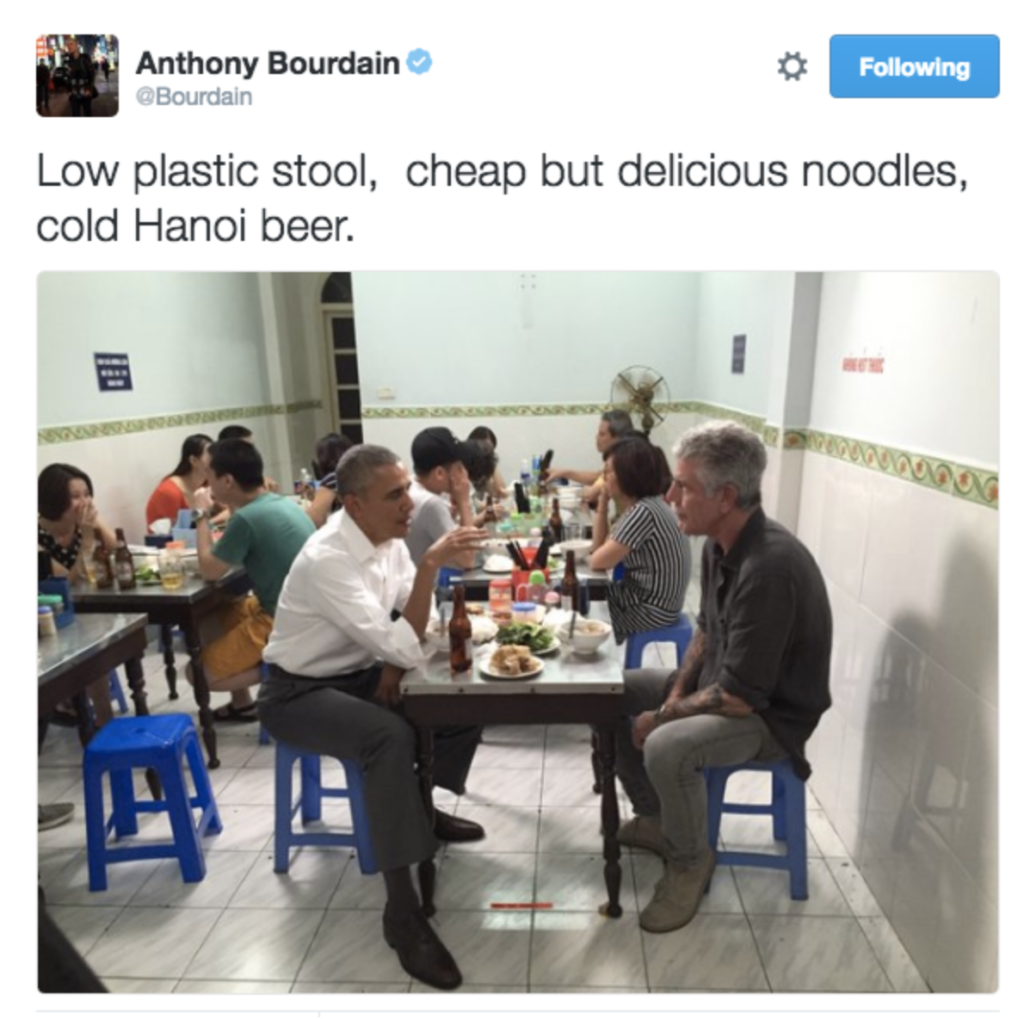 North Of Vietnam – Trekking, Bamboo Bongs, Ethnic Minority Groups
The North of Vietnam holds some of the most beautiful landscapes in the entire world and is perfect for one month in Vietnam budget travel. The beauty here can be explored on foot while trekking near Sapa and by bike exploring the various loops and passes.  The catch is, the area's weather can be volatile and unpredictable so an adventurous attitude is needed to venture up here! 
Frequently asked questions about the North of Vietnam motorbiking:
Best roads to explore on a motorbike? The Ha Giang Loops are great for exploring. Loads of interconnecting roads that can create long and short drives.

North East towards Ban Gioc Waterfall area is reserved for the slightly more adventurous types. These roads are explorable if you're confident in your riding.

North West of Vietnam is for the crazy people. These roads aren't always mapped, there is some serious off roading, and you'll probably get lost. If you prepared mentally and with food, drink, and fuel, you'll have a great time!

Check our

route guides for the north of Vietnam

. Each section is about a week, it's good to show up prepared for this part. 
Sapa adventure trekking and the hill tribes:
How much is a hill tribe trek in Sapa? $60-$100 gets you 3-days trekking and 2-nights sleeping in the mountain villages. The perfect addition to a

Vietnam itinerary which includes Sapa

.

What ethnic minority groups live near Sapa? The Hmong, Tay & Dao tribespeople live around Sapa.

Is Trekking difficult? You'll need to be in minimal shape. Enough tourism flows through Sapa they are accustomed to people of all fitness levels. 

Interested in getting buzzed Vietnamese style? Thuoc Lao is very strong tobacco typically smoked in the rural areas of Vietnam. The smell is harsh & the smoke will probably knock you out. The locals like it, ask around if you want to feel the effects.
Highlights: Sapa ethnic minority groups, remote motorcycle routes, Ban Gioc Waterfalls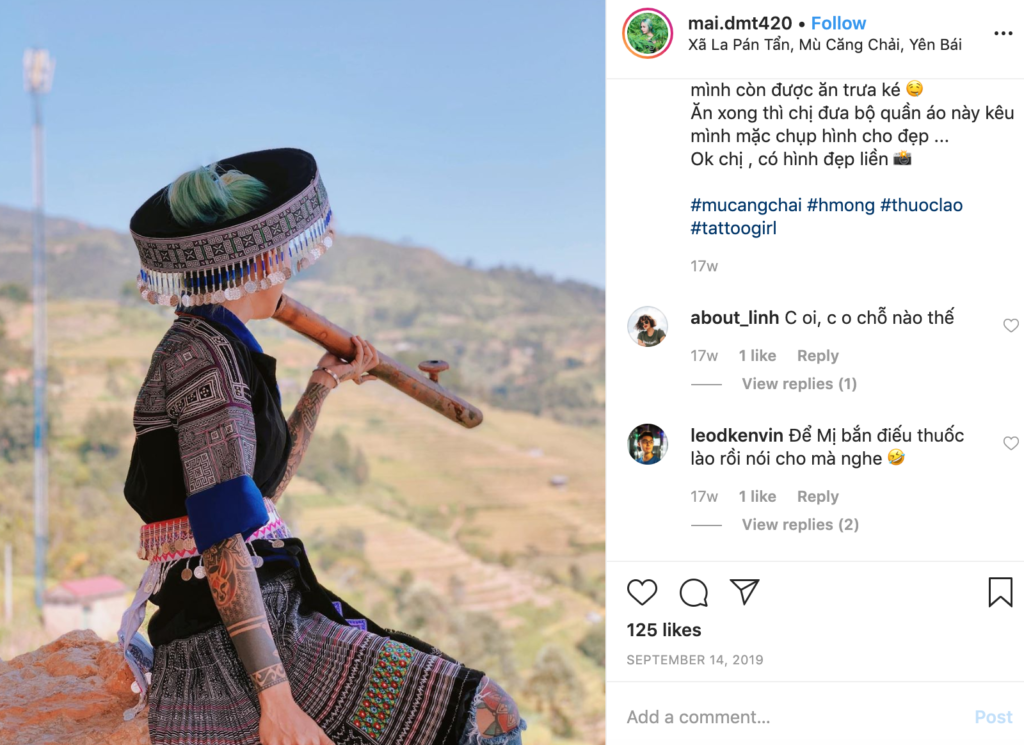 Ho Chi Minh To Hanoi By Motorbike – The Full Vietnam Adventure 
Looking for a taste of everything Vietnam has to offer? AK47's around Saigon, canyoning in Dalat, drinking 'till dawn in Nha Trang, kitesurfing in Mui Ne, snake shooters in Hanoi. You can squeeze in as much of these Vietnamese adventure highlights as possible in one big road trip riding Vietnam north to south or vice versa.
 To ride the length of Vietnam and actually enjoy yourself you'll need about 20-25 days. More is always better, and with 4 weeks Vietnam north to south or the opposite, you'll have a good chance to see most of the highlights. To add in Hanoi and the North of Vietnam you'll need another 1-3 weeks, it's a big country with plenty to do, don't kid yourself into thinking you can do it all in 3-weeks. You'll spend less time doing and more time driving.  
Frequently asked questions about what motorbike to ride in Vietnam:
Cheapest way to travel Vietnam on a motorbike? A Honda Blade 110cc semi automatic motorbike can be rented, starting in Ho Chi Minh and finishing in Hanoi for $250/month.

Best off road motorbike for Vietnam? The Honda XR 150cc or Honda CRF 250cc are perfect for tackling any motorbike adventure Vietnam can throw at you. 

Where can I rent a motorbike in Vietnam? Tigit Motorbikes has offices in Ho Chi Minh, Danang and Hanoi. You can pick up a motorbike in one city and drop it off in another.
Adventure route guide HCM to Hanoi:
HCM — > Cat Tien — > Dalat — > Nha Trang — > Quy Nhon — > Hoi An — > Hue –> Khe Sanh — > Phong Nha — > Ninh Binh — > Hanoi.
If you want to do this the other way round, riding north to south, there are five good reasons why motorcycling from Hanoi to HCM is worth doing.
It's cheaper.

The best roads are nearby.

Hanoi is less busy than Ho Chi Minh.

You'll start with the extreme weather and it will only get better.

It's easier to meet people.

For a full route description read Tigit Motorbikes

routes and maps from Ho Chi Minh to Hanoi

.