Reading Time:
13
minutes
Surrounded by the beautiful pinewood forests, locked in an endless spring, and rooted French history. Dalat is ideally located for a stop on the way to or from Ho Chi Minh City, Nha Trang, or while making your way through to the coffee region of Buon Ma Thuot. Stop, stay, and take in some of the many endless experiences this dynamic city has to offer.

Depending on how you take the photo, it could look like you're risking life & limb to slide down this natural waterfall. As you can see though, this nice tour guide is waiting for you at the bottom with welcome arms!
Adrenaline Water Sports
Canyoning Tour
    A canyoning Dalat Vietnam tour breaks down something likes this; strap on a helmet, lifejacket, and lace up your shoes nice and tight. Next, make your way to one of the area's waterfalls, get attached to a rope, then scale down the length of the waterfall negotiating slippery rocks & a flowing river. If all goes well, you can try out some natural waterslides & plunge pools. It's incredible!
 Pros
Tourist safety is generally the top priority. Read reviews to know what companies are the best.
You don't need any previous climbing or canyoning experience. The guides will teach & you'll learn, right on the spot.
An adventure sport you can't do just anywhere, the climb will make for a memorable experience.
   Cons
Not prohibitive, but $70 for a ½ day might put off the long-term budget traveler.
For the wrong person, this could be a dangerous activity. You might still find scaling slippery rocks more than you bargained for.
Check the Dalat Vietnam weather, if it's been rainy heavily you might be just there to watch the falls.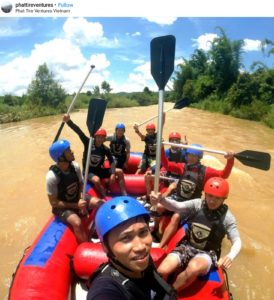 [email protected]  – Almost everyone is smiling here. Well, maybe not the one guy near the front. Maybe he was all out of smiles at the time. As for the rest, they seem safe and excited. Go for it!
Whitewater Rafting  
Test your skills against level II-IV rapids at a top Dalat Vietnam attraction. This is not a typical Vietnamese past time, but the country does have the perfect mountainous setting for it. You'll find yourself splashing, rowing, portaging waterfalls, and occasionally swimming your way downstream. If you've ever wanted to try whitewater rafting, Dalat is the perfect place.
Pros
It ticks the boxes for adventure! Not just sitting in a boat, you'll be portaging falls and working the river.
Tours usually come as a package. Enjoy lunch, drinks, transfers, & full training.
Reasonably priced for a full day activity. At around $70usd, that's $10/hr for fun!
Cons
Not for everyone. You'll need to be fit enough for a full day of activity.
Reviews say the rapids can be tame. If you're looking for big class V's, pray for heavy rain!
Ask about the "rafts," some companies might have you in a 2-person style kayak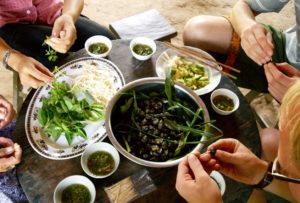 A nice pot of snails for you and your friends to enjoy! For interactive dining with plenty to talk about. Snails make for a tasty night in Da Lat to remember.
Food Experiences
Night Market
    For an experience that will invigorate all five of your senses, check out the Dalat Night Market for dinner. The market is the typical heartbeat of the cities food trade like those found in towns & cities all over Vietnam. Located just off Nguyen Thi Minh Khai street, you'll easily spot people and vendors pouring out onto the road.
Before you go:
Find it on our Dalat attractions map.

Try some Vietnamese staples like Ban Mi subs, hot pots, duck eggs, and rice bowls.

More than just food, you can find cheap clothes, household goods, fine fabrics and souvenirs here.

For dinner, the action gets started after 5pm.

A local treat, check out a Bánh Tráng Nướng. A kind of rice cracker they turn into a pizza!
Quan 33
A focus on regional dishes, you'll get the full experience of what locals really eat around here. Busy, smoky, small, and authentic. Quan or Restaurant 33 is a local go-to for snails and bbq. You can expect tasty food and discount Vietnamese pricing. You were probably craving some snails anyway, weren't you?
Before you go:
Snails are the main attraction. They come stuffed, are on the

Vietnam safe foods to eat list

, and usually with a bit of lemongrass & pork.

Oxtail is a specialty here too. Try it as a soup for a tender and flavourful dish.

For interactive dining, bring out the bbq. You'll get a little cooker at your table with meat to grill.

It's cheap, even just to try something new you can order a couple of dishes to try.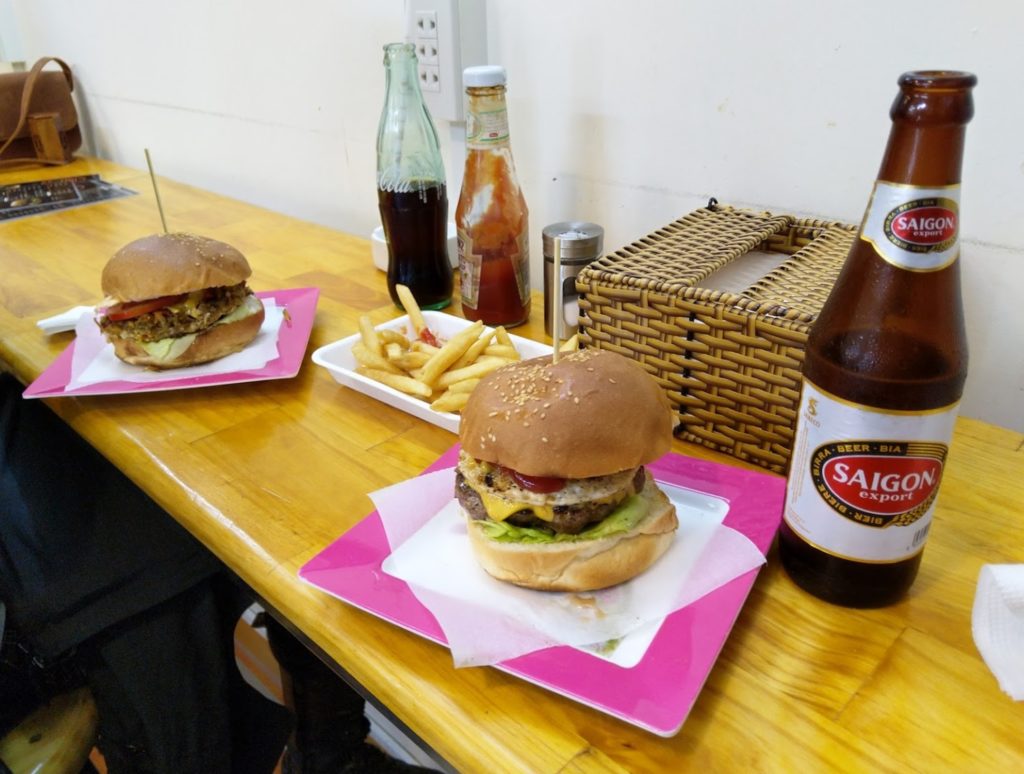 Image: Domink Oepen    –     Big burgers, cold beer, chips. Hell, there is even Heinz ketchup and a bottle of coke. This is the epitome of classic western food. You might not think its so special now, but wait until you've been eating pho for 37-days. Ohh, you'll be looking for a Gourmet Burger and a beer alright.
Gourmet Burger
After traveling Vietnam by motorbike for several weeks, the thrill of Pho might be lost on you. A French-run restaurant that prides itself on Australian beef, Gourmet Burger is just like it says it is. Big gourmet burgers, lots of meat, and that taste of home you might be missing.
Before you go:
You can see them grill up your burger. Sweet if you like your meal served with a side of chef interaction.

Anyone traveling on a budget will view this burger joint more as a treat. The price for imported meat on a bun is 2-3x what you'll pay for street food.

More than just burgers, you can order up fish & chips or ribeye's here.

Intimate, charming, tasty. The owner can make you feel at home in French, English, Spanish & Vietnamese. How's that for a multilingual meat joint.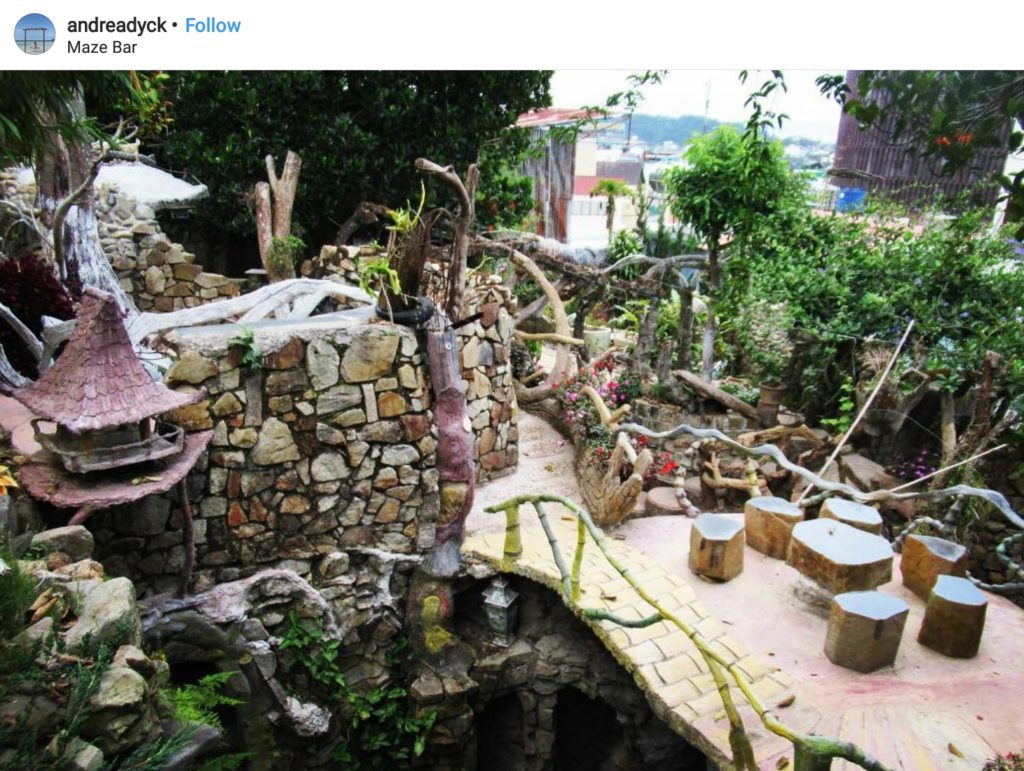 Image: @andreadyck    – Just a sample photo from what to expect from the Maze Bar. Now go look at Salvador Dali paintings and have a drink, the rest will come to you.
Top Drinking Spots
Maze Bar, 100 Roofs Café
    A quirky experience serving up part lounge, part labyrinth, and an artistic outlet that stirs up excitement. The Maze Bar Dalat is like no other bar on earth. This multi-story building sits perched high on the hills of Dalat disguised as any other housing complex. Once inside, you'll find yourself amazed by the intricate artwork that attaches itself to every wall. Looking like a Crazy House inspired wonder, it falls right in line with other top places to people watch. Guests will find themselves happily lost as they seek out a path to the gardens or the upstairs bar.
Pros
A once in a lifetime experience, no other city on the planet would approve a permit to build this place!
It's fun. Go during the day, walk around, get lost & go see the gardens. It's impossible not to have a laugh.
Cheap entertainment. Entry fee is the purchase of any drink. If you get lost here for 2-hours, it's worth it.
Cons
If you're claustrophobic, you might struggle with the confined spaces and low ceilings.
Actually getting drunk here might be a bad idea. There are so many things to trip you up & you can literally get lost.
Not a restaurant. People occasionally arrive thinking they will get a weird dining experience too.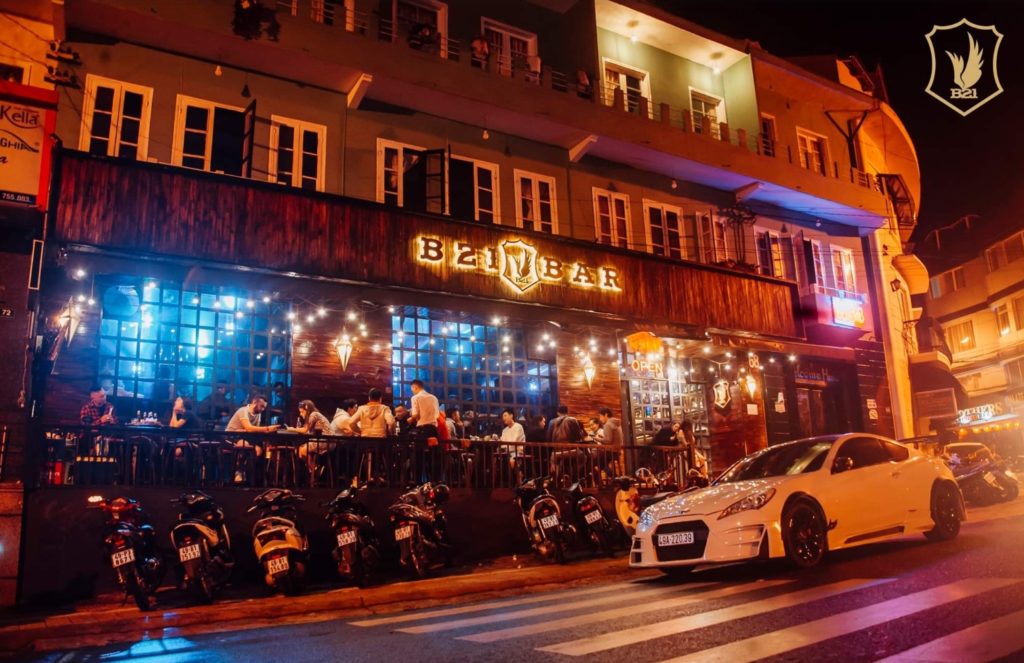 Image: B21 Bar   – Cool, it just looks cool. Sit outside if you want to be seen looking cool. Sit inside if you want to be undercover cool.
B21 Bar
As much a locals hangout as a foreigner one, B21 Bar doubles as both a restaurant and bar. You can sit on their patio and enjoy the fresh air, or hideout inside on those rainy days.  The main draw here is the 2-for-1 happy hour from 3pm-8pm daily. Around 10pm they fill up and morph into a club and shisha bar.
If you need help finding it, check out Dalat attractions map.
Pros
Happy hour is going to be the top draw here. 5-hours of 2-for-1 drinks, you can't go wrong.
The atmosphere is welcoming. You won't feel like an outsider, or like you're in a strict backpacker joint.
Good location, right in the center of Dalat with many other bars and restaurants around.
Cons
The food. Yes, the food doesn't get many good reviews. Eat elsewhere then come for cocktails.
The music is in your face loud after 9 pm. If you just want to dance it perfectly, any conversation will be lost to the music.
After happy hour is done, prices become noticeably steep. The bill might sober you up.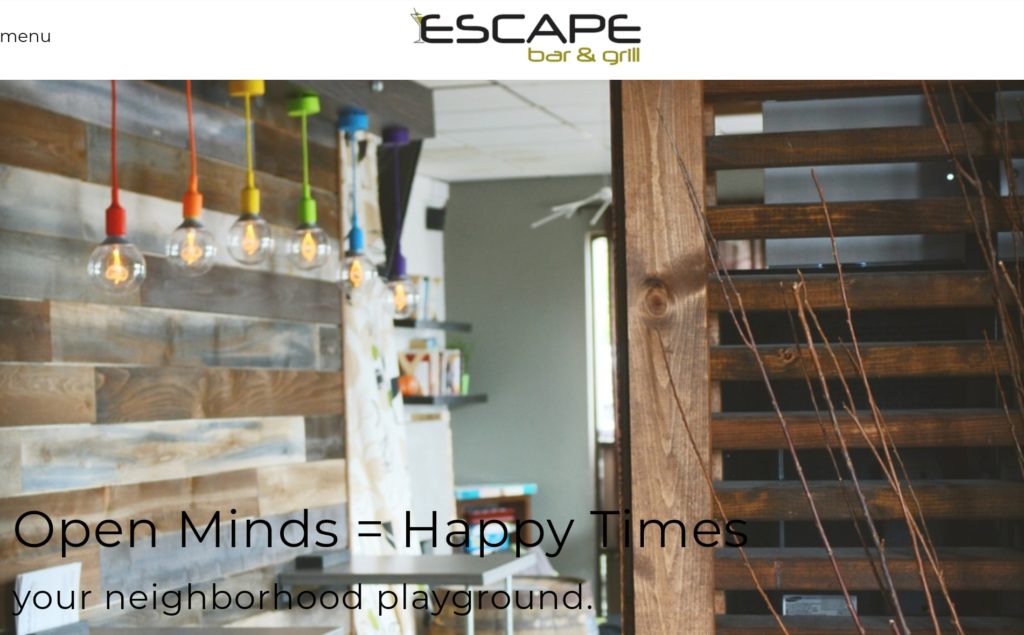 Image: Escape Bar  – The slogan of this joint sums everything up nicely. If you're going to play anywhere in town, it should probably be the Open Minds = Happy Times place.
Escape Bar
    When you just need a place to escape to, this bar has it all! Live music every night, food, drinks, friendly people who like to have a good time. Escape Bar is your go-to place in Dalat that feels like your local hang out at home. Thought the outside doesn't look like much, once you make it through the doors you won't want to leave.
Pros
Live music 7-nights a week! If that's your thing, this is your place.
Talented musicians, it's not standard live music. Virtually every review notes how good the singer is.
Food is decent, you can come for dinner, drinks and a show to make a night out of it.
Cons
Almost the same musicians every night. They're good, but don't expect a new show every time you sit down.
The prices are higher than a standard pub, if you only want a cheap beer, this isn't the place.
For an enclosed bar, it can get a little smoky in here.
Image: @maiya_iv   – Not just an off the charts place oozing artistic enchantment. It also makes for a great backdrop for all those instagram models out there. For real, check out #crazyhousedalat . Like how does everyone happen to be looking away but perfectly poised by accident?
Sleeping Experiences
Crazy House
    If Salvador Dali & Walt Disney went into the construction business, it would turn out something like this. Hang Nga guesthouse, or the crazy house as it's more popularly known, is the expressionist artwork of local Dang Viet Nga. It's what to see in Dalat, you can't really stay in the city without at least stopping by to explore the crazy house.
Pros
The number one place to visit in Dalat. You'll find yourself inspired and intrigued here.>
Cool theme rooms. Check into the busy ant suite or a bed in the bold eagle room.
There is a little café on-site, you can make it part of a unique day out.
Cons
There is no real privacy during the day. With so many tourists, you'll have someone looking through your window.
If you have mobility impairments, you can't get around. There are a lot of steps and climbing.
They get incredibly busy. Arrive at off-hours or expect to get mobbed by people.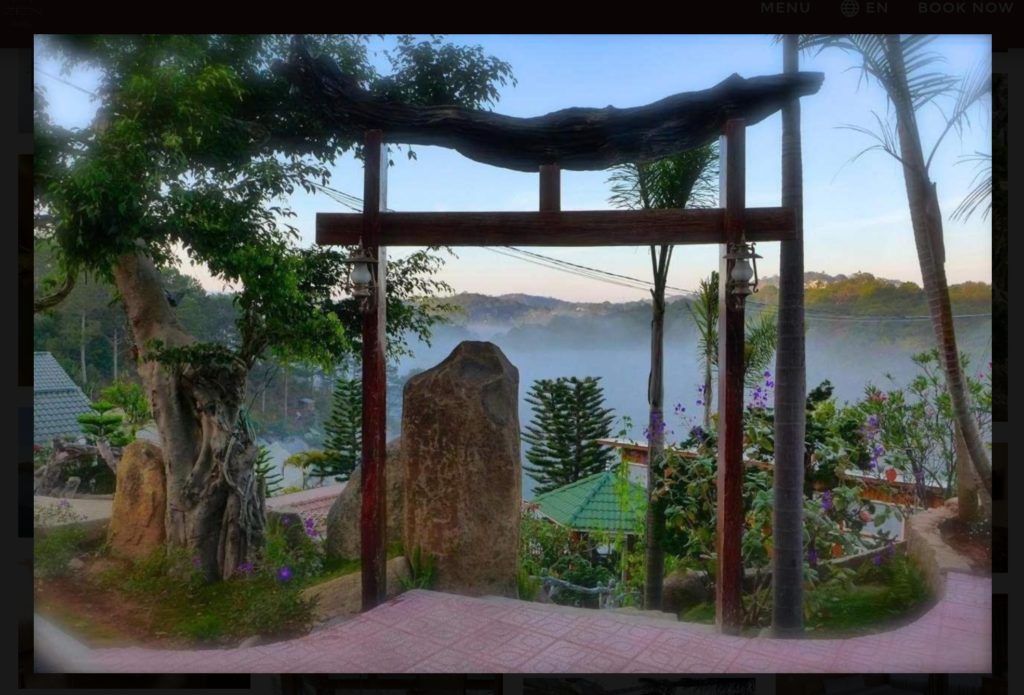 Image: Zen Valley –  This could be how you wake up to enjoy your Vietnamese coffee. After a few days on a Vietnam motorcycle adventure you deserve it!
Zen Valley
    Like curling up in the warm arms of mother nature and hibernating for a day or two, Zen Valley makes for a welcome place to decompress after some time on the road. The hotel resort is built within nature and an overflowing with natural life and positive energy. If you are looking for a splurge from shared dorm rooms with snoring neighbors, enjoy a few days of Zen.
If you need help finding Zen, use our Dalat attractions map.
Pros
You can't beat the tranquility.
Onsite restaurant with reasonable pricing. Wake up to some fantastic Vietnamese coffee.
There is even a pool, you'll never need to leave!
Cons
Not cheap, but for a couple of night of relaxing and swimming it's worth it.
The rooms don't have AC or heat. Too hot or too cold might be an issue.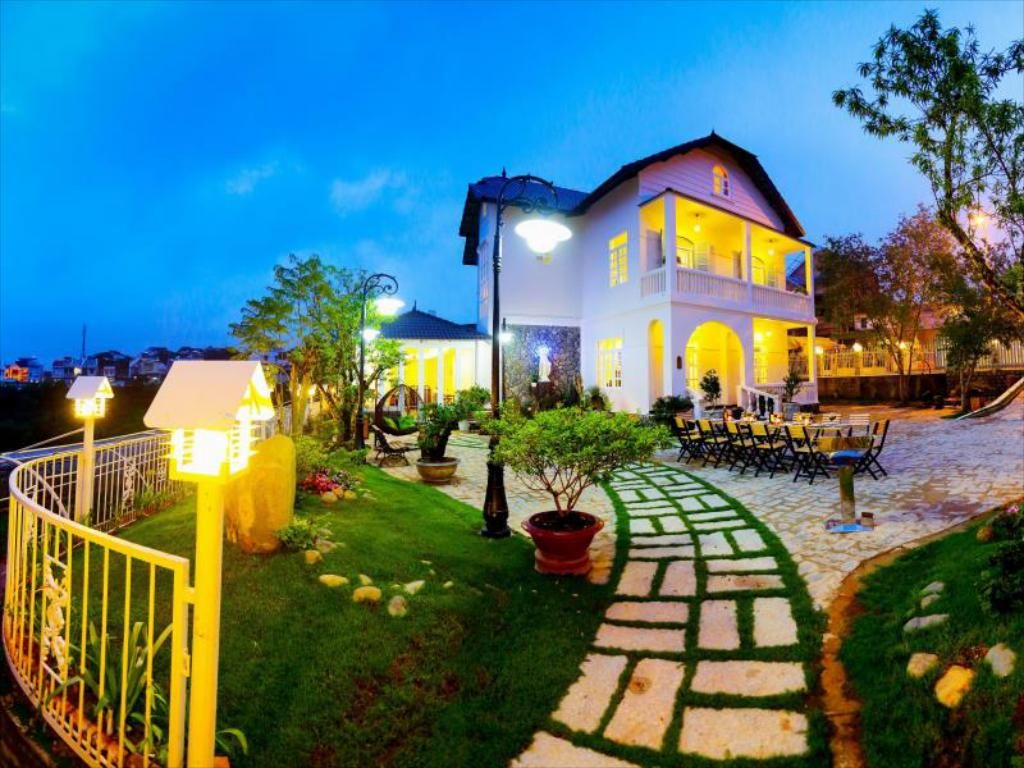 Image: Calla Lily    –     The beautiful walkway up to the Calla Lily Guesthouse. 
Calla Lily
    Like spending the night with friends, Calla Lily greets guests with warm hospitality and a welcome sense of family. A little bit villa, a little bit, homestay, the family here goes out of the way to ensure guests are happy and well taken care of. Onsite is a little strawberry farm and a mix of flowers growing. For a place out of Dalat City that is sure to please, Calla Lily can't wait to meet you.
Pros
Top marks for friendliness and attentive hospitality.
Onsite breakfast and bbq options. Even after several days here, they can offer up different eating options.
A great place to relax and enjoy some solitude. Sip on a coffee and pick a strawberry.
Cons
Aways from town, on your motorbikes it's close to a 15-minute drive. Not ideal for everyone.
Not a social backpacker joint with common rooms and people hanging around drinking beers.
English isn't going to get you anywhere here.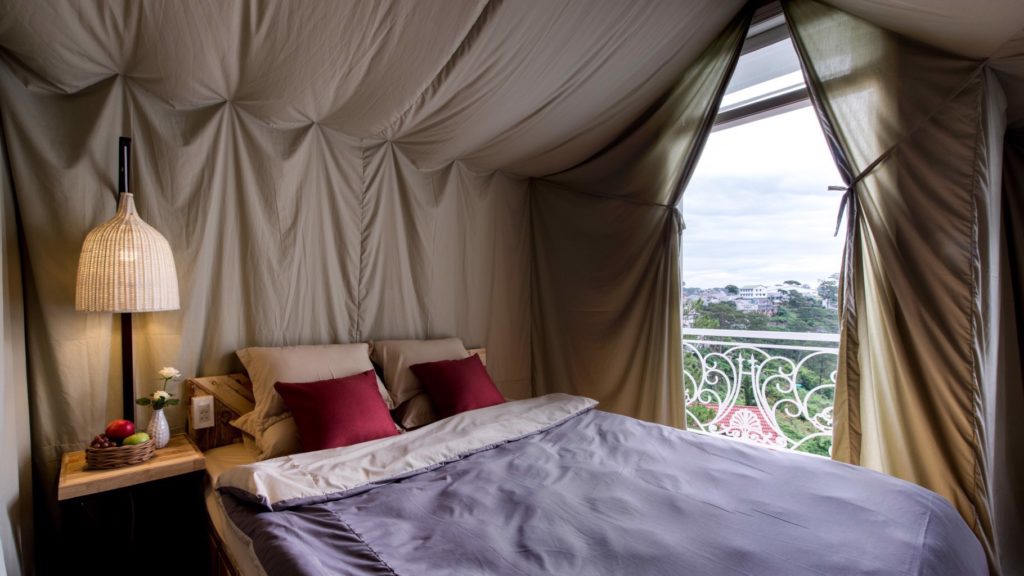 Image: Yolo Hostel  – If you need to prove to someone that you've been camping in Vietnam. Just spend the night at this posh joint that's dressed up like an inside tent. It's like camping for beginners.
Camping
    The hardcore adventure traveler will be packing a tent along for their journey. If this is you, or if you want to give camping a try, the area around Dalat is a camping paradise. A short ride from the city will take you to the wilderness around the Golden Valley and the Golden Spring Lake. If you just want to test the waters, there is also Dalat Farmstay that offers up camping at their place. Then, anyone who wants to camp in a hotel room, Yolo Camping House decorates their rooms to look like a premium camping experience ☺
Pros
Getting in touch with the great outdoors can be incredible. Picture a campfire with the sun setting in the background.
It's free! Well, wild camping is free. Hotel camping is not ☺
You can take a break from everyone and anyone, just you and your motorbike.
Cons
If you don't have camping gear, it might be tough to organize last minute.
No amenities. Real wild camping will probably come without a bathroom, good luck!
If you "Hotel Camp," you'll probably get made fun of by anyone who actually enjoys camping.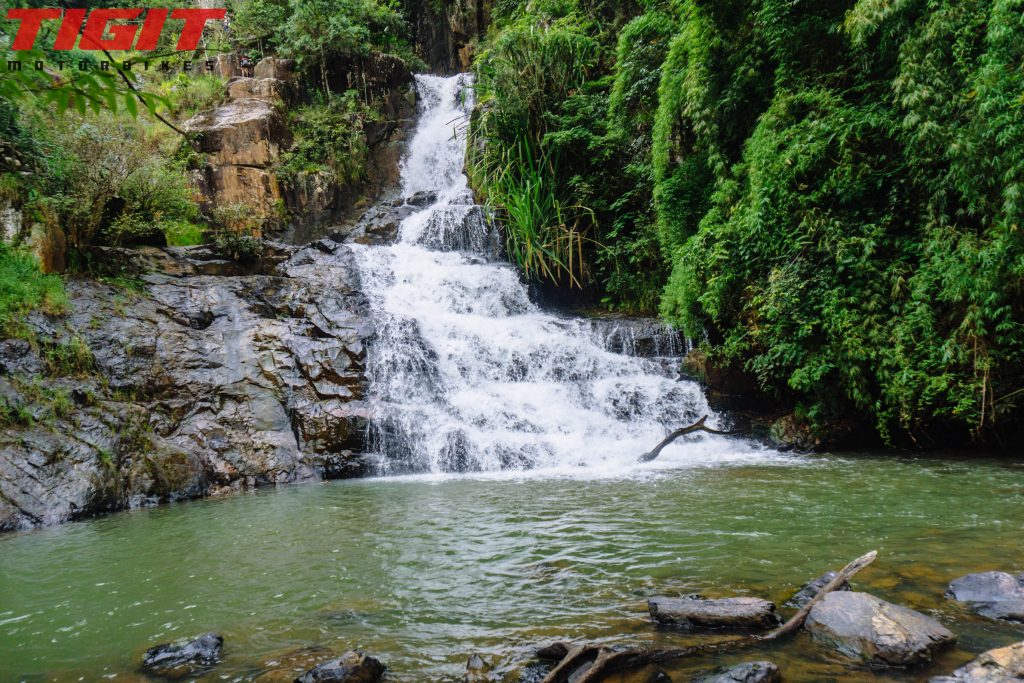 Waterfall Exploration
    A must do in Vietnam is to seek out the booming assortment of stunning waterfalls around Dalat. There is such a wide assortment of falls all around Dalat that you could spend several days just exploring and getting to know them all. Below we've highlighted a few of the more interesting falls to visit around Dalat. For anyone looking for the full list, we have Dalat map with a comprehensive guide to Dalat waterfalls.
For help finding the falls, check out our complete map.
Datanla Waterfalls
    Anyone thinking of a nice relaxing day taking photos next to some quiet falls in the mountains can think again. The Datanla Waterfalls are actually the second rate attraction here. A quick 6-kilometer ride from Dalat you'll find Datanla is usually crawling with tourists.
    Onsite is a rollercoaster, rafting, abseiling adventures, the Dalat cable car ride, restaurants pumping out the music, and of course people selling keepsake souvenirs. If you're looking for some dizzying excitement, come here. If you're looking for pretty waterfall pictures, skip it.
Pros
It will keep your attention occupied, a lot is going on here.
If you can time your arrival in the rainy season, you'll see more falls with less people.
The roller coaster is fun & provides an impressive view of the area.
Cons
Datanla is hardly a waterfall. As the water drys up from dam construction, the attractions keep building.
The place is usually crammed with tour groups. Maybe not what Mother Nature had intended here.
So much pressure on a natural area is undoubtedly going to create environmental problems.
Pongour Waterfalls makes for an excellent backdrop for those social media photos that all your friends are waiting to see.
Pongour Waterfall
    A little further to drive on your motorcycle than Datanla, the Pongour waterfalls are roughly 50-kilometers from Dalat. It's worth the drive, though, as the beauty of the falls and setting is a welcome sight for travelers. The falls are the sort of idyllic place you might spend an afternoon chatting away with family and friends, or lovely spot to bring a date. Pack a picnic, some drinks, and plan to spend a few hours here just enjoying the surroundings.
Pros
Pongour is developed, but not overdeveloped. You won't find a theme park here
Close enough to Dalat to make an inexpensive day trip out of. Ride, picnic, and return.
You won't find too many people here. It's designed for mass-crowds, but that isn't the case.
Cons
Trash! Why every beautiful site in Vietnam needs to be a dumping ground for sightseers will never be understood.
In an effort to produce energy, damning has reduced the falls to a trickle. Pretty, but not as majestic as they once were.
The lack of tourists has become a death sentence for souvenir sellers, you will find them dying a slow death.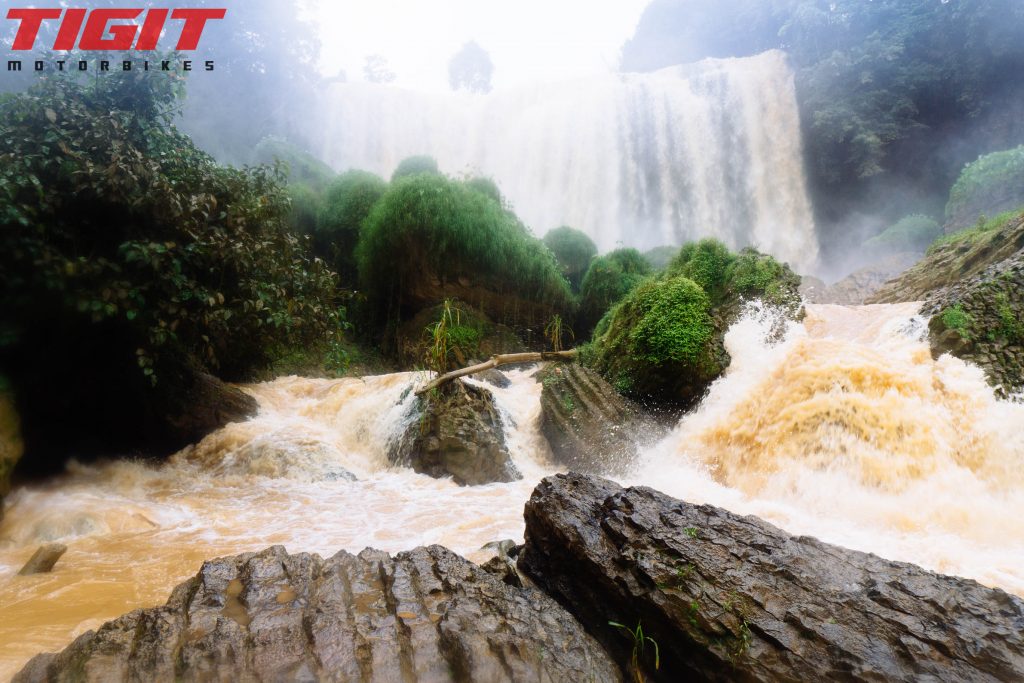 The look from the base of Elephant Falls. It takes a bit more effort to get down here for this stunning shot, but it's well worth the effort.
Elephant Falls
An almost perfect combination of development and nature allows Elephant falls to retain its natural beauty, yet make it accessible to active tourists. There is a mid-point platform to view the falls, a handrail installed to help with the climb further to the base, and the option to go right to the bottom for anyone looking to get in the splash zone.
Pros
Left relatively untouched, you still get the feel of a natural falls. A Dalat to do on the waterfalls circuit.
Beautiful falls with an abundance of water flowing over them. The view from the bottom gives them an even more impressive feel.
Close enough, at just 30-kilometers from Dalat. The best way to get here is on a local motorbike rental.
Cons
You'll need to hang onto the rail and watch your footing as you navigate the walkway. Things can get slippery.
Motorbike tour groups flock here during the day. If your timing is off, you might run into a large number of sightseers.
Not a lot of space to just sit and admire. Being as it's mostly a natural setting, the best views will get you wet or have you sitting on boulders.
When you start planning your adventure, check our related post on the best way to get from Ho Chi Minh to Dalat by motorbike and Dalat to Nha Trang by motorbike. Really, where else in the world can you get lost in a labyrinth, walk down a waterfall, and suck up snails for dinner all in the same day?