THE IMPORTANCE OF MOTORBIKE TIRE
Tires are what connect you and the motorbike to the road. Everything goes through the tires, so the style of tire and condition of the tire can have huge impacts on the feel of the motorbike.
Riding on or off-road is all about managing traction. Along with suspension and brakes, tires are the key to the motorbike performance, as well as the safety and comfort of the driver. If setup properly, suitable tires will have a positive impact on the journey.
No tire is perfect for all conditions, and when travelling Vietnam a driver is likely to experience multiple road conditions. Tigit attempts to use a balance of mostly road tires with a touch of offroad.
We vary what we use depending on the motorbike model and the stock available within Vietnam.
Vietnam is all about doing things on the cheap, and getting proper tires is an uphill battle. Tigit knows the roads, and we have years of experience experimenting with different brands and suppliers to provide the best possible tires for our motorbike rental fleet.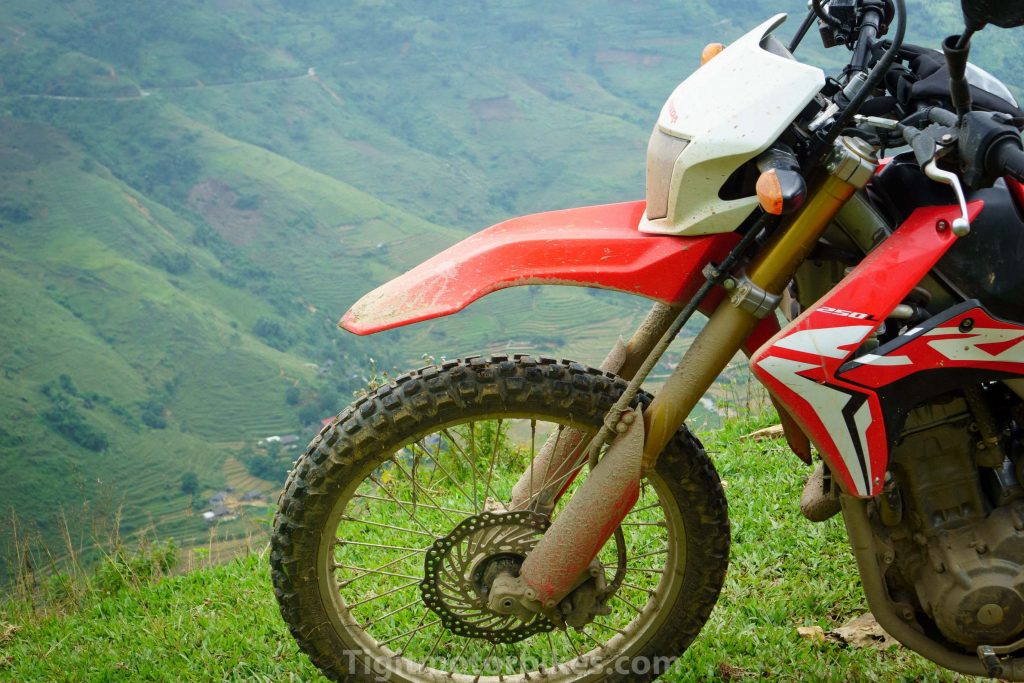 THE ROADS IN VIETNAM
Most of the roads in Vietnam are tarmac. A journey from Saigon to Hanoi can be achieved using only paved roads. Adventure riders can find sections of difficult clay driving if they choose to do so. Even when searching for offroad, around 80% of the trip is still going to be road driving. Tigit uses the Honda XR and dual sport tires on their fully guided motorbike tours.
Roads condition in Vietnam are generally good when the sun is shining. However landslides in rainy season can cause a thin layer of clay which is unbelievably slippery. No different from driving on ice, clay driving is a shock to the system and often catches travellers off guard.
THE TIRE WE USE
Tire for regular domestic scooters
On the regular scooters we try to stick to the same tire and tread as the OEM tire. The Honda Blades, Honda Winner and Yamaha Exciter are designed as city scooters and they are not expected to be used offroad. However, it can be seen that the locals use Honda semi-automatics throughout the country in all conditions. The motorbike is light, and a skilled driver utilises a road tire even in the thickest of mud.
Fixing a puncture on these scooters is very easy, quick and affordable. Every mechanic along the country can do this and getting a puncture won't ruin holidays or take up much time.
Statistically, the Honda Winner and Yamaha Exciter have the least flat tires out of our models.
Tire for dual-sport motorbike Honda XR150
With the dual-sport Honda XR150, Tigit uses the dual-sport tires from a Thailand company, for both on and off-road action. We expect customers to take these motorbikes off the road sometimes, and will be running on all kinds of terrain.
Customers often expect the Honda XR to be equipped with full offroad tires. Vietnam is mostly tarmac and offroad tires wobble on road surfaces which ruins the handling of the motorbike.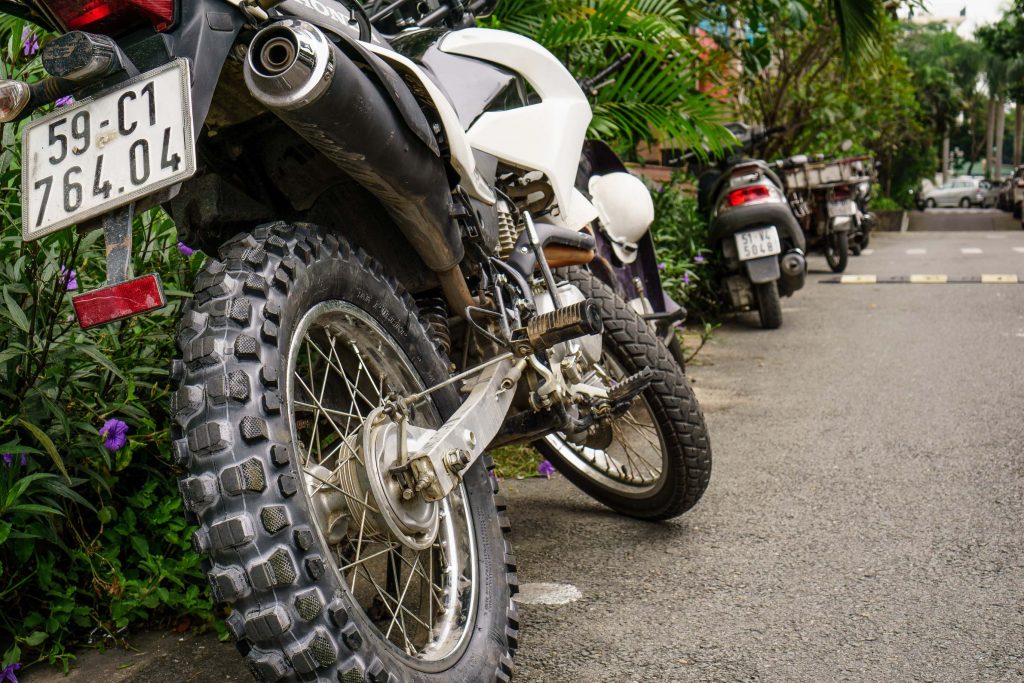 As Tigit grows we are starting to stock older models with full offroad tires designed for heading straight into the mud. Customers may request the use of offroad tires for day trips.
Our main focus on the Honda XR 150cc was to find a tire to reduce flats. Innertubes are expensive and mechanics take a long time to fix a flat tire. So getting a robust tire is important. Tigit purchases oversized tires to try and reduce flats.
It should be noted that the stock tire of the XR 150cc is much lower quality than the replacement tires we use. So experienced drivers can benefit from requesting our older Honda XR's (these have the best wear and tear replacement parts on them).
Tires we mostly use on Honda XR150
Fixing flat tires
Tires come in two forms – Tubed tires (same as a bicycle) or tubeless tires.
The Honda Winner and Yamaha Exciter are equipped with tubeless tires. Fixing on the road is quick and easy and usually ranges between 20-50,000vnd.
Advantages of tubeless: Fixing on the roadside is usually quick and easy. These tires appear to be incredibly resilient to getting flat.
Disadvantages of tubeless: A large nail, or a nail in the wrong spot can mean that the tire needs replacing. Even new tires can occasionally be destroyed if hit in the wrong place.
Advantages of tubed tires: Never outrageously expensive to fix. Can sometimes be repaired for very cheap, or replaced for small money.
Disadvantages of tubes tires: More likely to get flat tires on the road.
The Honda Blade is quick and easy to replace innertubes and this can be done in any roadside mechanic.
With the Honda XR150, Tigit lends customers spare innertubes to be used along the trip. With the bigger wheels on the XR, bigger innertubes are required and they tend to be an uncommon item with regular mechanics along the country. Each of the XR innertube is $15 charged if used, and customers can pay for used ones or return spare ones at the next Tigit Office.
Worst case scenario and customers can use the common Honda Wave innertube to get out of trouble. Technically it is the wrong size for the motorbike though!
TIRE MARKET IN VIETNAM
Searching for tires
The tire market in Vietnam is mostly for small scooters or big sports motorbikes. Most of the time the sellers don't even know what brand, size and specs of the tire they're selling.
"If it fits it works".
Choosing and buying tires in Vietnam is difficult and suppliers often run out of stock. Tigit has experimented for years trying different kinds of tires, and we believe our choice in tires right now is optimum.
TIRES GETTING OLD
Tigit anticipates the tire condition to last the proposed journey.
The power of a motorbikes comes from the back tire, and this is where wear and tear happens fastest. A front tires life will live the duration of around 3 back tires.  Tigit motorbike customers travel on average 3,000km per journey.
Claiming a tire is old
At the point of sale/rental Tigit has a checklist that includes a recommendation for the customer to check the tire condition. It is common for roadside mechanics to claim tires are old for quick and easy money from travellers. Tigit wants customers to respect and understand the condition of the tires provided with the motorbike before embarking on a journey.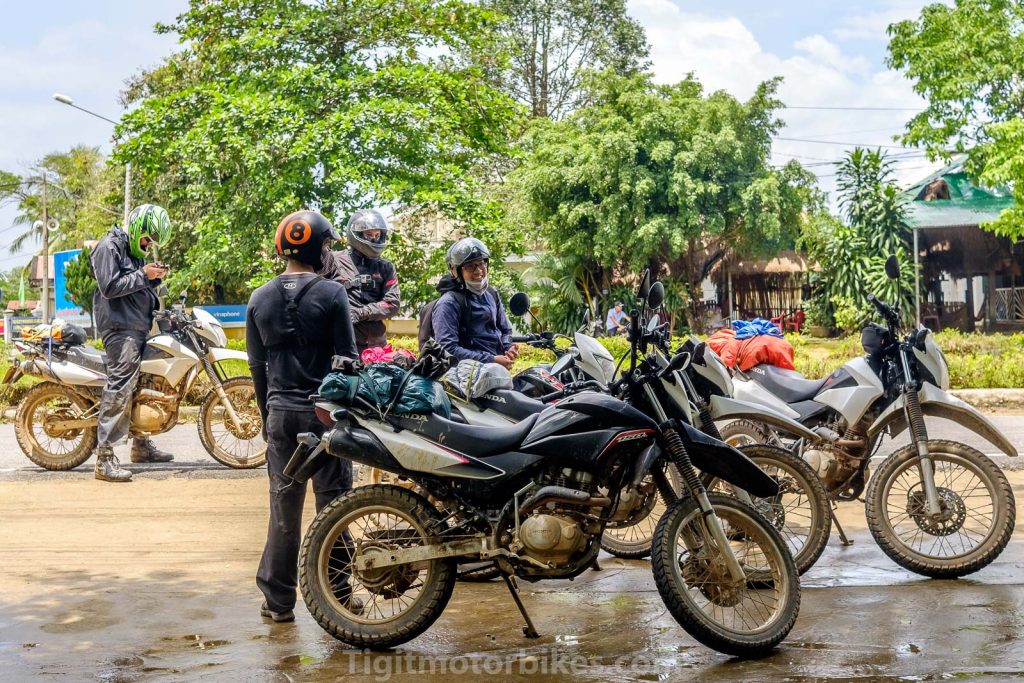 INFLATION AND PSI – HOW MUCH AIR SHOULD BE PUT IN THE TIRE
PSI is important for performance, the saying is that the tire acts as up to 30% of the overall suspension of the motorbike. PSI technically should also be adjusted dependant on the road conditions.
PSI is not known or understood on any level in Vietnam. Not even the certified manufacturer mechanics understand or care about PSI. Due to the country wide phenomenon of no one caring about PSI, Tigitmotorbikes also takes a relaxed approach to the situation through our mechanic shop. Road speeds are slow here and rarely exceed 80,km/h which is why tire pressure is often overlooked and not seen as important.
However customers travelling by the book may want to purchase themselves a PSI checker and adjust accordingly on the road.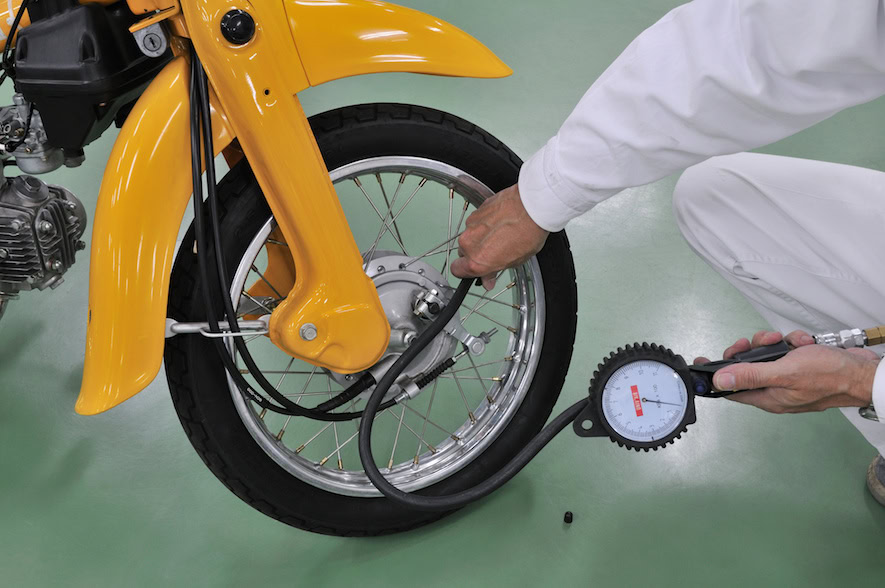 Low pressure will lead to heavier handling and is also more prone to flat tires. However for difficult offroading the tire pressure should be dropped.
High pressure reduces flat tires but less grip on the ground, hardens the ride and improves the handling of the motorbike.
The stock suggested pressures are aimed at solo Vietnamese drivers. Travellers are usually larger than locals and travel with luggage. Tigit always aims for high PSI for optimum handling. We feel the recommended PSI for the locally supported motorbike models is too low.
OEM RECOMMENDED PSI FOR EACH BIKE MODEL THAT TIGIT USES
Honda XR150
front: 22psi onroad, 12psi offroad
rear:

1 person 22psi onroad, 12psi offroad
2 person 29psi onroad
Honda CRF250
Honda Winner
Honda Blade
front: 29psi
rear:

1 person 33si
2 person 41psi
Yamaha Exciter
---
FINAL THOUGHTS ON TIRES IN VIETNAM
Tigit recognises the importance of tires, however in Vietnam the tire market is under developed, poorly stocked and not understood. A rental company using good chain and sprockets combined with good tires will have a fleet of motorbikes that handle significantly better than the companies cutting corners.
If travellers have queries about the tire on their motorbike we are more than happy to advise and replace where necessary!
Written and created by Link