Reading Time:
6
minutes
The dream for any serious rider is to have a motorbike that has space for luggage. Boxes, Panniers, and Saddlebags are not an easy thing to get right. They tend to be model specific and require add ons or "mounting systems" to fit one design onto another design.
What may seem like a simple shopping trip to pick up some luggage storage for your motorcycle can quickly turn into a minefield of researchable options. As a long time rider and owner of an accessories shop, I have the luxury of testing out the best and worst of pannier and rack systems. I explore my findings in this post.

Check out the bags and panniers from Kriega and Givi we have over at our sister site Chrunix
The Top Box VS The Side Box
In Vietnam, Givi sells steel racks and mounting brackets for mounting plastic top boxes to nearly any model of motorbike. A rack and a top box can be bought for around $80. This is incredibly cheap and provides excellent extra storage on the back of the motorbike for helmets, books, or laptops.
The optional extra is to then buy the Givi side racks that bolt onto the main rack. It is then possible to add extra plastic side boxes.
Top boxes are horrific for motorbike performance. A box perched on the back of the motorbike has a high centre of gravity and a mounting position that adds weight far off the back. Nearly all motorbikes will have a wobble effect with top boxes added. Let go of the handlebars briefly and notice the handlebars vibrating into an unstable wobble. To summarize, the addition of a top box is hammering your handling abilities and is completely throwing off the stock centre of gravity for the motorbike.
Side boxes on the other hand add weight to the motorbike in the "right" places. Low to the ground and parallel to the seating position and rear shocks. In terms of normal highway driving, the side boxes have little impact. When it comes to offroading and general motorbike maneuverability the side boxes are adding a lot of extra weight which requires extra manhandling of the machine. A normal side box setup is adding roughly 12 kilograms of weight to your setup.
The main downside to the side box is the limitation in width. To be driving safely, the side boxes should be no wider than the handlebars. Most people get this wrong, particularly in Vietnam. Side boxes also get in the way of clambering on and off the motorbike. The cheapest set of side boxes in Vietnam is around the $200 region mark.
For a scooter or motorbike being used as a commuter vehicle around the city, the top box is a cheaper and more convenient solution than side boxes.
For the long-distance travel or motorbike holiday, throw away the top box and mount the side boxes instead.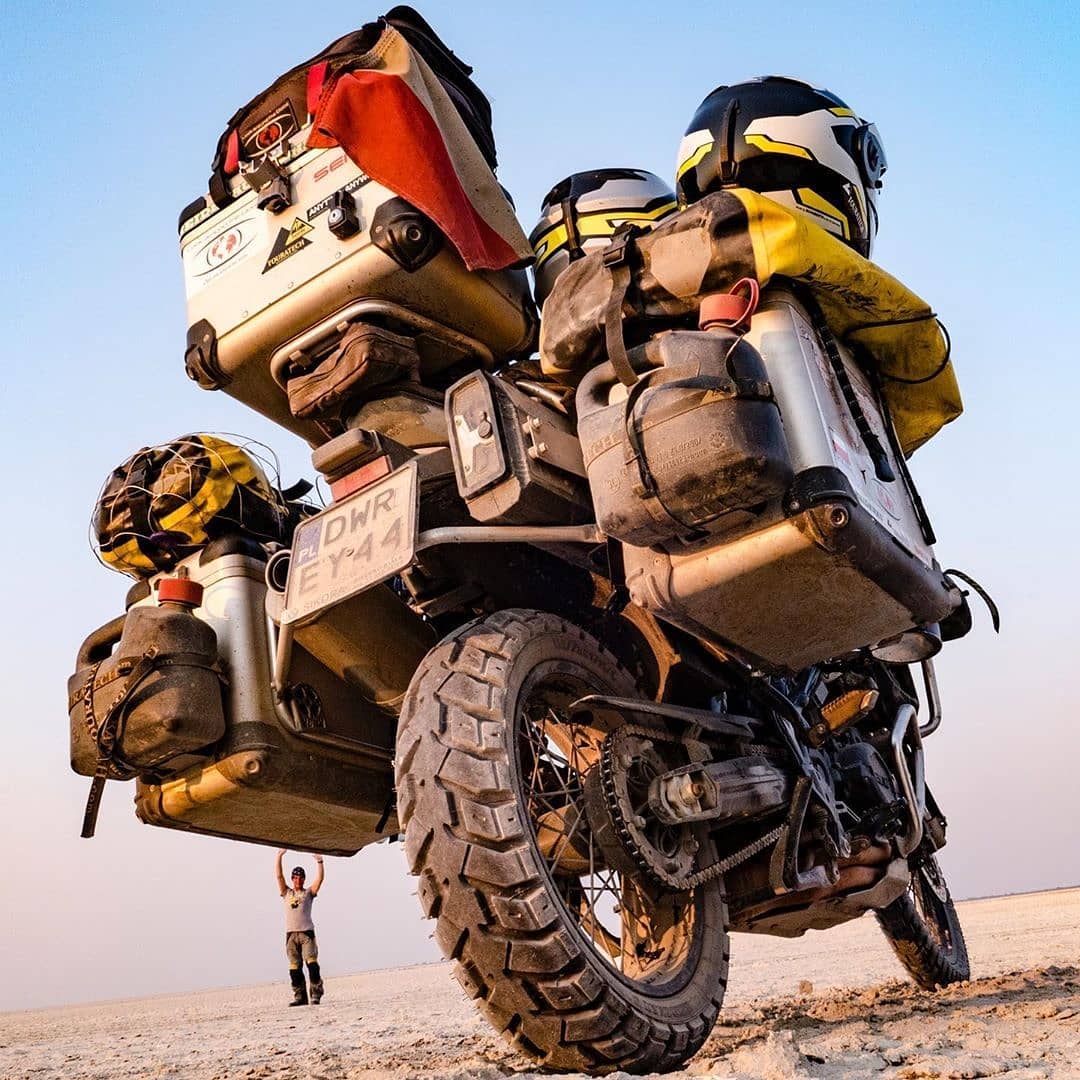 Aluminium Hard side boxes 
When we look at the great ADV motorcycle pictures on Instagram, chances are they are loaded up with Aluminium side boxes of some sort.
A rigid box provides a great and simple packing scenario that comes fully waterproofed and a lock and key. At the end of a long hard day of driving, unclip the boxes from the motorbike rack and carry them into the hotel room.
Hard side boxes can also be doubled up as camping chairs. They basically provide the ultimate convenience to a luggage loaded adventure journey.
In countries like Vietnam, aluminium boxes can easily be fixed and welded back together. At Tigit, we have had plenty of crushed boxes. In some parts of the world, they may be considered a write-off, but here in Vietnam, we consider them cheap and easy to maintain.
The hard side box must be mounted onto a steel frame which is usually model specific. When shopping online, the boxes are sold separately to the frame.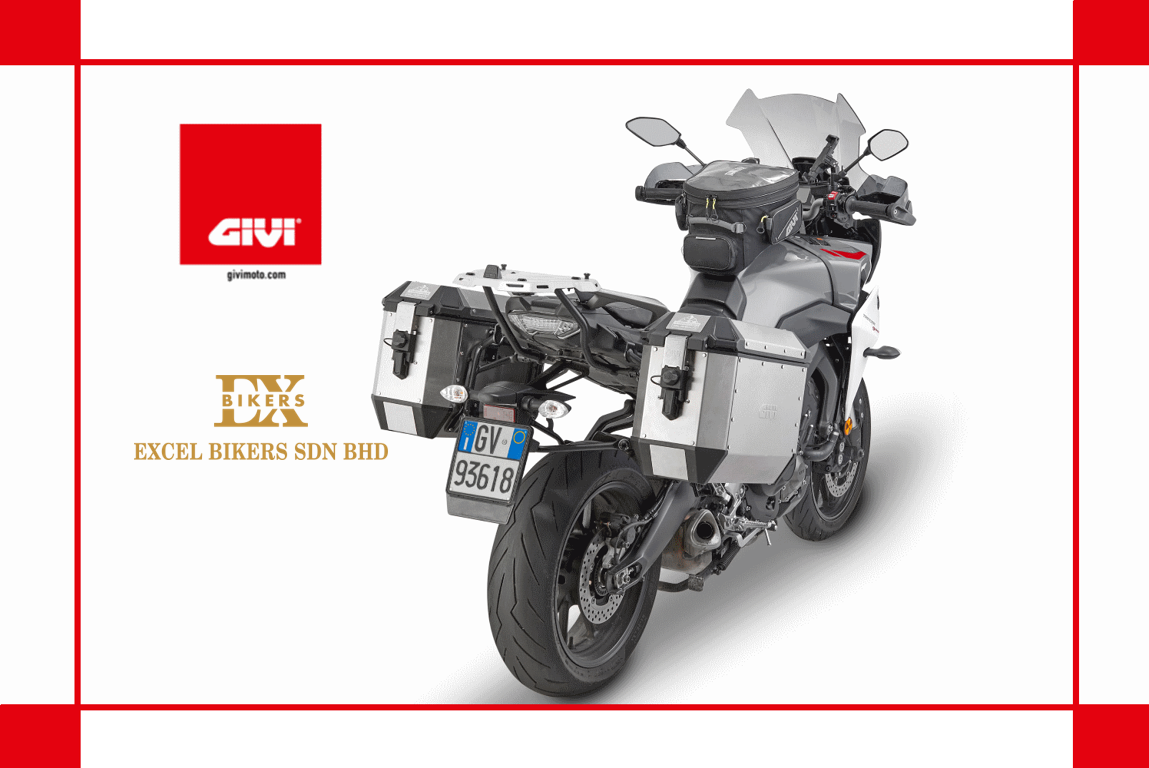 Plastic Hard Side Boxes 
Here in Vietnam, everything has to be cheap to get the local Vietnamese audience. The answer to the problem is the Givi plastic side boxes. Givi have released rack systems for nearly every model sold in Vietnam. Combine this with their plastic boxes and we have a motorbike ready for piling on luggage for around $170.
The price is great, but the quality is not. Givi side plastic boxes tend to collapse into a thousand small pieces if the motorbike has a medium-sized crash. The lock systems often fall off and break, and in general, the plastic boxes are clunky to use.
For sub $200, the value is reasonable, but the buyer has to understand that every corner is being cut to keep the cost down on this pannier setup.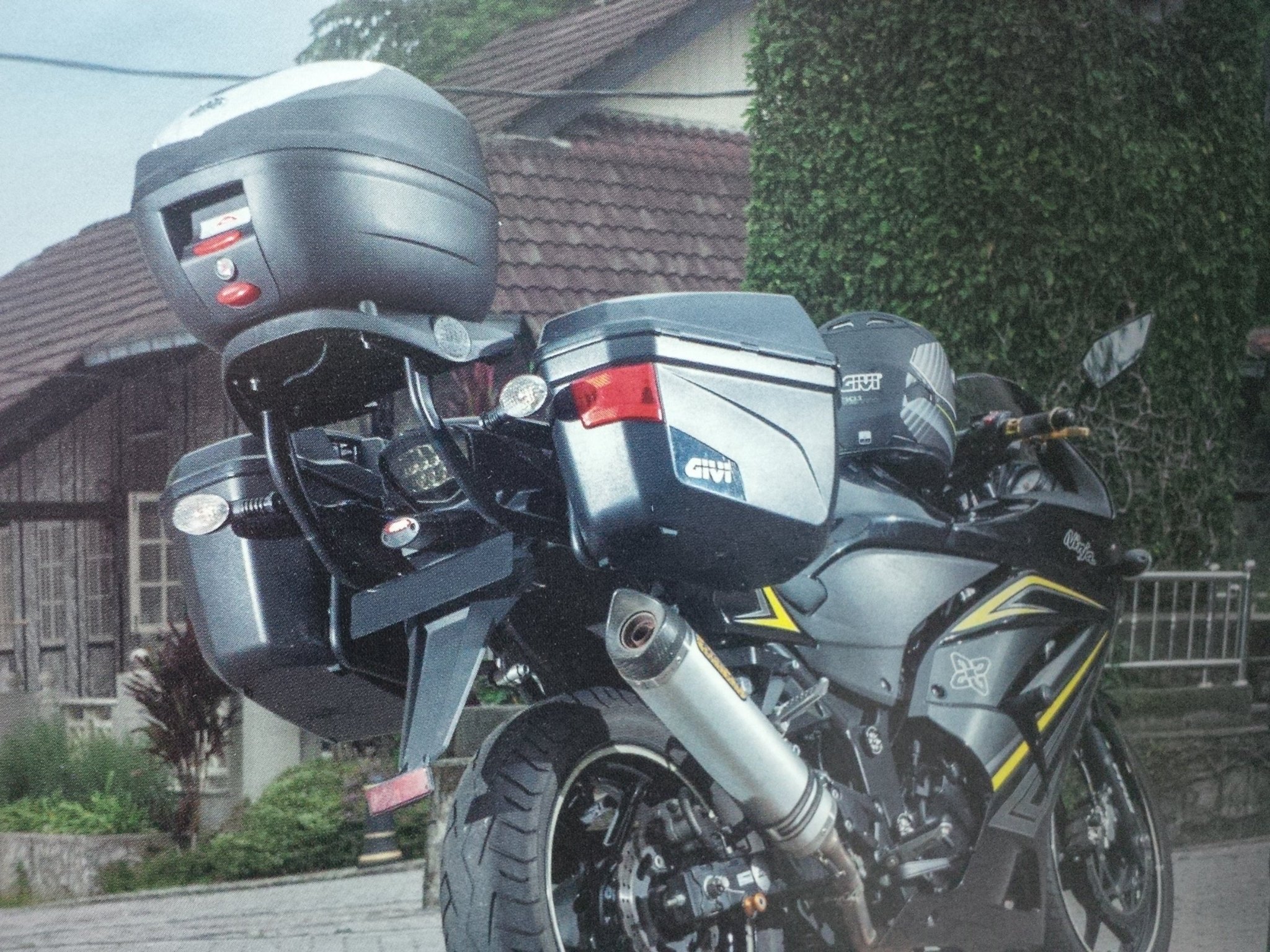 Top Boxes 
Top boxes should only be seen on city vehicles. There is no shame in having an $80 top box on the back of your scooter for keeping your laptop safe. The durability of Givi plastic boxes is great, they seem to last a lifetime, unlike the plastic side boxes. Where they fall short is in the locking mechanism, which is very fiddly.
It is common to pack your gear in the box in a way that jams the locking mechanism shut. A handy Vietnamese local with a screwdriver will solve the problem though, and most street men will break their way into your accidentally locked box within 5 minutes.
This is great for dealing with the accidental jams from overloading the box, but it doesn't say much for the overall security of the system.
For the long-distance journey, aluminium top boxes can be bought from Givi for around $600. However in my opinion, if 2 x 37 Litre side boxes aren't enough storage for your holiday, then you should perhaps consider taking the car instead. There isn't much justification for a top box on an adventure motorbike. If the wife must tag along on the ADV dream, then by all means have the top box as a glorified backrest. Hopefully, everyone is happy.
Pannier Mounting Systems for Offroad and Dual-Sport Motorbikes
There are no hard box setups for dual-sport motorbikes. The rear end of the motorbike and plastic fairings that make room for the elaborate exhaust systems get in the way of the chances for attaching a steel rack. There isn't any point having an offroad/dual-sport motorbike that is weighed down by 8KG of steel anyway. I have seen people make cowboy rack systems in Vietnamese welding shops. It doesn't work!
There are no hack job or cheap soft bag solutions either. It is possible to buy soft panniers for around $50, but they have complex mounting systems requiring endless strands of rope. The bag then falls apart after a few journeys. Keep in mind offroad and dual-sport motorbikes have the panniers positioned next to the exhaust. This is hot, and it takes quality material and design to get around this.
Worldwide there are three brands to choose from. Kriega, Mosko Moto and Wolfman. Chrunix has the Kriega bags for sale and they work amazingly well. They start at $350, but will last a lifetime and can be moved to any dual-sport or offroad motorbike. Setups can be chosen from 12L up to 32L sets.
It is hard not to sound like a pushy salesman when talking about Kriega products, this is because they actually work. I've done the research, so you don't have to.