Reading Time:
4
minutes
Choosing rain gear is one of those topics that seems like it should be simple, but underneath the surface is a minefield of complexity. It is so complex in fact, that most of us just buy based on price. If you want the best rain gear, then buy the most expensive. In order to write this article I have attempted to research the technicalities of how to buy rain gear. It only took 10 minutes of reading to get bored, so instead I will summarize what is available here in Vietnam.
The Vietnamese Rain Poncho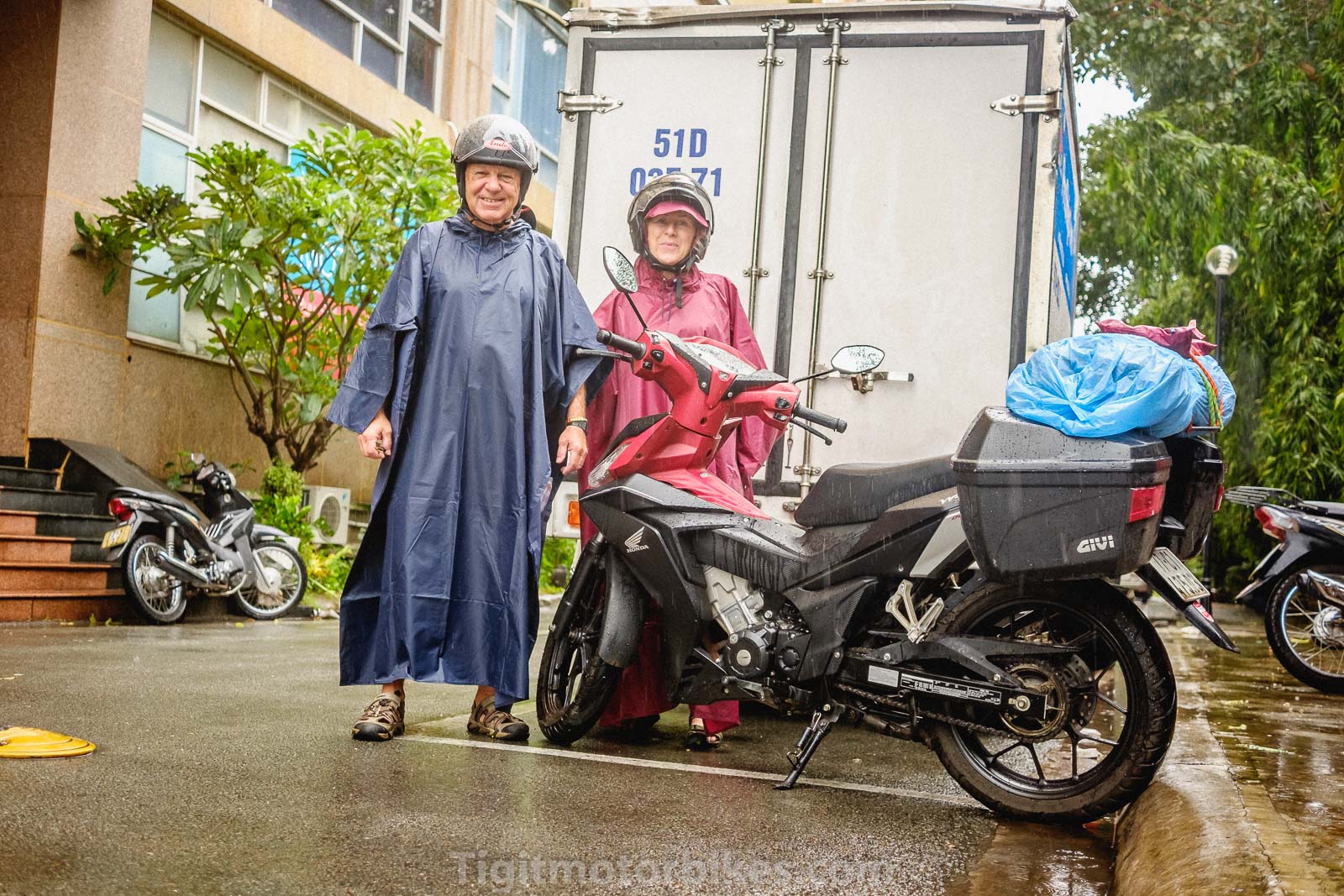 The Vietnamese Rain Poncho can be bought on the side of the road for around 10,000vnd (½ USD). They are temporary solutions and tend to rip when you take them off. If you can remove them without ripping, then they can be used a few times before being discarded.
Chrunix / Tigit sells a high quality $5 rain poncho which will stand the length of time. High quality material that packs tight.
Rain Poncho Advantage:
Cheap to buy

Little storage space

They work
Rain Poncho Disadvantage
Not appropriate for motorbikes above a 110cc scooter

Flap in the wind and are not particularly safe on a high performance machine
The Race RFX Rain Jacket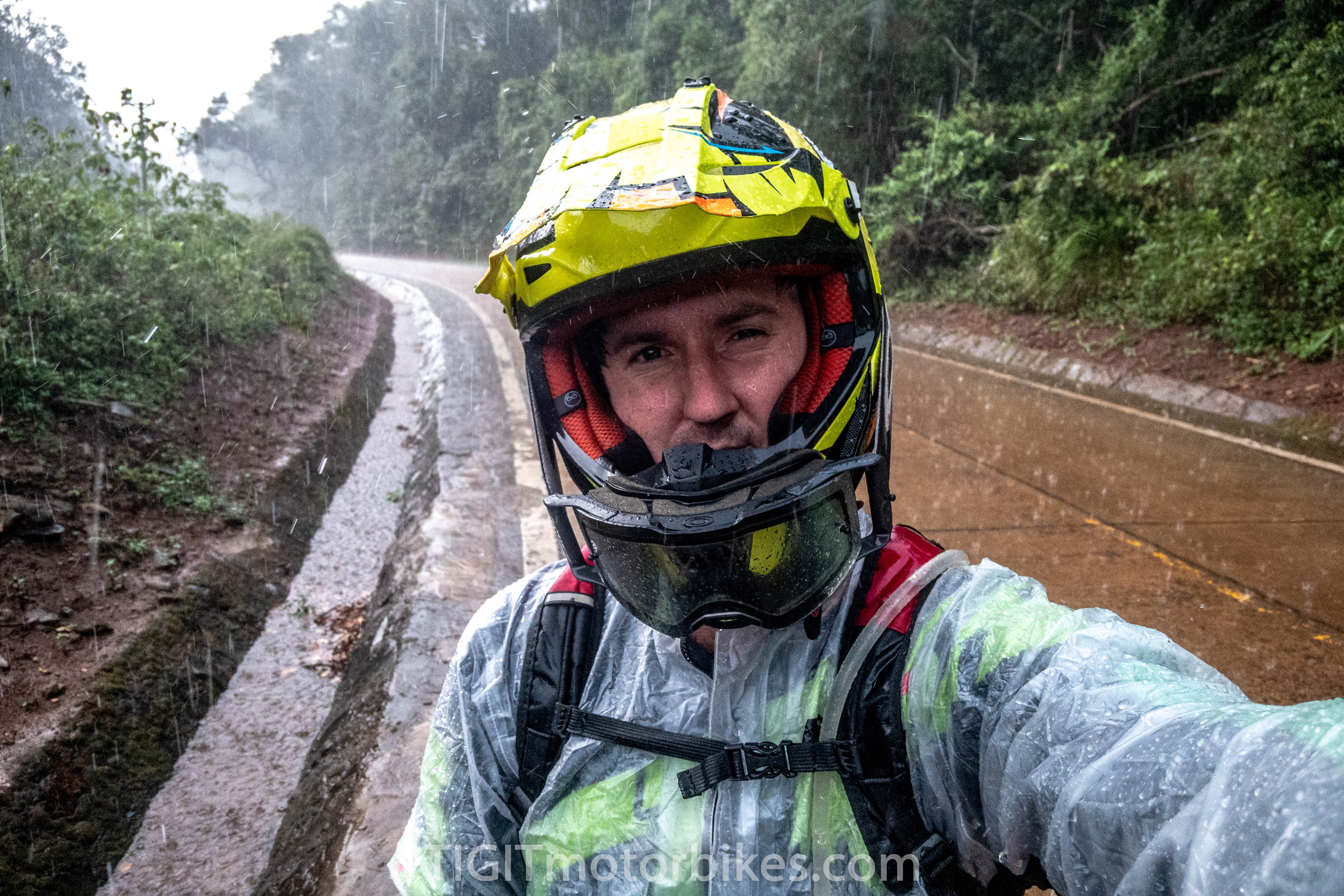 A solution by Chrunix is the imported lightweight rain jacket designed for motocross use.
Race RFX Rain Jacket advantages:
Very breathable

Lightweight and easy to store
Race RFX rain Jacket disadvantages:
They prioritize breathability over being waterproof

Designed for winning races in wet weather, this jacket stops the brunt of the rain but not all of it. A motocross rider going around a track isn't going to be hugely bothered by the damp drizzle that gets in through the breathable holes
The Givi Rain Suit
Givi Rain Suits range between $30 and $70. Your guess is as good as mine when it comes to the differences between the cheap and expensive rain suit. I have tried to get Givi to explain, but to no success. I can confirm that the $70 rain suits are better than the $30, but I can't tell you why.
Givi Rain Suit Advantages:
They fit well, they are mostly waterproof

They are excellent value for money
Givi Rain Suit Disadvantages:
They do let water in eventually, the breathability is not great

For the money they are amazing, but they are not $300 suits. Sometimes people get value mixed up and confused.
Decathlon
Decathlon is a camping and sports shop. They have one massive store in Ho Chi Minh City, but they are mostly known for their online shopping experience. Consistently the best value for money quality gear in Saigon for all outdoor based equipment. It is a safe bet to pop online and buy.
Waterproofing your feet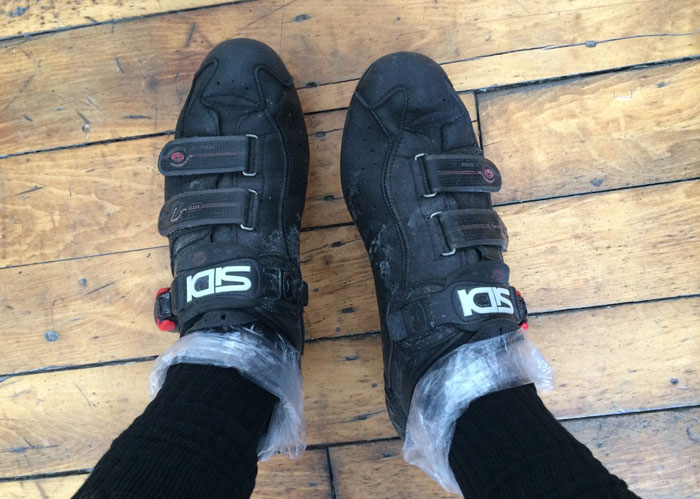 Givi sells an excellent rain shoe that goes over your feet. Locals will use plastic bags over their feet when the conditions get really rough. Waterproof boots don't work. Even if they are waterproof, water will still come in from the top. Waterproof socks remain a mythical mystery and so far I have not found any properly working waterproof socks. My feet always get wet!
Markets around Vietnam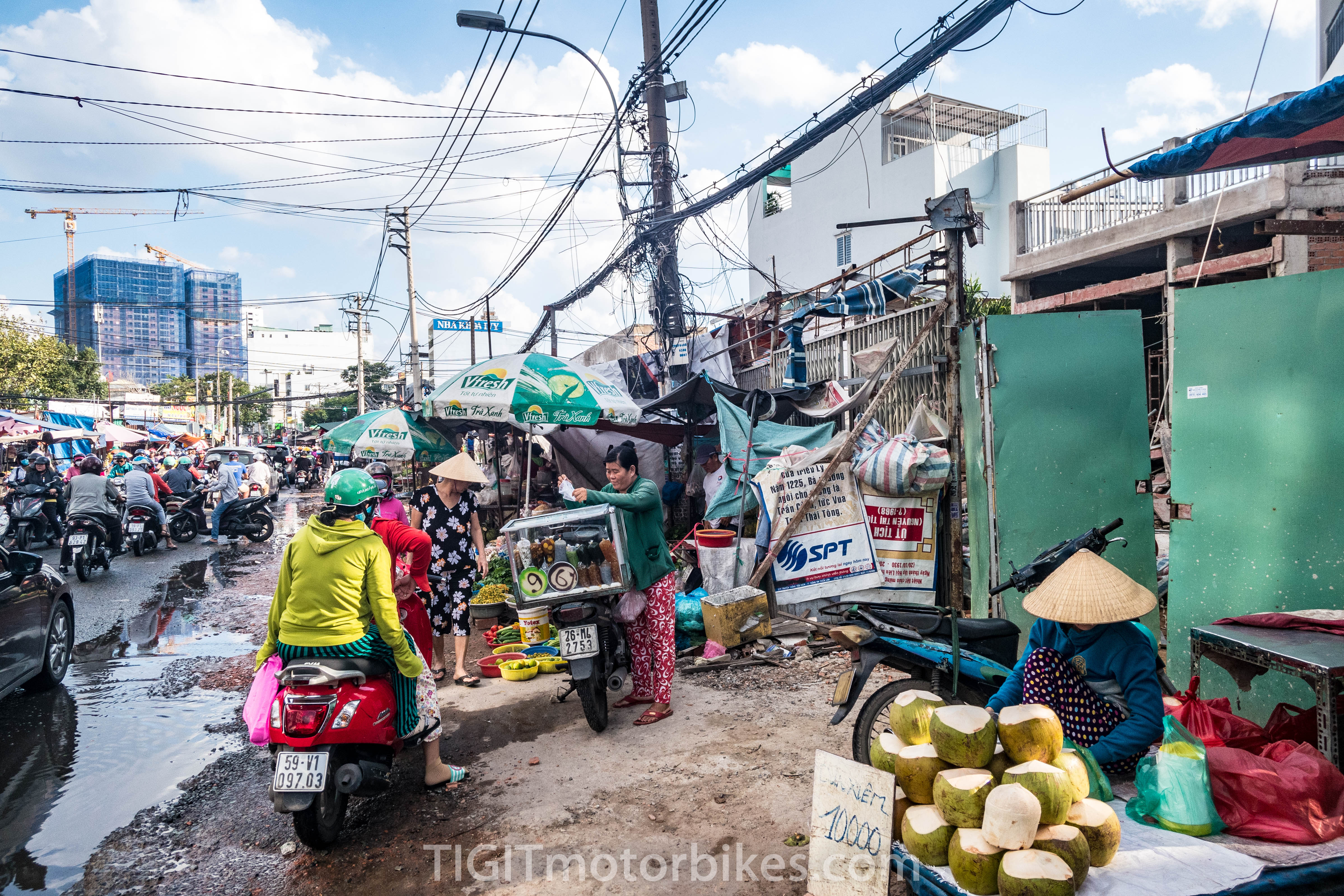 Vietnam is a specialist of counterfeit goods and copies. Alot of it is amazing, alot of it is terrible. The shopping experience is incredible when you walk out of a market with a $10 North Face Jacket, but the quality will be questionable. Sometimes you get lucky, sometimes you don't!
Buying the best rain gear in the world
Now that we have discussed what is available in Vietnam. Basically very cheap rain gear that is "good value for money". We should look at what is available around the world. To get rain gear that actually works, most people will head to Gore Tex material that goes through rigorous testing. Gore Tex is one of the few materials to be known to be both waterproof and breathable at the same time. There are copies of Gore Tex, or cheaper versions of Gore Tex that can be found at all price points. However if you want the best of the best, you need to buy Gore Tex. An example of a Gore tex based brand would be Paramo, where prices started at around $400 for a jacket. Gore Tex material is also lightweight and can be packed up to fit into small spaces. Once you go to a real Gore Tex product, it is very difficult to settle for anything less.