Reading Time:
10
minutes
          Vietnam is a beautiful country to explore, and in recent years this has become easier with the improved roadways and tarmac upgrades. During times of war and until recent years, traveling the country was difficult. The poorly developed road systems, and lack of quality motorcycles meant that backpacking Vietnam was restricted to travel by car or bus. Luckily this has changed, and with the right motorcycle, you are now able to explore some of the beautiful nature and diversity that Vietnam has to offer. The countries mix of tropical lowlands, densely forested highlands, and rolling hills make it an exciting place to explore on a motorbike.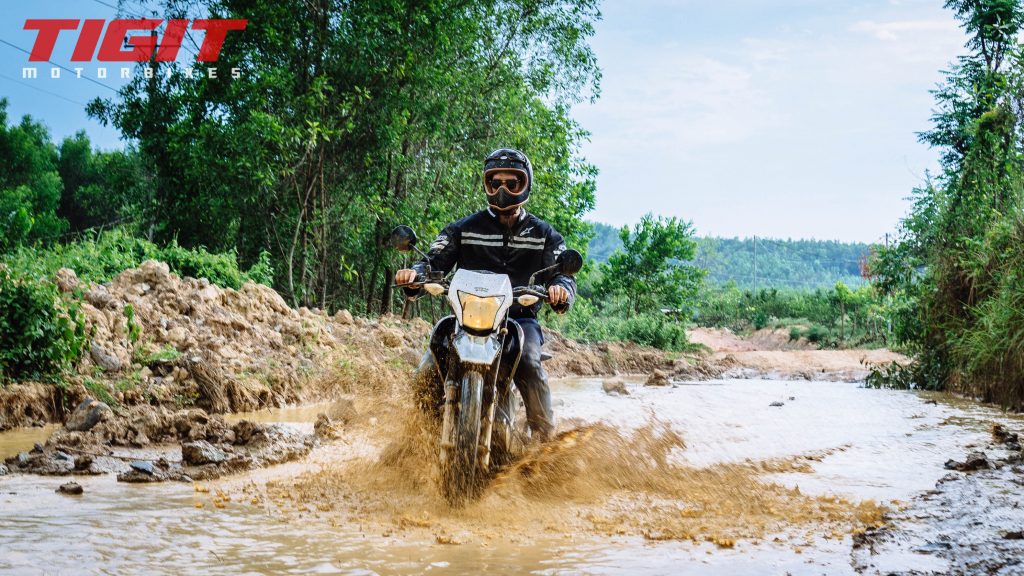 As Vietnam continues to gain traction on an economic front, more motorcycles are being built and imported that are of higher quality and a lower price. The XR is one of these better-built bikes and has become the most popular motorbike in Vietnam for fully guided motorbike tours.
The Honda XR150 is an excellent way to explore the extremes of Vietnam, due to the motorcycles incredible diversity. The bike is lightweight and easy to handle, with a design that allows it to be usable in city traffic and performs well on the off-trail roads. The XR150 makes it possible for backpackers to have a Top Gear Vietnam Special of their own.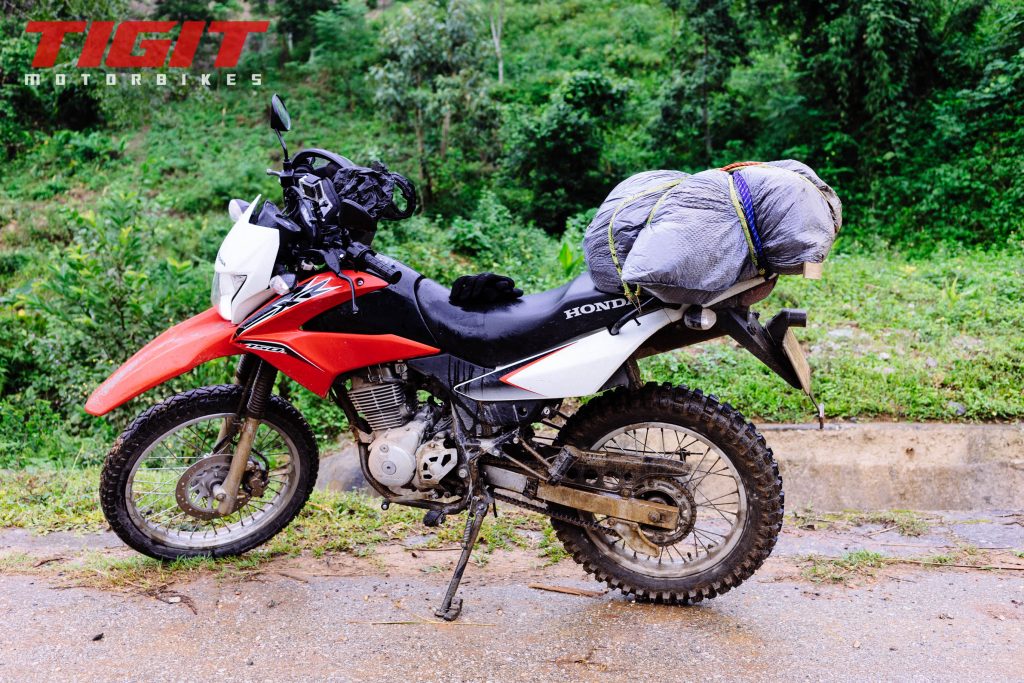 Buying a Honda XR150L in Vietnam. What to know.
    The Honda XR150 is not native to Vietnam, and the bike has to be imported. This importation means that the motorcycle is not sold by Honda in Vietnam and is only accessible via independent dealers. To get your hands on a new XR150 will cost you around $3000usd. This price has risen significantly since 2016 and is a result of demand by tour companies who prefer to use the XR150 as their main touring bike.  As a whole, the Honda XR series has a positive reputation for indestructible motorcycles, and how reliable and easy to fix the XR is will leave you happy with this choice of bike. Once you've ridden the Honda to its full capability you'll understand why.  
    The Honda XR series was initially designed in Japan as a four-stroke motorcycle aimed at off-road enthusiasts. As the bikes capabilities became better known, it went on to be assembled the world over. In a class bigger, the XR250R has been renowned as one of the best dirt orientated motorbikes ever built. Honda used this design to create what is now the XR150, a bike with a smaller engine and lower-profile frame. This light and easy to handle design makes it perfect for people who are learning to ride a motorbike and looking to build their confidence both on and off-road. The bike is also a nice fit for people who are of smaller frame size or feel more comfortable handling a lighter bike.
Honda XR150L Specifications  
Engine:                     4-Stroke, Single-Cylinder, Air-cooled OHV

CC Rating:                149cc

Bore & Stroke:        57.3 x 57.8mm

Ignition:                    CDI

Starter:

   

                   Electric with Kick starter back up

Gearbox:                  5 Speed manual

Suspension Front:  Telescopic fork, 180mm axle travel

Suspension Rear:    Single shock swingarm, 150mm axle travel

Brakes Front:           Dual piston caliper, 240mm disk

Breaks Rear:            Mechanical drum

Wheelbase:             53.5"

Seat Height:            32.5"

Ground Clearance: 9.6"

Kerb

weight:            284 pounds

Fuel Capacity:          12 liters

Dimensions:            2100mm (L) x 820mm (W) x 1126mm (H)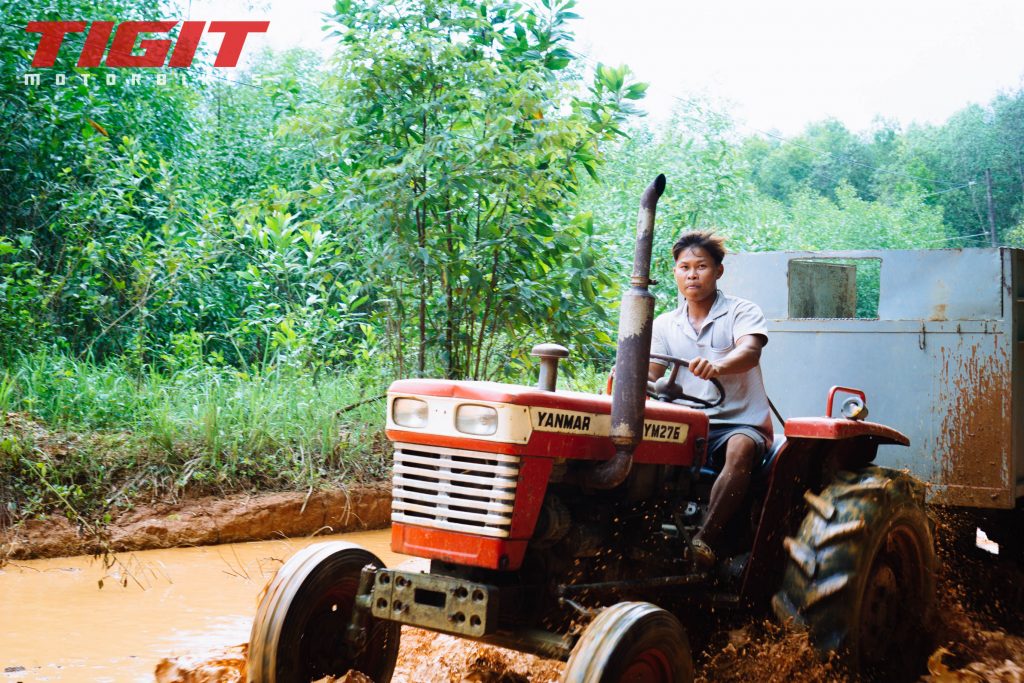 The Honda XR150L Practical and Versatile
    When you're touring around Vietnam in places like the Mekong Delta, you might be lucky enough to see farmers working their rice fields with a strong and sturdy tractor. You can often see the tractor slugging its way through the mud and muck then rolling down the back routes of the countryside without hesitation. The same robust characteristics can be said of the XR150. It has a relatively strong engine, more substantial frame, bigger wheels, and sturdier suspension. This Honda bike is built like a Vietnamese tractor, with the ability to handle anything Vietnam has to throw at it! Honda even markets the bike as an "…all purpose farm bike" in certain segments of the world. This design is why the Honda XR150 is so well received in Vietnam. It's a bike built with the end users needs in mind.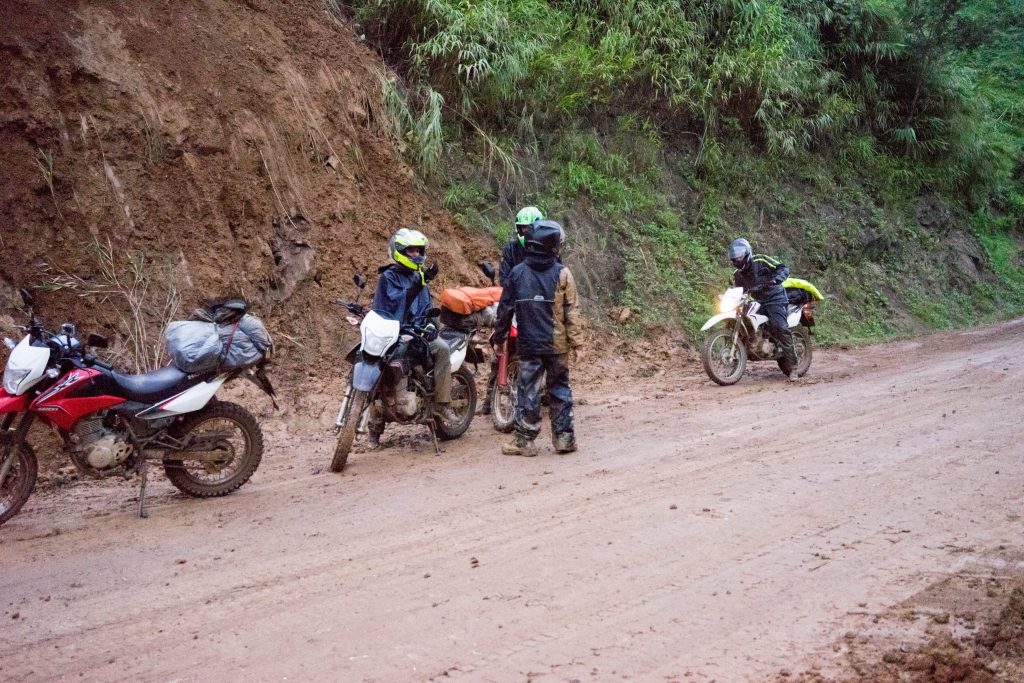 XR150L: Review The On and Off-Road Capabilities
     The XR150's bigger wheels and stock 90/90-R19 front and 110/90-R17 tires help it to handle both on and off-road. On your Vietnam motorbike adventure, you'll find that sometimes the fun is d found where the tarmac ends, and the XR can take you there. The bike is not entirely without its limitations though, it's not going to cruise along as smoothly as a Yamaha Exciter or Honda Winner when you find yourself on the tarmac. As far as versatility though, you'll be pleased you chose this bike for your Vietnam motorcycle holiday. When you're headed to Mu Nui to learn how to kite surf, then want to go inland and explore the backroads to A Loui where the famous hamburger hill battle took place. The XR150 will happily take you to both options, both on and off-road if that's how you want to do it. For the motorbike traveler in Vietnam, you'll be happy to have both options at your disposal.
    You might hear conflicting opinions on the use of an XR150 in the city. Some people feel like it's too big for the cramped Ho Chi Minh traffic. Once you've spent a little time on one, you might start to see that bigger bikes are given more space in traffic. Then as a little insider driving tip; with the XR's big tyres and high clearance, you can hop up on the sidewalk to quickly make your way around traffic jams. Not that we recommend this, as everyone knows that a sidewalk belongs to pedestrians 🙂 Also if you find yourself wading through mud holes in the rainy season, it's nice to have your exhaust perched high up out of the water.  
    Honda XR150L road benefits
Bigger 19" and 17" tyres for driving on and off road

Typically given more space in traffic

High clearance for hoping sidewalks and navigating mud holes

High profile exhaust for rainy season water and mud crossings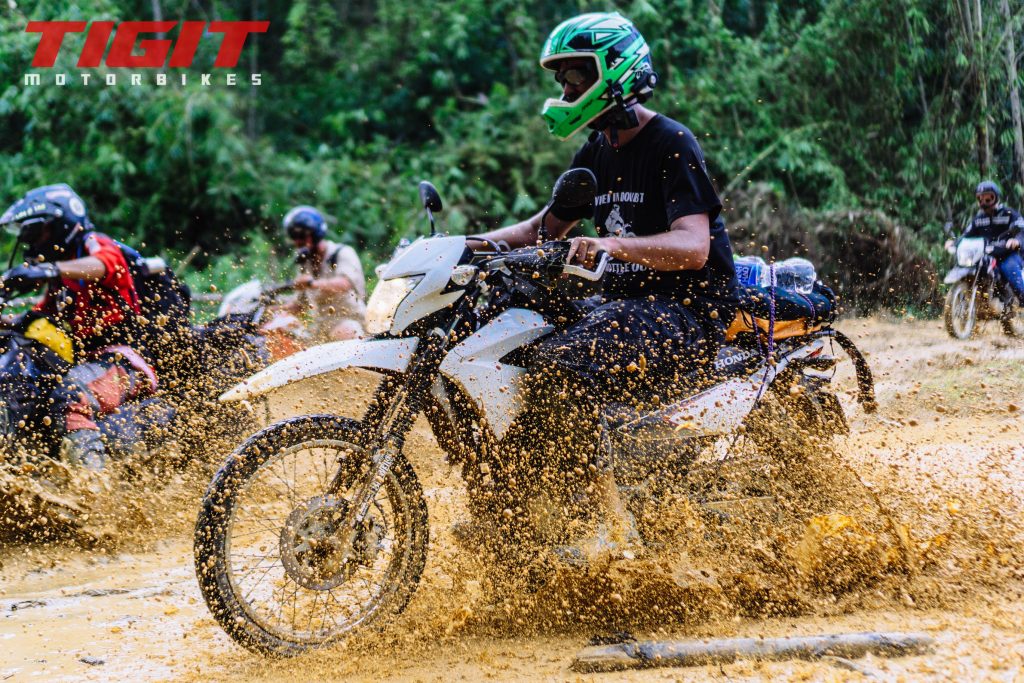 Honda XR150L Motorcycle Travel. The choice for long distance travel
      Running around Ho Chi Minh on a small Honda Blade is great, you can dodge traffic and fit into any parking slot. If you're looking to do some long distance travel, you'll quickly appreciate the benefits of a more suitable bike like the XR. Hondas XR150 has a higher, upward driving position. The same style as all adventure bikes. Along with this riding position, Honda paired a big seat (your backside will appreciate this), and soft, flexible suspension. To date, the design of the XR makes it the most comfortable bike in Tigits' fleet. Even if you stack two people on this bike along with your luggage strapped to the back of the bikes mounted luggage rack, its design still comes out ahead. The rack is not movable, but once you see how useful it is, you'll be happy its there. If you go the route of two people plus gear on the XR, you'll need to add an extension rack to the back. We can add this option quick and easily.
      The chances are that if you've ever been to any event in Vietnam, you're probably one of the tallest people there. It's great, and you can usually see right over top of everyone and get a great view of the street performance or whatever display you're checking out. This unobstructed outlook on life is later extended to traffic driving for those who opted to rent the Honda XR150. The bike's design and suspension make it sit up higher, giving the driver a full head of extra clearance over most every other rider you see in traffic. This higher clearance along with the extra space your bike is typically allotted on the roads is like continually having VIP seating while you drive through traffic.
XR150L long-distance benefits overview
Big seat for a happier backside

Soft suspension for a smoother ride

Comfortable for two people, even with luggage

Convenient rear luggage rack that can be added for two people

More traffic space given to your bigger bikes

Sits taller and allows the rider a full head higher to see over other riders in traffic
Honda XR150L. Motorcycling Vietnam with power and drivability
      If you've never ridden a motorcycle before, or even have limited experience driving motorcycles that fall more into the "scooter" class, the XR150 can still work for you. The design is just big enough to accommodate most foreigners, yet it's still the right build to suit most Asians and many women. Next to smaller 110cc bikes it comes across more intimidating, especially for those who are learning to drive a manual transmission bike, but it's just the looks. Really, for most people going on an Vietnam motorbike adventure, the bike is perfect.
     Having spent many hours in the saddle of an XR, Tigit employee Link, whose build is 173cm tall and 70kgs in weight, what he feels is an "average build" for most male Asians. He claimed the bike was one of the most comfortable he'd ever ridden, but that you should still make sure your feet will touch enough of the ground so you feel confident you can keep the bike upright.
       Once you're in the driver's seat and shifting gears on the XR, you'll notice the clutch and gearbox are more forgiving than many bikes in this same displacement range. This quality Honda design allows the 5-speed transmission to still be very responsive without giving into a low-powered engine. You'll also notice that the sturdy-built frame and wider handlebars give you a more stable and safer feeling on the road. Even with a 4-stroke, single cylinder 149cc engine, you'll still be able to reach a top speeds of 110km/h. The 110km/h cruising speed is great if you find you didn't plan for the right amount of time. Really, this speed is plenty for anyone riding around Vietnam, anything above this would likely be wasted power.
    XR150L power and drivability overview
The design style allows for a range of riders in many shapes and sizes

Transmission and gearing are easy to handle & relatively forgiving

Wide handlebars and a sturdy build lead to more confidence when you're in control

Ability to still reach a top speed of 110km/h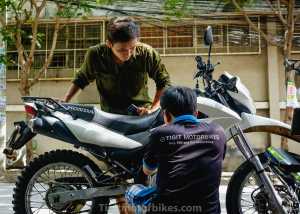 An economic and low maintenance motorbike
    The Honda XR150 is what you'd wished you bought as your first car. Rather than puffing blue smoke out one end and continually needing engine repair on the other end. The XR will happily and reliably continue up and down the road with little more than standard maintenance. By keeping up with routine 1000km oil changes, replacing worn tyres and aging spark plugs, along with typical sprocket and a chain changes. You should have a motorcycle that will undoubtedly give you less grief than you give it. We've used the XR for years and we're happy to give you our full opinion on the bike. Tigit's oldest XR to date has around 50,000kms on it. We've kept up with the maintenance, and it has kept up with us. So far the bike has not required any serious mechanical work.
Honda built this bike with the intentions of it getting used both on and off the road. As a result, the bodywork, plastics and faring's were designed to take the occasional impact with mother earth and keep from self-destructing. If you do end up kissing the ground harder than you expected, not to worry. In most cases the plastics typically bend, then bounce back into place. If they do break, occasionally  you can find replacement parts through Honda, and some pieces are interchangeable with their Wave and Airblade line of motorcycles. All of these combined benefits make regular maintenance of the XR more affordable and easier than many other bikes for sale in the marketplace.
XR150L low maintenance overview
Routine service; Oil changes every 1000kms, regular replacement wear on tyres, final drive, and spark plugs
Extremely reliable bike, not requiring much mechanical time
Plastics and body parts are very durable, with some parts interchange with other Honda models
Hondas reputation speaks for itself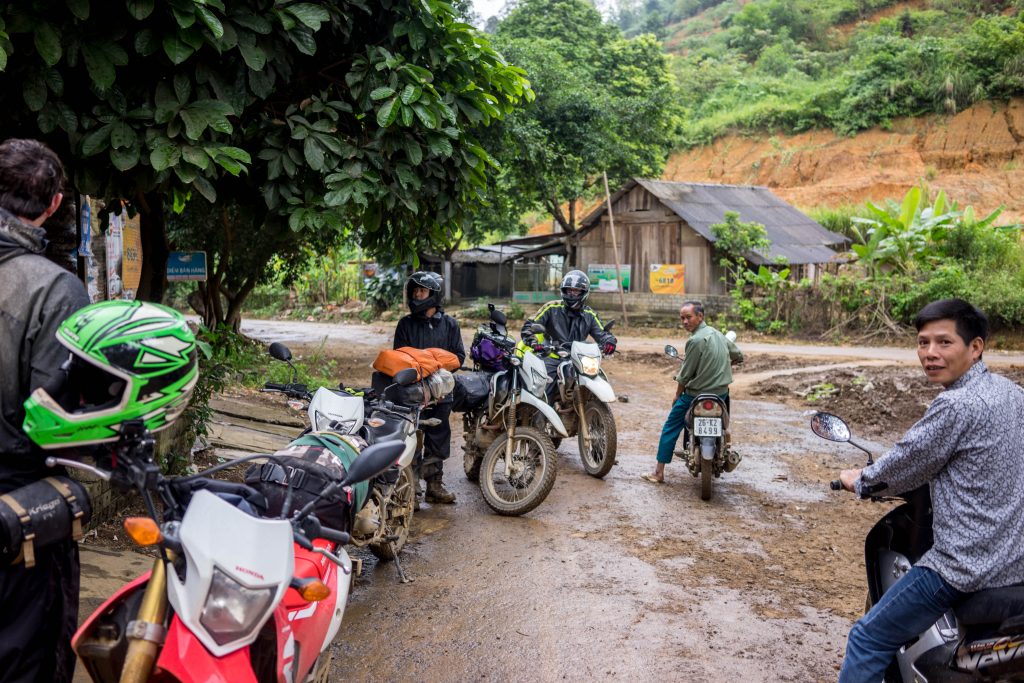 Honda XR150L In Vietnam and its Competitors
    The popularity of the XR150 for motorcycle trips in Vietnam has been growing year after year. Motorcycle rental companies appreciate the XR's capabilities and lack of headaches, and more and more of them are making this their go-to bike for rentals.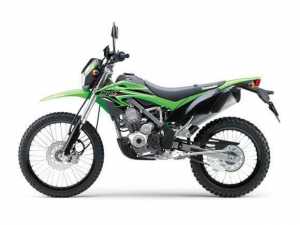 The XR150 is not without its competitors though, and you'll see a couple of other bikes on the road in Vietnam in this same class. The Kawasaki KLX150 is one of these bikes. It was designed more as a professional off-road bike, with a slightly smaller frame, lighter (wet weight 249 pounds), less power (144cc), taller seat (32.7"), and a smaller fuel tank (7.0 liters). These features along with a price tag hovering around $5000usd and Kawasaki's smaller overall infrastructure in Vietnam, won't make the bike as easy to repair or desirable as a whole.
     Next in class is the Yamaha XTZ 125 is a more economical bike, and so it should be, as you'll be getting less bike overall. With a purchase price of around $2400, you're going to get less engine for less money. The XTZ is more like an introductory off-road bike, weighing in at 260 pounds wet, it is a bit heavier. A small displacement of 124cc, a seat height of 33.1″, and an 11-liter fuel tank. The XTZ has all the right components of a good off-road bike, but you will notice the lack of power, stiffer suspension, and an uncomfortable seat. An uncomfortable bike is not likely a bike you want to be on for hours on end.
A side by side comparison of the Honda / Kawasaki / Yamaha
| | | | |
| --- | --- | --- | --- |
| Component | Honda XR 150L | Kawasaki KLX 150 | Yamaha XTZ 125 |
| Cost | $3000 | $5000 | $2400 |
| Engine Displacement | 149cc | 144cc | 124cc |
| Fuel Capacity | 12 liters | 7 liters | 11 liters |
| Weight | 286 pounds wet | 249 pounds wet | 260 pounds wet |
| Seat Height | 32.5" | 32.7" | 33.1" |
| Comfort | Best | Second Best | Worst |
Renting A Motorcycle in Vietnam
    Once you've finally decided to rent a motorcycle in Vietnam, we can help you with a selection of trusted bikes like the XR150L, Yamaha's, Suzuki's, and a range of other reliable Honda bikes. We have a selection of motorbikes that we feel are some of the best for riding around Vietnam and can include options like changing motorcycles, free servicing, easy cancellation, and rescue service should you ever need it. Whatever your needs, let us know and will help you have the best possible time on a motorcycle in Vietnam.
GALLERY AND VIDEOS
Tigit's experience with the Honda XR150

Footage of Honda XR150 off-roading around Cat Tien National Park
---
Thanks for reading.
Written and created by Link