Reading Time:
17
minutes
The motorcycle you ride says a lot about you. A roaring Harley vs a lighting fast crotch rocket vs a nimble dirt bike usually identifies the rider and what need they are hoping to meet. "Adventure Motorcycle" identifies the rider right in the title.
I purchased my second motorcycle based on the casual comment of a friend, "These are the types of motorcycles people ride around the world". 48-hours later I owned a KLR. I might recommend doing more research than that. From displacement to distances, we'll breakdown which adventure motorcycle is best for you. 
Reasons Not To Buy An ADV Motorcycle

 
Trying to decide which motorcycle to buy? There are just as many reasons why you shouldn't buy an adv bike as there are reasons you should. With adventure motorcycle becoming the fastest-growing segment of the motorcycle market, buyers can often become sucked into the hype without understanding why they wanted this bike in the first place.
Don't

buy a bike you can't handle. If it's too tall or too heavy it's likely a deathtrap.

Don't

buy on advertising alone. Every front page motorcycle looks good. Riding that Moto Guzi to your favorite fishing hole praying it doesn't get scratched = the wrong choice.  

Don't

buy anything you can't afford. Unless you live somewhere that your bike is a daily commuter, a $30K bike that only gets used 8-weekends a year = $750/ride over 5-year payments.

Don't

go off the sales sheet. The promo tag and salesmen are only going to tell you what's great about the motorcycle. Read the rest of this sage advice first. 
Reasons To Buy An ADV Motorcycle
The adventure motorcycle has the market cornered for riders who like to travel and explore. If you thought you liked the idea of exploring places like Southeast Asia, wait until you explore Southeast Asia on an adventure motorbike. In Vietnam, you can ride the infamous Ho Chi Minh Road, explore Hanoi and the north, or take it easy getting to know the roads around Saigon on a motorbike. The freedom and fun that an adv motorcycle can offer can't compare to any other mode of travel on earth. 
Fun.

No one has ever ridden and adv bike for a weekend and said it was boring. This is a great way to light up your life.

Travel.

Give an adv bike to a backpacker who thought his world had freedom, and watch their options explode. 

Comfort

. Compared to riding a rocket or chopper, adv bikes upright riding positioning is considerably more comfortable. However, if you've ridden something like a Gold Wing, then you've ridden a sofa on wheels!

Versatility.

If you had to have one motorcycle, an adventure bike gives you the option to ride street, highway, and single track. The most versatile of all the motorcycles. 
Before Buying An ADV Motorcycle, Read This
If you're serious about getting out there and exploring the world on two wheels you'll want to know what is the best adventure bike? You'll first want to consider all of the boring stuff before selling yourself on the adventure angle. Is this bike too big for me? Can I afford this bike? I want to ride across Vietnam, where can you get a Kawaski serviced? 
How tall/short am I?

Not being able to touch the ground is dangerous. A KTM 640 Adventure bike is tall, with a 940mm seat height. If you're more like 150cm look at lower profile bikes. The Versys 300 has a 810mm seat height. 

Fuel capacity.

ADV bikes are often taken off road as opposed to down the motorway. A bike with a 7-liter tank vs a bike with a 20-liter tank might dictate where you ride.

Repairs and parts.

Options like the DR

650 adventure bikes

can be fixed by most back alley mechanics with a few shop tools, that fancy BWM with all the sensors will require specialized mechanics. 

Will I outgrow this bike too fast?

If you're learning to ride on a 125cc bike you might find you outgrow it in one season. Pick something you can grow or learn with.

Do you even like ADV bikes?

Just because the travel documentary you watched pictured two guys riding the world, maybe you just want to cruise around on weekends.

Kit/Gear.

Usually, the most expensive part of motorcycling is all the gear you need to go along with it. After the bike can you still afford the helmet, pants, gloves, boots, etc.?

Power/Speed.

Does this motorcycle have enough power to haul me and two panniers up over the mountains? Or maybe that 1200cc bike has way more power than you need!

What license do I need to ride this motorcycle?

Smaller bikes may not require a license at all. While others might require special training and licenses to ride. 
Motorcycle Features And Accessories, What You Should Know
Why one accessory or upgrade is better than another is usually in the eye of the beholder. You'll want to know why you want ABS brakes, why bikes have different size tires and what to look for when it comes to your specific adventure. 
Tubes or no tubes?

Tubes= one more thing to carry, more effort to repair roadside. Tubeless= cast rims that can be heavier and hard to fix (they rarely break), but easy to repair. 

ABS brakes

. ABS is dangerous offroad. So if you really plan to go off-roading, the motorbike needs a method to disable ABS. Many do not, this is a sign of a road bike not an adventure bike. 

Wheel size.

Why is a 21" front tire so popular on an adv motorcycle? Adv bikes are designed for off road use, bigger tires roll through potholes better than smaller tires. 

Seats.

You're going to spend plenty of time in the saddle. Smaller cc bikes usually have a long narrow seat and overall stock seats aren't comfortable. Wider is usually better and you can buy an aftermarket seat for almost any motorcycle. 

Sensors & Electronics.

Modern BMW's and KTM's are loaded with sensors making them "easier" to diagnose and more efficient. However, if you plan to take your bike swimming through rivers across the planet, an old KLR or DR might be the better option. 
 

Adventure Touring Motorcycle Comparison

 
You've weighed what you want vs what you need and are sure this adventure motorcycling world is for you. It's time to factor in everything and uncover the best adventure touring bike for you. We'll help you with your adventure motorcycle comparison. The costs, weight, height, tank size, practicality, suitability, capabilities and more. 
Honda CRF150L
A well thought out motorcycle for the off road crowd, the CRF150L comes with a 7.2-liter fuel tank that can take you along most of the day. The bike is light and easy to handle, making it one of the best Honda motorcycles for beginners and capable enough to take on any terrain thrown at it by advanced off roaders. These brilliant features along with a price tag of around $4000 make the CRF150L a good place to start in the adv motorcycle world. 
Pros
Easy to fix and repair by yourself or the most basic mechanic.

Nearly indestructible. These bikes are known to roll through swap holes without skipping a beat.

Big tires for a small bike, 21" front and 18" rear. Bring on the rough roads!
Cons
Price tag. This depends on your global location, but if you live somewhere like Vietnam the government import taxes are going to make it more expensive than say USA/UK.

Ego dilemma. Many people feel that you need more cc's to have more fun and can't imagine riding less than 650cc's. The real adventurer learns that less is more.

No gizmos, and limited gadgets. The most you'll see is a digital speedometer.
Honda CRF250L

 
One of the most popular dual sport adventure bike options on the planet. The CRF250L first saw sales in 2013, morphing from the smaller CRF230L version with some variances made to the suspension and engine. Since then Honda has added a CRF250LA version that comes with ABS and a CRF250L Rally, that comes with different graphics, windscreen, handguards, larger fuel tank, and a few other personalized touches. Check out this CRF250L on the HCM Trail in Vietnam, that'll get you adventure heart beating. Then come and try it for yourself. 
Pros
One of the

most reliable adventure motorcycles

. All things Honda usually are. 

Fun. This is a huge selling feature for the CRF250L.

Great for tackling any terrain you can throw at it. 
Cons
Better for gravel roads and dirt track. Not an ideal bike for the motorway.

It's a little heavy for a 250cc, 146kg.

Small fuel tank. 7.7-liters is ok, but not great for expeditions. 

Bit expensive for a 250cc.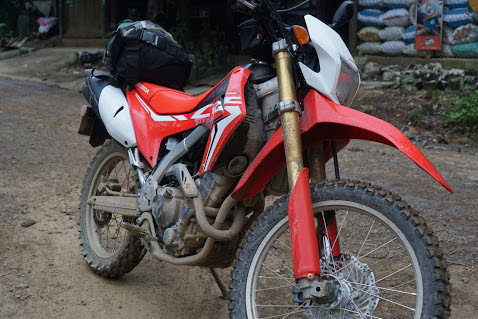 BMW G 310GS 
BMW gets most things right by the time they hit the marketplace and nothing was overlooked when it came to the styling, design, and overall capability of the BMW G310GS. Adding to their line of popular GS adventure bikes, I feel like the 310GS is the gateway drug to feed your later addiction of purchasing the 1200/1250GS line.
 For the experienced rider, the smaller adventure bike will be fun to play around within the cities and off some light off roading. For the new or serious off road enthusiast, picking up what was a shiny BMW out of the mud to survey the scratches might become a little disheartening. As for adventure bikes for short riders, this is a good choice, especially for female riders. Anyone over 2-meters will feel cramped. 
Pros
Comfortable. Someone buying a beemer is expecting comfort, and BMW delivers, even in the little 310. 

Price. If you're looking to get into a BMW this is one of the least expensive ways. It's roughly ⅓ the price of a 1200GS. 

Easy to handle. If this is going to be your first adv bike, it's probably the

best BMW motorcycle for beginners

. 
Cons
Size. The average western male rider is going to feel a bit cramped. As for the female or Asian market, it might be perfect. 

I personally feel I'd lose sleep over scaring up a new GS on the bush roads, but I'd feel proud if I did the same on a new CRF.

Any BWM should require minimal maintenance, but if you did have an issue in the remote regions of the earth. Only BMW can help you. 
Mini but mighty, the BMW310GS can comfortably take you down the backroads.
Royal Enfield Himalayan 400cc
A classic, a re-designed classic, a modern classic, you can usually hear people talk about the Himalayan in past-tense. For a company that's been around since 1901, that's an easy reference point.
Today's Himalayan is more modern then it's predecessor and comes with fuel injection and without a kick starter. Overall, this is a great way to enter into the adv motorcycle market or add something cool to your collection. The bike's 190kg weight is a bit chunky, but the 800mm seat height and low price make it appealing to a lot of introductory riders. 
Pros
The bike design allows the frame to act as minor protection for the engine. Unlike a lot of bikes where the engine is exposed, the Himalayans is tucked safely inside.

The cool and stylish design is a huge buying point for riders. An excuse to ride in a leather helmet with large aviator goggles attracts a specific crowd. 

Depending on the country of purchase you'll see some purchase value added in making it a good choice for

best budget adventure motorcycle

. Stock skid plate, center stand, simple crash bars, and a little luggage rack are included. 
Cons
Royal Enfield has a long history of slapped together bikes that rattle apart. These problems should be addressed in modern bikes, but don't get your hopes too high.

The soft suspension means you'll need to upgrade for longer trips or if you plan to tour much with a passenger.

Lacks some power, the bike will grunt along across the trail but isn't going to launch you down the motorway. 
The Royal Enfield Himalayan looks good, but with dirt on it, it looks even better!
Suzuki DRZ400S
Coined by many as the ultimate adventure motorcycle, the DRZ400S ticks a lot of boxes sought after by adventure riders. The bike is nimble, can be easily modified for adventure riding style, service intervals are reasonable, a 300mm ground clearance is great for crossing rocks and riverbeds, and the size is perfect for packing up and taking out into the unexplored regions of the world. 
Brought to life in 2000, this 398cc bike replaced Suzukis DR350, and production still continues today. If you'd prefer it in green, Kawasaki has an almost identical bike the KLX400. Easy to acquire in most of the western world, the DRZ400S is blacklisted on our list of top adventure motorcycle as it usually gets smuggled into places like Vietnam to avoid hefty tax premiums. If you're looking for a great place to get acquainted with adv riding, this is it. 
Pros
Low gearing, high ground clearance, and long service intervals are the perfect adv motorcycle combination. 

Lightweight, at just 146kgs. The DRZ is going to be easier to pick up out of the mud than most adventure bikes. 

Liquid cooled engine is a nice advantage if you plan to ride slow hard backroads. This argument can be flipped by die-hard air cooled fans who don't like rad weight.

 adventure motorcycle reviews
Cons
 Adventure motorcycle reviews

recommend oil changes every 2000-3000kms on the 400. Whereas the bigger Vstrom is closer to 6000kms. This will add up quickly. 

It's a simple adventure bike. This isn't a machine you're going to race down the highways or pit side by side with an enduro. No frills, no flash, just grunt power.

Height. The DRZ sits quite tall from the factory. You might think a 400cc bike would naturally be designed small, but you'll need legs or lowering links for this one.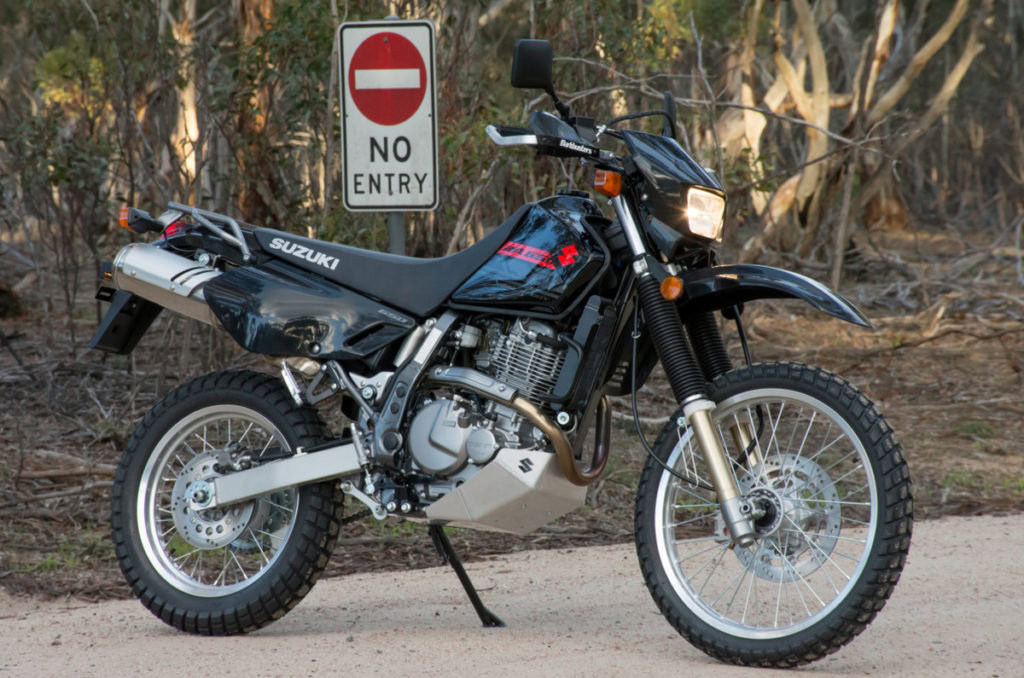 The clearance and the grunt power of the mighty DRZ400S mean you can take it just about anywhere!
KTM 500EXC
Slightly more enduro than adventure the EXC was originally an off road bike that has been upgraded to meet street legal standards. Add in an upgraded fuel tank to your RTW kit and the KTM 500EXC makes for an excellent traveling companion. The bike has plenty of power and if you were looking for a smaller version it comes in 250, 350, and 450 sizes. Those of you looking to load it down with gear for long trips will appreciate the hardy 500 version. 
Pros
Good suspension for off road and adventure riding. No need for any upgrading unless you plan to carry a lot of luggage.

The bike is relatively light for an adventure style motorcycle. Just 112kg curb weight makes for easy lifting when you drop it in a ditch or two. 

The gearbox is designed for adventure, with a short low end 1st for hill climbing and a smooth 6th gear for long days of covering ground to the next adventure. 
Cons
It's not the

best motorcycle for long distance riding

as the seat feels like a wooden bench. For long trips, you'll want an upgrade. 

Not a beginner's bike. You'll want some experience on another bike or two before jumping on a 500EXC as a twist of the throttle may launch you into the bushes.

The fuel system is a bit tight for long trips with the 510cc engine. Upgrading to something at least double the 8.5-liter stock tank is a good option. 
Honda CB500X
You need a street commuter to get back and forth to work, a fun weekend adventure bike and something that you can modify to your personal liking. Look no further than the versatile Honda CB500X. Honda's version of an adventure bike for the beginner, the 500X is perfect for anyone looking for a dual use motorcycle. The bikes' low price point, low seating, larger fuel tank, optional ABS, and stylish looks are enough to lure in those new to the ADV world. 
Pros
Pricing is hard to beat for this style of motorbike. New you can usually pick one up for under $8000.

This bike has a global reach, which means if you're looking to

explore Vietnam on a CB500X

they are cheap and accessible. Less than $1000/month kitted out for an adventure. 

Fuel mileage is good for a 500cc. Honda makes a good engine and you can expect close to 27km/l with regular riding.
Cons
The clearance is low for an adventure bike, just 170mm. Couple that with under-engine exhaust means you'll want a skid plate and not a lot of big rocks.

The stock windscreen design on pre-2019 models pushes airflow right into the rider's helmet. An aftermarket scoop can be added, without it is annoying. 

This isn't a hardcore adventure bike. If you do some light adventuring then it's great. If you plan to spend lots of time off road, get Hondas Rally Raid version.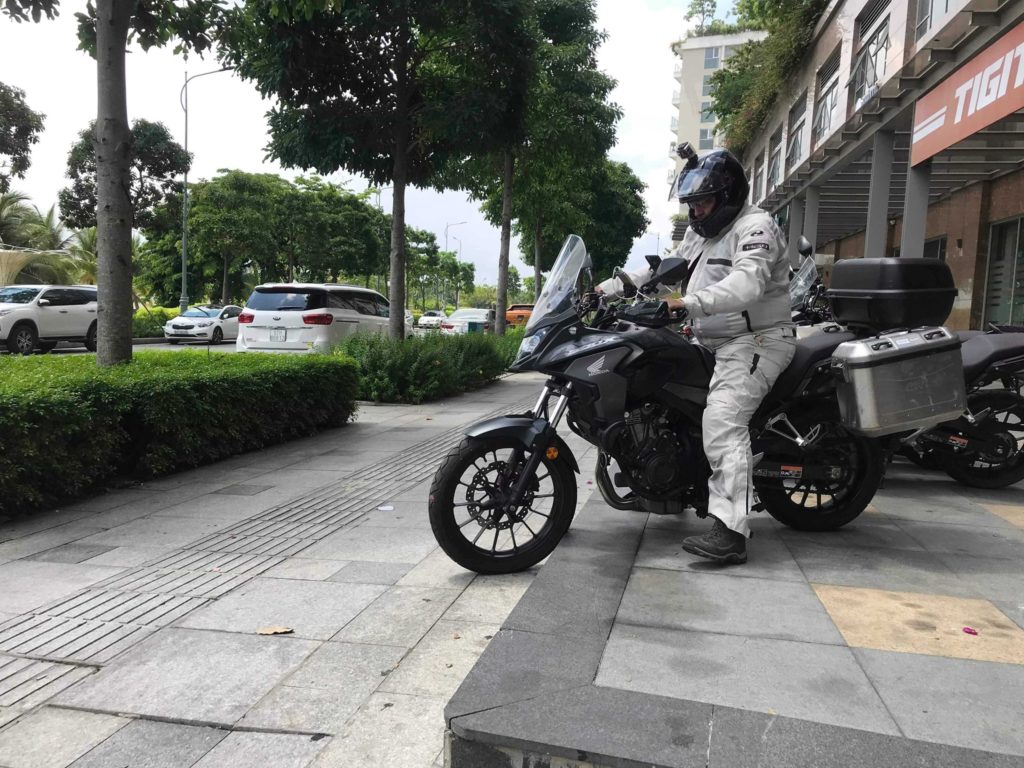 KTM 640 Adventure 
A bike with a loyal following the 640 Adventure was produced for a decade from 1997-2007. It's since been replaced with models like the 690 Enduro and KTM 790 Adventure, but if you owned one as a travel motorcycle you probably still have it.  
KTM is well known for its power, performance, and well, that attractive shade of glowing orange plastered across fairings and fenders. A trailblazer for off road adventure bikes, the 640's large 25-liter fuel tank and staggering 320mm ground clearance is an adventurers' dream. If you've never owned a KTM though, buyer beware. These performance bikes have short maintenance intervals and most repairs will require some KTM training or a very good understanding of your motorcycle. This isn't a bike you drop off with your local wrencher for a tune up. 
Pros
Comes ready for adventure without any modifications needed.

Close to 500km range on a tank of fuel. Wow!

This is a simpler version of KTM's adventure bikes. A great place to get your head around KTM mechanics.
Cons
Dated, any new KTM's will have modern upgrades like ABS and digital controls. 

A really tall bike, the average rider will only get one foot on the ground.

Finding one might be tricky. By now, if you aren't looking to sell it.
Suzuki V-Strom 650 
So you're toying with the idea of motorbiking and want to get the best adventure touring bike for you. Maybe this will be your first bike. Maybe you don't know how much time you'll spend on road vs off road. Maybe you don't want to invest too much money in case this adv riding isn't your thing. If this is you, then the Vstrom is probably your motorcycle.
Without breaking the bank, you can usually pick up a brand new V-Strom for around $8-9,000 and a used one for close to half the price. This alone takes away any chance of buyers' remorse. This 650 is versatile, capable of carrying two people and luggage across the planet and can hold its own on the fire roads. 
Pros
Excellent for the street and the dirt. You can take this bike most places an adv rider would want to go.

Lots of room for luggage and passengers. Ride a 250 loaded down then hop on one of these and you'll feel like you're in a town car.

Good range of power. The low, middle and top end range all perform nicely. Nothing is great, nothing is terrible, expect to be satisfied all around. 
Cons
Plain Jane. No one is turning heads on a V-Strom. It's basic, has a couple of color options and blends into the background of the motorbike world.

One of the

best value touring motorcycle

means low resale. Don't expect much monetary r.o.i.

Ground clearance is quite low. For an "adventure" bike 165mm isn't going to get you over too many potholes or riverbeds without scraping or stopping. 
Kawasaki KLR650

 
The Mule, The Workhorse, The Donkey, The Tractor. The KLR650 has fallen victim to a number of unappealing nicknames, none of which allude to speed or performance. However, these names do make it pretty clear that this motorcycle can be ridden everywhere and anywhere without letting you down. Well, anywhere a KLR can go. While exploring the coffee regions of Vietnam and other incredible sites, you aren't going to see many KLR's. 
From 1987-2007 the KLR was virtually unchanged. Then KLR 650 adventure riding stepped up its game in 2008 the bike saw an overhaul that included a new look, upgrades to the suspension, engine, headlights, brakes, spokes and more. This carbureted motorcycle finally succumbed to modern emissions standards and the last model rolled out in 2018. The U.S. military even had a low-end powered diesel version produced that could run on military-grade fuel.
Pros 
Mechanics so simple you could take the whole bike apart with limited tools and fix it nearly anywhere.

"The Tractor" could not be truer. If you need an adv bike to clog through mountains, rivers, and mud without skipping a beat. Take the KLR.

Best cheap adventure bike

in its class. The value here is outstanding!
Cons
Slow and inefficient. If you're looking for performance or fuel mileage, this thumper isn't your motorcycle. 

Ugly. If you put a KLR next to almost any other dual sport, it's probably the ugliest motorcycles out there. 

Everything is an adventure upgrade. You could easily double your investment once you start upgrading the suspension / seat / lights / windscreen / handguards etc.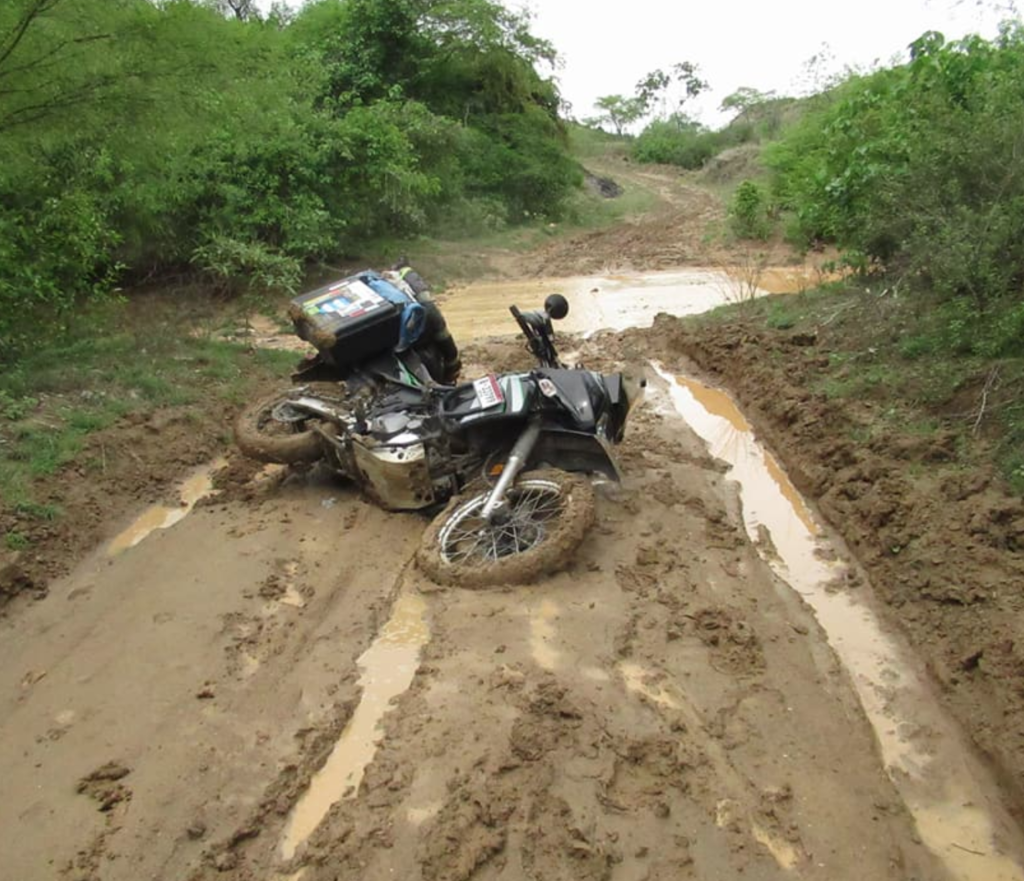 Honda Africa Twin CRF1100
If you were going to buy on looks alone, this bike would take the eye-candy prize. Beautifully designed for curb appeal and practical road and off road use, the Africa Twin holds a place in the hearts of adventure riders from the high-profile Dakar to the dusty backroads of the nether regions of the world. The name might say it all, inspired by one of the most diverse riding continents on the planet, this is clearly an excellent bike for Africa. 
Honda has been producing the Africa Twin since 1988 in the 650cc category and has since grown into a 750cc, 1000cc, and now the 1100cc models. More bike, more features, more fun, and, of course, more cash.
Pros
Wheelie Control! Three wheelie control options and the ability to turn it off. You know you're investing in fun when your motorcycle promotes wheelies!

The bike is an icon, noted as one of the

top adventure bikes

in the world. If you're looking to make friends in the adv and non-adv world, this bike is a conversation starter. 

Dual-clutch system. Basically it's cruise control for your motorbike. Set it for your desired highway speed and it acts exactly like a car's cruise. Easy riding. 
Cons
The 860mm seat height combined with the 238kg bike weight can be a little intimidating when the Africa Twin is loaded up for an adventure. It's a lot of adventure bike. 

Costs go up as Honda continues to add more cc's and more features. Expect $15K+ to get yourself into a new CRF1100L.

All of the electronics on the dash equate to slow loading and repeat warnings about safety. Most days you just want to get on and ride.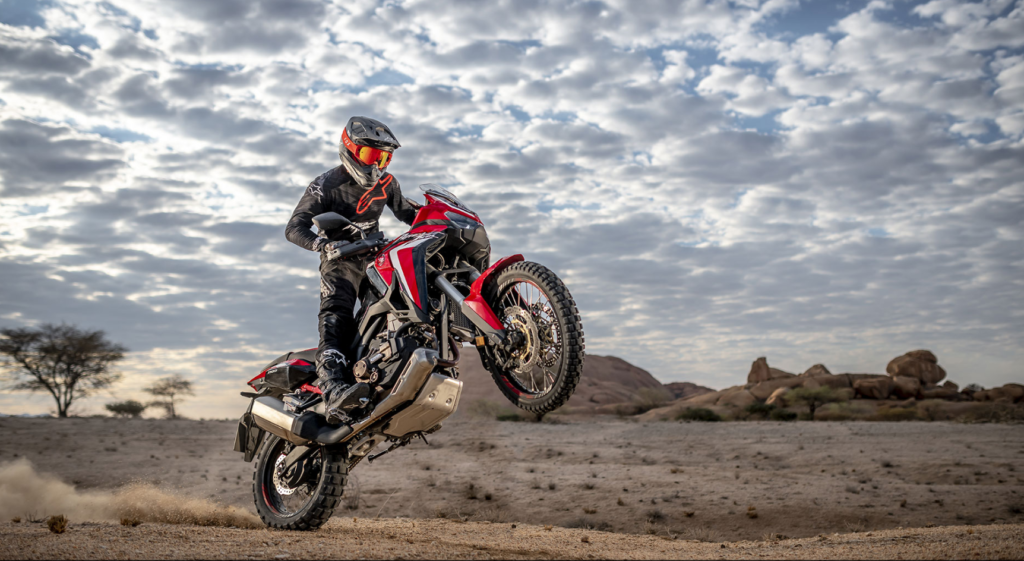 BMW R 1250GS 
The leader in the big cylinder adventure motorcycle sales market, the BMW R1250GS outsells itself year after year. This distinct-looking adventure bike with BMW's trademark twin-cylinder boxer engine is one of the top rated adventure motorcycles. In 2018 the 1200/1250 and adventure models sold an impressive 51,000+ units globally! 
A beautiful bike with plenty of features, the 249kg weight is a little intimidating for the average off road rider. On the welcome side, BMW motorcycles have a cult following similar to that of the Harley cruiser market. If you ride a BMW dual purpose motorcycle, you probably have friends who ride a BMW too. Welcome to the beemer cult!
Pros
Low center of gravity keeps the weight of the bike down making it easy to handle. For a big bike, they're surprisingly nimble. 

Gizmos. There's the electronically adjustable suspension, keyless ignition, traction control, automatic damping adjustment, and the list goes on. Wow!

Shaft drive. This nearly maintenance-free propulsion system means no adjustments, chain changes, or carrying a spare.  

On this list, it's the

most comfortable sport touring bike

hands down.
Cons
Price. If you're shopping around for an adv motorcycle, you might not want to sink $20K into a lifestyle you're not completely sure about.

Weight. 249kg of motorcycle feels more like 2490kgs if you need to pick it up out of the sand after 8-hours of riding. 

Perception. If you're venturing off into the 3rd world, you'll have to worry more about being a theft target or looking like a mobile ATM then the guy on a $3000 Honda.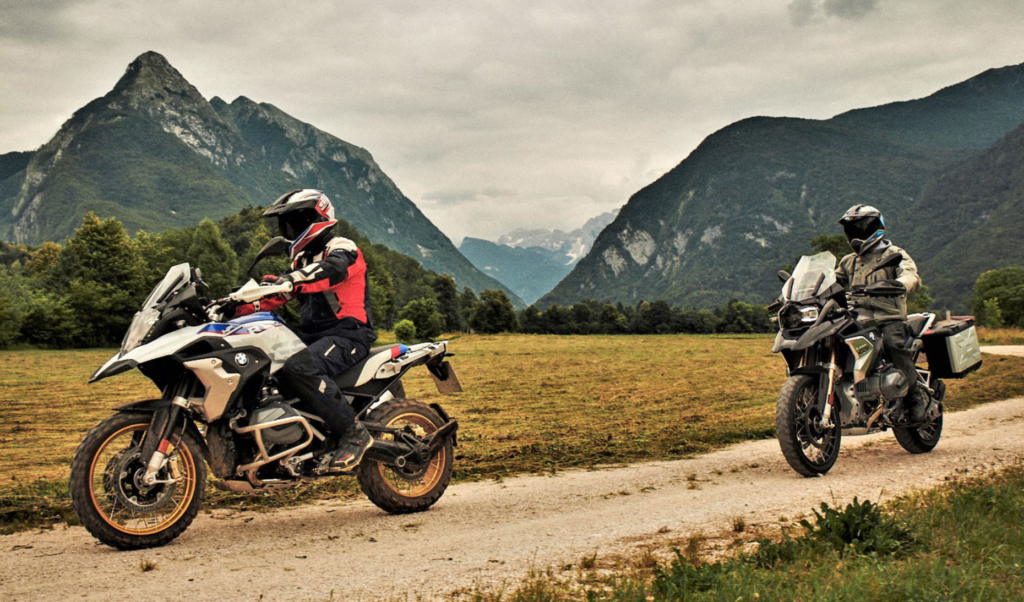 Conclusions And Decisions
Adventure biking is one of the most exciting ways to explore the world and if you're already an adventurer at heart, riding an adv bike will only amplify your exciting travel experiences. Are you considering heading to Vietnam for a motorcycle adventure or looking for one of the best ways to explore parts of Southeast Asia? We can get you into the adventure of a lifetime on an adventure motorcycle, right from the XR150cc right up to the CB500X. Travel, adventure, motorcycling, one of the greatest ways to experience life.