Reading Time:
22
minutes
The Corona Virus wiped out any chances of the next planned trip, which was to be Peru. In the planning stages for Peru camping was a heavily supported idea within the four-man group. The three us that are still in Vietnam during the COVID 19 lockdowns, decided to put camping to the test and plan a route in Vietnam that would go as deep into the jungle as possible. 
Traveling Vietnam is easy, almost too easy. There are shops everywhere, people everywhere, and in many ways, it is difficult to escape the help of the locals. We wanted to try and be self-sufficient on this trip, to re-enact what it might feel like to camp in a land that is foreign to us whilst being off the grid.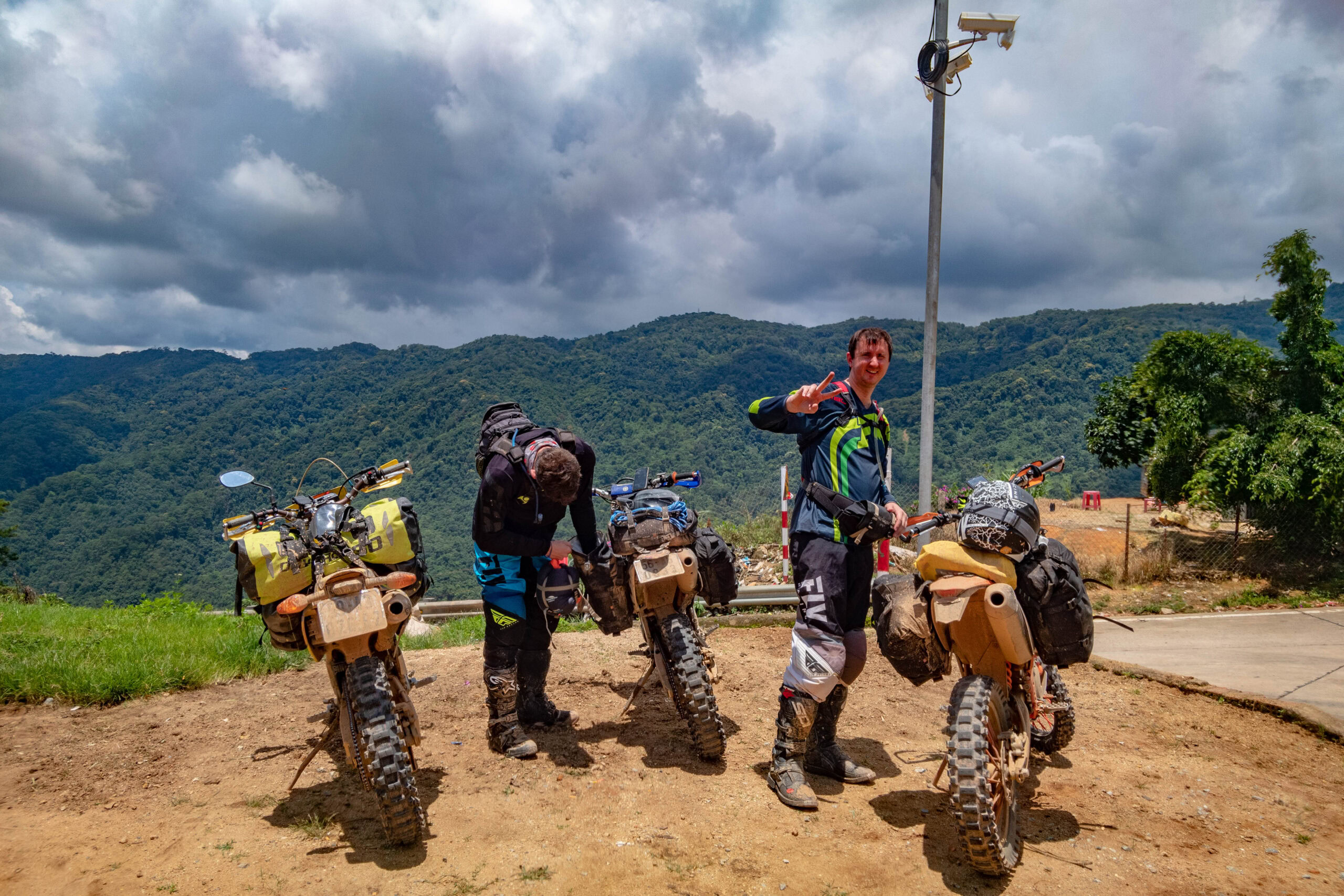 Camping Planning

Now at the old age of 30 years old, I wanted a comfortable camping experience, but without the sacrifice of motorbike performance. I spent weeks and weeks searching the internet for the best and lightest gear, calculating every gram like it was life and death. I got carried away really, and on a 350cc top of the line motorbike a gram here and there is going to make no difference. In hindsight, the research time would have been better spent in the gym shaving grams off my dad-bod waist instead.
I started studying hiking based youtube channels. Weight saving becomes an obsessive pursuit within "through and through, hikers". They recommend throwing away everything that adds even ½ a gram to the load.  All the research in the world led me to these purchases.
My Gear
Gear
Specs
Price
Tent
 Snugpak Ionsphere 1 person tent
 $150
Sleeping mat
 Thermarest Neoair Xlite (didn't fit my 6'5″ frame)
 $150
Sleeping mat #2
 Exped Synmat – Extra long
 $170
Sleeping bag
 SEA TO SUMMIT Spark Sp0 Down Sleeping Bag
 $265
Cooker
BRS Only 25g BRS Ultralight Stove

BRS-3000T Titanium

 $25
 Pillow
 Picked up a baby pillow from a high-end store, super comfy
$25
Cooking Gear
Decathlon in Vietnam stocks all the camping gear needed, pot has fork and knives. inside.
 $10
Tow Rope
 1/4″ x 50′ 7700LBs
 $25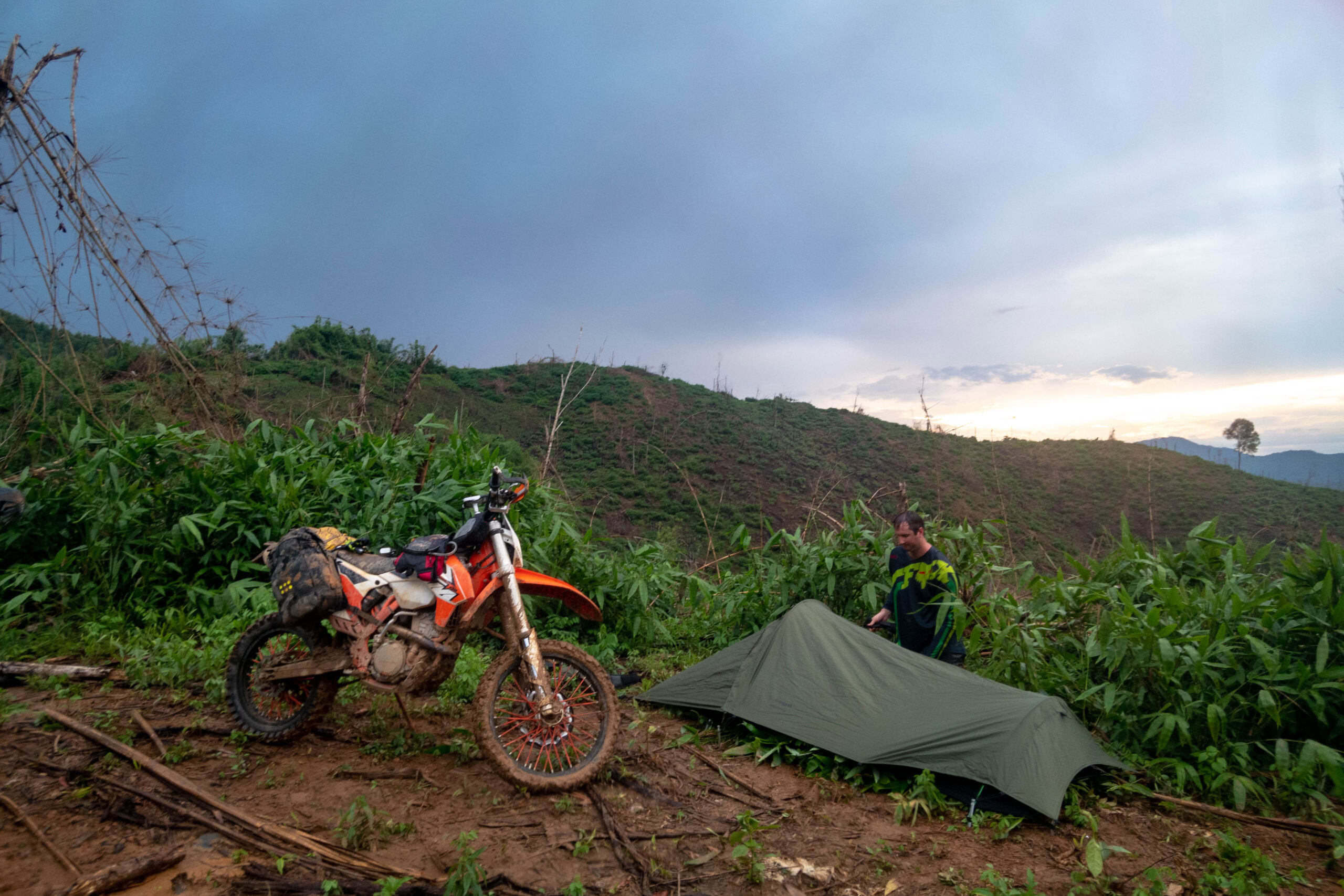 Planning within the group
A few meetings took place to debate about the direction of the ride. The mapping for this would all be manually drawn lines on Googlemymaps. I spent around one hour an evening for three weeks drawing the route for this map. It became a routine evening wind down. Put on some music, hit the PC, and get mapping. Check out this video to learn about my mapping process.
When out in the remote countryside it is important the lines are accurately drawn. I went to the lengths of drawing all possible bailout points, and basically tried to create the safest possible map for this camping adventure.
All in, there must have been some 21 hours of time spent drawing lines on GoogleMymaps!
To be truly self-sufficient I also needed to learn how to fix a flat tire. This may sound trivial, but fixing a flat on an offroad motorbike is no simple task. I studied youtube videos for this "simple" process and then took to the evenings to practice on my own motorbike. I had no joy and was unable to complete the process. I went to the lengths of taking our mechanic off his routine jobs and to teach me flat tire repair. Unfortunately during the process of learning, I slipped a disk in my back, a testament to my unfit state and the downside to being a 6″5 giant who spends his time in an office and not doing any exercise.
This put me on a recovery clock, with only three weeks before the trip.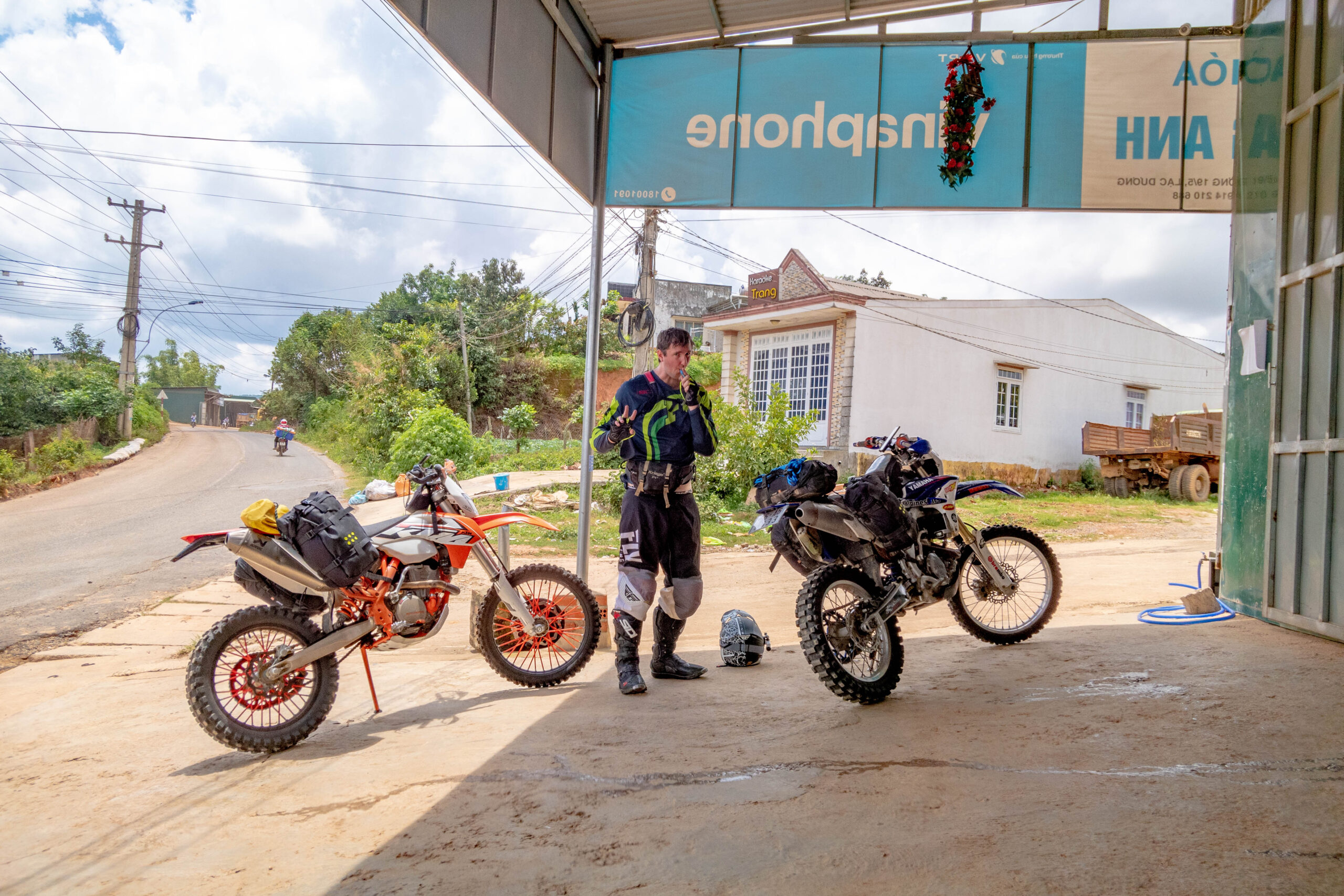 As the dates grew closer, food was the last remaining detail that seemed to be lingering. Fran was assuring that food was easy and that he had it under control. I have become skeptical of things being easy these days (nothing seems easy anymore). I tend to take hours to research any decision that I make, no matter how small. I was watching hours camping based food youtube videos and was getting no closer to understanding how to plan food for a camping trip.
A food-based meeting was arranged and Fran showed up with everything needed for the trip, right down to bags for each meal. 
Breakfast consisted of Muesli

Lunch would be random stops on the road or snacks (including bags of dried fruit)

Dinner consisted of Noodles.
It was very simple and it just goes to show that it is possible to get overwhelmed with overly complicated information on the interweb. All I had done with my research was scare myself. 
Sending all the gear to Dalat
TigitMotorbikes has a partner MotoLaurie in Dalat, so I thought sending all the motorbikes and gear for the group would be an easy thing to do. However, as the guys started dropping off their gear in the Tigit HCM office it just piled up and up. An onlooker would think we were going on a 6 month trip around the world with the amount of stuff that was accumulating. Every day had "one more item" to add.  It dawned on me, that the gear required for a 5 day trip like this, was basically the same as the gear required for a 'round the world journey.' It felt ridiculous having all this stuff, but then, it was all needed. I tried to find ways of removing items, it just wasn't possible.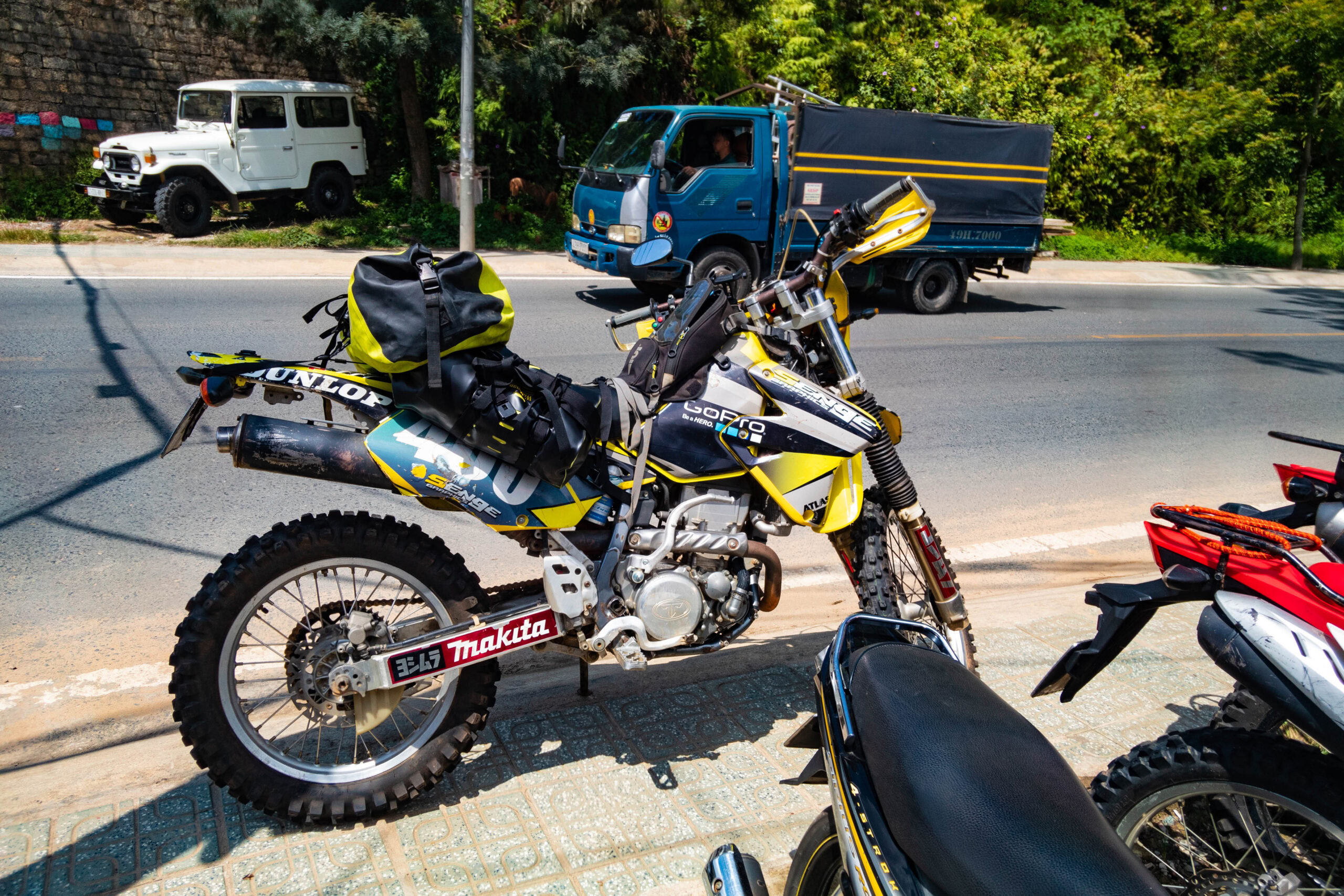 Arriving in Dalat
My back was still a disaster, I couldn't even sit down to put on my own shoes. I was relying on chairs to get myself out of the house. With a growing two-year-old child at home, I couldn't escape the Dad duties of regularly picking up a kid. Even to this date, nearly three months later, I still have not managed to recover. Nothing was going to stop me on this trip though, so I stocked up on Ibuprofen.
We arrived at MotoLaurie around 5 pm and had already given him advance warning and apologies for the amount of stuff we had and the length of time it would take to set up. Vincent's motorbike was on the workbench stripped-down whilst MotorLaurie was attempting to do some last-minute electrical fixes to make the electric start work. Once his motorbike was back together, it took approximately three hours that night to set up our gear. Never before had I needed to load up pannier gear with tents, pots, and pans. To put it in perspective, without camping gear. My normal setup time is 15 minutes.
Around 8.30 Laurie loaded us up in his old Landcruiser and off we went for some beers.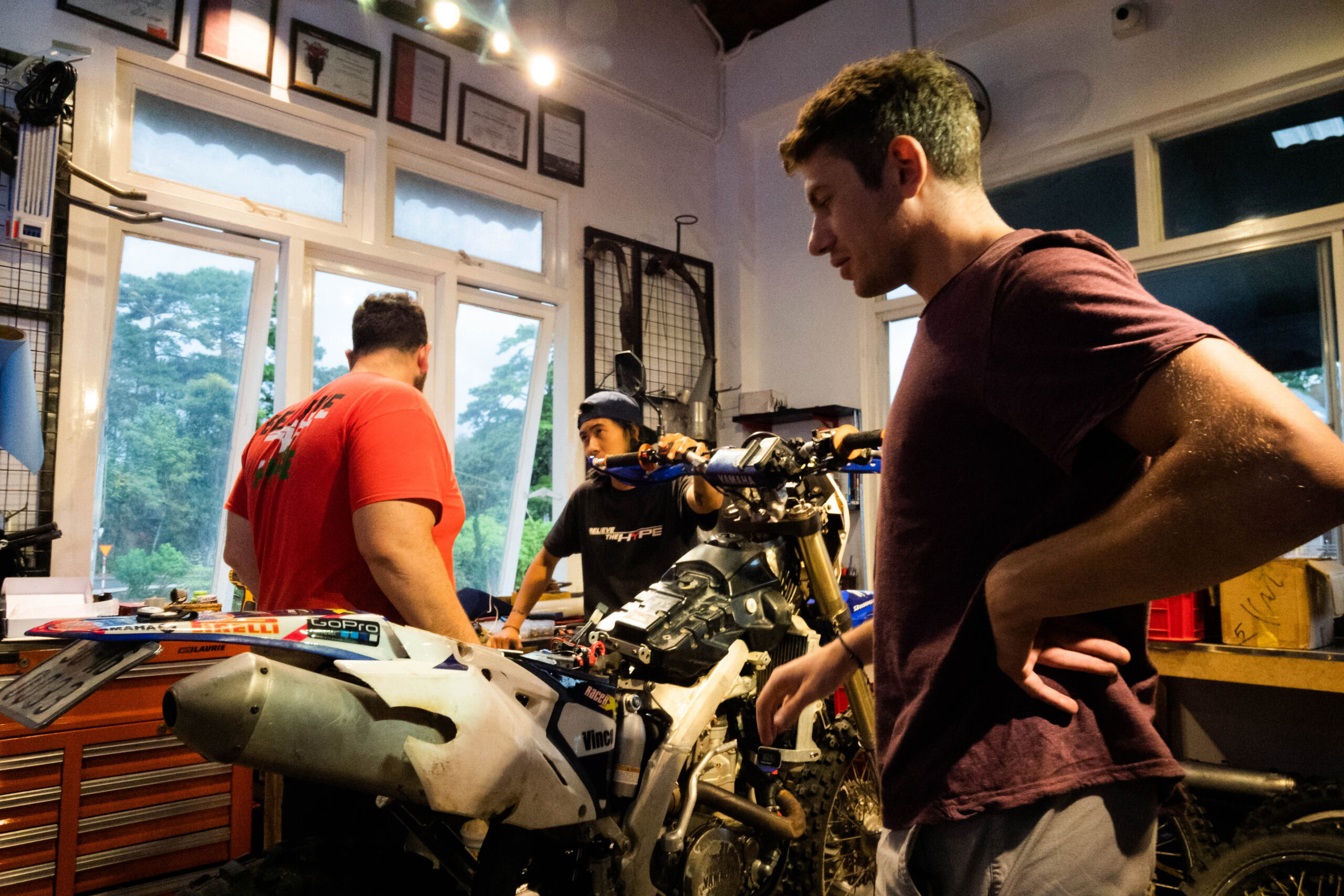 The Dalat run
Day one we planned to do a secret road North of Dalat that cuts through a national park to connect back to the main highway to Buon Ma Thuot. I have done this road many times and coin it "The Dalat Run". It has sentimental value as my first venture across Vietnam on a Honda Win had my group stuck on this track where we had to beg a local to sleep on the floor of their mud hut.  The random village halfway along this very technical trail seems to get bigger each time I visit.
It used to be mud huts, then it used to be wooden huts, now it is concrete and there is even a small school.
The road is still remote and difficult, but unfortunately, around 25% of the trail has already been flattened out since my first venture down it some ten years ago.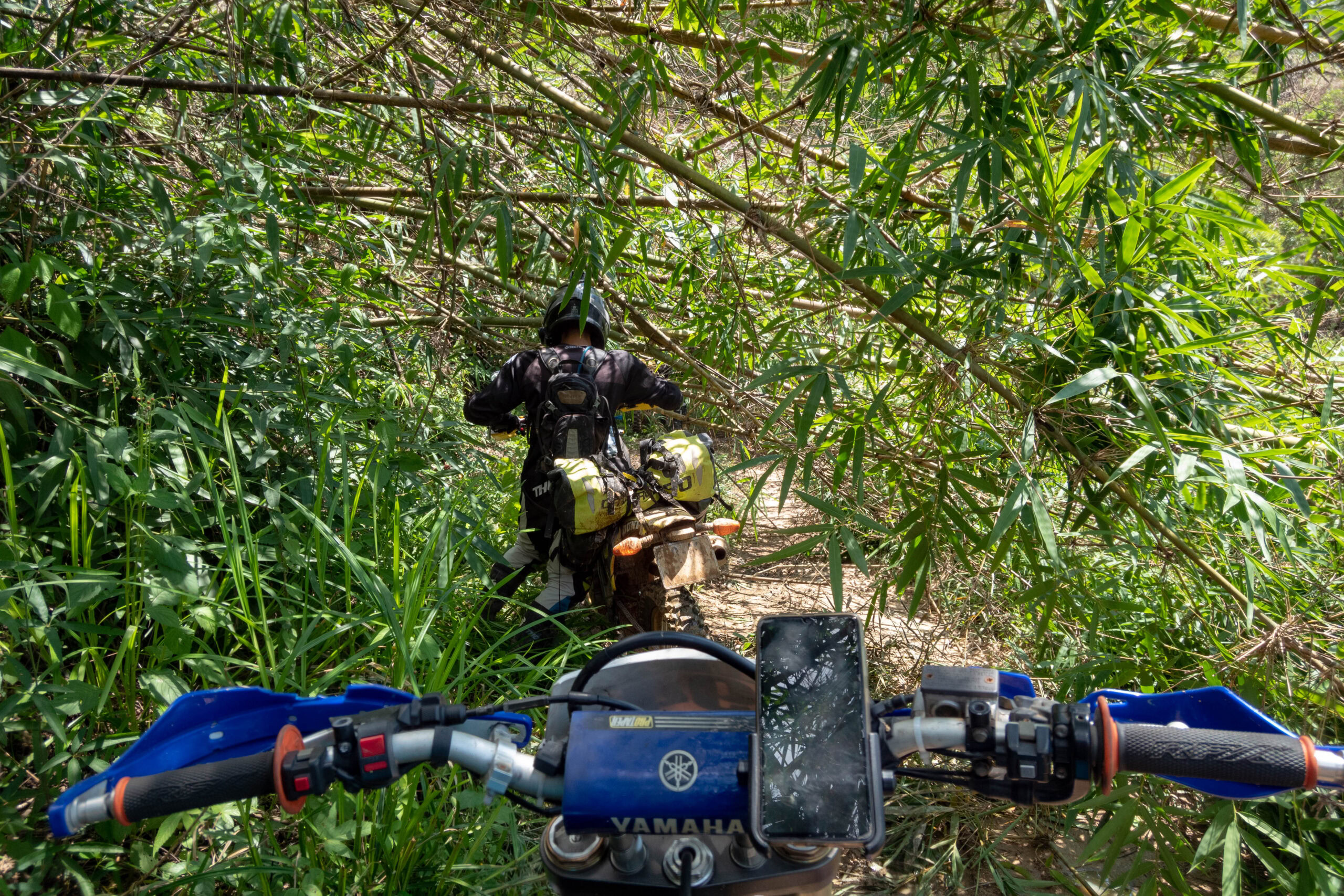 Conditions were dry and the Dalat Run was providing us with some of the easiest conditions that I have ever experienced on the trail. Fran was struggling on the DRZ, the clutch was ridiculously tight which meant stalling was an issue. The starter motor was also fiddly, which meant the combination of a horrible clutch, a heavy bike, and a semi-working starter motor meant that Fran had alot of work to do.
My back was agony, all the pain killers in the world were not going to take away the sharp shots of pain zooming up my spine every time I misjudged a bump. The KTM XCF-W 350 made for light work though, and I was basically on cruise control whilst waiting for Fran to sort out the mess of a DRZ. Vincent assisted Fran where he could, but he also lacked a starter motor and was having to kick start his 450cc WR-F every time Fran needed help.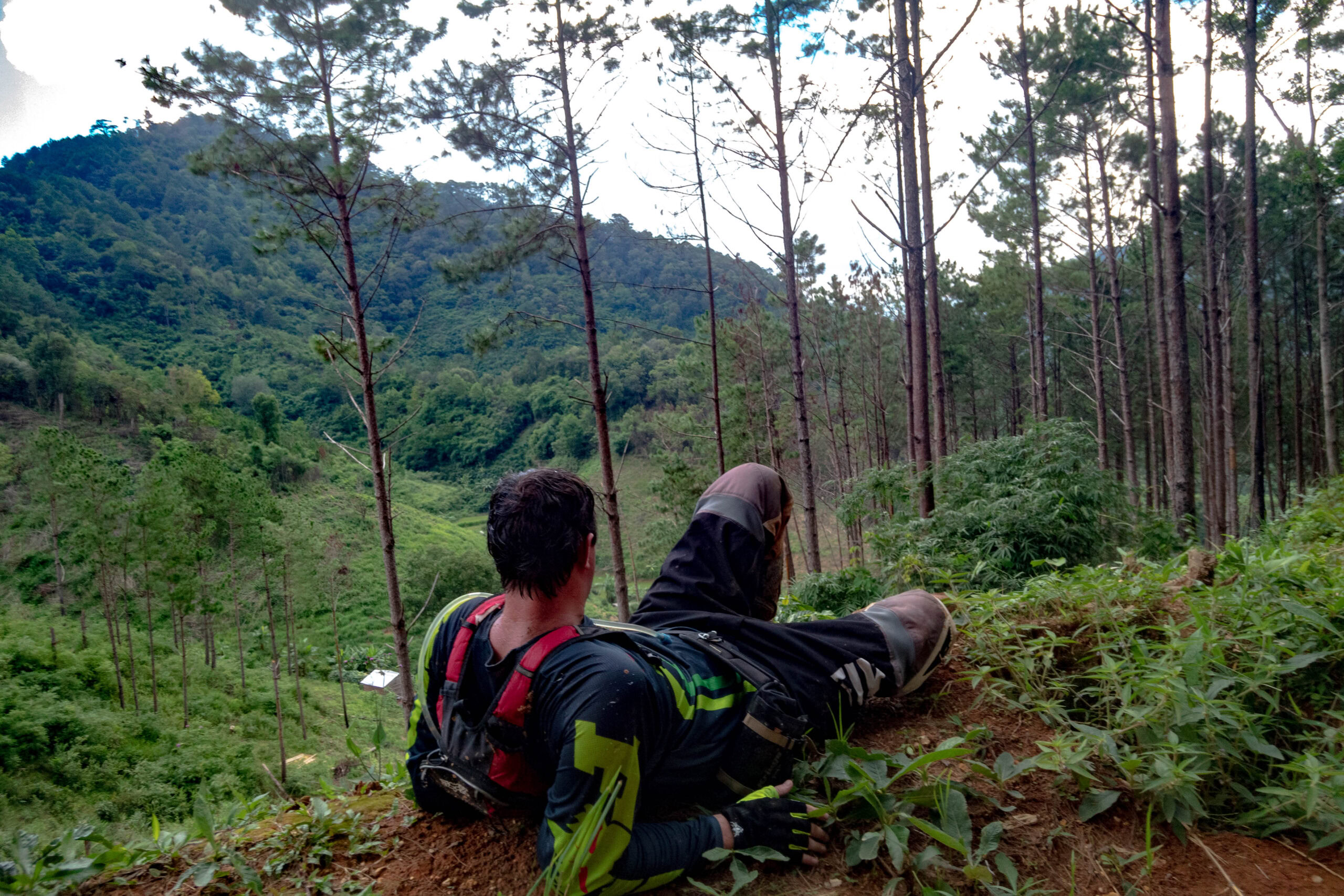 We made it through with relative ease and headed off to the highway. We took a detour onto a track that had previously beaten Vincent and me when the Suzuki DRZ broke down on a previous trip. On GoogleEarth, the track has no connection point and is a dead end. We hoped to find a way through this time, but it was going to be guesswork.
The heavens opened and the concrete road that was plastered with clay became an ice rink. Both Fran came down on the same corner. The KTM broke the off button, and the Suzuki DRZ lost a foot pedal. Both Fran and I came through the crash unscathed.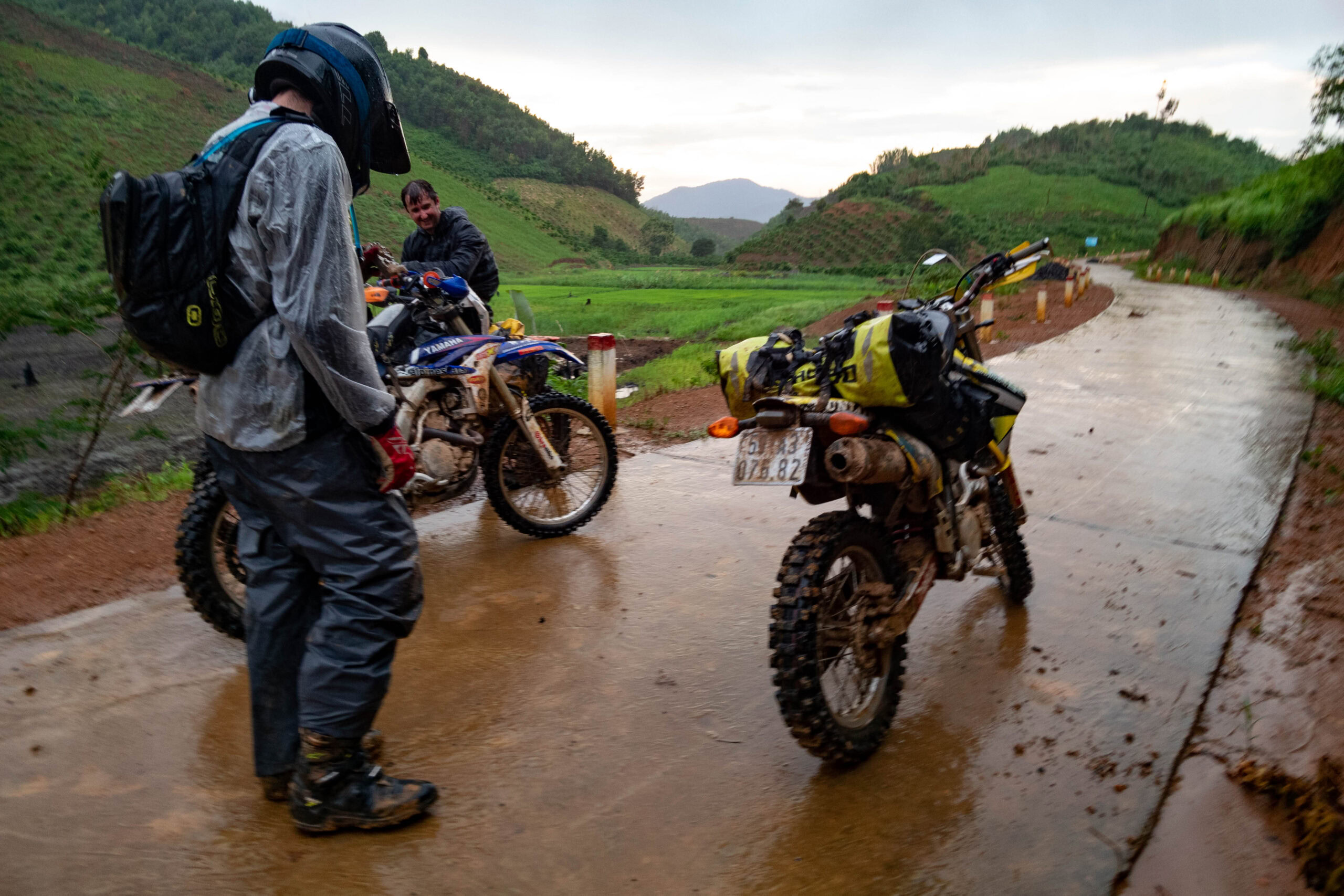 As our mapping became guesswork, the concrete road turned to mud. We headed down a steep hill which turned out to be the wrong direction. It took around an hour to get back up with the slippery conditions. The rain was hammering, and light was running out. We didn't have a map  so we decided to set up camp.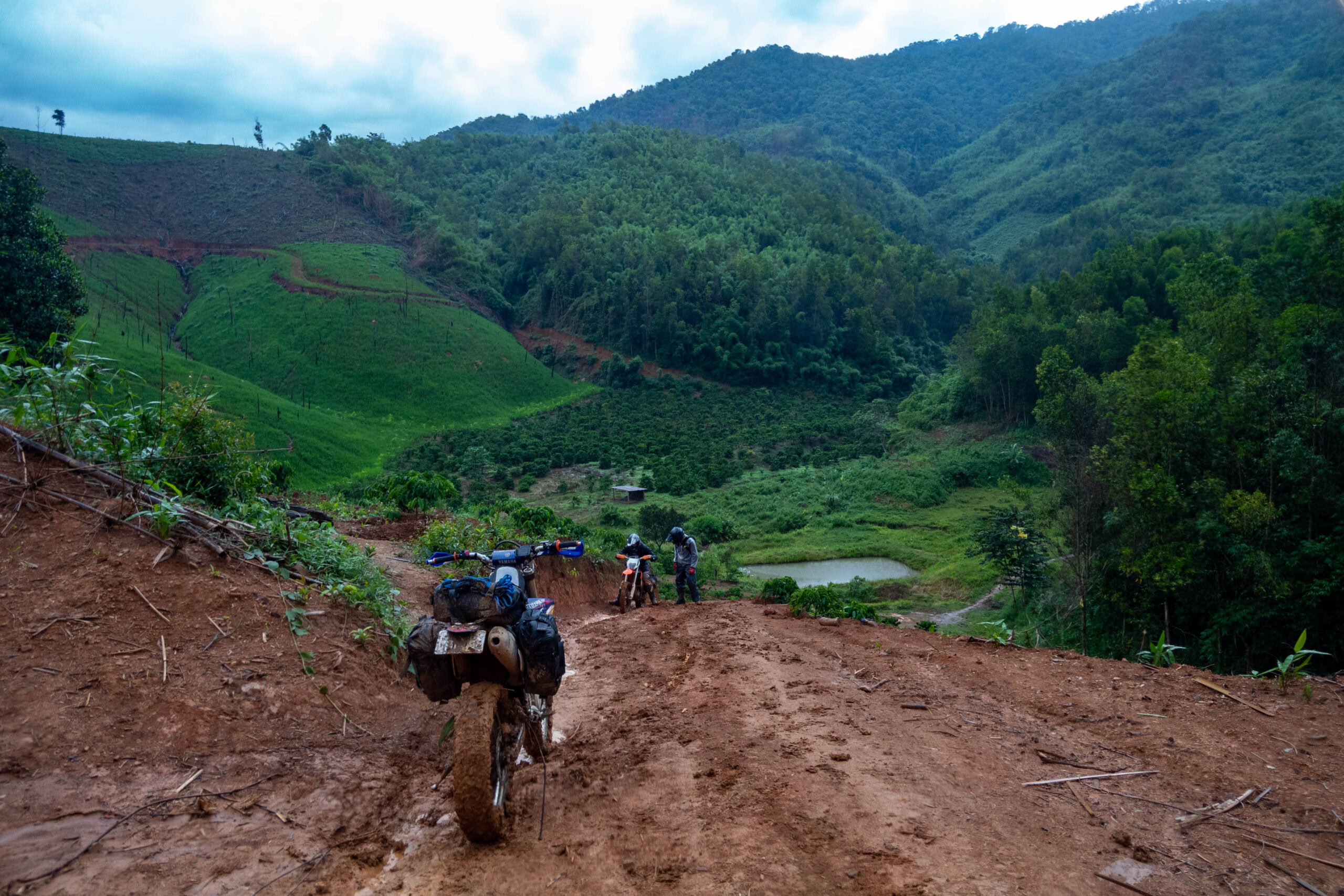 Camping in the mud
We battled our way to the top of the hill to escape the puddles of water and mud. It would have been a picturesque spot if it wasn't for the thick sodden clay. Vincent got to work cutting down leaves to lay a base for his tent. I ambled around in agony trying to rip down leaves with my bare hands. It turns out that you need a knife when camping!
I was trying to decide if the agony of building a proper campsite for my tent was worth it. Perhaps just collapsing on the spot and dying in a puddle of mud was a better idea. Thankfully Vincent came to my aid and started cutting down leaves for me to lay a base and escape the mud. I had my tent up within around an hour. Vincent was similar in terms of setup and Fran had already started with cooking dinner.
The area was filth and I couldn't really bend over in my condition. I couldn't think of a way to change clothes without covering everything in the mud. I opted to stay in my gear until dinner was ready. As dark approached, all the mud becomes less visible to the eye. I found a point in time where I was willing to try and change clothes again. It is one of the strangest parts of camping in terrible conditions. When it is dark, the conditions become less terrible because you can't see anything! Nonetheless, every time you need to access an item inside the panniers, the hands get splattered in clay. The clay doesn't really wipe off with wet wipes or tissue. Wiping on clean clothes seemed to be the most effective.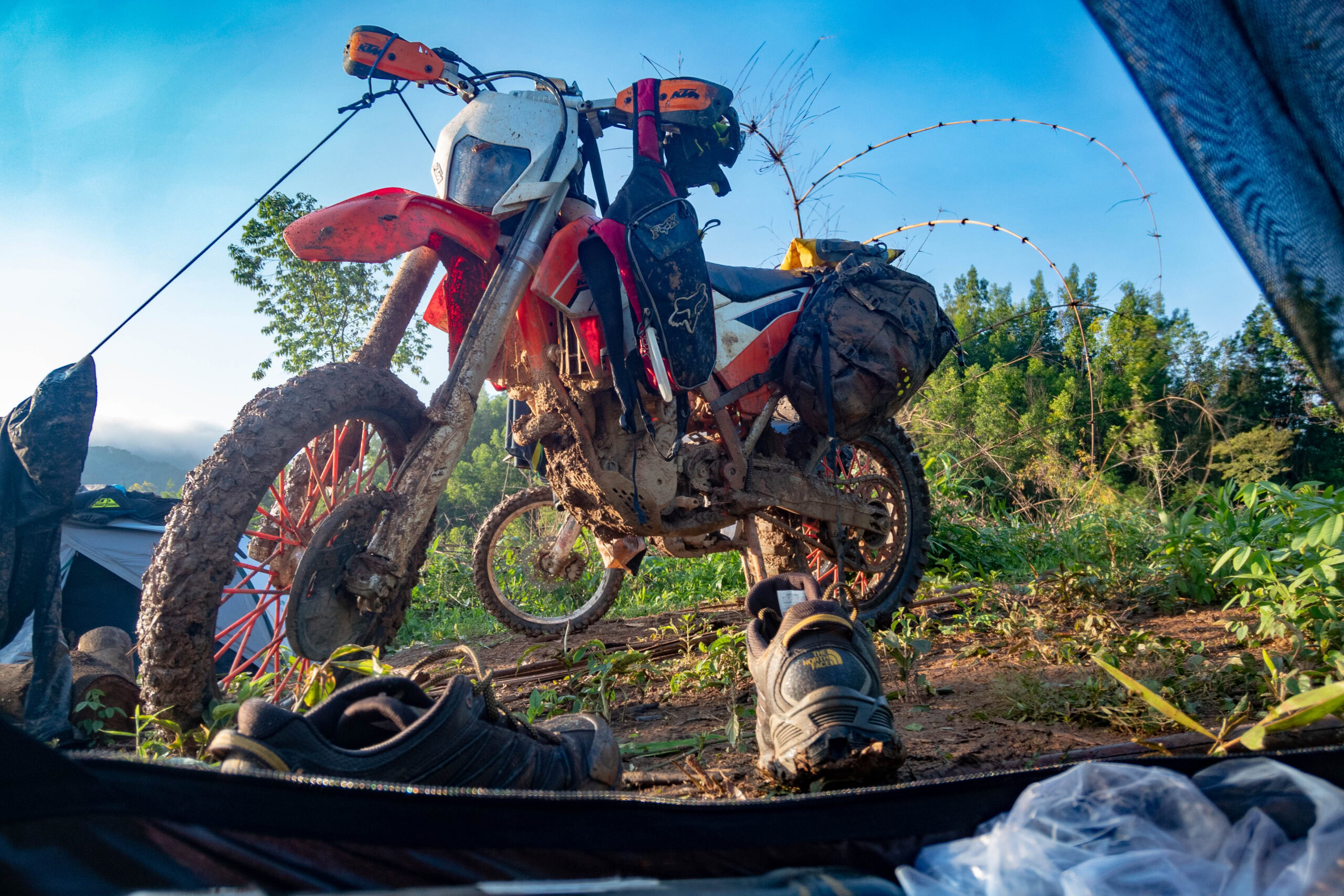 Water was short, so dinner was not a luxurious event. The noodles just about sufficed and the rest was filled in with snacks such as KitKats. I don't sleep well at the best of times. My room must be pitch black, at hotels I unplug the TV's, the phones, and I often go into hallways to disable lights where possible. My mattress must be soft and my pillow must have the perfect loft. When going to rubbish hotels, or in this case camping, my objective is to try and dose comfortably all night. I already know I won't sleep, so trying to sleep just adds stress to an already bad situation.
A quick complaint to Vincent and Fran to turn off their lights and I found myself in a setup which was comfortable enough to achieve a very mild dose whilst staring out the door at the stars and my beautiful bike. I found the mattress too wobbly and a combination of very limited space in the tent and a mostly broken back made moving around a challenge. Exiting the tent door was a mission and getting up to go to the toilet was an activity I had to build motivation to tackle.
Overall, it was a reasonable first night of camping!
Cutting East 
We woke up to perfect sunshine, Fran cooked up some Muesli and made coffee and Tea. Our water reserves ran out, which meant packing up the campsite and finding our way to a town was a matter of urgency.
We still didn't know how to connect to the nearest town, but we quickly found a local preparing for a morning of farming. He pointed out the exit point, which turned out to be an incredibly fun and rocky drive to the next town.
The road was hard and fast enough to put the lack of water into the back of my mind. From a campsite in the middle of nowhere to grappling our way over rocky and sandy tracks. It was an incredible morning.
It was around lunchtime that we found a reasonably sized town that stood a chance of welding the aluminum footpegs back to the DRZ. This meant that Fran had already achieved half a day of driving with only one footpeg. Whilst looking for a welder, the clutch cable also snapped. 
It took around one and half hours of fiddling around in the town, but we managed to get the footpeg welded back on and a new clutch cable and handle. The clutch was now silky smooth and this would make Fran's life much easier for the rest of the journey.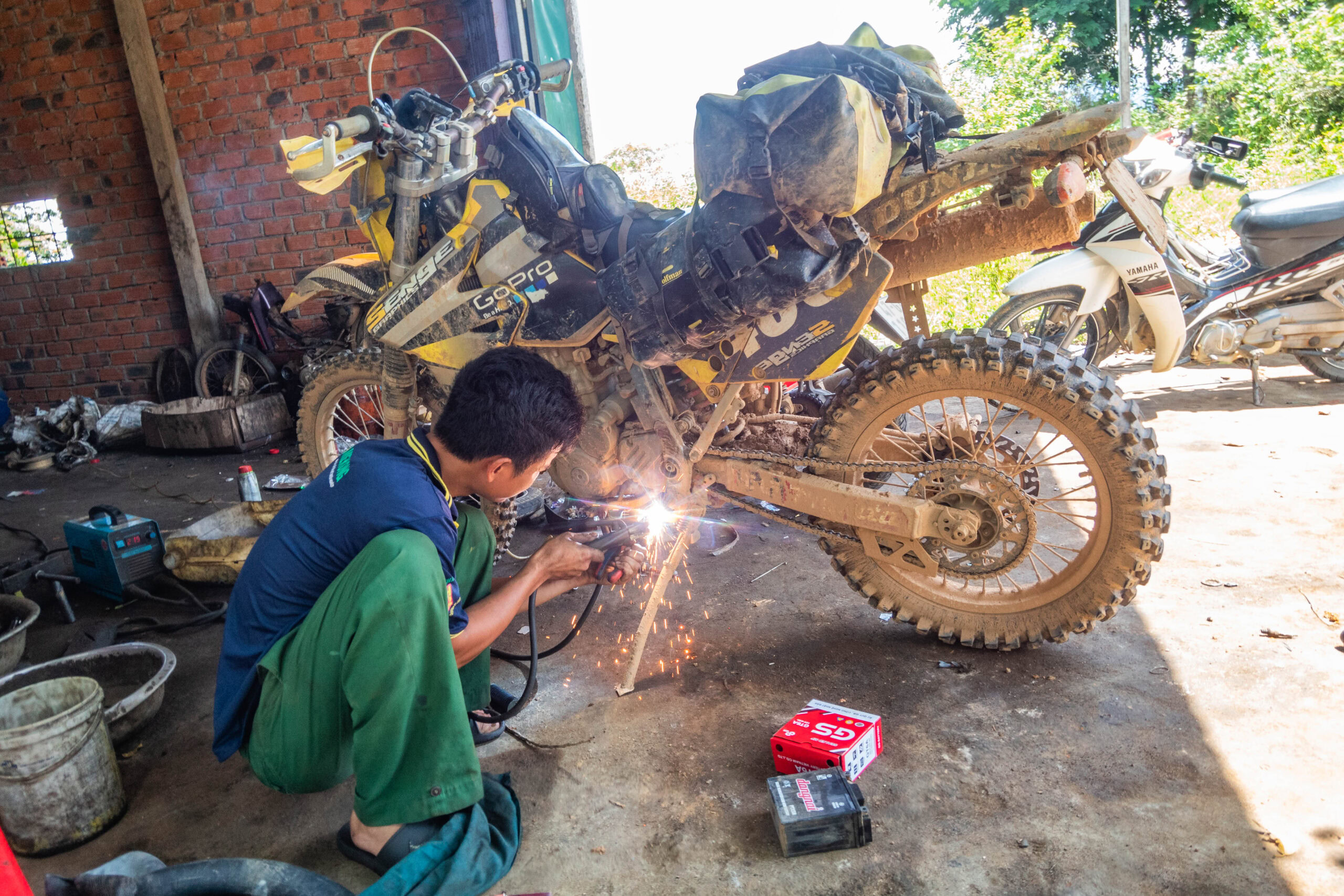 The bulk of the day was tarmac roads in shockingly bad condition. Cutting from West to East parallel to Ninh Hoa must be one of the poorest areas in Vietnam. We couldn't escape the thick clay, and neither could the locals. Everything was splattered in mud. Every time the road turns to clay puddles in villages we have to lower our speeds to avoid splattering the villagers. They wave and smile, but mostly they are stunned. They have never seen a dirt bike before, and most of them would have never seen a foreigner before.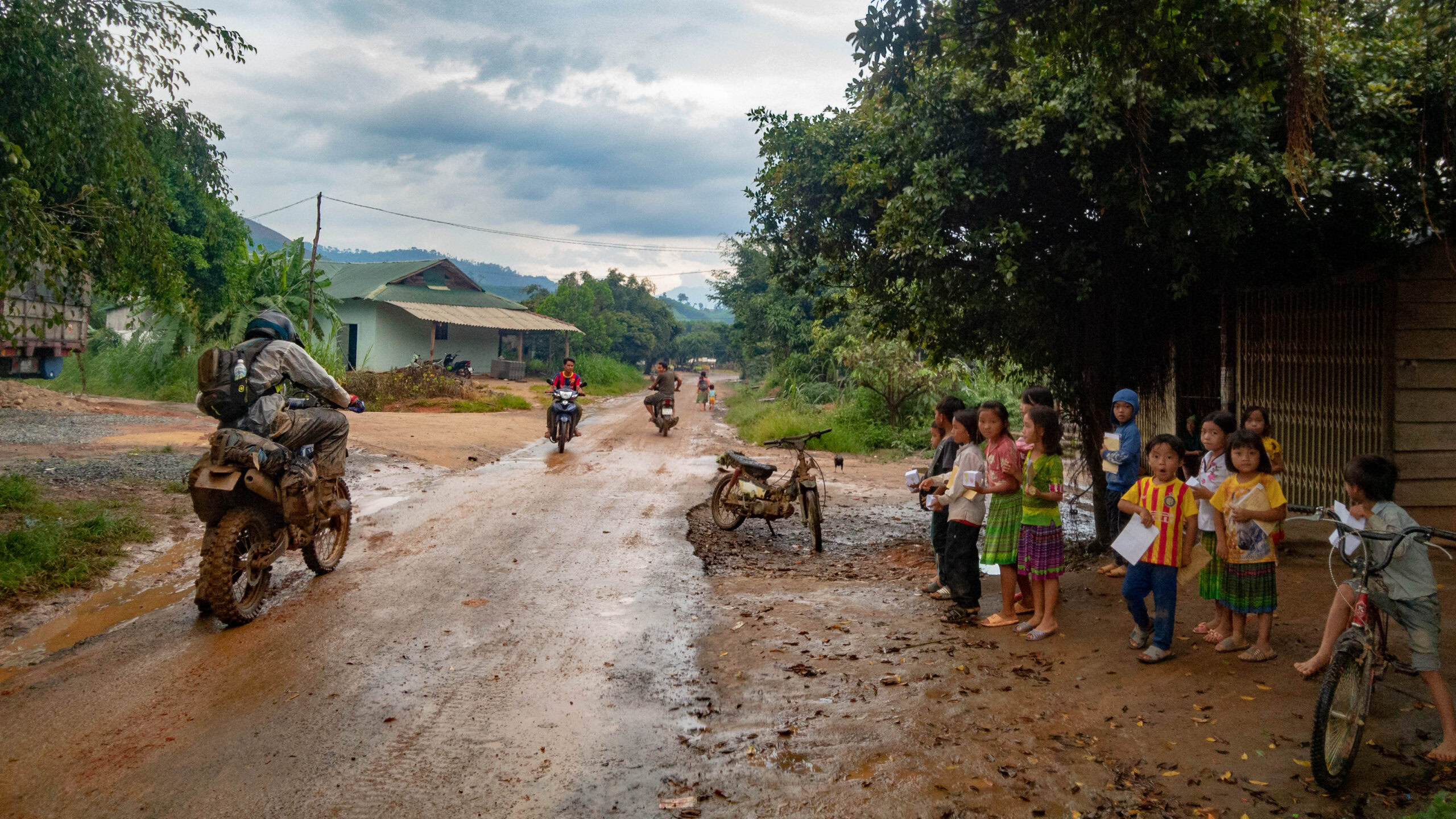 The day ran out and I spotted a potential campsite on Google Earth. We Stopped in town to buy beer and plenty of water. We had plastic bags hanging from our mirrors full of groceries. which is quite a sight on a dirt bike. We headed up a small track a long a dried upriver. It was probably a full hour before we spotted our potential campsite which involved doing a reasonably sized river crossing.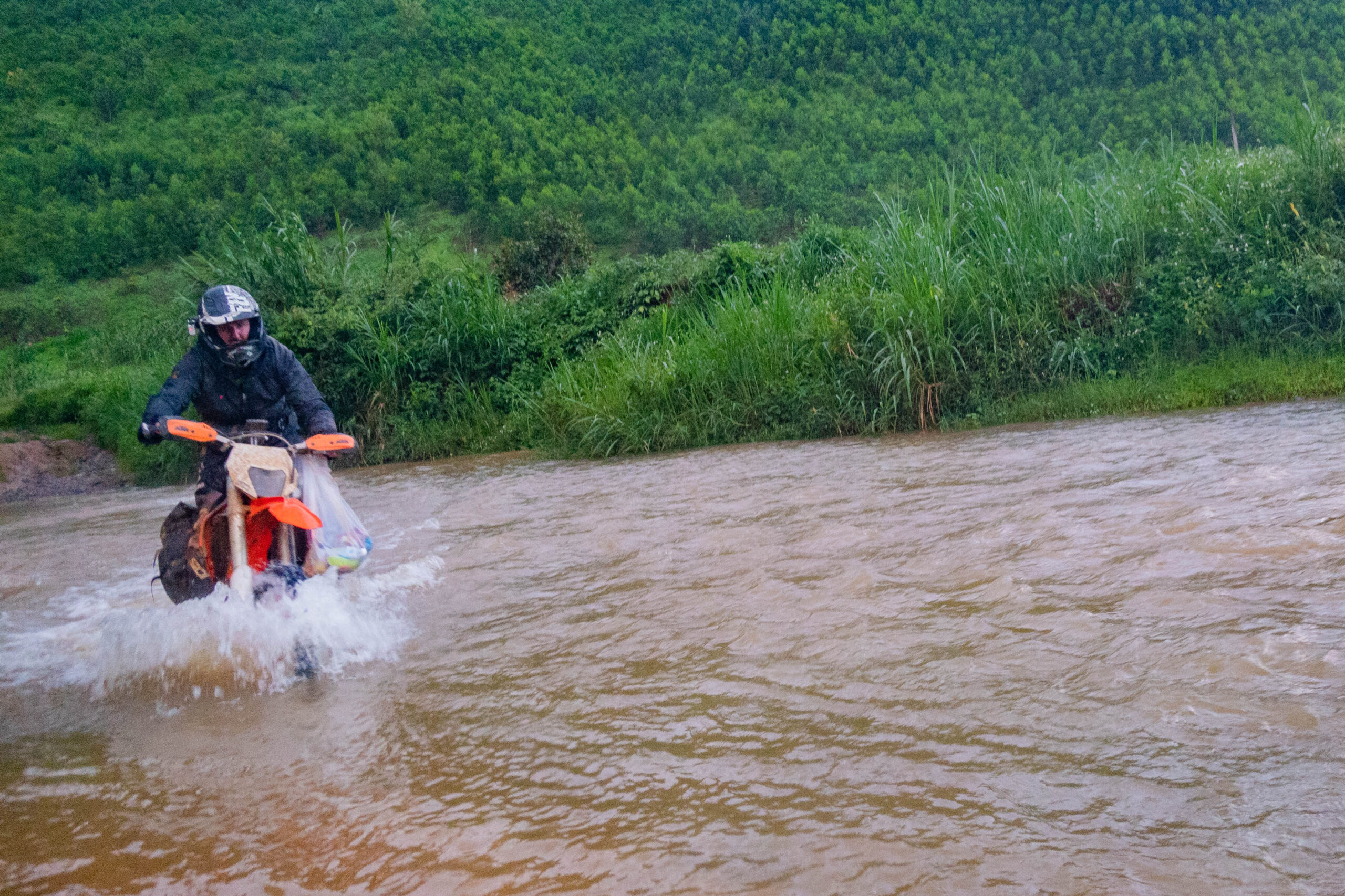 This campsite was again damp and moist, but it was in sand instead of clay. Once again we lay down leaves to try and escape the ground. Conditions were better than the previous night but left a lot to be desired. In the daytime, I am unwilling to sit on the moist sand, as night falls, that moist sand suddenly looks clean. 
Fran whipped up dinner and we had two pots of noodles each and a bunch of beers. Camping is a skill, and with each day, it gets easier.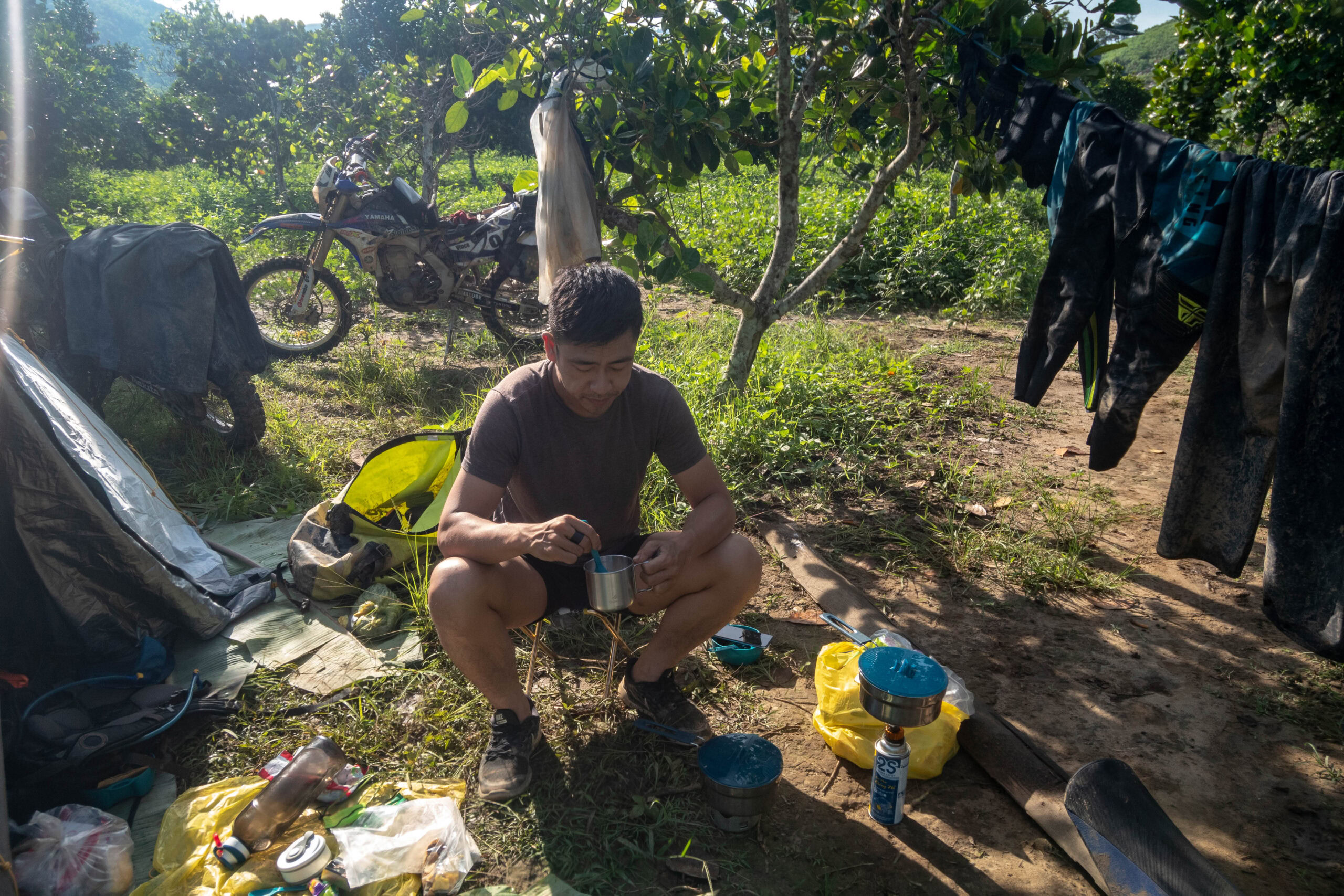 A dead-end in the jungle
Whilst waiting for Fran and Vincent I took a morning swim. The clothes would dry out quickly, but water at the bottom of a motocross boot is something that will stay for the day or week. I felt the filth we were living in was worth the trade of wet boots. Fran and Vincent disagreed, so they stayed dry while I had the bath of a lifetime.
The morning had us on an old airstrip where Vincent practiced his wheelies. We were heading for a jungle road which would take us North.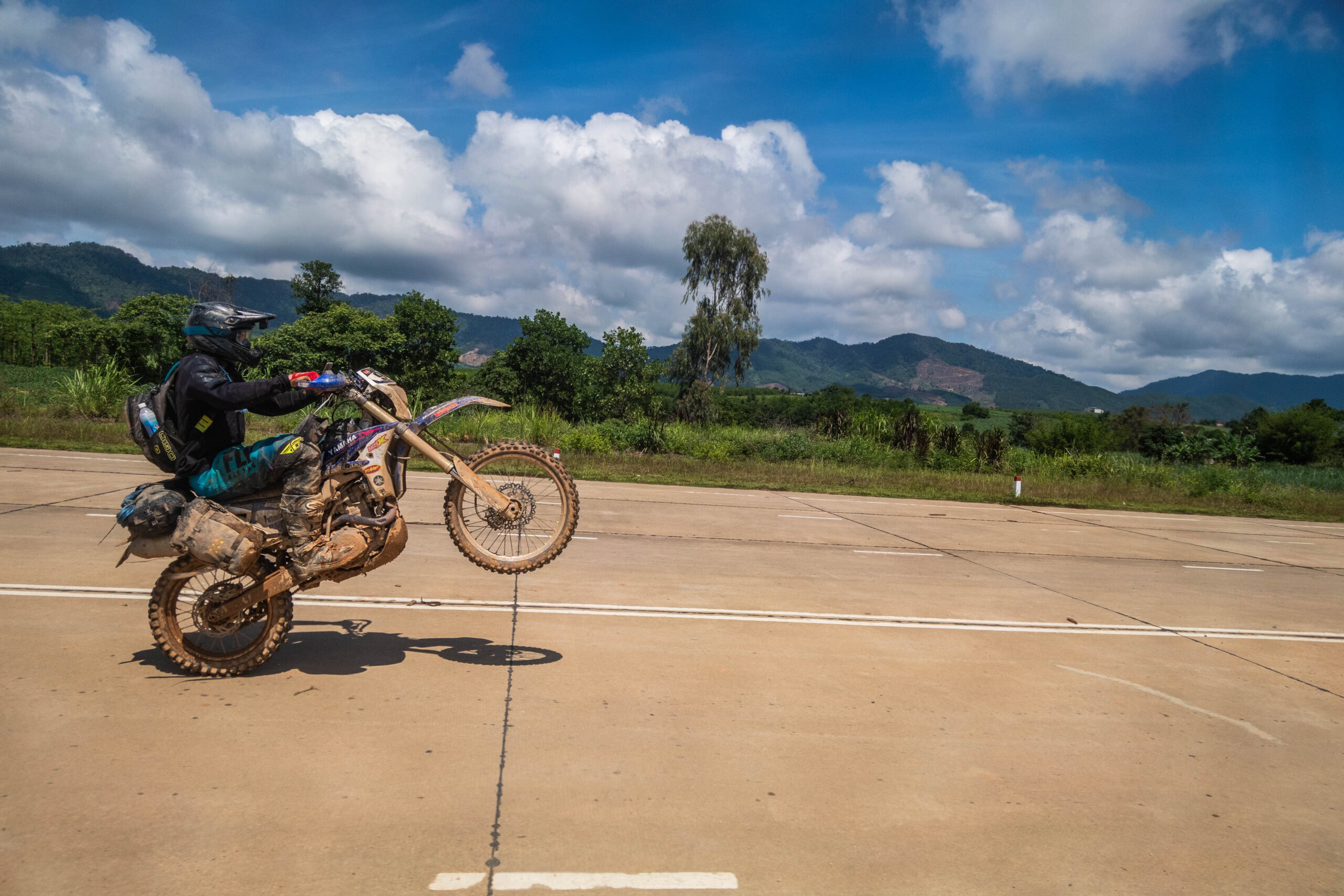 It was relatively early in the day when we found our turnoff to the jungle road. For some reason, I expected to glide through this section easily and so I put little thought into the idea of preparing extra water or food. Sure enough, we were gliding. Nothing could stop us and we were eating up the mud track kilometre after kilometre. We reached a hilltop where the local rangers appeared to have a small campsite. Here we talked and I remember saying "nothing is going to stop us now".  It was a perfect day, perfect conditions and we were covering perfect ground.
Twenty minutes later and the Suzuki DRZ came to a grinding halt. I had no tools, never found the time to research this part of the trip. It was an item that remained on my to-do list. I was ready to spend the next 5 hours towing the 150kg Suzuki DRZ out of the Jungle from whence we came.
Vincent had other plans. All his clothes came off, and out came a tool kit. Fran followed suit, and soon they were working together to access the DRZ spark plug. I stood around admiring the show, my back was too broken to be of any use. Around one hour passed and the Suzuki DRZ breathed life again. Mud had splatted into the spark plug, which needed a deep clean with wet wipes.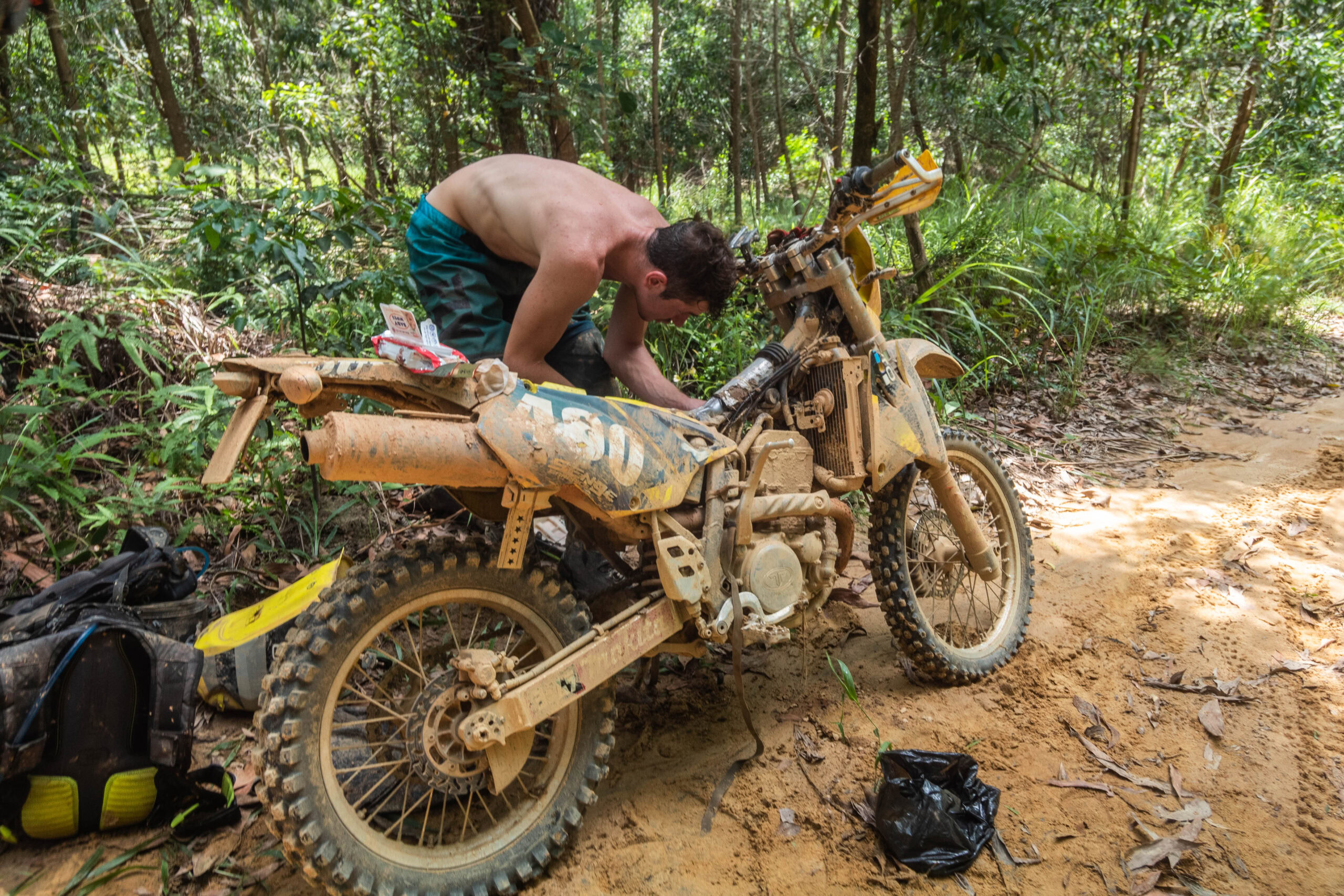 Shortly after fixing the Suzuki DRZ we came across a big ditch. We pondered for a while and then drove into it. We then realized that there was no way out of the ditch, and we spent the next hour battling our way back the way we came. This is the kind of situation that would create fights in other groups. "Why didn't you wait? Why didn't you check the exit point first". But in this group, it's a team effort, and we silently get on with the job that needs to be done. 
This pointless exercise of escaping the ditch zapped all the energy out of the group, it was survivor mode and we all pitched in to get these motorbikes out of the hole. I gave up on the idea of preserving my back and launched right into the heavy lifting that the doctor said I shouldn't be doing.
To backtrack all the way back seemed like it would take the rest of the day. However, we exited the jungle very quickly.
The police run
Local police came and talked to Fran. Next thing I know he is driving off into the distance at some speed. Vincent harassing me to "gogogogogogo."
I shrugged my shoulders and pretty casually drove off after Fran. The local on a Honda Future was frantically waving a stick at me. I had an inclination it was a policeman but I wasn't too sure what was going on. He didn't have police clothes on, it was just a man with a stick.
Vincent kept on harassing me to go faster, but I have seen enough high-speed chases on TV to know that overdoing the speed results in accidents. I wasn't even sure what exactly we were running from. We were heading in the right direction to our next checkpoint, so from my perspective they can chase us all they want. They can't exactly stop us or do anything.
Eventually, we hit a mud section in the road and our motorbikes braaped off into the distance. No way a local on a Honda Future is going to keep up with a KTM offroad.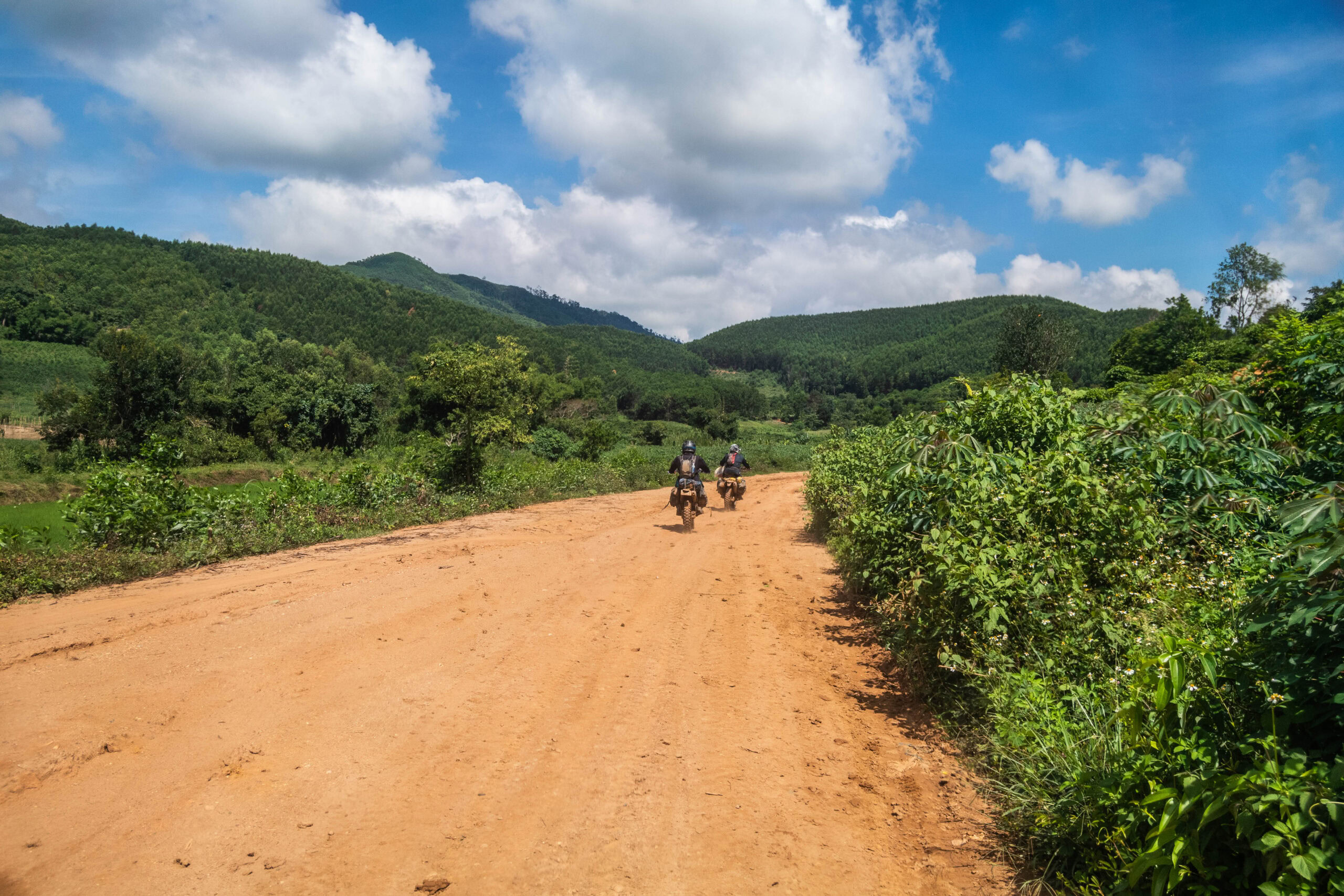 We drove on for around one hour before turning off the main road to discuss what had just happened. Fran said he thought they were stopping us to investigate our motorbikes. He didn't want to deal with the drama so it was easier to just drive off. The man didn't have a uniform and his approach was aggressive. A bit of pondering and it was raised that it is possible he just wanted to ask us about our direction for Covid-19 purposes. 
Oh well, no harm done. It was a bit of a random panic run to protect the motorbikes. We discussed further and agreed that if we get stopped again, we wouldn't drive off.
Interested in Offroad camping but you don't know much about offroad motorbiking? Let Tigit Jon explain everything to you.
The police scare had us on our smartphones, and sure enough, there was a Covid-19 outbreak occurring in Danang city. We drove on and eventually found a lovely hotel. The owners wouldn't go near us. They left face masks on a table and then instructed us to put them on. Even with the facemask on, the hotel interaction was politely dealt with at a range of around 5 metres.
The local police came around to talk to us, ask us where we have been, why we were there. The usual questions. Everyone was friendly, but it was clear that panic had already set into the countryside. With a hotel, it is possible to unload the pannier system and throw everything onto the floor to air. A luxury which is definitely missing from camping. We had hot showers, charged up all our electronics, and slept like babies.
The following morning's breakfast had locals calling the police on us for Corona Virus reasons. Countryside folk are terrified of foreigners during such times. They seem to forget that no travelers have been allowed to fly into Vietnam for over four months. The police were friendly and were already aware of our presence in the small town.
The news was drastic at the time, something we are familiar with from our India trip. It did push far enough to make us consider re-routing to Tan Hoa airport under the theory that a small airport is less likely to be hit by Quarantines in Saigon. But, I called for exaggerate news and had put so many hours into the mapping of Pleiku that I wanted to continue North, and so, that is what we did.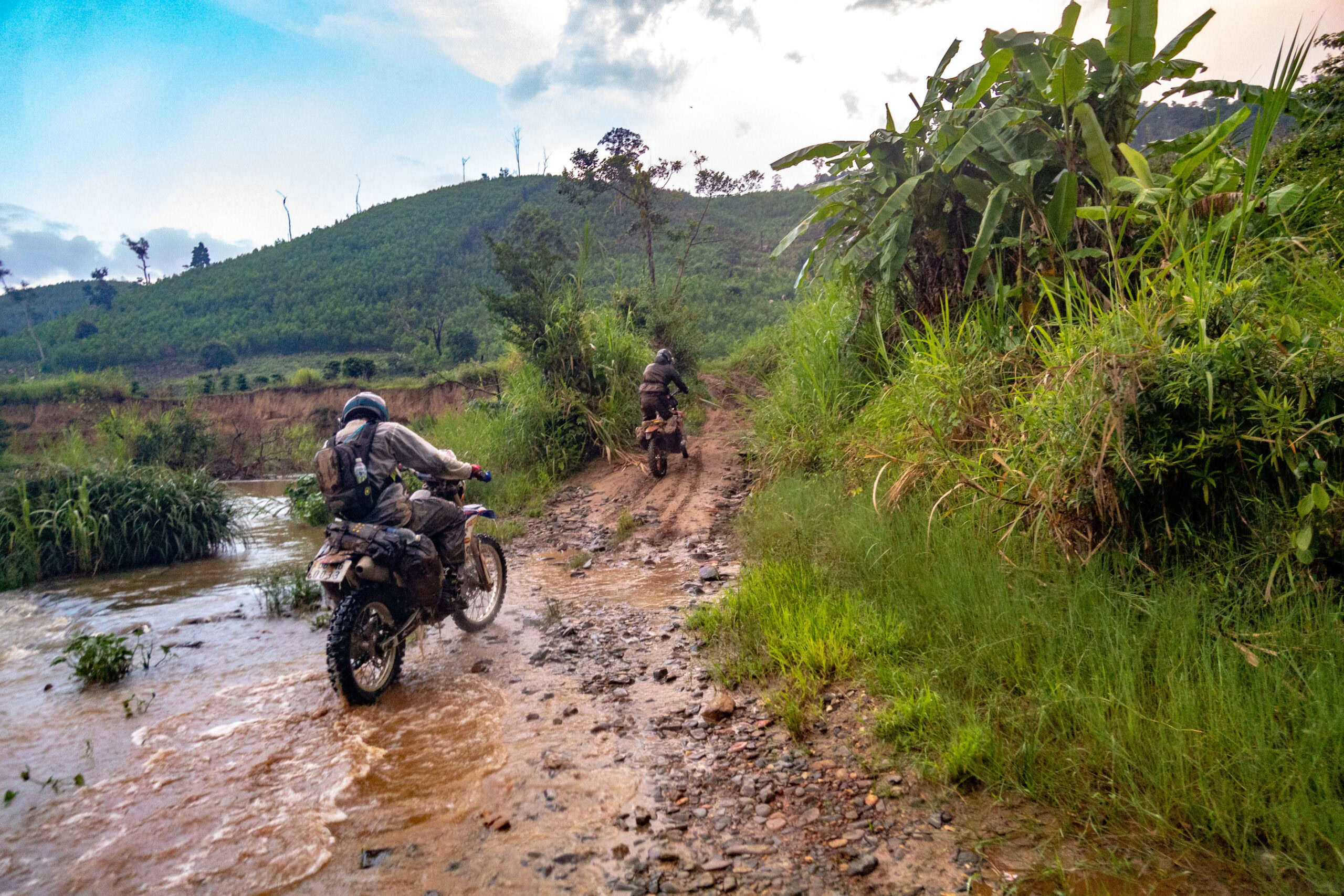 Man VS heat
Day four was a smooth start-up the highway before finding our turnoff to what was going to be the epic finale into remote terrain. I knew it would be a big drive, but nothing could prepare me for what was to come. At some point in time, Fran broke the footpeg again, and at some point, we welded it again. Then, he broke the other footpeg, and we fixed that with sticks and duct tape.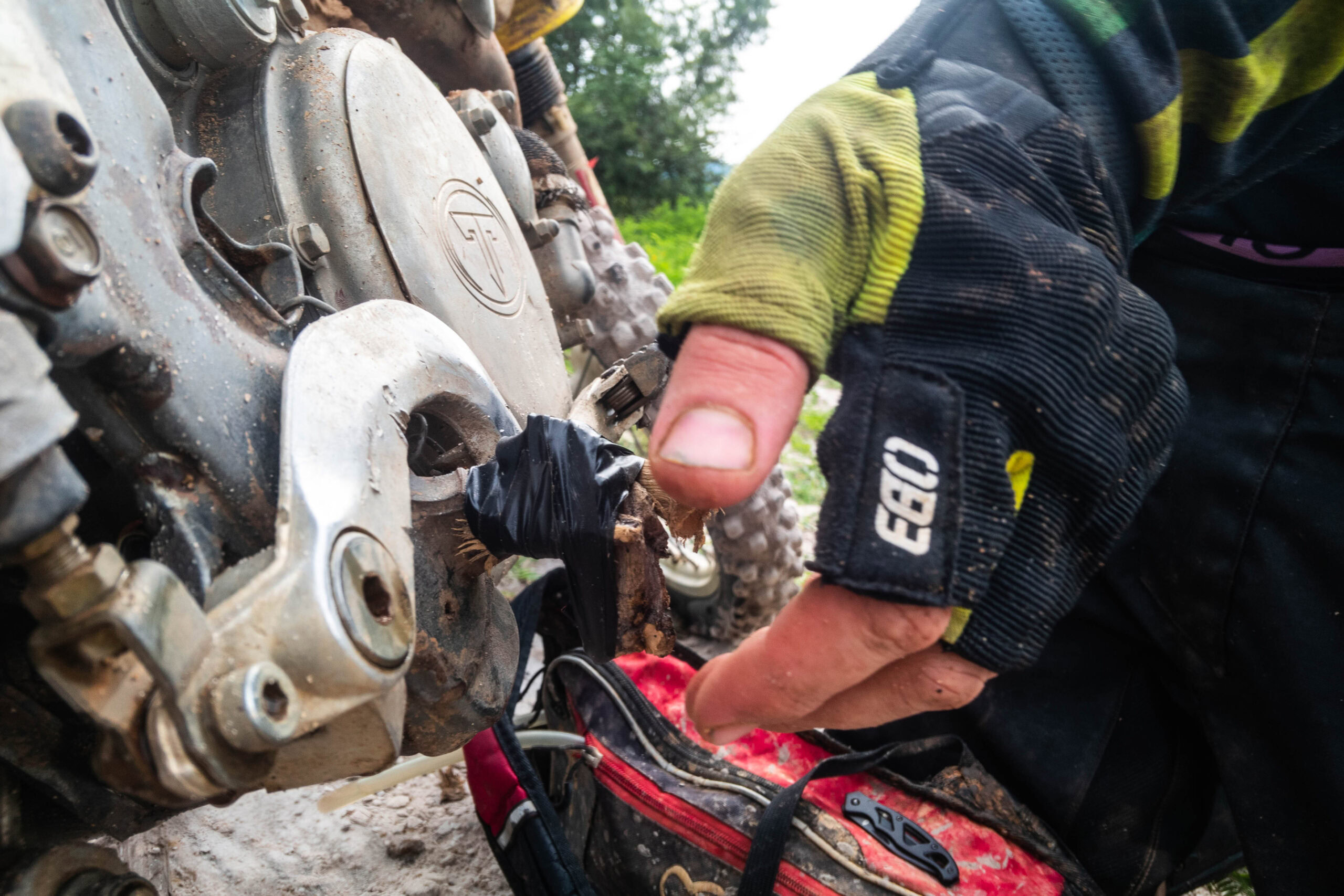 I don't remember the ins and outs of how many times he broke and re-welded the footpegs on the DRZ. It was a major time consumer and I couldn't believe footpegs could do so much damage to one's holiday. Fran handled the situation like a warrior though, and for the bulk of the last two days, he was driving with either one footpeg or on some occasions zero footpegs.
We found ourselves on a single-track dirt road that would push us to our limits under the sweltering hot sun. Days of kickstarting 400cc motorbikes were starting to have its toll on Fran and Vincent.  We were in a gorgeous part of the world, and the road was incredible. The only limiting factor was our minds and bodies. It was an excellent battle, one of my favorites to date.
We reached a large river crossing, at this point Fran was down to zero footpegs. I was ready to give up and pitch up a tent. But Vincent proceeded over the crossing, so there was nothing to do but follow. This led us to an incredible drive down a river.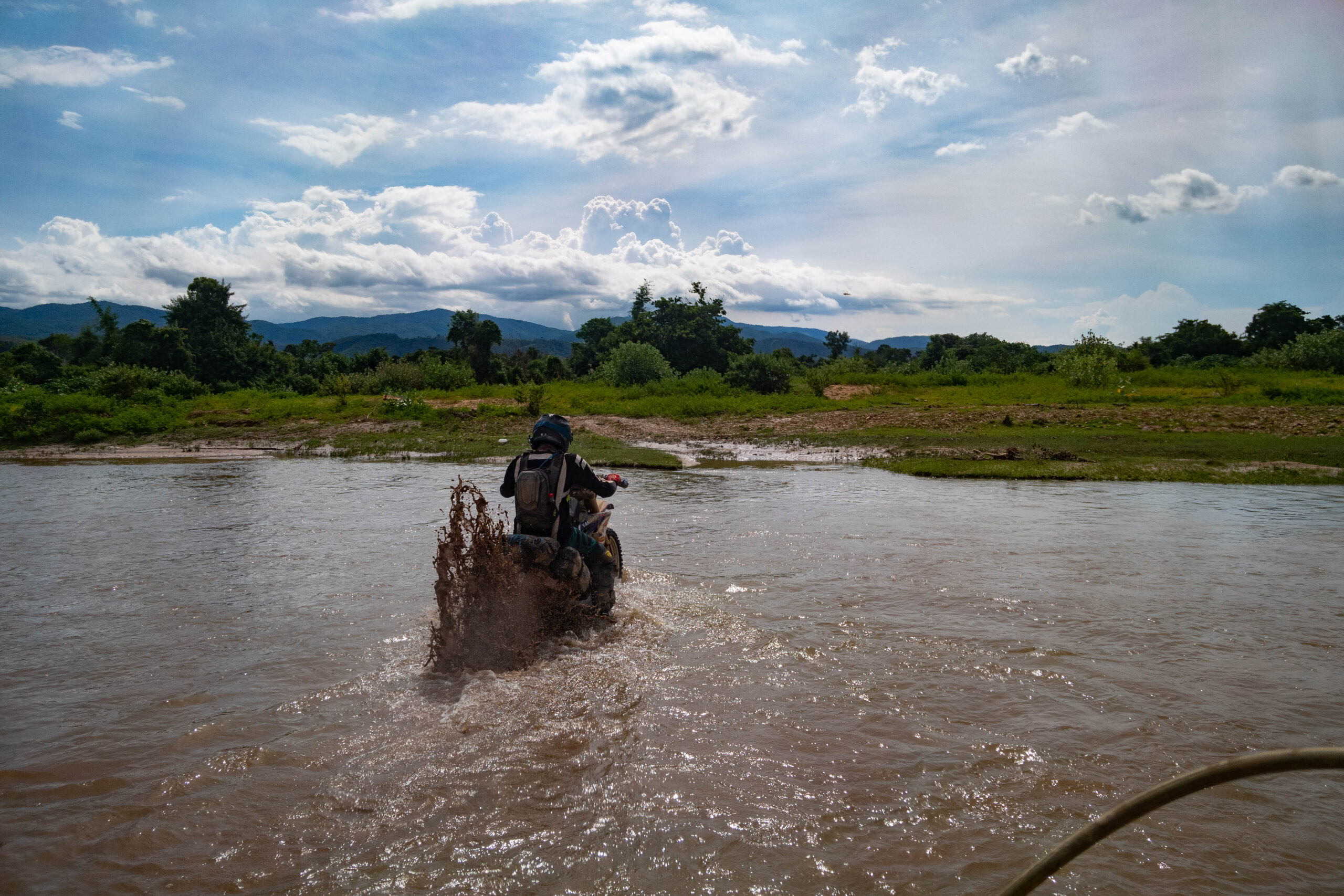 The sandy river drive was tough and tiring, but compared to the rocks earlier in the day, it was a breeze. I wasn't sure if my mapping had this as a road, or if I had accidentally mapped a river. Either-way, we seemed to be making progress down the river bed without too many issues.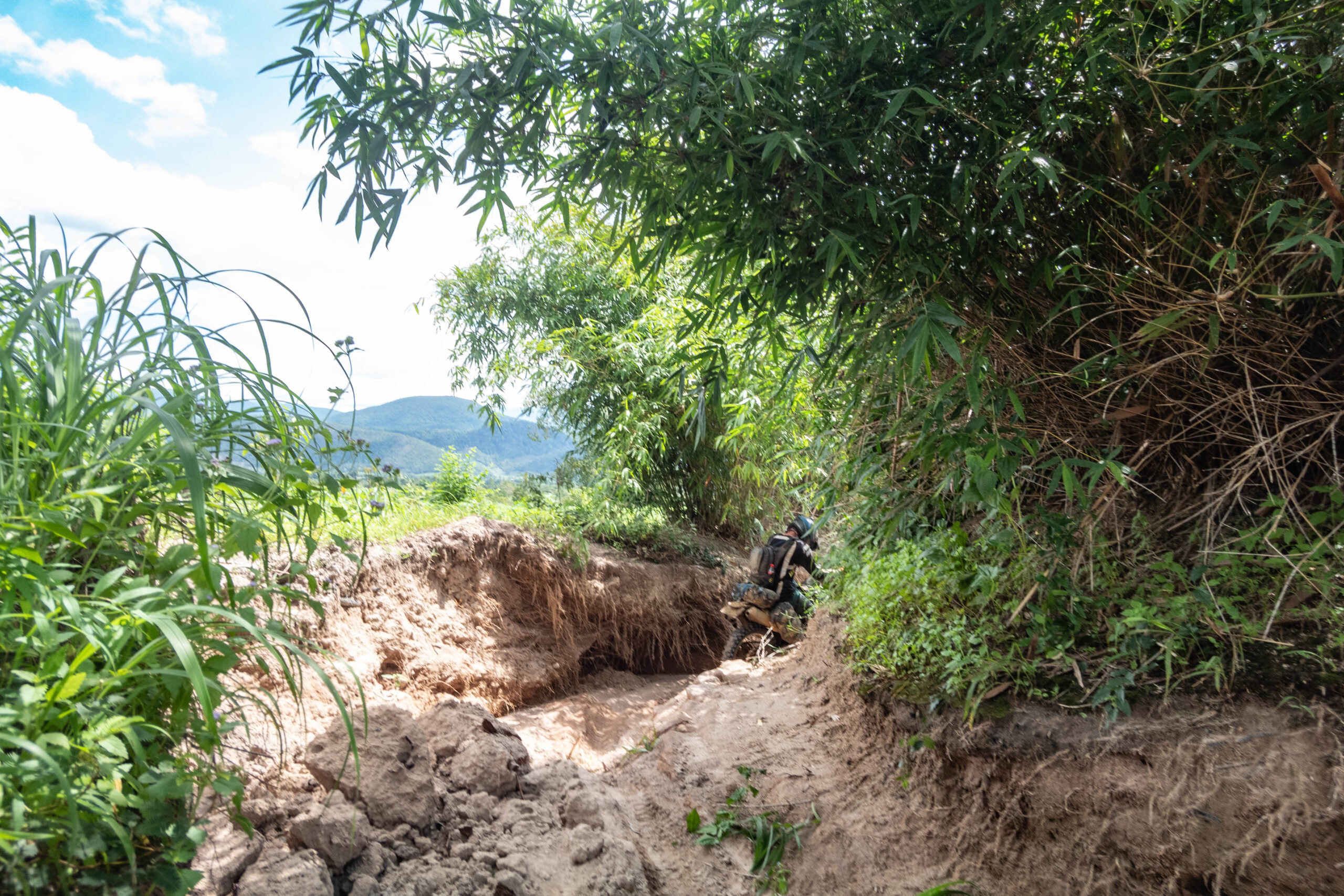 One final hurdle stood between us and a hotel.  Although the photo may look like an epic mess, in reality, the motorbike and I were too tall to fit under the wire. The KTM was put on its side and dragged under. We only covered around 10% of the trail I had mapped, and it was the most challenging 10% of driving I have ever done. This is a trail that absolutely must be tackled again with far better preparation.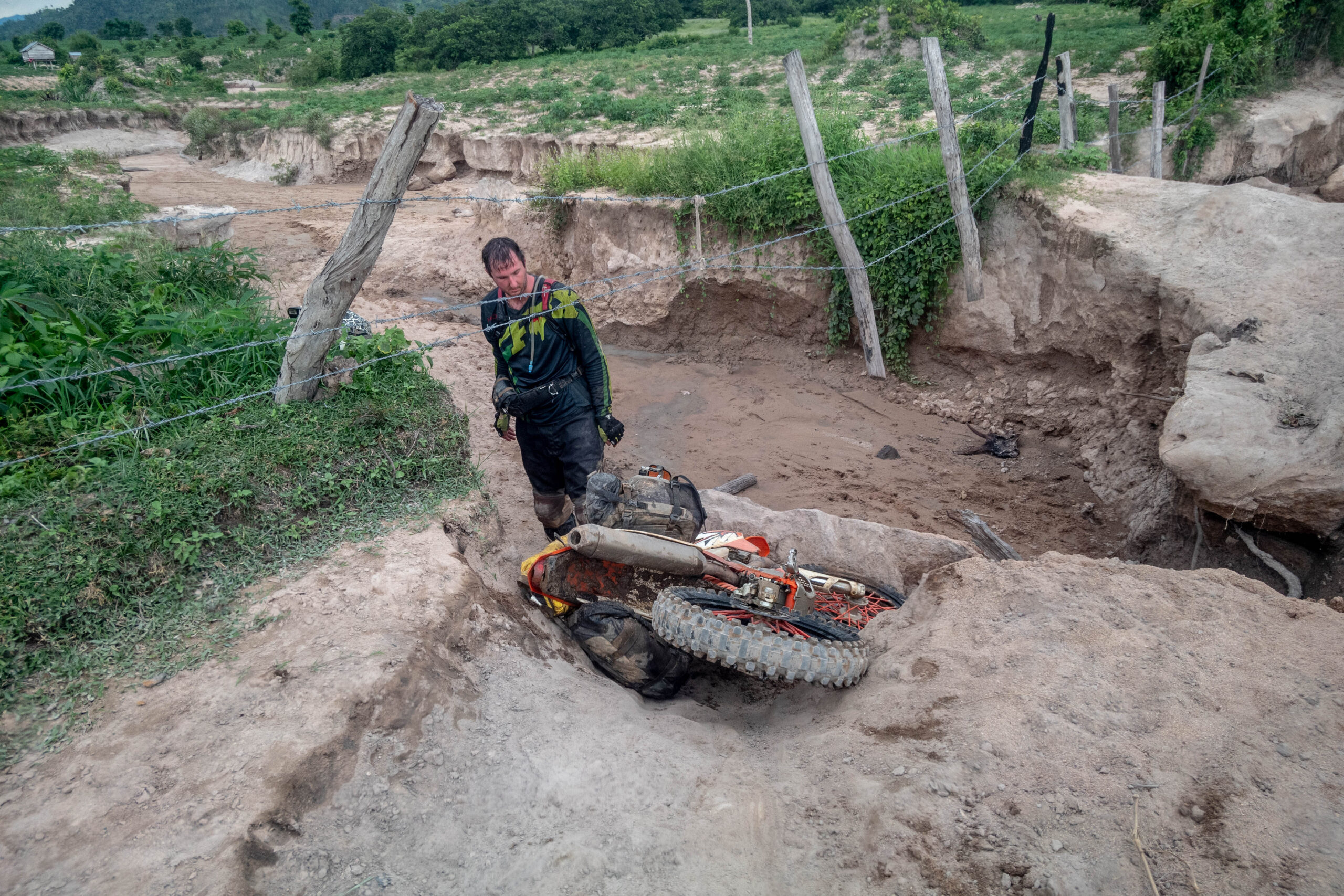 The broken bike
We needed to catch flights in the evening from Pleiku city. Driving up the highway to Pleiku would be around 3 hours. Driving along my mapped dirt roads would take an unknown amount of time. All my bailout options that I had laboriously drawn onto mymaps were now paying dividends. With plenty of bailout points it gave us an opportunity to turn this last day into another day of offroading.  It was a fun few hours of driving. We switched around bikes, played around in the mud, and ate up huge amounts of kilometres.
Eventually, we hit a dead-end where my mapping went wrong, we couldn't cross and there was no choice but to turn back. We were done, this was the end. Time to escape the offroading and hit the highway.
Vincents motorbike broke down with no compression. Later diagnostics showed his Valves broke. With little time to spare before our flight, we quickly strapped a rope up to his motorbike and to the footpegs of my KTM. A local gave us a secret shortcut out of the trail which involved climbing over one last hill. This had Vince and Fran pushing the Yamaha whilst I towed it. It looked like tough work in my rearview. I was just enjoying hitting them with sand. This was a three-man job, so no photos were taken.
We hit the highway and did our normal pushing all the way to Pleiku city. The bus company accepted the motorbikes, and within around one hour of arriving in Pleiku city our motorbikes were on a bus, our clothes changed and we were in a pizza shop.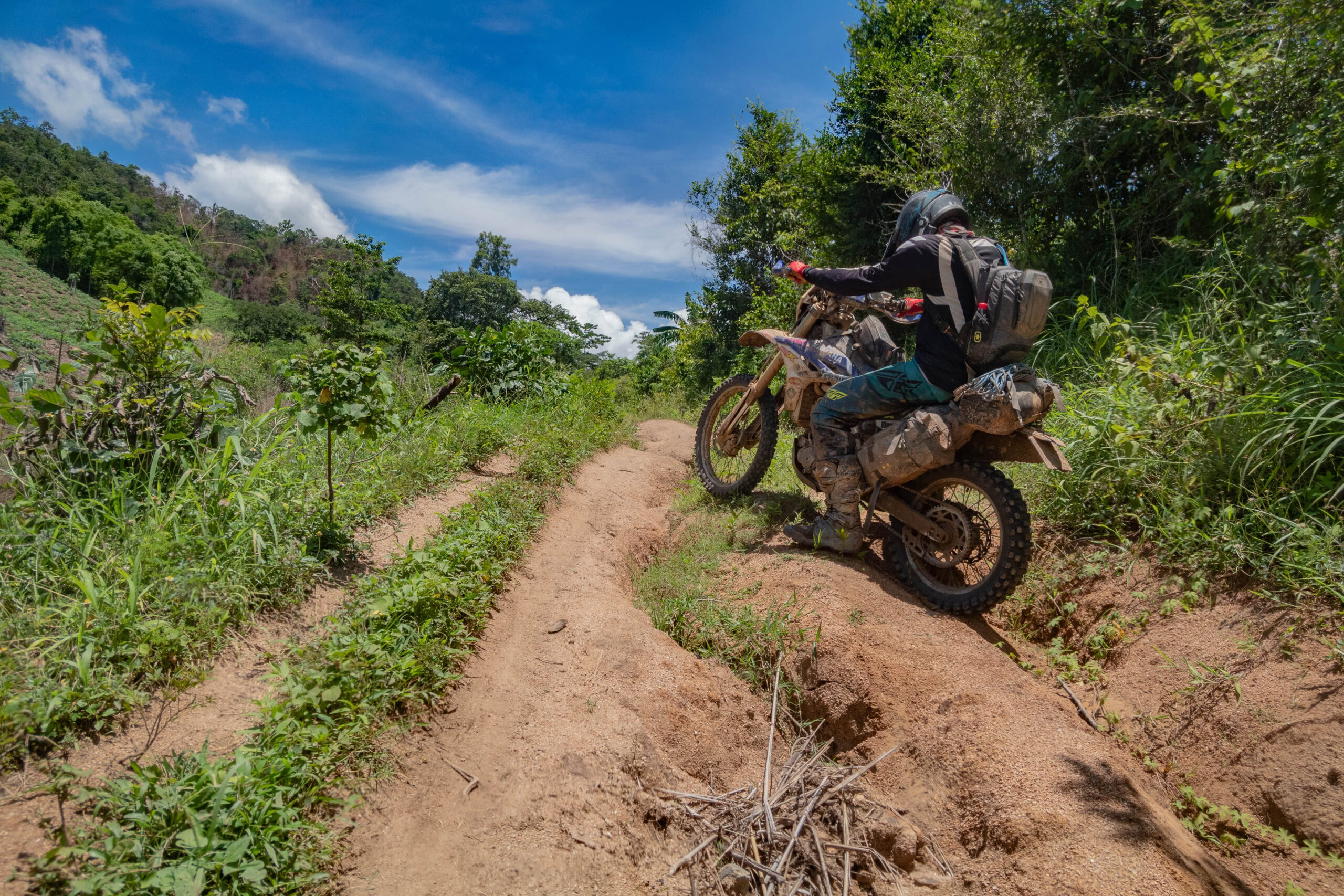 Lessons learnt about camping
Huge quantities of liquid are required
The idea for the camping was to be able to pitch a tent when we got stuck and too tired to continue. This would give us greater flexibility to tackle remote terrain as well as terrain that pushed us to our limits. In reality, we discovered that to make it through the night we needed at least 4 extra liters of water each. This would only survive the night, it wouldn't even accommodate for the next day of driving.
We also needed to carry at least an additional 6 litres of gas to fully utilize the idea of remote camping that would allow for at least two days of getting stuck away from civilization.
To deal with the quantity of liquid and food required to survive in the wild, we stopped at villages and stocked up before heading into remote terrain. However, we didn't have a suitable way of strapping all the extra liquid to the motorbikes. This meant driving for hours with plastic bags dangling from the mirror mounts.
Onlookers would say "well why didn't you purify the water?". We had purifiers on us, but Vietnam is mostly farmland and fairly toxic and dirty farmland at that. It takes a reasonable amount of bravery to go down this route of purification. It also takes time to find water sources and to execute the filtration process. Water purification probably is the answer, but it requires planning and isn't as simple as it would seem on the surface.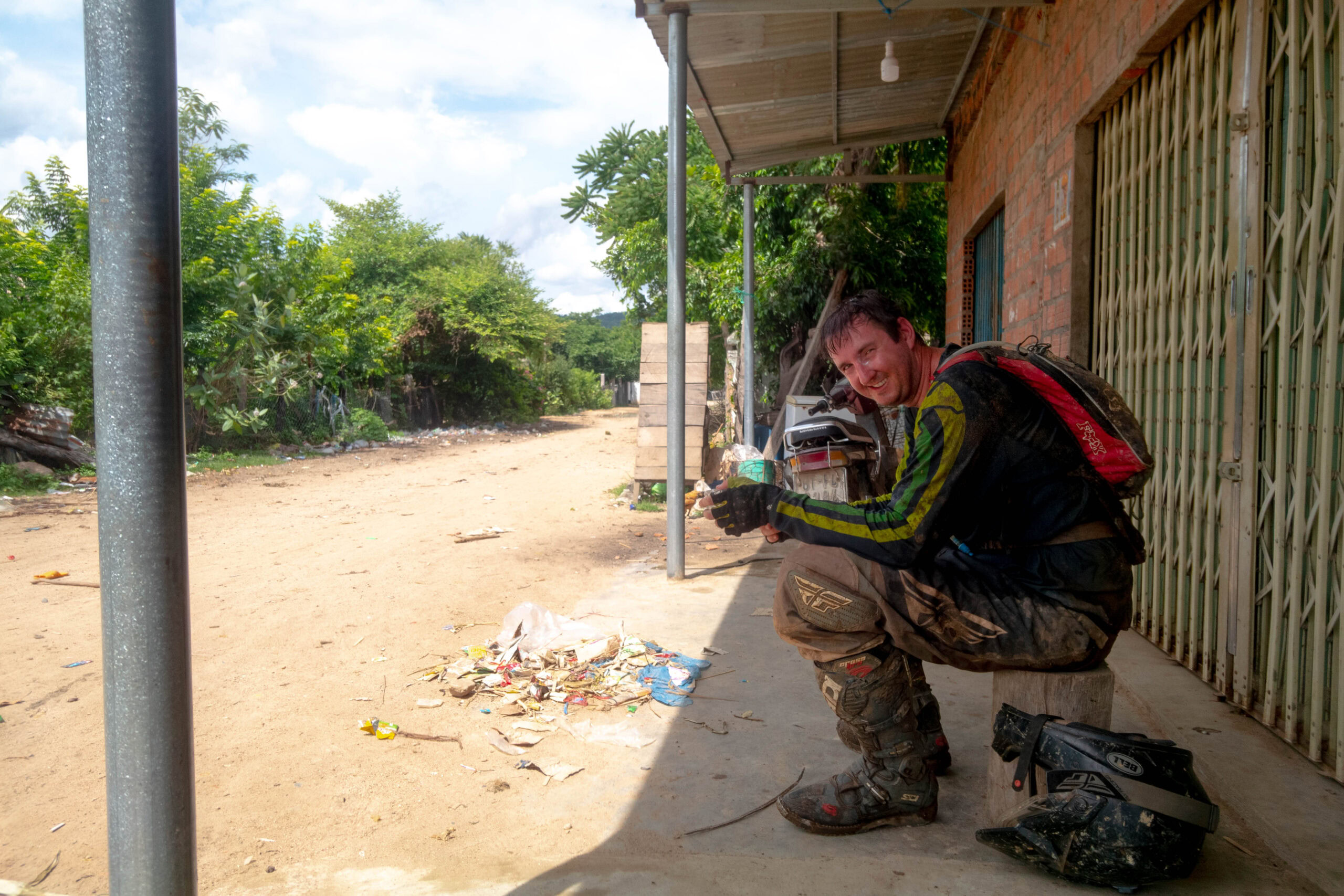 It takes time to find a campsite
Camping stories would have you believe that it is easy to find a campsite. However, in the real world, finding a flat piece of land that isn't caped in deep water and mud is quite a challenge. Vietnam is an incredibly wet country and it is difficult to detour away from the pre-made tracks. It may look lush and green, but underneath that greenery is a good 50cm of bog water. Escaping the locals is also difficult, and there are always people plodding around on Honda Waves. This is part of the charm and safety of this country when it comes to remote driving. However, when you want to pitch a campsite, escaping a Honda Wave meandering around the jungle is a very difficult thing to do.
If we were to optimize and start with the water purification process, this would also add the requirement of a water source to our campsite. In hind-site, the search for a suitable campsite is a one hour job at a minimum. This is not hugely different from taking a detour away from the tracks and to a local hotel.
Getting clean and setting up a campsite
Admittedly the process of assembling and disassembling a campsite would speed up with experience. However, with our group, it was taking around 1.5 hours to setup and around 1.5 hours to dismantle. Apply this to a one-hour campsite location search and the entire process becomes a very lengthy and time-consuming ordeal.
It is hard to recover and rejuvenate camping. You can't get clean and there is always something that needs doing. It sucks the energy out of the group and overtime as everyone becomes lethargic and tired, it can be seen that everything will grind to a halt.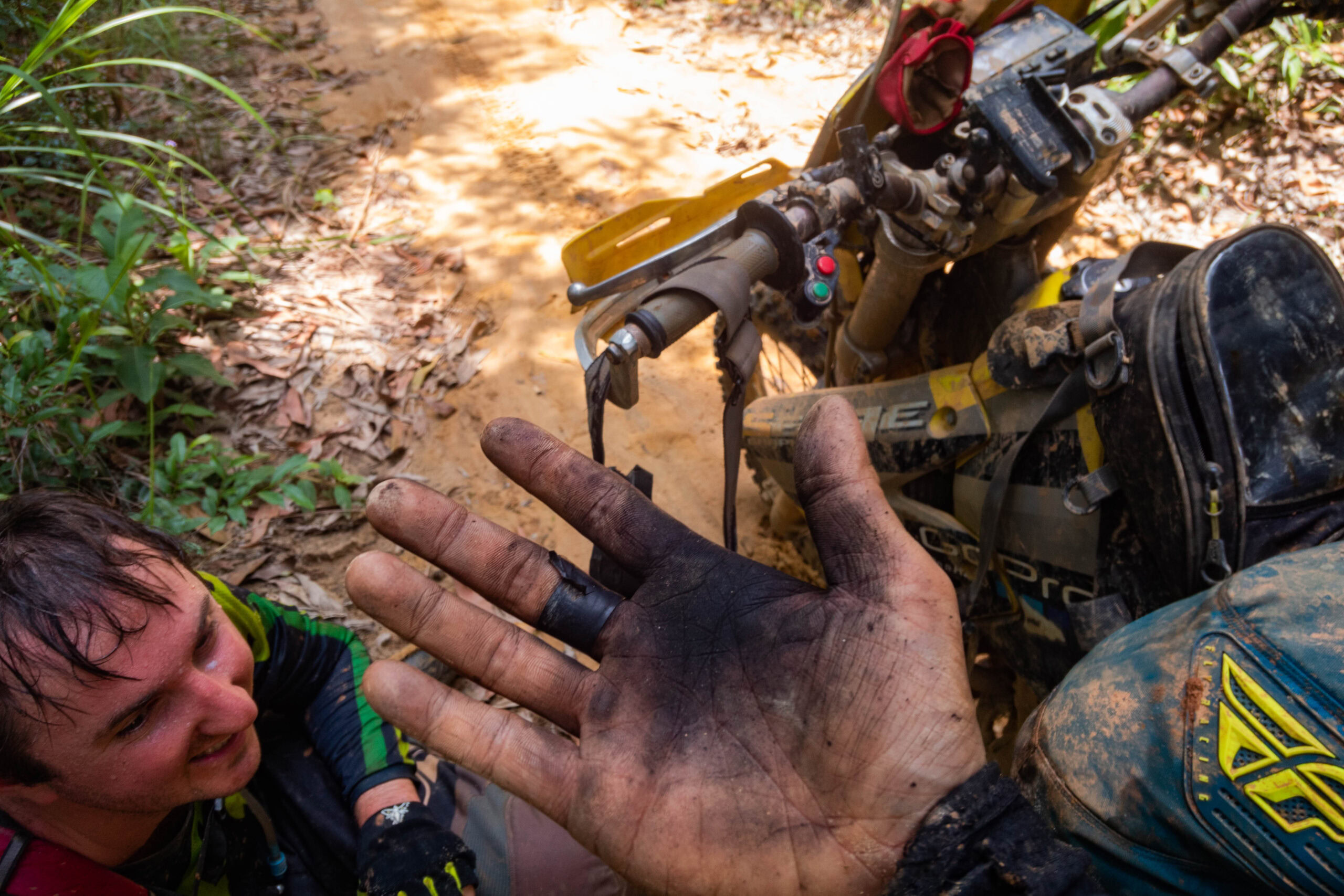 Is camping fun
My biggest fear of camping was that a huge load of luggage would ruin the performance of the motorbike. There isn't much point being in stunning remote offroad terrain with a motorbike that is handling like a boat. I was happy to find that I barely noticed the load, and it didn't impact my driving. The camping gear took up a lot of space, but it wasn't heavy.
With an optimized setup and plenty of packing practice, there would become a point that camping would change from a "job" to a "simple and quick routine." I also believe that with practice I could find a way of strapping an extra 4 litres of water and some gas to my motorbike without it hindering performance.
Camping is fun in that it is a skill to tackle, and skill to learn. This form of camping without a pre-made campsite is actually a very difficult thing to do. It is nice to be doing something that few people ever do properly. It adds to the holiday concept of pushing our minds and bodies to their limits.
It certainly isn't a pleasurable experience, but it is a challenge. I like riding Enduro because it is a chance to escape my normal bubble of a life, and the camping experience takes this to new levels.
Overall, I am a man who likes efficiency, and camping is not efficient. I thought camping would speed up the process of finding a hotel and grabbing dinner at a restaurant. But in reality, camping is much slower, and it becomes a major part of the holiday in terms of the time and energy that is consumed. This is time and energy that is taking away from amazing Enduro riding, so from my perspective, it wasn't worth it.
I would do it again, but there needs to be a lot more research to speed up my efficiency and the efficiency of the group in general. Camping isn't a task to be taken lightly.