Reading Time:
6
minutes
The Dalat Run is a route I have done many times before with friends. It is my "go to" route when someone with motorcycle experience comes to visit me from overseas. "What is your favorite drive Jon?"
"Some sort of jungle trip to Dalat" I reply,  "Fuck it, let me show you". 
With this route, I look to blow their minds and break their bodies over a two day journey that they will never forget. It also shows off the spectacular country and culture that I live in, a place where I feel proud and lucky to live.
Building a tour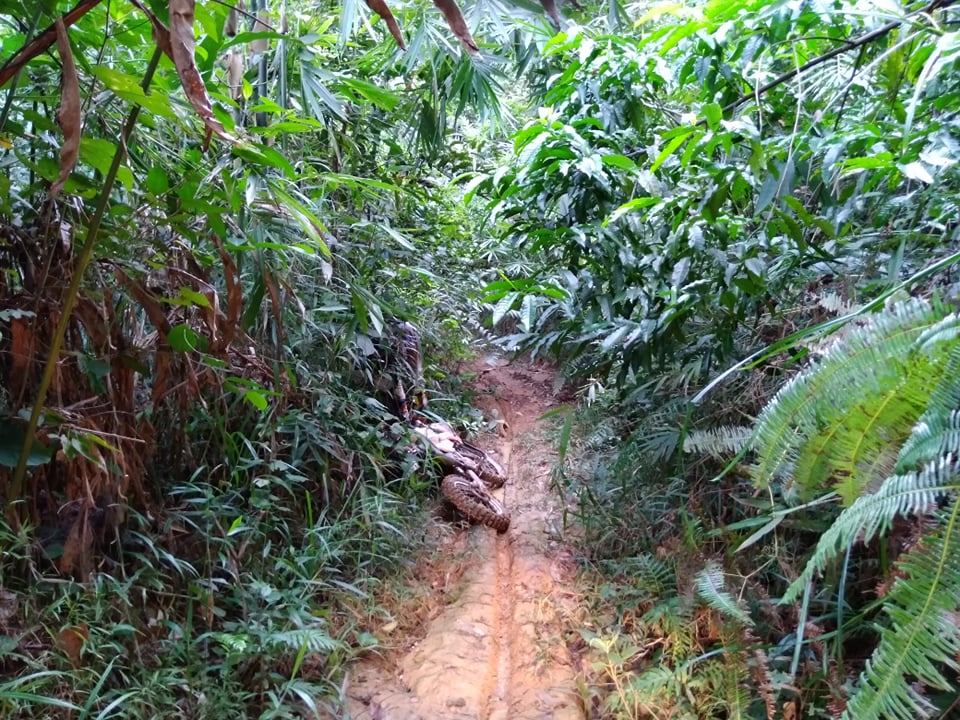 The idea of building a tour based around this phenomenal drive has been in the back of my mind for years. However it is a route where if something goes wrong, it will go spectacularly wrong due to the harsh conditions it is based. Through the years of Enduro riding. I think I now have the team and skillset to try and turn it into a real tour.
Usually I start early in Saigon, and have a philosophy of never stopping. No lunch, basically no water stops. Push, push push. This works with a close friend, but doesn't work in the real world with people who don't know me. To adapt, I have chosen to try and start the tour in Cat Tien. However, since my latest attempt at planning this route to be a tourable option, I have decided to move it even further away from Saigon and to the city of Bao Loc.
Travelling in luxury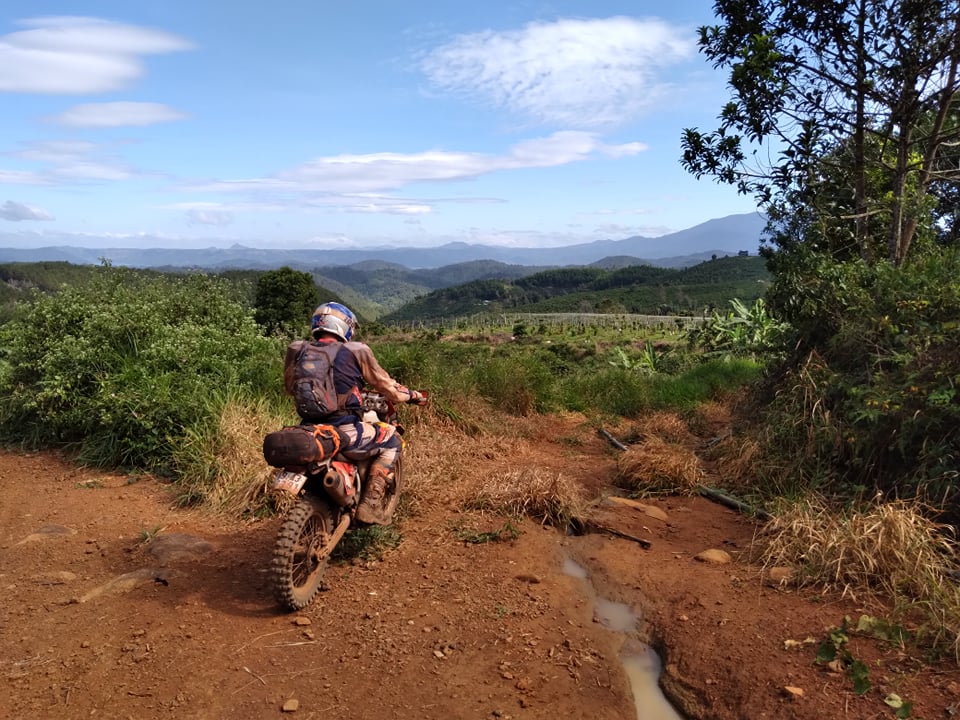 On our recent trip of three people, myself, Warren and Fran. We pulled off all the logistics of arranging a truck for the bikes to Cat Tien and a Taxi at 6am in the morning. It is a luxurious way to travel and lovely to skip out the boring highway. However it does cost alot both in terms of time (logistics planning) and money.
There used to be a lovely trail that connected Cat Tien to Bao Loc, but unfortunately around two years ago it got paved. This left the only option as a mythical route that goes beyond the offroad Hill climbs that local communities all know. A route that can't be seen on Google Earth and had a mythical status from when a Vietnamese crew accidently stumbled across it, getting stuck until 5am in the morning. I have attempted to find the mythical trail twice before. Both attempts failed due to broken bikes before getting to the point of no return. This time round, I had a crew of competent riders and competent bikes. We would find the trail.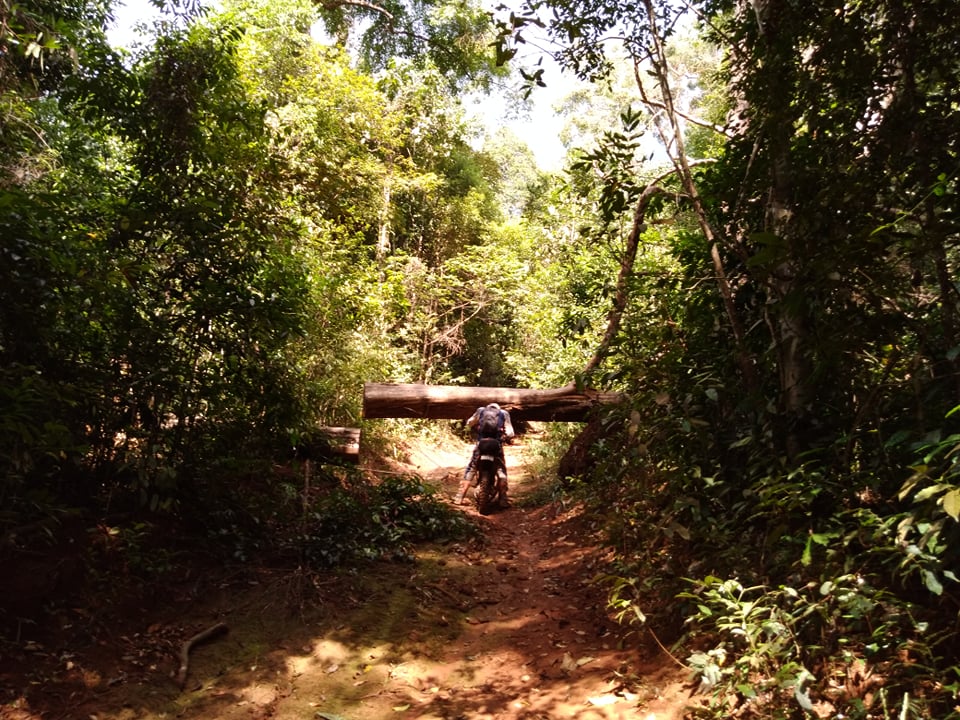 Sure enough, my straight line "guestimate" on my mapping was correct and we found ourselves on an incredibly remote and slippery trail. Fun at first, with over hanging trees and a concept of being literally in "but fuck nowhere" as Warren so politely puts it.
Hours and hours pass of slippery hills and descents. A relentless track that will test the stamina of any rider. It quickly became apparent that this was not a tourable trail, as it slowly chipped away at the souls of the group. We did eventually get through it by lunch time, with most of the day eaten up and only around 10% of my planned route research covered.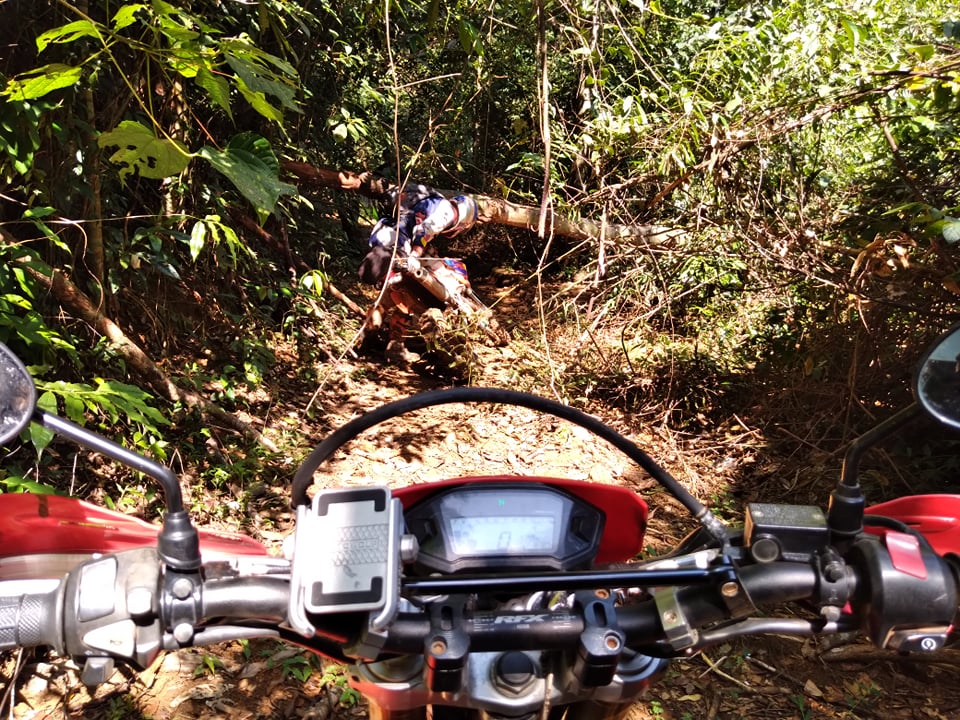 Health and Safety VS working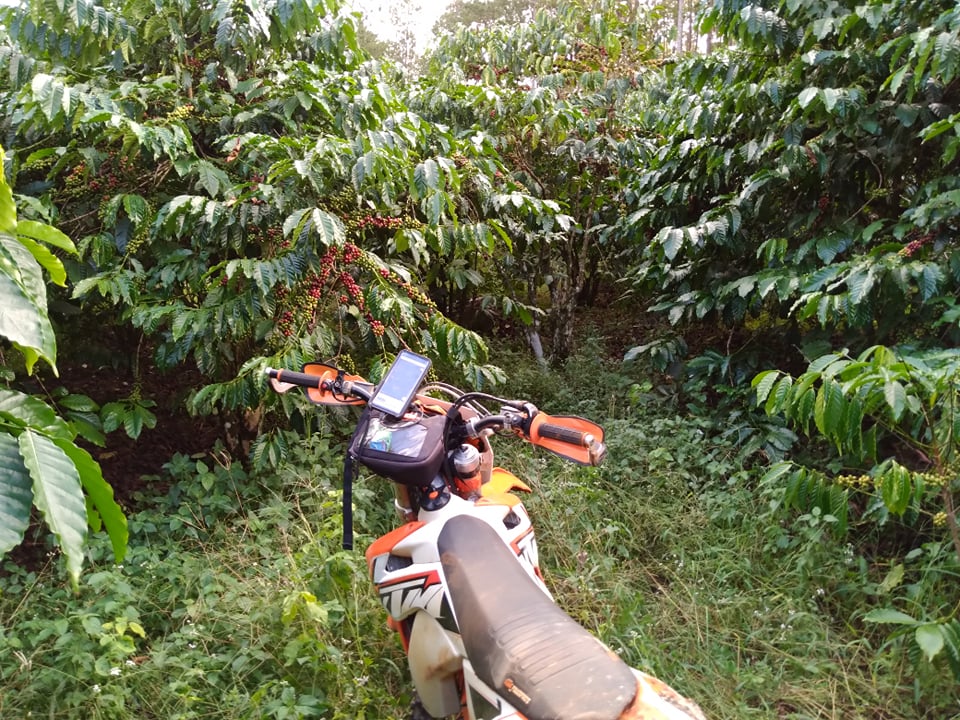 This put my logistics in a strange spot. Rehydrated and a bit of road to catch up, and at 3pm we had a decision to call it an early day, or head off into more trails that needed covering for my research. I decided to continue, as work is a priority over the welfare of my crew and so we trucked on up to plantations where I had drawn lines on Google Earth. We hit a road blockade with a young man in army uniform telling us it was a military zone. We tried my plan B, plan C, plan D and they all lead into peoples crops. I know these paths connect up because I have studied the map in so much detail, but there is only so much driving through people's crops you can do before it becomes unethical and rude. We decided to give up finding a way through the crops and headed back to Bao Loc city for rest.
Hotel soft mattress investment opportunity
I am hoping someone creates a hotel chain called "hotel soft mattress" which really is my one and only requirement for a hotel. I don't care about price, I don't care about free Wifi, and I don't really care if it is clean. Just give me a mattress that isn't made of stone. Driving 30 minutes through traffic into a city center instead of staying in the beautiful countryside is all in the pursuit of the soft mattress. Unfortunately the hotel we chose ended up with a rock hard mattress which for me, is a guaranteed sleepless night.
The next day we went back to the plantations to try my option E. This turned out to be a great hard pack clay surface that allowed offroad speeds up to 80km/h through stunning scenery and plantations. Perfect tour territory, meaning I had finally hit the jackpot.
My ambitious lines from Google occasionally led us down trails that either don't exist or are borderline impossible. These ambitious detours do occasionally lead to a piece of gold, of which we found one on this occasion. The gold trails stay in the tour, the rest that go wrong or are deemed too hard will be cut out.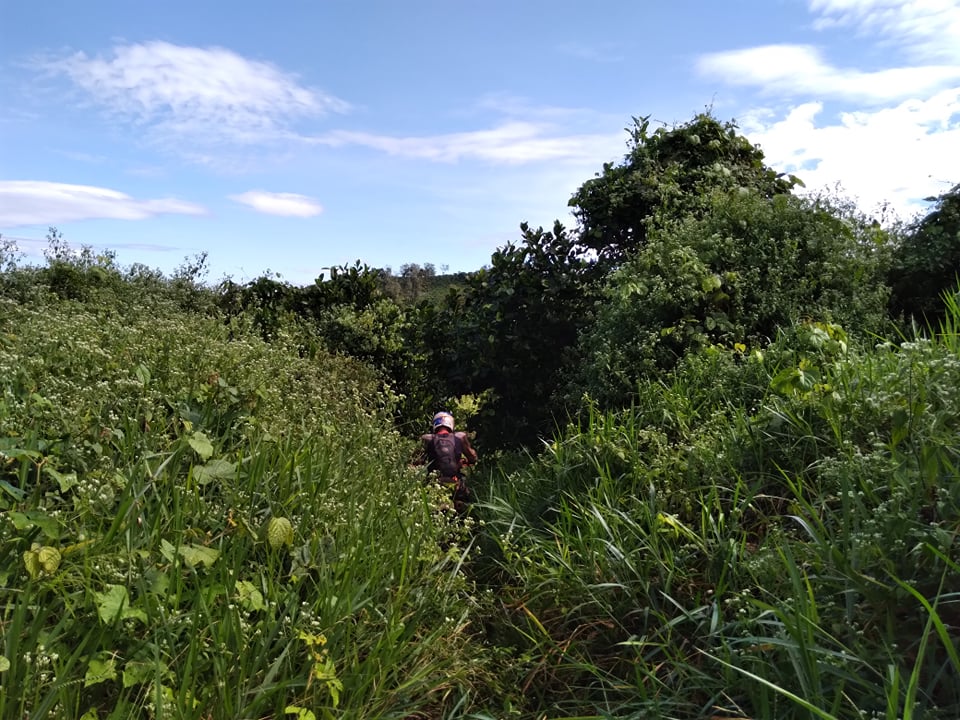 The farmland hard pack clay turns into pine forest. A style of driving I love but rarely get to do. We find ourselves following a pine trail that I had not mapped. Simply following it, because it was awesome.  After a while we found our way back to the road where we stopped for gas and lunch
Flights back to Ho Chi Minh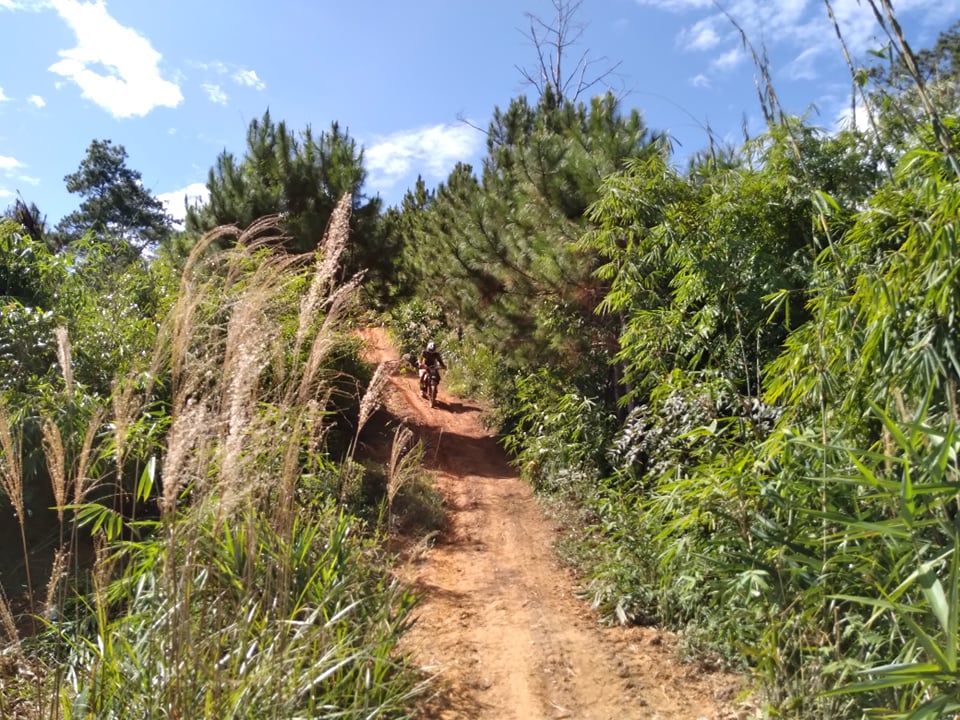 With a flight at 8.30pm in Dalat, and now at lunch time with only around 20% of my planned trails mapped we were running out of time. Another difficult decision to decide how deep into "butt fuck nowhere" can we go before risking our flight.
I opted to try a trail that Fran had mapped. Single track that meandered up and down hills. Stunning stuff, but very difficult. Clay surface and hill gradients that would be impossible with a touch of rain. Again, I deem it too difficult and risky for a tour.
We give up following his trail and find a back road to Dalat where we would put the bikes on the bus, grab a pizza at Moto Lauries and then hit a flight back to Ho Chi Minh.
Route research
This research trip for the Dalat Run in January has only managed to raise more questions and answered very few questions. Nearly everything we did would be deemed too difficult and risky for a tour. Uploading my GPS data to Google has allowed me to draw in new lines where I think we went wrong. Where can we simplify? Which areas have the best terrain? Can we really get a group of 15-20 people to Dalat in two days?
I have now mapped out a new plan A, B, C, D, E and F.  I worry about how difficult this trip can be if hit by the wrong conditions. I hope I get a chance to map out my new plans. My last resort in a plan Z, which is the route I know well, but requires more road than I would like to have on a tour.